Welcome to this edition of the Alaska Stalker, a lighthearted round up of the best and worst of Alaska's social media landscape.
***
If you enjoy the Alaska Stalker, please consider supporting working moms like me by sending in hot tips, overheards, and spotted ins. You can reach me at akstalker@alaskalandmine.com. As always, thanks for reading.
***
Since there's not much going on in the Legislature right now (you know, they only need to pass a budget and figure out a plan for the PFD while not bankrupting the state) I'm scraping the bottom of the barrel this week. Toots, if you have any good spotted ins, please let me know. 👀
***
Check out this photo of someone's dog aggressively licking food off of Sen. Scott Kawasaki's face at work. This is fine. 🤢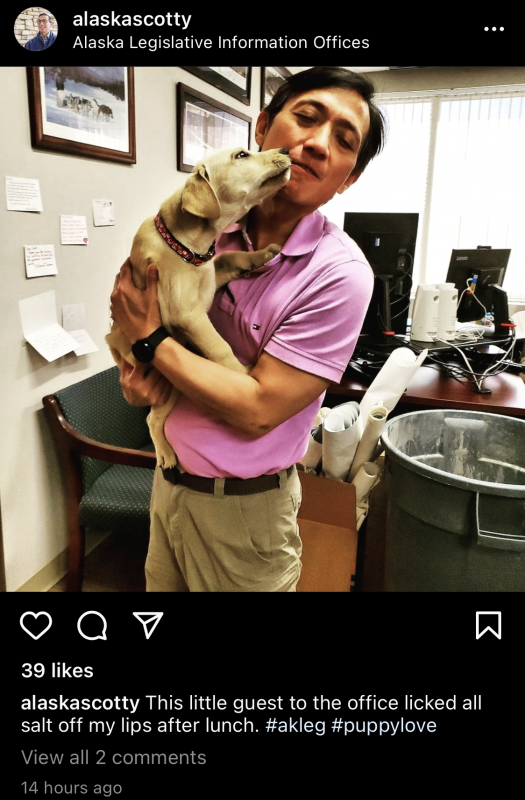 ***
And since we're already past the point of no return, here's Sen. Shelley Hughes talking about her soiled nightie after the recent 6.1 earthquake. 😵💩 🤣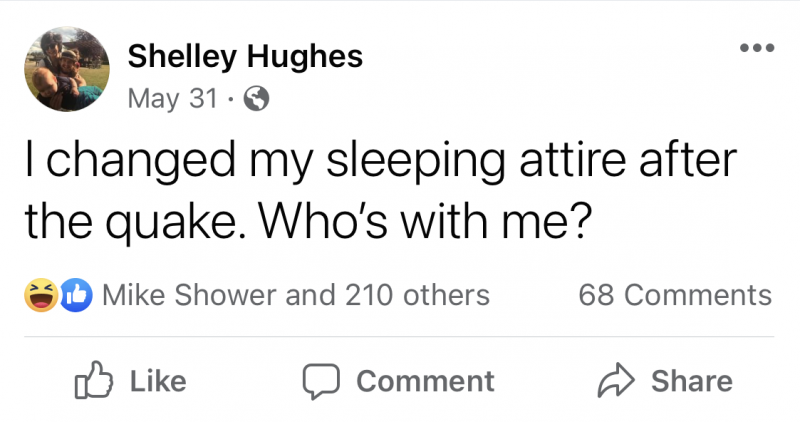 ***
Who propagated best? Sen. Wielechowski put his best hoe forward. However, in my humble opinion, a doctorate in soil and water science paired with authentic work stained overalls really gives Rep. Snyder the edge here. #dirtdr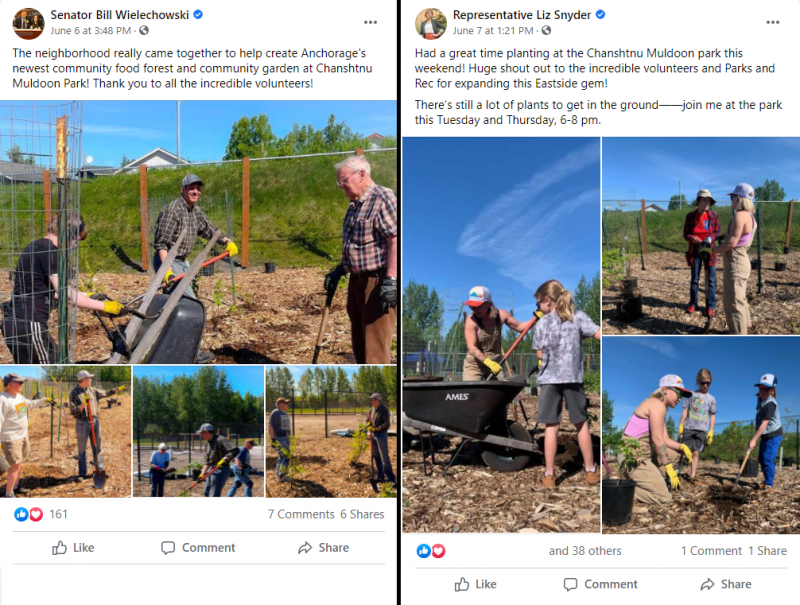 ***
Speaking of new growth, check out this adorable photo of Rep. Grier Hopkins' daughter reading the very popular baby book, A is for Activist, gifted to her by none other than "Auntie" Rep. Tiffany Zulkosky. I can only hope a colleague on the other side of the aisle sends Grier Tuttle Toddlers – The ABCs of Liberty. Yes, F is for a Feminist Fights for Fundamental Rights, but it's also for Free Market, am I right? ✊💰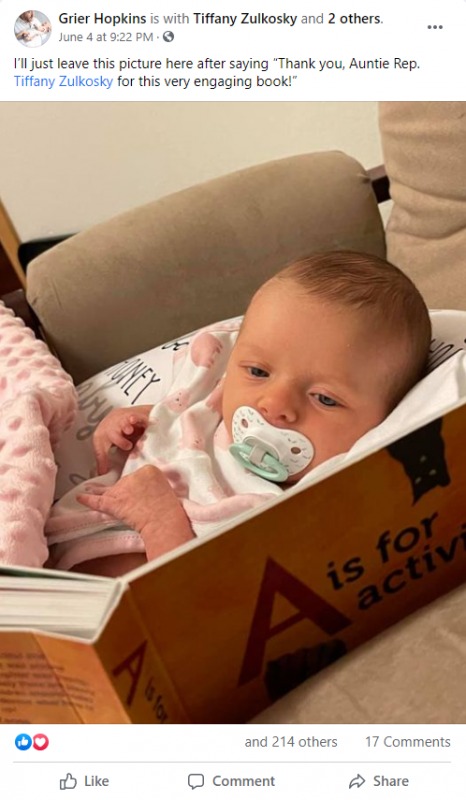 ***
Where is everyone? With their friends, Kevin. Step away from the computer!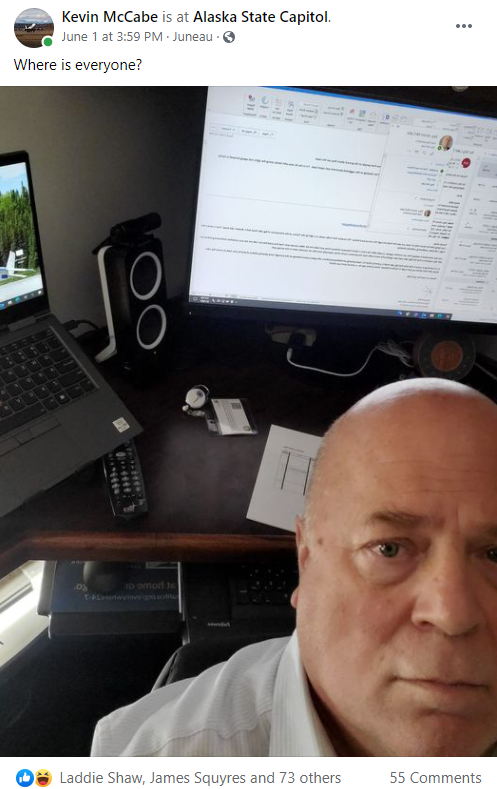 ***
Maybe it's just me, but I can't stop laughing at this post from Rep. David Nelson about why he was sent to Juneau. Is it because of his red power tie? His strong gesticulations? I don't get it! That vaguebooking juxtaposed with his previous post about hiking to a land bridge that only appears at low tide to read, and then commenting how "lucky" he was to not get trapped out there is 👨‍🍳💋.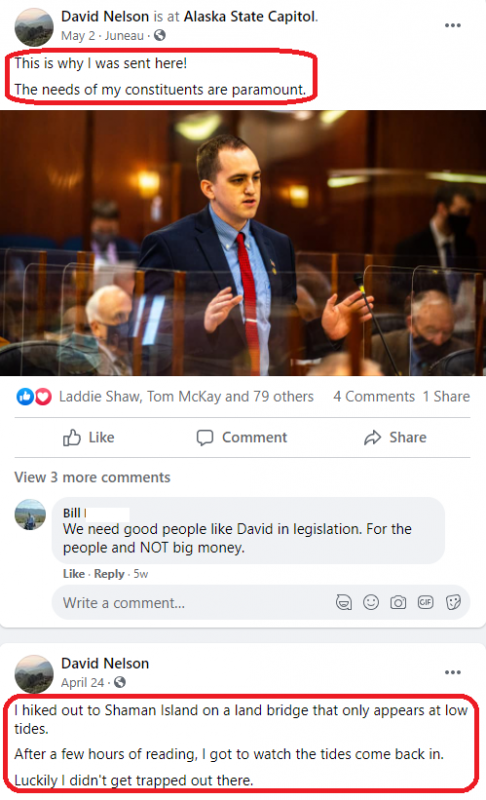 ***
Oh, Rep. Rasmussen. Bless her heart.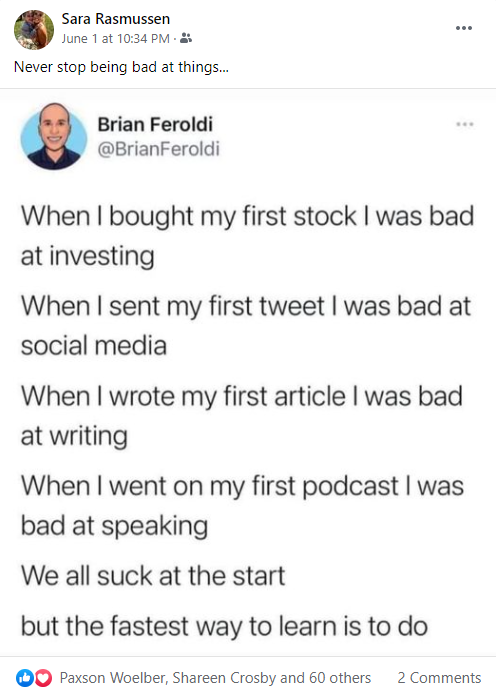 ***
Let's hope she was just giving her husband a heads up about her baking. 🤣🤣🤣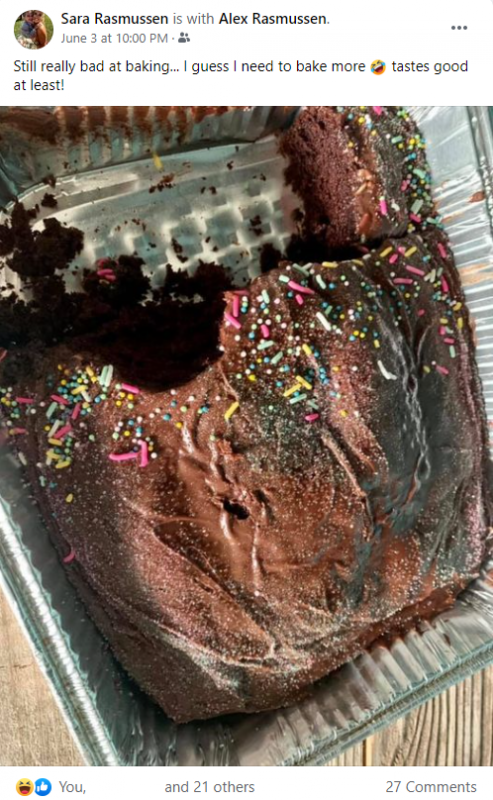 ***
In case you missed it, Rep. Geran Tarr channeled her inner Regina George and publicly accused CBJ Assemblymember Carole Triem, without evidence, of leaking an email to Jeff Landfield. Both Carole and Jeff say it wasn't her. Yikes. h/t to Twitter Activist Will Muldoon for the sick burn.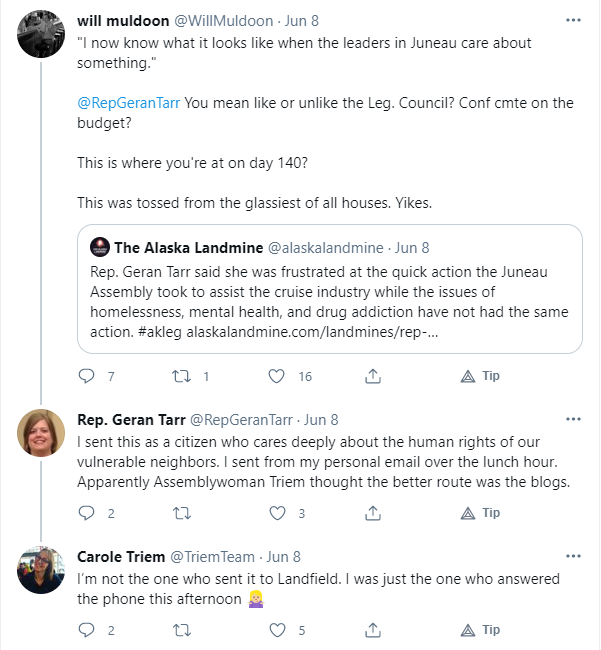 ***
Do yourself a favor and give this a listen. Rep. Sara Hannan shared the delightful story of how she met and married her husband in just six weeks! Bonus: her husband calls their courtship "the stalking!" YESSSS! I don't know how anyone could get married to someone they just met in only six weeks! I mean, my husband and I waited a much more respectable 70 days. 😉💖 When ya know, ya know! From one eloper to another, happy anniversary, Sara!
***
👀 Lenya, my DMs are open!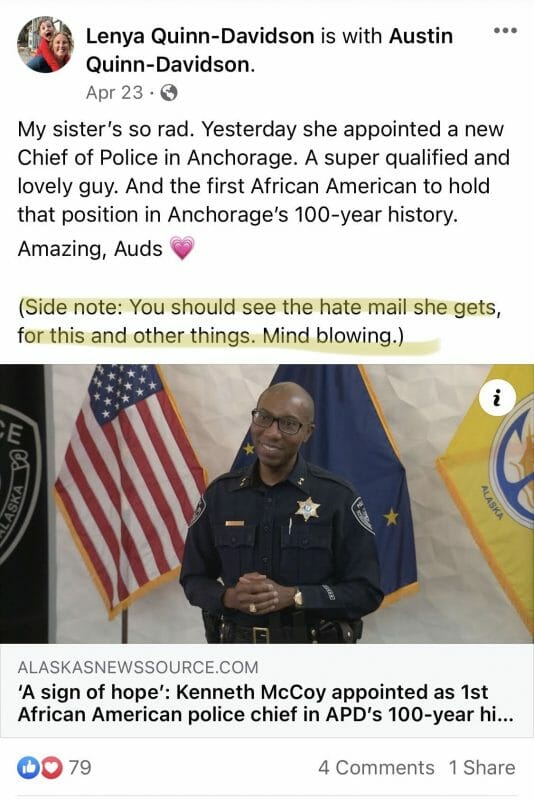 ***
🔵🟡🤡🤡🤡🟡🔵
"To the left, to the left
Everyone I appoint in the box to the left"
***
I must say, multiple progressives publicly rejoicing and crying literal tears of joy over Anchorage Mayor-elect Dave Bronson's recent appointments was definitely not on my bingo card for 2021.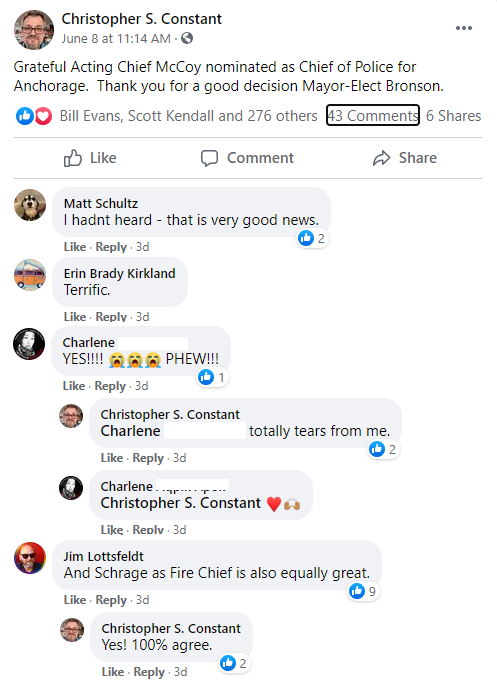 ***
Congratulations to Rep. Calvin Schrage's dad, Doug Schrage, on his appointment to serve as the new Anchorage Fire Chief. That said, I have some questions…. 🧐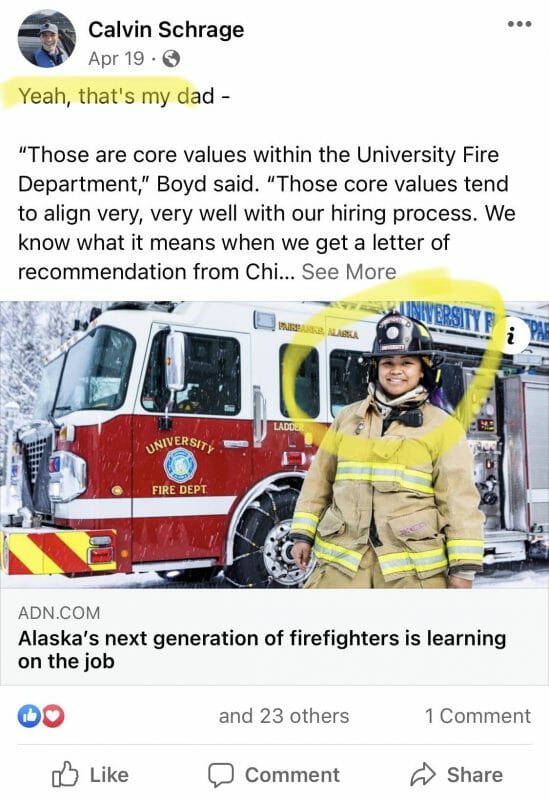 ***
Oh dear. Someone might want to have a little chat with Assemblymember John Weddleton about filming a bunch of ladies riding stationary bicycles, ZOOMING IN ON THEIR BUTTS, and then posting it on the internet without their consent. MY GOD. 🍑🍑🍑😲
***
Okay, I know it's Juneau. But, this has to be Forrest, right? 😉
***
LEGEND. Happy birthday, Congressman Young. From Tricky Dick to Sleepy Joe. Just WOW.
Today is my birthday, and I want to thank everyone for the kind birthday wishes!????

It's been the honor of my life to be Alaska's sole Congressman, and I'm forever grateful to Alaskans for putting their trust in me.

Here's a peek at how it started and how it's going⬇️ pic.twitter.com/LZa5rcQVnM

— Rep. Don Young (@repdonyoung) June 9, 2021
***
I am happy to report conservatives still value the Stalker! In the hours following Bronson's recent appointments I was flooded with emails and Facebook messages of overheards and general grievances. Here are the "best."
Overheard:
"The news media and Alaska Twitter promised us that Bronson is an alt right Nazi, but now he is appointing radical left wingers to his cabinet."
"Figures Bronson had his big party the day before he appoints liberals in key positions. Instead of holding margaritas we would have been holding pitchforks!"
"I want my vote back in record time. Smashed my PR."
"Chris Constant wrote he's weeping tears of joy. I'm over here sobbing."
And then there was this gif, send to me more than once. 🤷 Gotta be careful with that base, Dave…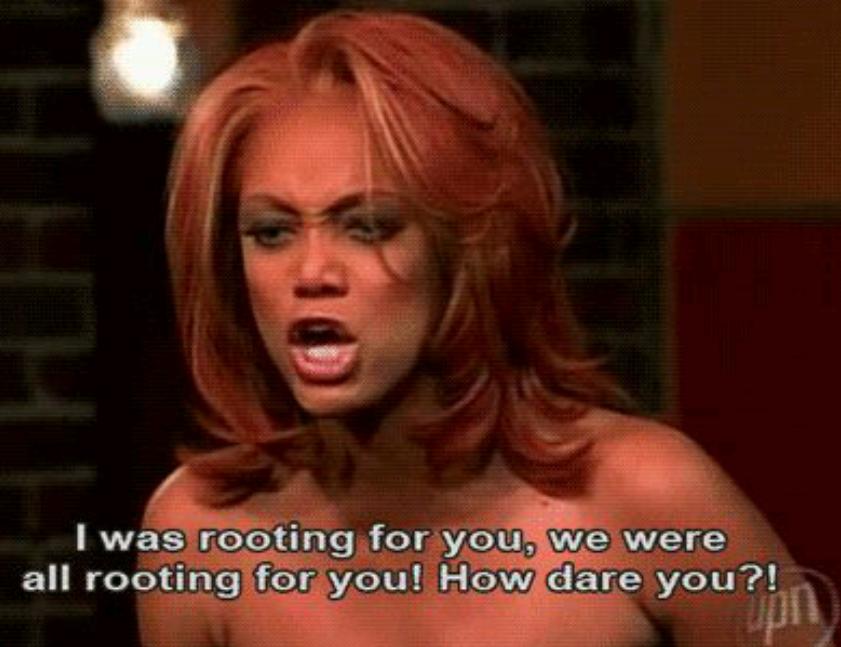 ***
Oversaw: Sen. Lisa Murkowski on a plane to a remote location in Alaska. Lady in first class sees Lisa, glares, and then makes some sort of RINO horn gesture at her. This primary's gonna be lit.
***
Spotted: Laddie Shaw jumping off the deep end – I mean Flat Top – with his paraglider.
***
Spotted at a Fairbanks MAGA rally: Sen. Lora Reinbold. Does this mean she's allowed to fly again?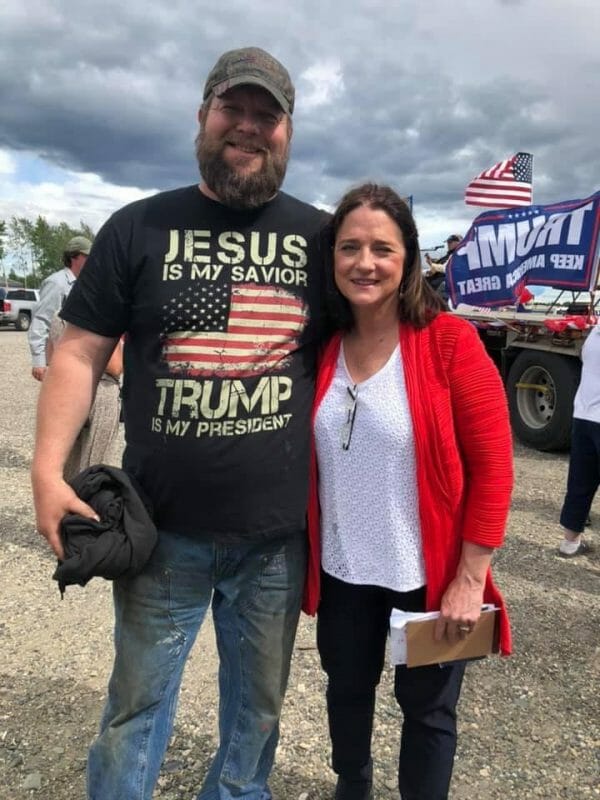 ***
Spotted at Steam Dot in Anchorage: Sen. Elvi showing off her guns in a sleeveless shirt. That dolphin tattoo tho. 🐬
***
Spotted at Moose's Tooth: The Prince of Ranked Choice Voting, Former Rep. Jason Grenn and 2021 Legislative Leg Wrestling Champing, Jeff Landfield having lunch. A special Stalker shout out to our tipster – welcome to Anchorage!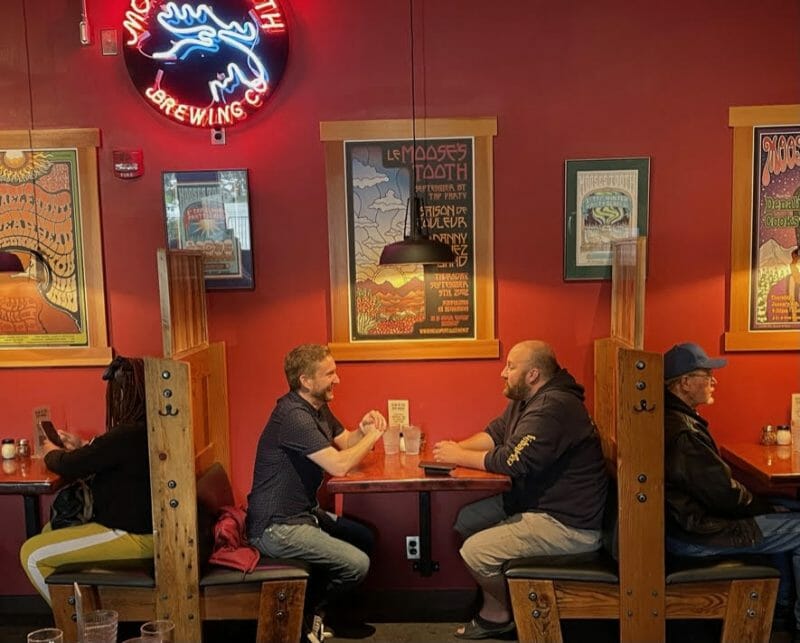 ***
Spotted: AFP's Ryan McKee speaking at an event with fellow ladies man Rep. Matt Gaetz?!?! 😮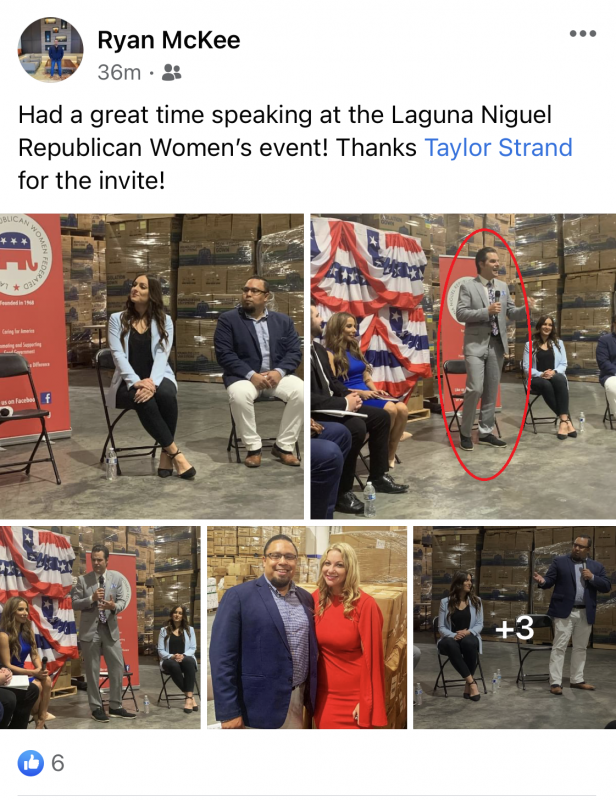 ***
The Alaska Stalker was born and raised in Alaska. She lives bear free in South Anchorage with her husband and three kids four and under. She is not Jeff Landfield.