Welcome to this week's edition of the Alaska Stalker, a lighthearted round up of the best and worst of Alaska's social media landscape.
***
If you enjoy the Alaska Stalker, please consider supporting working moms like me by sending in hot tips, overheards, and spotted ins. You can reach me at akstalker@alaskalandmine.com. As always, thanks for reading.
***
Ahhhh summer in Alaska. The yard signs are popping up as quickly as the dandelions. While I appreciate a good photo, I prefer a juicy yard sign scandal. Don't forget to send your photos and tips to akstalker@alaskalandmine.com. While I'll pass on candidate for House District 15, Lyn Frank's yard sign, I do want to ask Judy Jessen where she got her fab swinging chair.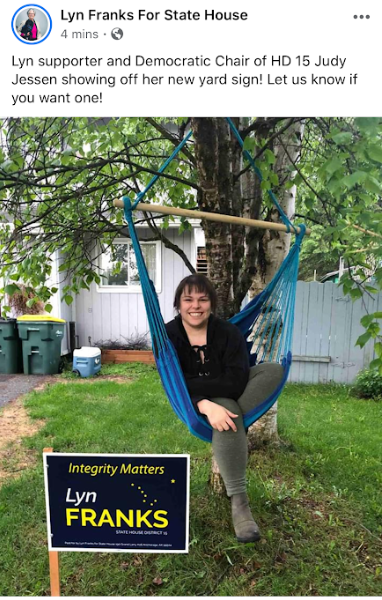 ***
I might consider a Nelson for State House sign (also District 15!) but only if the cat is included. Look at those eyes! Puuurrrfection. 😻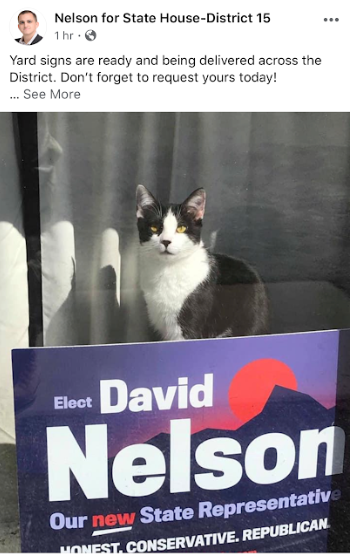 ***
I know it's early, but I already have a favorite for best sign of 2020. The explanation is a bit much, but candidate for House District 40, Elizabeth Ferguson, hit a home run.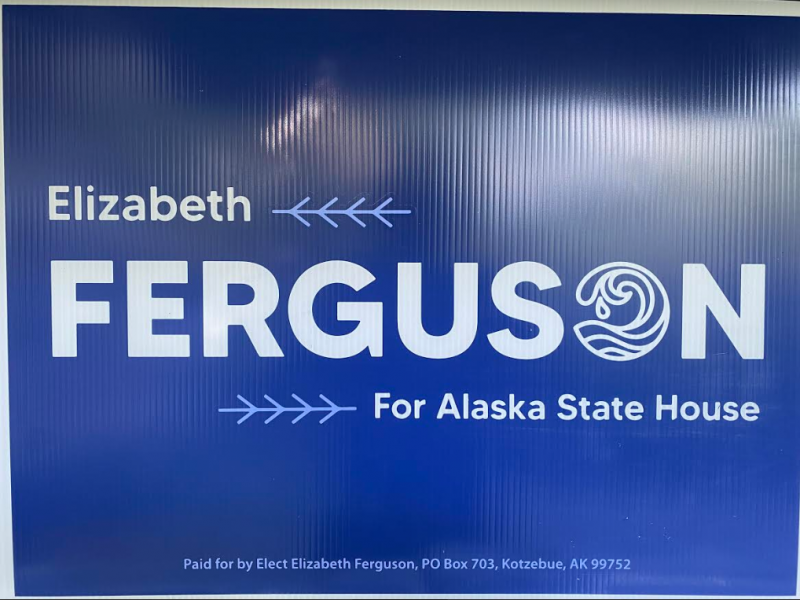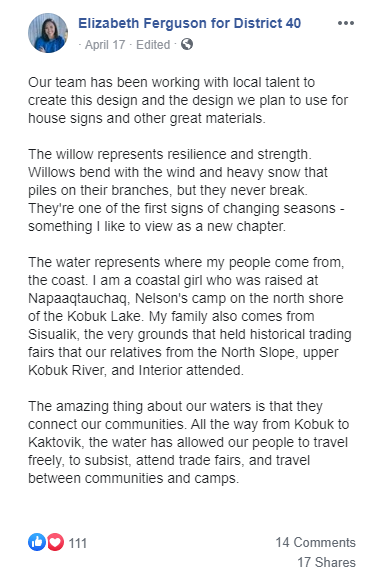 ****
2020 is apparently the year of the moose. Marna, has anyone ever told your moose he needs to smile more?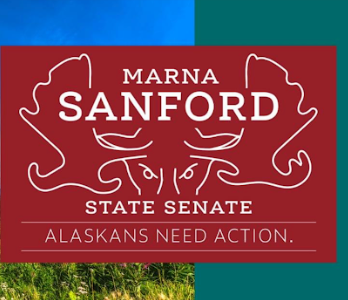 ***
Sorry Marna, I have to give the edge to hunting guide, Rep. Mel Gillis, and his statesmanly moose.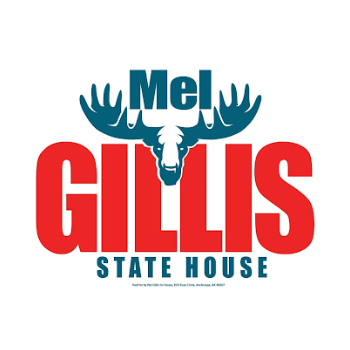 ***
In the end, it's Congressional candidate Alyse Galvin that has the best moose related political content out there right now. Did Alyse get this in one take? Impressive, albeit a little too close for comfort. And don't miss her most recent post of a mama and calf from this evening. 😍
***
The sign wars are heating up! Candidate for House District 28, James Kaufman, seems to be one of the first victims of the 2020 cycle. Apparently he called his opponent, Rep. Jennifer Johnston, to see if she was the vandal. LOL! Did James forget about his other two opponents? If you live in District 28 and something happens to your yard sign, might wanna ask Adam Lees or Ross Bieling first. If you know, you know.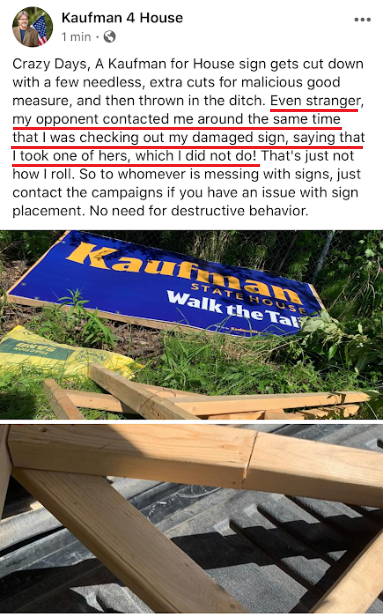 ***
I don't think Jennifer has had time to vandalize any signs. She's been too busy reading up on this new thing called Corona virus. Thanks for sharing this info four months into a global pandemic, Jennifer. Very informative.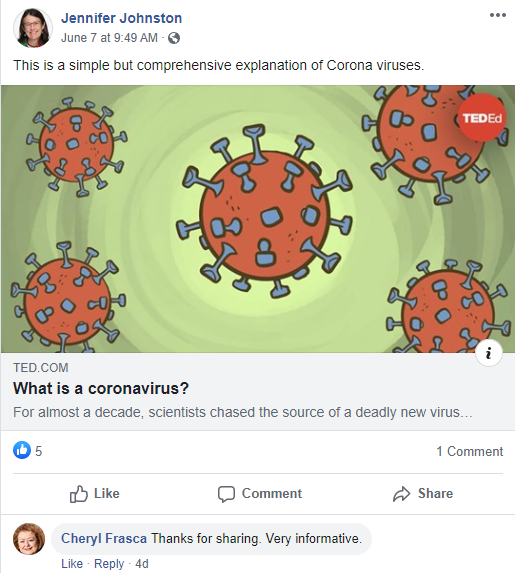 ***
If you are worried about COVID-19, might I recommend Rep. Sarah Vance's fundraiser this weekend. It's being marketed as a Covid-Free event! Amazing! I can't think of a better way to celebrate President Donald J. Trump's birthday than kicking it mask free in Homer with a bunch of far-right patriots. Mark the Stalker down as definitely interested.

***
Speaking of Sarah, she caused several Alaska knitters to drop a stitch and raise an eyebrow when voicing her disapproval of Mason-Dixon Knitting's name change. Knitting has become so political over the years… I mean in the Modern Day. 🙃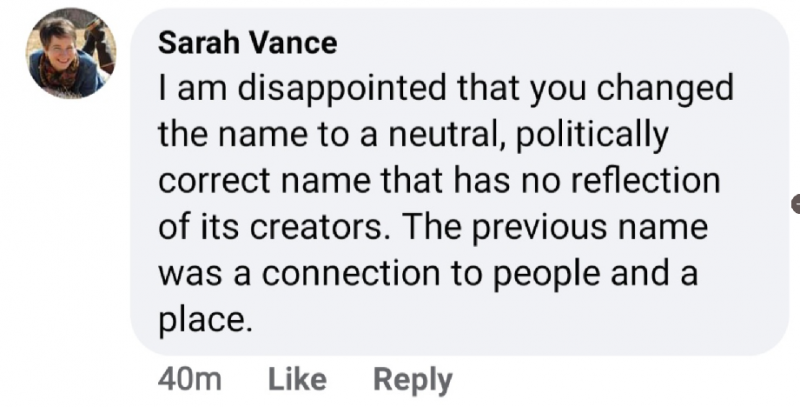 ***
Dusting off this gem from February. Is anyone else waiting with baited breath for Sen. Natasha von Imhof to write a post applauding Jeff Landfield for entering her race?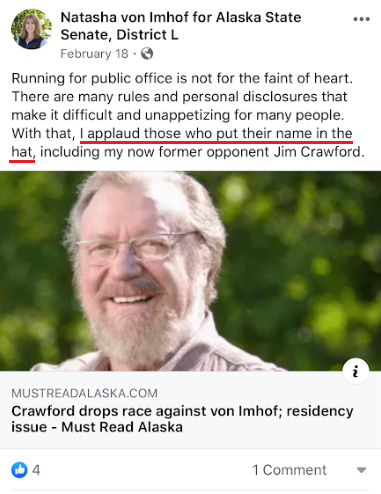 ***
I bet Natasha is applauding her primary opponent's self-inflicted campaign implosion after he spent a half-an-hour on the June 5th episode of The Dan Fagan Show doubling down on his Facebook post that said, "George Floyd never existed, change my mind." The big question is, will Stephen Duplantis drop out after admitting publicly, "my political career is ruined." Not exactly what most donors or constituents want to hear.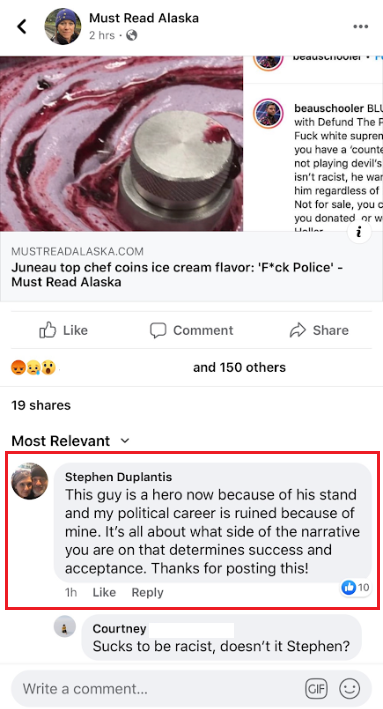 ***
Looks like Congressman Don Young found Sen. Josh Revak's lost modeling pics to use for his latest campaign ad. 💁‍♂️ Those comments tho…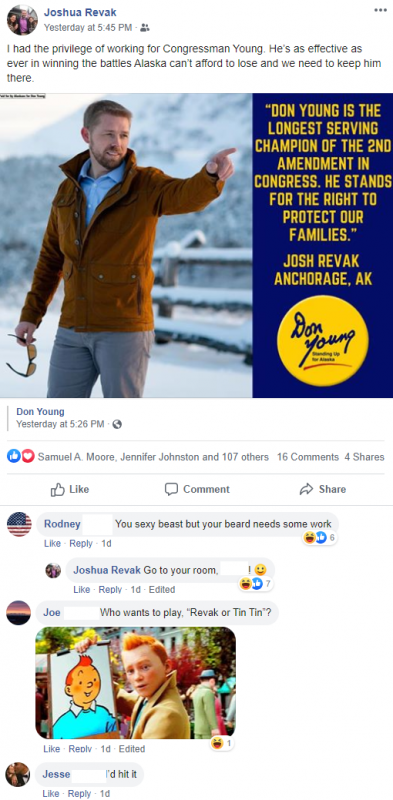 ***
Of course, not everyone is a Revak fan. LOL!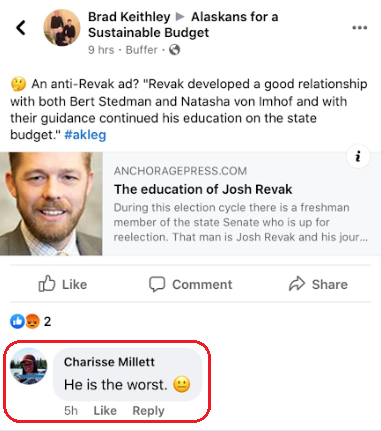 ***
And now it's time for our newest guessing game: Guess the Ad Campaign! Which candidate does this sponsored Facebook ad belong to? Great use of the word mollycoddling.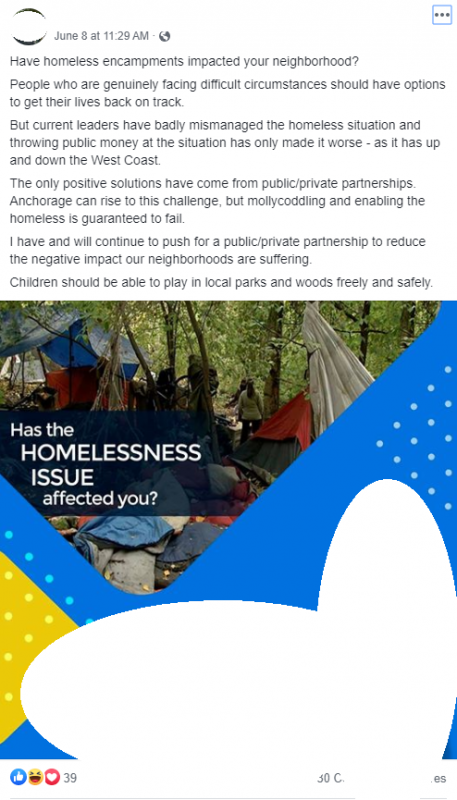 ***
If you guessed Rep. Sharon Jackson, Rep. Sara Rasmusson, or Rep. Laddie Shaw, you'd be incorrect. It's Rep. Gabrielle LeDoux! Gabby is running several hard right ads this election cycle. I wonder if they'll disappear after the primary?

***
Gabby's Democratic opponent in the general, Lyn Franks, has a lot of ground work to make up. Two likes, and one of them is her own. Integrity matters! So does engagement!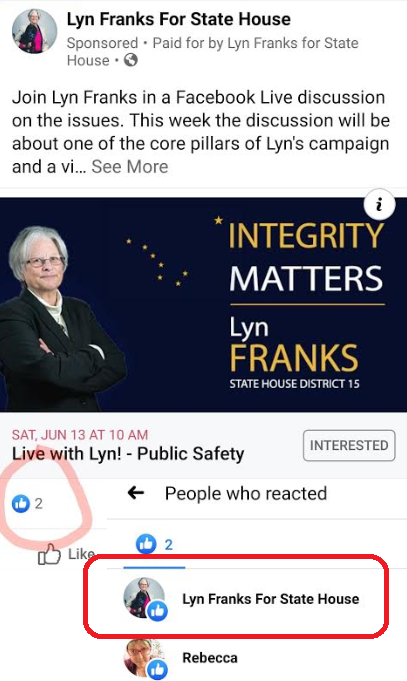 ***
Meanwhile Gabby's primary opponent, David Nelson, is palling around with fellow veteran Rep. Laddie Shaw on top of Flat Top.

***
Laddie, where was Rep. Sara Rasmussen's invite?! 😱
***
***
I honestly can't tell if this is supposed to be a compliment, or a savage burn.
Dear Sen. Shelley Hughes,

Please resign from the Senate, move to Palmer, and run for the pinnacle of Alaska politics: Palmer City Council. I hear they can use more "very good conservative women."

K thanks, byeeee.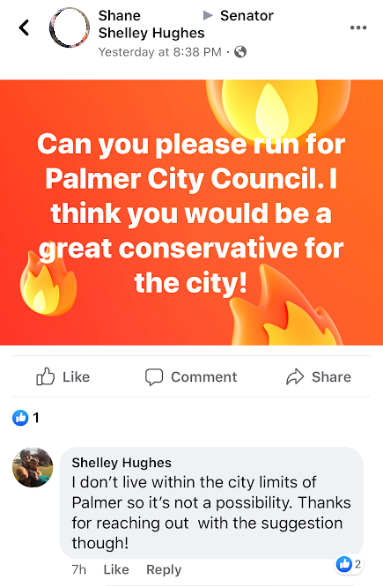 ***
As a longtime "Mackie Plan" supporter, I just want to say, "I want my Mackie bucks and I want them now!" Thank you, former Rep. Johansen. The public has a right to know.
***
Some helpful Facebook groups have popped up since the hunker down, and it's always fun to see familiar names of lawmakers and politicos weighing in on where to get the best fried chicken to go, who has hand sanitizer in stock, and if masks are good or bad. Rep. Harriet Drummond has found the group Anchorage to Go a great place to discuss one of her passions: bringing her own glassware to restaurants in lieu of a single use doggie bag or take out container. Sadly the group deleted her first post on the issue.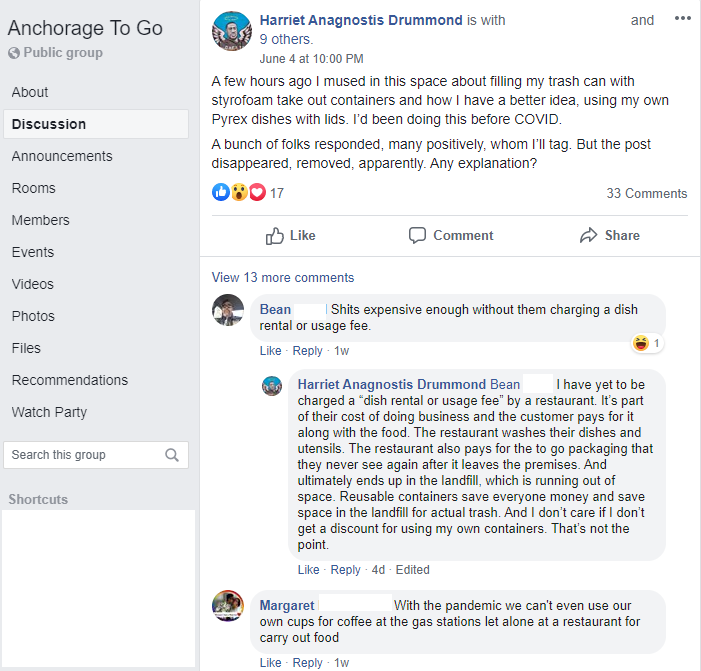 ***
Harriet, you should have called The Stalker. Here's your original post in all it's glory. You're welcome. 😘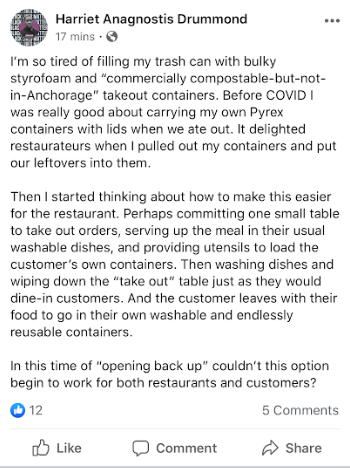 ***
Can someone invite Assemblymember Forrest Dunbar to the Anchorage To Go group ASAP? It's an emergency.
***
But my favorite new COVID related group on Facebook is Anchorage Businesses that Wear Masks. They have some good information, even if there is a lot of repetition when it comes to popular businesses. My favorite part is finding out which businesses show OAN (One America News Network) on their TVs. Apparently, to the majority of the folks in this group, that's even worse than not wearing a mask!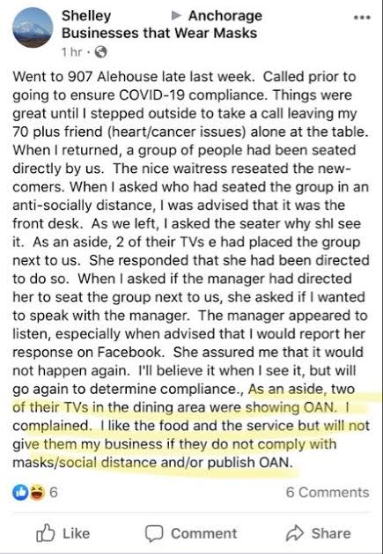 ***
I dunno, Nat, I'm still on the fence. What's their mask policy?
***
Welcome to the new normal for community council meetings. What's next, instead of taking summers off, will councils favor a winter hiatus so no one freezes to death? Actually, that might make folks stick to the agenda!

***
What a buzzkill, Chris.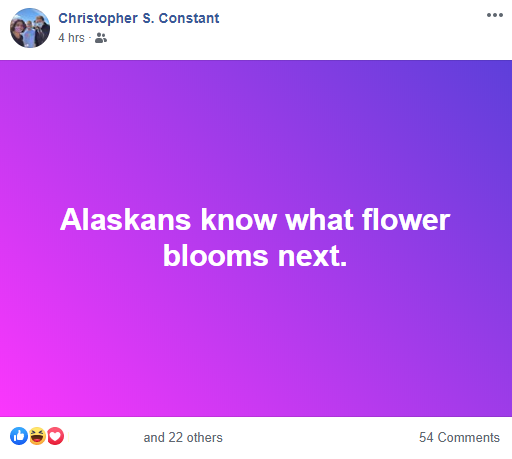 ***
Can we all please start a GoFundMe to get Assemblymember Meg Zaletel some better lighting?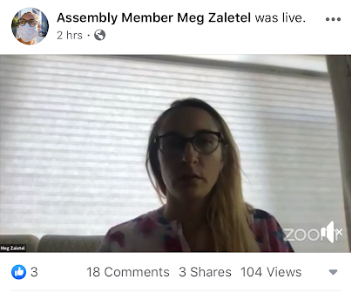 ***
Sent in via Stalker Mail: OMG. 💸💸💸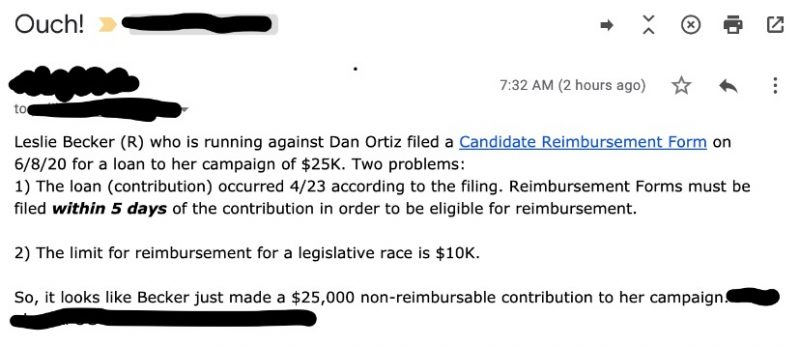 ***
Overheard in Oceanview: "District 24 looks like a war zone between Kopp and McKay. I've never seen so many dueling signs. Battle lines are being drawn."
***
Spotted at Humpy's: Dave Stieren looking *very* trim. As someone put it, "He bypassed the COVID-15 and lost the COVID-30!"
***
Spotted together an awful lot these days: Art Hackney and Bernadette Wilson. 👀
***
Spotted at Westchester Lagoon: Dr. Al Gross on the trails, with his Airstream parked off W 15th.

***
The Alaska Stalker was born and raised in Alaska. She is slowly emerging from South Anchorage with her husband, daughter, son, and baby on the way. She is not Jeff Landfield.