Welcome to this edition of the Alaska Stalker, a lighthearted round up of the best and worst of Alaska's social media landscape.
***
If you enjoy the Alaska Stalker, please consider supporting working moms like me by sending in hot tips, screencaps, overheards, and spotted ins. You can reach me at akstalker@alaskalandmine.com. As always, thanks for reading.
***
Today's the big day! Preliminary results of the special U.S. House primary election should start trickling in tonight. Let's keep it short and sweet, shall we? Don't miss the Landmine's special election coverage live stream, starting at 8:00 pm.
***
Let's check in with some of the top candidates over the last week of campaigning. Dr. Al Gross voted by mail. 📮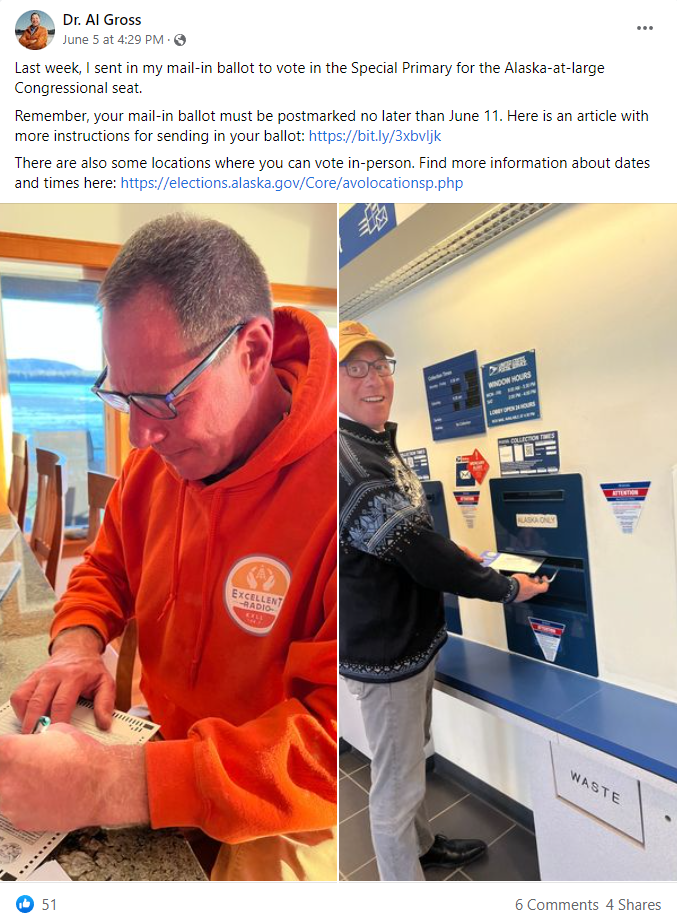 ***
Chris Constant voted in-person.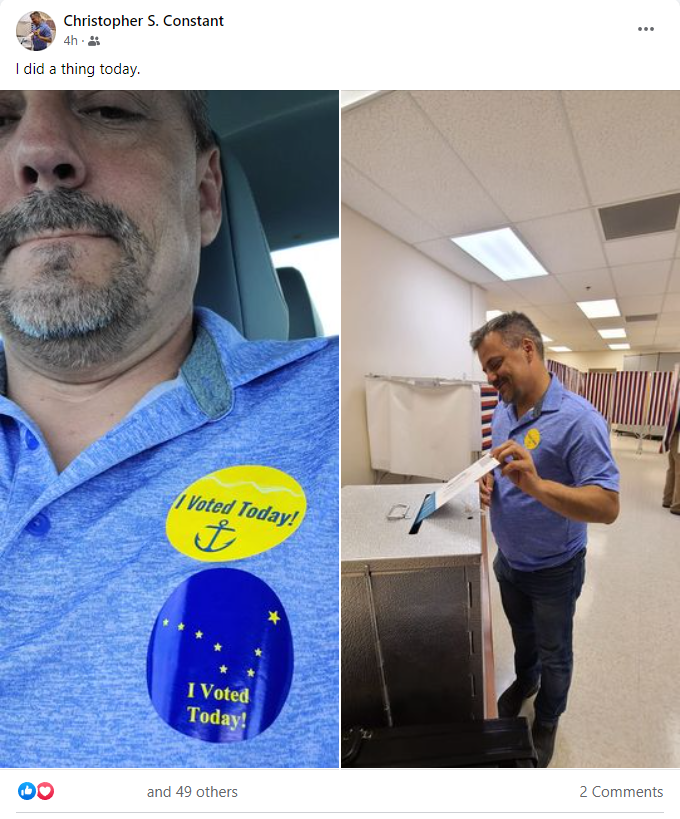 ***
Sarah Palin did what Chris did, just in heels. 👠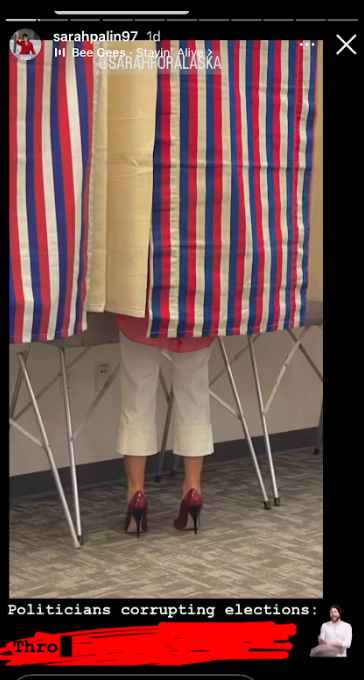 ***
Y'all. I cannot. Who thought "I'M NUTS FOR NICK" was a good idea? ☠️ I can think of several supporters this profile pic would be perfect for!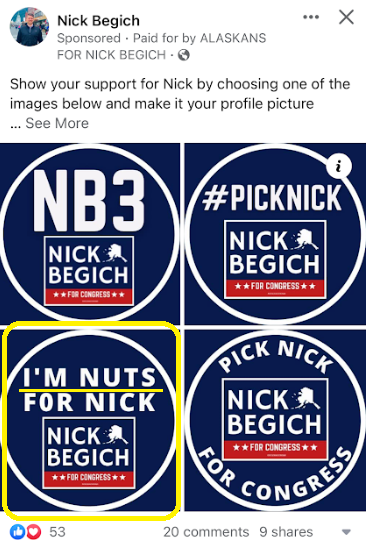 ***
Rep. Adam Wool spent the last day of the election attacking Santa. Weird Revak energy.
***
OMG did I call that or does Adam read the Stalker? Posted 45 minutes after publishing! Love it. Good luck Adam and Josh!

***
Adam's shade doesn't seem to be hurting St. Nick's momentum. Will there be enough voters on the nice list to put Santa in the top 4? I think he'll be up there.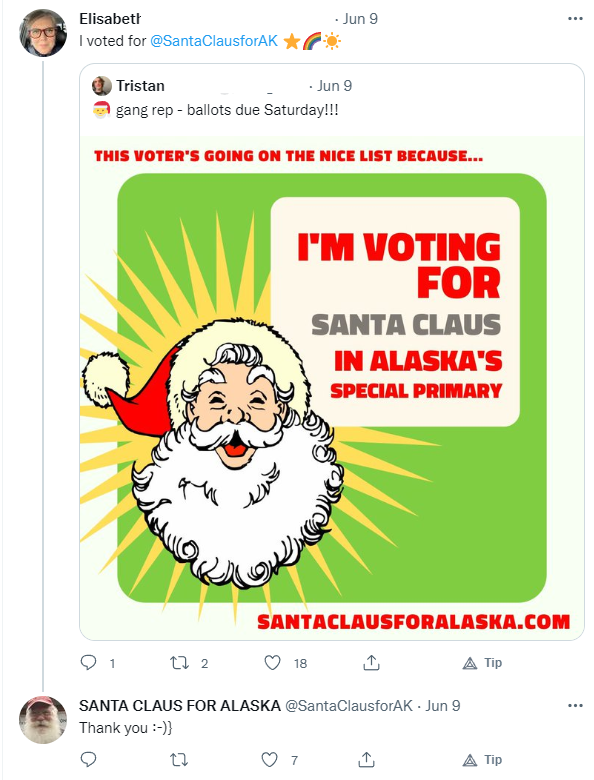 ***
If voting boiled down to signs, I might give a fourth slot prediction to Tara Sweeny. Anchorage neighborhoods seemed to be papered with them.
***
A strongly worded message from candidate Lady Donna Dutchess on what will happen if she falls short.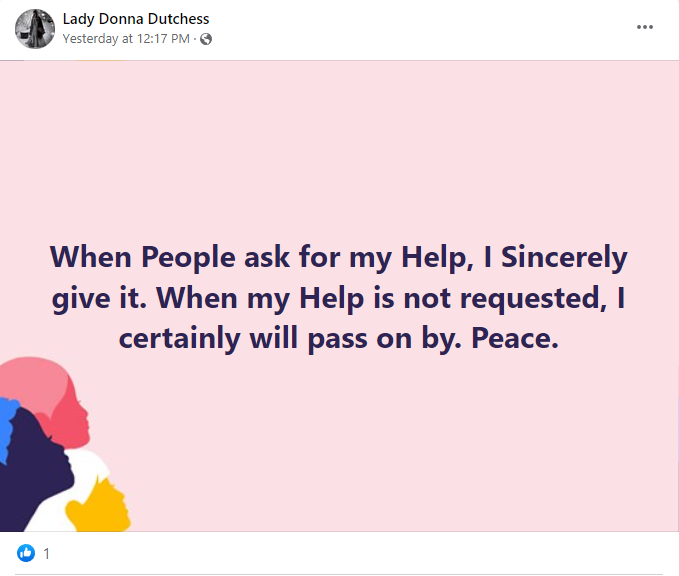 ***
A couple candidates spent time in Juneau this week for Celebration. Absolutely beautiful!

***
I can't resist sharing this post from Tlingit & Haida's Facebook page. The toddler Regalia Review encompasses several of my top interests; it was a delight to watch for a few moments. Enjoy!

***
If you want to track your special election ballot, follow these steps handily posted by Rep. Spohnholz. Can't wait for those results tonight!

***
Legislators are finally back from Juneau and getting into the swing of campaigning. Rep. Mike Cronk met with thousands of his constituents at a COVID friendly gathering of like-minded individuals bloodsuckers. They wouldn't leave him alone!  🦟🦟🦟🦟🦟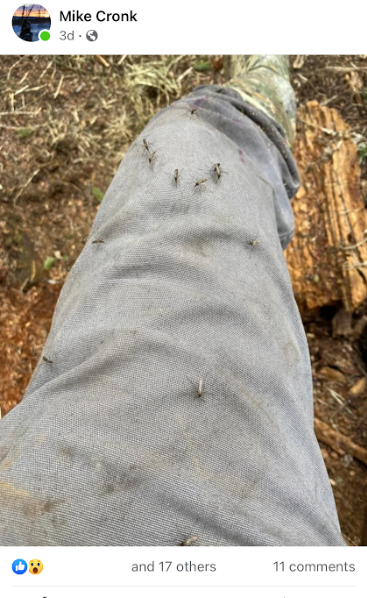 ***
10/10 dog pun and pic.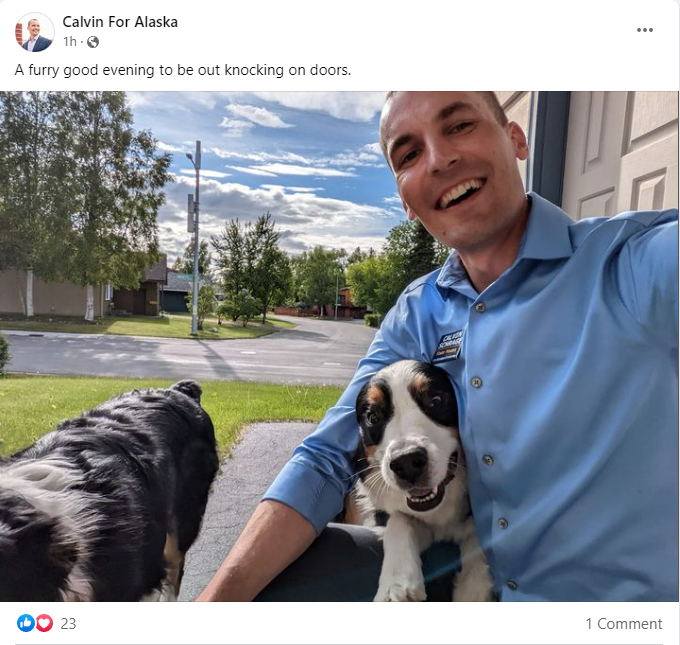 ***
Throwing it back to 2018 with the Best. Door. Knock. Ever. With redistricting, who knows where this alpaca resides now. I can only hope and pray we see this amazing face again this election season. 🙏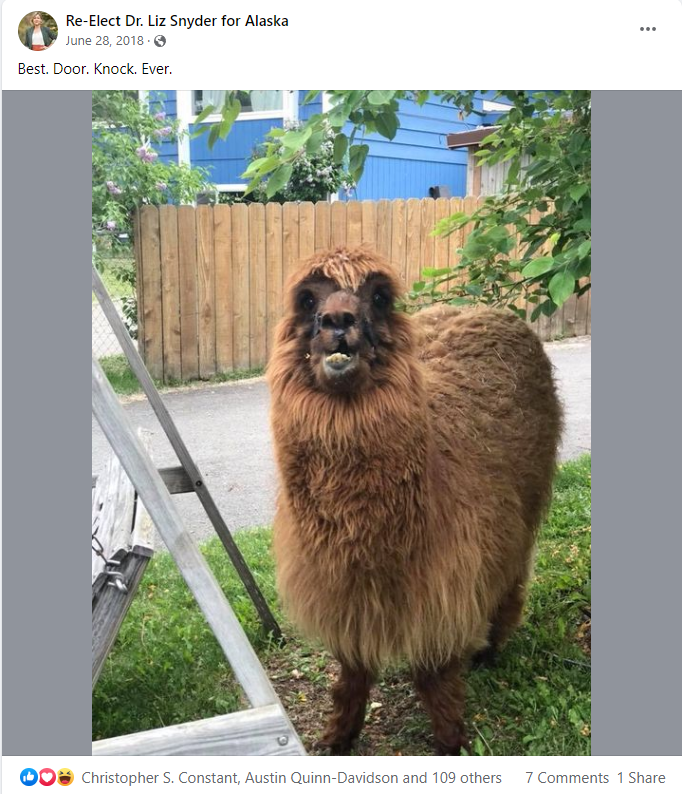 ***
Now that is a ROCK SOLID endorsement. OMG. #stillrockhard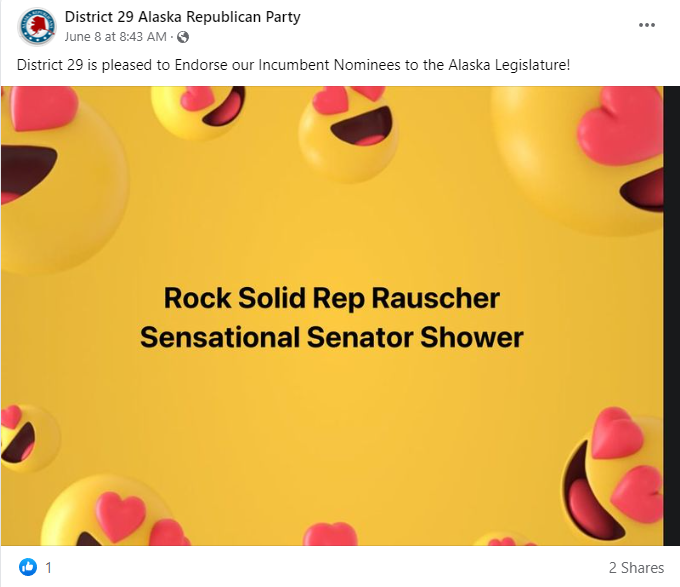 ***
Double Dog Dare Jamie Allard to call Roger Branson a mama's boy.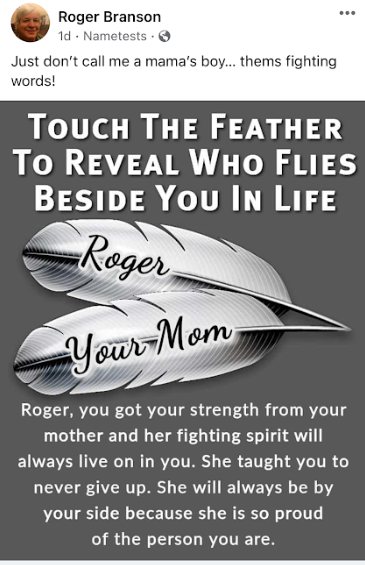 ***
Kelly's been running for office her whole life for well over a year now. Glad she took some time off for a date night. I hear Top Gun is amazing! Niki's t-shirt tho. #alwayscampaigning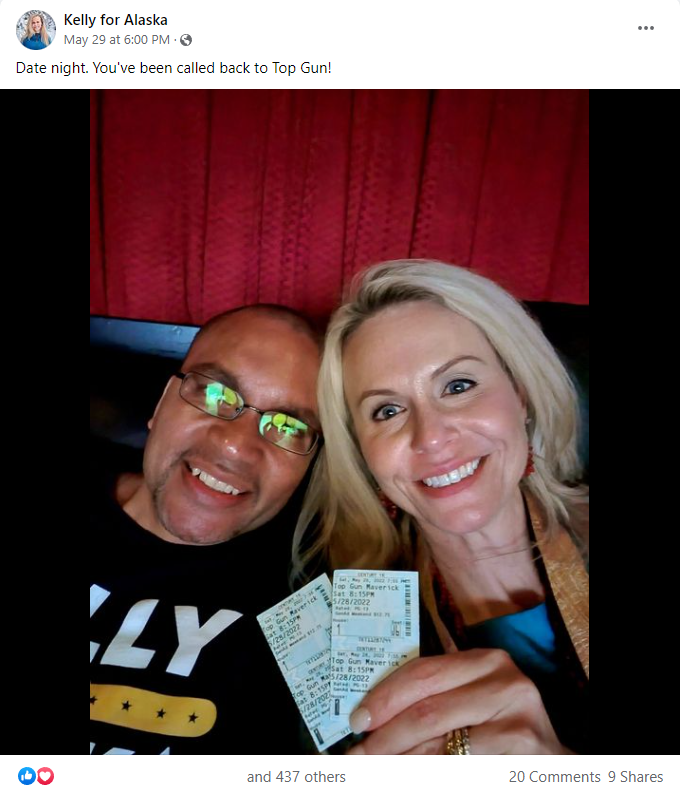 ***
I thought nothing could top date night while wearing your wife's senate campaign shirt. I was wrong. Check out Sen. Robb Myers and his wife, also out on a Top Gun date night, with *matching* Catchup with Jesus t-shirts. If this isn't #couplegoals I don't know what is. 👩‍❤️‍👨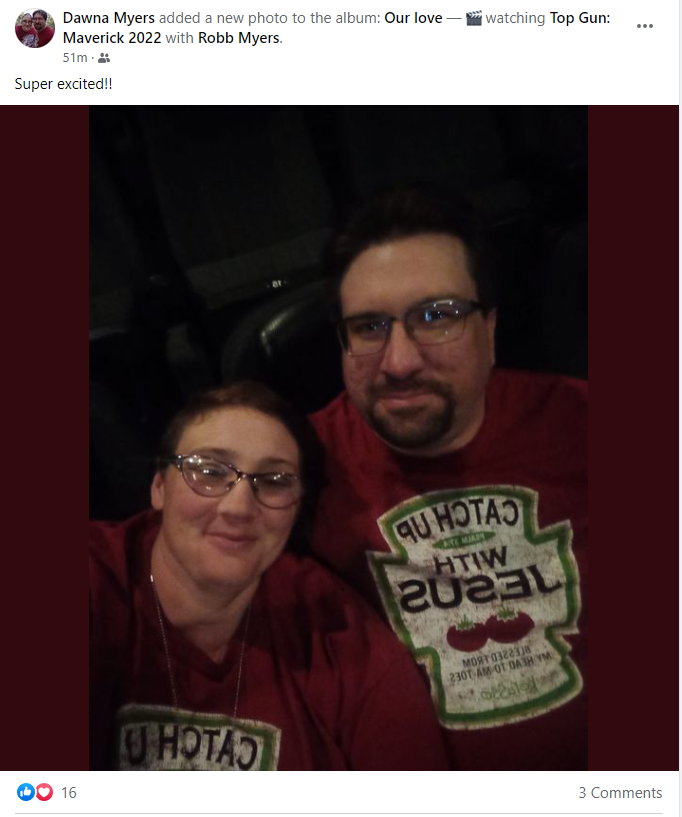 ***
The governor's race has gotten a little less exciting recently. Can't quite pin point the exact reason. Oh, wait. 💰💵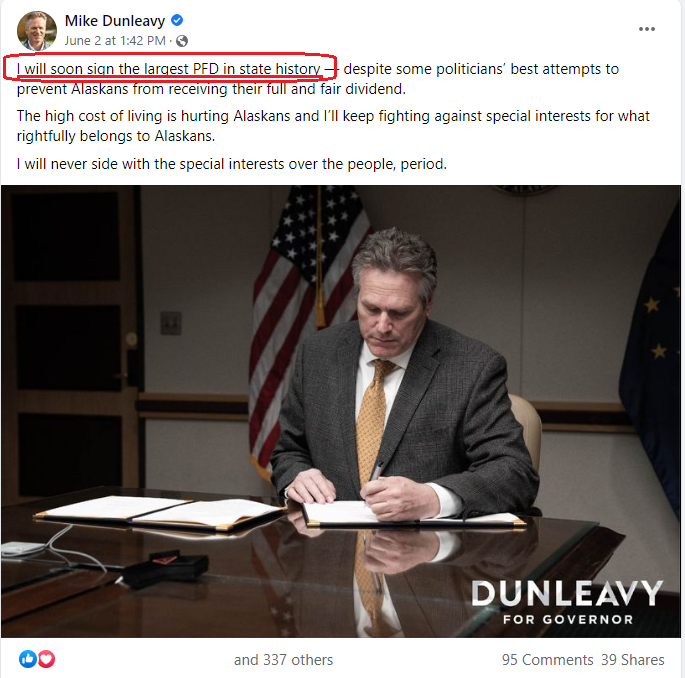 ***
For once in his life, Les Gara doesn't have anything to say! 😂

***
Charlie Pierce is going hard for votes on Facebook. Can he sway Charisse?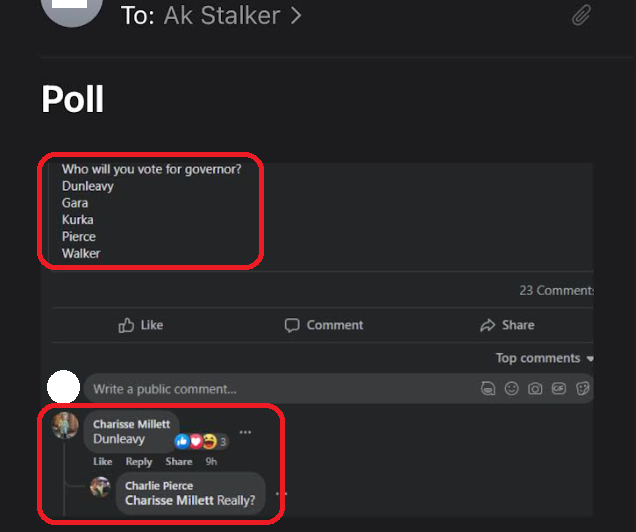 ***
Did you see Charlie's epic video on ranked choice voting? I can't get enough of those wacky stock photos. Maybe Alaskans for Better Elections should hire Charlie.

***
Bill Walker and Heidi Drygas are pretty much everywhere these days. I do have to give a shout out to what will now always be the power outfit of any women in Alaska running for office – it's YELLOW BLAZER TIME! Heidi, I LOVE it! 💛✊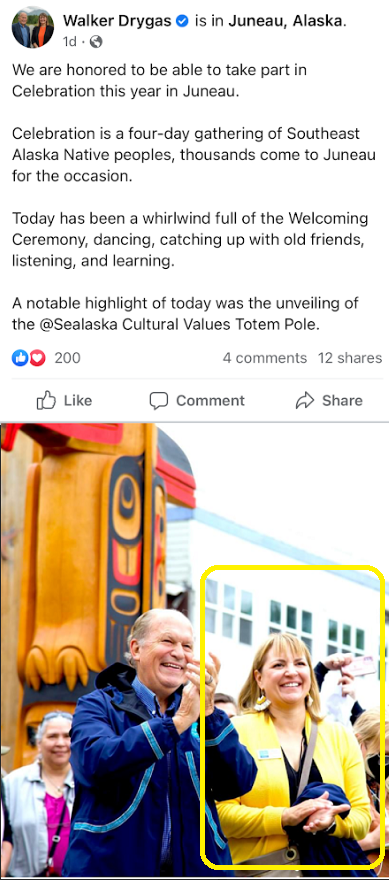 ***
I also have to give an honorable mention to Ashley Carrick for "the reverse Alyse" when she filed to run for State House. 💛✊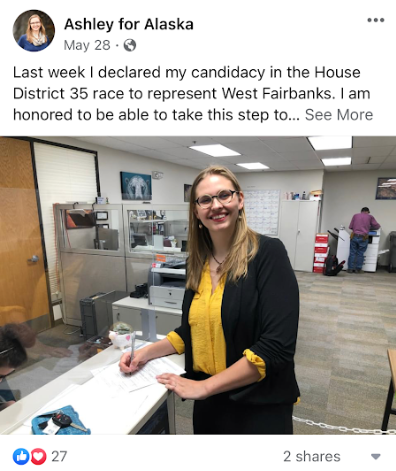 ***
Then Alyse goes and reinvents herself with a fresh look just in time for summer. The lemon top! The yellow pants! She can do no wrong.
💛✊ 🍋 I hope the famous yellow blazer is hanging safely in her closet just waiting for that perfect rainy day to make a reappearance.

***
If anyone tries to come for me for silly politician outfit posts, just let it go already. It's fun and everyone does it. For the record, I think Al might have the edge here.
***
With so much going on, I almost forgot the Twitter drama of the week – The Mudflats vs. conservative civic activist Russell Biggs. Get your popcorn, folks. Far as I can tell, it started with this tweet, calling into question the voter registration and even real name of Matthew Beck, the new comms director for the Alaska Democrats. You may also know him as the Blue Alaskan.
***
The Mudflats jumped into the fray and some amazing back and forth ensued. Alas, the Mudflats ended up deleting some of it, but I have partial receipts.

***
Russell made some serious allegations against Matthew. So serious that they couldn't possibly be true – that would just be too over the line. Right? 😬 I'm no expert, but the best way to shut down rumors is usually to refute them with facts, an explanation about the possible criminal record stuff and Matthew Beck's actual voter files. A good way to stoke these rumors would be to call Biggs a creepy stalker over and over, tell him to go seek help and then delete the whole exchange. Seems sus. 🤷 It's not fair for Matthew to have his good but possibly fake name dragged through the mud like this. I'm sure Matthew will release a statement soon to set the record straight. Any minute now. ⌛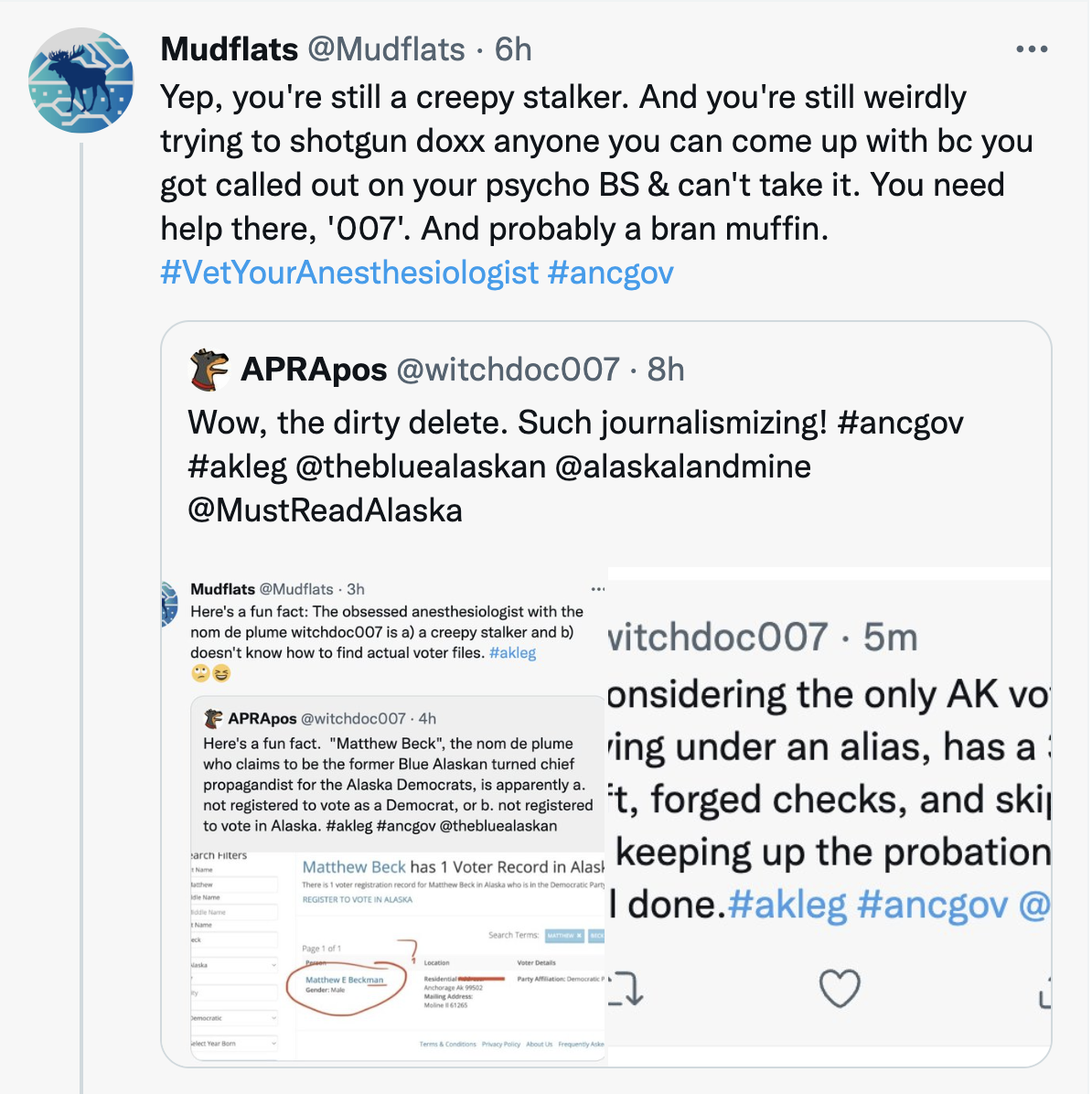 ***
Spotted at Steam Dot: the lady in yellow herself – Alyse Galvin!
***
Spotted door knocking in South Anchorage: Laddie Shaw. My tipster was quite disappointed she didn't get a ride in his Ural motorcycle. 👀
***
Spotted at Steam Dot:
Walker Campaign Manager TJ Presley meeting with Joe Plesha, comms person for the House Majority.
***
Overheard on Dan Fagan: Dan doing a quick fire call-in poll for the governor's race, with several folks calling in to "vote" for Begich or Palin. For governor??? A good reminder that people like us aren't normal. Even those who are semi-engaged in local politics, who listen to local talk radio every morning, still don't always know who is running or for what.
Oh, and Charlie Pierce won Dan's "poll." Of course.
***
Spotted in Anchorage:

***
Spotted on Netflix: Stranger Things flies Alaska! IYKYK. If you want a low key spoiler, click here.

***
The Alaska Stalker was born and raised in Alaska. She lives bear free in South Anchorage with her husband and three kids five and under. She is not Jeff Landfield.