Welcome to this week's edition of the Alaska Stalker, a lighthearted round up of the best and worst of Alaska's social media landscape.
***
Note: for those of you who may not know, I'm expecting my third child in four years later this summer. While I've been trying my best to keep up with the Stalker's usual weekly schedule, from now on things may be a bit more… fluid. A big thank you to Jeff, the Landmine crew, and our readers for being so supportive. I couldn't do it without all of you! Be sure to keep sending in tips to akstalker@alaskalandmine.com
***
My "balogna" has a first name, it's L-A-U-R-A.
Never change, Lora. 👁️ eye luv ur social media choices.

***
After approximately one-million birthday fundraisers, Congressman Don Young put on his trusty Don Young best: jeans with suspenders and a homemade bolo tie, and posed next to one of those nifty, newfangled electric bikes. I mean, if there's no footage of him actually on the bike, I'm not that interested. 👎

***
Meanwhile, Sen. Dan Sullivan has activated the deadly TRIPLE MATCH PROGRAM. With all of the "this race is finally competitive" and "Alaska is turning purple" articles popping up, perhaps Dan's opponent, Dr. Al Gross, should unlock the QUADRUPEDAL MATCH!!! Where does it end?

***
KTUU's mask coverage has gotten oddly specific. Oh, wait. I see what they are trying to do. Not very subtle. That Scott Kendall reaction really gave it away.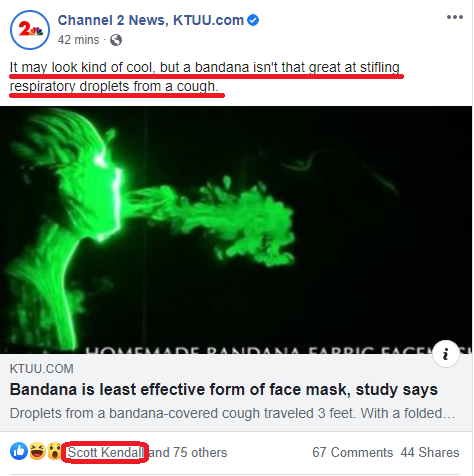 ***
For those of you not in the loop. Seriously, KTUU? Does the K stand for Karen?
***
Rep. Cathy Tilton channeled every mom (and some dads, too) with her post hunker down crafty confession. "During the early days of the quarantine, I spent hours on various art projects." I feel seen.  Her finished product looks much better than anything I accomplished with my toddler. I'm still cleaning up glitter.

***
Well hello there Rep. Thompson. It's been a long time since you've posted from your campaign page – almost 6 years! Did he really just skip two election cycles? 🤣🤣🤣

***

***
Candidate for House District 7, Lynn Gattis, also heeded the Stalker's suggestion and changed out her outdated profile picture frame. What once said "Merry Christmas" in June now says, "We back the Blue" AND "I support the NRA." Lynn went full Valley!

***
Okay, we have to taco 'bout Sen. Josh Revak's "Taco Tuesday & Tango" fundraiser. So many deleted comments even I didn't get them all. Here are my main takeaways:
1: Marta looks fab. 💃
2: Is Josh wearing his sunglasses on top of his head while doing the Tango? Dude. 🕶️❌
3: Did you see Judy Eledge's comment? 🙈
4: Did you see the "taco" comments?!!! 😱😱😱

***
Josh isn't the only one hosting themed dancing fundraisers. Check out Rep. Sharon Jackson's moves! I'd hate to be the person who has to figure out an APOC report for a money dance. Hope all those dollar bills on the grass have names attached!

***
I think Rep. Eastman might be a liiiiittle worried about his reelection.

***
It's okay David, I doubt your opponent, Jesse Sumner, is at your doorstep with his chainsaw. So far all he's done is get tons of endorsements from people who work with you. Or they would. If you'd let them.

***
I have to say, I miss Natasha von Imhof for Alaska State Senate, District L's campaign signs from last cycle. It seems like everyone is going with the red, white, and blue theme this year. Kinda boring. Isn't it tone deaf curious that she used the phrase "private landowners" in her most current campaign post. Us regular folks call them homeowners.

***
Speaking of District L, I don't know if this is real or not. I hope it's not. Pinned Tweet and everything. Yikes!

***
While I can't quite put my finger on it, my three-year-old can't get enough of candidate for Senate District D, Loy Thurman's, campaign. She is very disappointed we don't live in his district, especially after she heard he's been going door-to-door. 🎅🙃

***
My favorite part of this post by candidate for House District 22, Stephen Trimble, isn't that he promoted his own business on his campaign page, it's that he deleted it after someone told him it probably wasn't the brightest idea. 🙌☀️☀️☀️🙌 Could you imagine what people would do if Sara posted anything real estate related on her Representative or campaign page?

***
If you need to reach the chair of Leslie Backer for House District 36, you can email him at *checks notes* biceps77@hotmail.com. 🤣🤣🤣 Can someone send us a pic of said biceps? I mean, are they worthy of naming your email after? I have to see this.

***
I thought I was going to miss Claman's former opponent, Marilyn Stewart, this election cycle. She is one of the nicest people I have ever met. But then the candidate gods gave me the gift of Lynette Largent Choose Life. I am confused, but I'm also laughing. YES!!!

***
I have no words to describe this masterpiece.
Is it just me, or are there way more candidate generated memes this election cycle? I am not a fan. Yet I cannot look away…

***
I've seen a lot of campaigns use weird animal photos that make no sense. This one's cute. Good "call" Kelly.
 
***
Okay, how did I miss the fact that candidate for House District 27, Liz Snyder, has her own campaign school bus?!?! This is ten times better than any Airstream. This is a good reminder that I really need to go "straight INTO Muldoon" more often.
 
***
Can't wait to see more high-energy content from candidate Robert Myers. 📉

***
Candidate Harold Borbridge's Facebook page is becoming a Stalker favorite. You have it all: swears, several-paragraph attack rants, threats against his potential colleagues, bragging about being fired and sued, and more. I highly recommend adding him to your feed.

***
In the midst of state and federal campaigns, the Anchorage Mayoral race is starting to see some action. Candidate and former Rep. Eric Croft debuted a sunny new campaign logo and website.

***
Mayoral candidate Forrest Dunbar also has a hot new website and campaign ad. 😮 While the website is clearly a troll, I wasn't completely sure about the video until I saw who posted it. I mean, in today's political climate, it could go either way. One thing is clear: this race is going to be lit!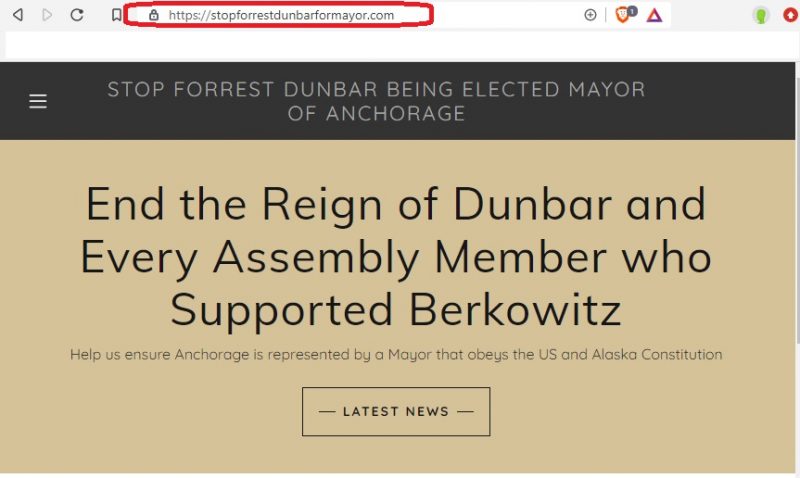 ***
To be fair, let's check in on the other big name in the race, former Anchorage Assemblymember Bill Evans. While he tragically deleted his Facebook, Bill's still producing wholesome content over on Twitter. Hey Bill, Happy 4th. Can I have a Hamilton watch party with you?
***
I'm telling you, Bill's worth a follow. I hope his positive messaging and hot entertainment takes continue.

***
Anyone could go at any time! Did Assemblymember Meg Zaletel leave Facebook to join Parler?

***
And you all thought she was anti-mask. 💁

***
Happy anniversary to Rep. Laddie Shaw and his lovely wife Linda! Wait, is that their wedding photo?! OMG it is! Look at Laddie's boutonniere pinned to his Asics tee-shirt. LEGEND.

***
Too soon? 👟

***
Speaking of tearing things down, you might want to say a preliminary goodbye to the seal of Anchorage in its current form. Just in case. Now you seal it, and from what I'm
hearing, pretty soon you won't… 😬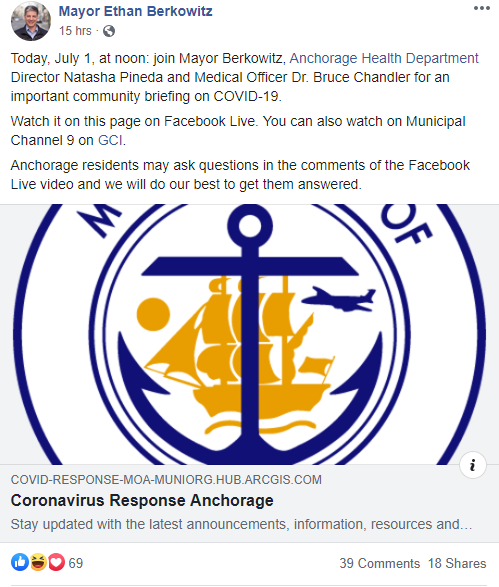 ***
Stalker Pro Tip: Candidates might want to check their campaign Facebook pages to see who has access and permissions to create content. Someone is outsourcing his stuff overseas and adding a lot of admins without a lot of transparency.
***
Spotted at the LIO: Rep. Matt Claman riding his bike into the building WITHOUT A MASK!
***
Spotted just days before issuing a mask mandate:

***
For the record, the Stalker only uses best mask practices. 💁😉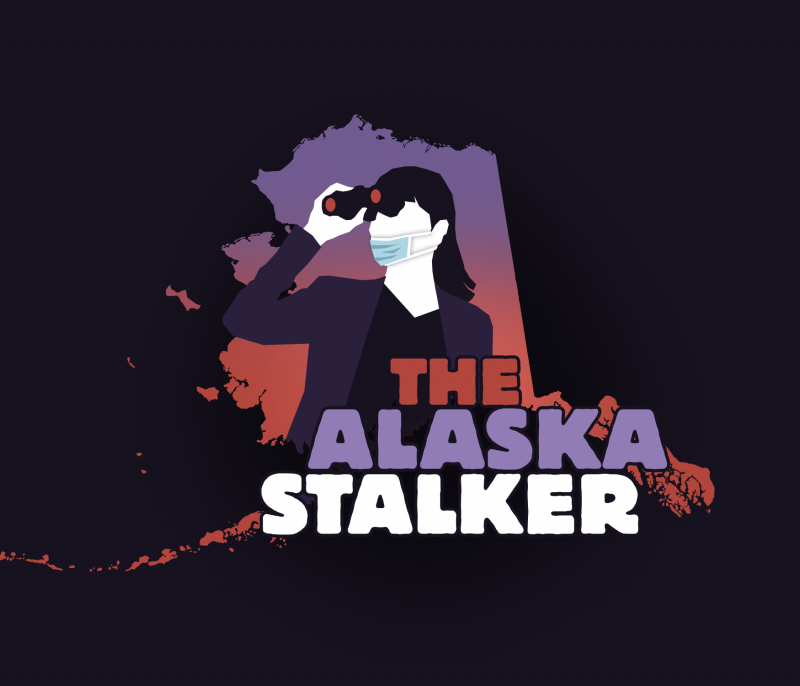 ***
The Alaska Stalker was born and raised in Alaska. She is slowly emerging from South Anchorage with her husband, daughter, son, and baby on the way. She is not Jeff Landfield.