Welcome to this week's edition of The Alaska Stalker, a lighthearted round up of the best and worst of Alaska's social media landscape.
Campaign season is in full swing which means lots of potential material for the Stalker. Don't forget to send tips to [email protected] And, as always, thanks for reading!
---
Shout out to Landmine editor-in-chief, Jeff Landfield, who had a fascinating interview with Governor Walker last week. If you're one of the four people who missed it, here it is. Thanks for posting the video Governor Walker. Who would have guessed an interview with Jeff Landfield would be your least controversial video of the week!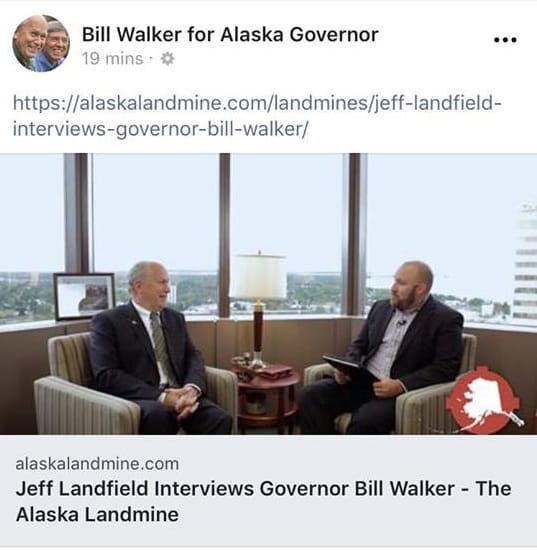 ---
I mean, I'm pretty sure we've all felt this way at one point. Especially this week.  Spot on Representative Gara!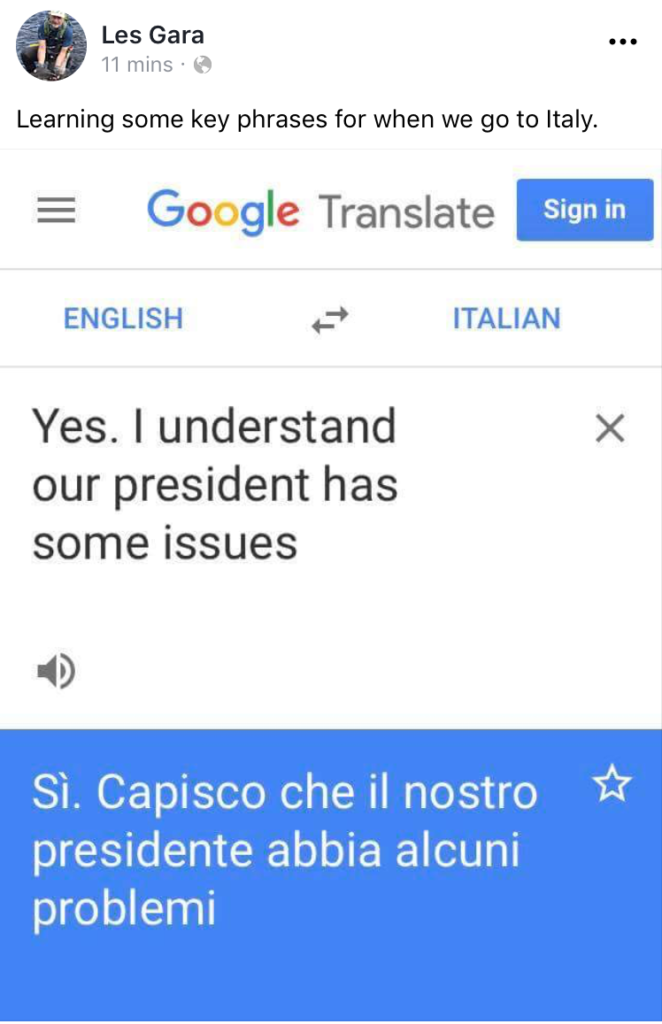 ---
Can someone perform a health and wellness check on Assemblyperson Forrest Dunbar? He's sure to be taking the DeBarr Blockbuster closure very hard since it's all he's talked about for months. Time to change that profile pic!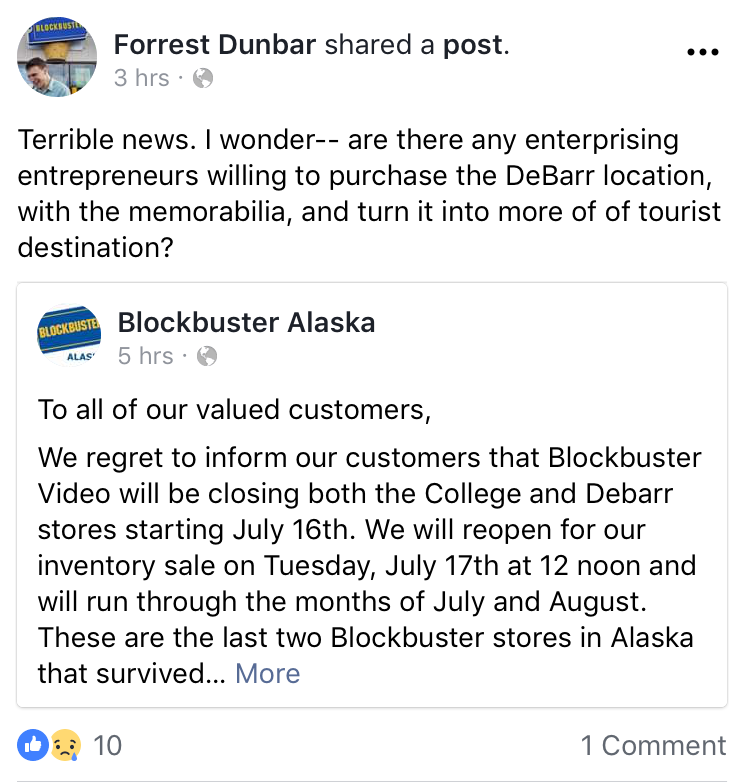 ---
We might also need a wellness check on Assemblyperson Christopher Constant after I tell him the big news… I'm sorry Chris. Harry Potter isn't real.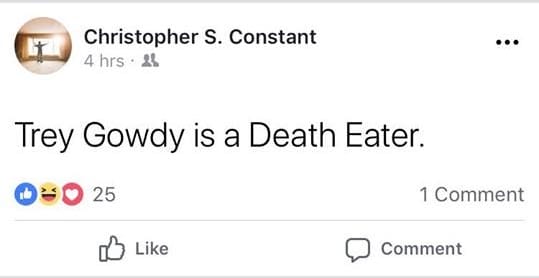 Unlike Assemblyperson Constant, we prefer our magic to be based in science. Like Senator Tom Begich.
---
We've had some reports of sign vandalism this week. Zack Fields and Mark Begich signs were seen torn in half on I Street. Then there's this photo of a young woman absconding with one of Representative Jennifer Johnston's signs. Does anyone know who this woman might Bieling? I mean might be.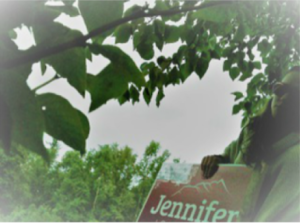 ---
Representative (and candidate for senate) Dan Saddler making a bold balloon choice at Bear Paw this weekend. ??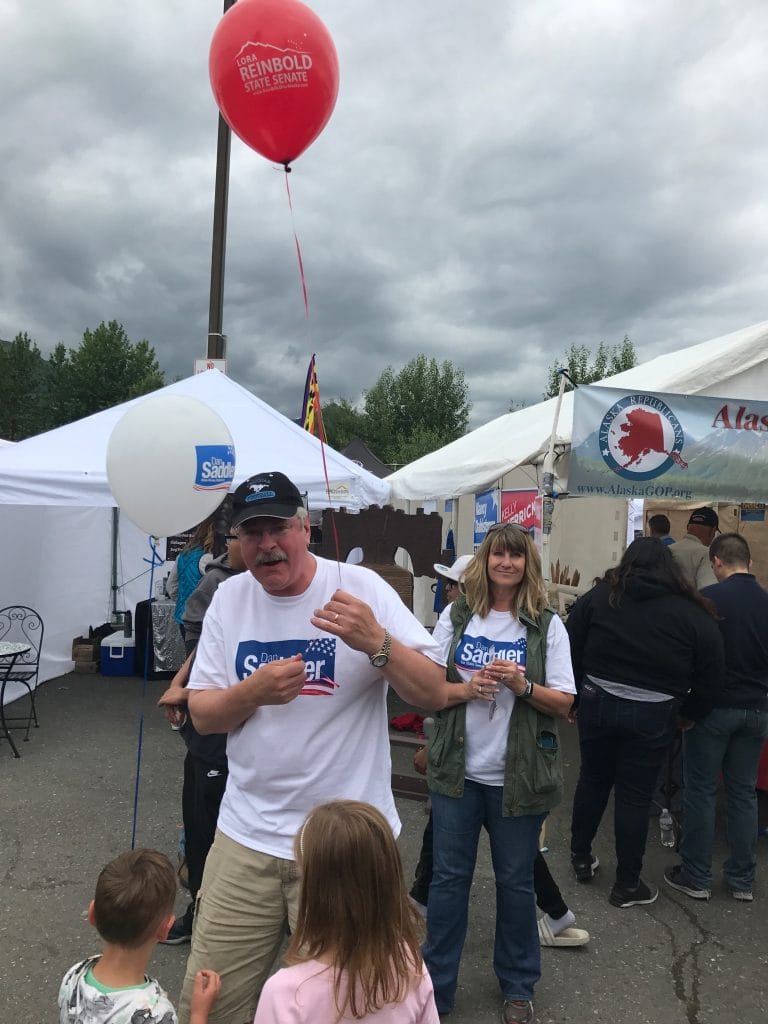 ---
Slow clap for candidate for Congress, Alyse Galvin. SO BRAVE. INSPIRED. WHAT A LEADER. 
---
Shout out to our favorite candidate for assembly, Nikki Rose. Did Mike Robbins write your rack card? Wait, is Nikki the President of the Sand Lake Community Council or something? We aren't sure…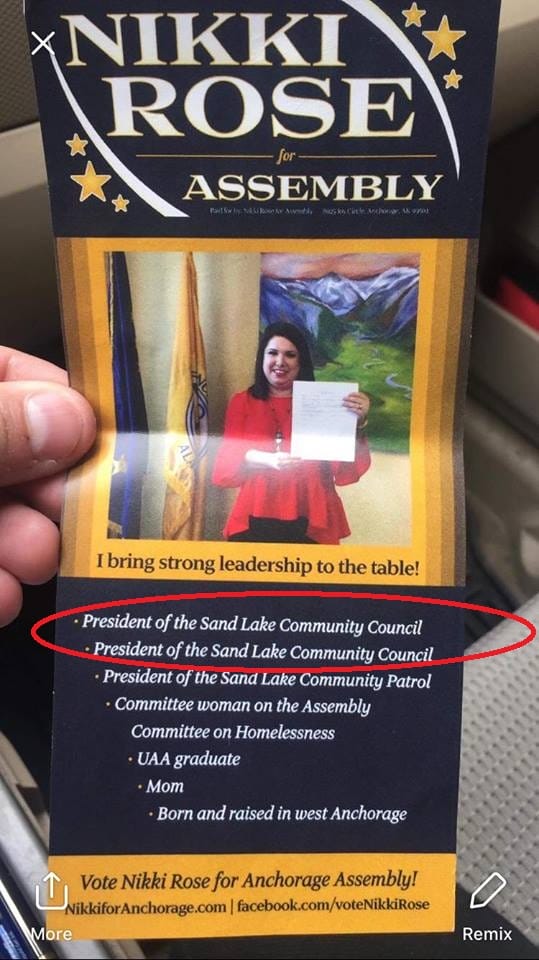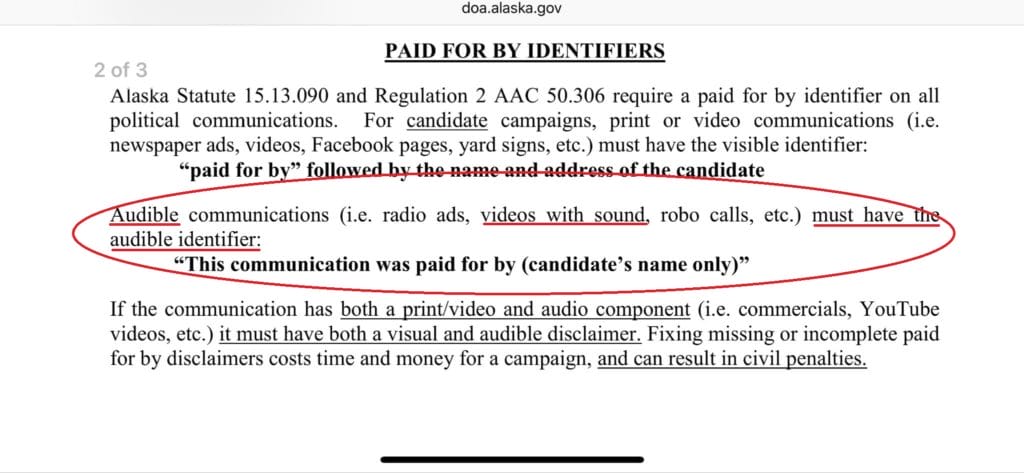 ---
Pro tip: If you want super snowflake David Nees to block you on Facebook, just post this meme on his wall.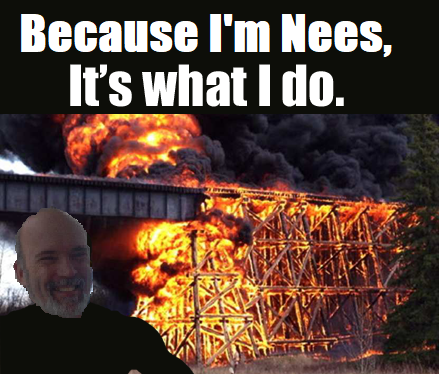 ---
After almost 5 months, Assemblyperson Felix Rivera has broken his silence on Facebook. To post a riveting update on the Midtown Mall? Followed by a conversation about sex at the library for middle schoolers… Can we kindly ask for another five month hiatus?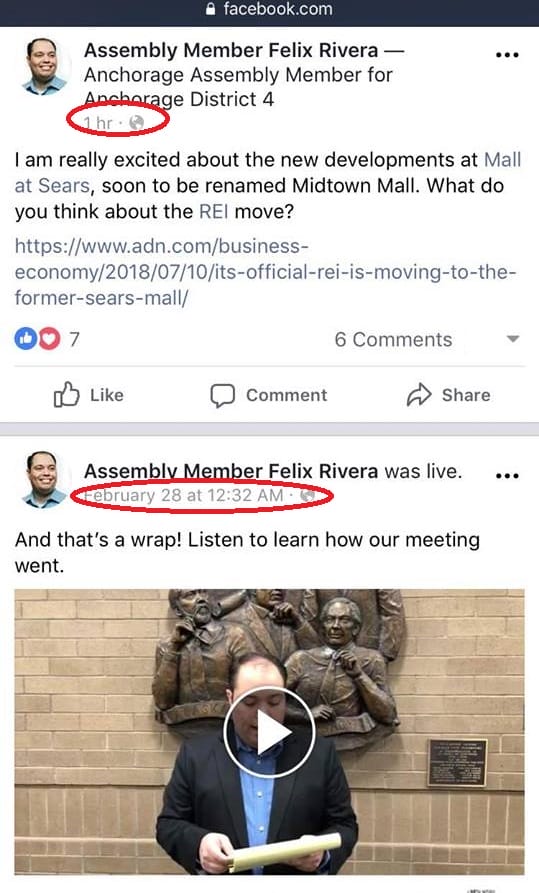 ---
HERO.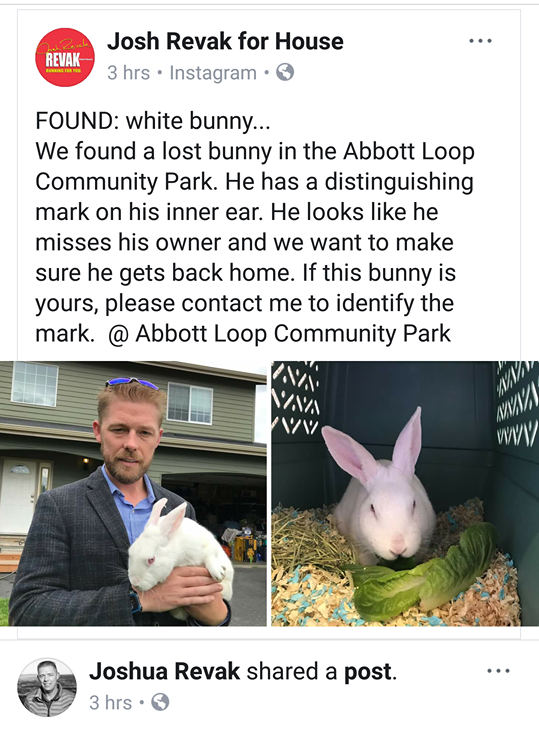 ---
Does @SenDanSullivan2 live in Ohio or Nigeria?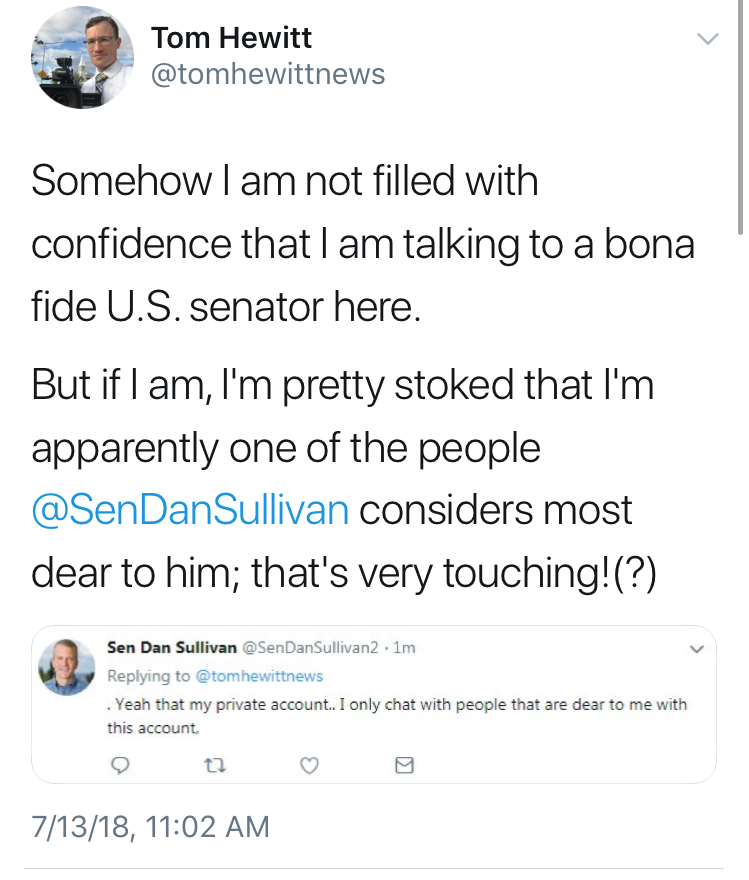 ---
A Zack Fields sign and a Mead Treadwell sign in the same yard? We have…. questions.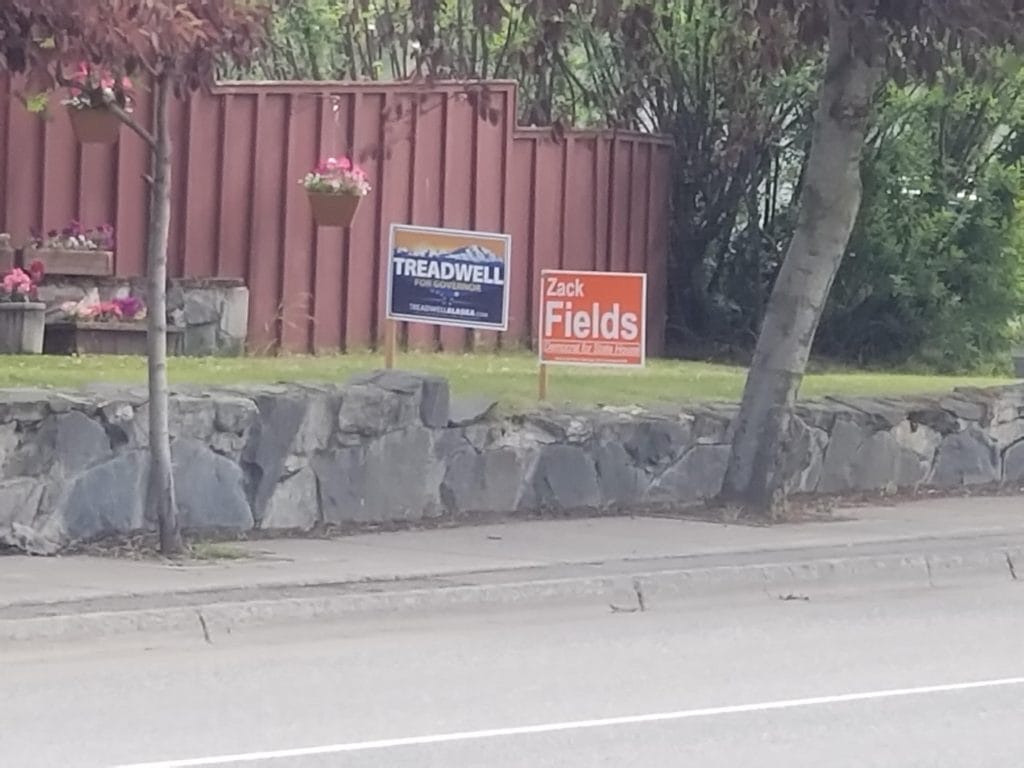 ---
But that's not nearly as mind boggling as this Republicans for Begich sign sent to us by a loyal reader. Is this even real?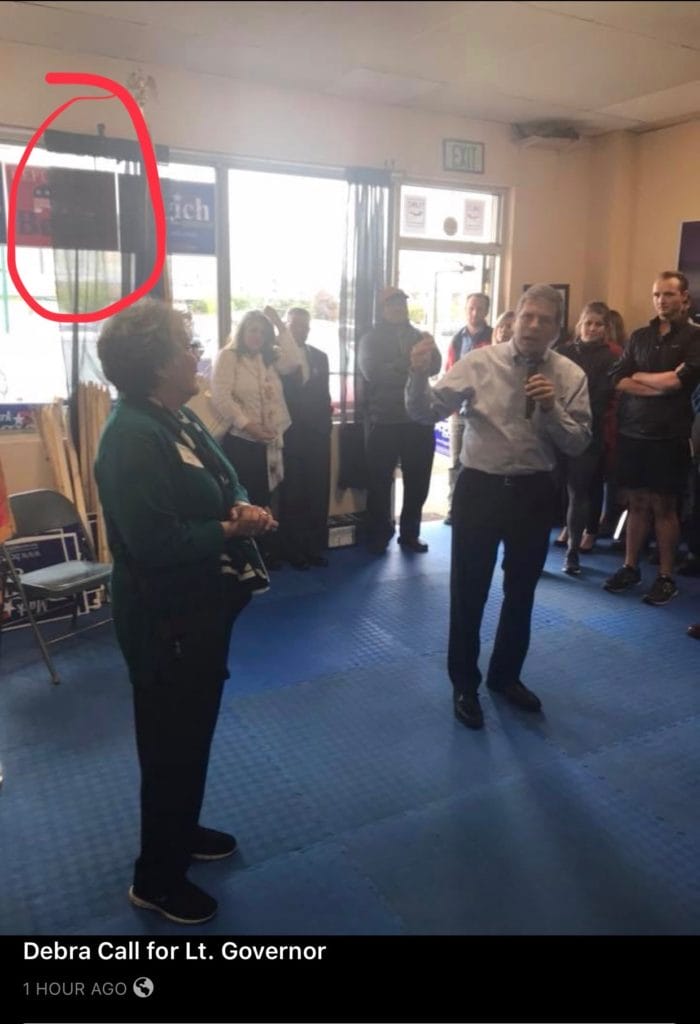 ---
I prefer Dunlap for Dunleavy.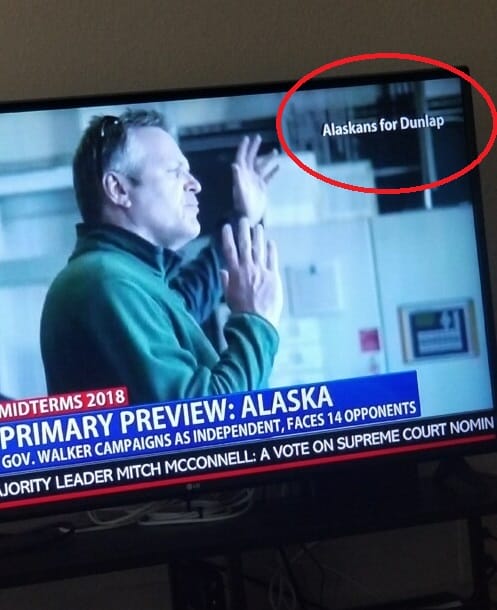 ---
See Representative Gara? It's not just you. XOXO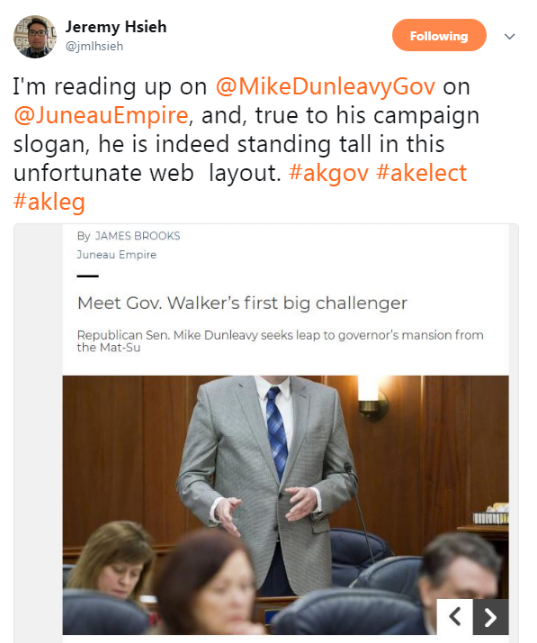 ---
Rides in a classic Bentley for $100? Sounds more like a Republican fundraiser to me. Also, we love the promise of short speeches, so there's that…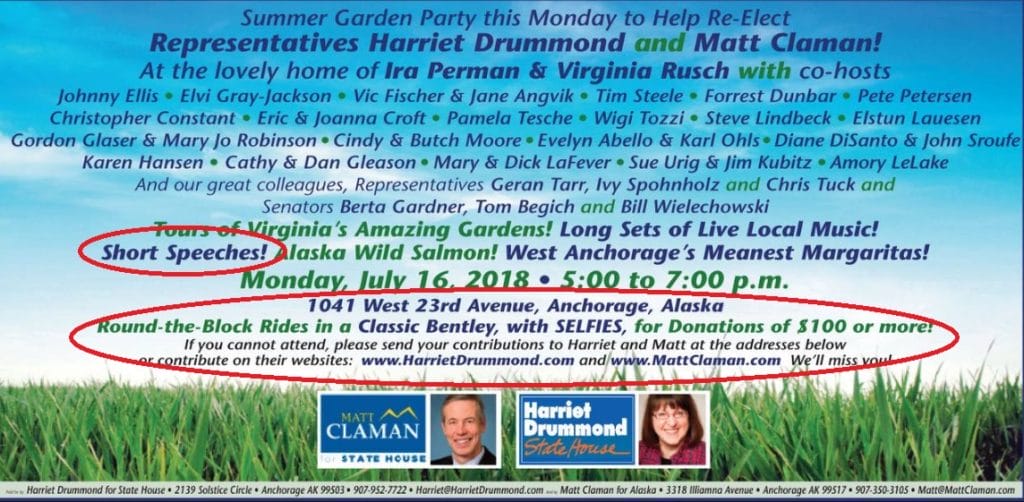 ---
TFW your former boss endorses your opponent during your bizarre first press conference. Poor Mead. We don't know who we feel worse for in the governor's race these days: Mead Treadwell for this, or Mark Begich, who seems to be struggling on receiving broad support from familiar Dem faces.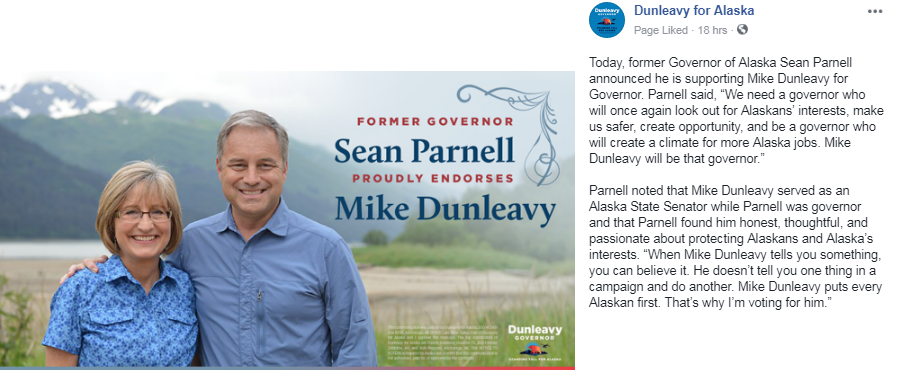 ---
Look who won "Handsome Husband" at the Mrs. Alaska Pageant. Congratulations candidate for house, Stanley Wright, and to his lovely wife Shayné for competing.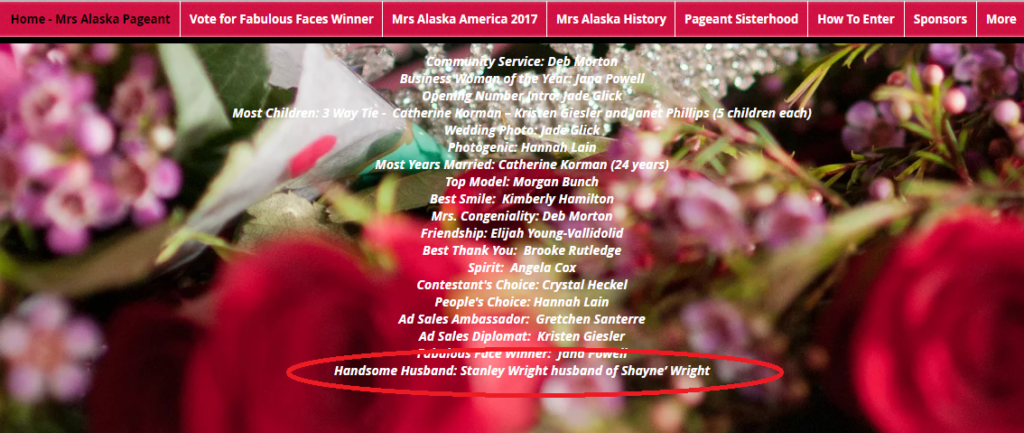 ---
---
Overheard in Anchorage
I'm definitely not voting Kevin Meyer for Lt. Governor, but his new Facebook ad sure convinced me to eat at La Cabaña this week. I guess he is doing something for small business.
Representative Charisse Millett calling into the Mike Porcaro Show… while John Thompson was filling in. Oh my! ?️?️?️
We're hearing reports that someone running in South Anchorage is telling folks at the door she's running unopposed in the primary. Tsk tsk. Tick tock.
Spotted in
Shannyn Moore officiating the wedding of Jeanne Devon and David Luntz at O'Malley's on the Green.
Also spotted at Jeanne Devon's wedding:
VERY CONSERVATIVE District 9 candidates (who are also married!) James Squyres and Pam Goode.
Senator Berta Gardner's husband, who was mistaken for a wedding crasher trying to golf on through.
---
Spotted sign waving
Vote-by-mail elections means instead of days of sign waving, we get weeks! Volunteers for Assembly candidates Austin Quinn-Davidson and Nikki Rose were spotted in West Anchorage this morning. Austin was at Benson and Minnesota, while Nikki stayed close to home at Dimond and Arlene. Don't expect to see any sign waving from candidate for Assembly Sam Moore anytime soon. He is not a fan.
---
Spotted at the KTVA studio
A gathering of employees watching Jeff Landfield's Facebook live of the Mead Treadwell "press conference." I wonder if they were watching at www.ktva.news?
---
Spotted on TV
Senator Dan Sullivan 1 on Meet the Press
---
That will do it for us this week folks. Don't forget to send your favorite social media and online goofs, gaffs, memes, dust-ups, "Overheard in Alaska," "Spotted in Alaska," or whatever else you got to [email protected] Our DMs are always open. Remember: pics or it didn't happen!