Welcome to this edition of the Alaska Stalker, a lighthearted round up of the best and worst of Alaska's social media landscape.
***
If you enjoy the Alaska Stalker, please consider supporting working moms like me by sending in hot tips, overheards, and spotted ins. You can reach me at akstalker@alaskalandmine.com. As always, thanks for reading.
***
Welcome to 2021, everyone! I can't promise things will be better than 2020. However, with all the incoming newbie legislators, a few old time Stalker faves, and an Anchorage mayoral election heating up, I can promise you things will be looser than ever. As Rep. Drummond said…
***
You just never know what 2021 will bring. Who would have thought Mayor Dan would be posting inspirational quotes with a "heart" background. I low-key 🖤 this. Dan, might I recommend you add some Mayor Dan glamour shots as the background ala Rep. Sharon Jackson. That would be hot 🔥🔥🔥

***
Legislators are busy making resolutions and setting goals. And Sen. Kawasaki is here to help! Scott, not sure how good you are at rocking a colicky baby at 3:00AM, but I'd take all the help I can get towards my goal of sleeping more than 3 hours at a time. Hit me up! 👶😴🙏
My New Year resolutions are mostly the same every year in broad strokes. I want to take more risks; pursue my dreams and do more to leave a legacy. What are your resolutions this year? How will you accomplish those goals? I want to help. #akleg #resolutions2021 pic.twitter.com/DPFgnnf5ap

— Scott Kawasaki (@alaskascott) January 1, 2021
***
Sen. Peter Micciche gave us a perfect reminder of why we live in Alaska. Beautiful. Just look at all those trees ready for him to cut down with his mighty chainsaw!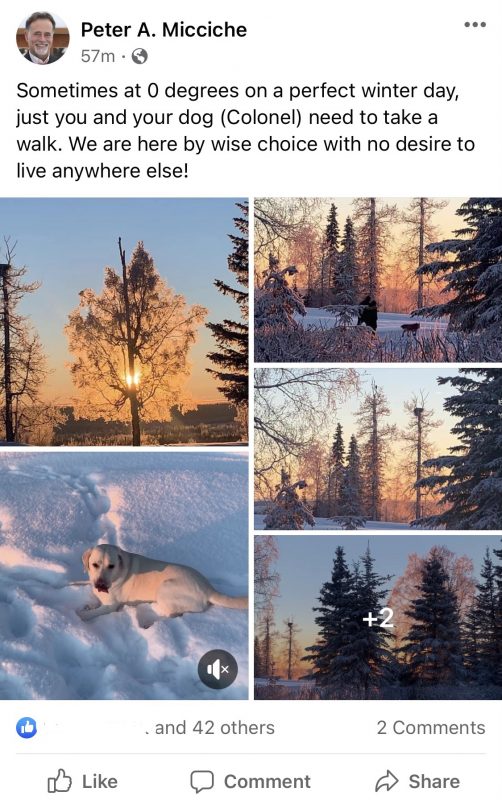 ***
And then there's Rep. elect Ron Gillham. Just curious, but why has the Representative elect of *checks notes* Soldotna taken such an interest in the Save Anchorage Facebook page? He doesn't even go here! And Ron, it's the Anchorage Assembly. Not city council.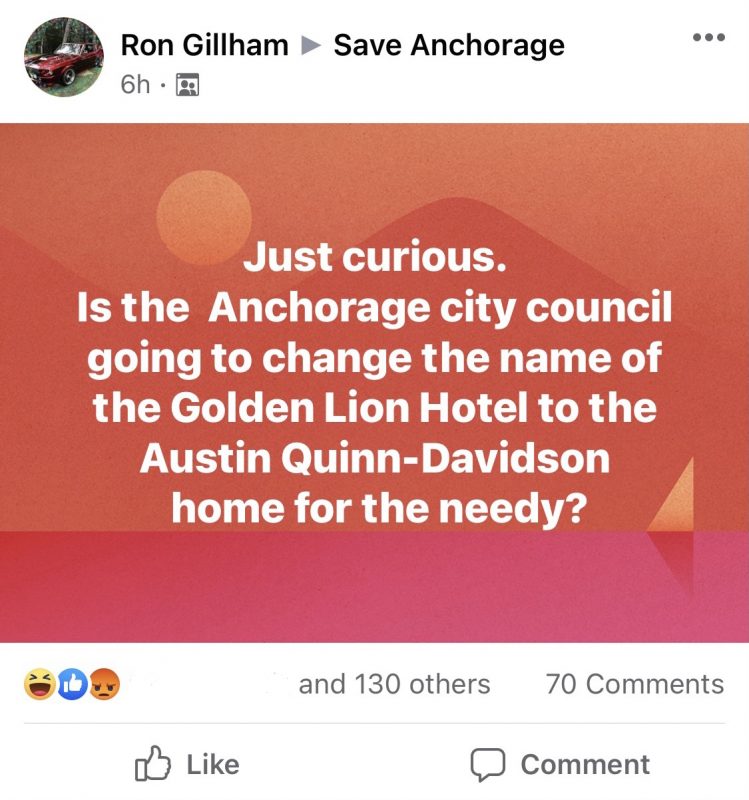 ***
🚨🚨🚨 The legislature is about to get CROOONK! 🚨🚨🚨 What a photo. 😮 I know it's against the law to feed them, but hopefully petting them is totally cool. Hey Mike, if you want to pet some bears… I know a yard in Anchorage.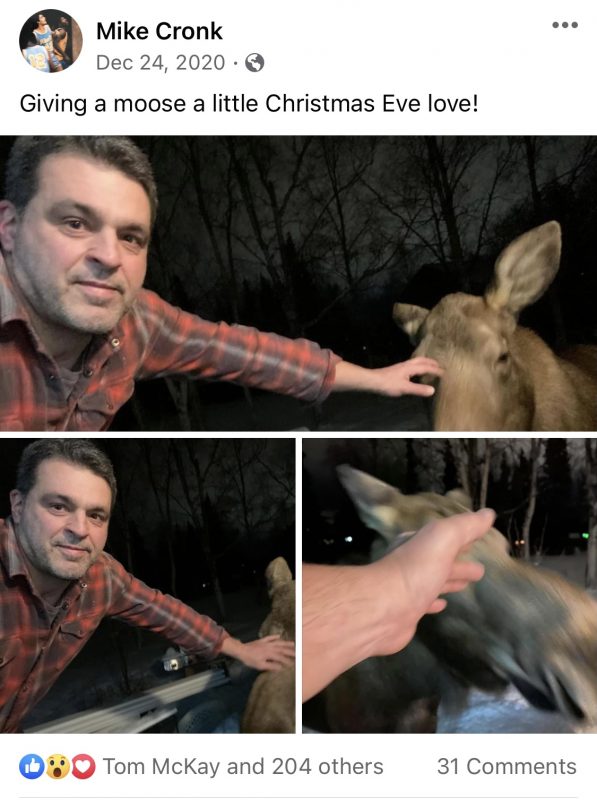 ***
Sen. Bill Wielechowski also had a moose encounter. A bit less exciting, but a hell of a lot safer than Rep. elect Cronks. After the year we've had, I bet that moose wishes those crab apples packed a little more of a punch.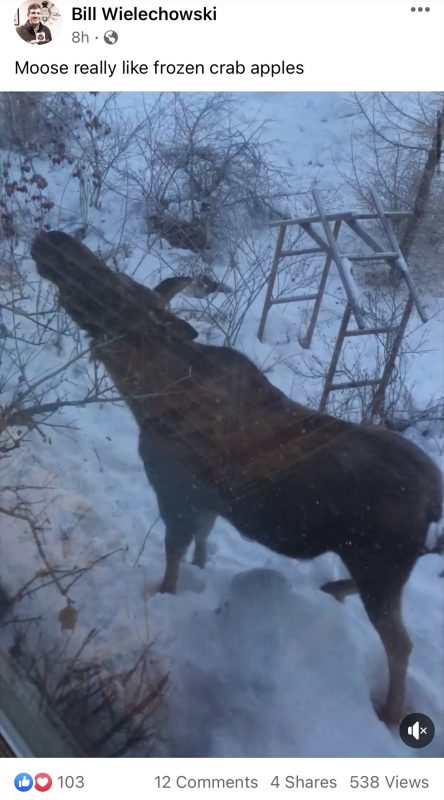 ***
Leave it to Laddie to fly into the New Year.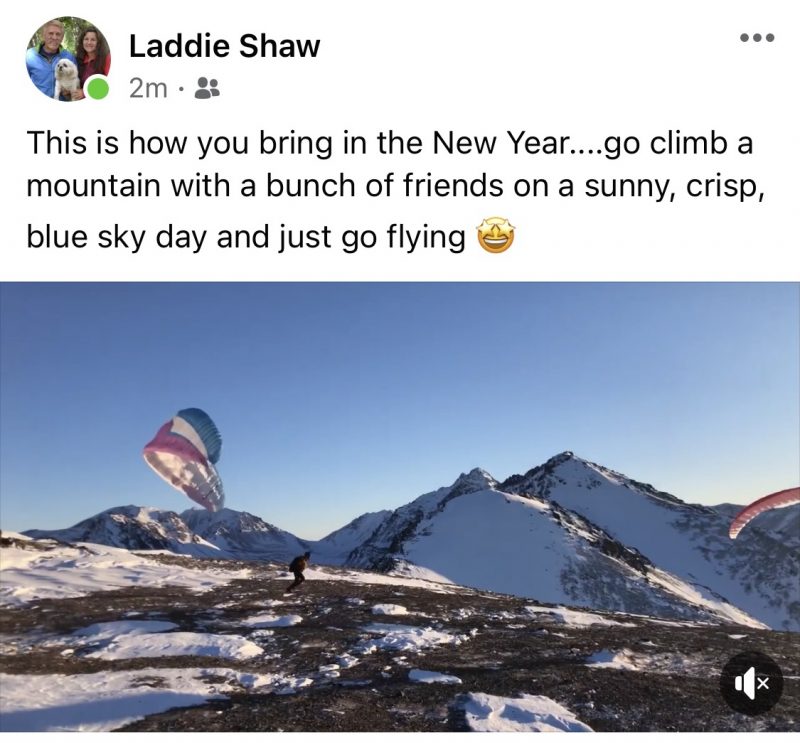 ***
OMG, Rep. elect James Kaufman had "the 'rona!" Does anyone know if he lost his taste and smell? Think of all the money James saved not buying all those ribeyes from his campaign commercials. Not to mention all his "additional cuts." 🙃

***
Rep. Don Young received positive attention for his comments promoting unity while giving the oath of office to House Speaker Nancy Pelosi. Check out that like tho. Daaaang, Dan. Lisa, where you at?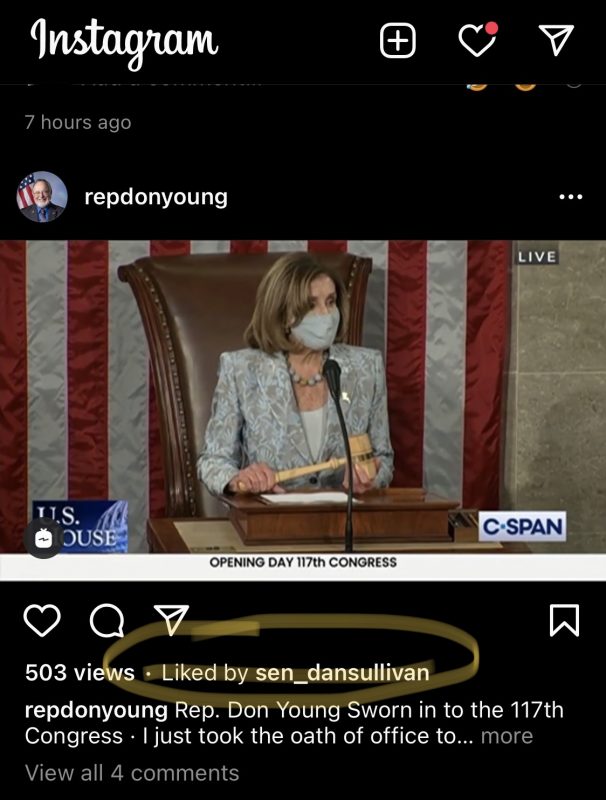 ***
Thank you to Assemblymember John Weddleton for posting a cellphone video of the Downtown fireworks sandwiched between two random cars in a parking garage. Because there's nothing more awesome or entertaining than potato quality photos and videos of fireworks. BOOM!
***
And they say long distance can't work!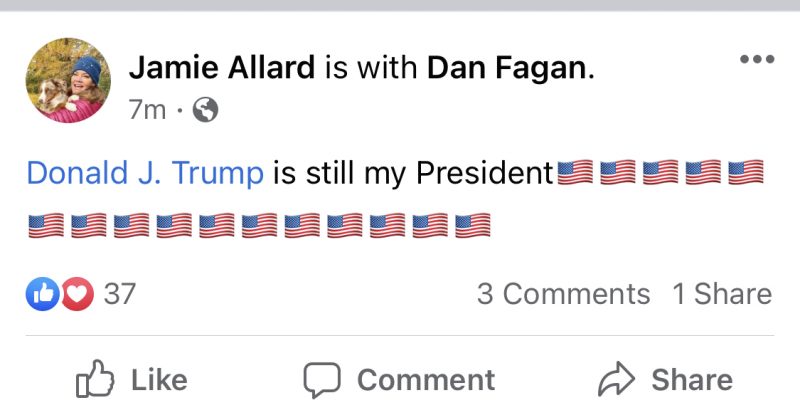 ***
Funny you should ask, Meg. I highly recommend you check out The Alaska Landmine Bookclub January pick: "The Righteous Mind: Why Good People Are Divided by Politics and Religion" by Jonathan Haidt. Landmine Bookclub reads one book a month, and meets on the third Wednesday of each month for discussion. There's still time, Meg! For now, the meetings are being held virtually over Zoom. If you'd like to join the Landmine Book Club, sign up here.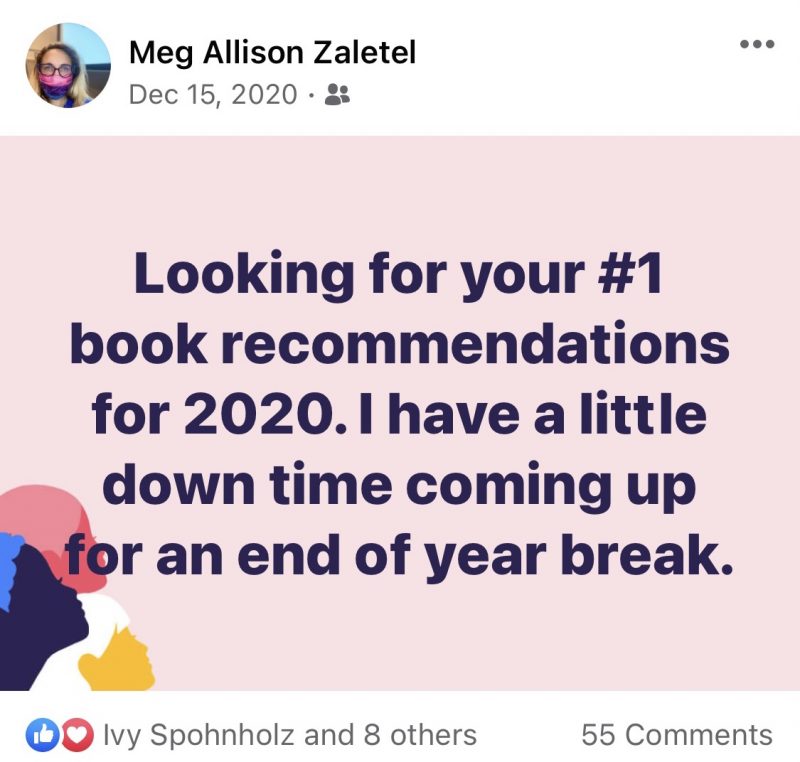 ***
Hey Chris, why are you doing MY job for me? Stop stealing my best material, please! 😬🤣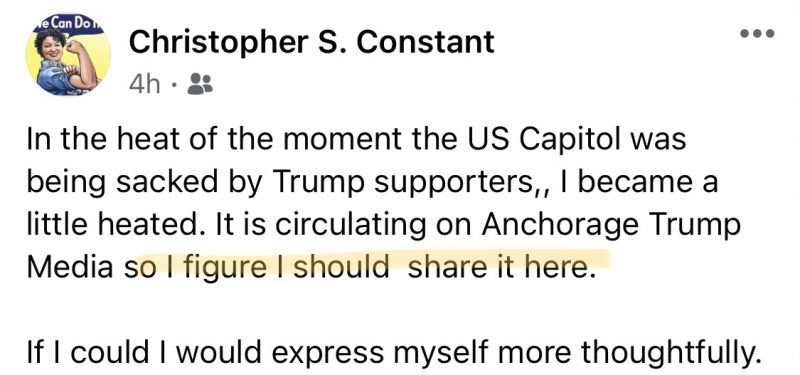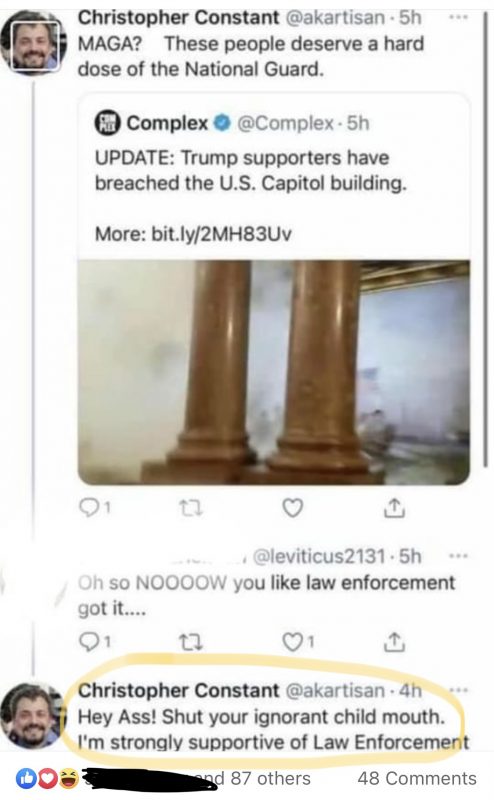 ***
I see a lot of memes about our acting mayor. A LOT. I don't normally share memes because most of them are as bad as Ron Gillham's AQD jokes. But there's something to be said about a random non-political gym bro dude I went to high school with posting Twisted Tea memes about acting mayor Austin Quinn-Davidson on his Instagram. Like, wut??? Most of the time I think Forrest has the mayoral race locked up. But then I see stuff like this and realize people who usually don't pay attention are paying attention. And they are really angry at the Assembly. Or maybe he's just mad his gym had to close. 🤷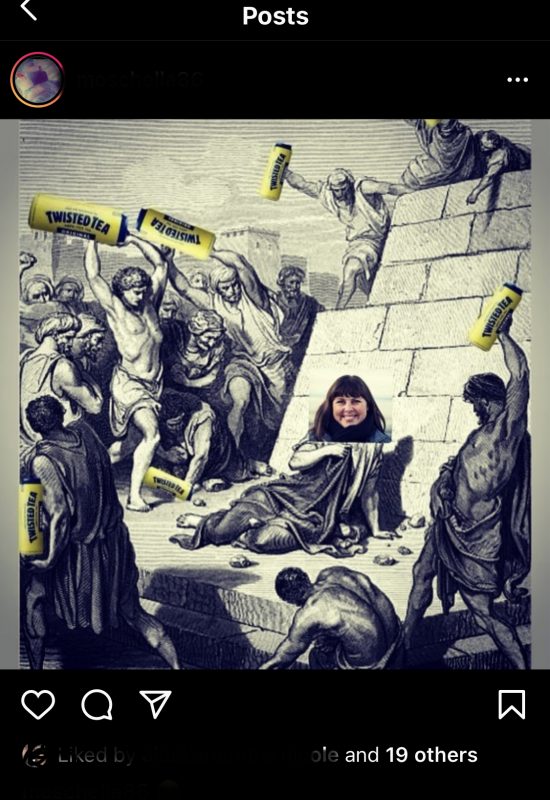 ***
One thing Forrest Dunbar doesn't have any problem with is racking up the endorsements. Forrest recently received this endorsement from Patti Higgins, "Forrest is fiscally responsible and socially compassionate." Yes, because nothing says fiscally responsible like using CARES Act money for payroll! That being said, I fully agree with Forrest – the Higgins are easily one of Alaska's best named political power couples. No word on the coveted Pat endorsement yet.
***
I'm a sucker for a good sign photo, and this one is very "cool." 😉 I'm a little shocked Bill went with the Frozen reference and not "Falsey the Snowman." Either way, I hope it stays up until spring. After all, some mayoral candidates are worth melting for.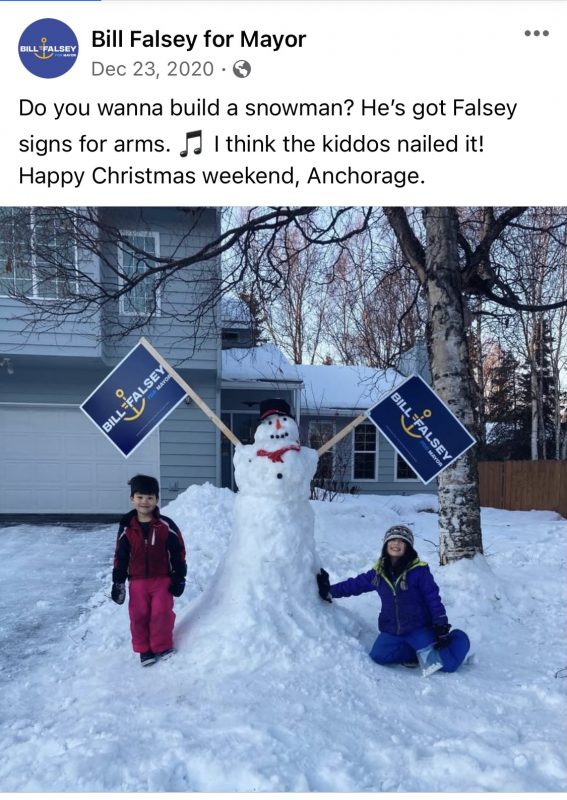 ***
Move over Falsey for Mayor Trivia Tuesdays, now we have Dave Bronson for Mayor Fun fact Friday! 🙈 While Falsey's trivia was a little cringe, Dave's fun fact is literally the most boring fact I've ever read. Dave, spice it up! Maybe have Bernadette do a video. 😉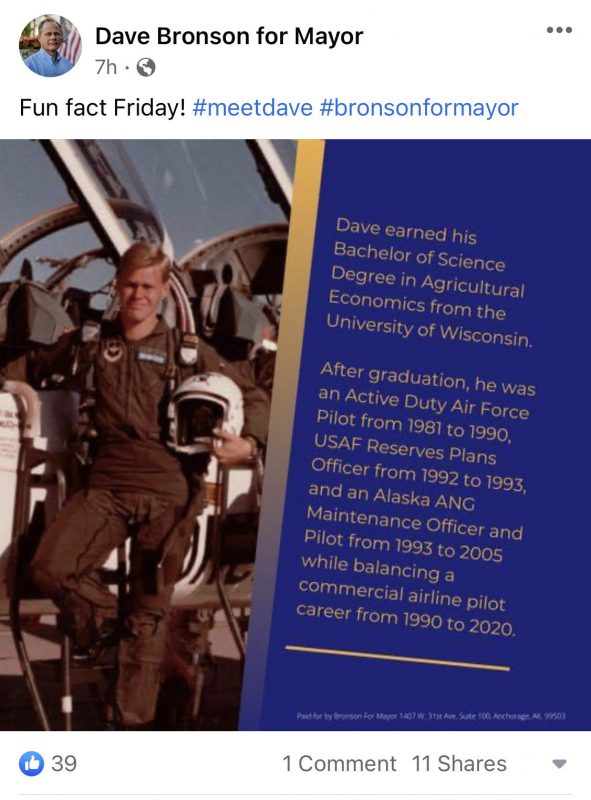 ***
Okay, so all things considered maybe 2021 won't be that bad.
Oh. wait. #akleg #dumpsterfire 🔥🔥🔥

***
Spotted in Muldoon: Candidate for Anchorage mayor, Forrest Dunbar, fixing signs with his signature Carhartt jacket.
***
Spotted at the LIO carrying an arms load of moving boxes: Rep. Lance Pruitt. He can move it.
***
Overheard: "Who do you think will get banned from social media first? Lora Reinbold or Jamie Allard?"
***
Overheard: "The military should be giving out the vaccine. They have the most money and are the most organized. Instead it's Military Monday at Alyeska and they are all snowboarding."
***
The Alaska Stalker was born and raised in Alaska. She lives bear free in South Anchorage with her husband, daughter, son, newborn, and Covid-19 antibodies. She is not Jeff Landfield.