Welcome to this week's edition of The Alaska Stalker, a lighthearted round up of the best and worst of Alaska's social media landscape. Have you sent us a hot tip yet? Email us at akstalker@alaskalandmine.com and, as always, thanks for reading.
---
Sorry I'm late. I had to spend all week combing through my social media posts, retweets, and yes, even Twitter likes, and delete anything that might offend. I am now board and commission ready! Seriously though, I'd caution anyone who is outright celebrating some of the recent… events pertaining to Governor Dunleavy's appointments. The internet outrage mob is fickle, and don't think for a second it won't come for you someday. Sure, think before you meme. But also think before you ruin someone's life.
---
After all that's happened over the past week I find it ironic the word "please" even registered on the Senate Majority poll word cloud. There's hope yet. ?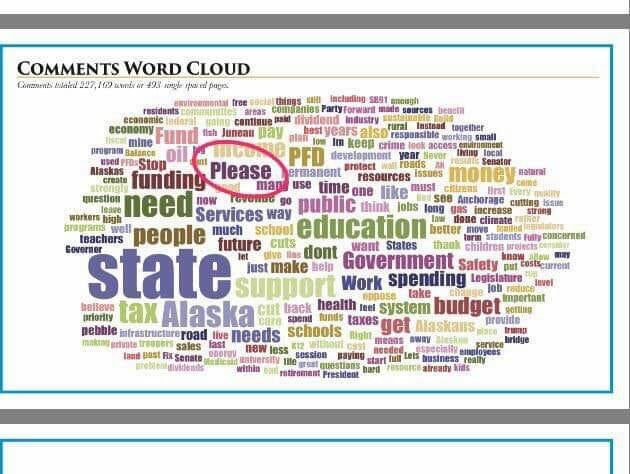 ---
Former candidate for House, Chris Dimond, weighed in on the current situation on Twitter. ?
---
I guess all I have to add is Jeff did try to warn everyone. Elections matter.  ¯\_(ツ)_/¯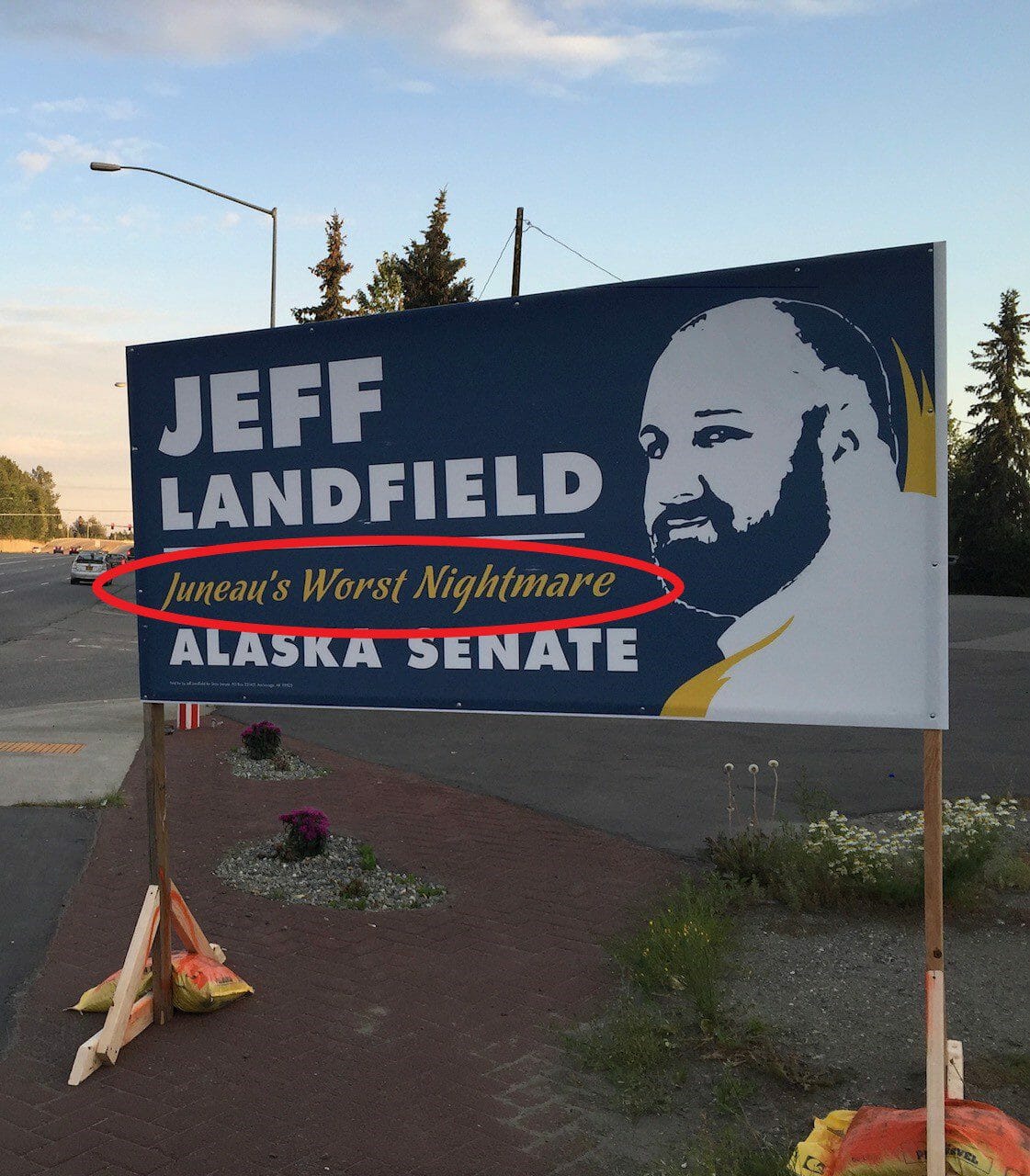 ---
Responses continue to trickle in regarding Governor Michael J. Dunleavy's State of the State.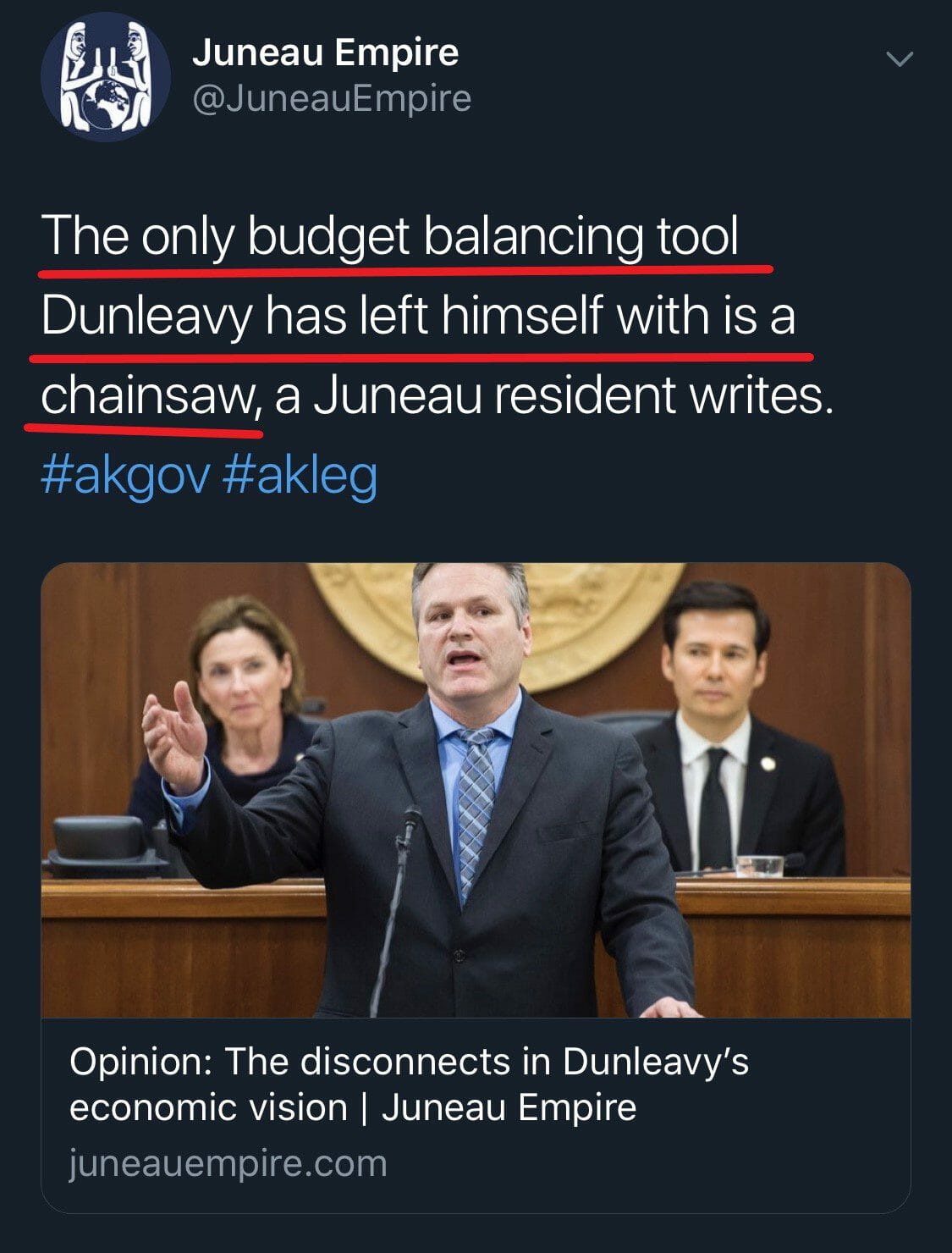 Does Mike need a chainsaw? We know who to call!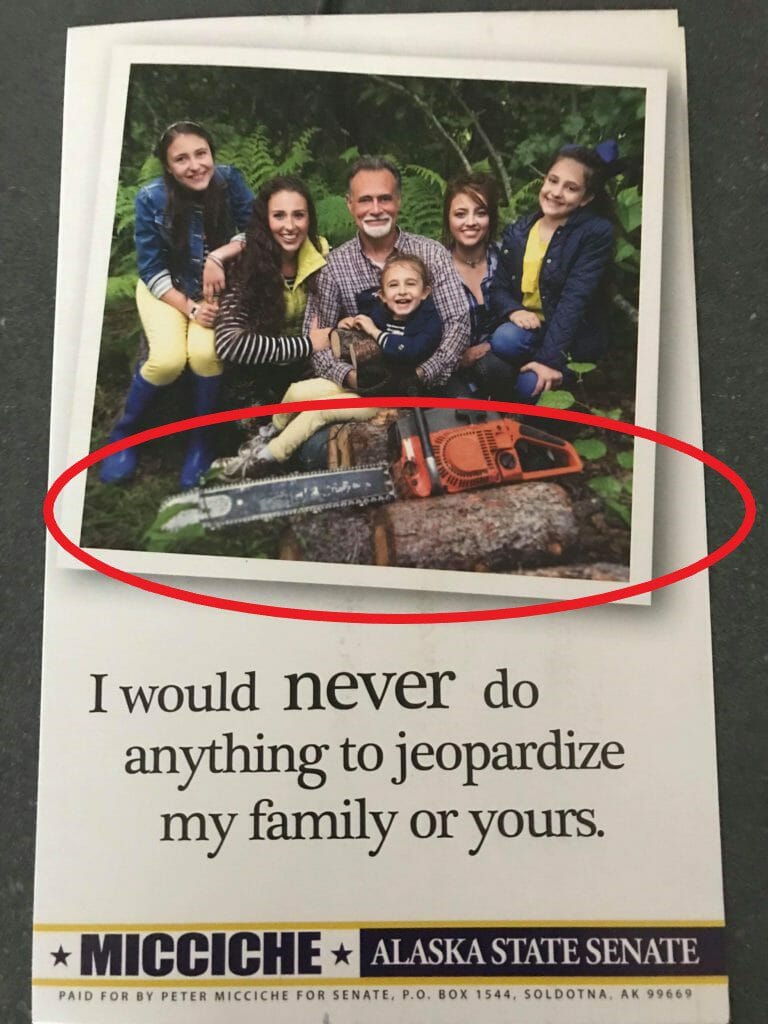 ---
I also got a kick out of this press release via Press Secretary "Matt N. Shuckerow." (Are middle initials mandatory in the administration, too?) It reads like a bad 90's movie poster. Can someone Photoshop one up for me?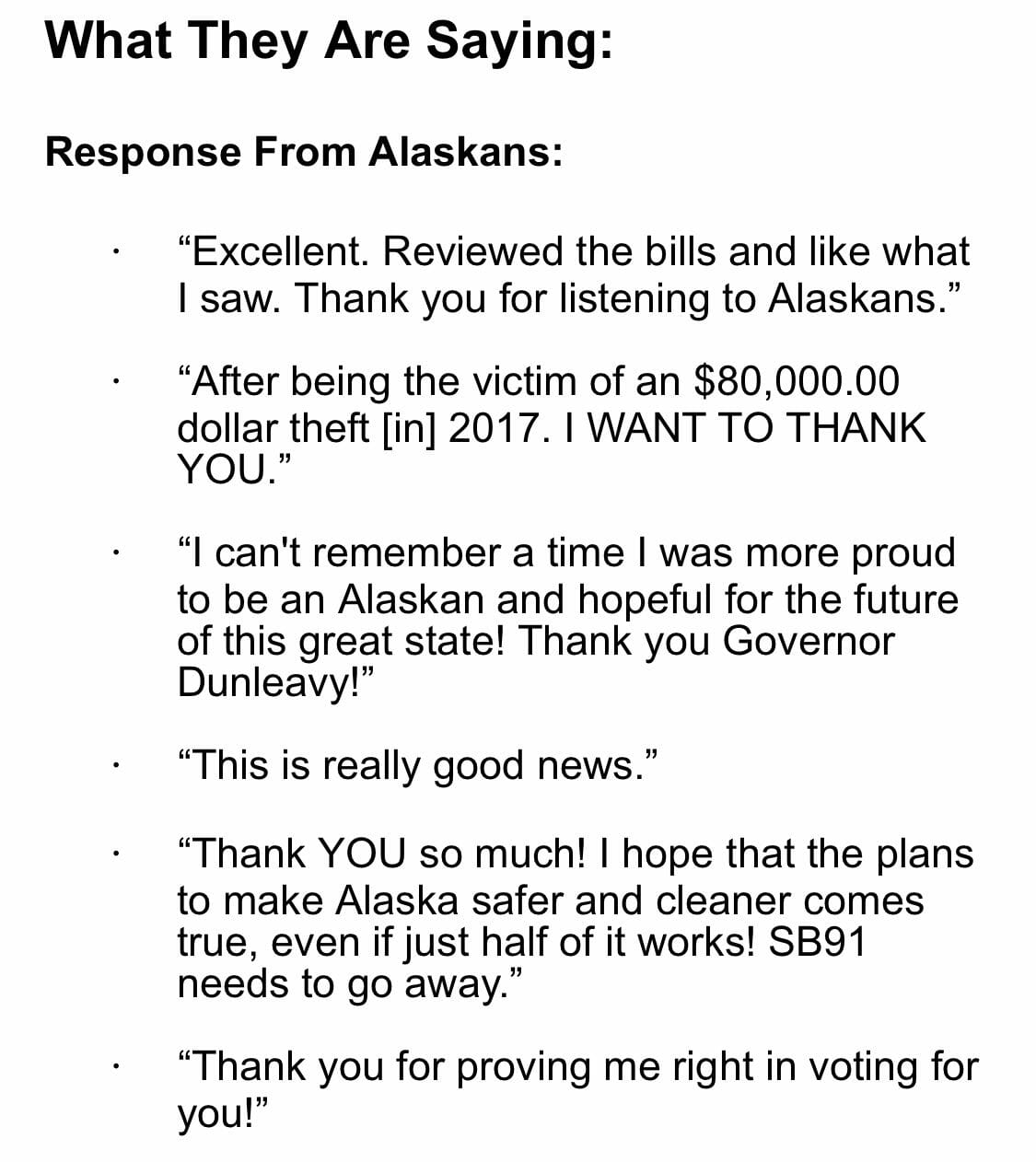 ---
Even former Representative Lynn Gattis has some conflicting opinions. Or she had a public emoji malfunction.
Also, isn't that Matt N. Shuckerow and not Michael J. Dunleavy? That security detail tho.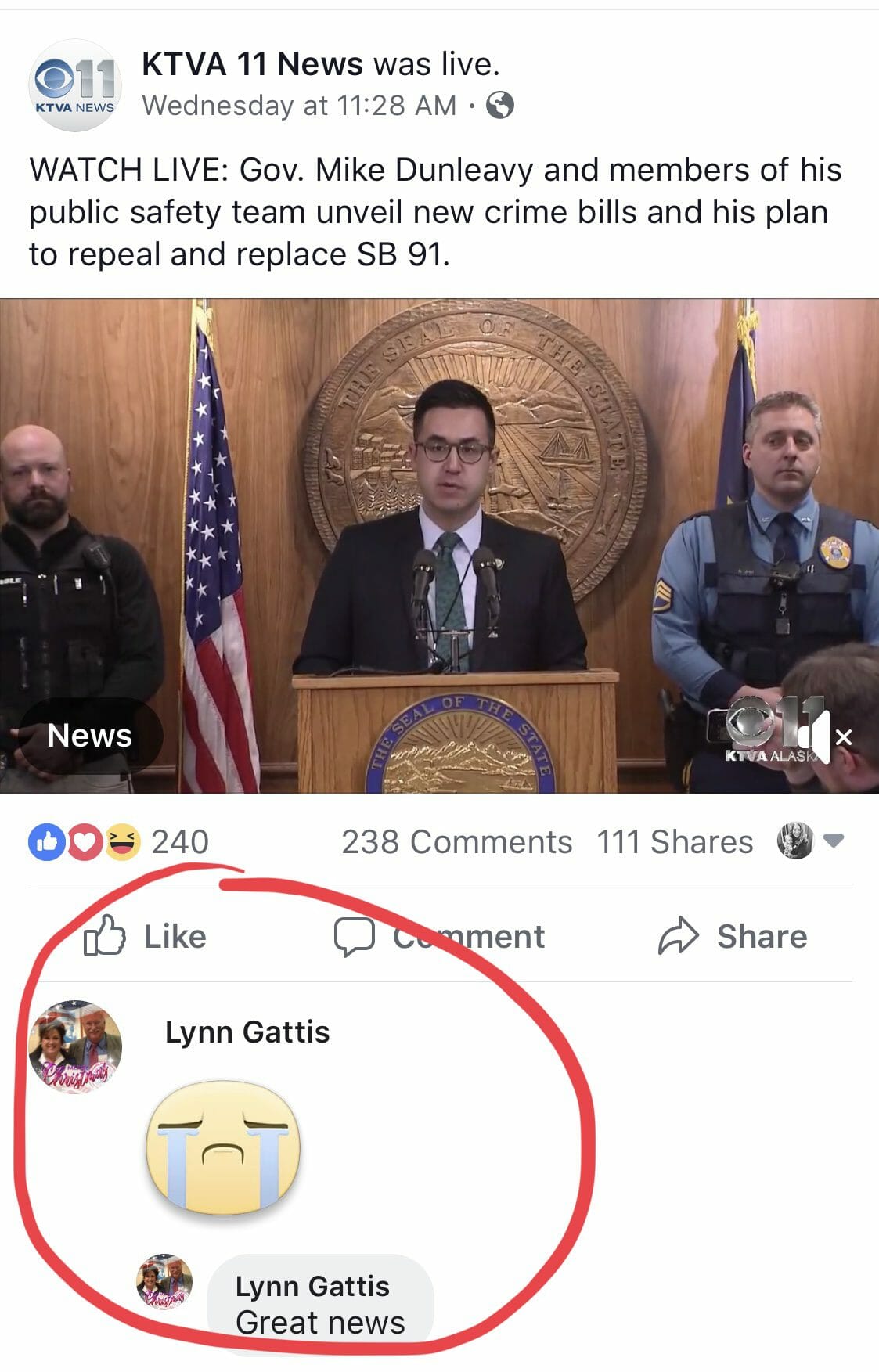 ---
We almost forgot to check in on Lt. Governor Kevin Meyer. Looks like he also needs some help with his Twitter follower count.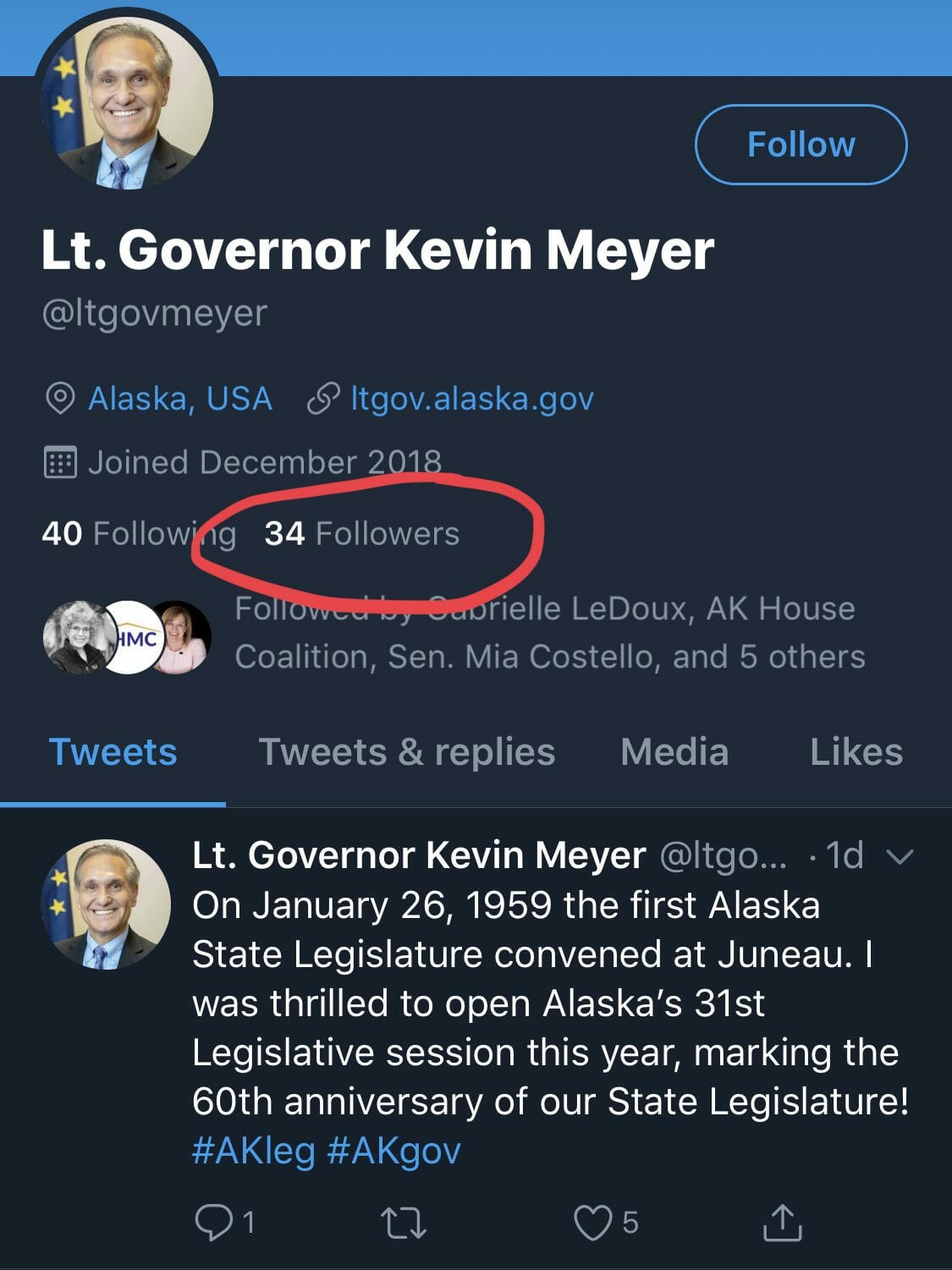 ---
Did anyone tune in to Senator Shelley Hughes' raw and unfiltered Facebook Live? Yikes! ???
---
---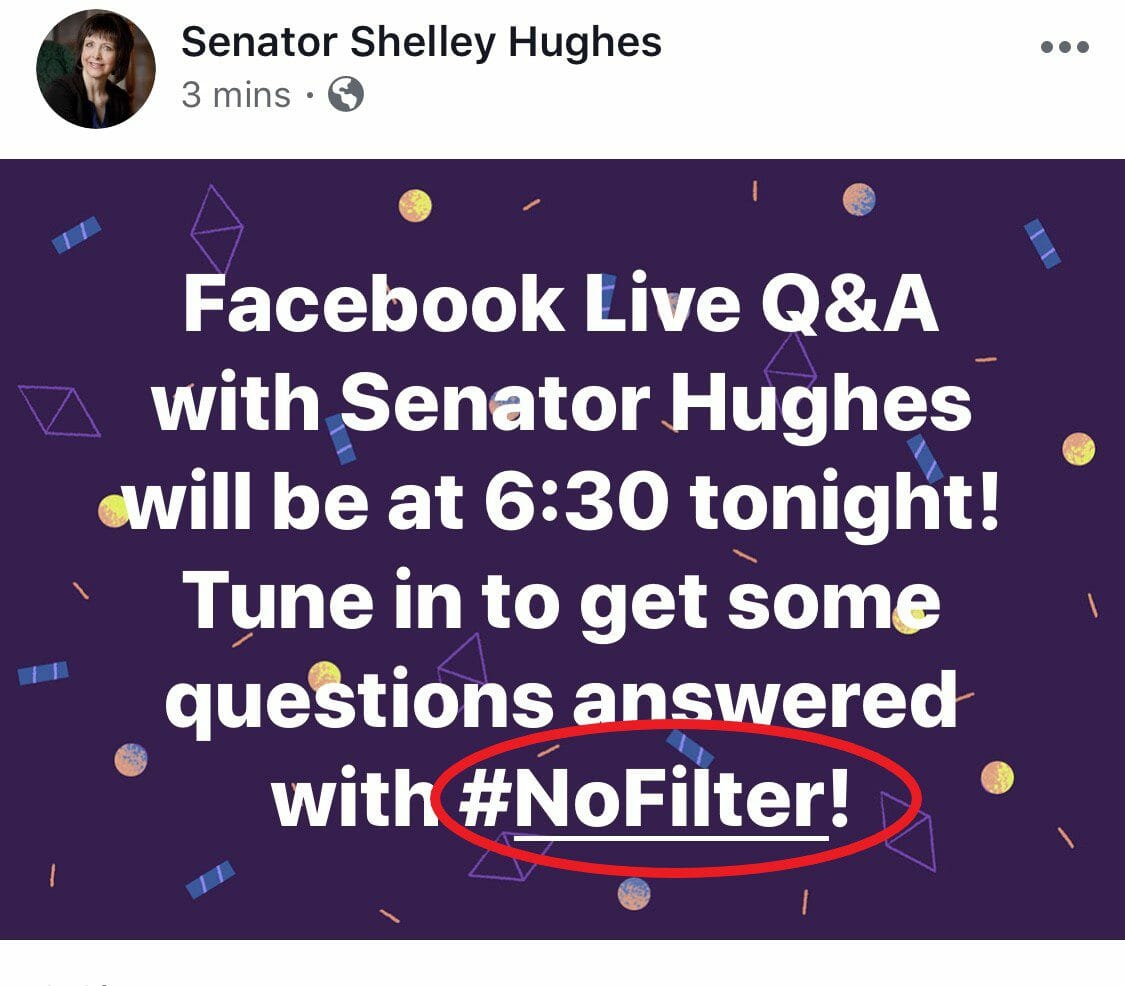 ---
Senator Mike Shower's social media game is on point! I just love having so many vets in the Legislature who are also on social media. They are all legends.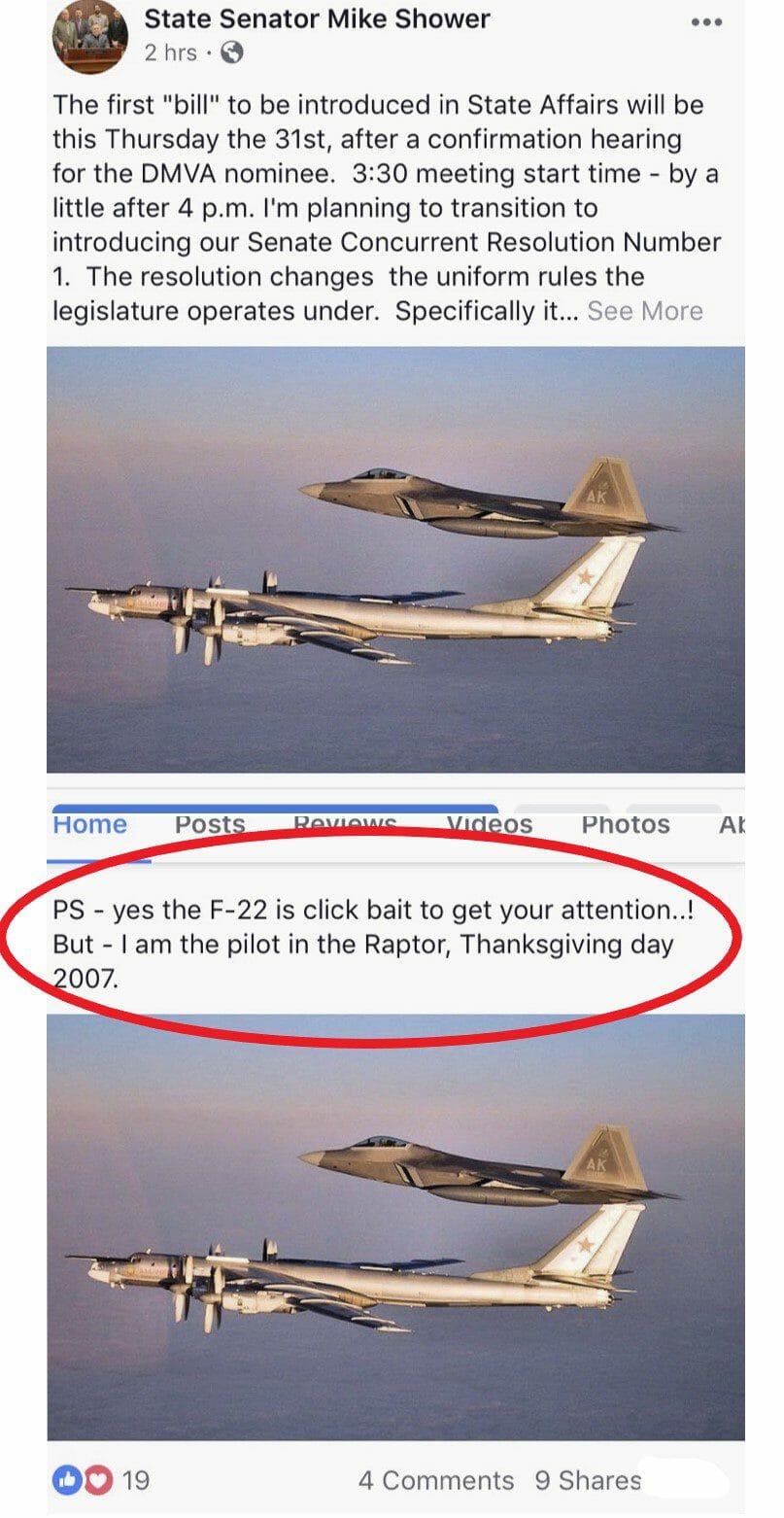 ---
I'm also loving Juneau Empire reporter Kevin Baird's AK Leg/Broadway musical cross over Tweets. Keep them coming! We would like to point out this verse from Le Mis's Master of the House is an even better fit:
?"Master of the house
Keeper of the zoo
Ready to relieve 'em
Of a sou or two Stutes or Ledoux"?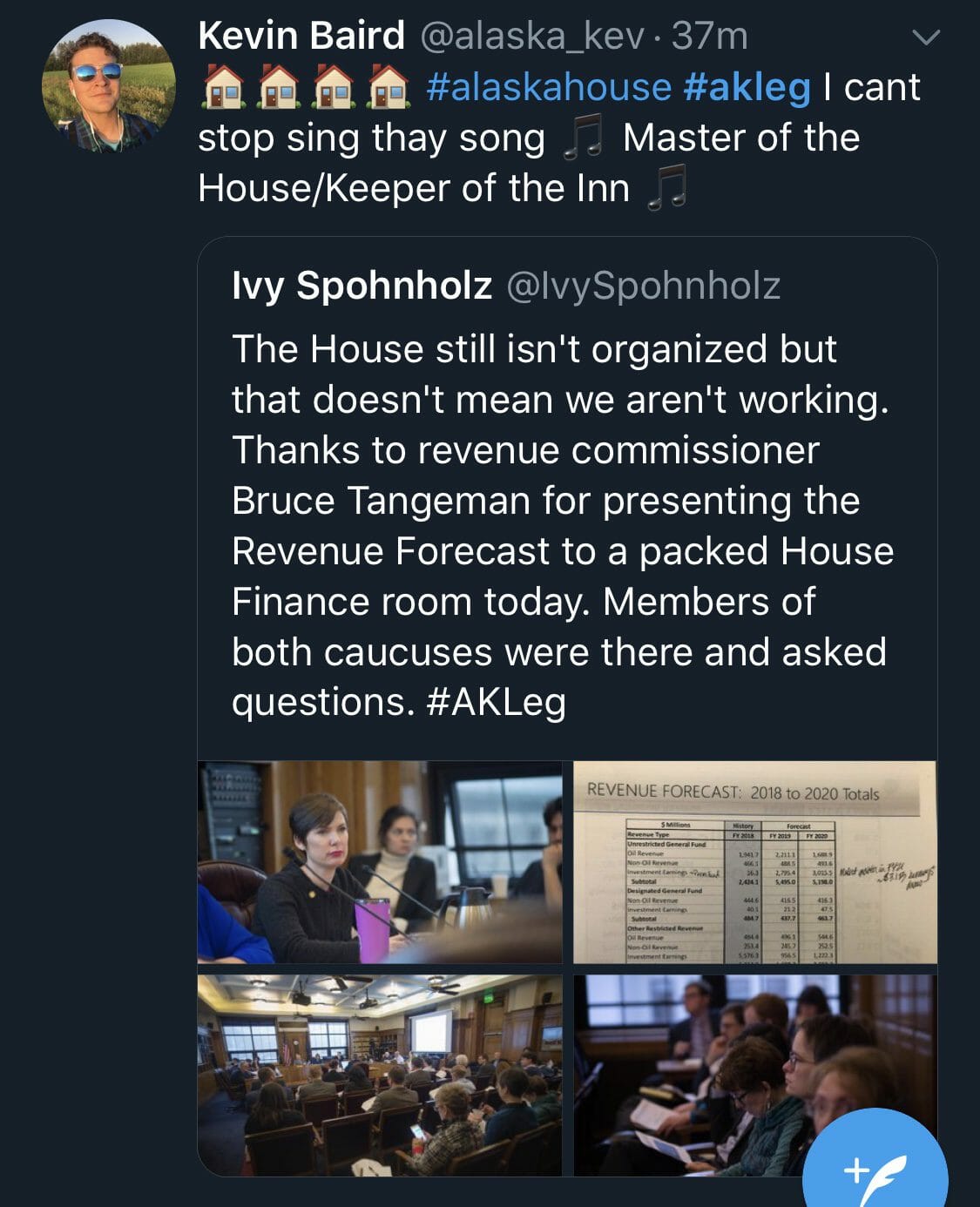 ---
Check out Representative Grier Hopkin's snazzy session socks. If you see any notable AK Leg fashion moments, please send them my way! ?‍♀️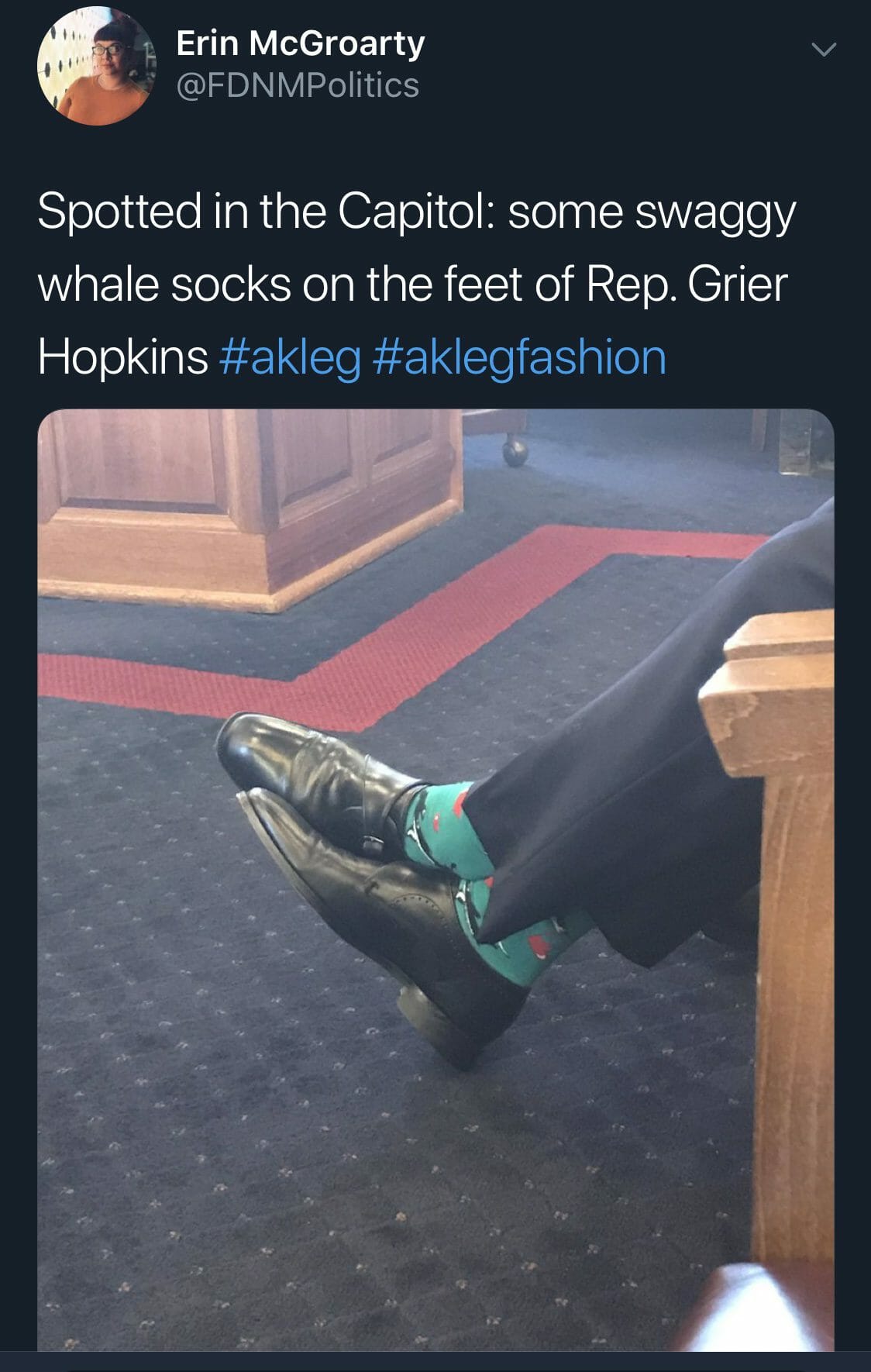 ---
As someone who's spent their last two vacations going to other cities to see if I should relocate my family, I would just like to ask Representative Tarr (and every other legislator for that matter) why should we stay?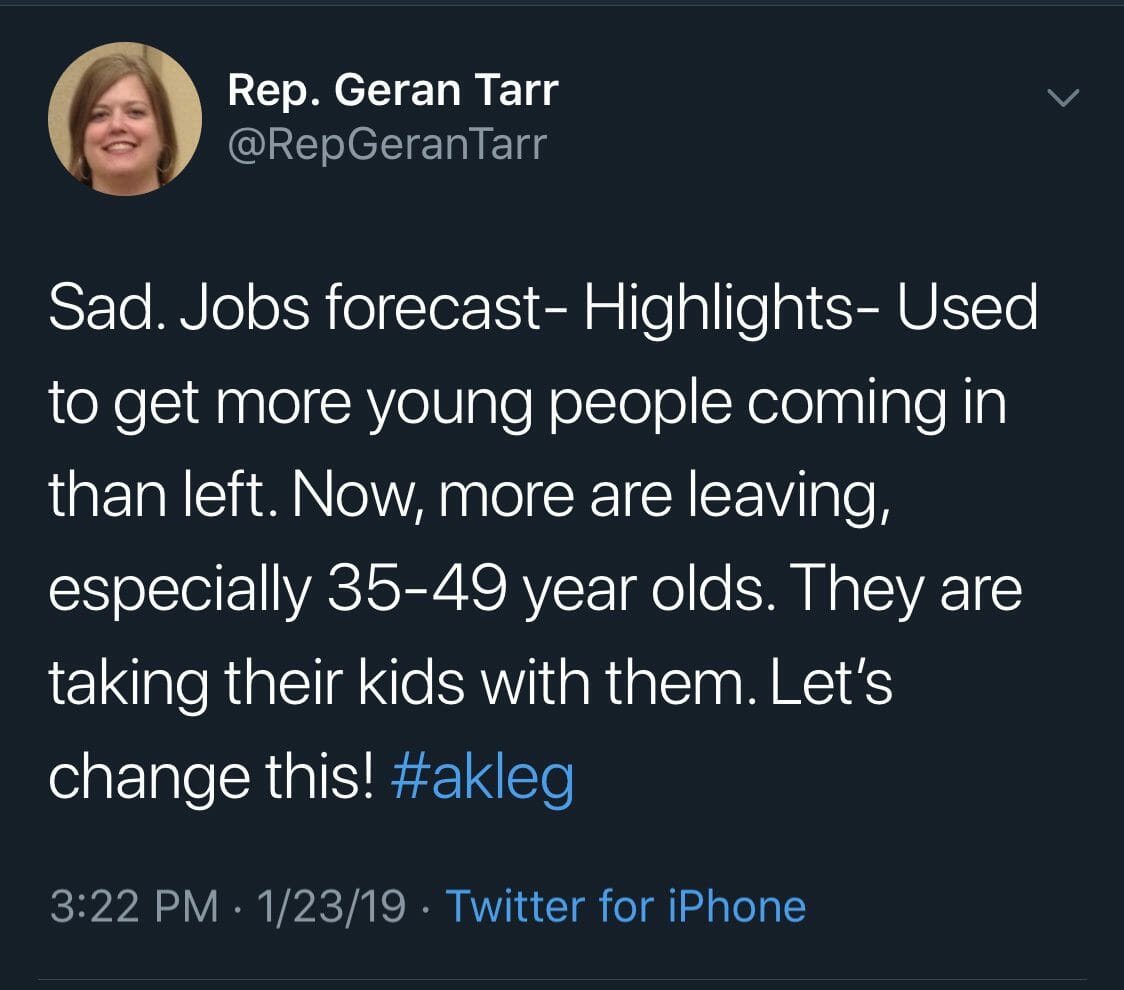 ---
Don't you mean 33 eagles and 1 Representative Laddie Shaw?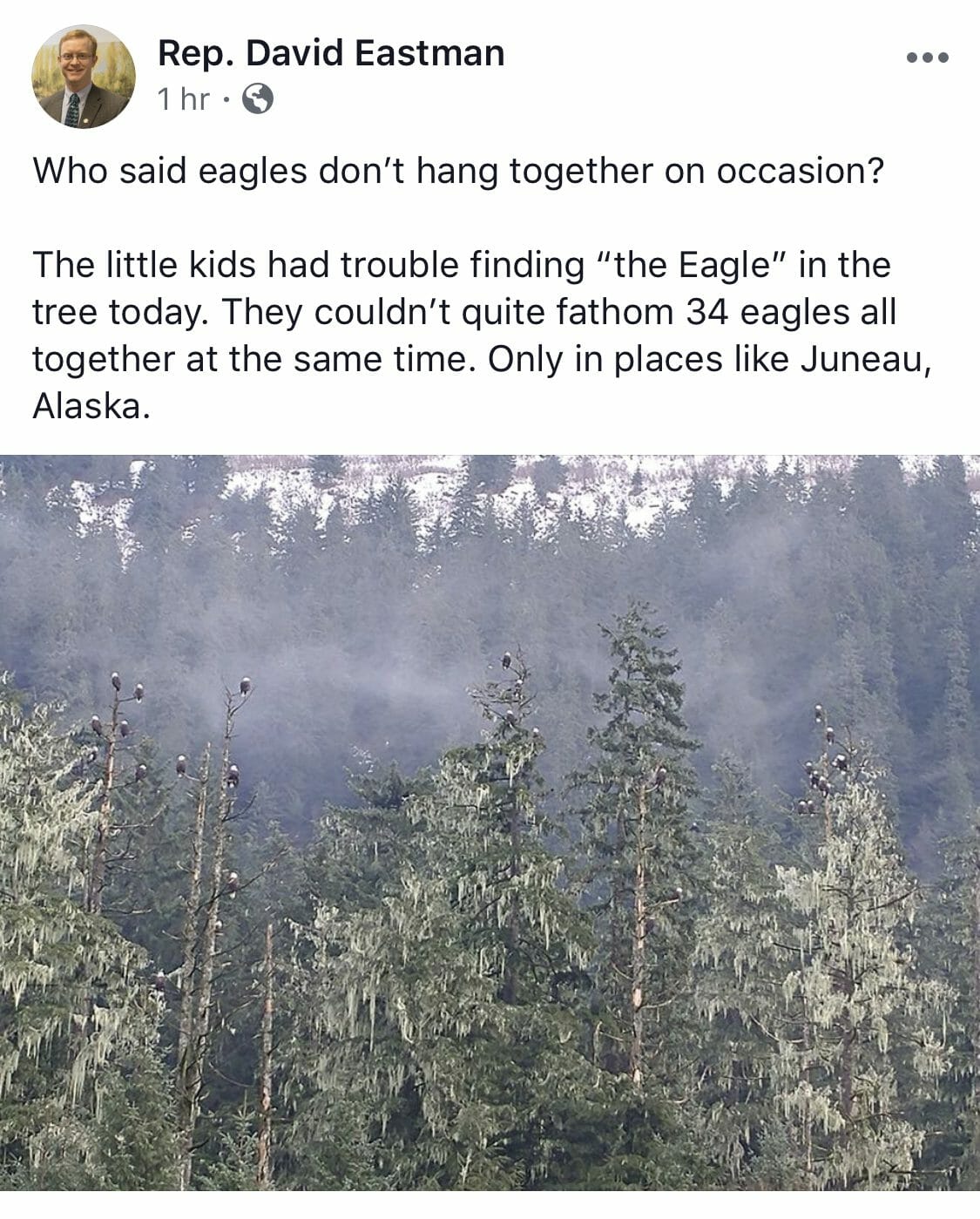 ---
For those of you who don't know what I'm talking about, Representative Shaw has been spotted soaring above Juneau. Talk about a high level meeting!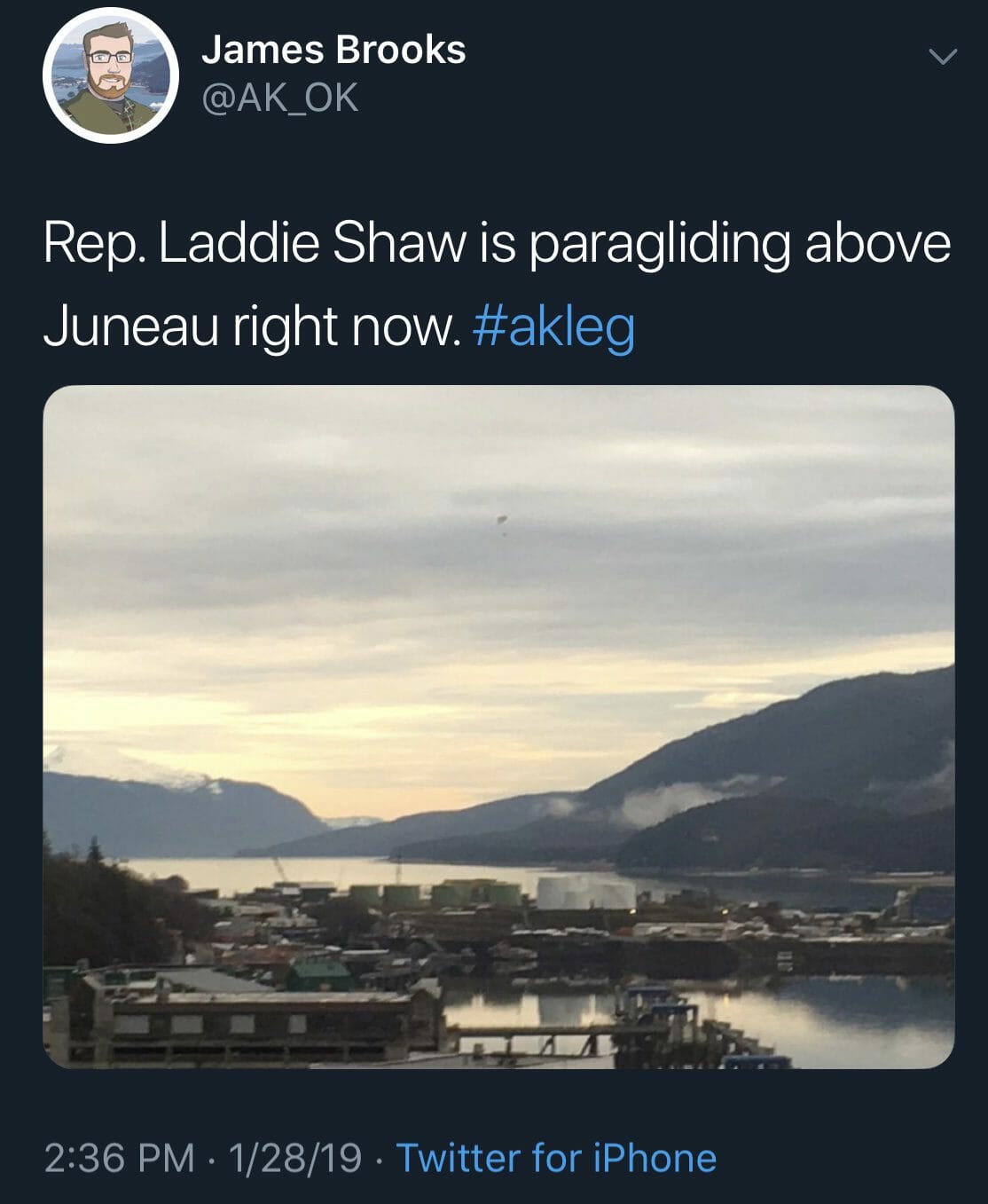 ---
As Editor-In-Chief Jeff Landfield (and text time stamps) are my witness, I made this joke first. But I'll give Ryan the credit. It's a good joke for hands-down the dumbest current state controversy.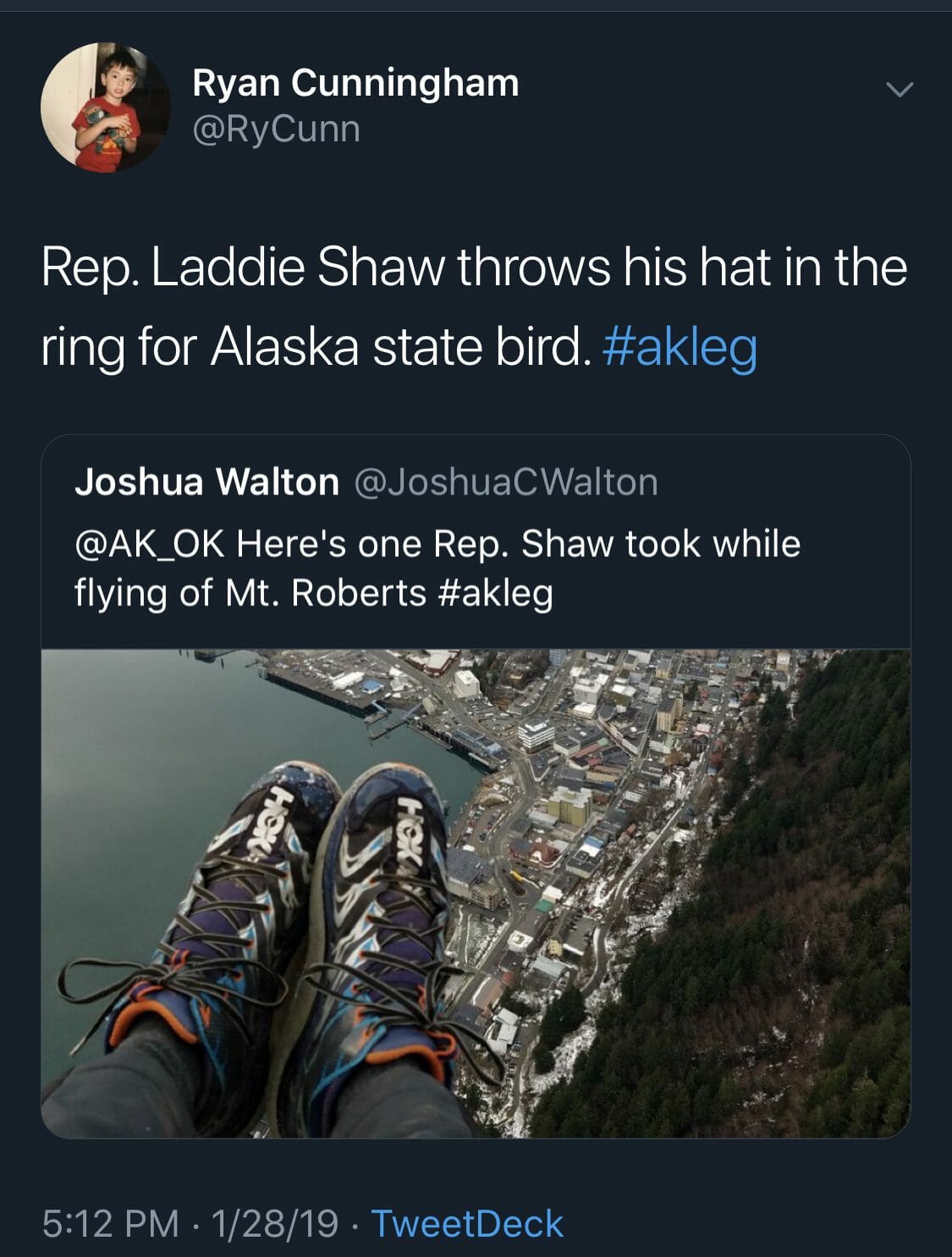 ---
But, if I am forced to bring up state-bird-gate, then I'm going to rant about this HIGHLY OFFENSIVE and obviously FAKE NEWS from Craig Medred. WE LIVE ON THE HILLSIDE AND MY INFANT IS CLEARLY GIFTED, MEDRED.

---
Disappointing to see that Representative Jennifer Johnston is implementing the "thoughts, prayers, and be extra careful" strategy regarding the highly unstable stretch of highway in her district. Sure seems like the earthquake kicked the danger up a notch. We hear other legislators are looking into it. Good. After recent events, we hope to see this public safety project zoom to the top of the priority list, and not take the currently scheduled two years to complete.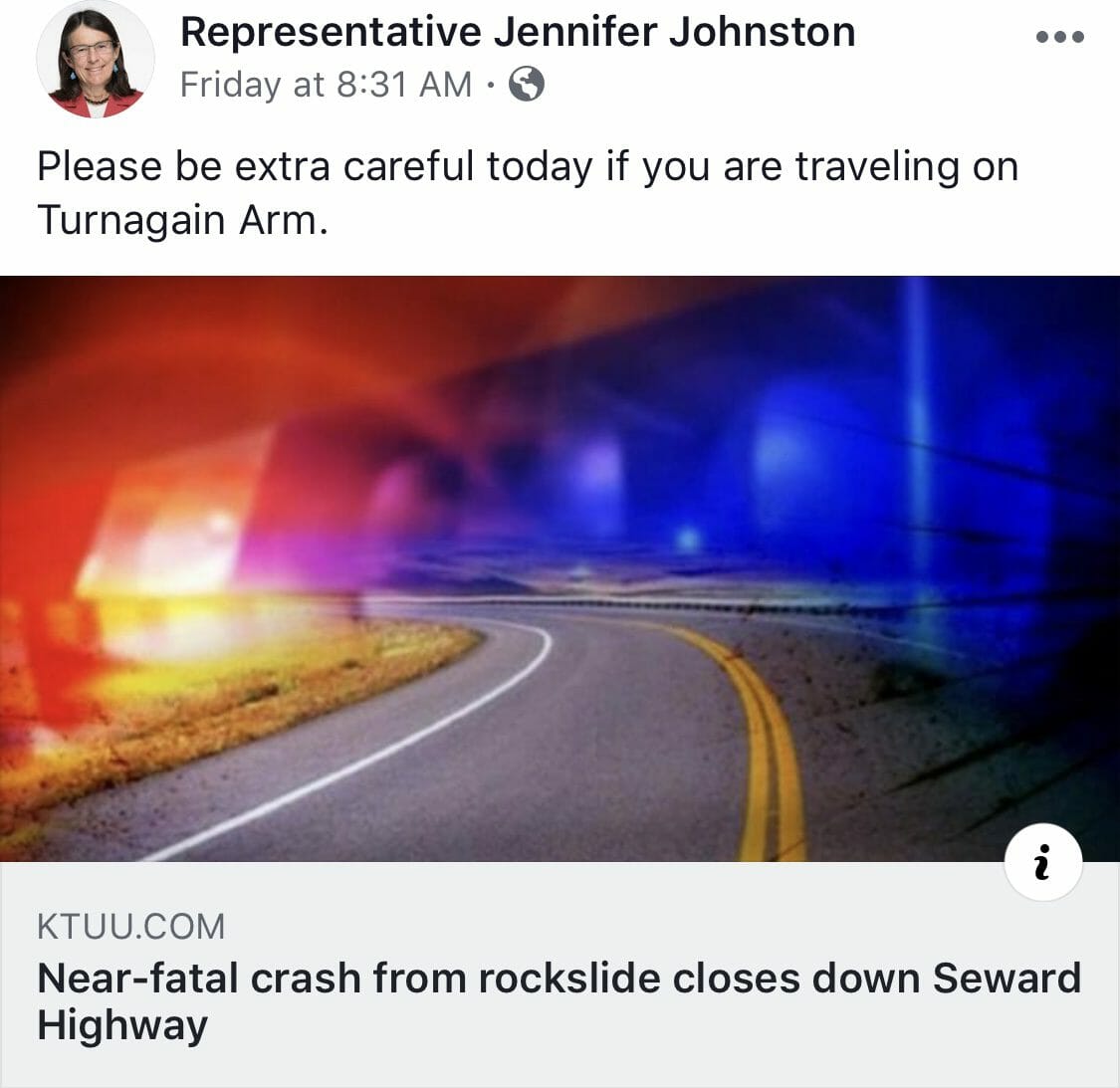 ---
Another photo from Juneau's Women's March, featuring Representatives Ivy Spohnholz and Harriet Anagnostis Drummond. Wait a minute…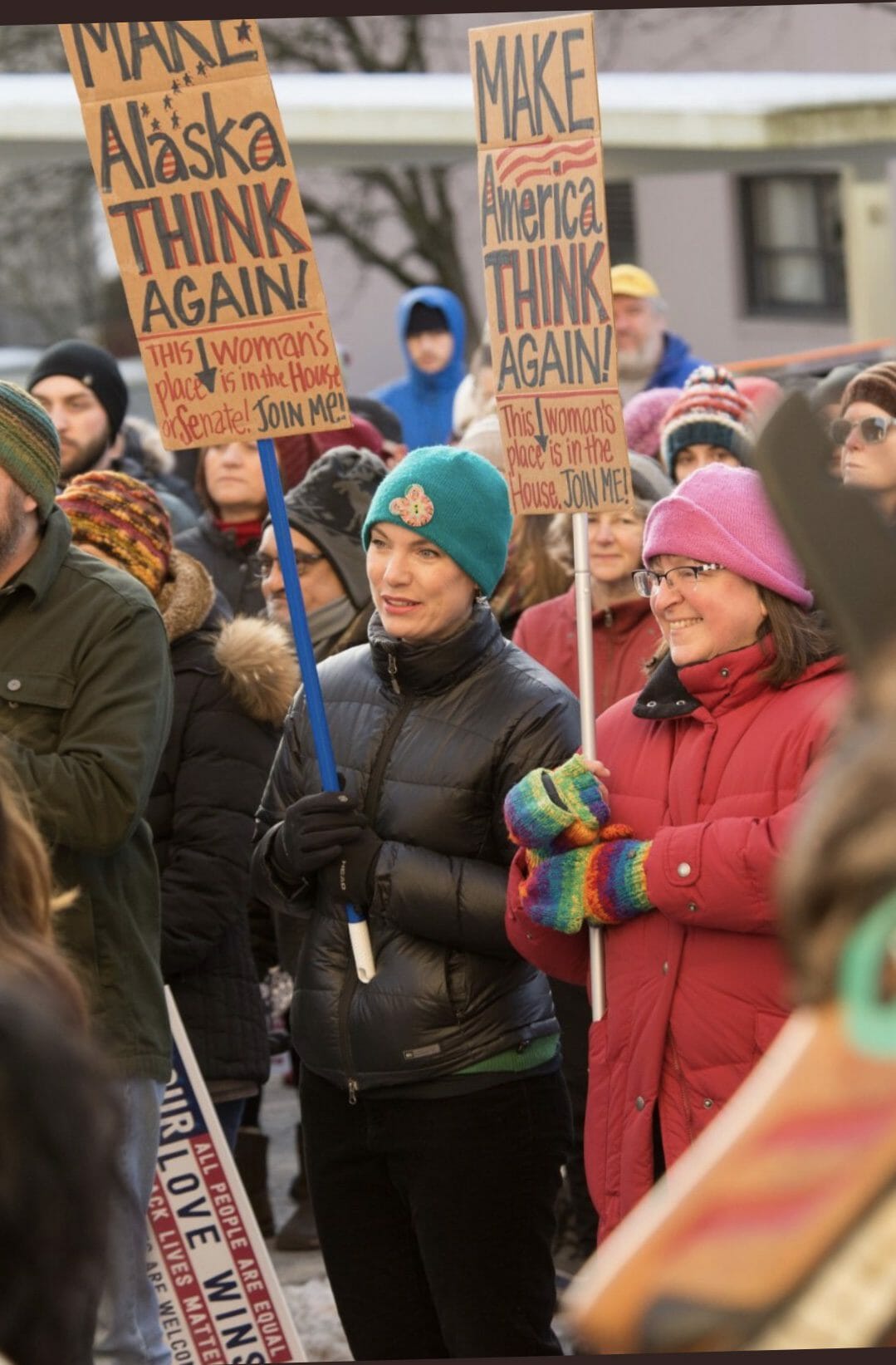 ---
*Squints* House OR Senate, eh? Which Senate, Ivy? Was that a low key campaign announcement?! Spohnholz vs. Sullivan in 2020? Here we go, folks…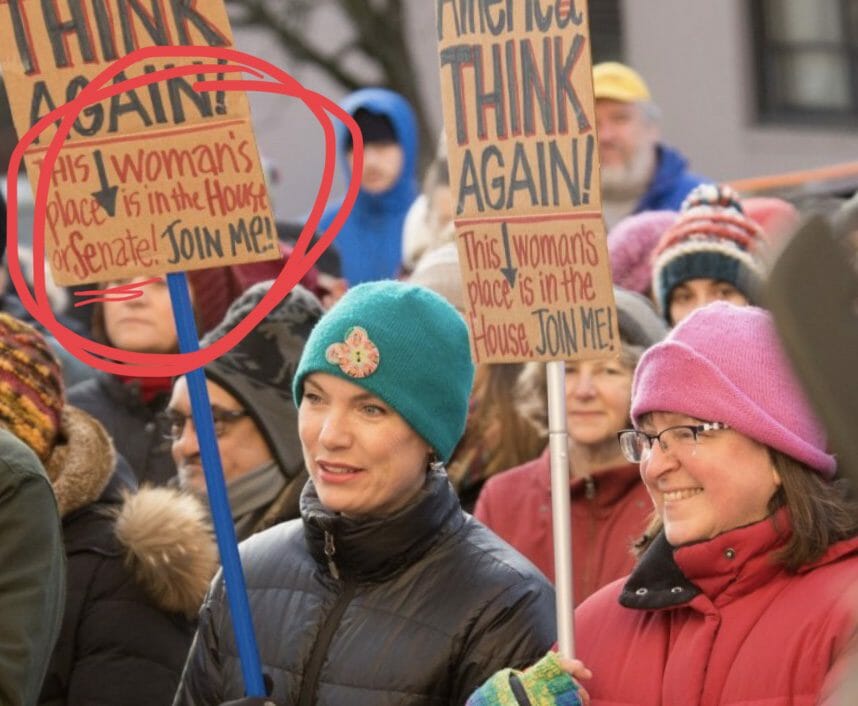 ---
You said it, Representative JKT, not us. For the record, this is Steve Case!

---
LOL. ???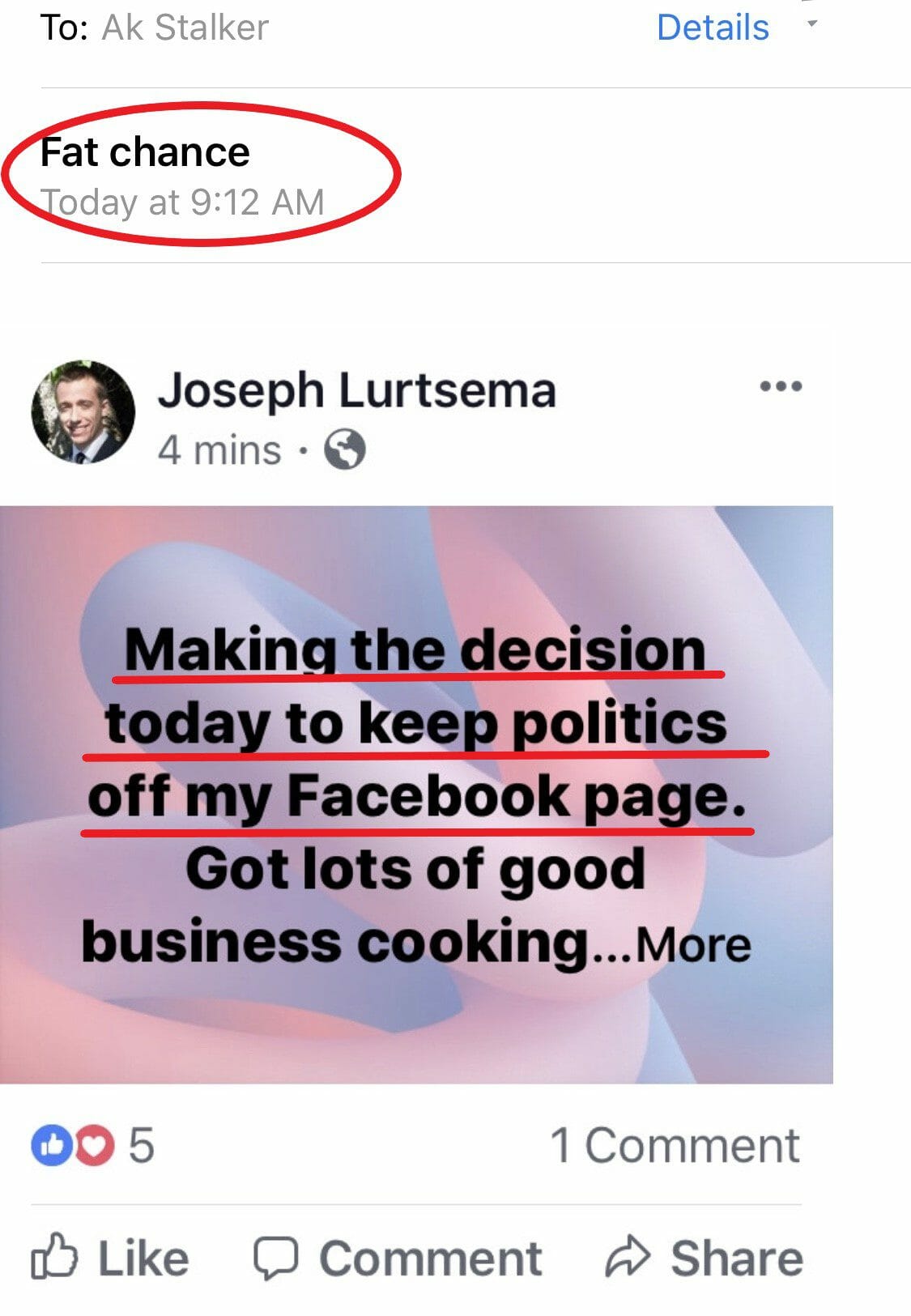 ---
I didn't know KTUU was sponsored by Gillett.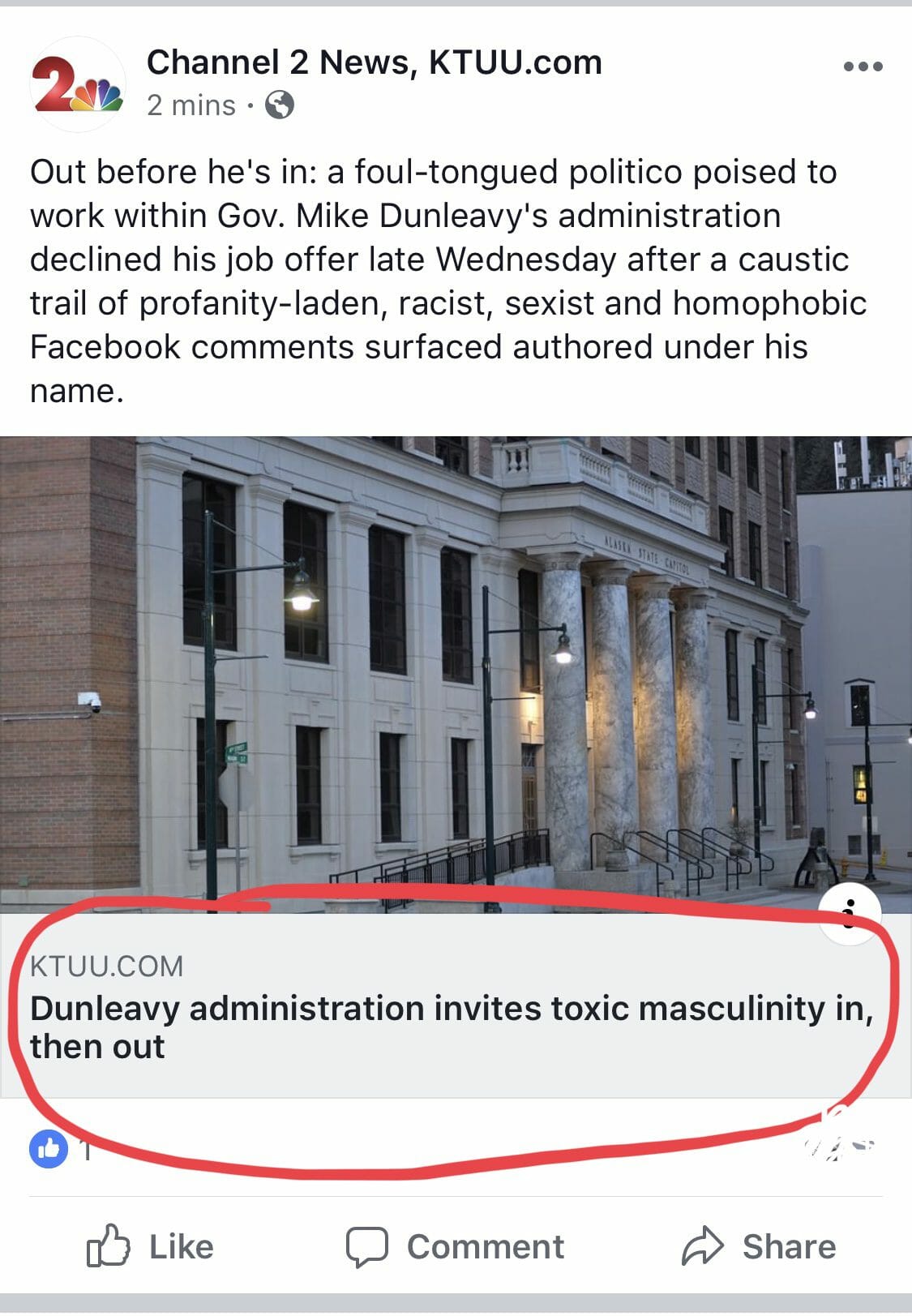 ---
Speaking of KTUU, I fixed this headline for you.

---
One of the more interesting public testimonials at Tuesday's Anchorage Assembly meeting featured none other than President of the Sand Land Community Council, and Alaska Stalker favorite, Urban Farmer Nikki Rose.
Nikki testified on behalf of the SLCC in favor of including $500,000 into the Anchorage Road and Drainage Service Areas bond due to major earthquake damage in several Sand Lake neighborhoods. Sand Lake was hit hard, and we've seen the damage. It's bad.
Two things stuck out tho. 1: Assemblymember Christopher Constant had to ask Nikki if she lived on one of the affected streets, as she failed to disclose that key detail in her testimony. And 2: Assemblymember Dick Traini thought it was important to bring up Nikki's Facebook "GoFundMe" and specifically inquired how much she's raised. "Not enough," she replied. Last time we checked Nikki had raised over $10,000 for the property she rents and has been unable to live in. Sounds like money is tight. I hope she has raised enough for the owner to repair the worst of the damage.
---
For those of you planning on attending the fancy $1,000/table Alaska Inaugural Ball, I have some bad news. Reservations are no longer available. Perhaps there's room at Urban Farmer Nikki Rose's table? We heard she bought one. ?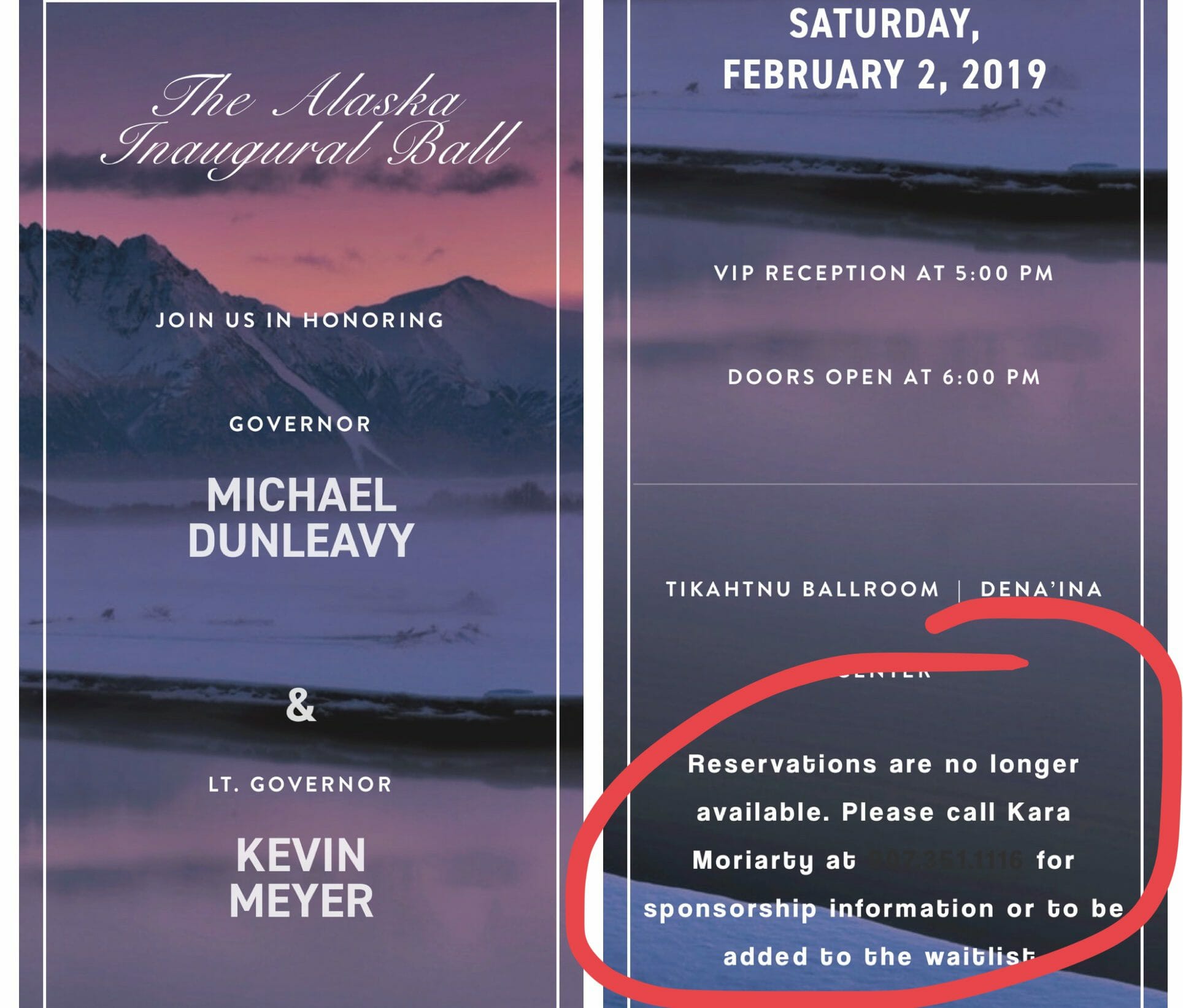 ---
What a great find by Alaska Public Media's Zachariah Hughes. Way to do Anchorage a solid, Dominos. And 2 billion internet points to Assemblymember Forrest Dunbar for the gem "Port repairs for pastrami."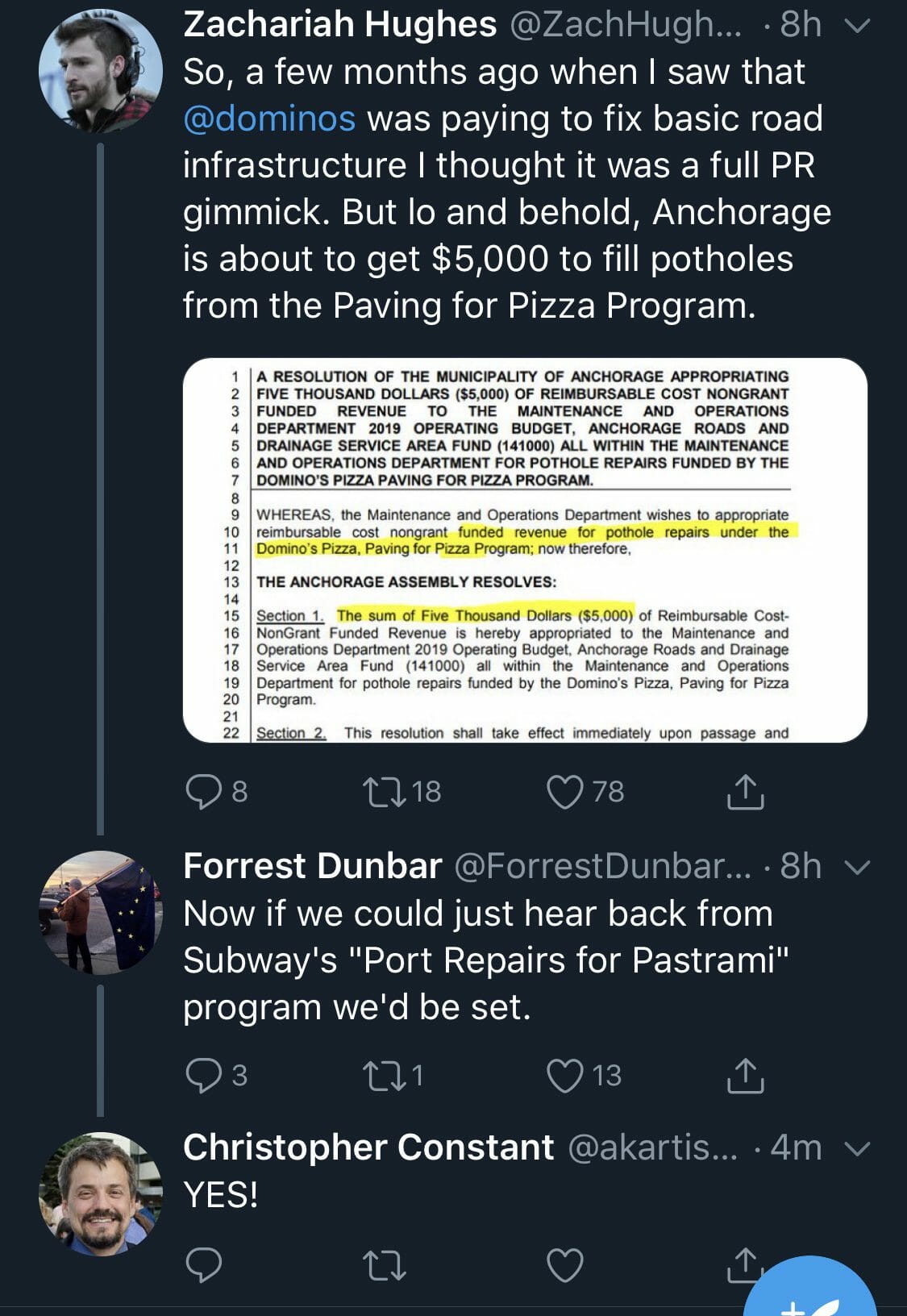 ---
Uh oh. Did the Alaska State Fair run their 2019 theme by the outrage mob before going live? Pretty sure you're not allowed to use the word "crazy" as an event theme in 2019. For those of you not as woke as the Stalker, using the word crazy as a throw away adjective or insult has been deemed insensitive, ableist, and even sexist. Hopefully no one who uses the hashtag #CrazyGoodFair will get fired from their government job. But, if you do, don't say we didn't warn you. ?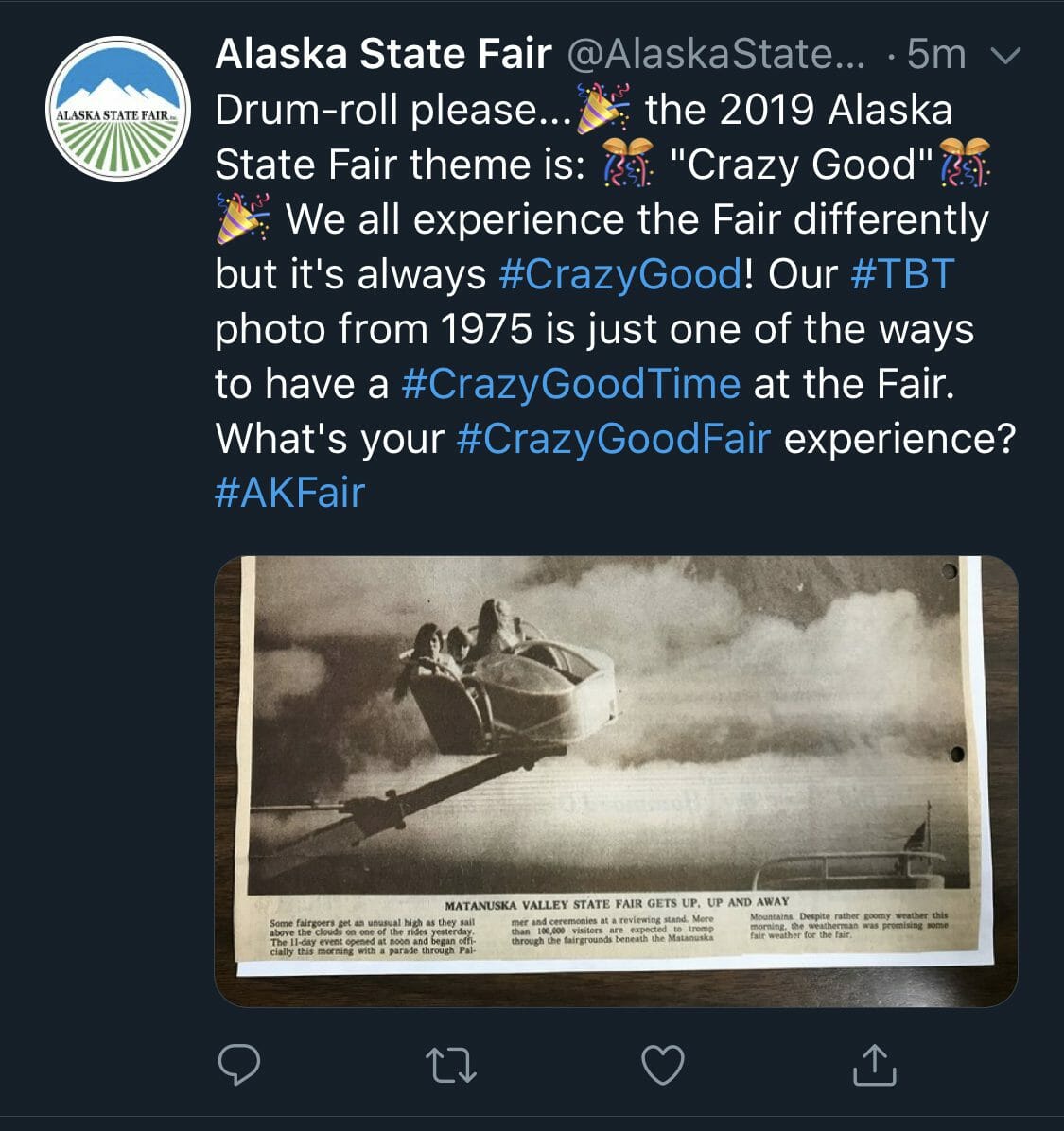 ---
And now for some national news. The Hill obviously hasn't heard of the Le Bon/Dodge race. 9 votes is practically a landslide in comparison.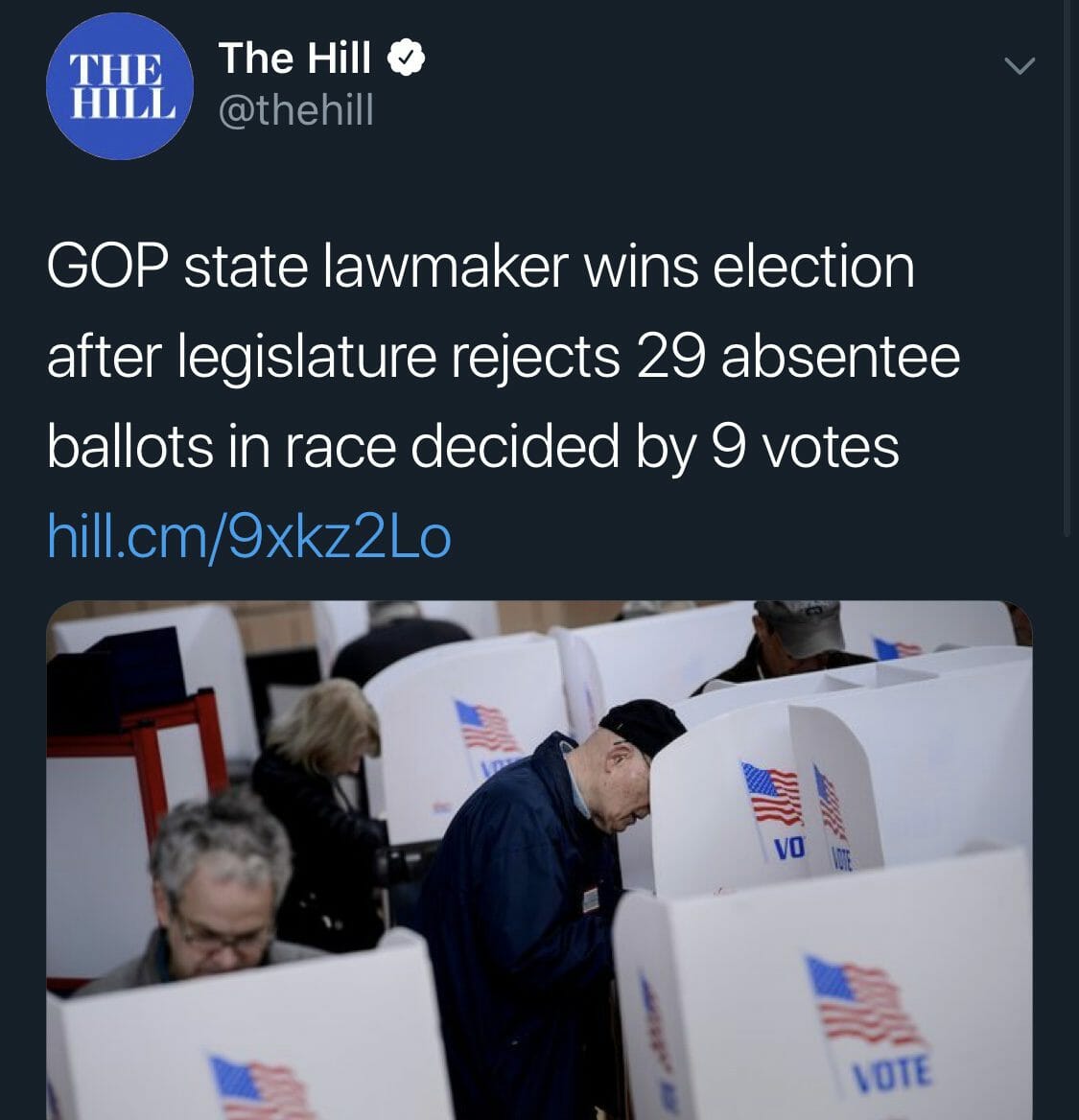 ---
When you read Bradford Keithley at Alaskan for Sustainable Budgets, don't forget "some in Alaska" is code for "only Brad Keithley." ? Check out that Micciche/Graham burn tho. WOW.
Way harsh, Tai.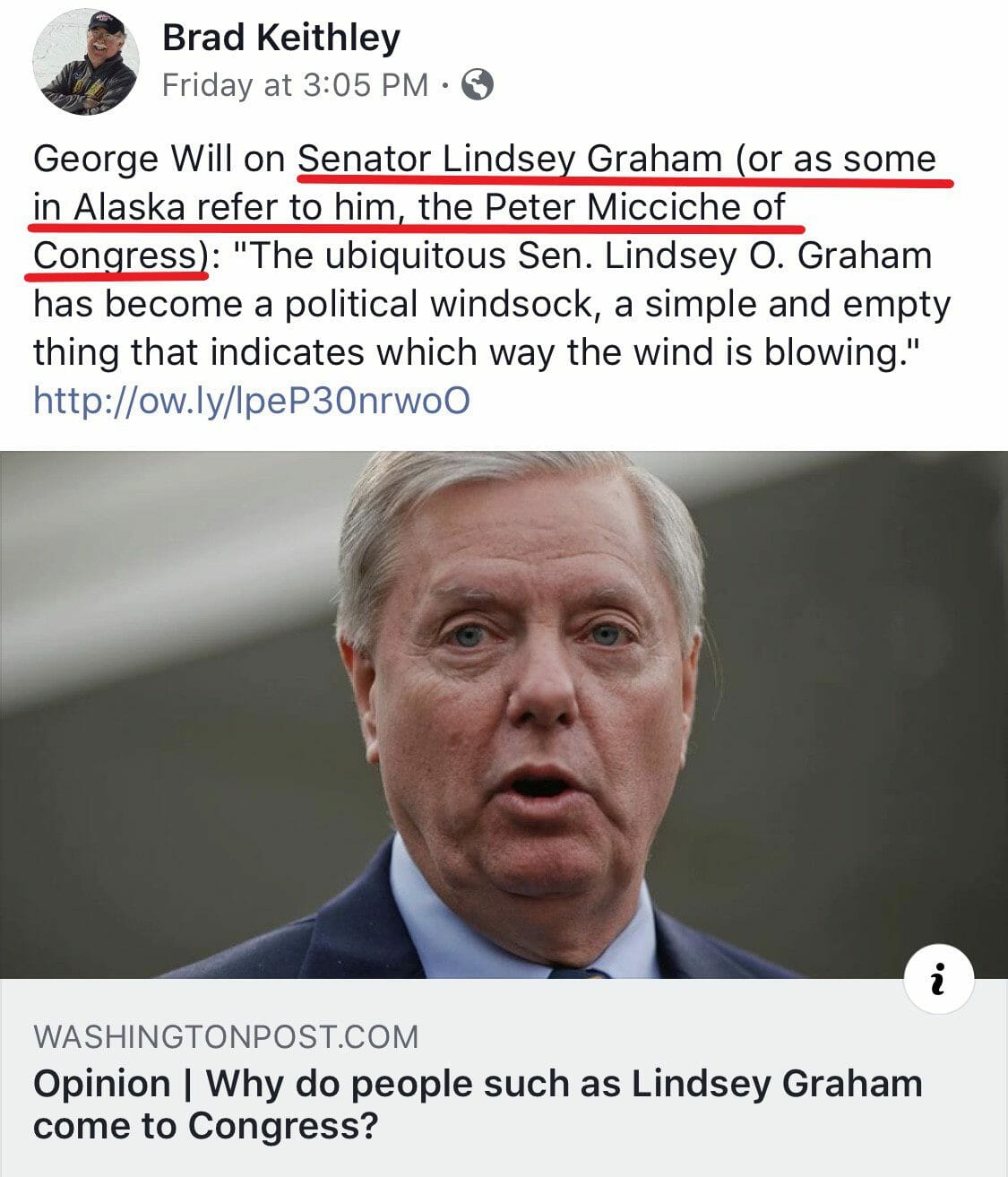 ---
Speaking of political windsocks, apparently former Presidential candidate, John Kasich, got in a weird power battle with a comedian on an Alaska Airlines flight. The comedian, Julie Klausner, took to Twitter and… well… you know how these things go. The story is truly bizarre.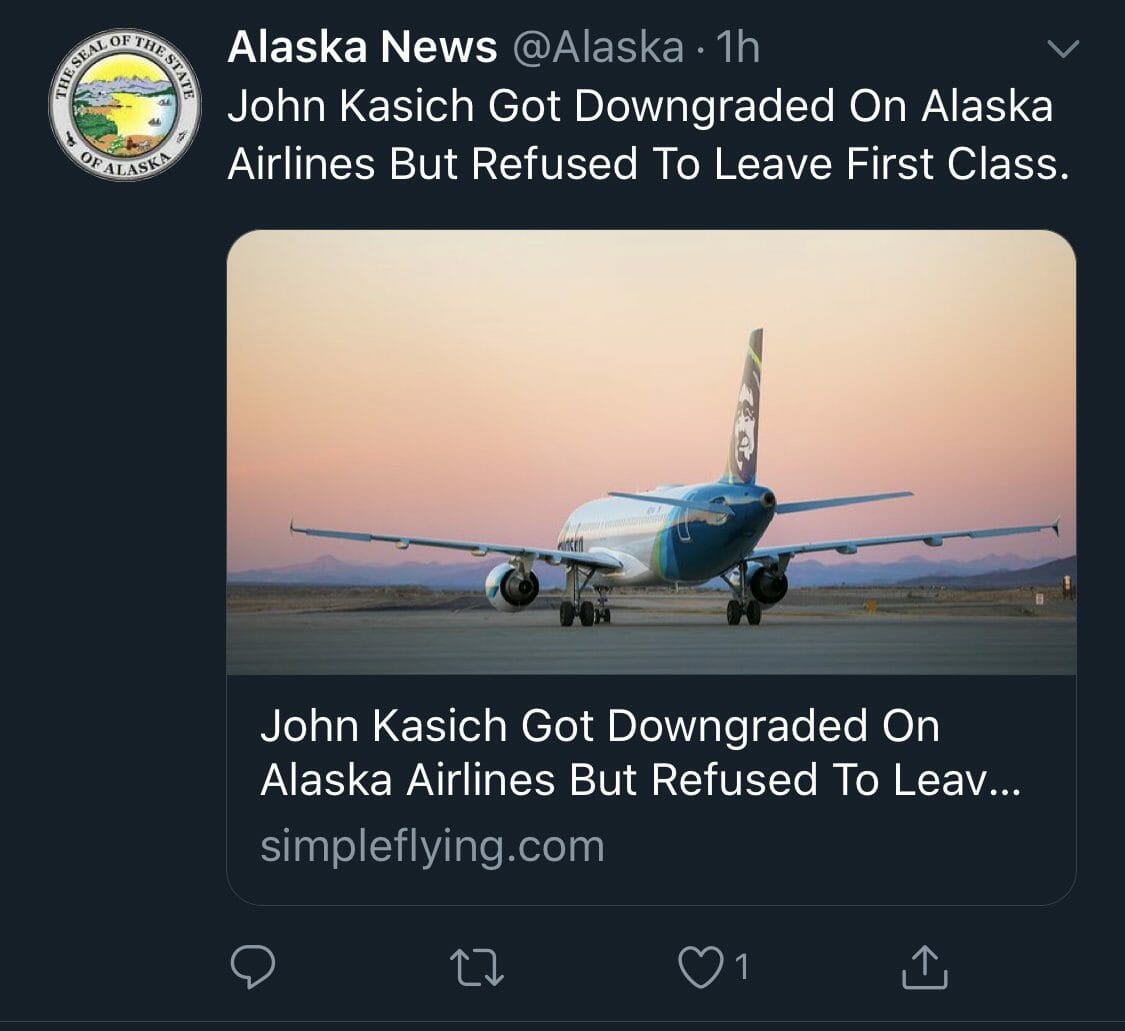 Fan Mail:
Nona Dimond is my new BFF. Thanks for reading!

---
Thanks for reading, KTUU! And Jeff, CHARGE YOUR PHONE!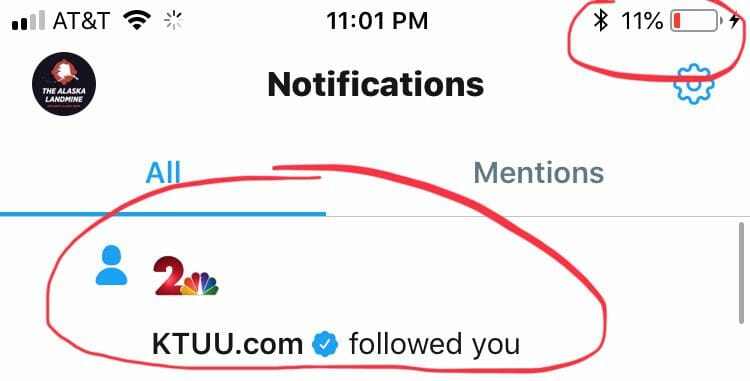 ---
Overheard: HIGH level politico in the Dunleavy Administration: "What am I going to do when the Stalker goes on maternity leave? I look forward to it every week!"  Awww, thanks! XOXO
---
Overheard during the Amanda Price confirmation hearing:
*Cell phone rings during question via Senator Scott Kawasaki*
Price: "He's with me and we'll have a chat about that later."
---
Overheard in response to his constitutional amendment that would require a vote of the people for taxes:
Tron Governor Michael J. Dunleavy: "The time is now. There is no tomorrow."
---
Overheard in the Capitol Building:
A first year staffer (with a history of social media trolling) mansplaining how a committee works to a long time staffer.
---
Spotted at the Imperial in Juneau:
Representative Louise Stutues and Representative Chuck Kopp. ??
---
Spotted at 35,000 feet en route to Juneau. We know everyone reads the Landmine. Those numbers don't lie. To purchase an ad, click here. To support, click here.

---
Spotted in Juneau, Representative Josh Revak doing his own laundry for the first time in many, many years. If you see his whites tinged in pink, please give him a pass. He's learning.
---
That will do it for us this week folks. Don't forget to send your favorite social media and online goofs, gaffs, memes, dust-ups, "Overheard in Alaska," "Spotted in Alaska," or whatever else you got to akstalker@alaskalandmine.com Our DMs are always open. Remember: pics or it didn't happen!
---
The Alaska Stalker was born and raised in Alaska, and lives in South Anchorage with her husband, daughter, and baby on the way. She is not Jeff Landfield.