Welcome to this week's edition of The Alaska Stalker, a lighthearted round up of the best and worst of Alaska's social media landscape. Have you sent us a hot tip yet? Email us at akstalker@alaskalandmine.com and, as always, thanks for reading.
---
On Tuesday night Governor Mike? Michael J.? (Just make up your mind already!) Dunleavy delivered his first State of the State address in Juneau.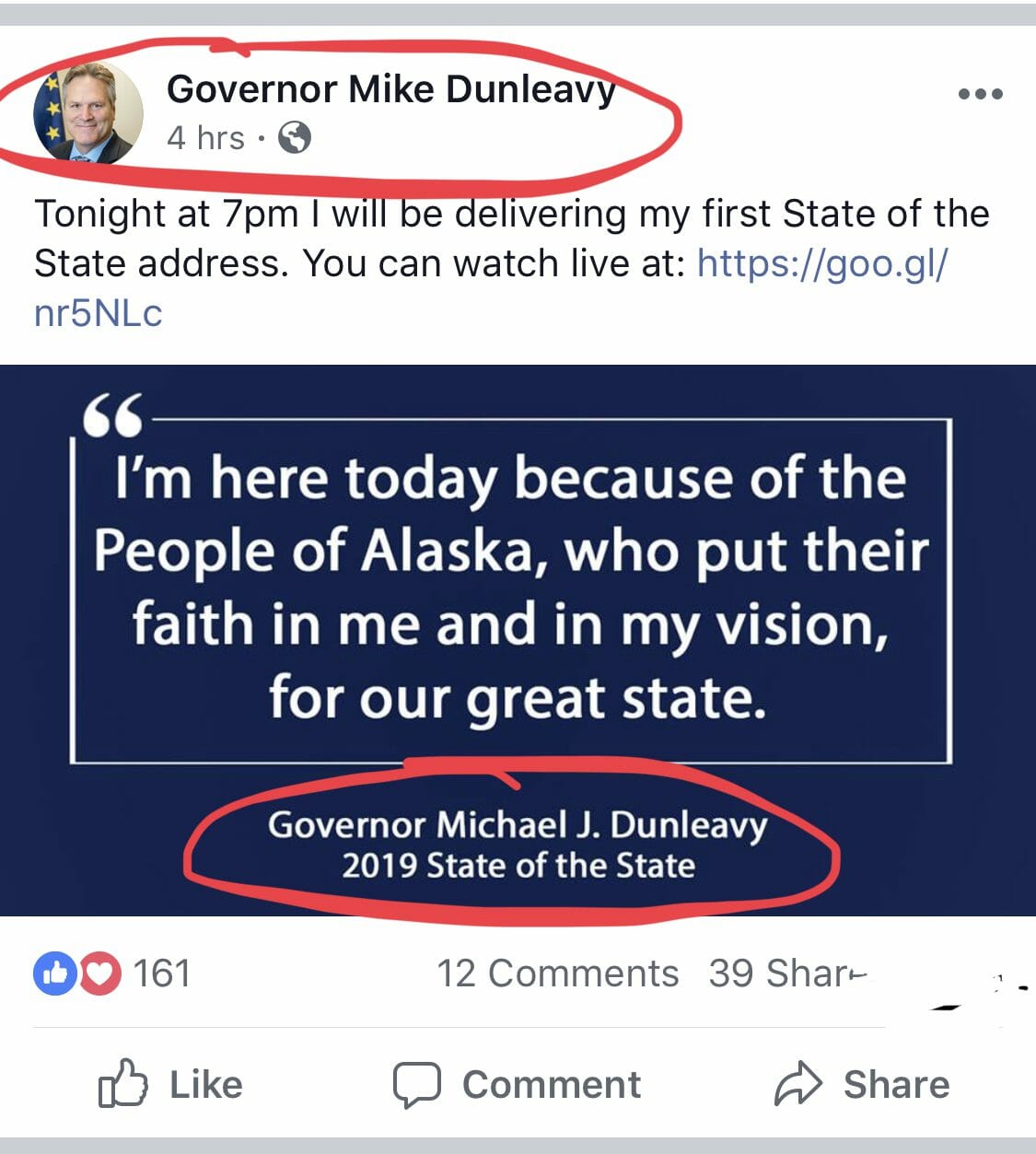 ---
While I usually catch it on Gavel to Gavel, for convenience sake I tuned in to the more pedestrian KTVA Facebook Live stream. I think I might do that more often; the comments did not disappoint. No one had much to say about the speech, but they all loved James Brooks' suit! For those who don't know him, James is a fantastic reporter, now at ADN, that has covered the legislature for years. He has a penchant for wearing suits that make Andrew Halcro want to claw his eyes out Bird Box style. (The book, not the movie.) Here's the suit in all it's glory – yes, it even made Alaska Reddit.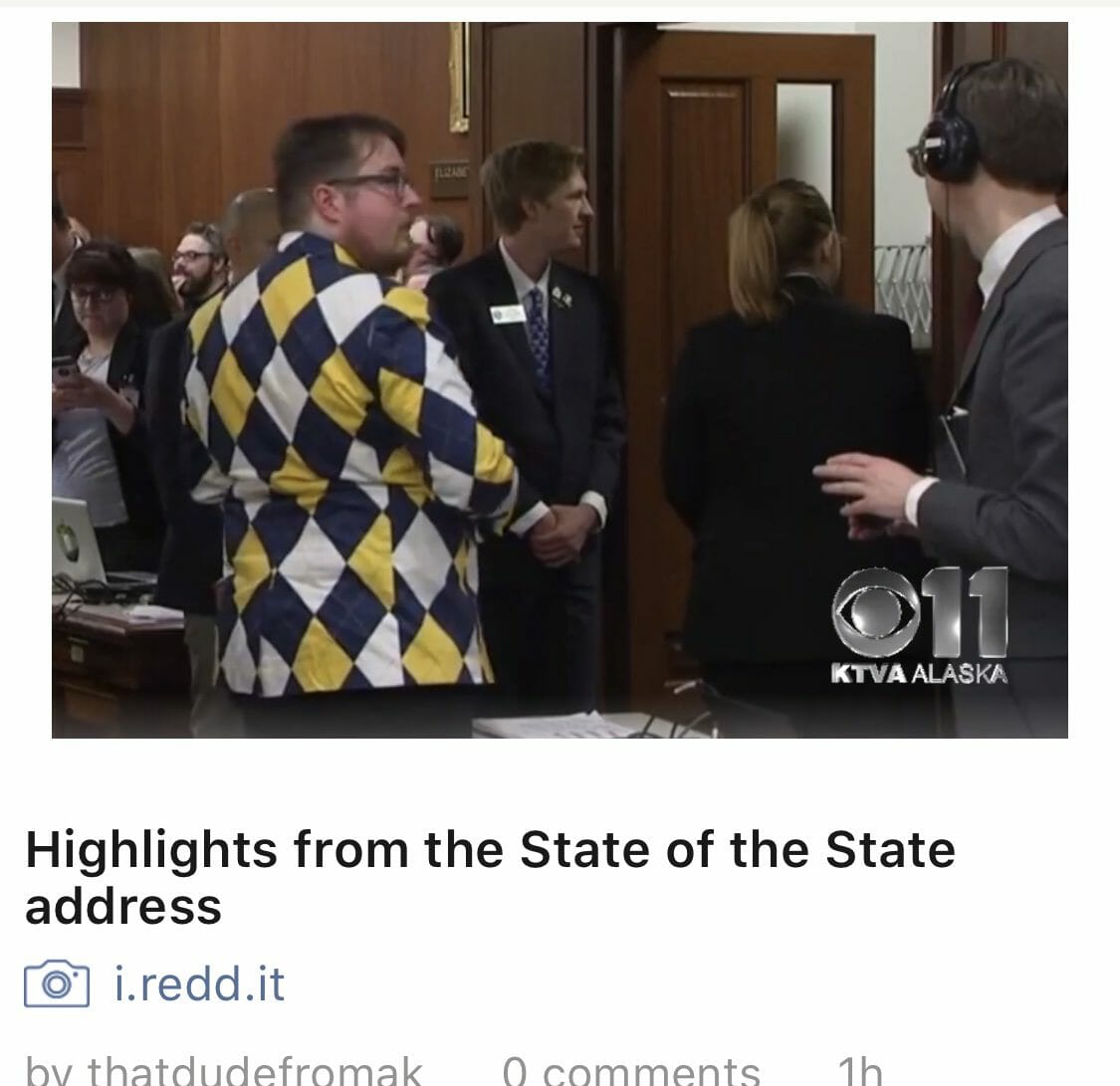 ---
Here is a small sampling of the KTVA live stream comments. There was even a drinking game created based on "jacket sightings!"

---
Before the Governor's speech was over I had already been sent two suit memes. Never change, James! And congratulations on being the highlight of the speech!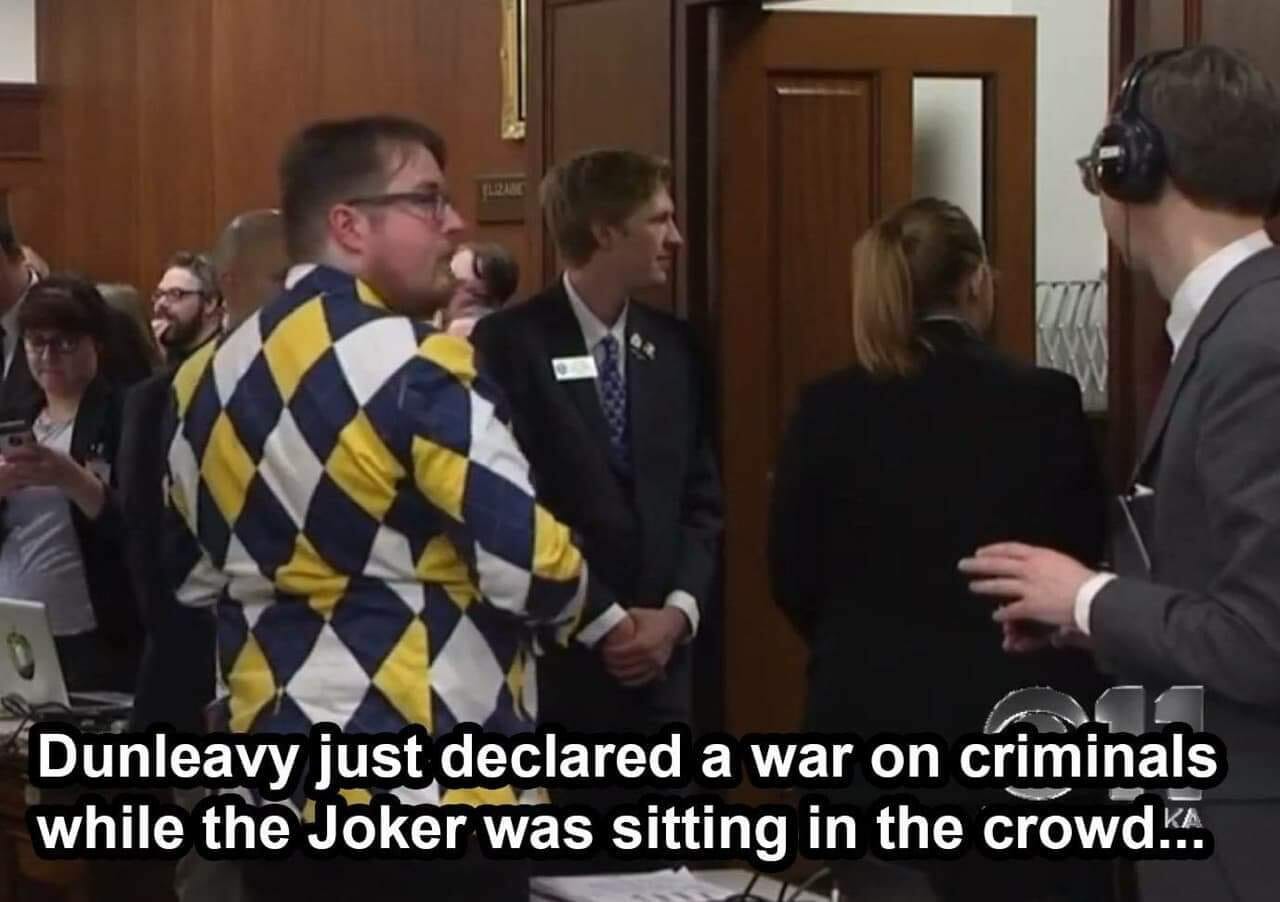 ---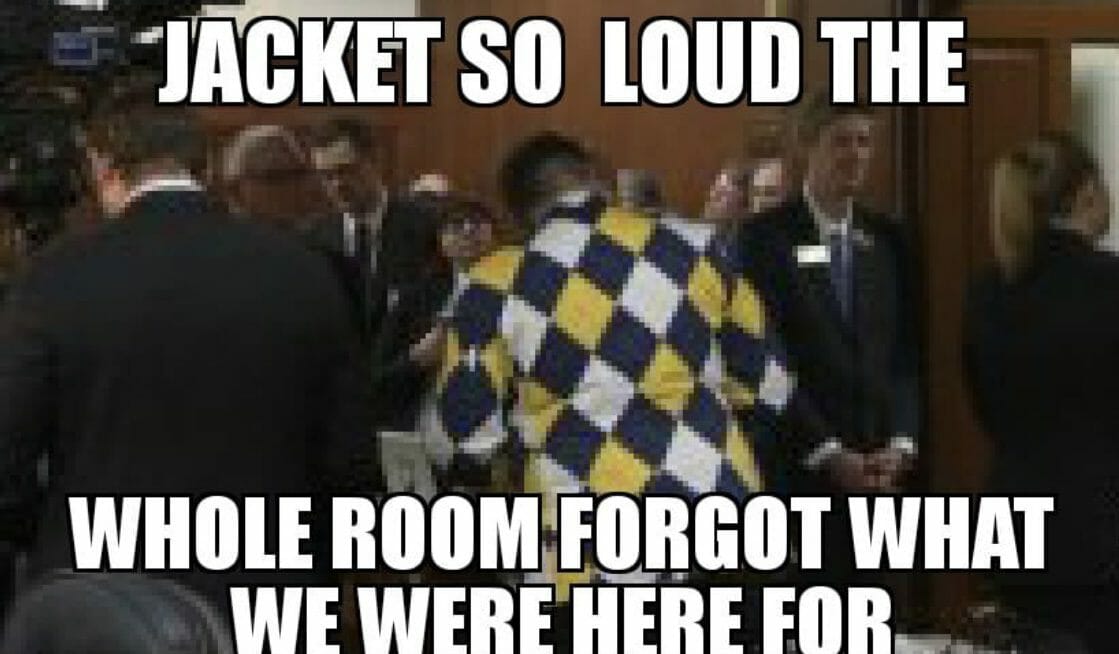 ---
The Dems were out in full troll force post speech. Here's what Representative Geran Tarr came up with.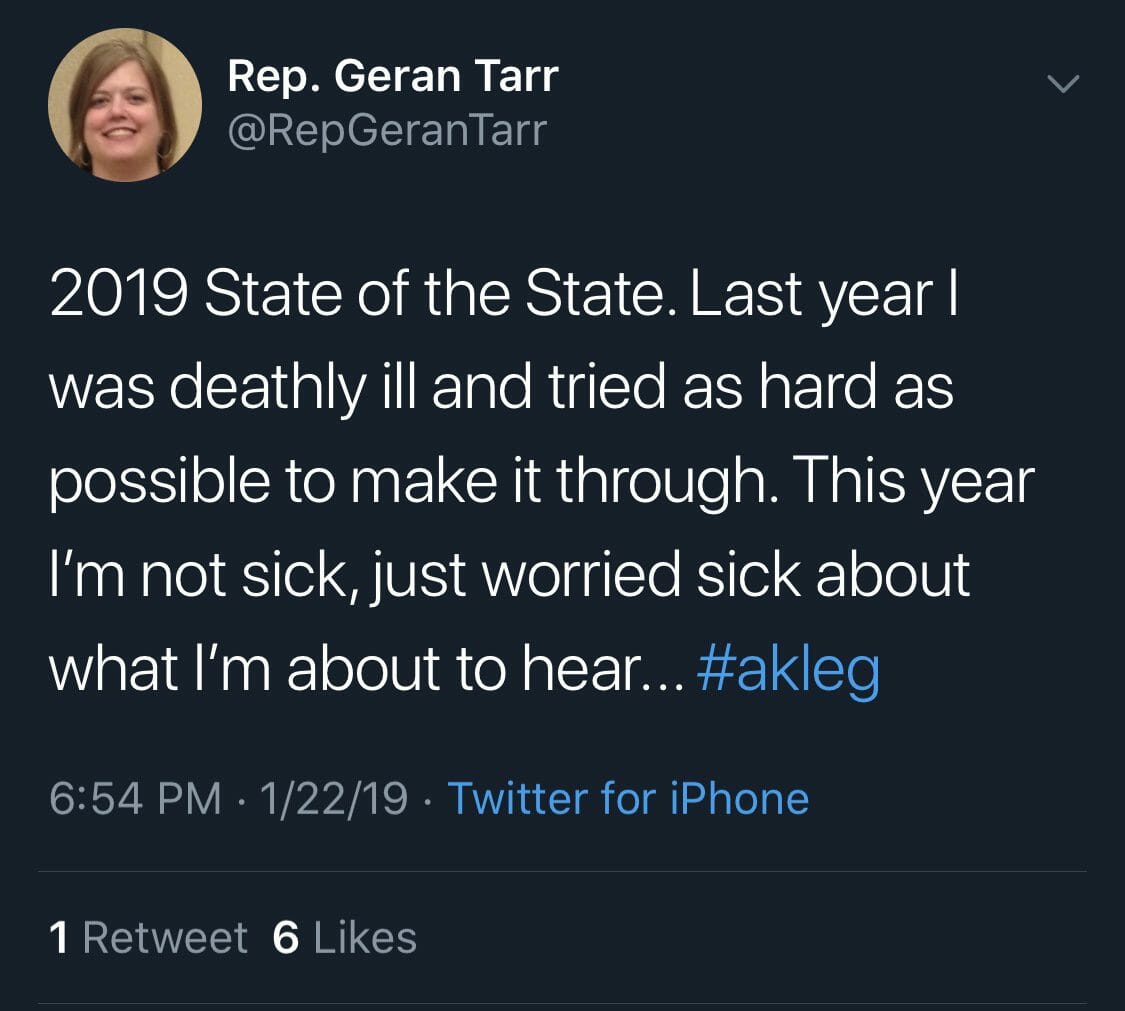 ---
Not bad. But, as usual, Senator Bill Wielechowski knows how to push the right buttons — literally and figuratively. Troll level: ?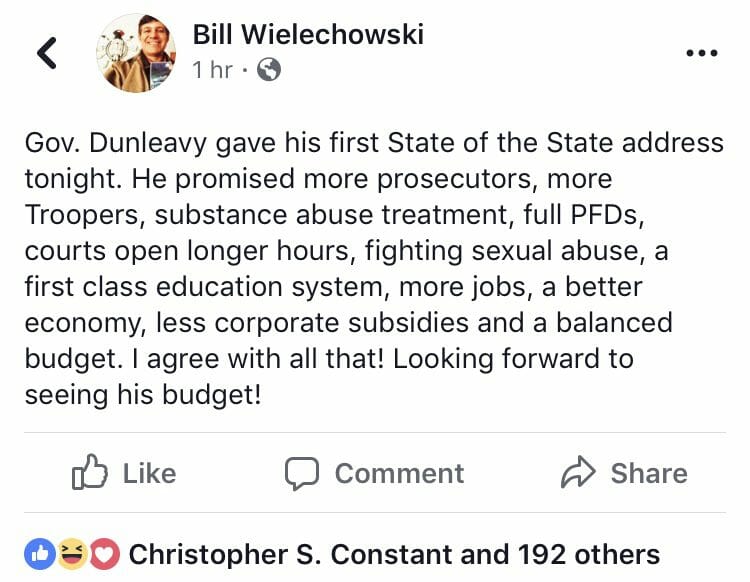 ---
How many years you think the Senate Dems have been holding on to this one? For politeness sake, we'll say about 4! ?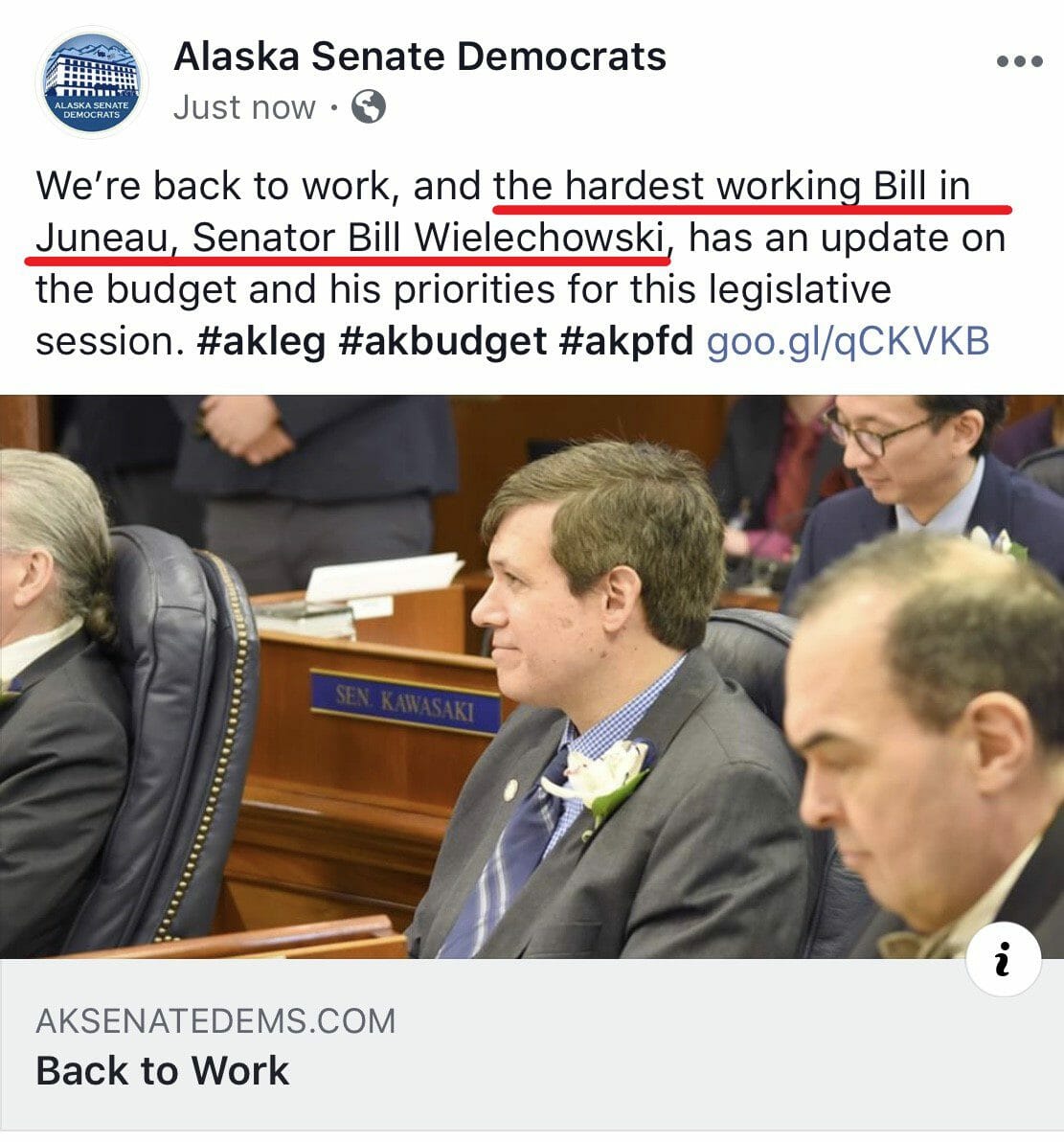 ---
Now that he's been "set free" former Representative Jason Grenn is cracking jokes about his former colleagues on Twitter. This wouldn't be the worst GoFundMe we've seen out of Sand Lake recently, so I say go for it!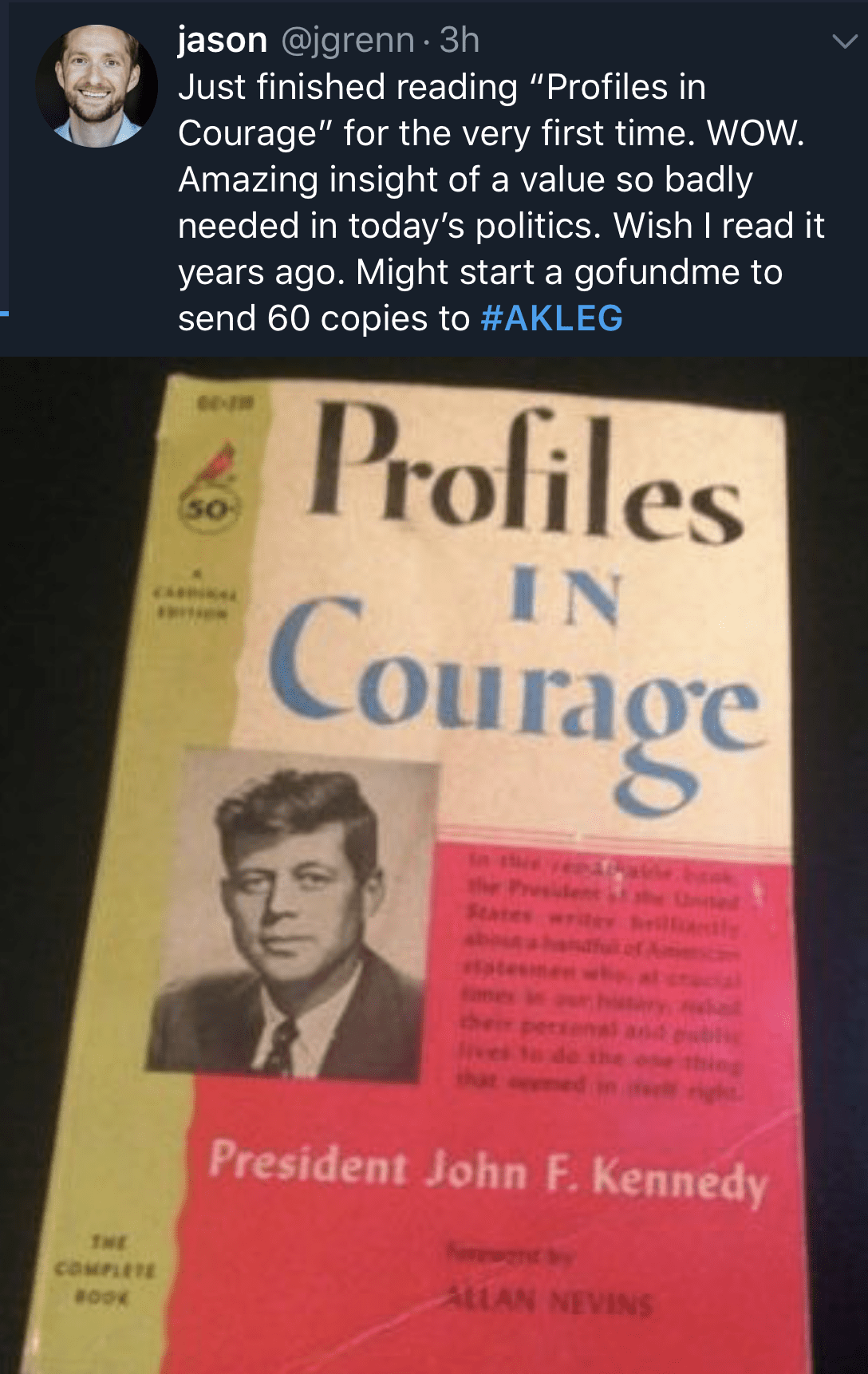 ---
We know most of our readers are political insiders. For those of you who might not follow the State Legislature closely, here's a look at what we're dealing with this year so far in the House. It's going to be a long 90 days.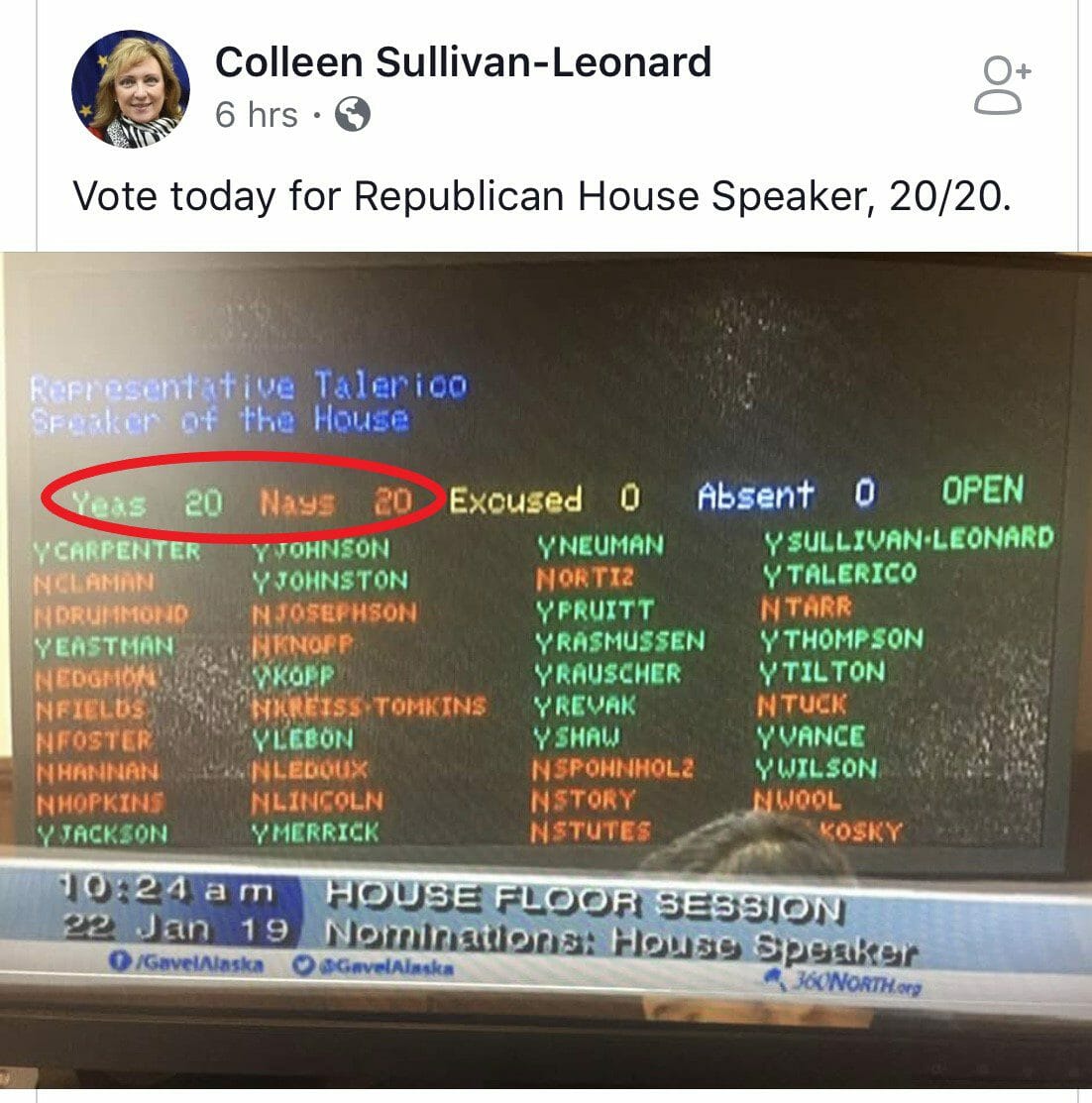 ---
For some reason, Senator Elvi Gray-Jackson calling a constituent a twit (even though it's part of their Twitter handle) made me giggle.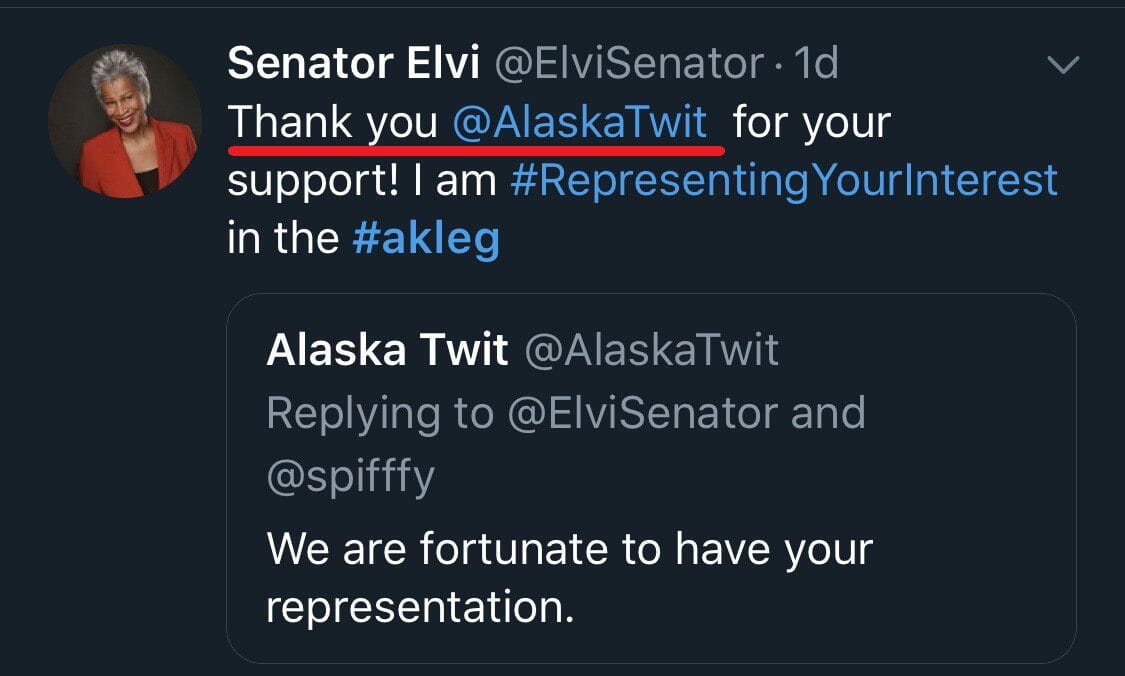 ---
Nice catch, Vince! Pretty sure the real Senate Minority Leader, Tom Begich, has longer hair. ?‍♂️ Senator Giessel could be confused for a lot of things, but a Democrat isn't one of them.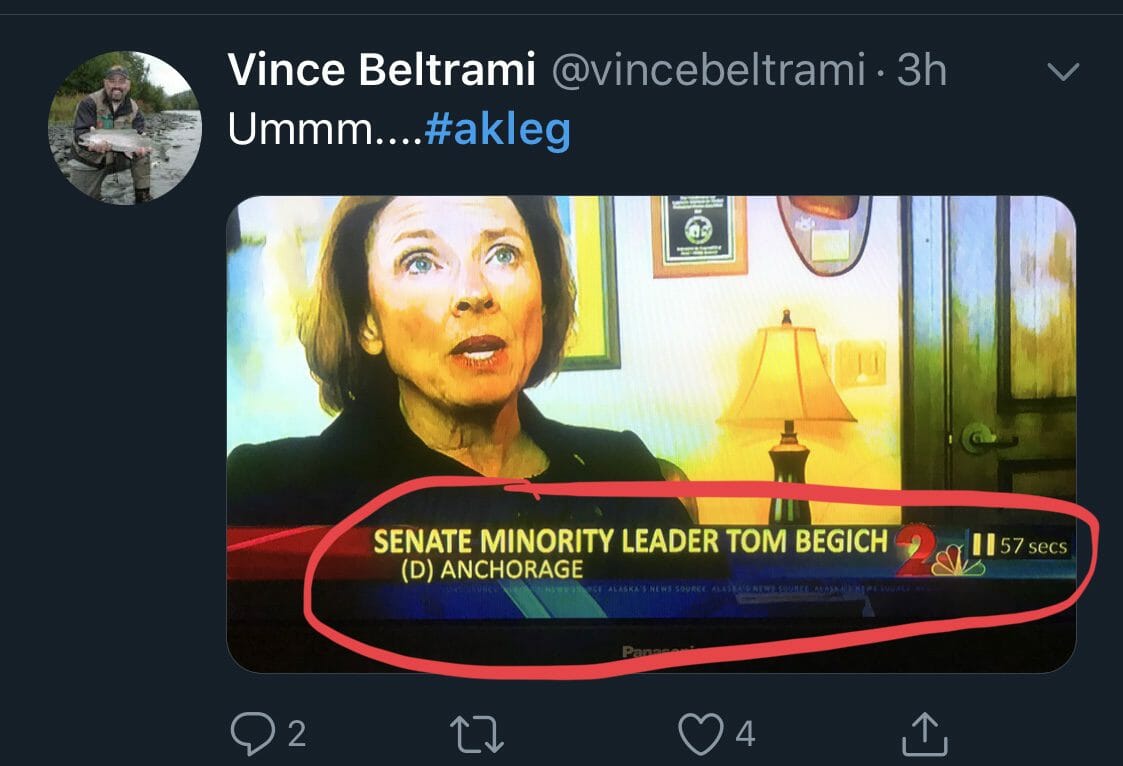 ---
Speaking of Senate President Giessel, we'd never heard the nick name Cathy "The Diesel" Giessel before, but we kind of love it. Wait, what does that even mean?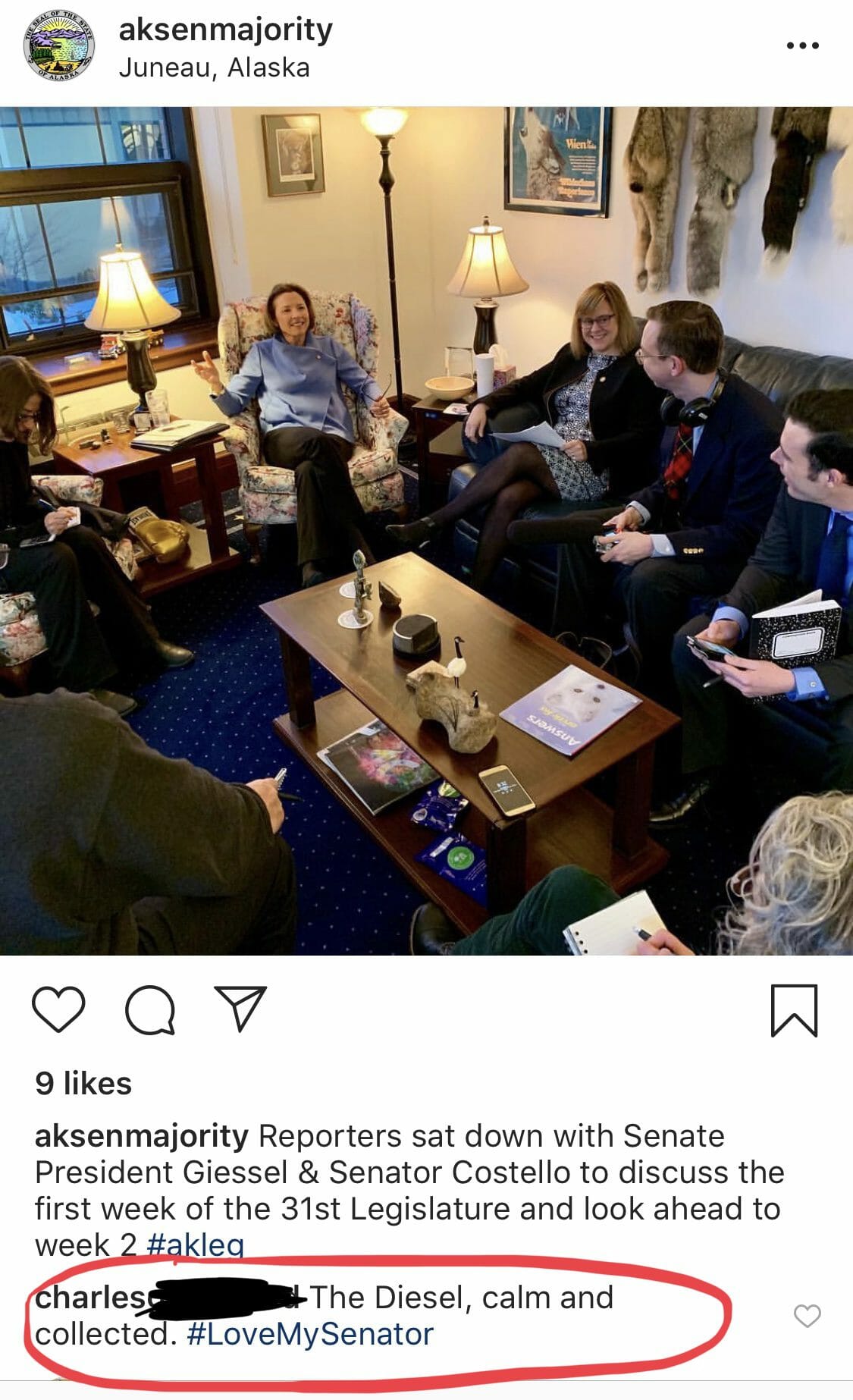 ---
Senator Chris Birch finally upgraded updated his Facebook page.
---
And not a moment too soon. Glad to see the whole family, including furry members, made it to Juneau safely. ? Fingers crossed Otto Birch gets to have play dates with the First Dog. We need pics!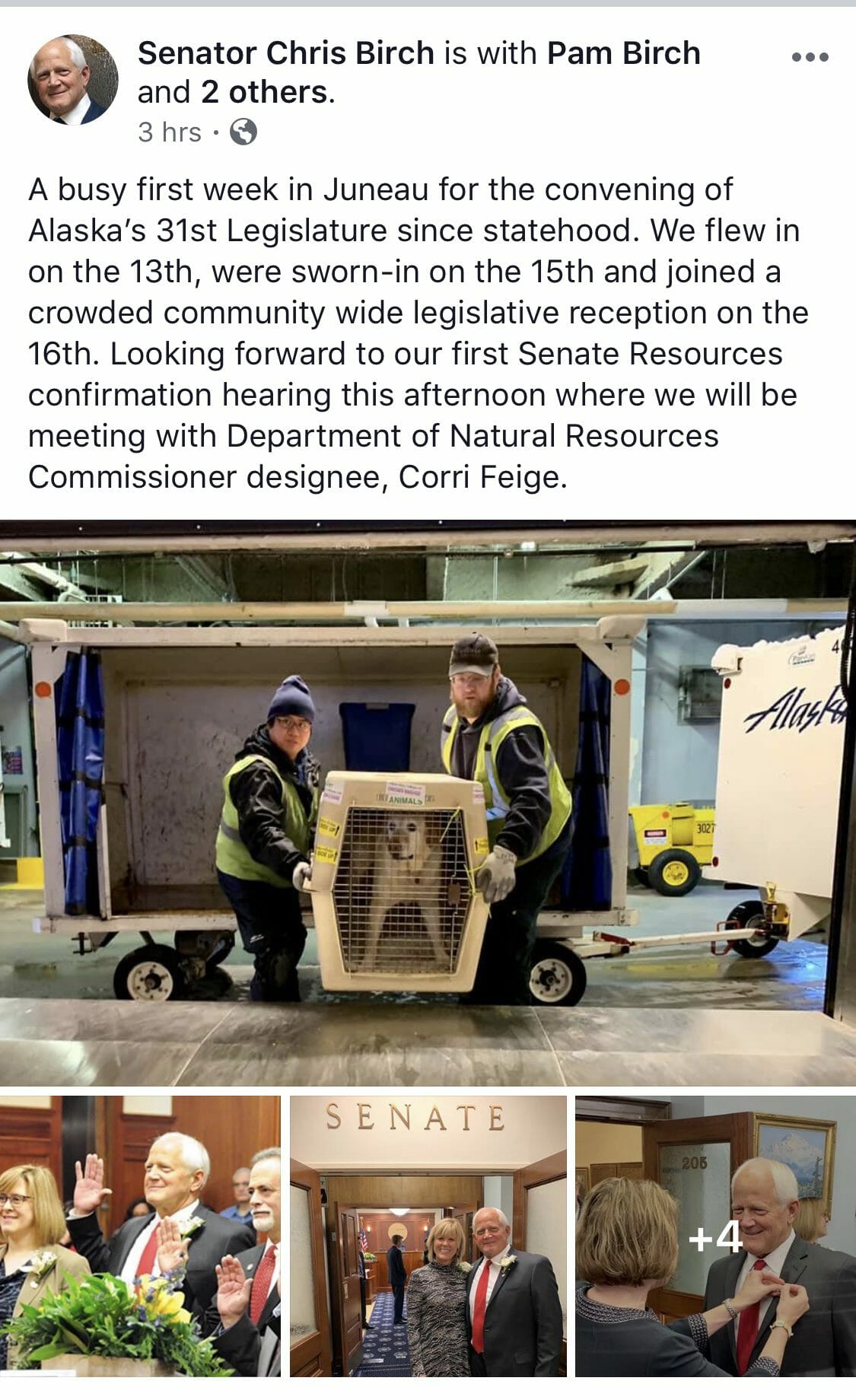 ---
Cool mom Nona Dimond took a great pic with "Totally Awesome Dude" and Lt. Governor Kevin Meyer. I mean, to be totally honest, it's not that hard to look even semi awesome next to Kevin! ??? We kid, we kid.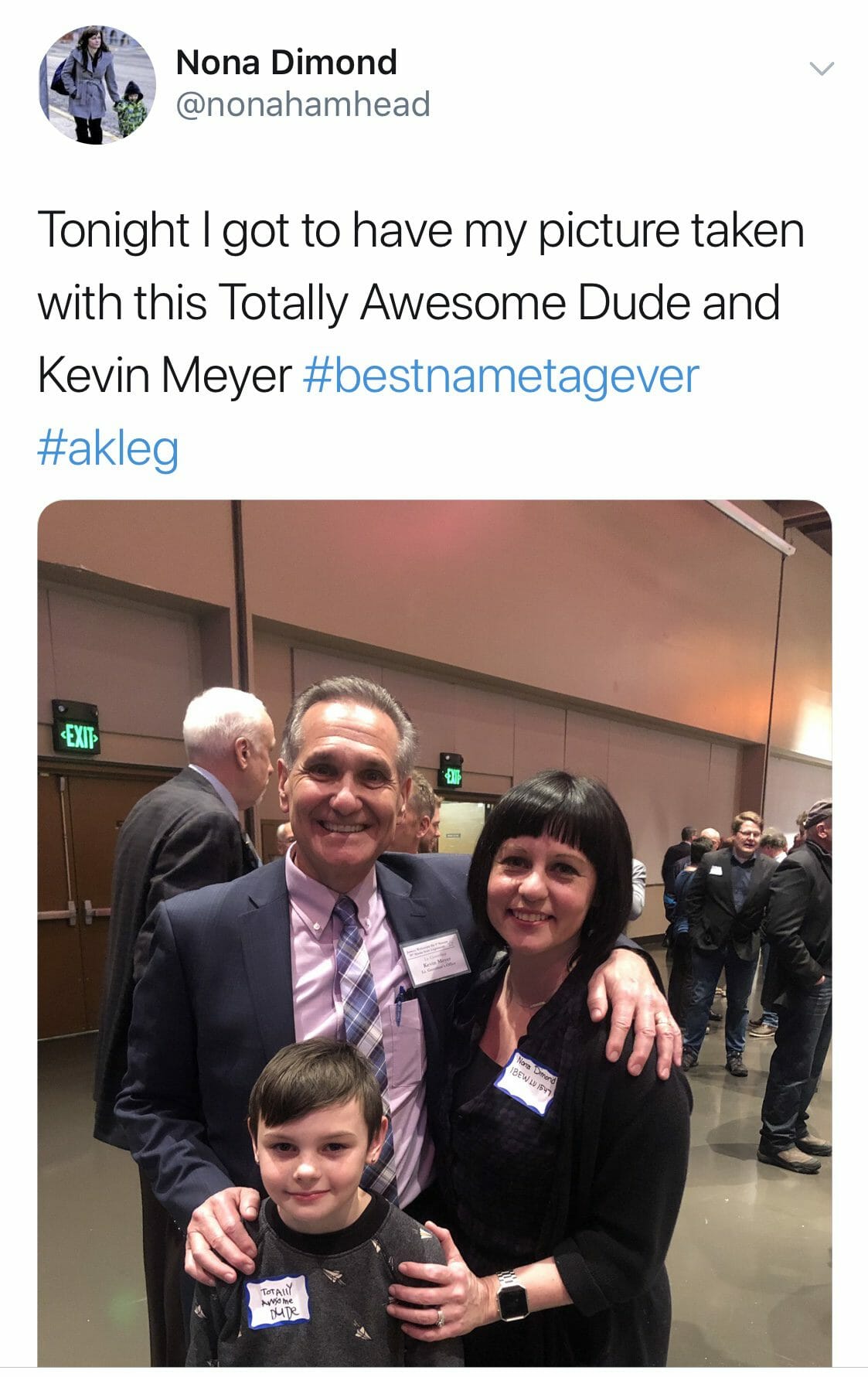 ---
Maybe it's just me, but does anyone else pretend they're friends with Nona IRL even though they've never met? I mean take a look at this adorable public Twitter display of affection. The entire Dimond family just seems…. Totally awesome. <3

---
The Dimonds aren't the only lovebirds in Juneau. Elstun Lauesen was featured in the Juneau Empire participating in the Women's March. While not pictured next to his lovely wife, Representative Harriet Anagnostis Drummond, we've heard that a couple that protests together stays together.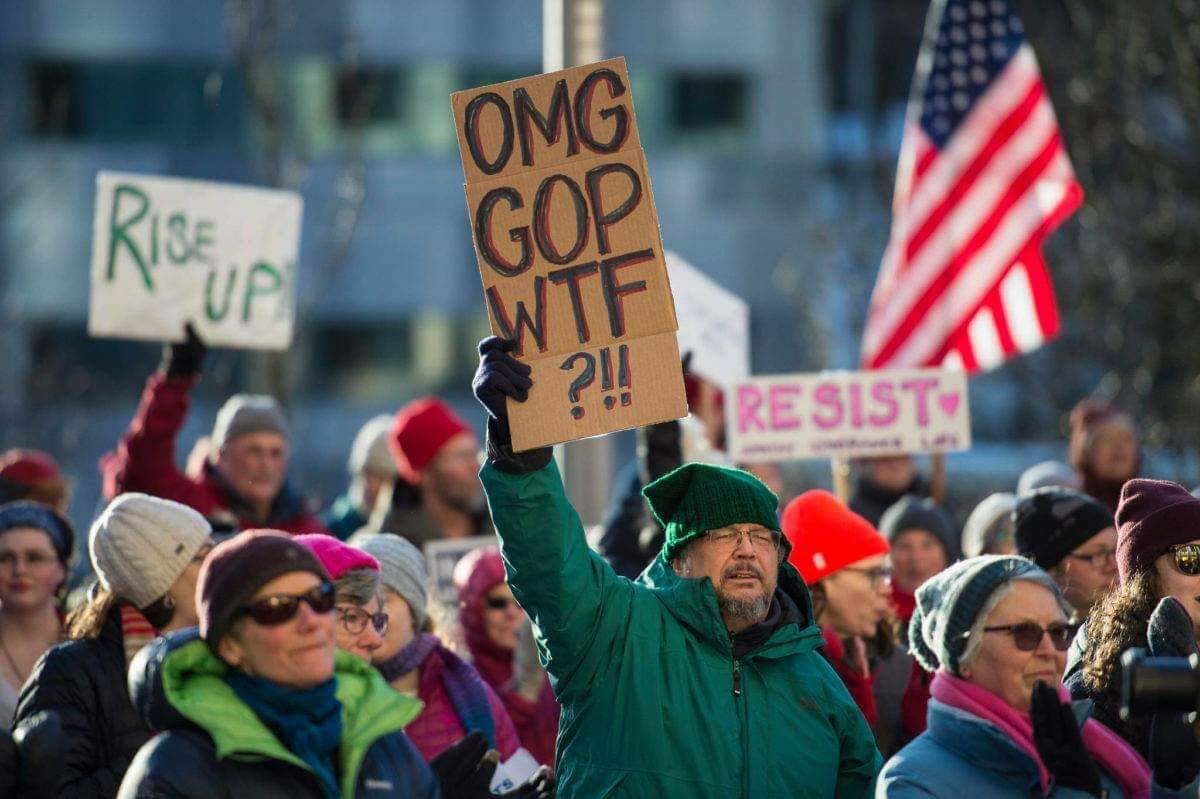 ---
I'm sure Harriet joined up with Elstun after she finished parking her…. uh "car." ??
---
Juneau also hosted the annual anti-abortion Right to Life rally. While the crowd was about 1/5 the size of the Women's March, and definitely not as high energy, Governor Dunleavy was in attendance, as well as legislators on both sides of the aisle (thanks to the attendance of Democratic Senator Donny Olson).

---
I guess my only question is, which march did Libby Bakalar attend? ?

---
Speaking of old photos, we'd like to give a shout out to the Anchorage Library for participating in the 10 Year data mine Challenge. Cute! We're glad they changed the logo to a fresh new look. Now if they could just change some policies so I could feel safe actually taking my kid there again!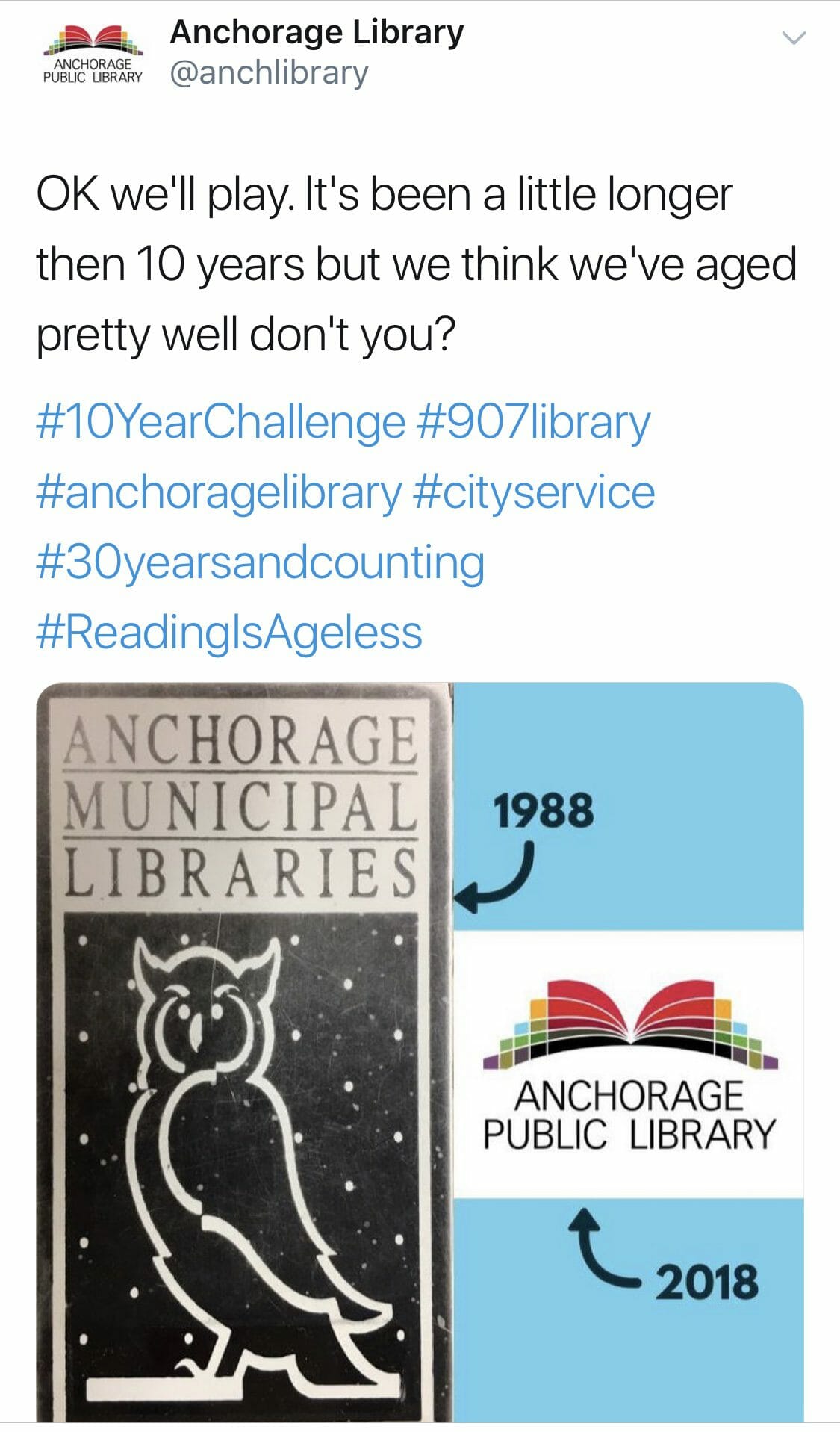 ---
Fellow bibliophile Myranda Walso is my hero. Absolutely SAVAGE. ????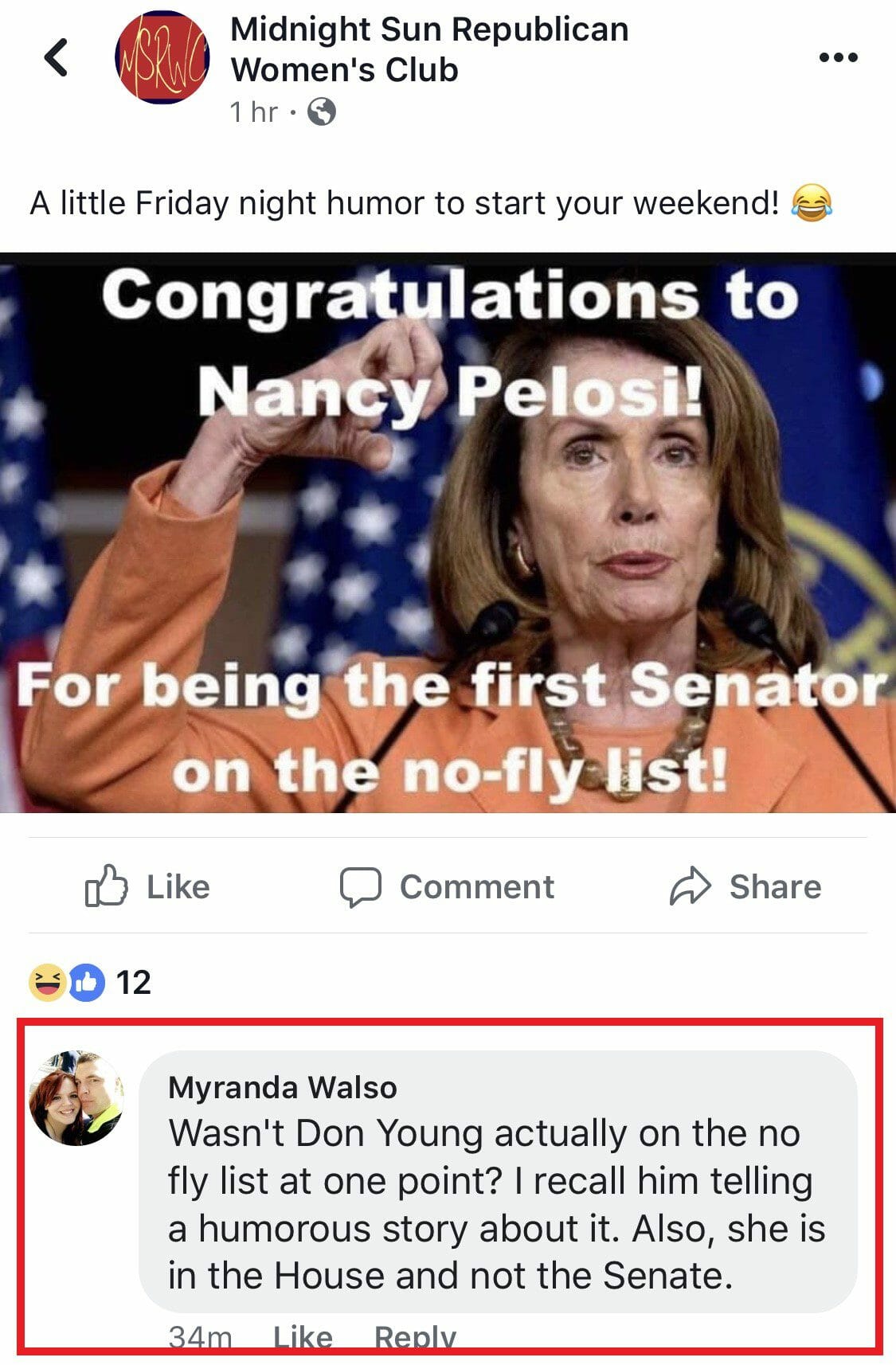 ---
And now for an update on the upcoming Anchorage Assembly race. Candidates are filing for office, and things are starting to heat up. Assemblymember Forrest Dunbar posted the most generic "I filed" post ever. YAWN.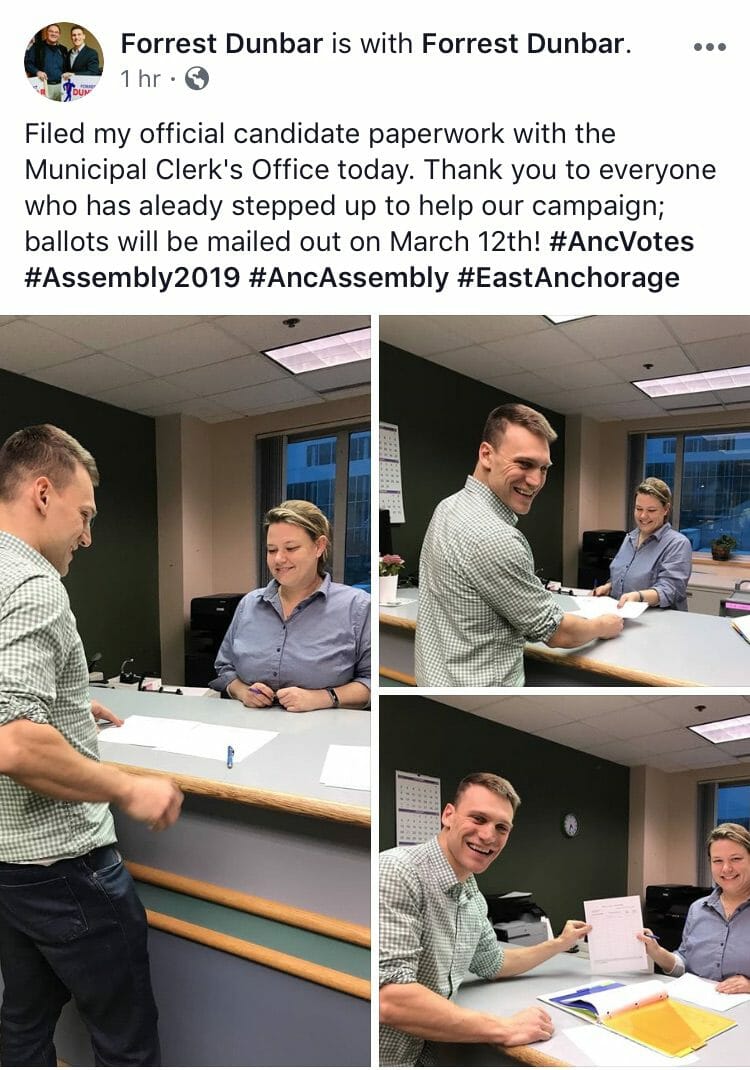 ---
We did like Forrest's post about the Bar Association's MLK Day free legal aid event. Sounds like a great and worthwhile event. Kudos. Hey, isn't that candidate for Assembly Meg Zaletel? Just what the Anchorage Assembly needs: another young lawyer! #diversity ✊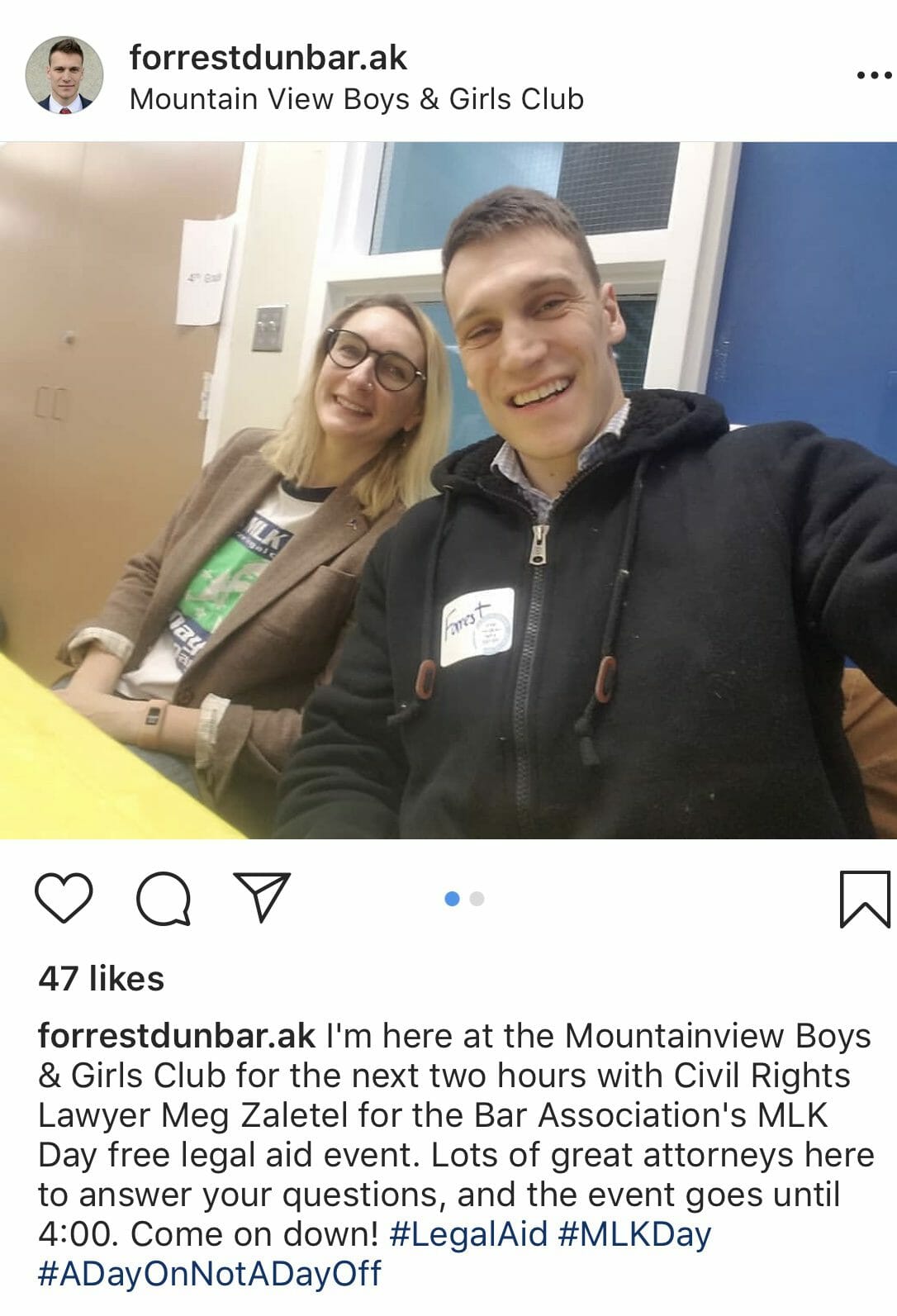 ---
But in all seriousness, we have come to rely on Meg for Anchorage's campaign Facebook page for those classic  #thatssoAnchorage moments as well as breaking news. Speaking of: ?? Airport Heights Fire Island Bakery is open again!!!??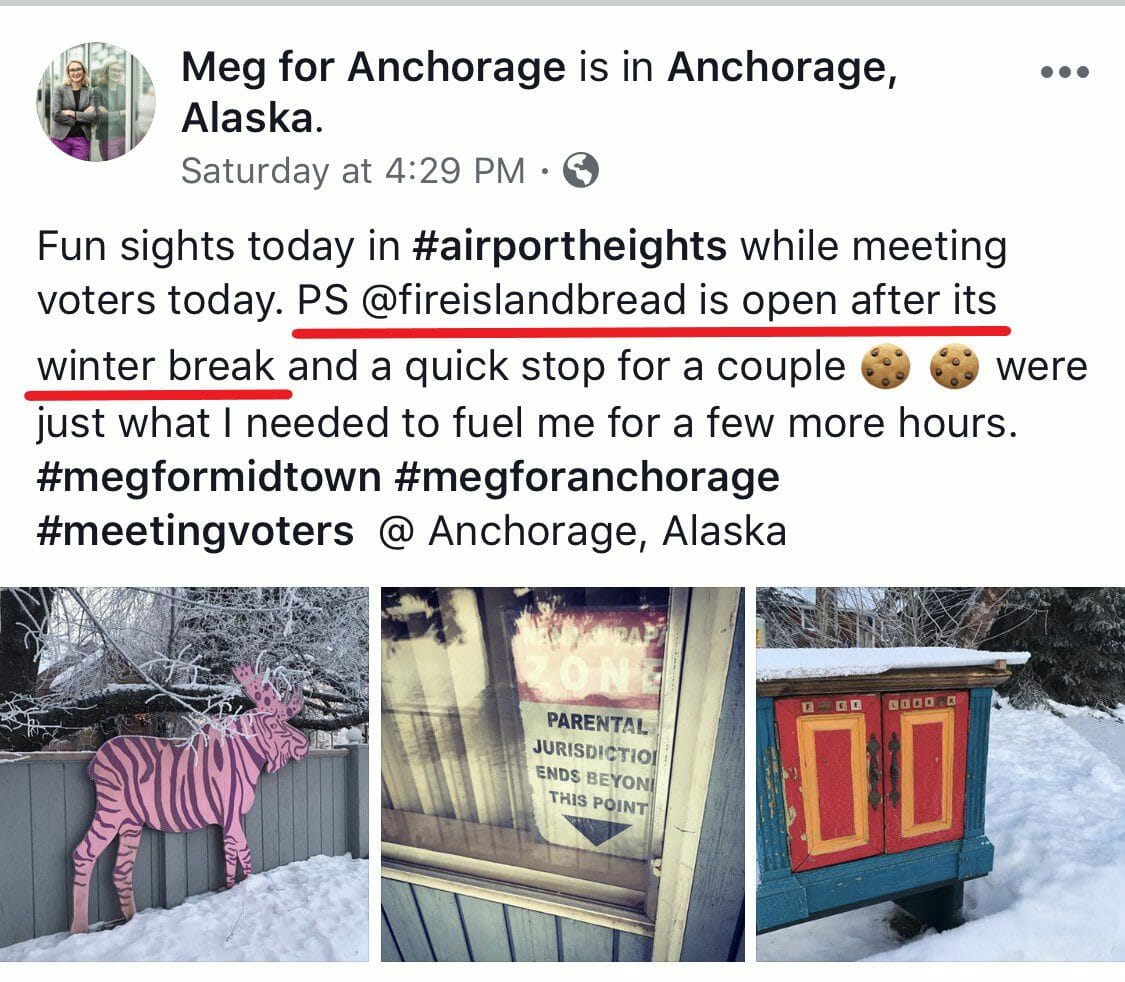 ---
Christine Hill has also officially filed to run in Midtown. This race will be one to watch. Trust me.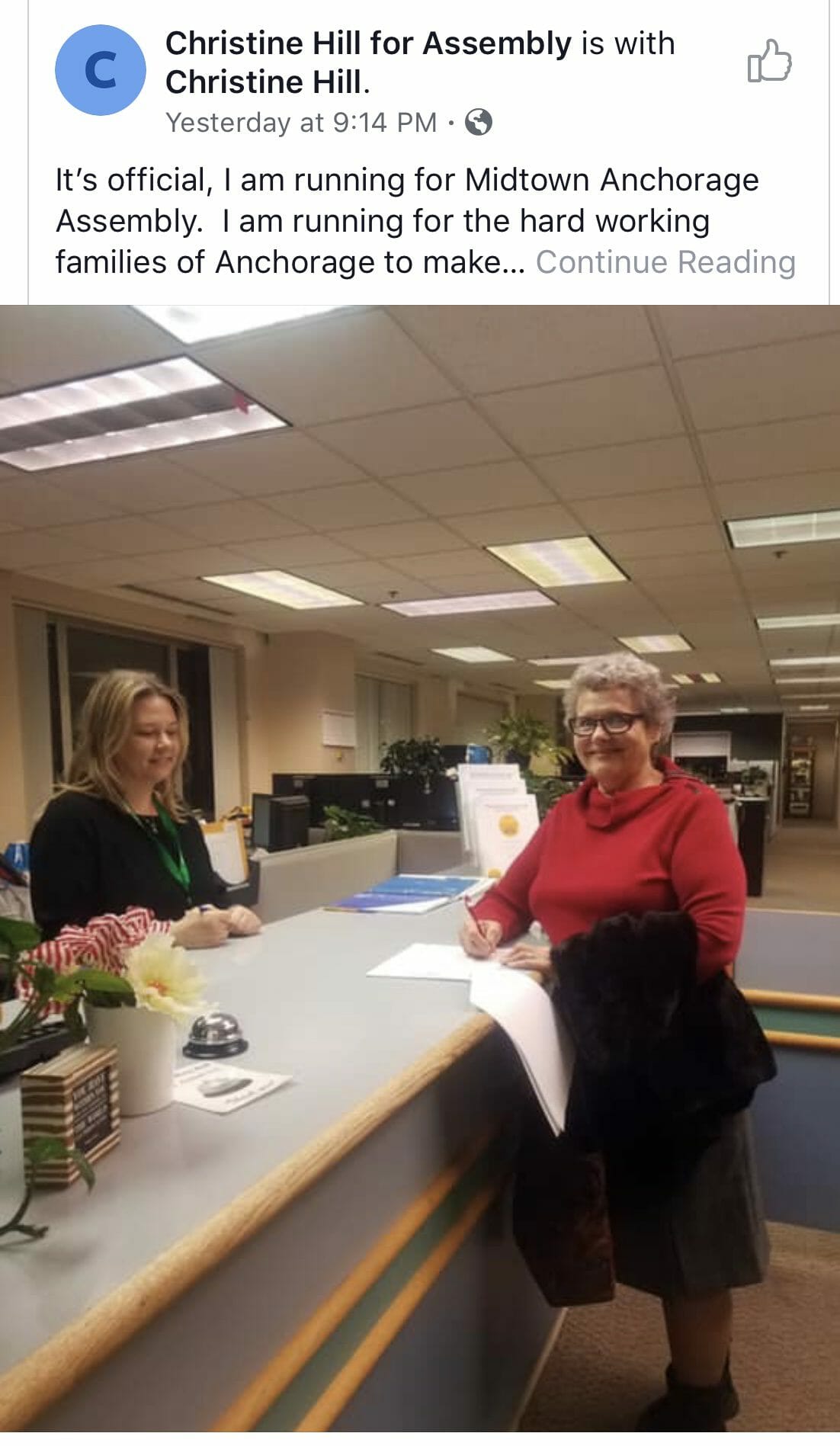 ---
Our fav "I filled" post so far goes to our Assemblymember John Weddleton. Does this make Anchorage Mayor Ethan Berkowitz the Dungeon Master?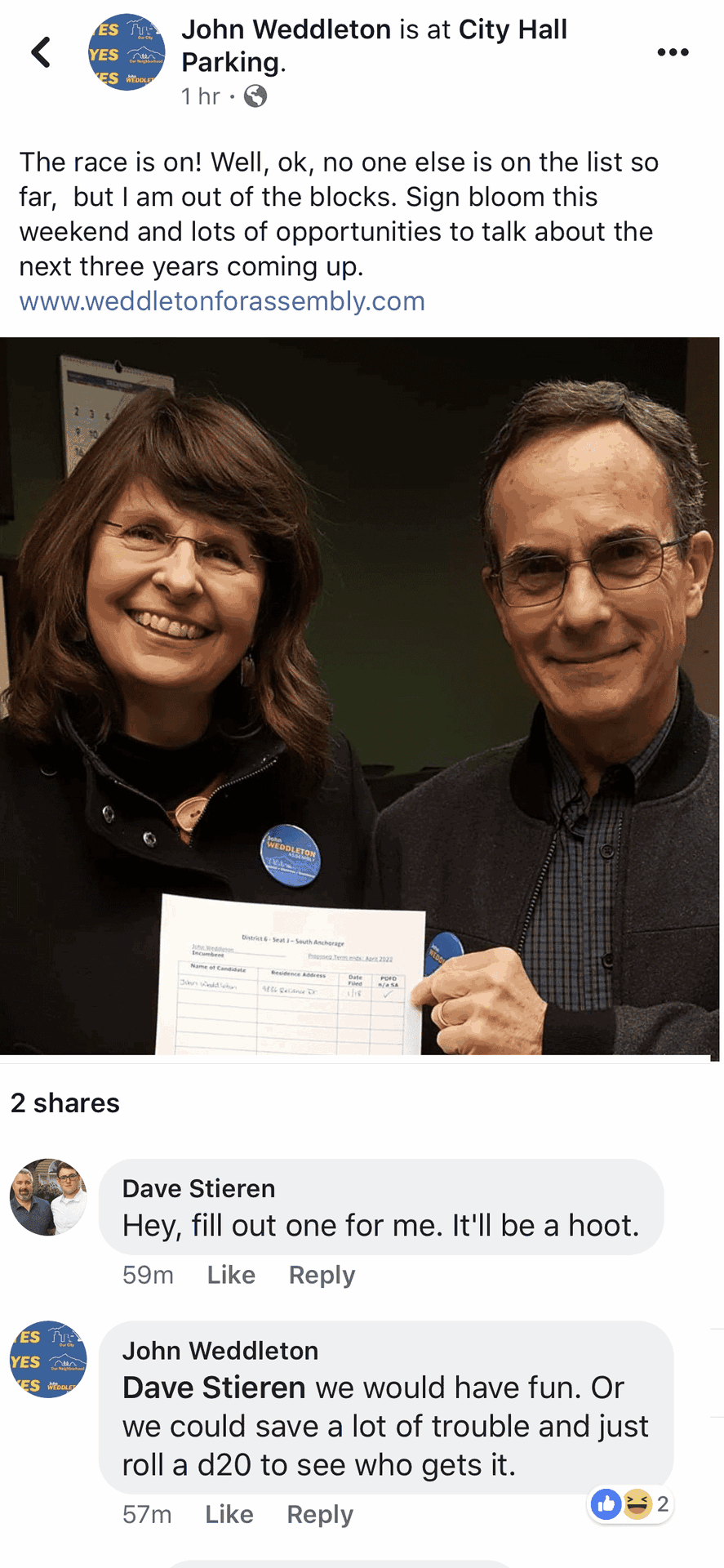 ---
Meanwhile over in West Anchorage, Assemblymember Austin Quinn-Davidson is already welcoming candidate Kameron Perez-Verdia to the club. A little premature? Probably not.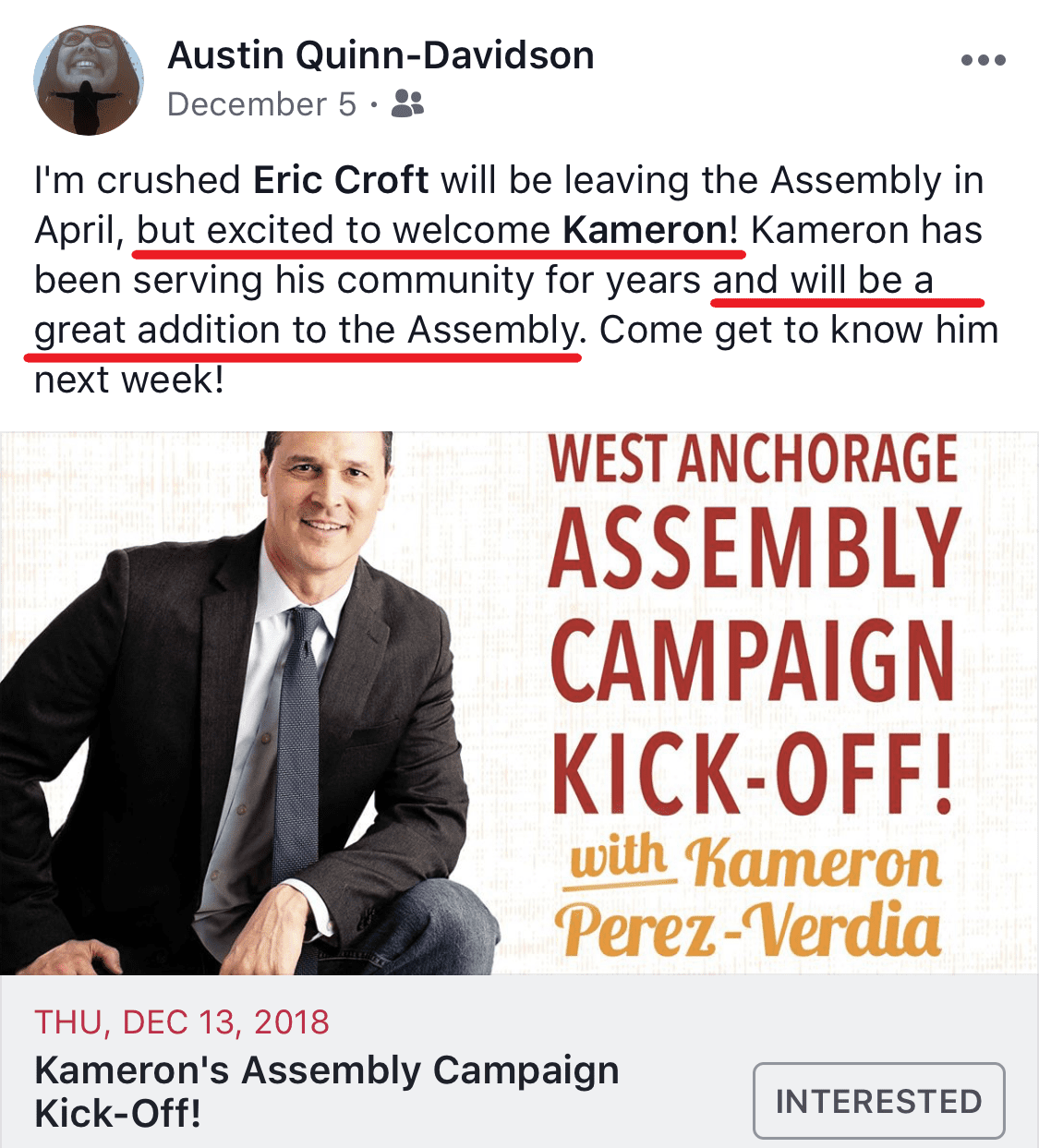 ---
I mean, check out his "competition." ?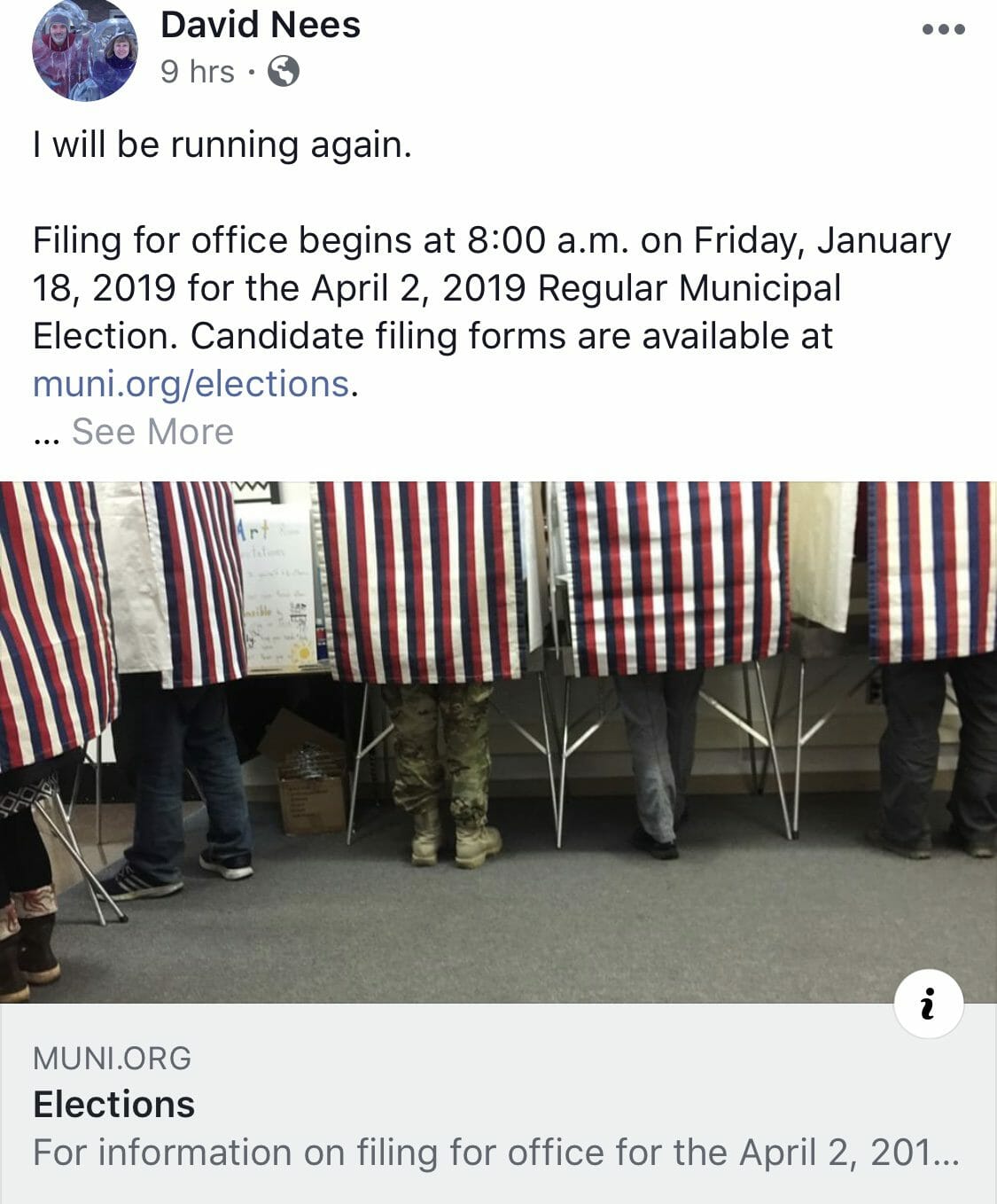 ---
Now on to the gift that keeps on giving: Assemblymember Felix Rivera's Facebook page. Last week Felix invited  "guys" only to a meeting. Now only the young and energetic can become interns?!! ACK! I'm sure there are several old and low energy PoliSci students at UAA that would make quality additions to the team. I mean, just look at the actual Anchorage Assembly! ? Felix, you really need to work on being more inclusive.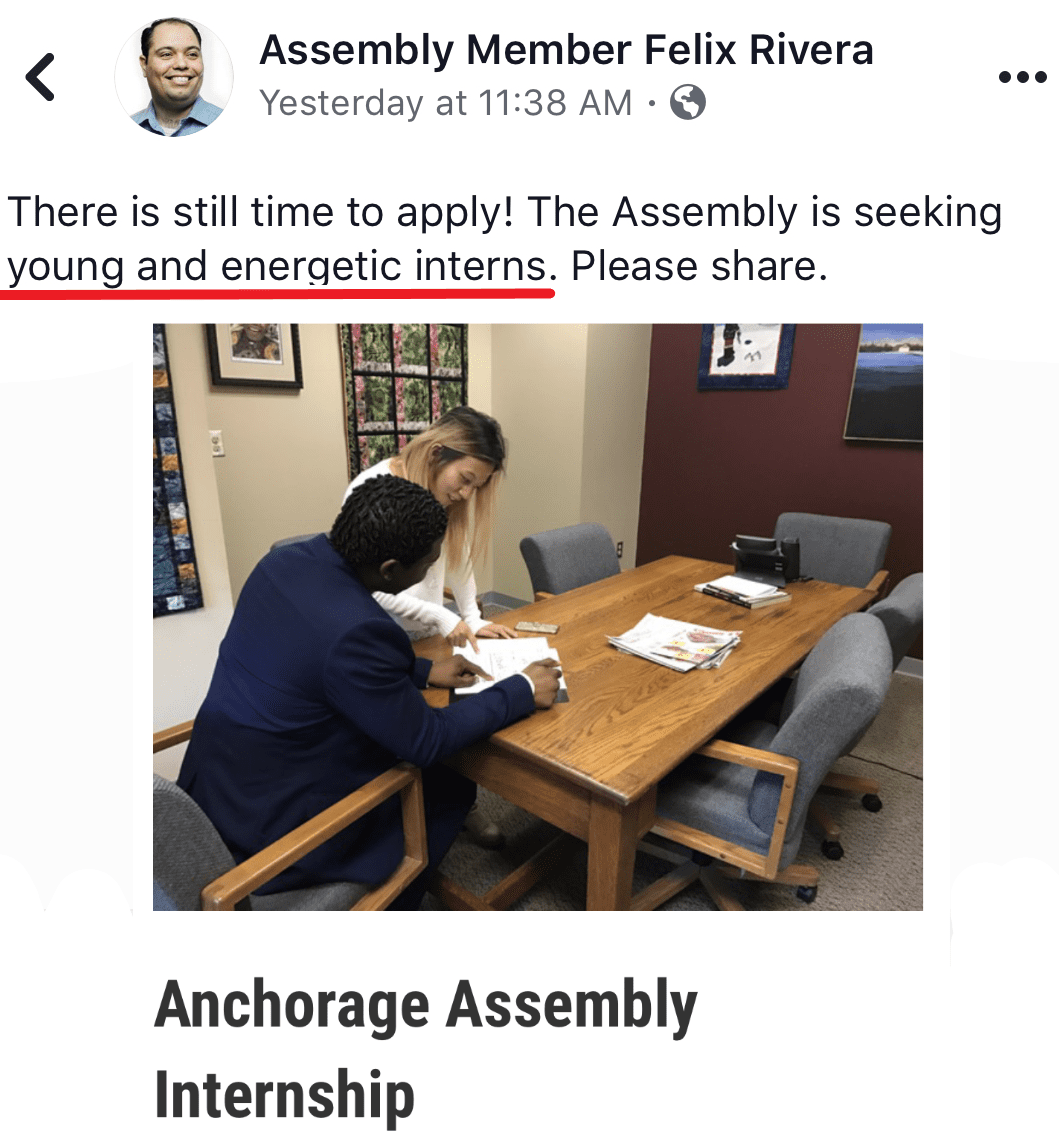 ---
And apparently Assemblymember Christopher Constant believes in the Smiley Face Killer conspiracy theory.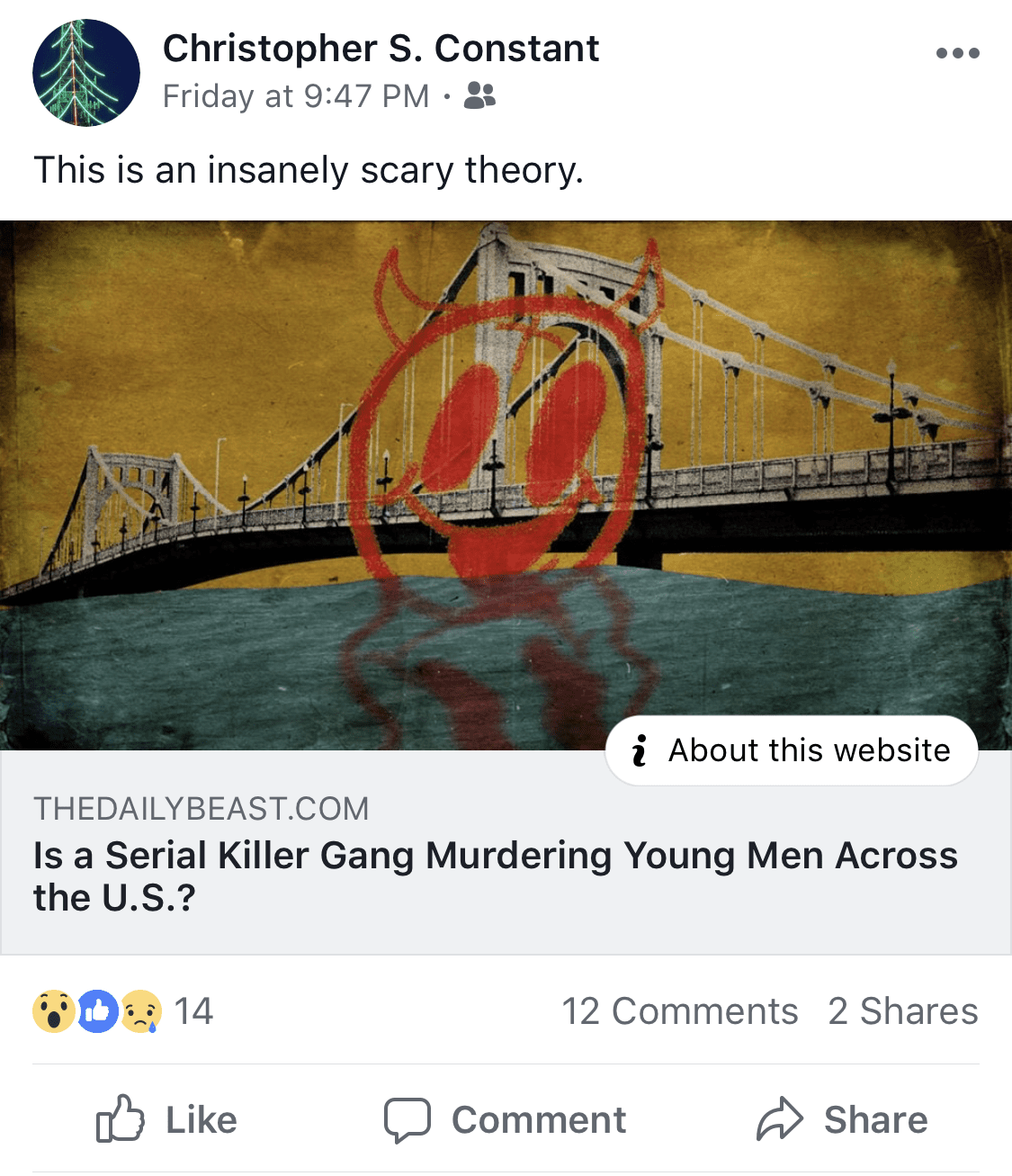 ---
Oh, we can think of a couple…

---
Don't you just hate it when this happens? Thoughts and prayers to Joelle Hall during this difficult time.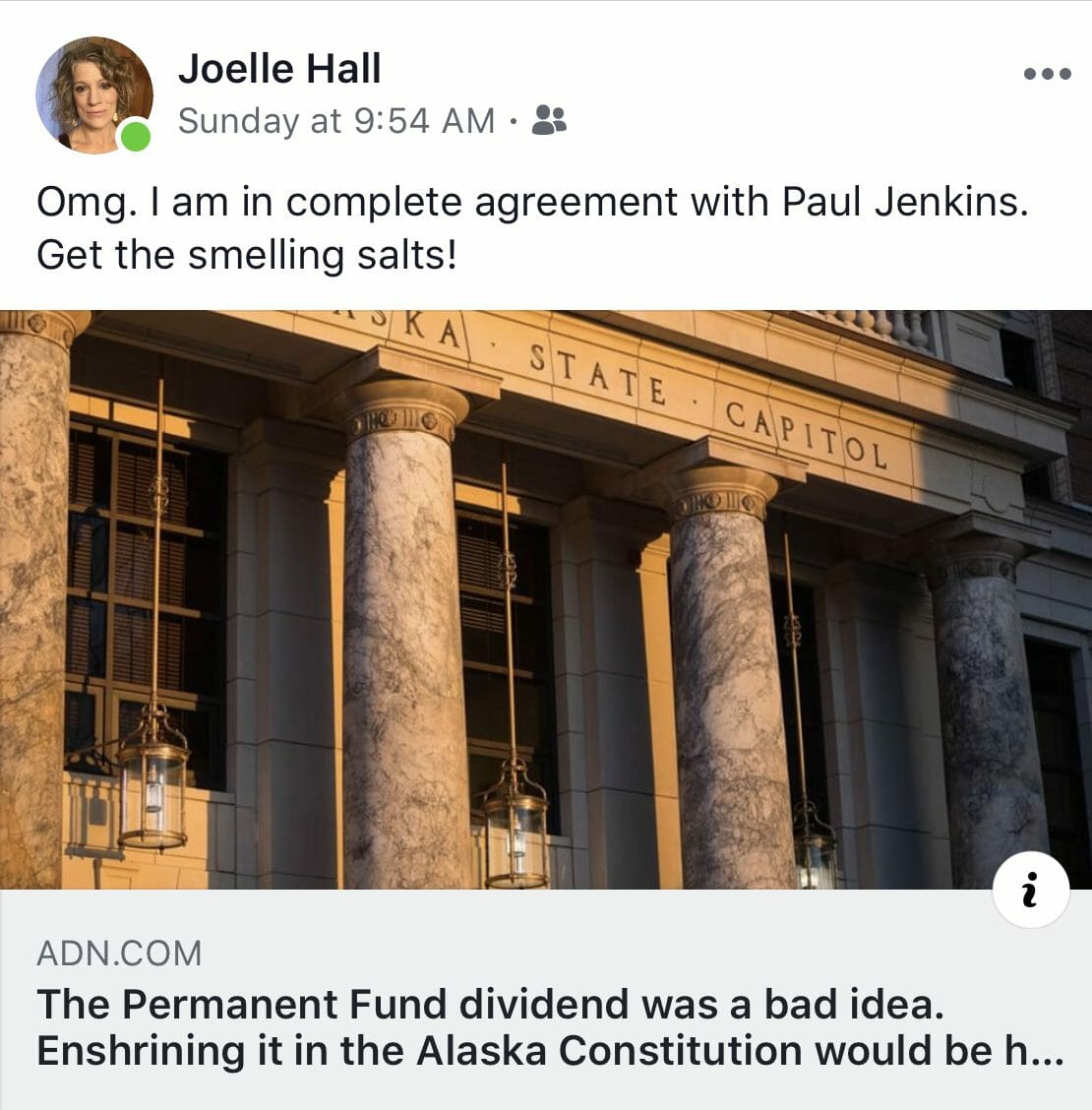 ---
While it's not located on top of a parking garage, we're always excited to see more farmers markets in Anchorage — especially in our old neighborhood. Can't wait to check it out this summer.
---
Be sure to say hi to self-proclaimed Urban Farmer, Nikki Rose, while you're there!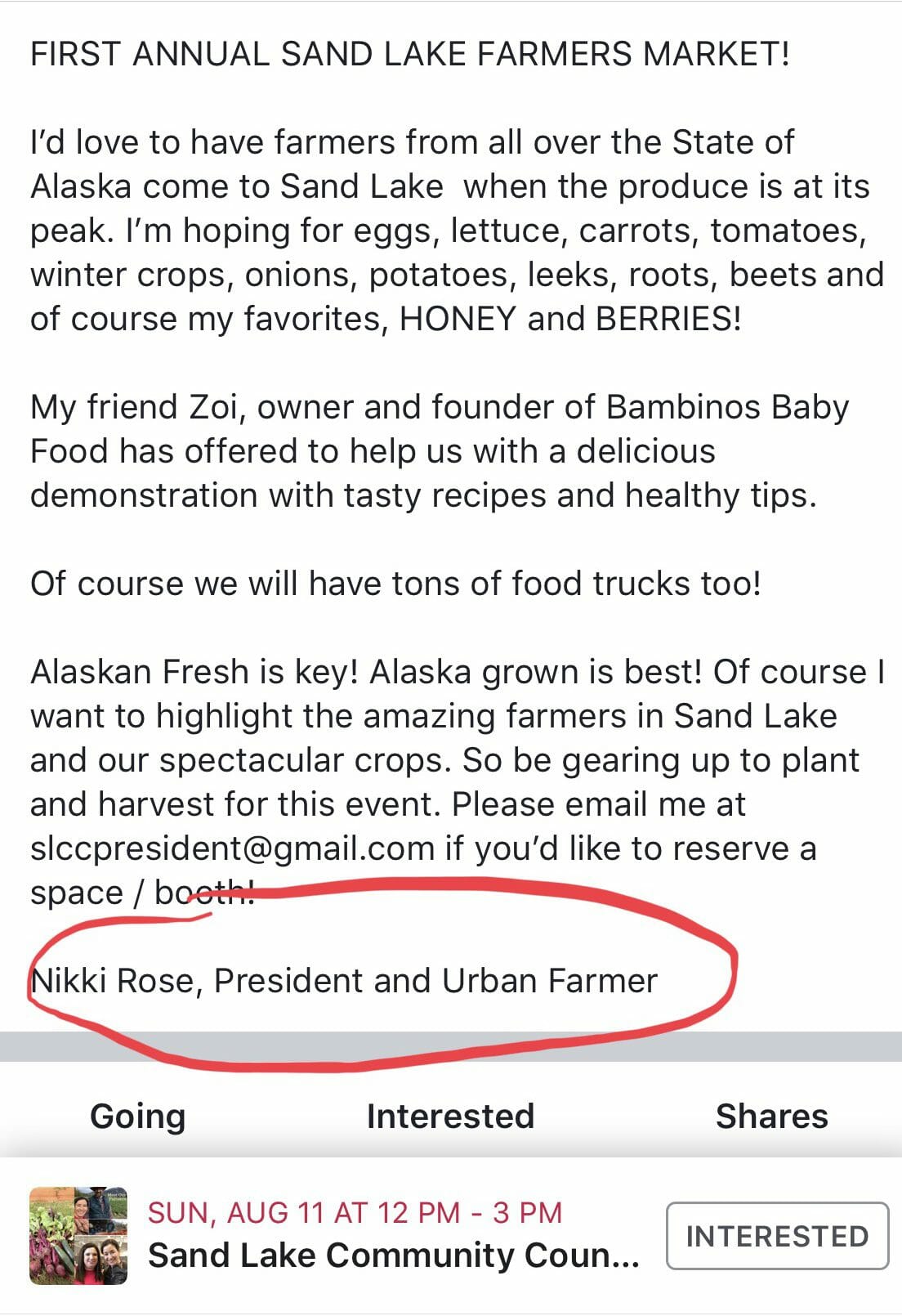 ---
President and Urban Farmer Rose must run some epic Community Council meetings because staffer to Senator Mia Costello, Chaz Rivas, has already confirmed his attendance — for November's meeting! ??? I don't even know what I'm doing next week!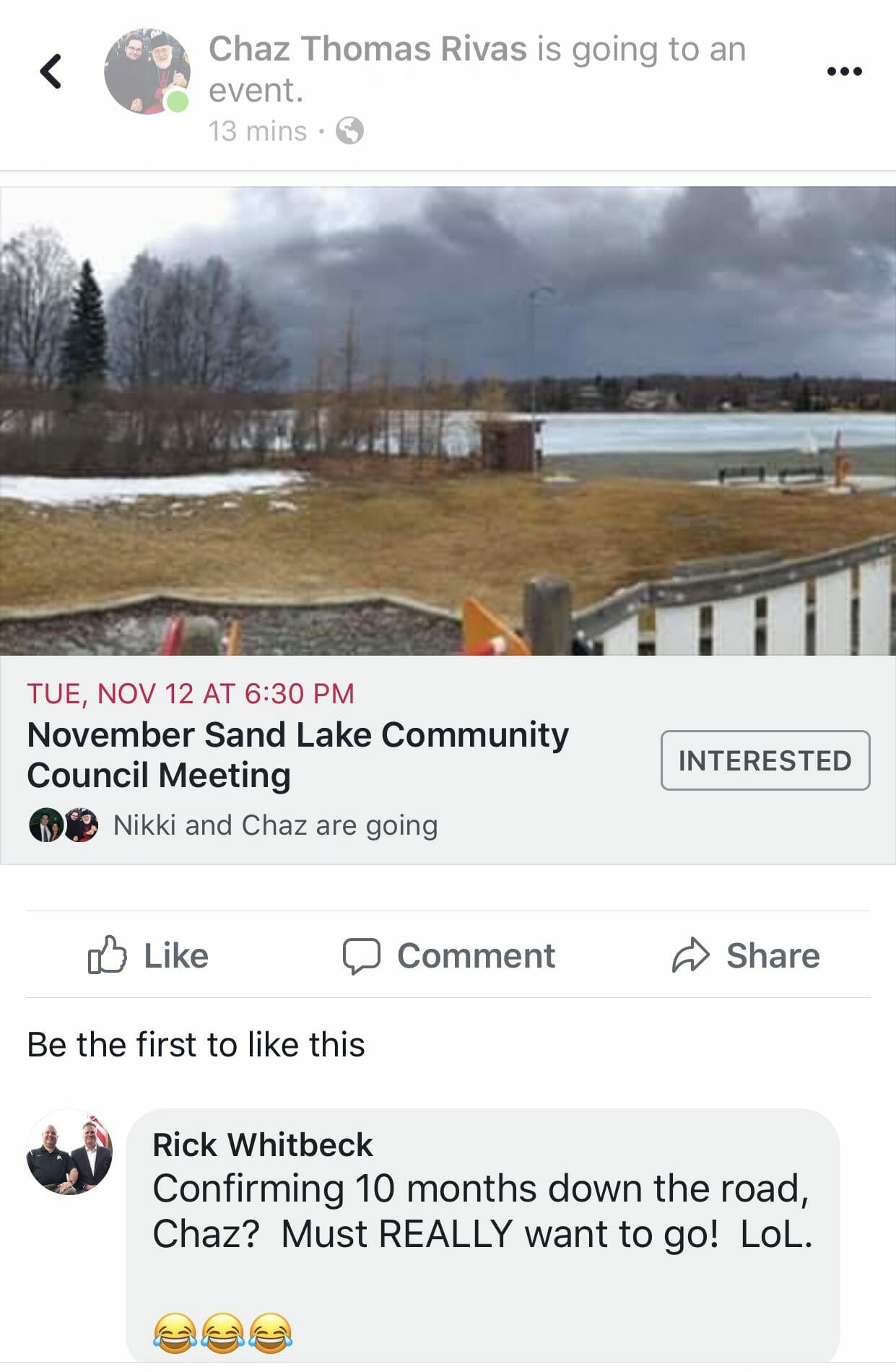 ---
Fan Mail:
In addition to lots of lady lawyers, apparently the Stalker also has a large following of white men in their 50s. There's only one problem – the old dudes think I'm Jeff Landfield! I'm not even joking. They think I'm Jeff's "alter ego" because, and I quote, "No one would do that much work every week to help Jeff Landfield." ? That reminds me, I need to ask Jeff for a raise.
---
Spotted in Juneau at the State of the State address: Senator Jesse Kiehl saying a bright eyed "hello" to former Assistant AG and top Alaska blogger, Libby Bakalar, in the public gallery.
---
Overheard on the airwaves:
A disgruntled Dave Stieren venting that Governor Michael J. won't come on his show. According to Dave, "Seems to be a communication issue over there."
---
Overheard on the airwaves:
Former Senator Mark Begich calling in to the "just filling in still" Dan Fagan show to complain about Governor Dunleavy's PFD repayment plan. Yikes. Not a good look. Mark might want to take one out of the Former Governor Tony Knowles playbook and wait at least a year before "offering advice."
---
Overheard in Anchorage: The state fair needs a roller coaster. It can be called the Alaska economy. Lots of ups and downs.
---
Seen in the comments of a Craig Medred article:
You're [sic] bias is showing Alex Medred Jones. ?
---
That will do it for us this week folks. Don't forget to send your favorite social media and online goofs, gaffs, memes, dust-ups, "Overheard in Alaska," "Spotted in Alaska," or whatever else you got to akstalker@alaskalandmine.com Our DMs are always open. Remember: pics or it didn't happen!
---
The Alaska Stalker was born and raised in Alaska, and lives in South Anchorage with her husband, daughter, and baby on the way. She is not Jeff Landfield.