Welcome to this edition of the Alaska Stalker, a lighthearted round up of the best and worst of Alaska's social media landscape.
***
If you enjoy the Alaska Stalker, please consider supporting working moms like me by sending in hot tips, overheards, and spotted ins. You can reach me at akstalker@alaskalandmine.com. As always, thanks for reading.
***
And they're off! Over the past week legislators old and new have relocated to Juneau for the 33rd Alaska State Legislature. Rep. Alyse Galvin had several women colleagues on her flight to Juneau, and roped them into a cute get-to-know-you Facebook live. And yes, I noticed she's wearing "the blazer." 💛
***
I thought for sure Reps. Allard or Gray were going to be the feisty ones this year. Fresh off her big win in court, Rep. Jennie Armstrong posted this aggressive victory lap. RESPECT. 💥💅
***
Some folks made appearances at the Capitol, others settled into their new digs. Sen. Dunbar wisely went straight to Pel'Meni.
***
I say it every year: the first day of the Legislature is a lot like the first day of school. Lots of photos like this.
***
Rep. Tomaszewski dusted off his 25-year-old hot fire python boots for the occasion.
***
Rep. Groh paid this sweet tribute to his dad, a former lawmaker.
***
I'm just glad the adults are finally in charge. In these trying times, we need serious, mature leaders who are grounded in reality. Someone like Sen. Löki Tobin, who chose to sport a Star Trek Enterprise ring to her swearing in ceremony. 🖖😳

***
I hope all the incoming freshmen are keeping up with their reading. Rep. Dibert understood the assignment.
***
Leave it to Sen. James Kaufman to have the dorkiest reminder to be a team player and "good boy." Or, maybe he just wanted an excuse to post that senate pin.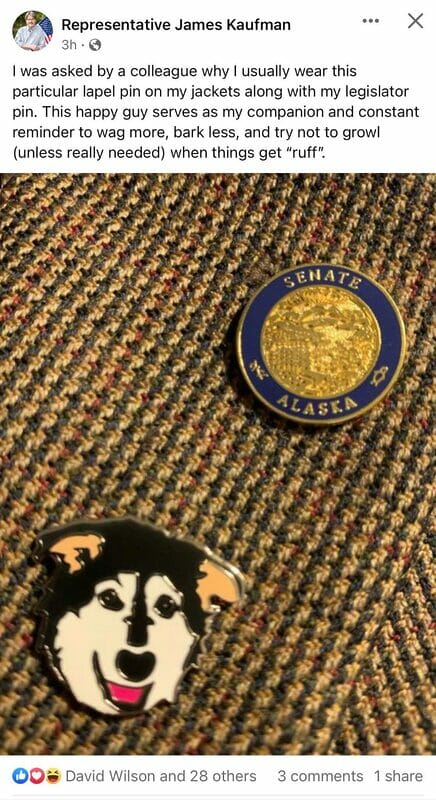 ***
Rep. Jamie Allard is going with the exact opposite approach as James, and she's got the giant wooden spoon to prove it. $5 she actually brought this to Juneau. 🤣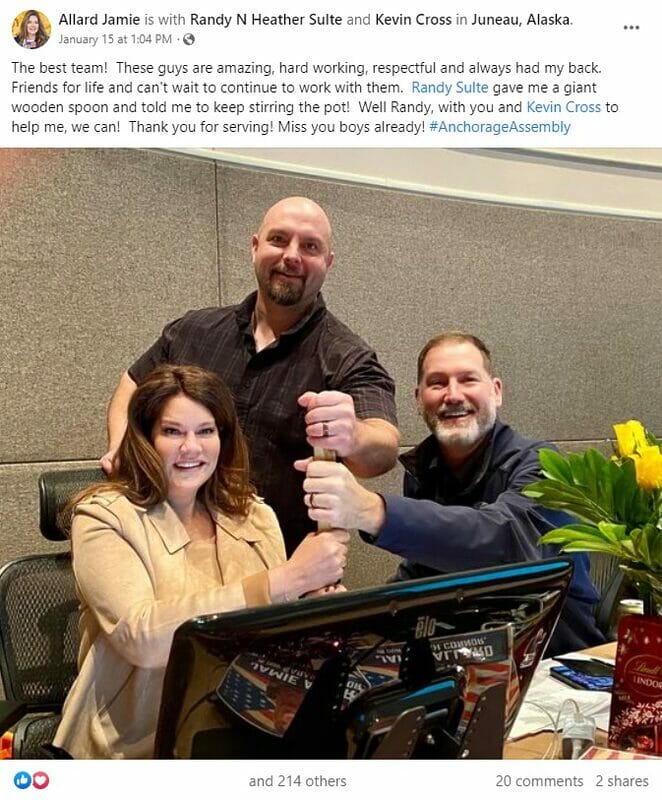 ***
Maybe Jamie should leave the spoon at home and take a cue from Gov. Dunleavy, who was spotted last week cheerfully walking through the Capitol, stopping by everyone's offices to say hi. Proud of Rep. Genevieve Mina for not going full former Rep. Les Gara on the ADN for that front page above the fold photo! OMG.

***
Much better.
***
Everyone is settling into their assigned seats, and the great office switcheroo has begun.

***
Is this the Alaska version of changing out the drapes?

***
I'd like to know what former Senator Lora "cake queen" Reinbold thinks of this cake. #shade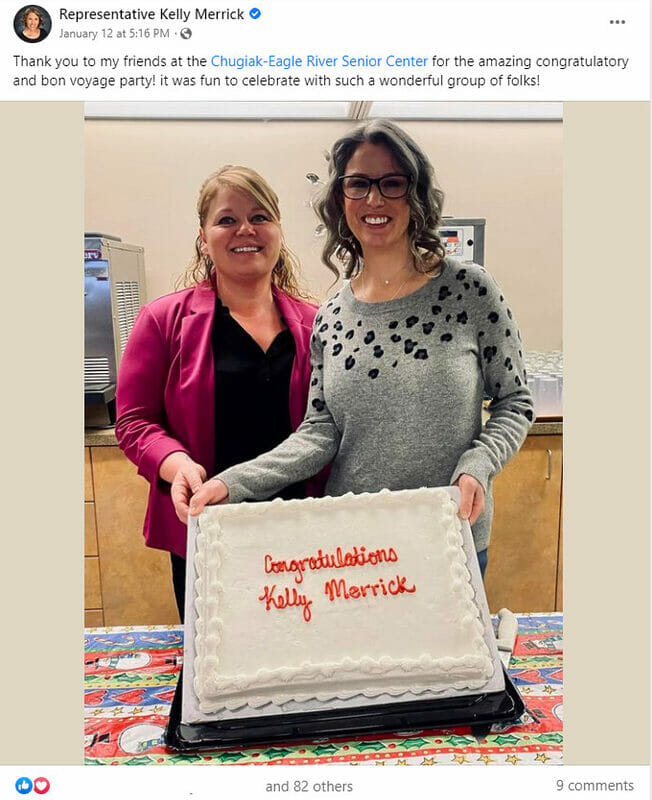 ***
Speaking of Lora, it's a good time to check in on some of the folks that didn't win their elections. Lora has "mixed feelings."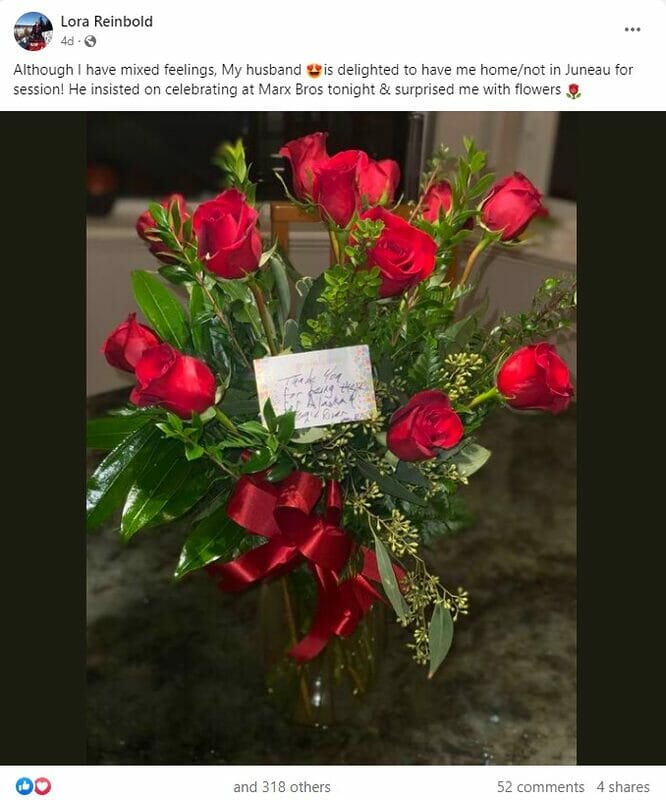 ***
A reminder to reach out your former lawmaker friends – it might be a tough week for some of them. 🙏

***
Former Rep. Harriet Drummond spent the entire day correcting other people's mistakes on Twitter. I hope it was cathartic.

***
Former Rep. Sara Rasmussen seems to be doing just fine – and thrilled for our newest Speaker of the House, Cathy Tilton. #girlpower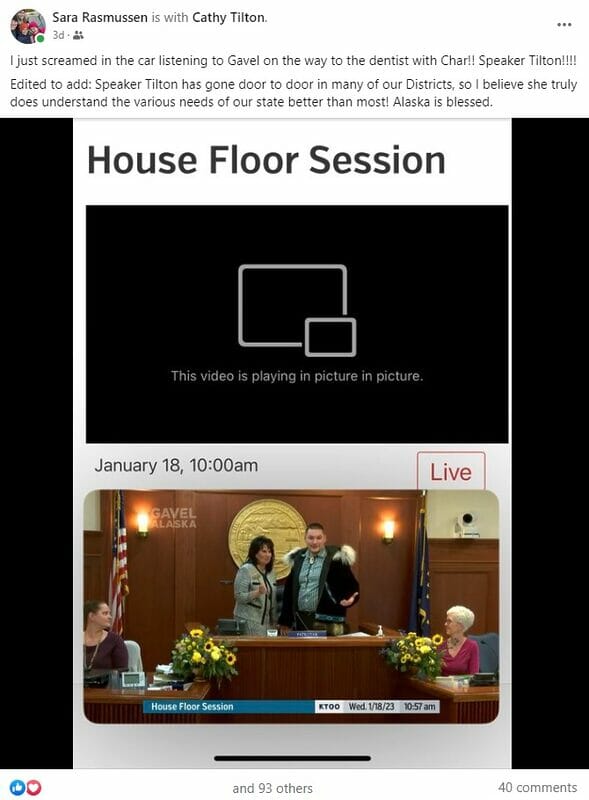 ***
Senator Mike Shower may be MIA, but nothing's going to stop him from doing the important work – like posting dick jokes on his professional Facebook page.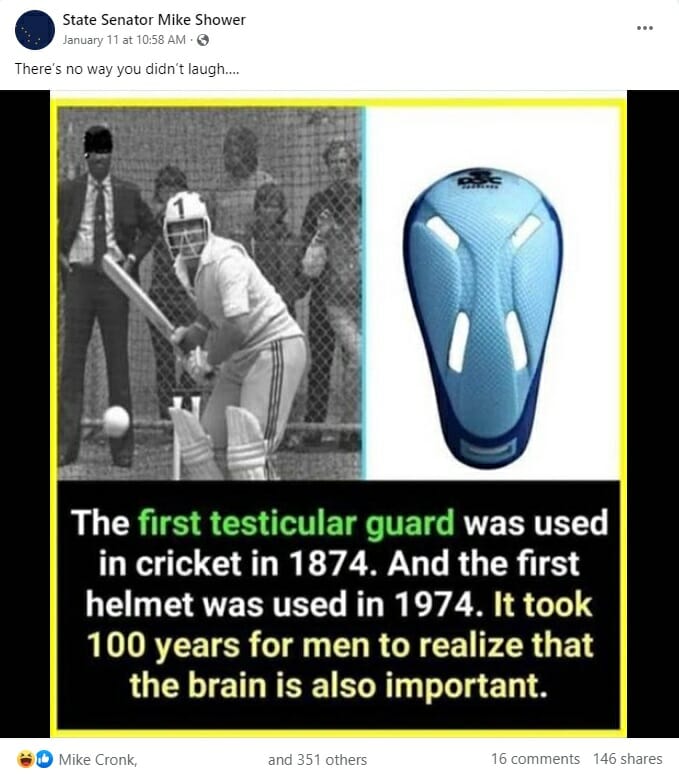 ***
I made my first trip to Juneau in many years this week to help host the Alaska Political Report reception. I was surprised to see this drink on the menu. Jeff, you've finally made it! The event was fantastic, and it was a pleasure to finally meet many of you in person – and pick up a couple extra tipsters. 👀 I hear there is one representative's wife who wants to be my new BFF. If this is you, text me! 🙂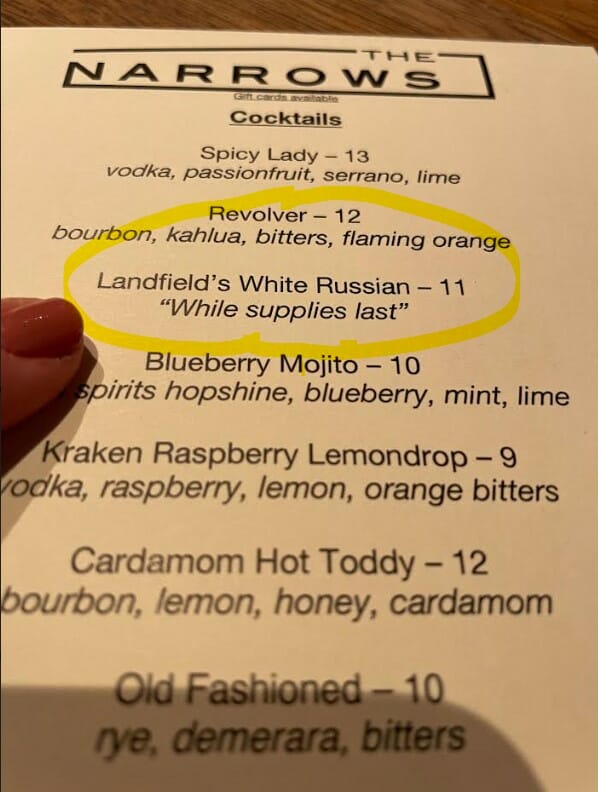 ***
Overheard at the Capitol: "If you look up the definition of stabbing someone in the back, there's now a photo of Rep. Bryce Edgmon. He really knows how to put in the knife and twist it."
***
Overheard at the Capitol: staffers arguing over who has the biggest…. office. One even measured.
***
Overheard at the Capitol: Shelley Hughes complaining her desk was too big for her new office.
***
Overhear in downtown Juneau:
Staffer: "I'm not going to lie, I relied on the Landmine to figure out who was on which committees."
***
Overheard in Downtown Anchorage: "I just want to know why Anchorage mayoral scandals always involve cookies…"
***
Spotted at the Triangle: A veteran representative losing his usual cool and collected demeanor when he found out he was chatting with the Stalker. IYKYK.
***
Spotted at the Triangle: A staffer actually getting carded. I didn't even know they did that in Juneau.
***
Spotted leaving the airport after the night flight to Anchorage was cancelled: Sen. Giessel, Claman, Gray-Jackson, Bjorkman and Merrick, Rep. Himschoot and Kiddy Fox!
***
Spotted on the 7:30am flight to Anchorage: Sen. Gray-Jackson, Bjorkman and Merrick, and Rep. Himschoot. I guess Cathy and Matt decided to sleep in. I didn't get a chance to ask Jesse what was worse: his first Juneau flight cancellation/5am wake up or this. OMG! 💩😱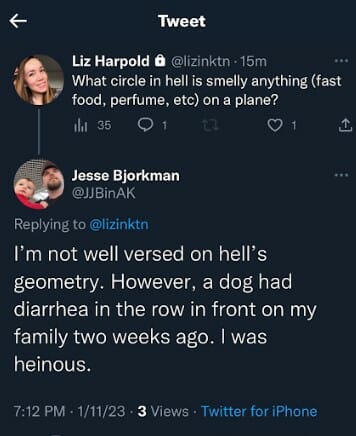 ***
The Alaska Stalker was born and raised in Alaska. She lives in South Anchorage with her husband and three young children. She is not Jeff Landfield.