Welcome to this week's edition of the Alaska Stalker, a lighthearted round up of the best and worst of Alaska's social media landscape.
***
If you enjoy the Alaska Stalker, please consider supporting working moms like me by sending in hot tips, overheards, and spotted ins. You can reach me at akstalker@alaskalandmine.com. As always, thanks for reading.
***
There's less than a week before session starts, and legislators and staff are starting to arrive in Juneau. Economist Ed King (who's back on Twitter… this week) made a note of the first non-Juneauites to arrive: Reps. Dave Talerico and Cathy Tilton. Sen. Jesse Kiehl was quick to note that he and Rep. Andy Josephson also arrived on the same ferry as Dave.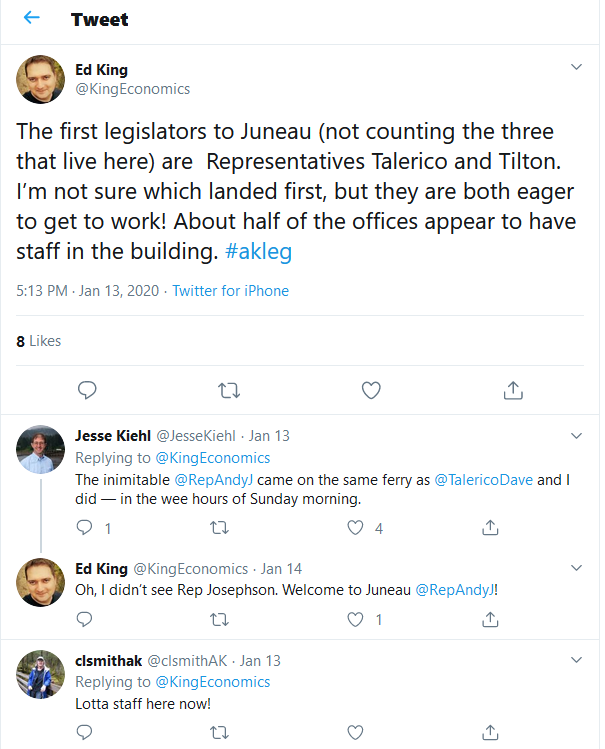 ***
The Alaska Landmine has been hearing chatter about a shake up in House Minority Leadership. While the Landmine's response to Ed King's Tweet was a red herring, check out Rep. Sara Rasmussen's response below… I wonder how THAT Tweet's going to age.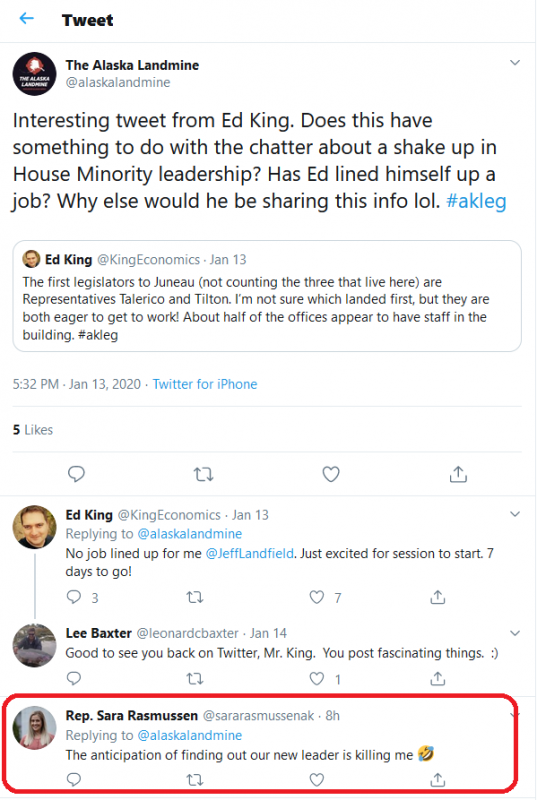 ***
Rep. David Eastman went outside of his comfort zone and shared a non-political, non-divisive meme on his Facebook page. Love that!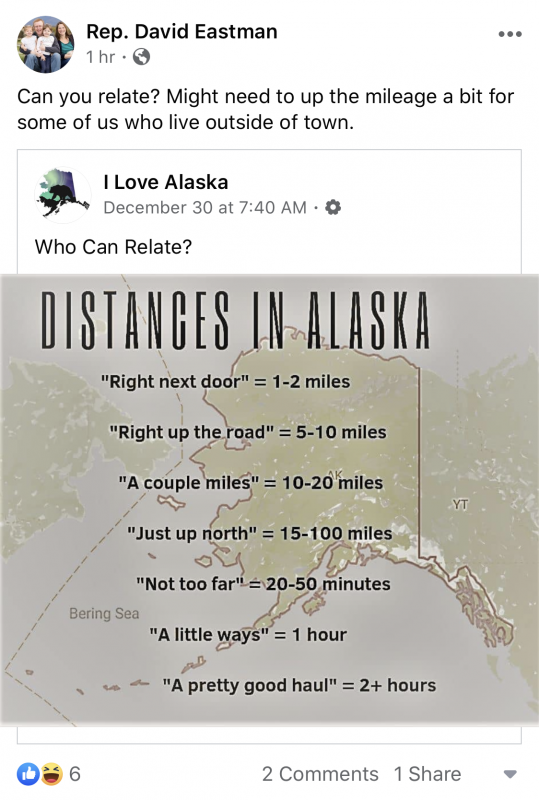 ***
Might I suggest an addendum at the bottom of Rep. Eastman's meme: "The Capital" = 800 miles, -50 degree temperatures, a cancelled ferry, a 5+ hour ferry, and one very stuck vehicle! What an ordeal. Glad everyone made it safe.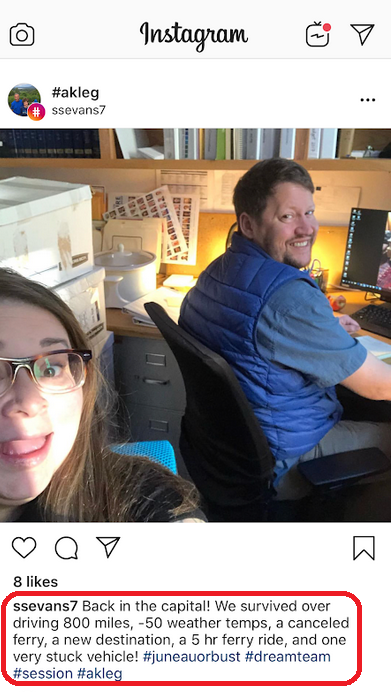 ***
Legislators and staff have many different methods of getting to Juneau. Sen. Shelley Hughes is shipping a vehicle and not letting any of that valuable cargo space go to waste. The best part of packing prep has to be her husband taking the time to shine and buff all her shoes. Great technique, Roger! Next time, don't forget to finish them off with a quick coat of waterproofing silicone spray to help keep Juneau's rain at bay. ????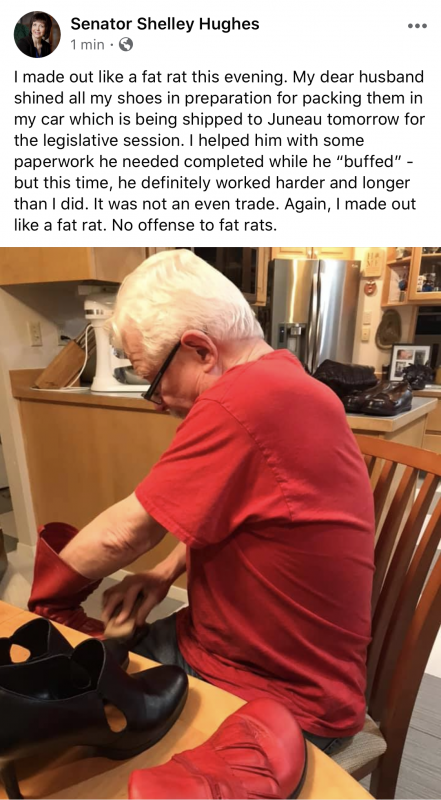 ***
Shelley may have made out like a fat rat, but Rep. DeLena Johnson found one on sale at Bishop's Attic! Actually, I think it's a fox hand muff. Please keep me posted if anyone spies DeLena wearing her new thrift store score, which she has affectionately named Scrat. It does bear a resemblance to a certain acorn-obsessed saber-toothed squirrel.

***
Rep. Jennifer Johnston with the low-key humble brag. Welcome to the neighbearhood, Paxson!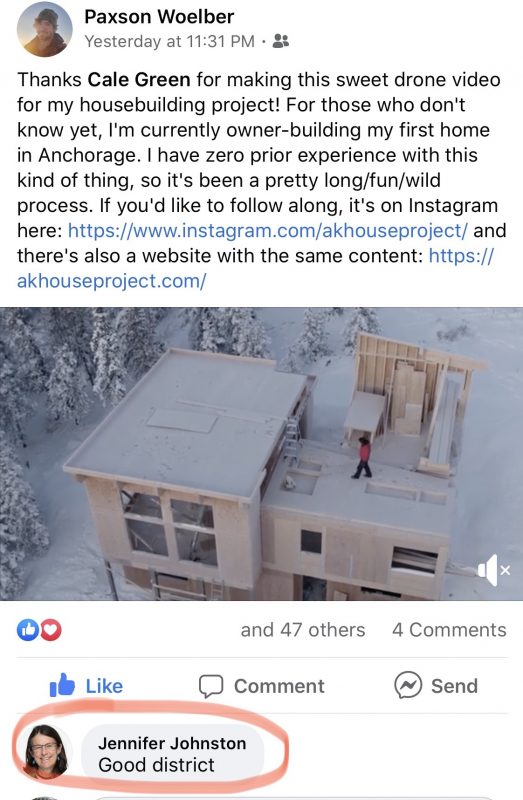 ***
While we're only a couple weeks into 2020, former assistant attorney general for the state of Alaska and high energy blogger, Libby Bakalar, has created one of the best local political memes of all time. I don't care who you are, 95-year-old Vic Fischer, the sole surviving member of the Alaska constitutional convention, dropping "the Mike" is hysterical. Bravo, Libby.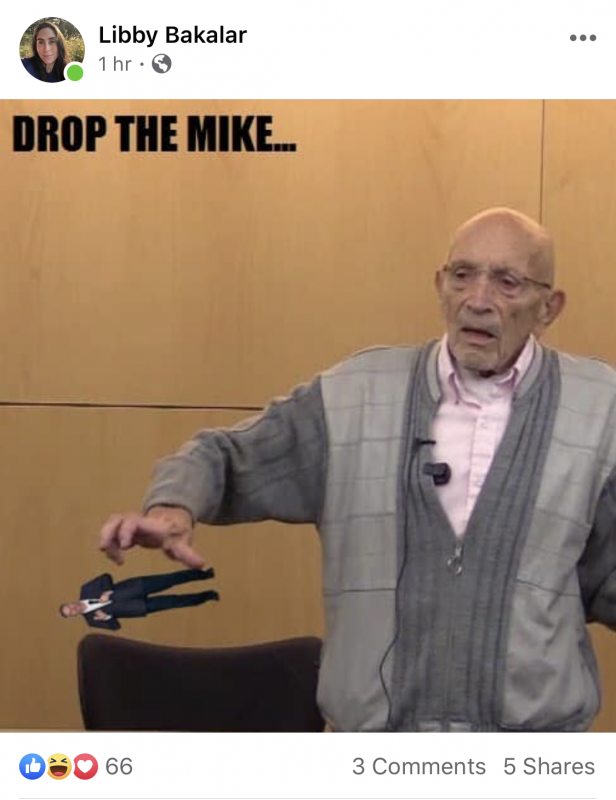 ***
I guess Sen. Tom Begich didn't get the memo. Instead of dropping "the Mike," he graciously lifted it up so Gov. Mike Dunleavy could answer questions at yesterday's bipartisan education legislation announcement.
***
Congressional candidate, Alyse Galvin, isn't letting this endless cold snap stop her from enjoying a subzero constitutional. I'm not sure about calling a moose a future constituent though. We don't want to give Rep. Gabrielle LeDoux any ideas. Wait, whatever happened with that anyway… ?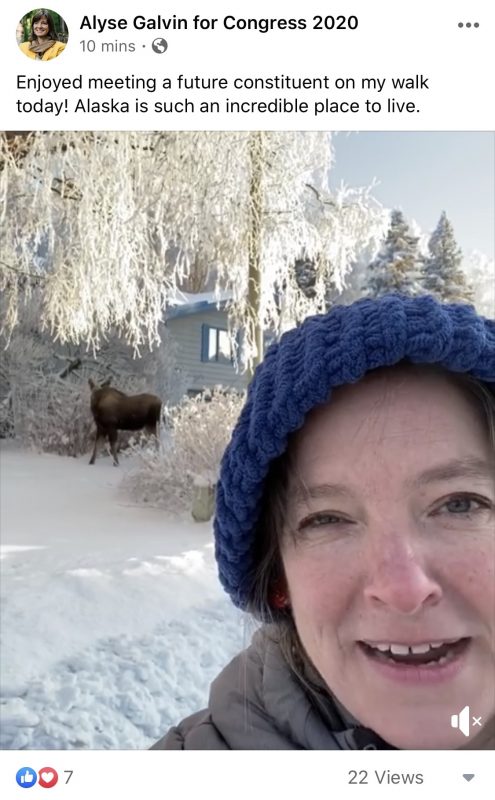 ***
On the day Sen. Cory Booker suspended his presidential campaign, former Commissioner of Administration, Leslie Ridle, posted some kind words (and a fun selfie) about the charismatic Senator. That first paragraph tho. Tulsi at City Market? An unnamed Senator dancing in Girdwood? Leslie, tell us more! ??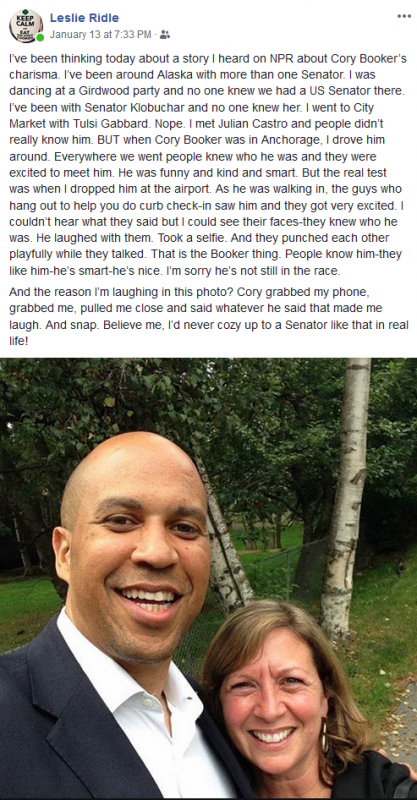 ***
And then it got even better. Check out the comments – filled with Booker selfies! Our fav is the one of Sen. Booker and Anchorage Assemblymember Austin Quinn-Davidson.

***
We are living in strange times when even progressive John Aronno is criticizing CNN.
Good Lord. @CNN led off a segment about the Royals using the word "crisis" twice in 10 seconds, said it was "rocking" the UK, under the header "Royal Rebellion." You know, if you peddle everything as an 11, you can't be shocked when viewers respond by treating everything as a 2.

— John Aronno (@johnaronno) January 12, 2020
***
While not everyone thinks Megxit is a top story, what's more surprising is who does. Who would have pegged AFL-CIO President, Vince Beltrami, as a Royal Family gossip connoisseur? Of course the union kingpin is #teamqueen.

***
I have to admit local politico Nick Moe's LOTR meets "Shakira" law meme had me do a double take. But I sure didn't take it as far as former Sen. Suzanne Little in the comments. YIKES!

***
Is Mayor Ethan Berkowitz personally trolling Dustin Darden?

***
Speaking of wastewater… A local politico said it best, "I think we can all agree that Assemblymember Fred Dyson's visual representation of criminal-justice-as-sewage-waste-system is the best PowerPoint slide in the history of PowerPoint slides." We're sure going to miss you, Fred.

***
And so it begins… Rep. Ivy Spohnholz was the target of the first nasty political mailer of the election year. Notice there's no paid for by disclaimer. That's not good. Keep your eyes peeled as mailers start rolling in this year. Don't forget to send the good, the bad, and the ugly to akstalker@alaskalandmine.com.

***
Overheard at Gov. Mike Dunleavy's bipartisan education legislation announcement:
Sen. Tom Begich (with Gov. Dunleavy standing directly behind him): "Former Commissioners of Education, Larry LeDoux and Mike Handley are both here in the front row. I just noticed that my wife, Sarah Sledge, is also here. Her organization has sued both Mike and Larry over education spending!"
***
Spotted at the McKinley Capital open house: AFL-CIO President Vince Beltrami zipping around on one of those knee scooters. Get well soon, Vince!
***
Spotted at Steam Dot in the Midtown Mall: Rep. Jonathan Kreiss-Thompkins.
***
Spotted in the air: Rep. Steve Thompson on the Anchorage to Juneau flight. First class. ?‍♀️
***
Spotted at Commonwealth North: Sen. President Cathy Giessel. According to our tipster, she was "Taking big chunk bites out of her string cheese." They added, "I don't care what age you are, to not peel your string cheese is just wrong!" ?
***
Spotted at A Cut Above in the Midtown Mall: Jeff Landsfield [sic] getting lined up.
***
The Alaska Stalker was born and raised in Alaska, and lives in South Anchorage with her husband, daughter, and son. She is not Jeff Landfield.