Welcome to this week's edition of The Alaska Stalker, a lighthearted round up of the best and worst of Alaska's social media landscape. Have you sent us a hot tip yet? Email us at akstalker@alaskalandmine.com and, as always, thanks for reading.
---
Yesterday was the first day of the 31st Alaska Legislature. There might not be a Speaker, majority, or even a Representative in District 13, but there's a hell of a lot to make fun of. Even a local Juneau sandwich shop got in on the fun.

---
It's funny 'cause it's true.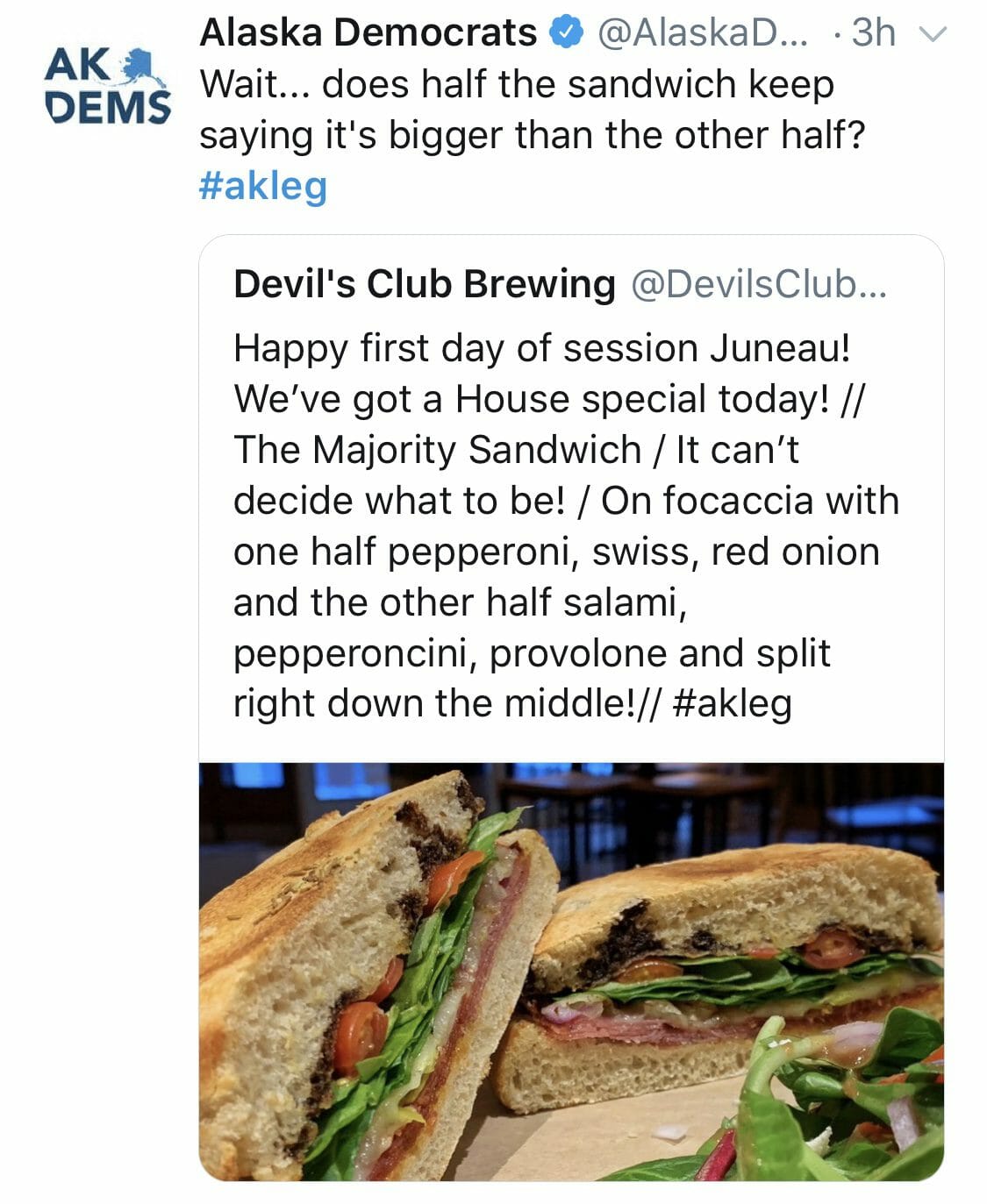 ---
We wouldn't be so hard on the Republicans if they didn't keep doing stuff like this. ?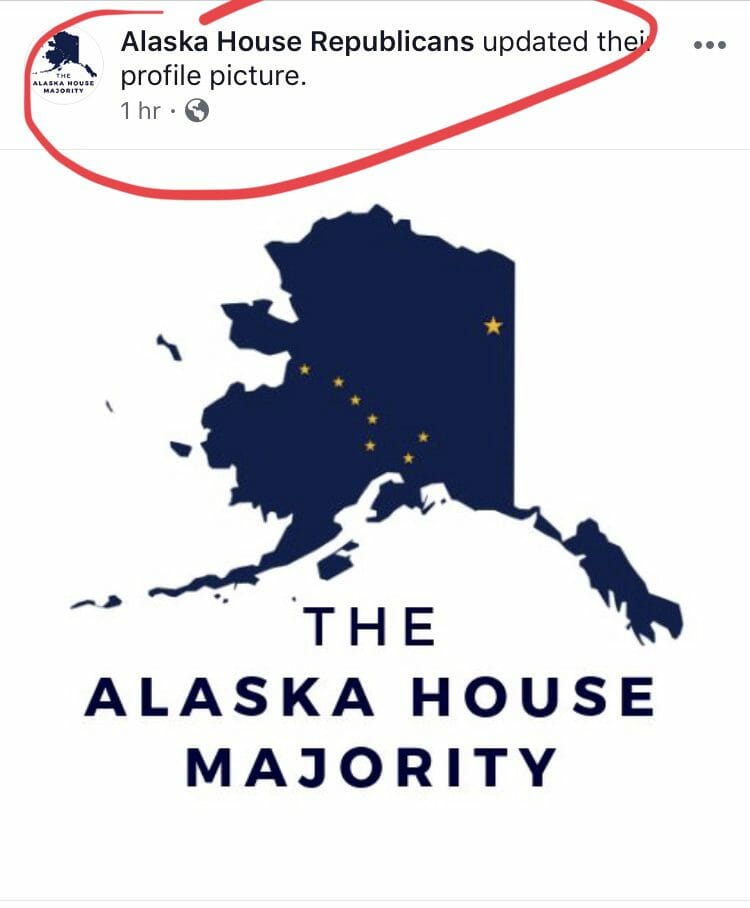 And this. ?

---
There are some pretty funny awkward unintended consequences when there's no majority.

---
Example: newly elected Representative Josh Revak in the old office of his opponent, former Representative Charisse Millett, with former Representative Dan Saddler's flags. And Jeff Landfield, natch.

---
In the midst of no majority, not being able to confirm Sharon Jackson, staffers not getting paid, and no one being able to switch offices, this happened. Excluding Senator Coghill, does anyone else think this is a good idea?

---
In the end, Senator Shelley Hughes might have the best idea. Why don't we just have a do over?

---
Nice to see the Republican Women of Juneau buried the hatchet with Representatives Ledoux and Stutes.
But… Who decided the pecking order that women legislators would appear on this invite? If Senator Giessel and Representative Wilson being listed first was intentional, what about the rest? Poor Lora and Sara.

---
#Leadership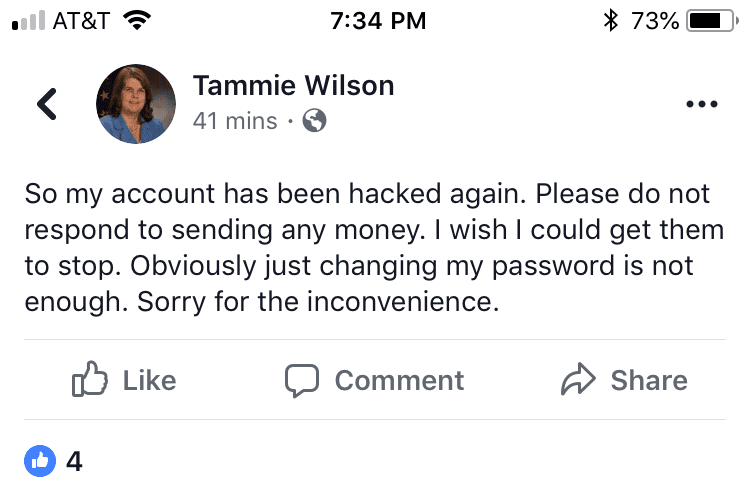 ---
If avocado toast is the reason millennials can't afford to buy a house, is King Crab toast the reason Alaska's legislators can't figure out how to cut the budget?

---
OMG! Will Alaska Airlines let me fly to Fairbanks at 38+ weeks pregnant?

---
Former Representative Charisse Millett has a cute and creative solution to the gridlock in the House. Awwwwww.

---
Speaking of former Representatives… This is awkward.

Oh, whewww. Looks like former Representative Grenn has just been too busy to update his LinkedIn. I'm sure we'll see many more great things to come. Glad to see he's keeping it #highenergy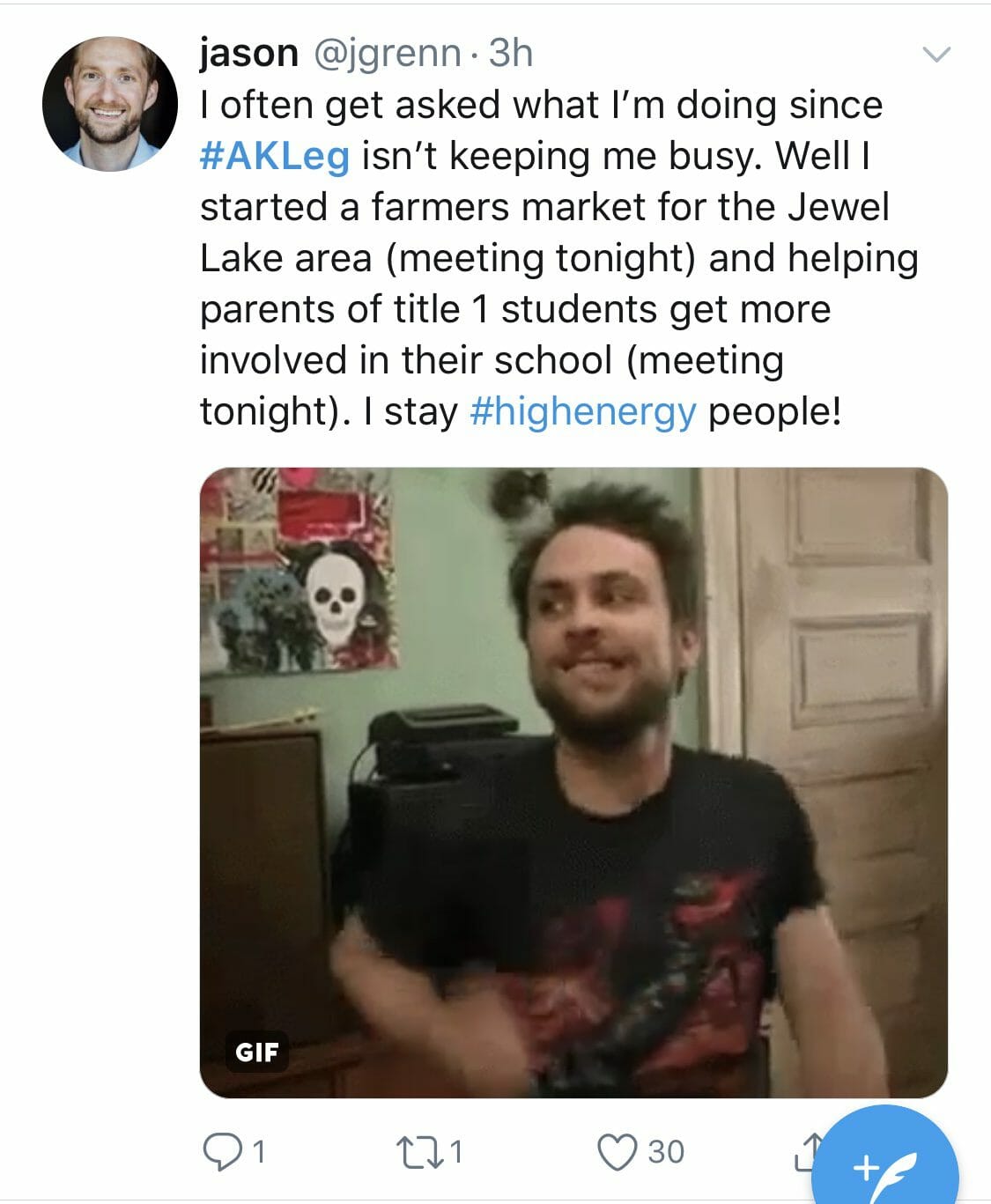 ---
Apparently state employees are so oppressed under the new Michael J. Dunleavy regime they have to resort to anonymous Twitter accounts to call the Governor's Chief of Staff mean names. We live in truly dangerous times.

---
Wait a minute… Is Michael J. Dunleavy middle-initial-gate #fakenews?!!! Or is this just the old stationary?

---
Squeeeee! Who is the first dog and why haven't they made an appearance on the Governor's official Instagram? Major social media fail by the Governor's team. We deserve complete first dog transparency!

---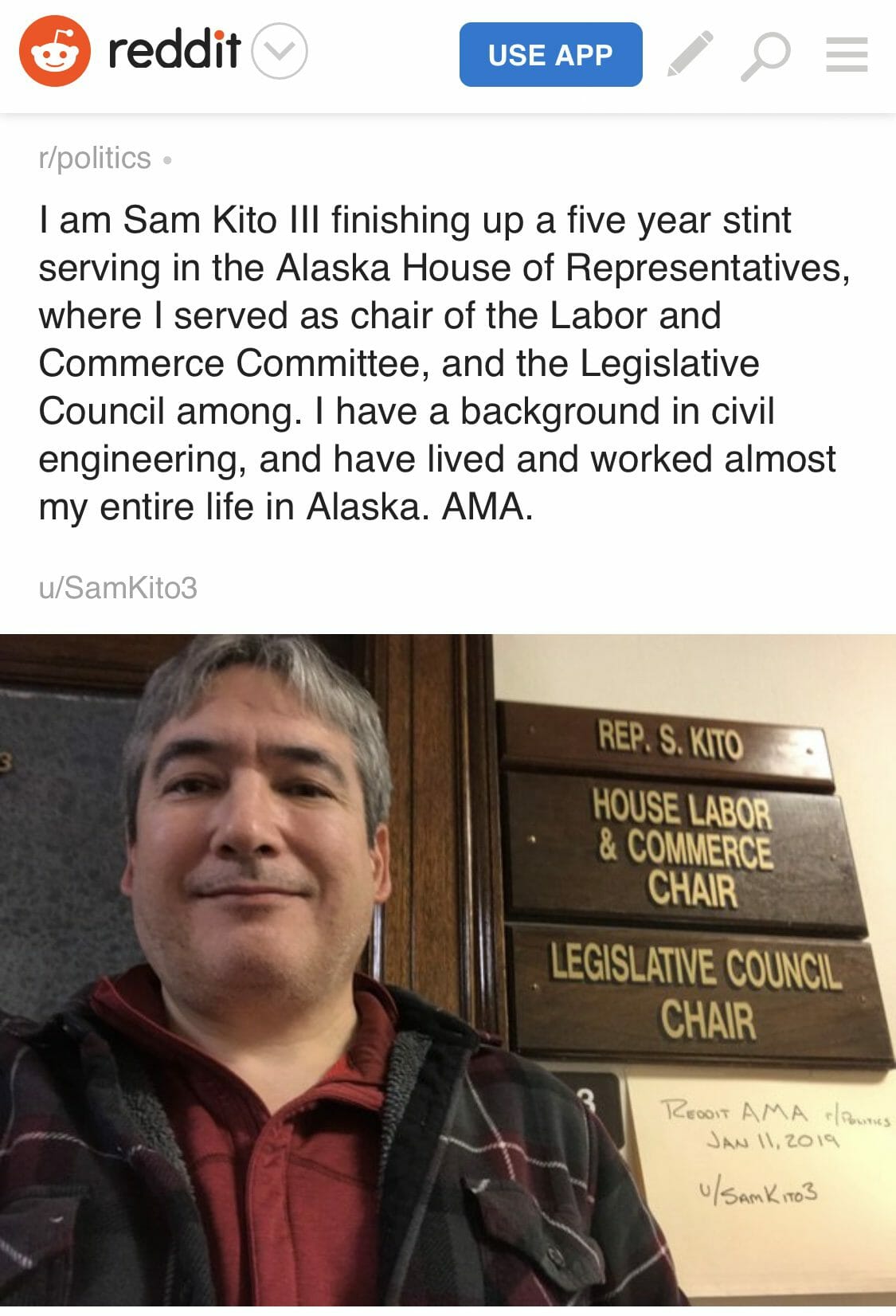 ---
Looks like Conservative talk radio host Dave Stieren is a joke thief fan of Libby "I'm suing the Governor" Bakalar. They say imitation is the sincerest form of flattery. Honestly, we wish we were half as funny as Libby. She has a gift.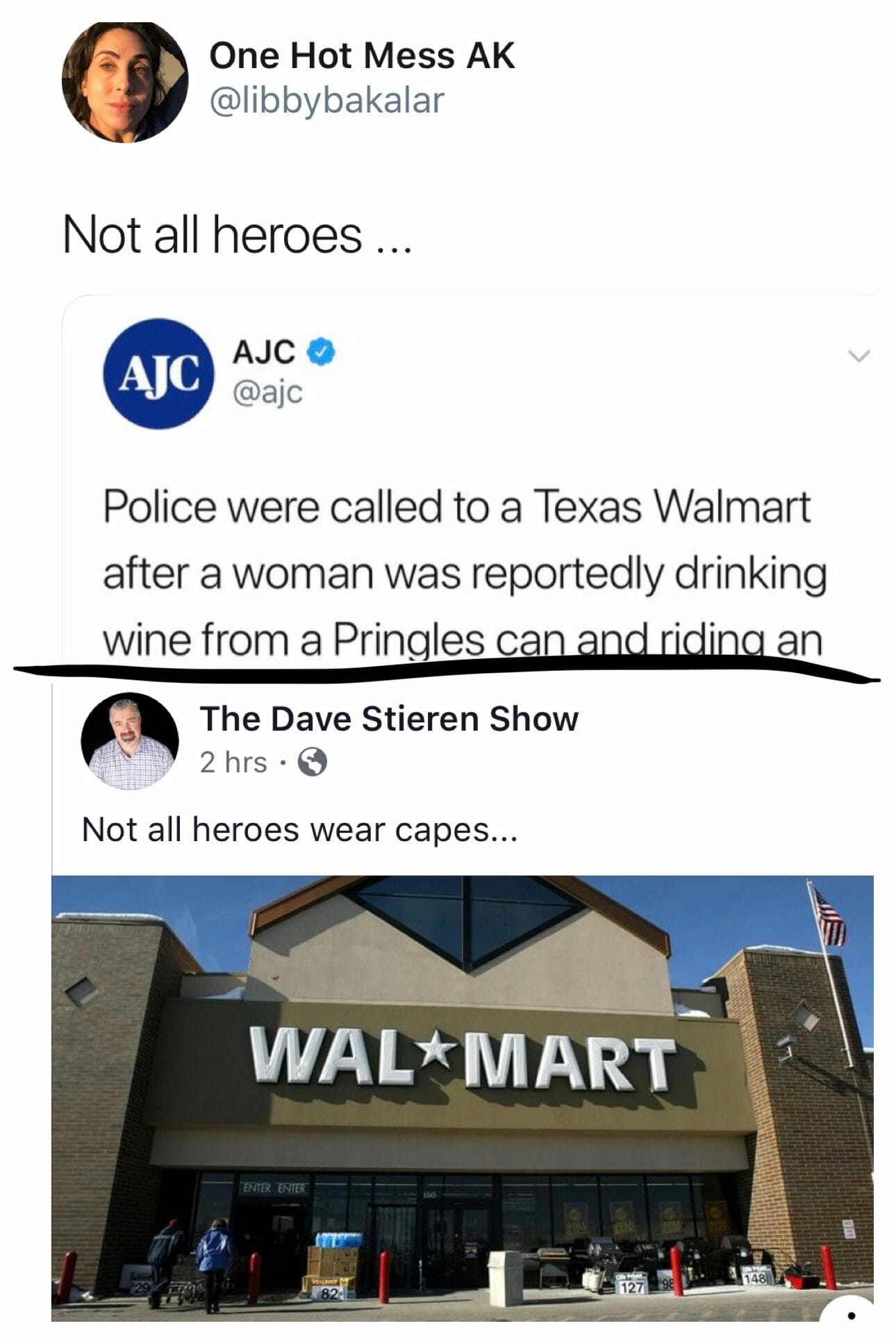 ---
Uh oh… Only inviting guys? Not very inclusive. I expected better from you, Assemblymember. #triggered

---
But it's hard to stay mad. I always love seeing Felix's wacky Facebook posts.

---
And his cover photo choices.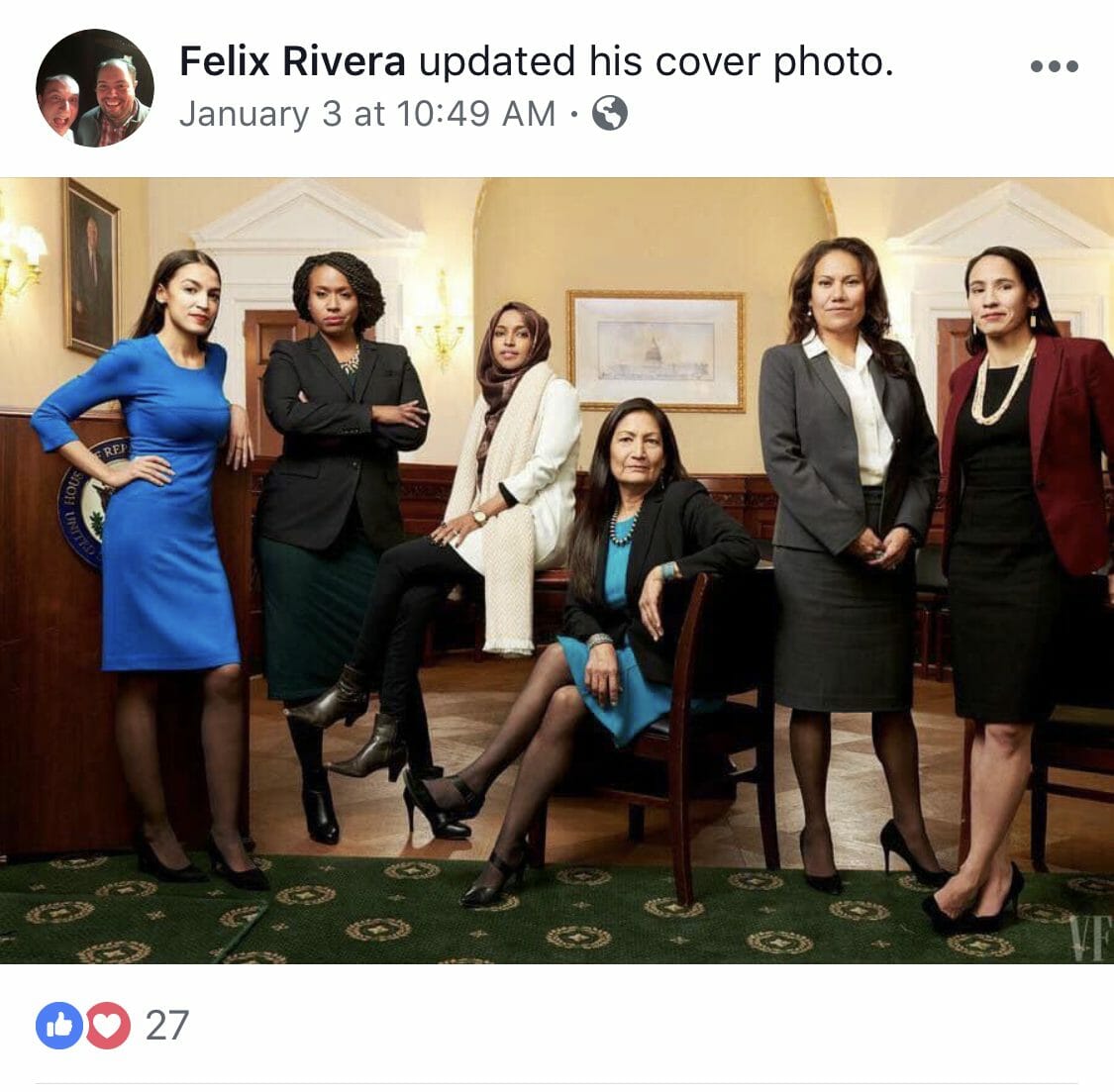 ---
It seems Anchorage Assemblymember Christopher Constant is also fan girling hard for rising star, Democrat Socialist AOC.

And, to use his own words: revealed more about himself than he probably intended in a post later that week.

---
Maybe we shouldn't be so hard on Chris. After all, he's one of "those people" who has one-sided shouting matches on Twitter with the his President and Lindsey Graham 2.0. I'm embarrassed for him.

We saw this and it was just too cute not to share. Choo Choo! ???

---
---
Ba da ba ba bah, I'm lovin' it.

*Also, as I was uploading this photo to the Landmine I somehow accidentally goofed. And now my family computer's desktop background photo is of Les Gara and Hollis French. And I don't know how to change it back! Send help!
---
Fan mail:
Thanks for reading, John! We're allowed some artistic license.

---
Peace out CW, and thank you for the shout out in your farewell column. I guess I need to update MY LinkedIn to include "blogger."

---
Overheard in Anchorage:
"Trump has alternative facts. But Dunleavy has alternative laws."
---
"Suzanne's column is great, until she writes about someone you know. Then it's awful."
---
"I thought all the Sara(h)s were Republicans!"
---
Representative Harriet Anagnostis Drummond asking Representative Sara Rasmussen who she was working for this session. In all fairness, we also heard that a page told Ms. Rasmussen "only legislators could go on the floor." And Senator Elvi Gray-Jackson was told "only legislators were allowed in the lounge." Sheesh!
---
Legislator to Jeff Landfield: "I liked your story on Sharon Jackson. But, why are you sorry?" ???
---
Crunchy conservative SAHM: "OMG I actually like something Representative Geran Tarr did. Have you seen her raw milk bill?"
---
Spotted at Steam Dot:
Linda Kellen Biegel and Jeanne Devon.
---
Spotted at Whale's Tail for the Black Sheep Comedy Show: Disco Ray Metcalf
---
Spotted in first class:
Senator Donny Olson and his lovely wife. Must be nice!
---
Spotted at Salt in Juneau last night:
Senator Chris Birch, Representative Chuck Kopp, and their wives having dinner.
Representative Ivy Spohnholz was spotted dining earlier with a different group
Representative Josh Revak (it never gets old!) celebrating with his wife, staffers, friends, and Jeff Landfield.
Representative Jesse Kiehl was there, too.
---
Spotted in Juneau: A young staffer caught eavesdropping on some offices. Like father like son, eh?
---
Spotted on Facebook:
Representative Sara Rasmussen defriending Jeff Landfield. You go girl!
---
That will do it for us this week folks. Don't forget to send your favorite social media and online goofs, gaffs, memes, dust-ups, "Overheard in Alaska," "Spotted in Alaska," or whatever else you got to akstalker@alaskalandmine.com Our DMs are always open. Remember: pics or it didn't happen!
---
The Alaska Stalker was born and raised in Alaska, and lives in South Anchorage with her husband, daughter, and baby on the way. She is not Jeff Landfield.