Welcome to this edition of the Alaska Stalker, a lighthearted round up of the best and worst of Alaska's social media landscape.
***
If you enjoy the Alaska Stalker, please consider supporting working moms like me by sending in hot tips, overheards, and spotted ins. You can reach me at akstalker@alaskalandmine.com. As always, thanks for reading.
***
The Alaska Stalker would like to issue a rare apology. In my last column I took a deep dive into leggie mask fashion. However, I neglected to include Sen. Donny Olson. His mask is hands down the best #akleg mask of all time. I am sorry and I regret the error.

***
While Senator Elvi set the trend weeks ago, more legislators are posting photos documenting their COVID vaccine experiences. 💉💉💉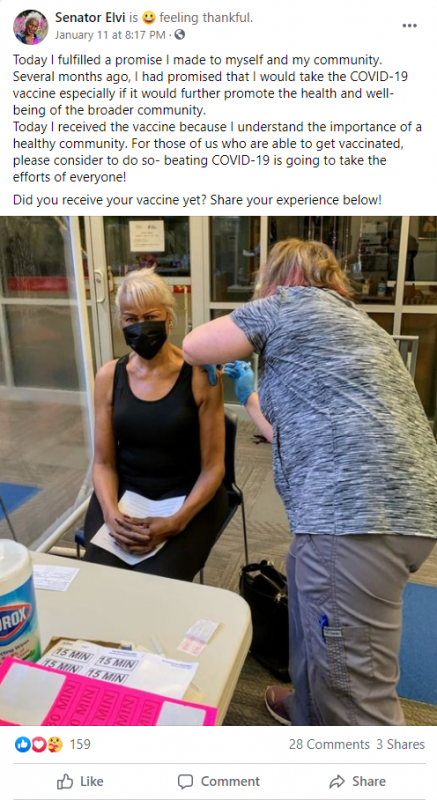 ***
Rep. LeBon has one down, one to go while Rep. Thompson is already done. Will vaccine photos replace the tiresome mask photos? I SURE HOPE SO! 🙏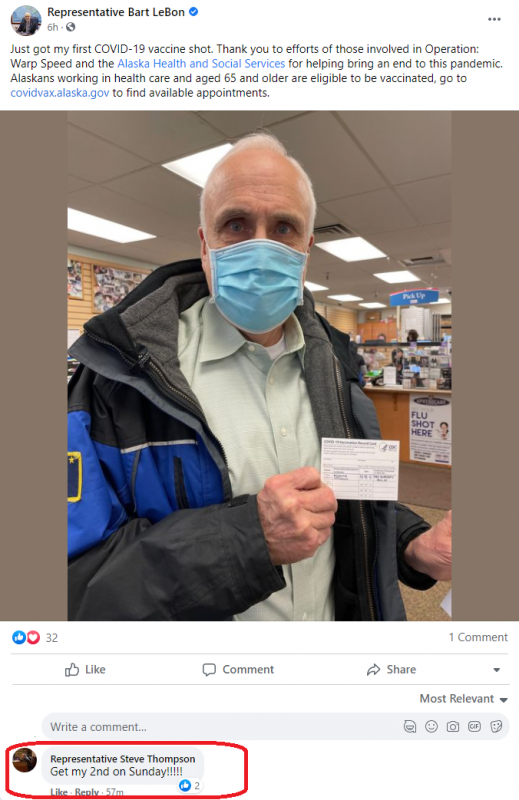 ***
Is everyone as surprised as I am that Matt Buxton was the first one to be suspended by social media for spreading COVID disinformation? (I mean actually suspended and not deleting their own account on purpose suspended). I don't really know what the lesson is here, but I definitely won't be quoting Sen. Reinbold on Twitter any time soon. Maybe Lora has found the ultimate loophole. 🤣🤣🤣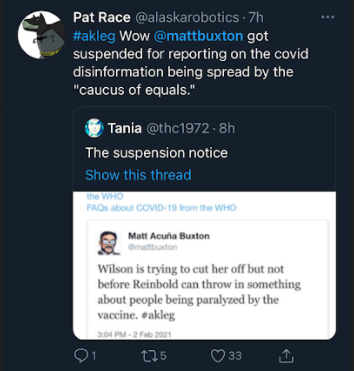 ***
Happy to see the legislature's website has updated the legislator's head shots for session. Let's see here: Old woke man, old white man, young woke man, 1800s man, old white man, and three old white McMans. Yup, seems pretty standard. Can't wait for those updated bios tho… But seriously, why is Rep. Kurka's photo in black and white?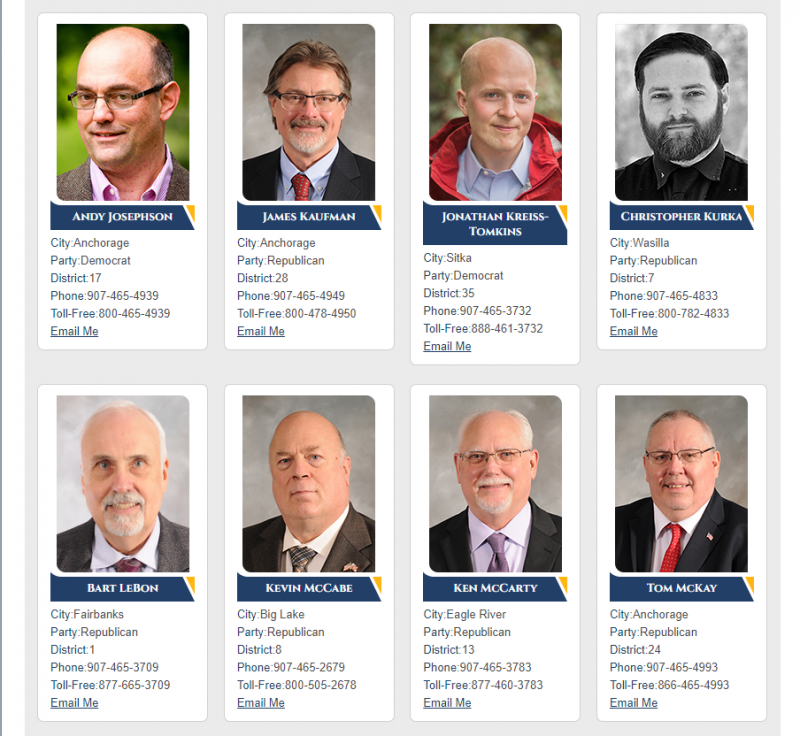 ***
It looks like Coppa in Juneau is taking the Biden administration's call for unity to heart. Check out Rep. Jonathan Kreiss-Tompkins and Sen. Shelley Hughes enjoying bi-partisan cones together. How sweet! 🍦🥰🍦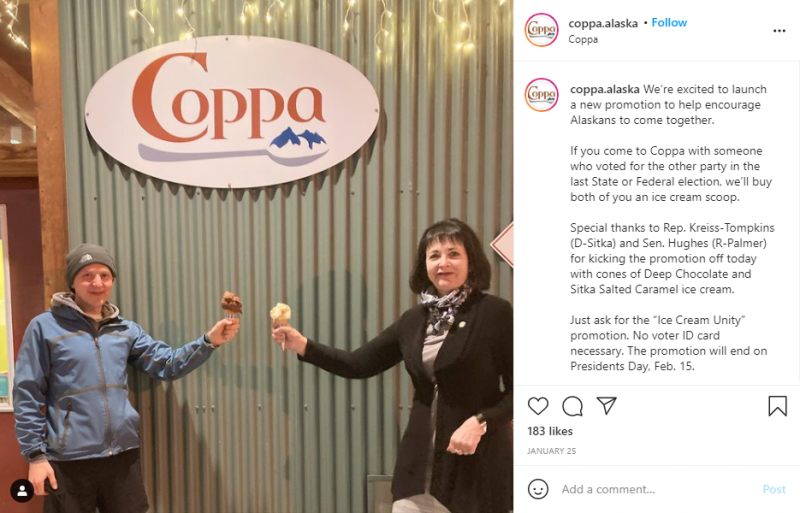 ***
The comments about this fun, silly promotion? Not so sweet. It's refreshing to see a business stick up for themselves against a troll and not immediately apologize and atone for doing nothing wrong. Next time I'm in Juneau I'll be ordering two scoops.

***
Juneau can really change a man. Check out Rep. Gillham's transformation from angry low-key red neck angler to polished city slicker ready to change his mind on any key issue. It only took two weeks!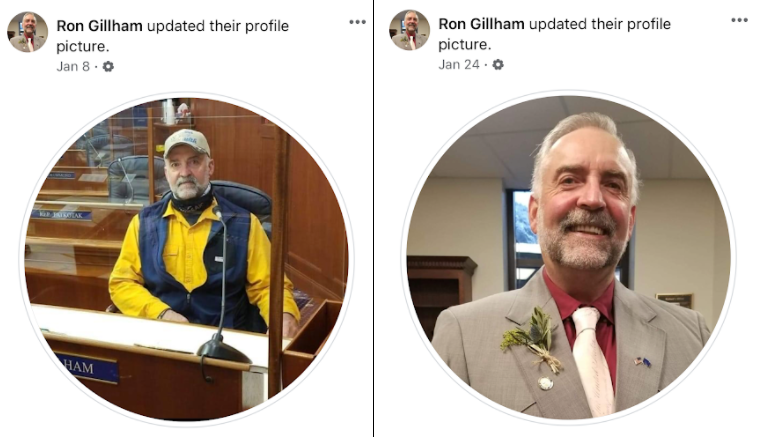 ***
Not 100% but pretty sure that's Rep. David Nelson down in the front row. 🙃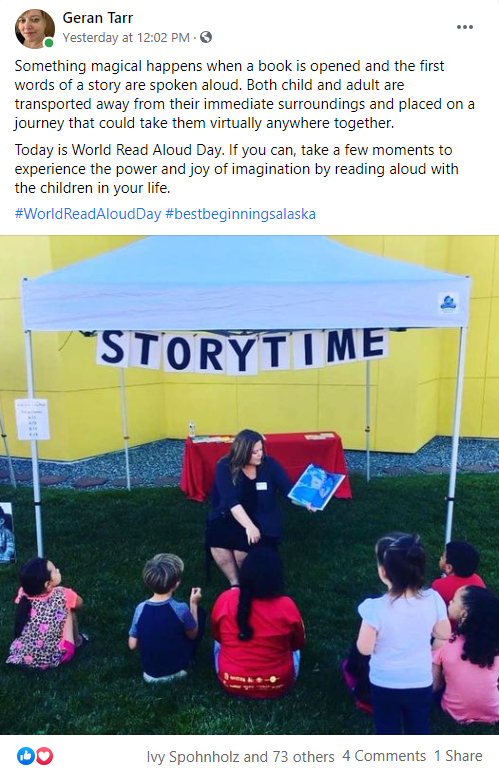 ***
So glad Rep. Liz Snyder publicly commended the Governor for supporting *checks notes* his own bill. 😏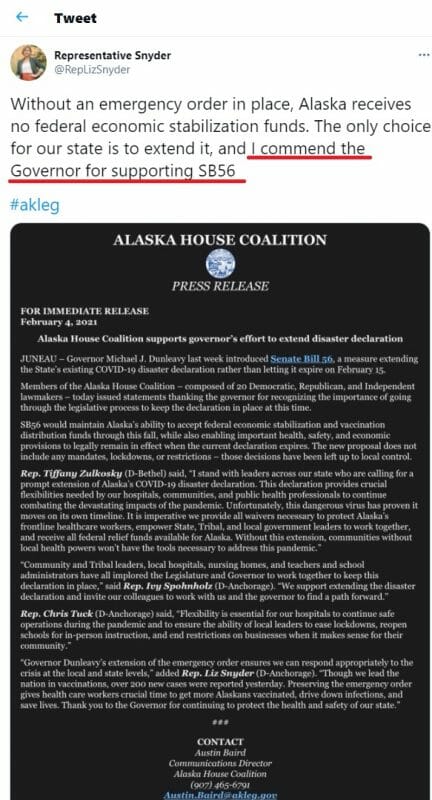 ***
Please read this amazing and very Alaska exchange that played out for all to see on Rep. McKay's Facebook page. Don't worry, if Jocye wasn't such a darn busy body I wouldn't post this. 😉 She has eyes on that cabin and it (along with Tom's electric bill) is in good hands while he's in Juneau.

***
OMG. A Hopkins/Schrage #akleg "pandemic-bubble roomies" situation is just the content the Stalker needs in Juneau this year.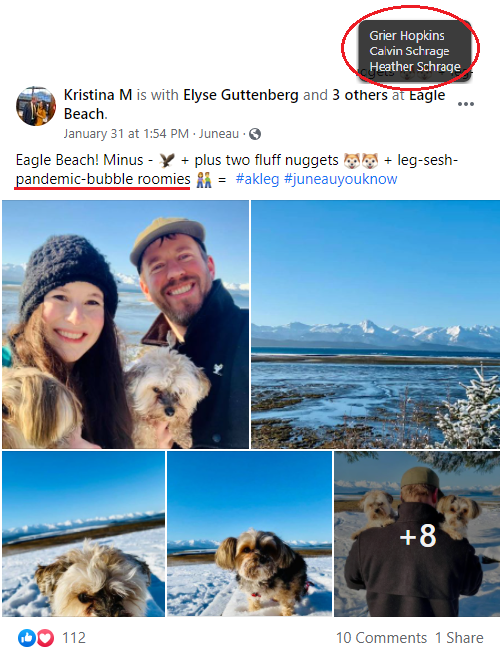 ***
That pesky Facebook search bar looks an awful like the Facebook status update bar. Isn't that right, Chris? Why's he Facebook stalking the head of the Legislative Affairs agency anyway? BUSTED!!!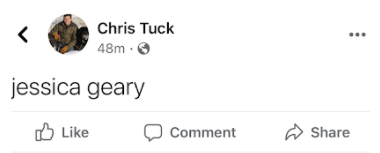 ***
Acting Anchorage Mayor Austin Quinn Davidson is feeling the heat these days. First, Eagle River's usually reserved Assemblymember Crystal Kennedy had some choice words for AQD's Christmas card surprise mailed out to Muni employees. I'm kind of team Crystal here. If I worked for the Muni I would have been fine with four hours of bonus leave. AQD doesn't need to buy my loyalty with Swiss Miss.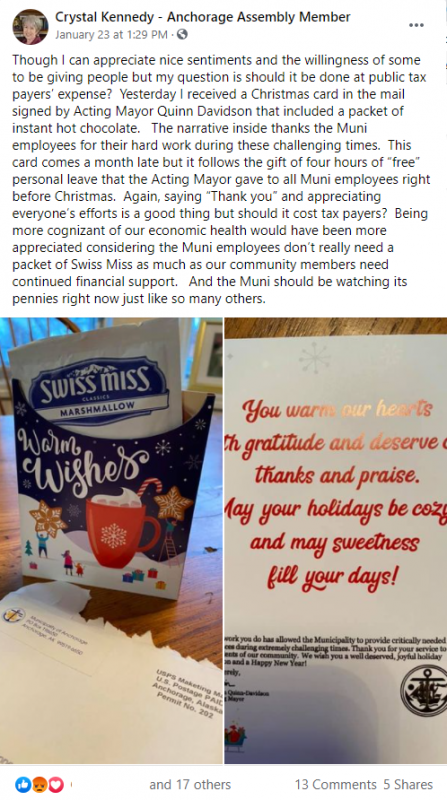 ***
Speaking of loyalty…
John deleted the Tweet minutes after he posted, as we all knew he would. But not before the Stalker got a screen cap! What is he even talking about? OMG. did John not get any Swiss Miss?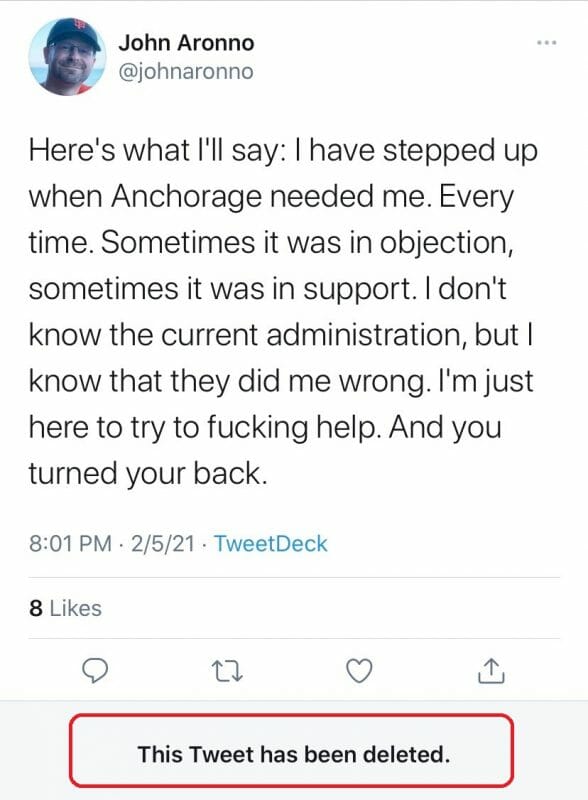 ***
Acting Mayor Quinn-Davidson sure has a lot on her plate. Add a rogue first spouse with a bit of a thing for mayor Secretary Pete Buttigieg. Not going to lie, "we have a really cool port" is a stretch. More like, "We have a really dilapidated port!" Hey Stephanie, if you really want Mayor Pete to come visit, maybe try mailing him some of AQD's special Swiss Miss with marshmallows. 🤣

***
It's February and that means the seventh time's the charm Anchorage alcohol tax has gone into effect. Pretty sure Commissioner Brune put it best:

***
Speaking of the alcohol tax, I'm pretty sure everyone saw this.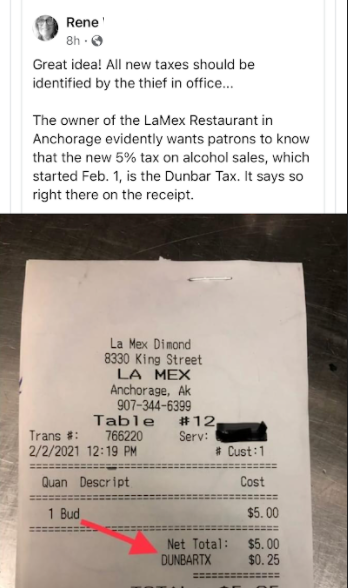 ***
But did you see this?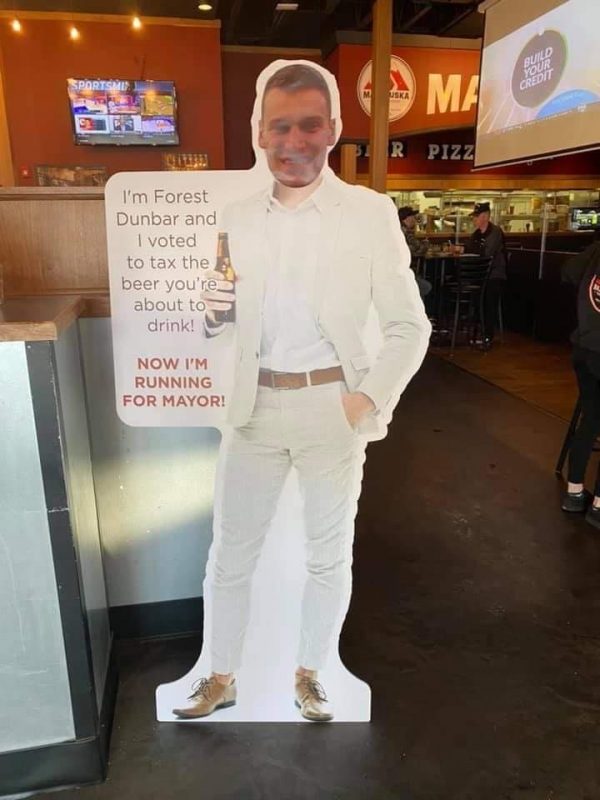 ***
I'm surprised they didn't use Suzanne's fav Forrest photo/outfit instead of this Col. Sanders number. Does anyone know if this is still up? Honestly, all I want to do is print off my own giant Carhartt jacket and duct tape it to him.
I'm not going to click on the link, and I would encourage you not to do so either, but I do think it's comical that she uses this photo of me every time. But yes, Suzanne, my team agrees with both your headline and my support for the LGBTQ+ community. #Mayor2021 #PeoplePowered pic.twitter.com/GFtUGhONWd

— Forrest Dunbar (@ForrestDunbarAK) January 16, 2021
***
This year's Anchorage School Board races are getting intense. When I heard a candidate withdrew I assumed it had to be Judy Eledge – dozens of her Facebook posts (like the one below) started resurfacing online. Nope, it was Pierce. He really Blewett! As for Judy, I honestly have no words.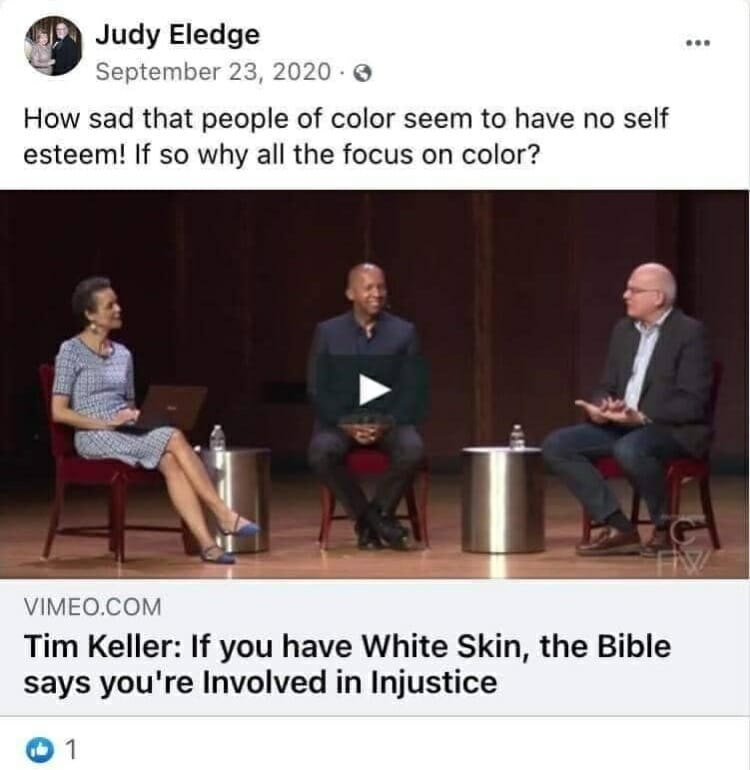 ***
But, Kelly, did you learn a LESSON??? Please, just use it once and I will leave you alone. Give the people what they want!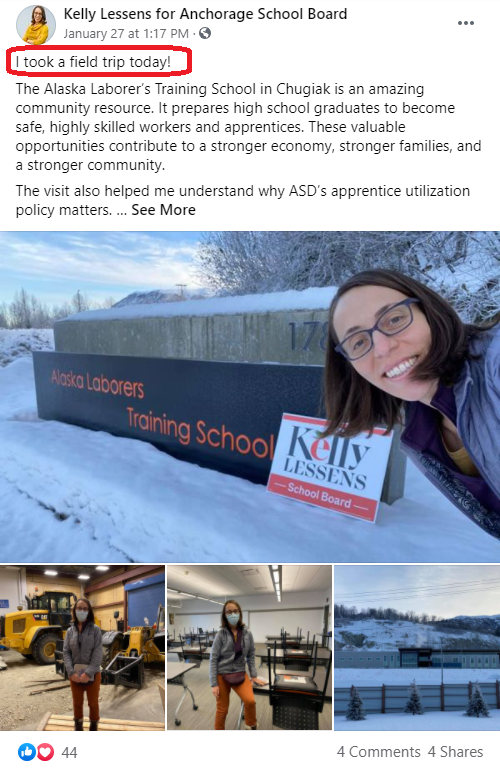 ***
Marcus gets it. From Marcus in the House to Marcus in the Schoolhouse. I live for stuff like this.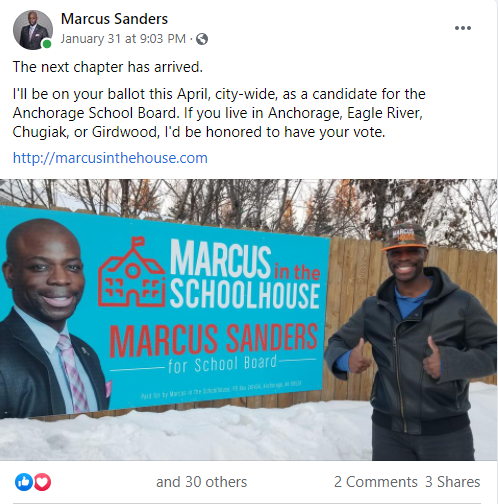 ***
"Boring" seems to be a political buzzword this year. And, to a lot of voters, it's a welcome one! Glad to see School Board member Alisha (rhymes with militia) Hilde likes work and math. Seems like she might be a keeper.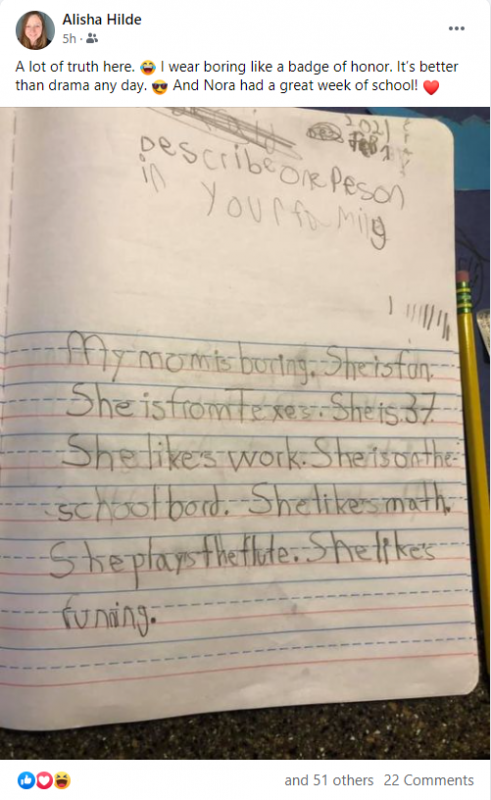 ***
And then there's Pat Higgins… Super normal long-time politico, former member of the Anchorage School Board. There was that whole Marshall Islands thing, but that was a long time ago. I could get behind this…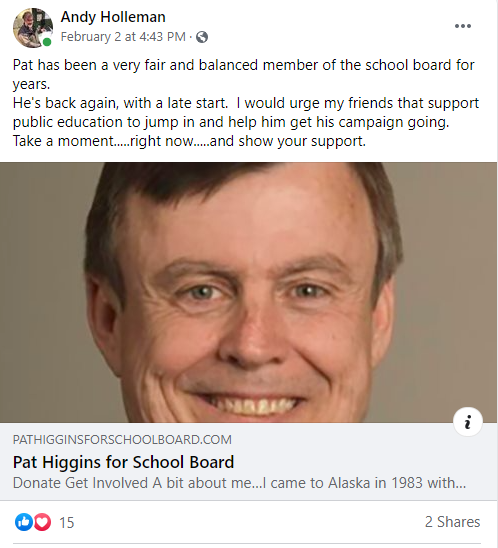 ***
OMG OMG OMG WHAT IS GOING ON?!!?!! I don't know the story. I don't want to know the story. I want this permanently erased from my mind forever. 🙈 #voicetosextfail #idontwanttoknow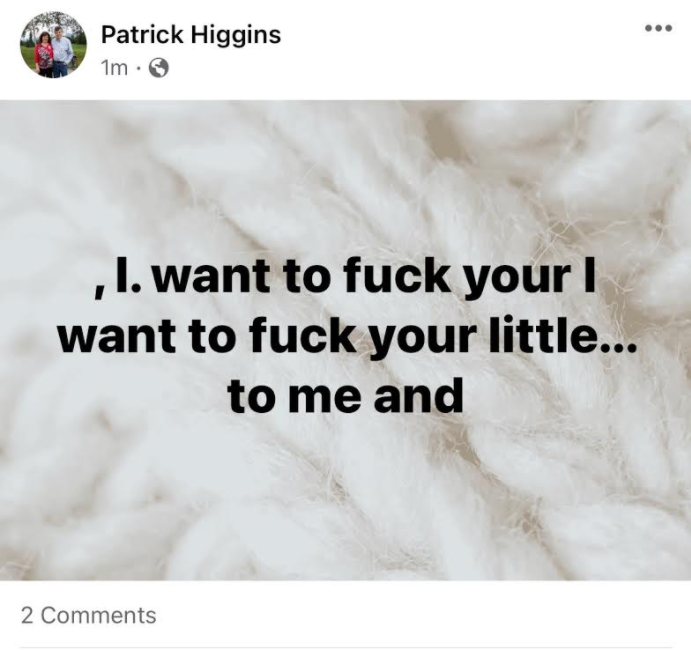 ***
You would think that's the worst thing to hit my inbox this week year ever. You would be wrong. Ladies and gentlemen, imagine waking up to six text messages of Palmer City Councilman and staffer to Rep. Ben Carpenter RICHARD BEST'S PIERCED NIPPLES. Jeff doesn't pay me enough.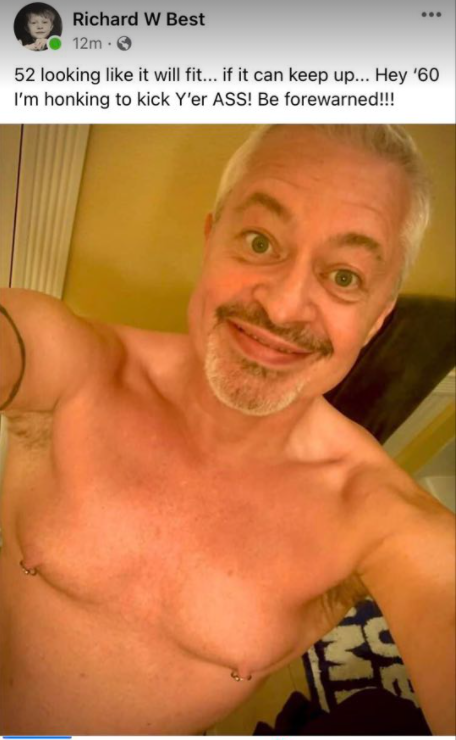 ***
Just wanted to get it on the record that Kass Smiley voted for Jamie Allard. That's all. 💅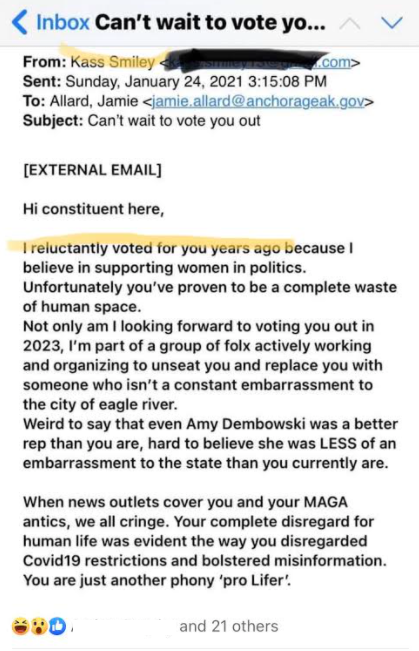 ***
Speaking of Jamie… I know she loves Eagle River and all. But, if she's in the market for a home on the Anchorage hillside, I might know the perfect fit. Those flags could just be their family crest. They're just colors and shapes. What are we gonna ban next, squares?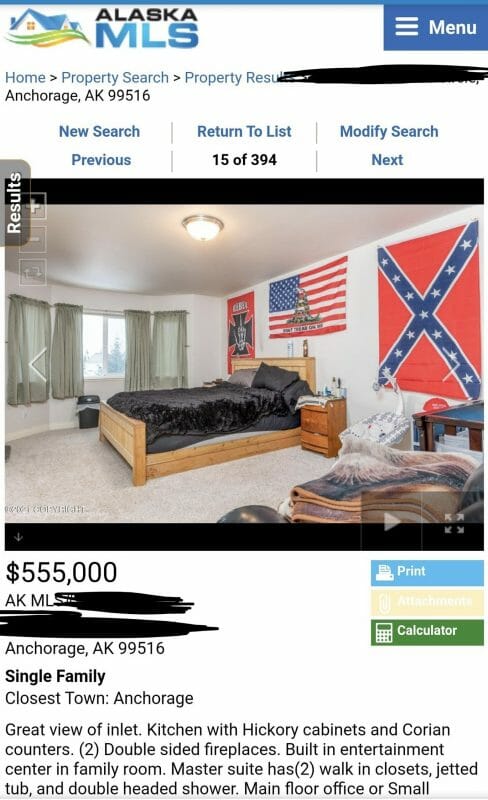 ***
Stalker pro tip: Pretty please check out the Anchorage Press articles on Anchorage mayoral candidates Bill Evans and Mike Robbins. While Bill's interview "Selling the center: Bill Evans hopes to find that purple jelly goodness in the middle of the Anchorage electorate, and not just a donut hole" is normal, Robbin's article, "Trump Lite: Anchorage mayoral candidate Mike Robbins has a fair bit in common with the former President" is next level loose. Playboy magazines, beauty pageants, Danny Bonaduce, and a decade-long battle with the IRS – it has it all. Here's my "fav" quote:
"Of course, being the entrepreneur that I am, I ordered 10 cases of her Playboy cover and we (had an event) at a nightclub where she sat and signed autographs. It was a lot of fun… there was a hot tub involved… It was an interesting time," Robbins recalled. "She was an interesting woman — kind of lost, very young and ended up in a position I don't think she intended to be in. I'll never forget one time she came into my office and asked if I knew how to make a plane reservation. She was trying to get a friend over from California… That was the beginning of our friendship — she only lasted there like a month."
And this correction at the end. OMG! I'm dead. CLARIFICATION: In the original version of this story it was implied that Robbins was with Bonaduce when the assault occurred. Robbins since clarified that he was not with Bonaduce at the time.
***
Overheard: "I will always have a special place in my heart for the "Dumboski, Dumbar, Dumbleavy" vein of political name calling, but Dan Fagan calling Sen. Peter Micciche "icky icky icky Micciche" might take the cake."
***
Overheard: "Betting your entire political career on "Third Reich is a family name" is even dumber than texting a photo of your bare ass to Maria Athens."
***
Overheard: "My husband has started referring to the Assembly Meetings as "Tuesday night at the fights"
***
Spotted at SALT: Lobbyist Kris Knauss, Hilcorp's Luke Miller, Sens. Lyman Hoffman and Click Bishop.
***
Spotted at bars all around Juneau: Bipartisan and bicameral groups of legislators and staff. UNITY!
***
Spotted: Kris Knauss and Ben Stevens at Island Pub in Douglas.
***
Spotted at Foodland buying groceries: New Lobbyist Mike Fish Pawlowski and Sen. Shelley Hughes. NOT TOGETHER.
***
Spotted in Juneau: Sen. President Peter icky icky icky Micciche and his wife Erin taking a little Saturday drive. <3
***
Sent vis Stalker mail: "Shower Chair LOL" We have the most mature readers.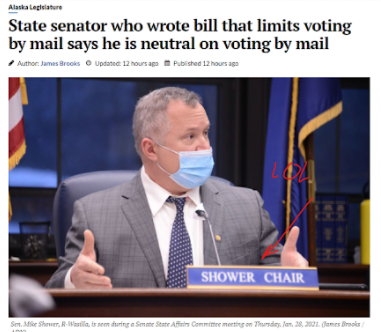 ***
The Alaska Stalker was born and raised in Alaska. She lives bear free in South Anchorage with her husband, daughter, son, newborn, and Covid-19 antibodies. She is not Jeff Landfield.