Welcome to this edition of the Alaska Stalker, a lighthearted round up of the best and worst of Alaska's social media landscape.
***
If you enjoy the Alaska Stalker, please consider supporting working moms like me by sending in hot tips, overheards, and spotted ins. You can reach me at akstalker@alaskalandmine.com. As always, thanks for reading.
***
Happy Marmot Day, everyone! Sen. Kawasaki and I might be the only ones that celebrate every year. Not sure what Scott's family Marmot Day traditions are, but I always like to read the Wikipedia entry and remember how it all started — the Menards!!!

***
Rep. Ken McCarty sure dressed the part for a "suitable" observance of Marmot Day. However, he missed the mark and instead chose to celebrate the lesser known and downright unAlaskan Groundhog Day by monologuing down by the whale sculpture. 👎👎👎
***
Thank you for all the amazing tips this week, but RIP my inbox! I think I found someone even more popular than Dr. Anne Zink. Maybe Gov. Dunleavy should ask Miss America to be his LG. 👑

***
While everyone was busy snapping selfies with Miss America, I appreciate that Sen. Scott Kawasaki took the time to pose with Gov. Dunleavy. It's the caption for me tho! 🤣🤣🤣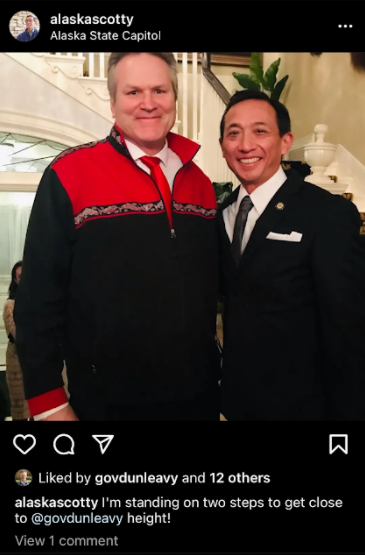 ***
I think Scott's in the clear, but who could Dave be referring to…. 🤔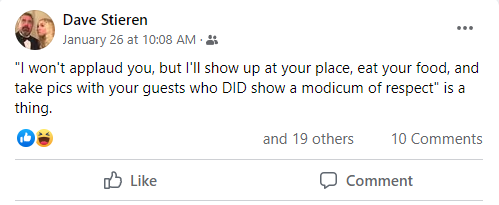 ***
SO close.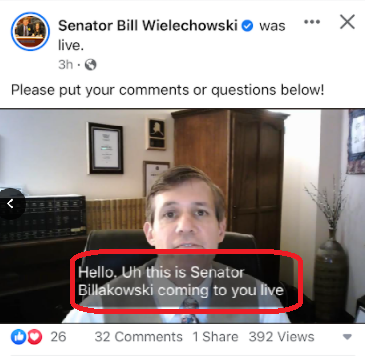 ***
Who took this photo? Cringe level 💯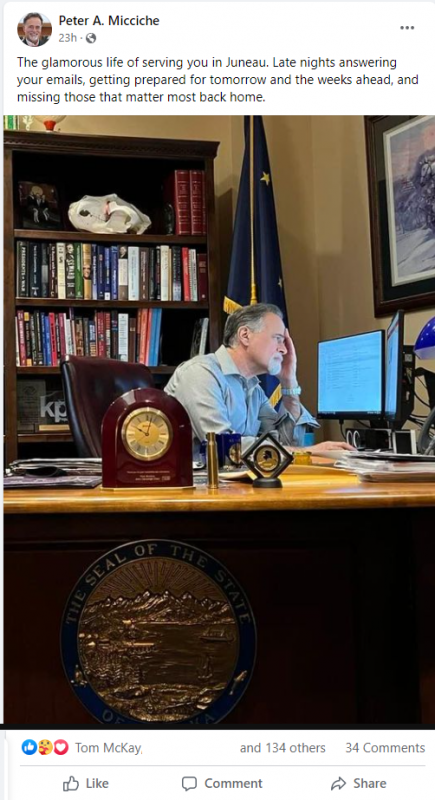 ***
Well, I heard Ms. DeLena post about him
Well, I heard ol' DeLena put him down
Well, I hope DeLena will remember
The majority don't need her around anyhow
***
I know y'all usually read non-fiction, but let this serve as an official Landmine Book Club suggestion.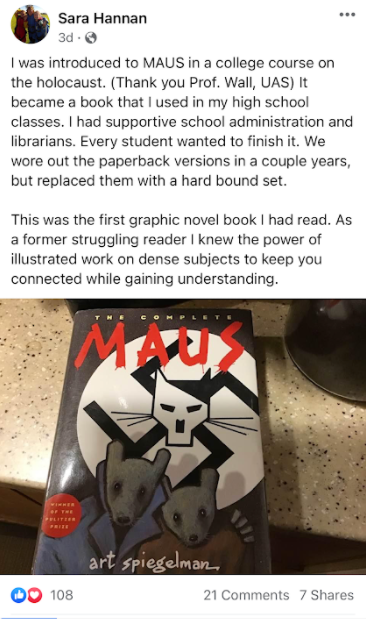 ***
Who wears short shorts? Laddie wears short shorts. Has there ever been a lawmaker in the history of the Alaska Legislature that shows more skin than Rep. Laddie Shaw?
***
Rep. Ivy Spohnholz coming in hot with some major public SHADE.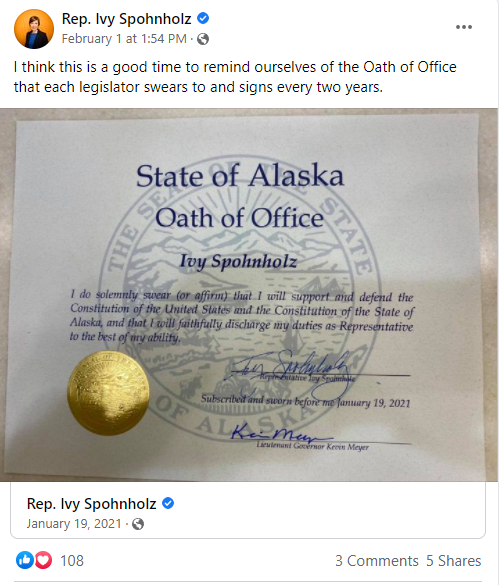 ***
Speaking of… I did not have Rep. David Eastman posting "Let's go Brandon" and "Truck you Trudeau" on social media on my 2022 bingo card.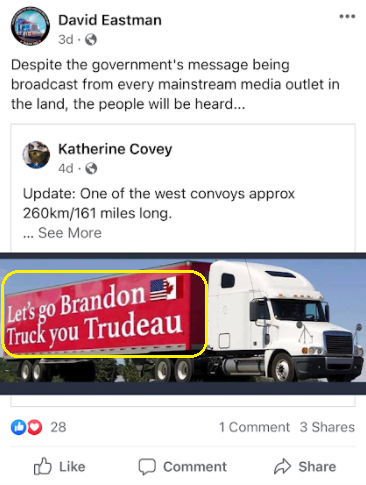 ***
Me, minding my own business making three peanut butter and jellies on a brisk February afternoon.
Phone beeps. Oh, just a Twitter alert. I glance over at the screen. It's probably nothing.
I see it.
I drop the knife.
I look again. This can't possibly be real.
This is a big deal.
😮😂😂😂😂😂

***
It was only up for 7 seconds, but the internet is forever. I am still fuzzy on how "Siri" changed "look" to F*#k. At this point you just gotta laugh.
Poor Les. Lucky Stalker! Below is the fixed (or is that un-f*#ked) Tweet and dubious at best explanation.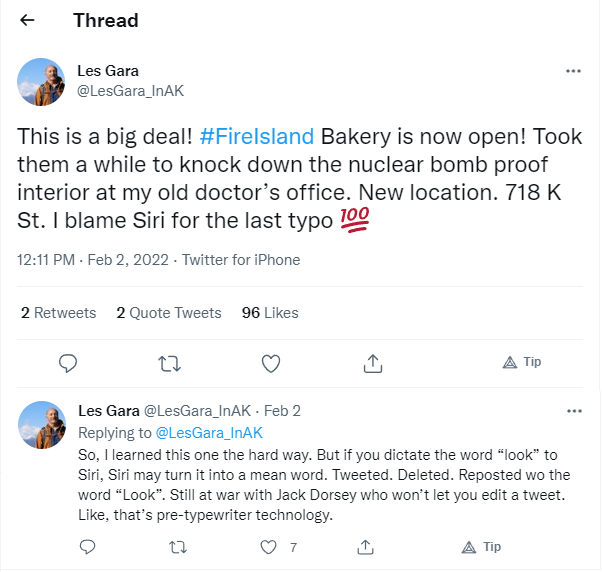 ***
In true Les fashion, he turned an embarrassing moment into a win and got a personal tour of the new digs. Hopefully he left with some goodies, too. I still want to know how Les got Siri to correct that particular word into look and not duck. Asking for a friend, of course. 😉
The good news is #FireIsland's new space & mall r awesome. The bad news is my relationship with Siri, "who" took the dictated word "Look" in a tweet on this & made it a very bad word. ???? sunk. Fixed in lightspeed. Got a justified flogging for Trump-like proofing skills ????. pic.twitter.com/xduu46weuf

— Les Gara (@LesGara_InAK) February 3, 2022
***
Speaking of baked goods, I am loving Kelly Lessens' fundraising strategy. YUM. 🥞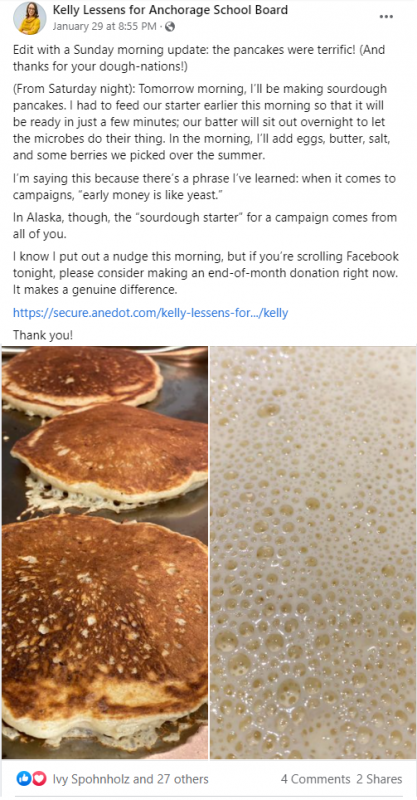 ***
But nothing beats Kava's pancakes. Wait a minute, did Cliff groh a little something something since his last campaign?! 🥸 Cliff is going to have to update one of the greatest political ads of all time for this season.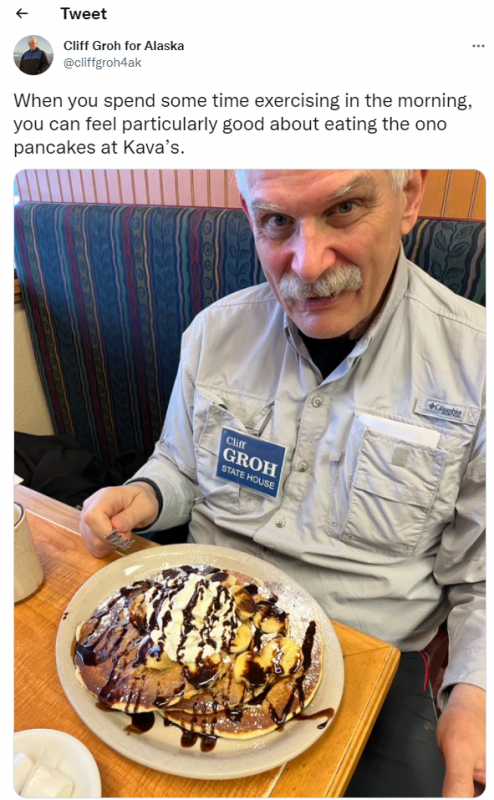 ***
Everyone loves a good redemption story. This one is best served hot with extra cheese.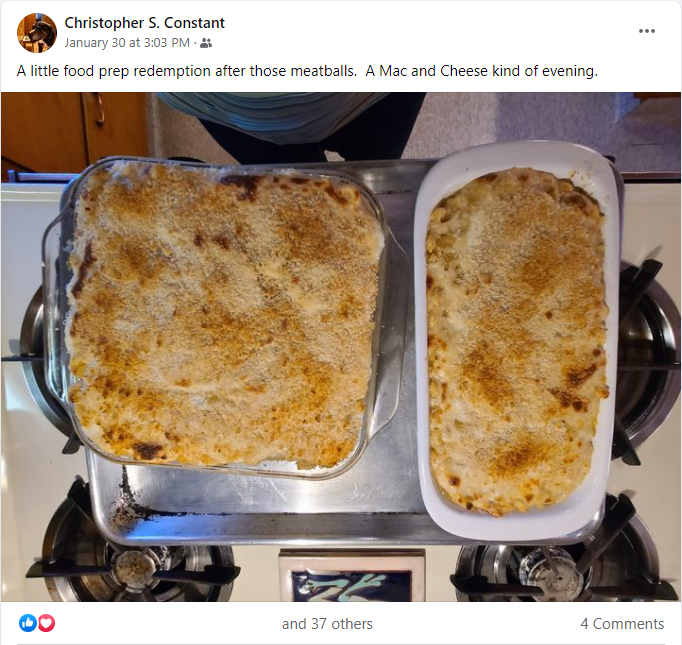 ***
I bet there's a couple folks on the Anchorage Assembly (see above) that are hoping for a Thelma and Louise over Starsky and Hutch.

***
Is it just me or does former Fairbanks Mayor Luke Hopkins look like a future elderly Forrest Dunbar?

***
COME ON, am I right, or am I right? Just call him Papa Dunbar from now on. 😂😂😂

***
Shots fired! The Walker/Drygas has turned up the heat with a recent sign rollout. Let's look at this placement from a different angle…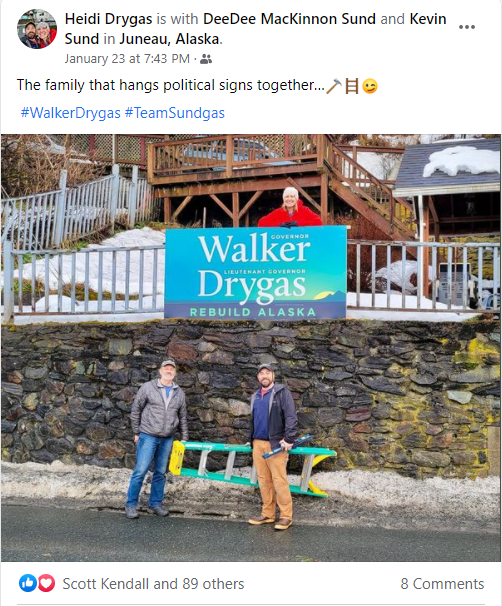 ***
Yikes! 😮
***
What an honor! Although I would have preferred "she won a historic write-in campaign in 2010" or even "she represented Alaska as the Cherry Blossom Princess in 1980" to this aggravating reminder.
View this post on Instagram
***
Meanwhile poor Dan can't even get one comment on his Alaska seafood tip contest post. Help a senator out! 🙏

***
One of my favorite posts of the week has to be from Kelly Tshibaka's Instagram. Imagine wishing your husband a happy anniversary and the top comment is "Murkowski is the worse." Politics is weird. Happy Anniversary Kelly and Niki!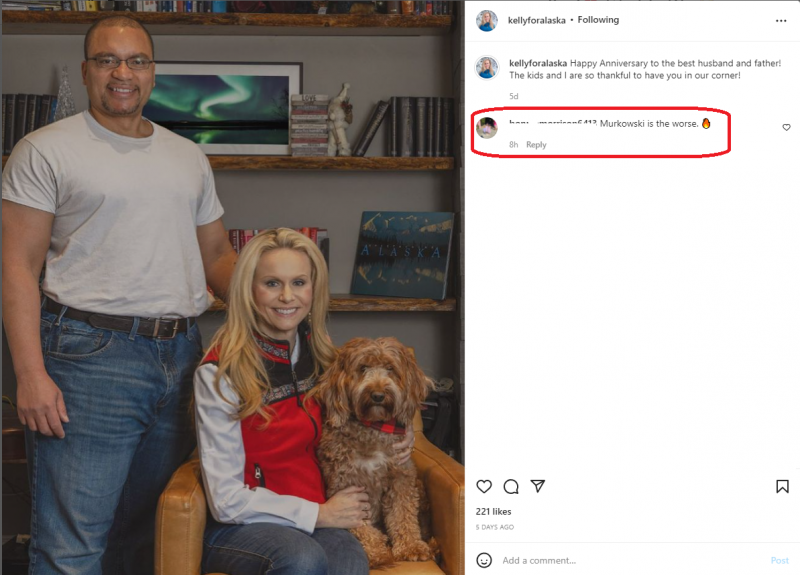 ***
Kelly has had quite the busy couple of weeks!

***
DAM, Don. DAAAAAMMMMM.

***
Spotted on Twitter:
My friend @MikeDunleavyGov is a strong defender of our 2nd Amendment rights and I'm happy to endorse him for reelection as Governor of Alaska!

Look forward to getting to spend some time up there later this year for some campaigning and maybe a little fishing and hunting too ???????????? https://t.co/X3eNXYu5yA

— Donald Trump Jr. (@DonaldJTrumpJr) January 25, 2022
***
Spotted on APOC: I've named three children so far and I have… questions…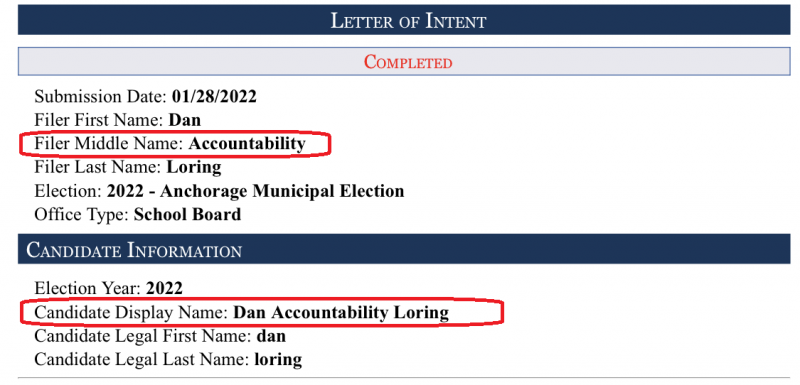 ***
Overheard in Anchorage: "Now that Carhartts are more woke than Starbucks, Dunbar's uniform finally fits him perfectly."
***
Overheard in Juneau: "The person enjoying this David Eastman drama the most is… David Eastman. You idiots!"
***
Overheard in Juneau: "How much Copper River Fleece can Kelly collect before the election?"
***
Spotted at the first night of Legislative Bowling League: Almost everyone. 2 masks. 🤡
***
Spotted at Speaker Stutes and Senate President Micciche having a spot of brunch at Sandpiper.
***
Spotted during prime time:

***
The Alaska Stalker was born and raised in Alaska. She lives in South Anchorage with her husband and three kids five and under. She is not Jeff Landfield.