Welcome to this week's edition of the Alaska Stalker, a lighthearted round up of the best and worst of Alaska's social media landscape.
***
If you enjoy the Alaska Stalker, please consider supporting working moms like me by sending in hot tips, overheards, and spotted ins. You can reach me at akstalker@alaskalandmine.com. As always, thanks for reading.
***
State workers in the Atwood building were treated to quite the show today. Yikes! 😬 This would have been kinda funny if it said "Recall Dunleavy."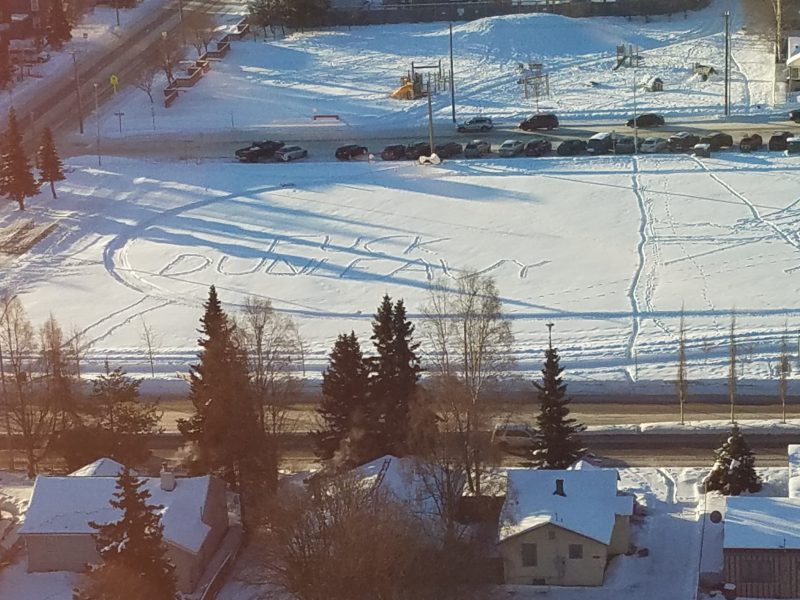 ***
I guess someone in the building took their loyalty pledge seriously enough to go out there and trample the profane snow message as many state workers watched, snickering from their offices. This is one of the most bizarre "other duties as assigned" I've ever seen. Check out the video below. One source who witnessed the entire event incorrectly named the trampler as Ben Stevens, Governor Dunleavy's Chief of Staff. Ben's in Juneau. But a high level source told us if Ben was there he would have changed the message to F*ck Yeah, Dunleavy.
***
Here's an after pic. Sure looks like someone got their steps in for the day. I wonder what will be there tomorrow!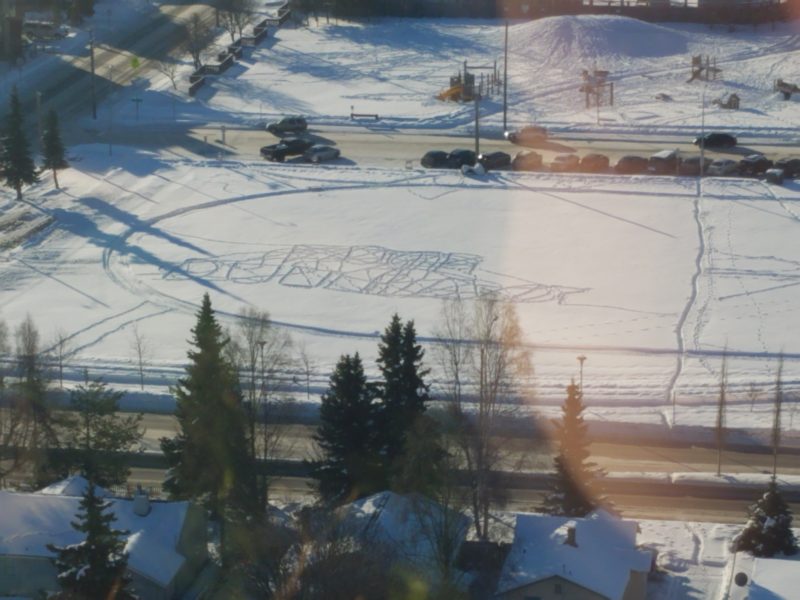 ***
The House of Representatives is at full capacity once again. Rep. Mike Prax was appointed by Gov. Mike Dunleavy with a fraction of 2019's appointment drama. Rep. Mel Gillis thinks it's "great" he's no longer the most junior rep.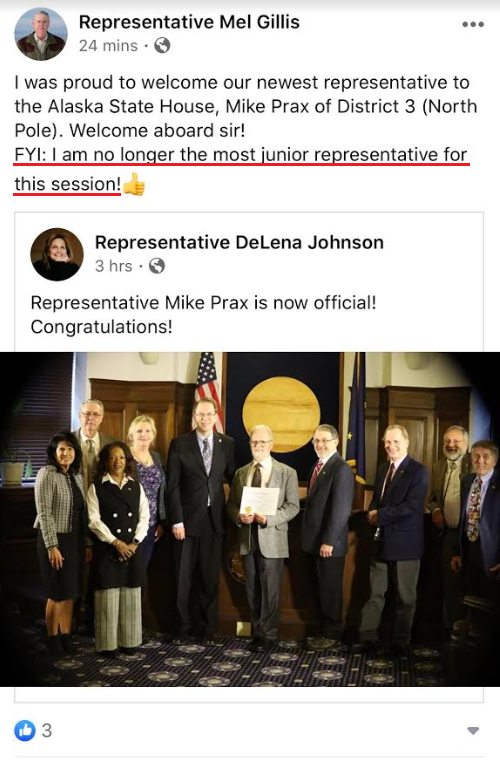 ***
So far Rep. Prax has received a warm welcome from his new colleagues. Here's Rep. Tarr teaching him how to vote just like her! 🙃 In addition to finding housing in Juneau, I hope Mike gets his official Rep. Facebook page up and running shortly. 👀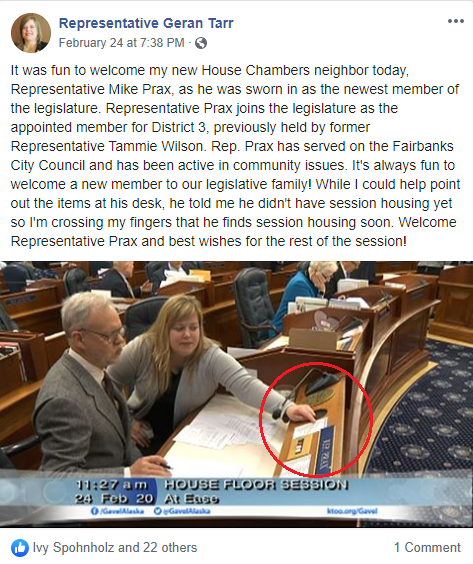 ***
Let's start this week off on the right foot. 🧦 Leave it to self proclaimed "ruthlessly cheap" Sen. Scott Kawasaki to get over 130 likes and 168 comments on a post about his holey socks. Love that Scott gave his mom and home ec teacher credit for his darning skills. Not so sure about the mental image of the first comment tho. 🙈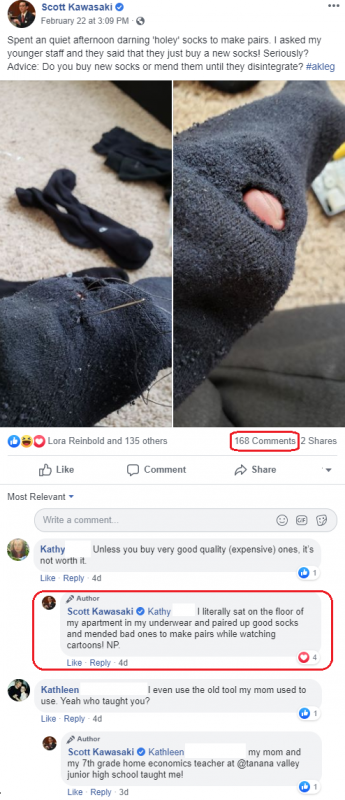 ***
Perhaps Sen. Kawasaki can teach Sen. David Wilson his darning skills. David can't afford any holes in his beekeeping suit.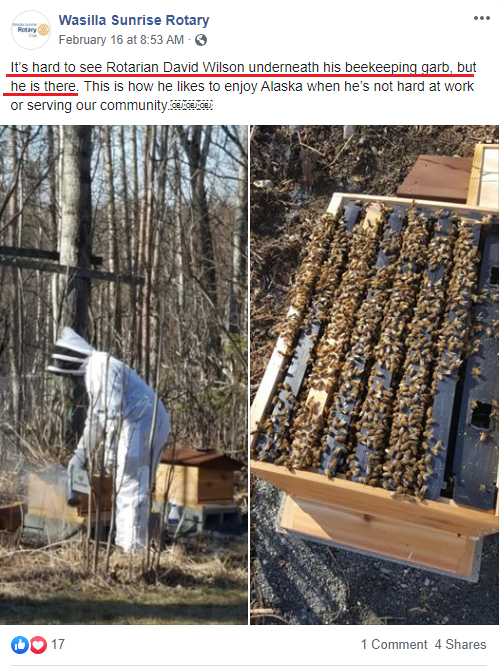 ***
Looks like Sen. Bill Wielechowski received some last minute testimony in favor of the Title IV alcohol reform bill.

Got my crab apple trees pruned today

Posted by Bill Wielechowski on Sunday, February 23, 2020
***
Rep. David Eastman has had quite the week – even by David Eastman standards. I'm going to cut the guy some slack. If you haven't heard, David and his wife Jennifer recently welcomed a new addition to the family. Welcome to the world, Timothy!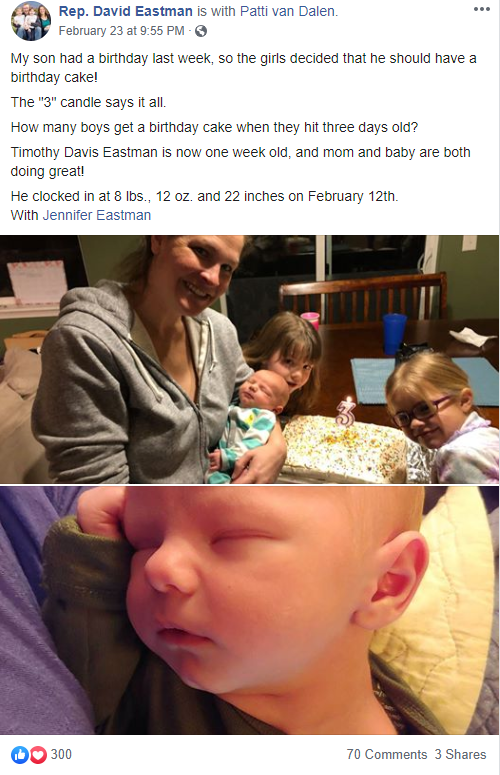 ***
Awwwww just a couple of newlyweds doing newlywed things. 👯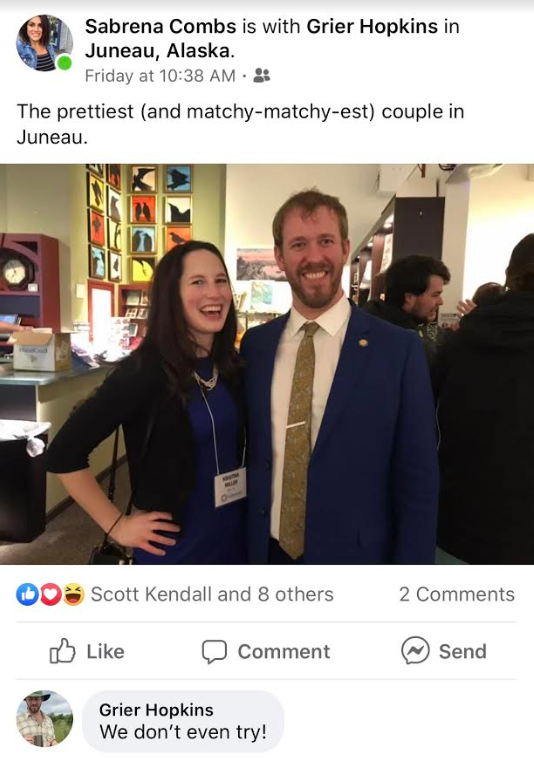 ***
Warm AK Stalker birthday wishes to Rep. Sara Rasmussen. It never ceases to amaze me just how many current legislators have family members who've previously served in Juneau. Still not as common as legislators that don't have jobs. 🤣🤷 Former Rep. Don Smith must be one proud grandpa.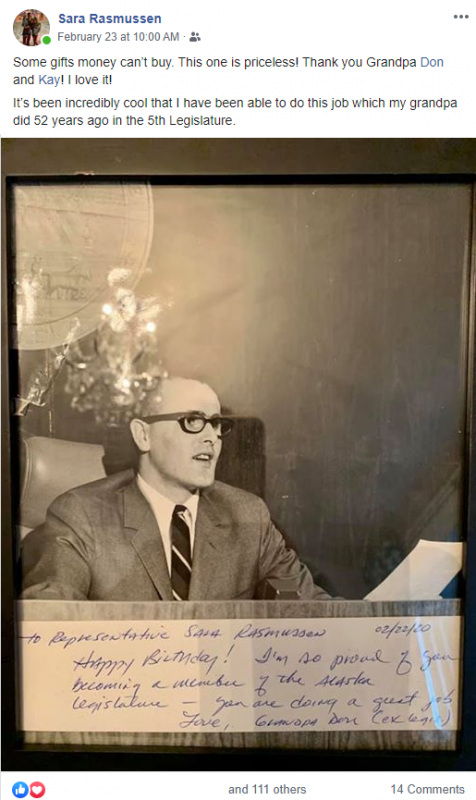 ***
Watch out Gov. Dunleavy! Might be a good idea to take a hundred or so steps forward. Don't give the Recall folks another infraction to add to their list.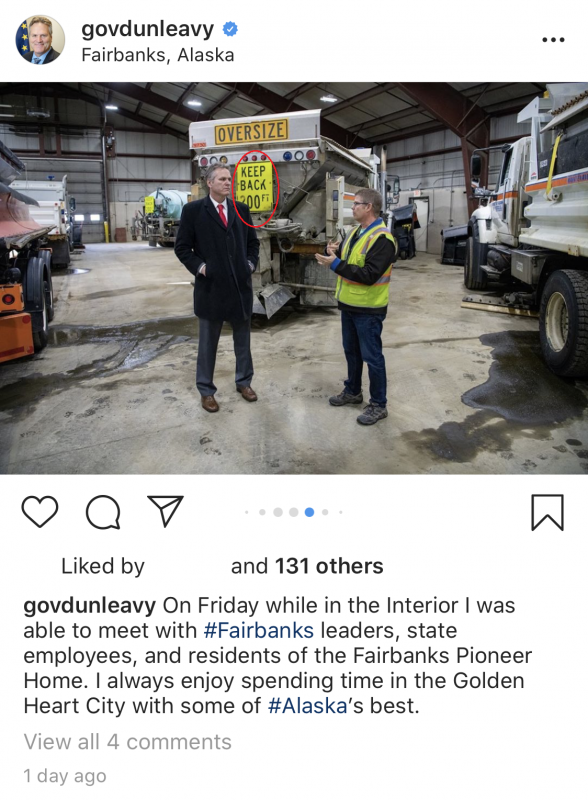 ***
DEC Commissioner, Jason Brune, had enough and carefully staged cut up his Chase credit card to show JP Morgan Chase who's boss.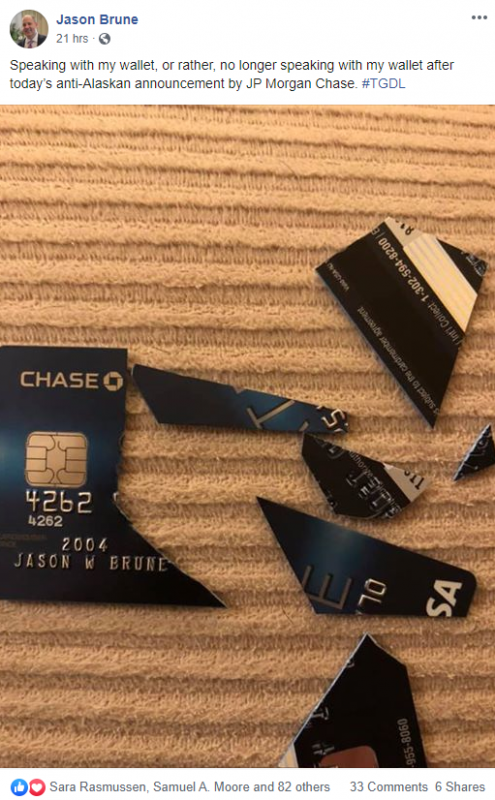 ***
One could almost say, 🎶"They had it coming"🎶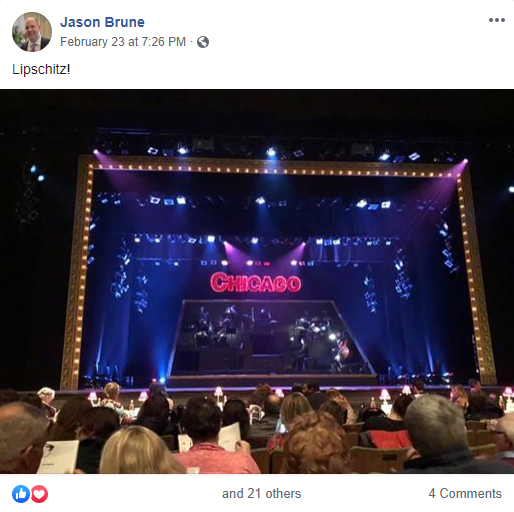 ***
Glad to see so many politicos out enjoying Anchorage Concert Association's production of Chicago this week. In addition to Commissioner Brune, Assemblymember Felix Rivera, Rep. Geran Tarr, and others were able to catch the show. #itsbetterlive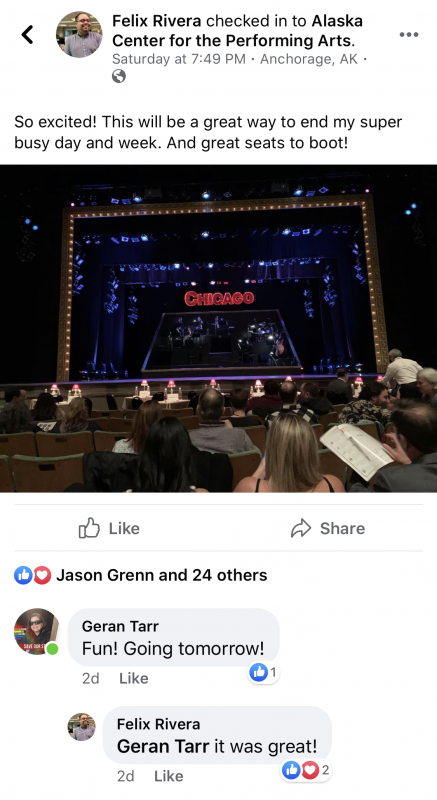 ***
Speaking of Felix, I'd like to report a murder. Candidate for Anchorage Assembly, Christine Hill, went on an absolutely savage attack against her opponent. 🔥🔥🔥 If you're interested in reading her entire post, click here. Honestly, she should have just left it as one sentence.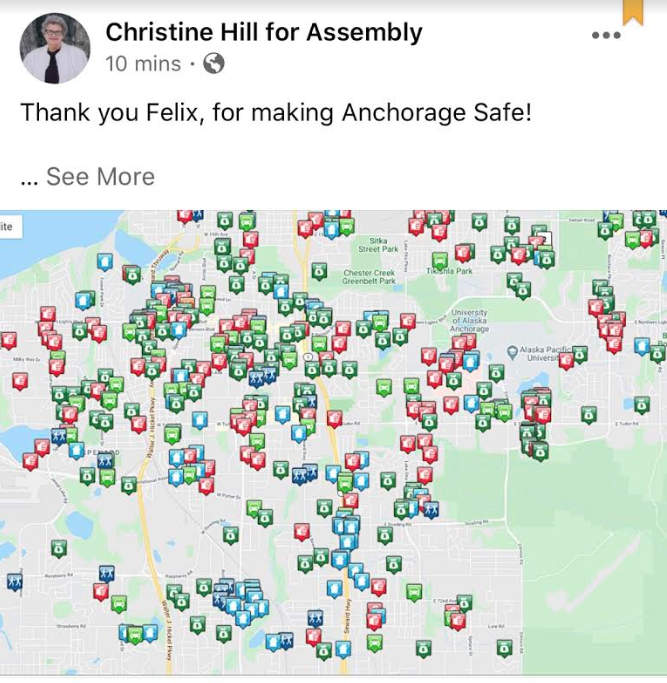 ***
Candidate for Anchorage Assembly, Rick Castillo, seems to be stuck in the past. Check out this link from his website to Anchorage's "current" Assembly members. Elvi! Harriet! Debbie! And Chris. 💛 Those were the days. I guess it's a good reminder to voters that Assemblymembers often go on to become legislators…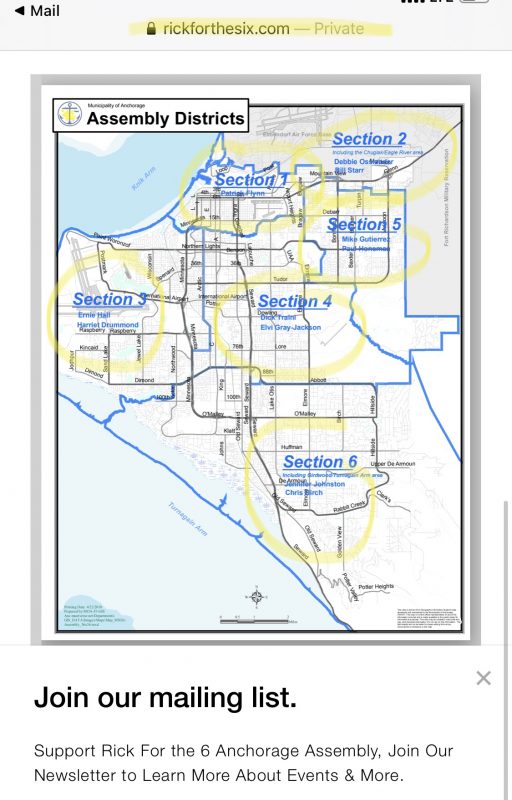 ***
Assemblymembers running for higher office isn't an Anchorage-only phenomenon. Fairbanks Assemblywoman Marna Sanford has filed a letter of intent to possibly run against Sen. John Coghill.
***
So far Marna has let me down. Does anyone else remember her announcement when she ran for Fairbanks Assembly? (The Stalker never forgets!) Fingers crossed Marna has an equally high energy announcement for her legislative race in the works.

***
👀
Could you imagine everyone's reaction if this was an all women's spin class and Jeff Landfield made this exact same comment? #cancelled 🤣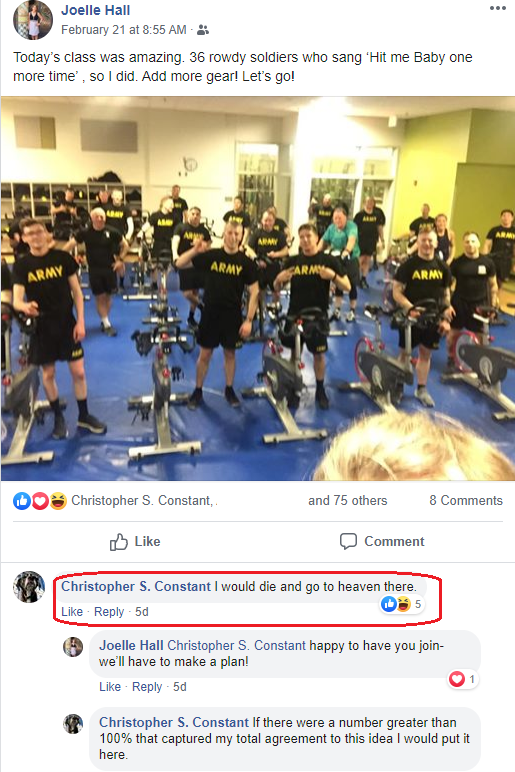 ***
Overheard in joint Resources meeting: Sen. Peter Micciche referring to Rep. Sara Rasmussen as Senator Sara Rasmussen!
***
Speaker Bryce Edgmon to Mike Prax as he was about to be officially sworn in, "You can still back out, it's not too late."
Mike Prax: "Nah, I'm good. "
***
Jeff Landfield introduces Palmer Councilwoman Sabrena Combs to someone at the Fairbanks Chamber reception in Juneau.
Fairbanks Chamber member: "Oh, is this your wife?"
Sabrena: "NOOOOOO!"
***
Bruce Schulte, District 24 chair, invites Sen. Natasha von Imhof to say a few words at the D23/24 convention.
Sen. von Imhof: "Do I have to?"
***
The Alaska Stalker was born and raised in Alaska, and lives in South Anchorage with her husband, daughter, son, and baby on the way. She is not Jeff Landfield.