Welcome to this edition of the Alaska Stalker, a lighthearted round up of the best and worst of Alaska's social media landscape.
***
If you enjoy the Alaska Stalker, please consider supporting working moms like me by sending in hot tips, overheards, and spotted ins. You can reach me at akstalker@alaskalandmine.com. As always, thanks for reading.
***
Not trying to brag or anything, but my gal pal Mary Peltola sent me not one, not two, but four valentines. 🥰💌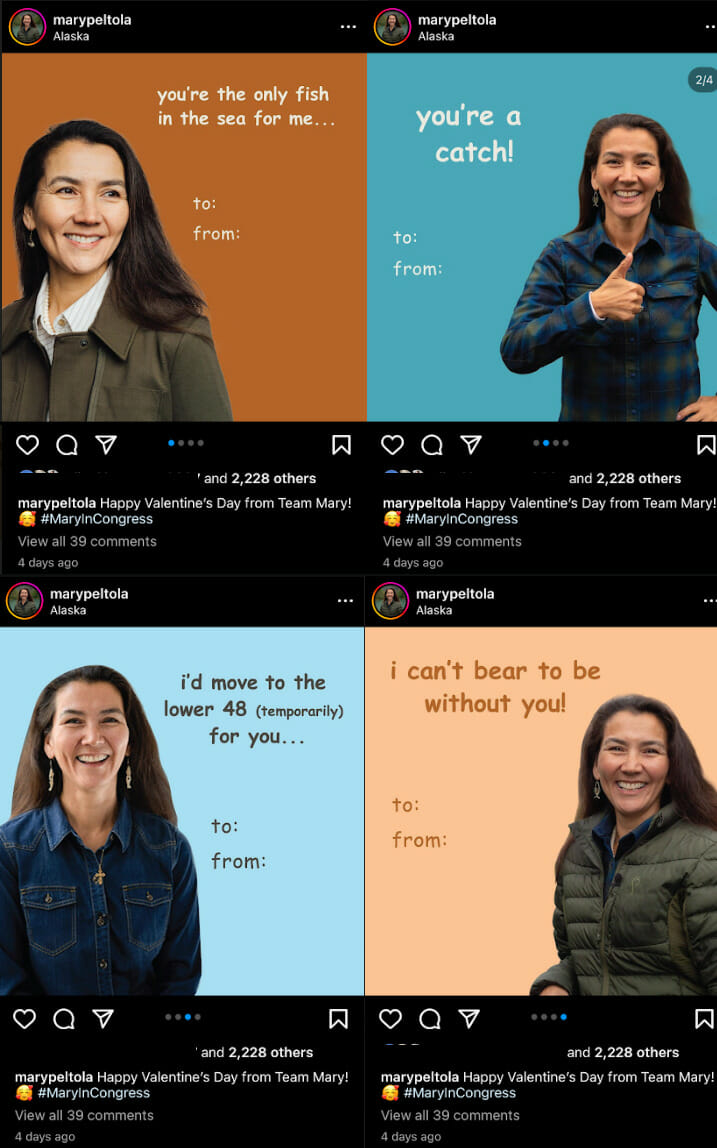 ***
Close your eyes. Imagine an Alaska where ranked choice voting doesn't exist and Sarah Palin won our lone congressional seat. Open your eyes and check out her special Valentine's Day message. Ouchy, poor Fauci! ❤️

***
Poor Rep. Sumner. All alone this Valentine's Day, without even his seat belt to hold him. Sad!
***
Honestly, I could have written an entire column with nothing but Sen. Scott Kawasaki's posts this week. First, he helped Cumtown trend on Twitter.

***
Then, Scott threw shade at House Finance on Instagram. Weak and bitter!

***
After drinking the finest public coffee in the Capitol, you can just imagine what happened next. Unfortunately, Sen. Kawasaki felt the urge to tell everyone about it. Scott, are you okay? 💩💩💩
***
LöL

***
I'm always impressed Rep. Cliff Groh is so comfortable in his own skin. Imagine thinking "Ah, yes. This is the perfect photo of me to send out to my district: poised, confidant, statesmanlike." I'm just glad Cliff finally found his match: a bosom-creepy-faced-buddy of a constituent to mean mug the camera with.

***
If Jennie is Yakko and Genieve is Dot, who is Wakko? For the record, I think that outfit is 🔥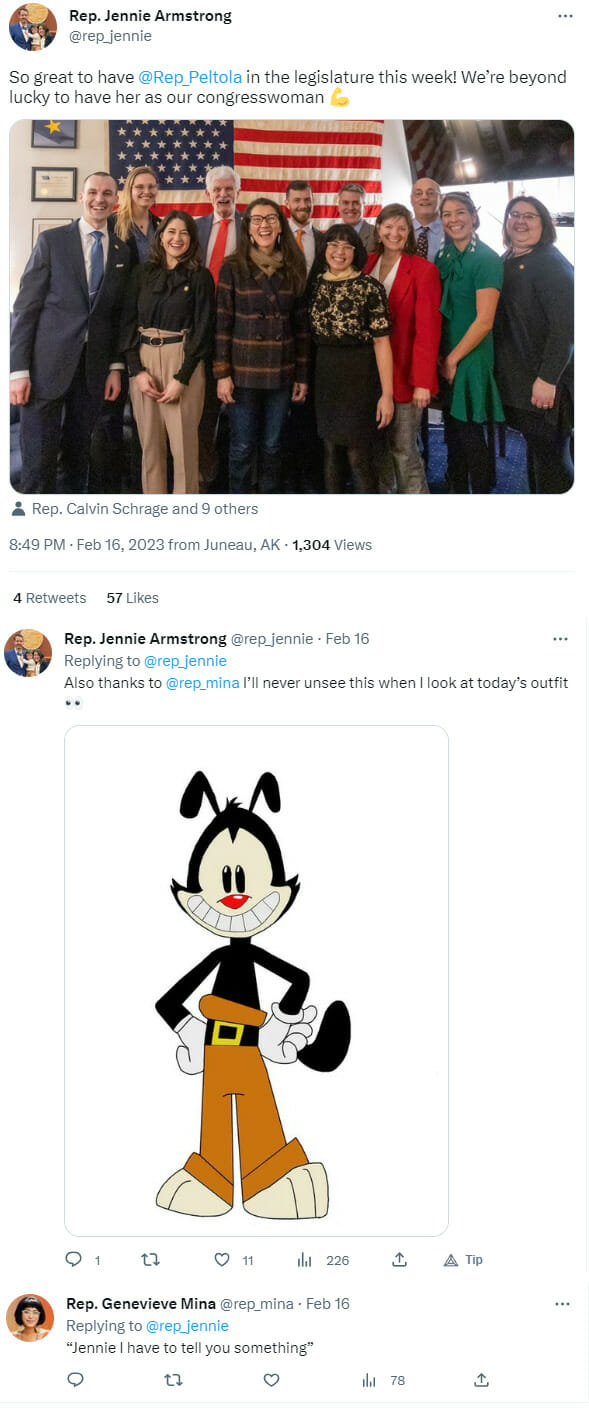 ***
I can't believe Sen. Giessel clawed her way back just to be doing her day job. She can find a vein, but can Cathy find the votes for a comprehensive fiscal plan?
***
For years former Sen. Roger Holland provided me with almost zero Stalker material. He's out of the Legislature barely a month and already making a big splash online.
***
It's still snowing in Anchorage, and George Martinez has officially become the second candidate running for Anchorage Assembly to dig out their street's fire hydrant. I challenge the remaining 15 to follow suit. Let's get to know the rest of the Anchorage Assembly candidates, shall we?

***
Curious but nervous to ask who writes South Anchorage candidate Zac Johnson's social media posts. It reads like the first sentence of a Savage Love submission. Will it hurt? What if I don't know what to say? Am I allowed to go to the backdoor? If it makes me more comfortable, can I bring a friend?

***
Okay, this mantle might be worse than Anna Brawley's. Creepy CLOWNS?! 🤡❌ Nope, I'm not setting foot into that fundraiser. I know I'm not alone. Can somecandidate please feature a normal mantle on their social media ASAP?

***
I am loving this Eastside vs. Westside fundraiser theme for George Martinez and Anna Brawley. Moderated by the neutral "Midtown" Meg Zaletel, natch. Anna better go with Brawl with Brawley for this one!!!

***
What can I say, I'm a sucker for a homegrown candidate. Is that her original T-bird letter jacket?!! Amazing.

***
Speaking of jackets, does Rachel Ries even own one? Legitimately concerned for her. 🥶

***
What's up with downtown Anchorage Assembly candidates and their lofty snowplow promises? While I will never forget the infamous Tasha get your snowplow mailer, John Trueblood's post is oddly enticing. Is that his machine? Will be plow me out after a big snow? HE HAS MY VOTE! 🤣

***
I know some of my takes are controversial, but hear me out: we need to *lower* the BSA. The Base Snow Allowance. I think Anchorage School Board member Pat Higgins would agree.

***
Wow! Did progressive Anchorage School Board Candidate Irene Boll just low key endorse conservative millennial Mark Anthony Cox against old timer and incumbent Andy Holleman?!


***
It's okay – in the same week Senator Löki Gale Tobin she/her (D-Anchorage) District I also called him an "education badass." I think that evens things out.
***
Once I became aware that Senator Löki Gale Tobin she/her (D-Anchorage) District I feels her existence is being denied if you spell or say her name incorrectly, I have strived to get it right. Good thing I've made an effort – I don't want her to yell at me on Twitter!
***
I had a question about education issues, specifically pre-K in Alaska, and reached out via email. I emailed Sen.Löki.Tobin@akleg.gov and it bounced back. I even double checked that I used the umlaut! Can someone please tell me what I'm doing wrong? I don't want to accidently commit an e-microaggression. 🙏

***
Overheard in Juneau: A senator that goes by one name exclaiming, "I'm so tired of these f*cking masks!"
***
Overheard at the Capitol: A hot, manly fireman talking about how he and his wife spend their Saturday nights: reading the Alaska Stalker together! YES!!!
***
Overheard in Juneau: Reps talking about the best ways to lose voters. Apparently, bringing up taxes is #1.
***
Overheard at a popular restaurant in South Anchorage:
"Whose white cis husband do you think is richer, Sen. Tobin or Rep. Armstrong?"
After much debate and consulting of APOC reports, they deemed Jennie has the slight edge. Those snake skin boots don't lie!
***
Overheard: One new staffer thought Forrest Wolfe *WON* his race. Confusion ensued when the staffer kept saying "Representative Wolfe" in Rep. Stanley Wright's office. LOL
***
Spotted in Juneau: Former Sen. Josh Revak being welcomed into the Democratic staffer club with a plate of celery (no more red meat!) and a warning that he must wear Birkenstocks from now on. Congresswomen Peltola was watching the whole thing laughing.
***
Spotted at the Capitol: Former Sen. Roger Holland wearing a U.S. Coast Guard uniform. Not spotted: Holland in Giessel's office.
***
Spotted in Juneau: Sen. Matt Claman running up the hill from the AFN reception with a big plate of food, right as speeches were starting. "Pro move," another senator remarked.
***
Spotted at the AFN reception: David Dunsmore having trouble finding the restroom. As he became increasingly more desperate, he asked Juneauite Sen. Kiehl if he knew. Half the room got involved in the search and people started clapping and cheering him on when he made the long awkward walk up the spiral staircase to where the restrooms were located.
***
Spotted: Someone mistaking staffer Nate Graham for Rep. David Eastman. AGAIN.
***
Spotted: Sen. Click Bishop sleeping in Senate Resources with his head horizontal, almost resting on co-chair Sen. Geissel's shoulder. DNR better liven up those presentations!
***
Spotted: Rep. Stapp signing karaoke. Good stage presence, solid vocals and decent song selection. 7/10.
***
Spotted on the Senate side, 1st floor twice in one week: Governor Mike Dunleavy.
***
Spotted: Paramedics attending to Rep. Andy Josephson after he passed out at the health fair.
***
The Alaska Stalker was born and raised in Alaska. She lives in South Anchorage with her husband and three young children. She is not Jeff Landfield.