Welcome to this week's edition of the Alaska Stalker, a lighthearted round up of the best and worst of Alaska's social media landscape.
***
If you enjoy the Alaska Stalker, please consider supporting working moms like me by sending in hot tips, overheards, and spotted ins. You can reach me at [email protected] As always, thanks for reading.
***
I hope everyone enjoyed the Thanksgiving holiday. As usual, our elected officials shared a wide array of Thanksgiving related posts. Here's a short list of our favorites. Sen. Mike Shower posted this boomerific meme on his official State Senator Facebook page.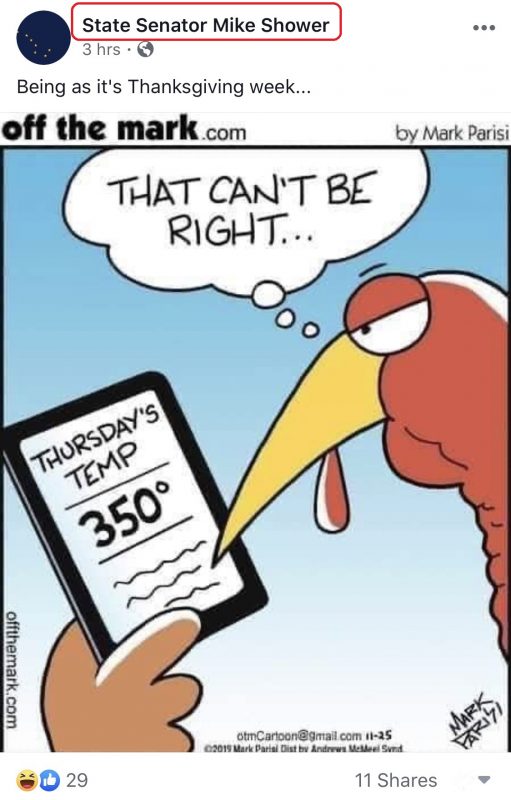 ***
Check out this now deleted low tech Thanksgiving greeting from Sen. Lora Reinbold. Yes, she actually posted a picture of her computer screen to her official Facebook page. But my favorite part is the open tabs at the top of the screen: one is figuring out graphic design, and the other is public domain turkeys.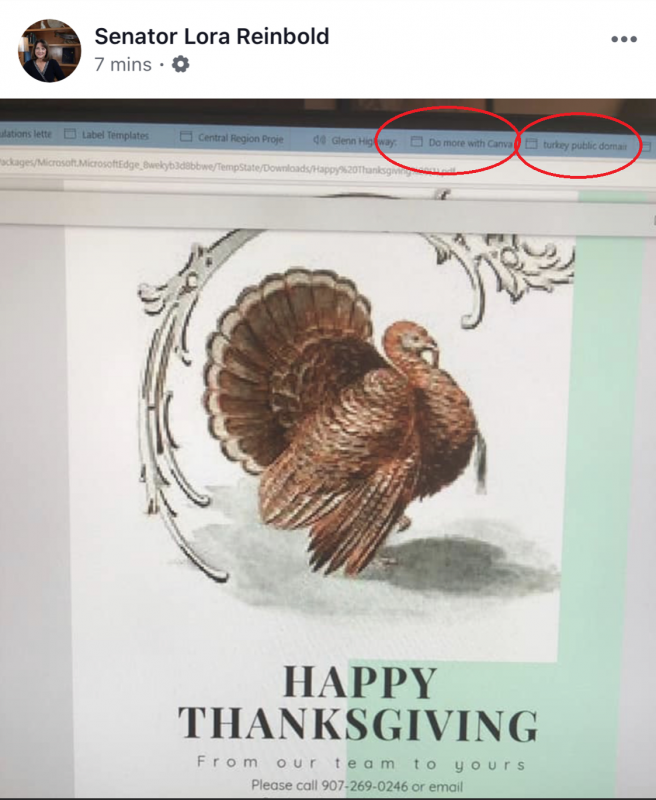 ***
Sen. Josh Revak is every dad on Thanksgiving: forcing everyone to make memories only to fall asleep right in the middle of everything. ??

***
Anchorage Mayor Ethan Berkowitz channeled President Trump. Only, instead of two scoops, he had two turkeys. Gobble gobble. ??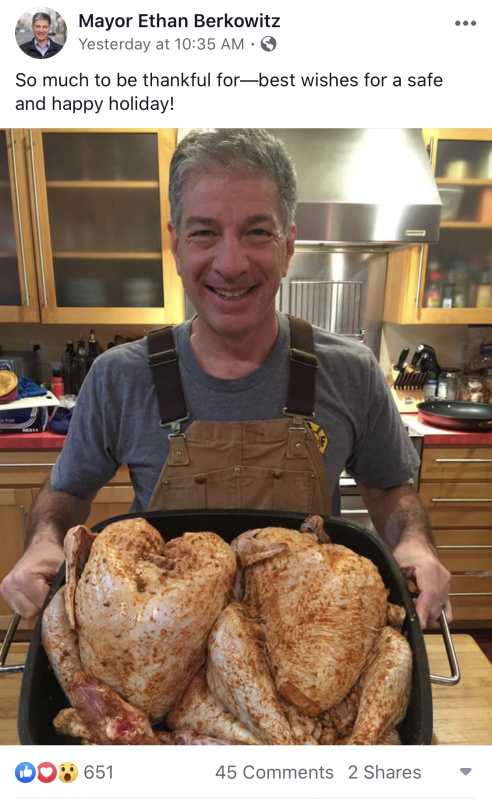 ***
Part-owner of Great Northern Cannabis, former Rep. Andrew Halcro, posted his annual reminder to "know before you go… marijuana is legal in Alaska" This year a couple notable folks chimed in with that cannabis gravy recipe making the rounds.

***
I can only hope that one day Great Northern Cannabis will get to celebrate their 8 millionth ounce, just as Kinross Gold did in November.

***
Sen. Lisa Murkowski participated in the annual "Sleep Out" fundraiser for Covenant House, where politicos, executives, and other folks sleep outside overnight to raise awareness and support for homeless youth. Lisa balked at the "fancy" tent set up and instead slept in near freezing temperatures in a large Home Depot box with an Alaskan Flag for a door.

***
Warm AK Stalker birthday wishes to Sen. Dan Sullivan's father-in-law, Bud Fate. Bud turned 90 over the weekend. Wow, what a wonderful life! ??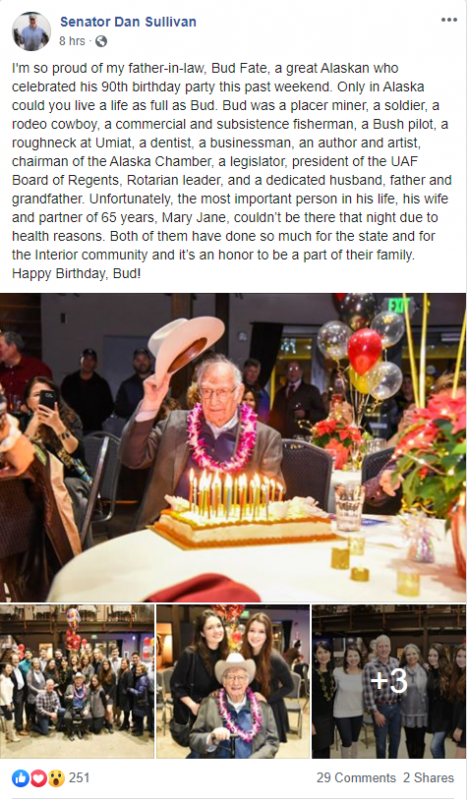 ***
Gov. Mike Dunleavy celebrated his one year anniversary as governor by pledging to do a better job at communicating with the public. So far, this is one promise he's kept. Three dozen combined Facebook, Twitter, and Instagram posts in 24 hours seems a bit excessive. Slow down, Mike! But my fav was when he Tweeted at Elon Musk and Tesla on Twitter. Does Mike want an official State of Alaska Cybertruck?
***
Challenge accepted, Rep. Shaw.
COME TO THE ZOO, MEET YOUR ELECTED OFFICIALS: If you live in District M, you otter check this event out, it's gonna be a hoot! Zoo or false: does District M have a new representative and senator?
We all know Juneau's the real zoo, but don't miss your chance to address the elephants in the room and let them know how you feel
.?

***
A friendly AK Stalker congratulations to newly-confirmed Rep. Mel Gillis. While he doesn't have his official #akleg social media set up yet, we might get a hint of what's to come from his personal page. The last public Facebook post was from August. Scroll to the bottom of the column to find out how Mel voted in his is Trump a racist or not poll. ??

***
Girl dad and good sport, Sen. Peter Micciche, let his wallet go at Disney World over the holiday weekend. Peter, I know you're not a Disney guy but where are your Mickey Mouse ears?! °o° ?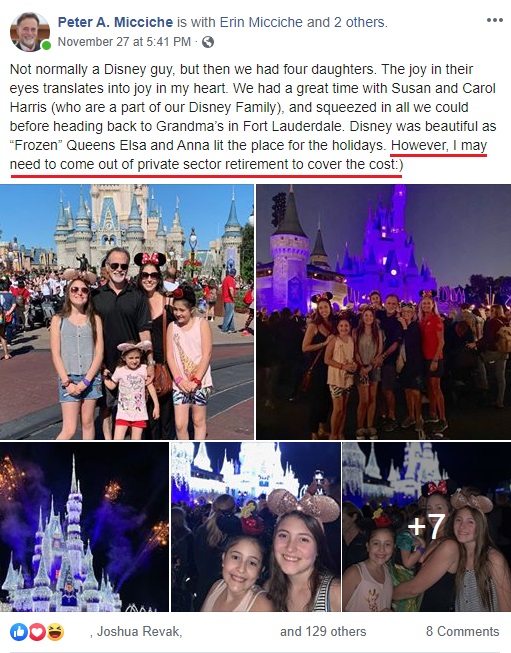 ***
Sen. Jesse Kiehl is getting into the holiday spirit with a visit at work from Santa Claus. ? No word on if Jesse was naughty or nice this year.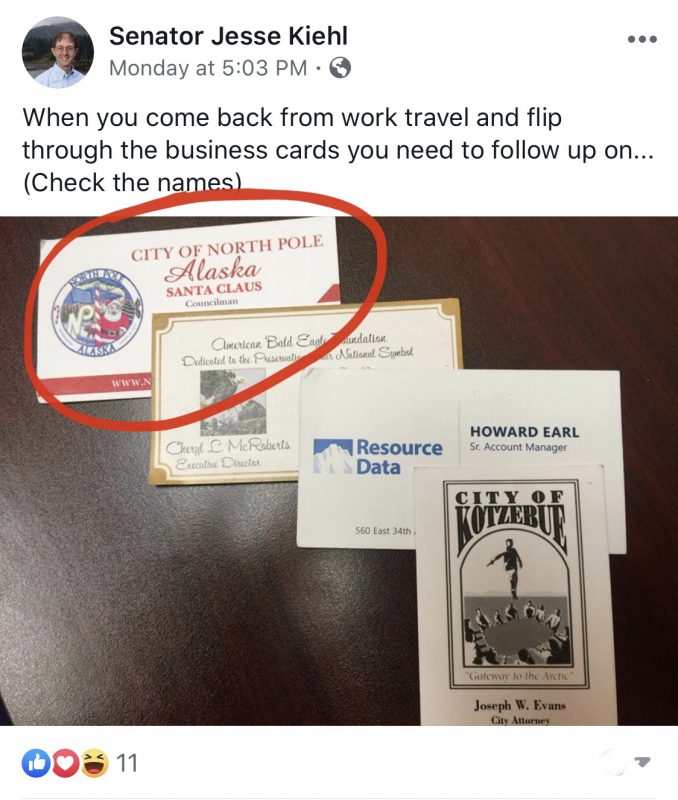 ***
You would think with Christmas just around the corner Santa–excuse me, I mean City Councilman Claus, would be too busy for politicking. But somehow he managed business trips from North Pole to Juneau and Anchorage. Those suspenders tho!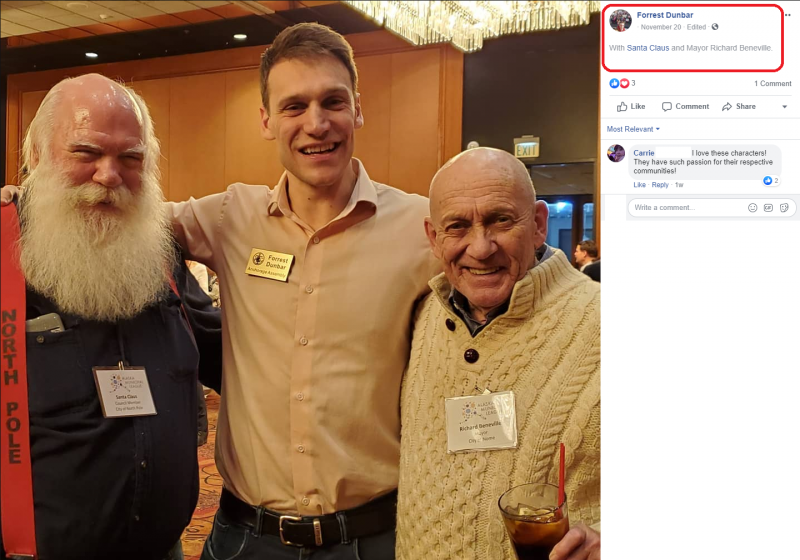 ***
Spotted at Catalyst Cannabis Co.: With so many of Anchorage's cannabis shops clustered downtown, you'd think Assemblymember Christopher Constant would keep it in his district. At least he's shopping local.

***
And now a friendly holiday card reminder from former Commissioner of Administration, Leslie Ridle. ❤️?
***
Please heed Leslie's warning; don't let Star the reindeer become sausage this Christmas season. Even one apostrophe might be one too many. Just look at that face. Also, don't miss DNR Communications Director Dan Saddler's cringe worthy comment on Jeff Landfield's Star selfie. ?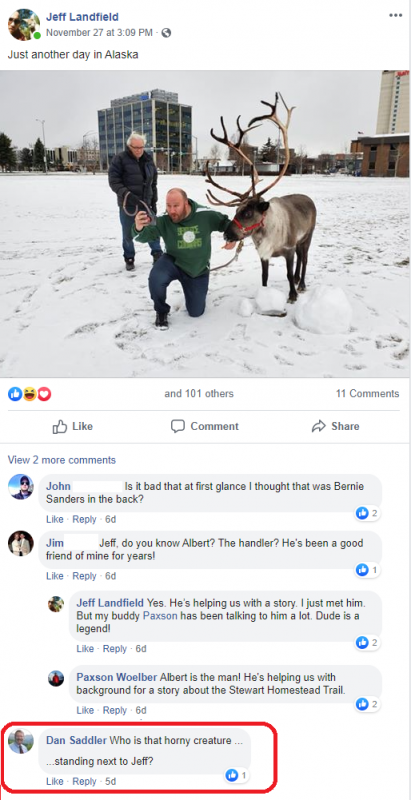 ***
It's not everyday Landmine Editor-In-Chief, Jeff Landfield, and Creative Director, Paxson Woelber, make the top post of Reddit's Anchorage subreddit. If you haven't already read the newest special feature about trail and park access on the Anchorage Hillside, click here. Either way, don't miss the hysterically creepy trailcam footage of Jeff, Paxson, the late Senator Chris Birch, and Assemblymember Christopher Constant "trespassing" AKA hiking the Stewart Trail. That Amber Lee for House campaign sign cameo tho. ?

***
Spotted serving meals at the Menard Sports Center on Thanksgiving: Gov. Michael J. Dunleavy.
***
Stalker Scoop: The BBC was in town last week conducting interviews about the PFD, and likening it to Universal Basic Income for an upcoming story. The Governor declined to participate, but I hear Sen. Bill Wielechowski, Sen. Natasha von Imhof, Rep. Matt Claman, Former Gov. Bill Walker, UAA President Jim Johnsen, attorney Cliff Groh, and ISER were interviewed.
***
Overheard on the streets of Juneau right outside Amalga Distillery: "We're having a statewide legislative information office staff get together in here right now and when he (nod to David Teal standing next to her) walks in, it's going to be like Elvis!"
***
And now for Rep. Mel Gillis' answer to the question, "Do you think Trump is a racist?" There you have it, folks.

***
The Alaska Stalker was born and raised in Alaska, and lives in South Anchorage with her husband, daughter, and son. She is not Jeff Landfield.