Welcome to this edition of the Alaska Stalker, a lighthearted round up of the best and worst of Alaska's social media landscape.
***
If you enjoy the Alaska Stalker, please consider supporting working moms like me by sending in hot tips, overheards, and spotted ins. You can reach me at akstalker@alaskalandmine.com. As always, thanks for reading.
***
We'll keep it short and sweet this week. If you still need a gift for Christmas, you're in luck! The Stalker has put together a last minute gift guide for all the favorite politicos in your life. While a full PFD gift card, bargain bin yellow-blazer, and proud to be Campbell Lake Riff Raff reusable bag are all good choices, we picked our top seven gifts that are sure to please even the most curmudgeonly of statesmen.
***
First up: a bloody caribou heart. Have a policy disagreement with someone? Throw a bloody caribou heart at them and their spouse! That will surely make them see the error of their ways. Stalker pro tip: while a bloody caribou heart is quite the statement piece, secret tapes of rich business executives saying the quiet part out loud are a great addition to any audio library. The latter is much more effective in achieving any policy goals.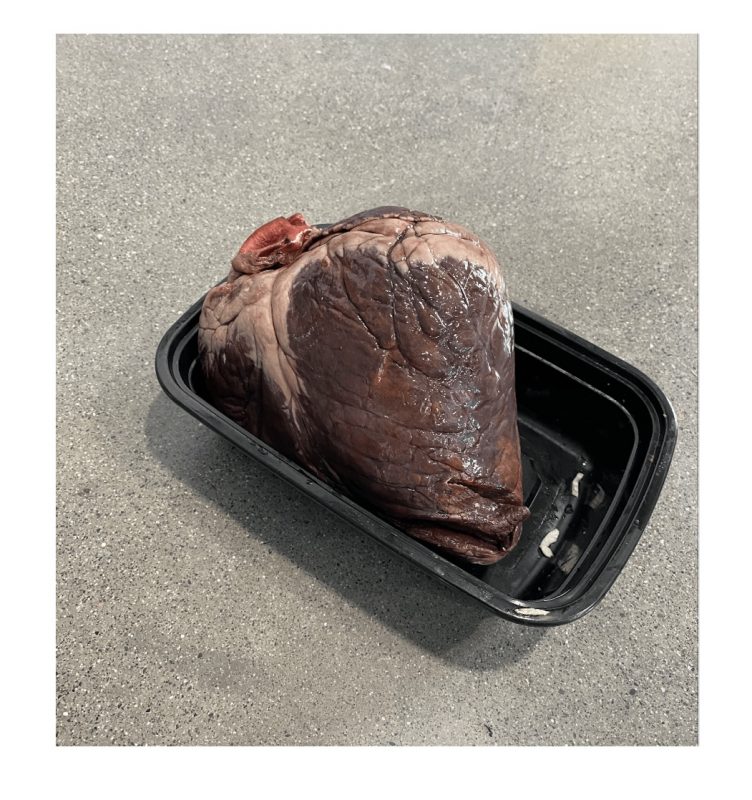 ***
Next up: Booze infused cookies! While we are still processing the scandal that shook Alaska politics, there was one bright spot — now everyone knows booze infused cookies are a thing. While it's important to support local businesses, this might be a good DIY gift. Just don't forget to test the batter! 🍪🍹🤪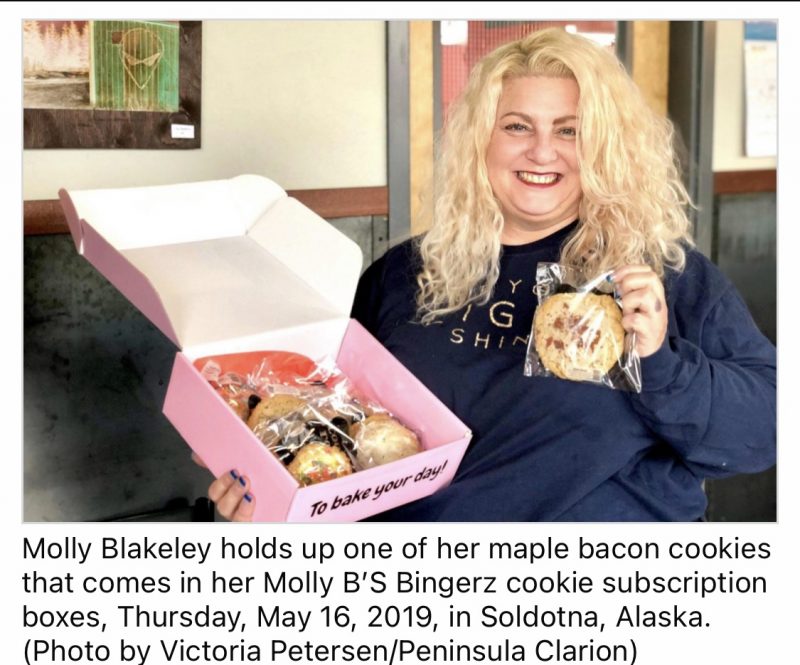 ***
Need a gift for the politico that has it all? Buy them Stephen Duplantis' "Sundance 880 Majesta" hot tub! A bargain at $3,000! Note: Jeff Landfield is not included. But I bet it wouldn't take much to get him in there!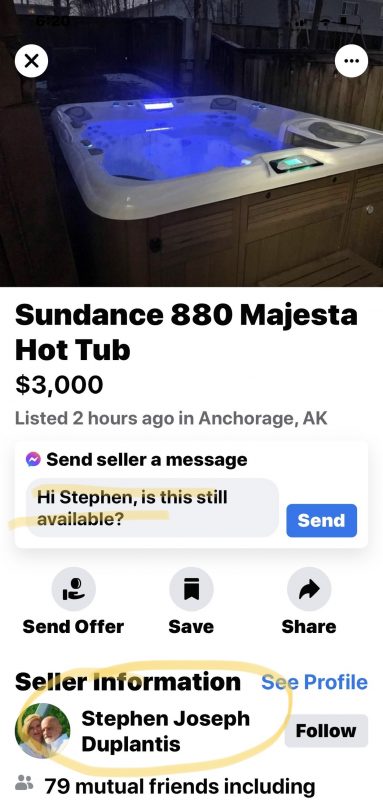 ***
With all the rumors flying around, it's hard to know for sure which senators would be a good fit for this blast from the past cap, updated for 2020. Purchase at your own risk!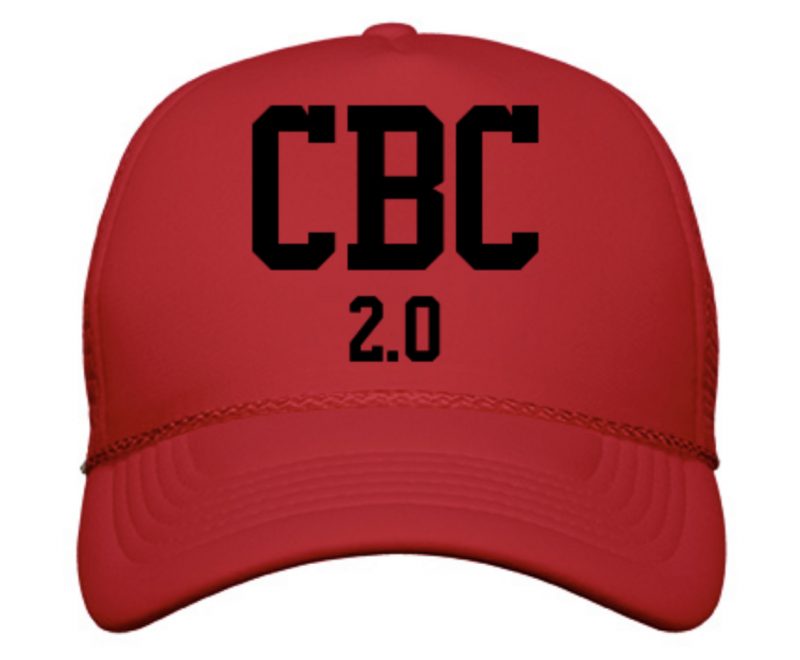 ***
Do you or a friend need a bathroom remodel? Does someone you know have any trees that need to be cut down with a giant chainsaw? Perhaps you can work something out with the Hunker Down Honey Do, Sen. Peter Micciche. While I hear rates are reasonable, his schedule gets a bit tight at the end of January.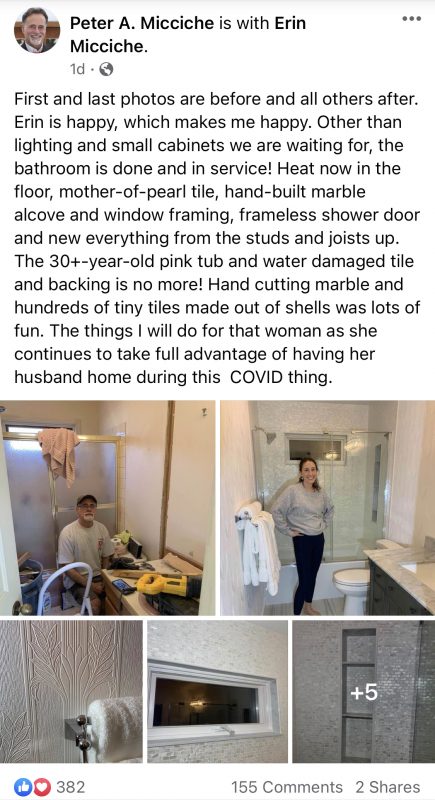 ***
If you can get your hands on one of Rep. Sara Hannan's holiday cards, you can repurpose it for your loved ones into whimsical holiday ornaments like Madam Cooper.
*Checks Madam's Twitter bio* Nashville's Rodeo Queen of Burlesque. Vagabonding til the stage lights come back up. Songwriter, Entertainer, Sex Columnist, Witch. Daaaaang. Madam Cooper received the official Representative Sara Hannan account re-Tweet and everything. I highly recommend checking out Madam's Twitter (and probably Only Fans) ASAP! 💅🍑🔥
***
While the Landmine may have beat you to it, I urge everyone to book former Governor Sarah Palin on Cameo. Girl does NOT disappoint! 💁‍♀️ $125 per video is a bargain! I can think of a dozen people off the top of my head that this gift would be perfect for, but my one true Christmas wish this year is that someone buys a Sarah Palin Cameo for Andrew Halcro. 🙏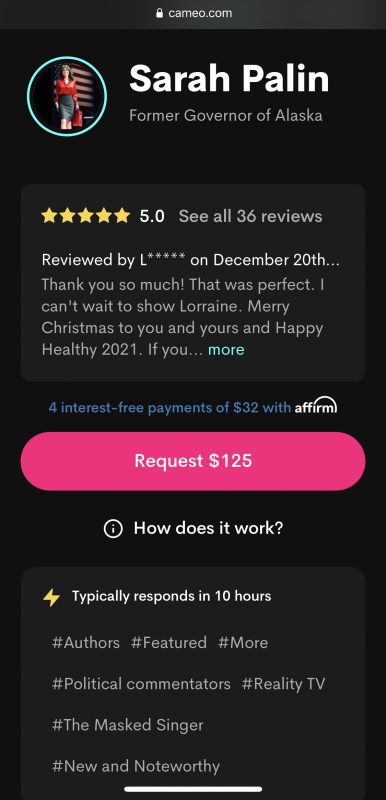 ***
A friendly Stalker thank you Commissioner Kelly Tshibaka for reminding us to support local businesses this holiday season. Like Costco and Carrs Safeway. 🤗😳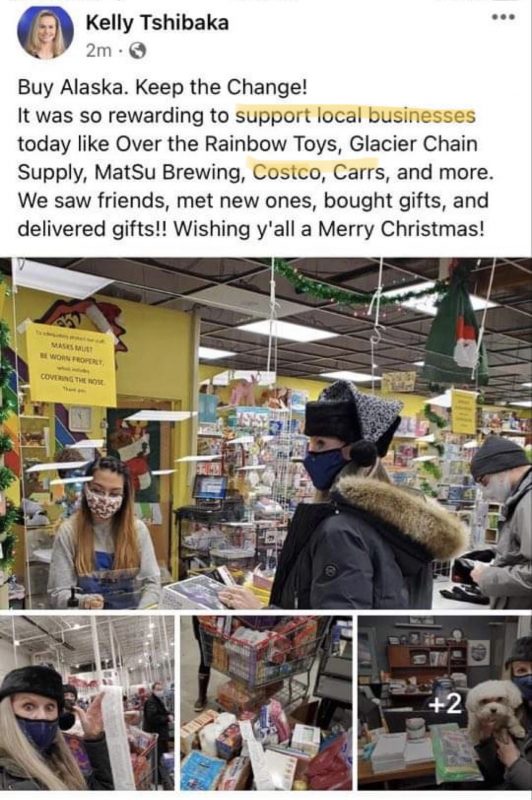 ***
Merry Christmas, ya'll. We'll be back with the usual tea in 2021. Don't forget to send in those hot tips!
***
The Alaska Stalker was born and raised in Alaska. She lives bear free in South Anchorage with her husband, daughter, son, newborn, and Covid-19 antibodies. She is not Jeff Landfield. Merry Christmas!