Welcome to this week's edition of the Alaska Stalker, a lighthearted round up of the best and worst of Alaska's social media landscape.
***
If you enjoy the Alaska Stalker, please consider supporting working moms like me by sending in hot tips, overheards, and spotted ins. You can reach me at akstalker@alaskalandmine.com. As always, thanks for reading.
***
Hard to believe it's the last AK Stalker column before the new year. I hope politicos and non-politicos alike have a relaxing and joyous holiday season filled with family and friends. Glad to see Former Gov. Sarah Palin back to her old corny-joke lovin' self on Instagram.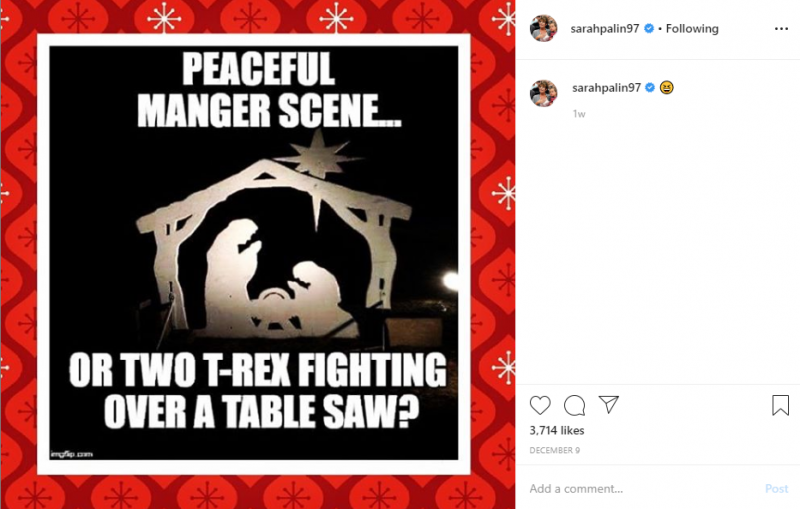 ***
Gov. Mike Dunleavy sent out his annual Christmas greeting. I love that his official Christmas card photo was clearly taken with an iPhone in bad lighting. Governors — they're just like us!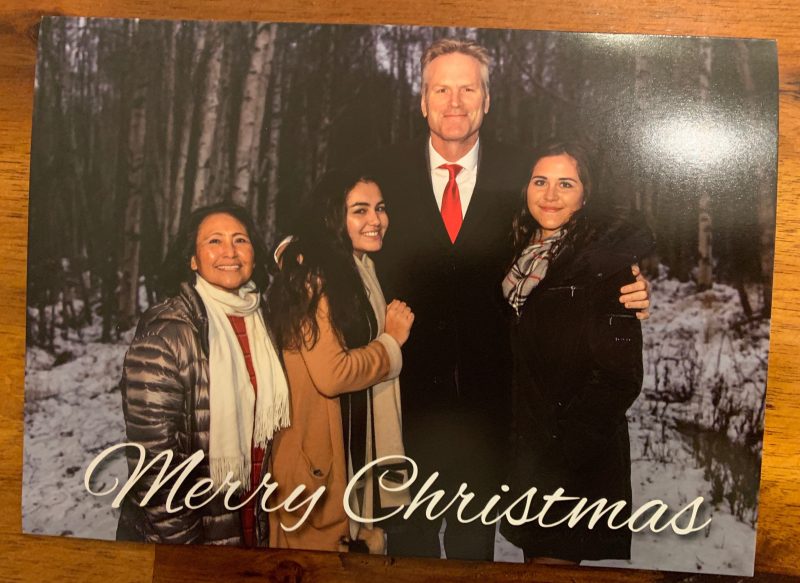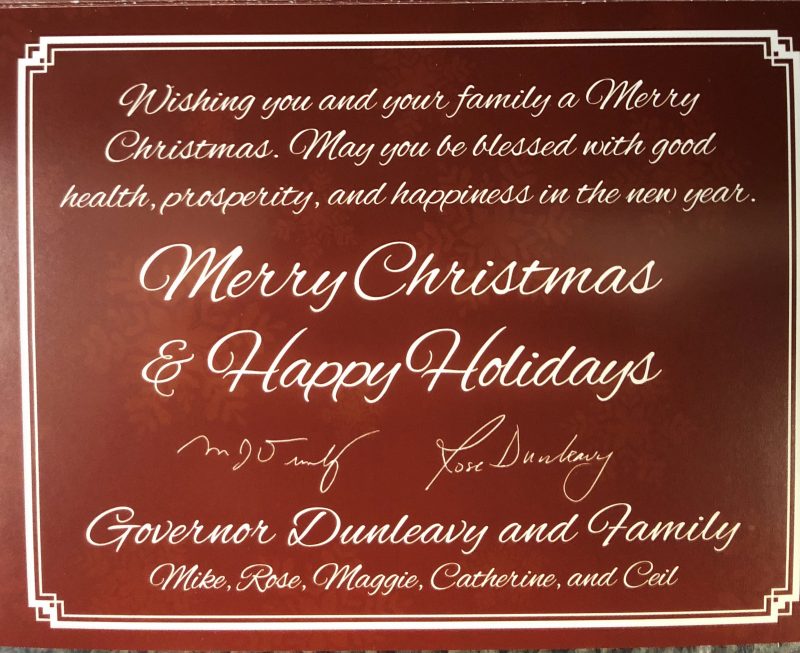 ***
Lt. Gov Kevin Meyer stayed 100% on brand (goofball proud-dog-dad) with this cute card of him, his wife Marty, and their fur babies Matty and Coco. ??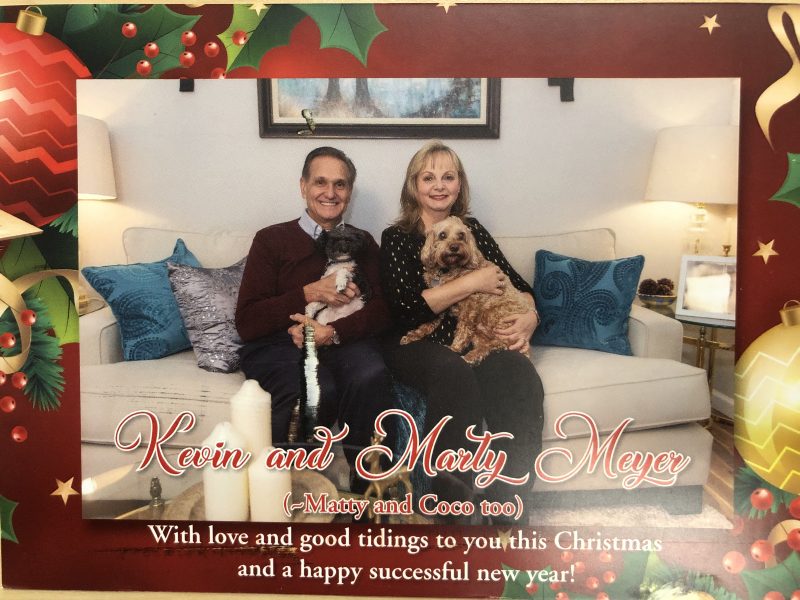 ***
"Heavy Kevy" had a weird week on the internet. ?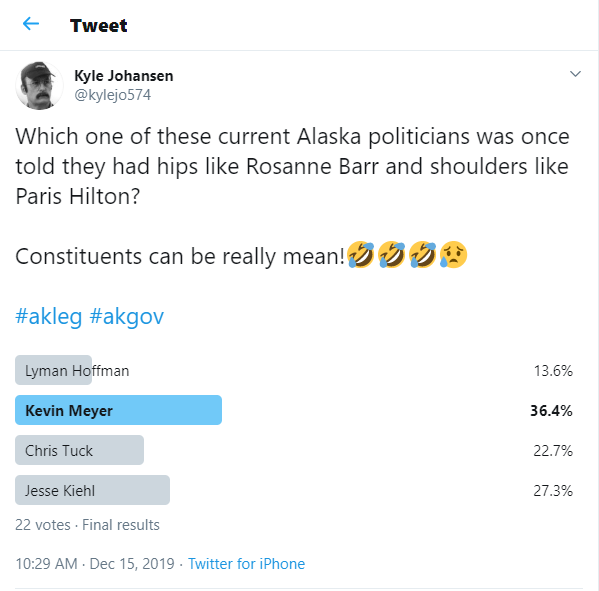 ***
Former Sen. Mark Begich had one of our favorite cards this year. Who hasn't posed in front of the blue piano at the Anchorage Museum this year? #relatable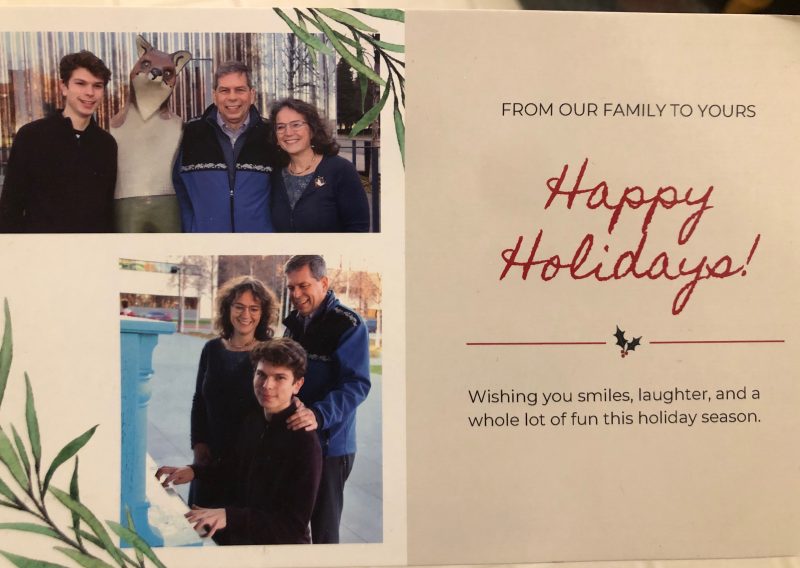 ***
Mark has been a lot of places this week: our mailboxes, the airwaves (see our overheards below) and breaking another long silence on Twitter. Check out this tweet joking about Alaska/Trump/Russia. Someone should tell Mark we've all moved on to Ukraine.
***
Maybe I'm on the naughty list, but there just didn't seem to be as many Christmas cards floating around this year. Looks like some legislators are updating their profile pics to Merry Christmas and calling it good. Hey, at least it's eco-friendly!

***
Does AG Kevin Clarkson wear a full suit and tie to bed, or does he not have any Christmas spirit? ? h/t to @lruskin for the lolz.
***
In case you missed it, Sen. Dan Sullivan got the Complete and Total Endorsement tweetment from President Donald Trump.
***
The Alaska delegation really stepped it up in D.C. this weekend. Dan and Don look dapper in their duds, but Lisa's dress is ?.

***
I do love a good holiday party fashion photo op. Lottsfeldt's red velvet "no war on Christmas" Santa suit tho. ❤️?❤️?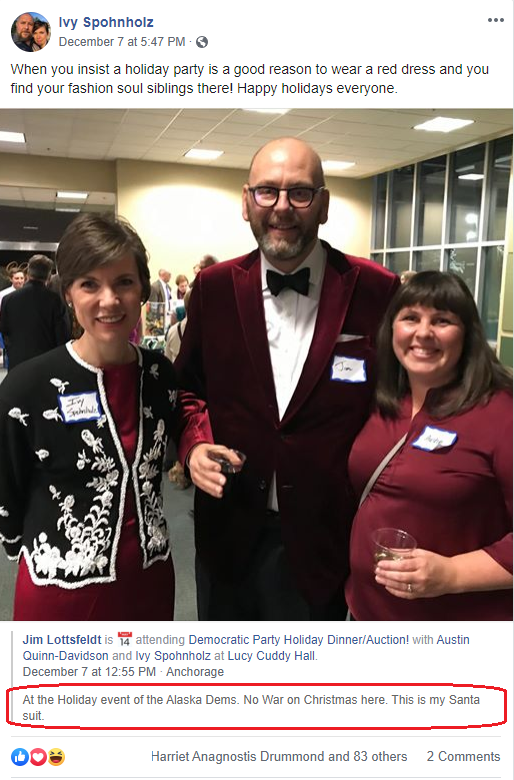 ***
Happy 31st anniversary to avid Stalker reader, Sen. Lora Reinbold! Check out these sweet messages from colleagues and friends.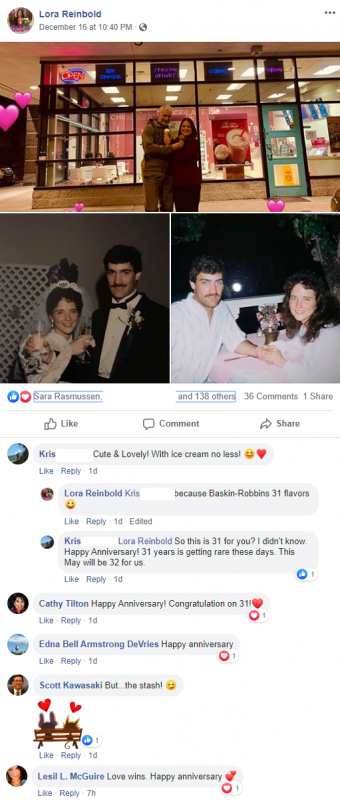 ***
Of course Sen. Shelley Hughes has a Christmas themed "I filed" post.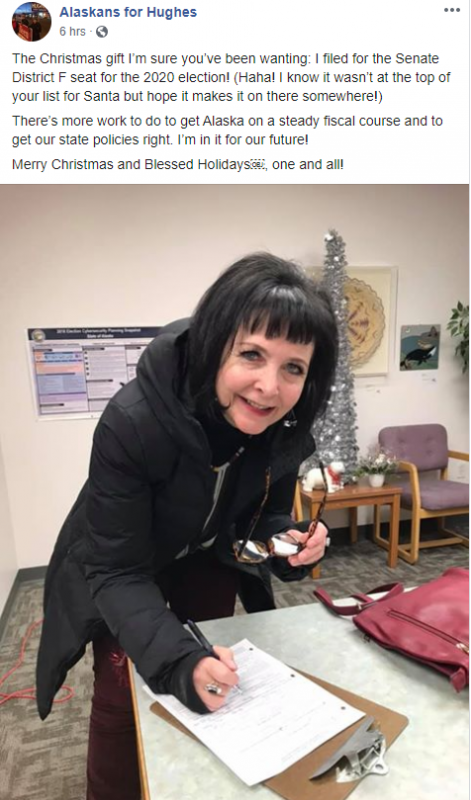 ***
"Elite member" Rep. Jonathan Kreiss-Tomkins made the Alaska Airlines blog for brokering a deal between Seattle Chocolate Company's jcoco bars and Sitka's Alaska Pure Sea Salt. Can't wait to try an Alaska Smoked Sea Salt dark chocolate jcoco bar when I fly to Juneau next year. ?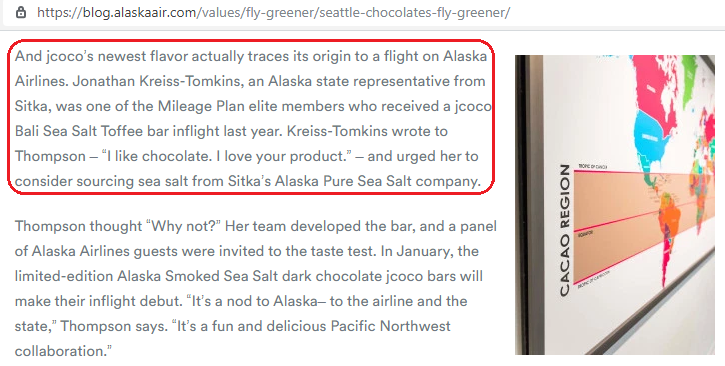 ***
The Anchorage Assembly had a politically charged week. First, they decided to reintroduce an alcohol tax that failed spectacularly last year. Assemblymember Felix Rivera is looking forward to spirited discussion about the new tax proposal, but I'm just looking forward to him going on another Facebook bender "field experiment" on the impact of proposed alcohol taxes in Anchorage.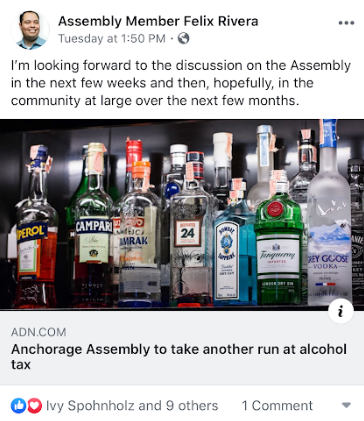 ***
Here's a refresher of Felix's amazingly tone deaf but high BAC journey.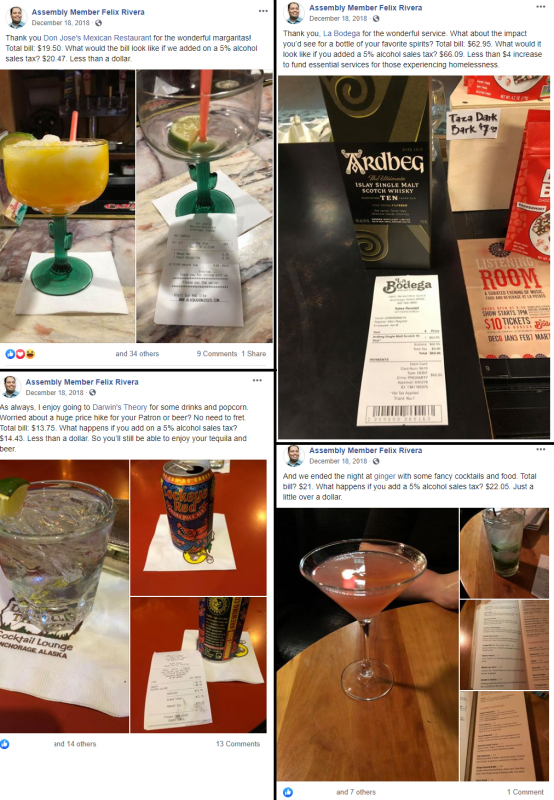 ***
After an unusually intense Assembly meeting, Assemblymember Christopher Constant blew off some steam trolling folks in the comments on Facebook.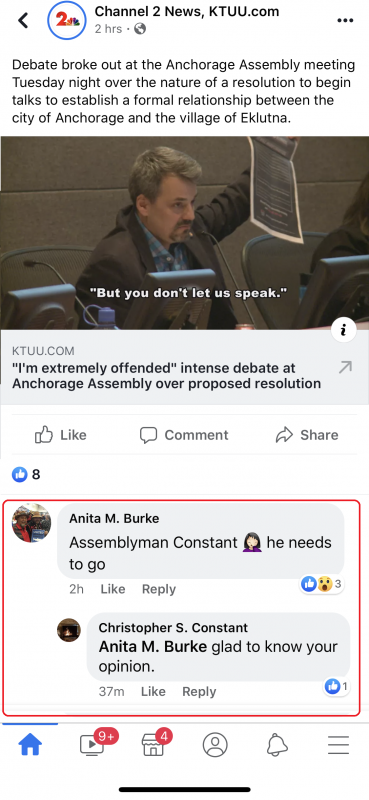 ***
Uh oh, Assemblymember John Weddleton, are you sure that blender is at least fifteen-years old? Either way, I'm glad John's finally found a place to put Chris' Assembly resolutions.

***
Anchorage Assemblymembers Meg and Felix sent out a joint Christmas card this year. Don't fret; it was an e-card. Meg would never permit unneeded paper waste. ♻️ Nice Canva template!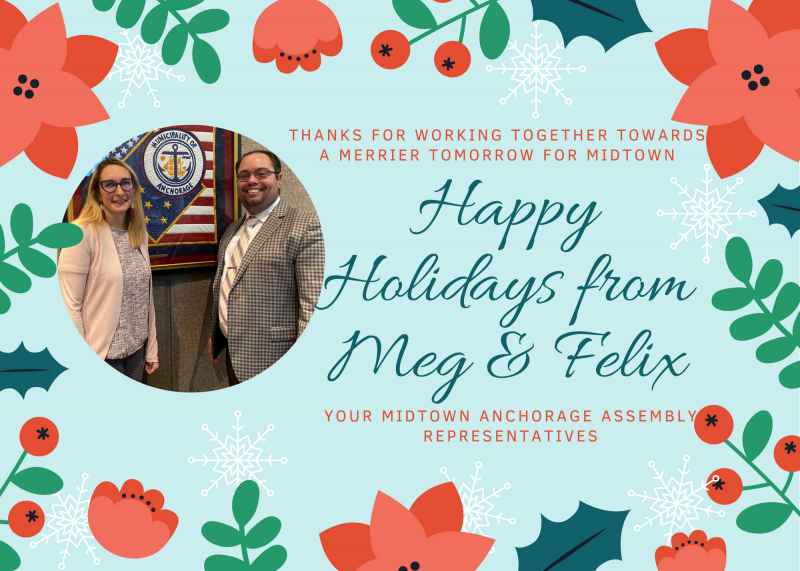 ***
Overheard on the airwaves: Dan Fagan saying, "Mark Begich just texted me, "Don't bring me in this!"" ?
***
Overheard in East Anchorage: "Is Lance even running again?"
"I doubt it. Last year, Lance only beat his opponent by 1% and she's basically a communist. She's already filed to run again."
?
***
Spotted in the air: Sen. Tom Begich and Rep. George "Rock Solid" Rauscher flying Seattle to Anchorage. Premium.
***
Spotted at the Albuquerque Airport: Gov. Mike Dunleavy's "body man." If you don't know who that is, then he's doing a good job.
***
Spotted at the Ted Steven's International Airport: Commissioner Adam Crum and Alaska Democratic Party Communications Director Jeanne Devon. Not together.
***
Spotted at Anchorage's Midtown Mall: Sen. Jesse Kiehl.
***
Spotted at Steam Dot: Anchorage Assemblymembers Suzanne LaFrance and Felix Rivera having a high level meeting.
***
Spotted at the ATM at Fred Meyer Abbott: Anchorage Attorney Mara Kimmel withdrawing some cash. Her husband, Anchorage Mayor Ethan Berkowitz acting as a lookout.
***
The Alaska Stalker was born and raised in Alaska, and lives in South Anchorage with her husband, daughter, and son. She is not Jeff Landfield.