Welcome to this week's edition of The Alaska Stalker, a lighthearted round up of the best and worst of Alaska's social media landscape. Have you sent us a hot tip yet? Email us at akstalker@alaskalandmine.com and, as always, thanks for reading.
---
Some housekeeping: It's getting close to the New Year, and to the end of my pregnancy. Anyone care to guess which one I'm more excited about?! ? I'll be taking the next couple weeks off to celebrate Christmas and relax with family. Then I'll be back until baby decides to join us, or I get too pregnant to blog. Whichever comes first. The Landmine offers a generous maternity leave policy, which I will be taking full advantage of. Please continue to send tips and notes. I may not be able to respond right away, but I really do appreciate everyone joining in on the fun. Merry Christmas, Happy New Year, and the Alaska Stalker is registered at Amazon. ?
XOXO AK Stalker
---
A solemn reminder that as much as we try to "buck" the patriarchy, it's real and a danger to women's jobs and wages. ?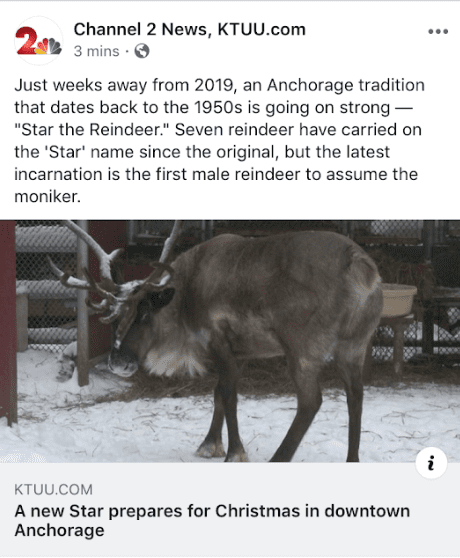 ---
Speaking of gender… Oops! He did it again.
I don't know what's worse: Senator-elect Scott Kawasaki misgendering Cean Stevens, for the second time in four months with an eerily similar "congratulations on losing" letter, or the fact that he sent this letter at all. Let alone twice. Who paid for this? Why did Anchorageite "Mr. Stevens" make the list? Alas, if only Scott read the Stalker, he would have known to update his mailing lists.

---
Clearly Midnight Sun's Editor, Matt Buxton, reads the Stalker.

---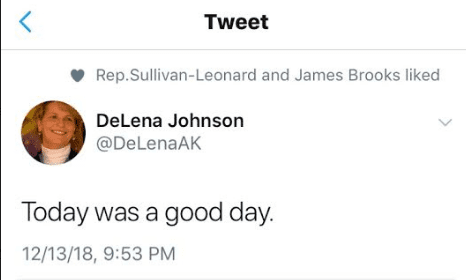 ---
Alaskan for sustainable budgets, Brad Keithley, sees things a bit differently.

---
After seeing oil prices continue to dive, I bet we can all guess what's on Governor Mike Dunleavy's Christmas list this year. 
?"All I want for Christmas is crude, baaaaby."?
Speaking of Dunleavy, maybe we could all take a moment and, as a Christmas surprise, follow him on Instagram. His account is a little sad.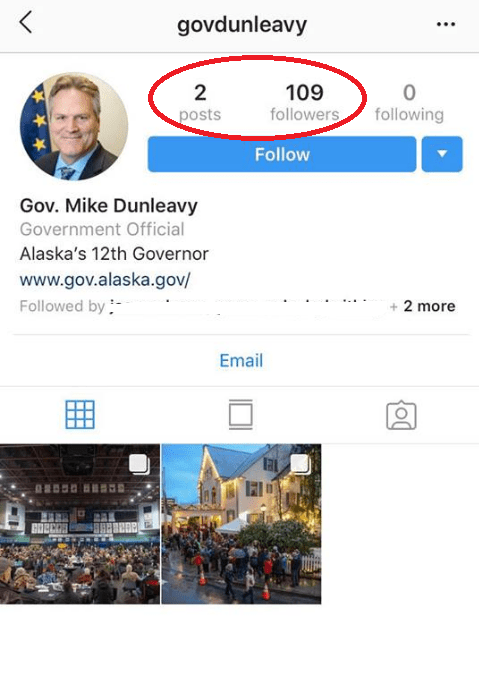 ---
If the Dunleavy communications team needs any tips they can start here…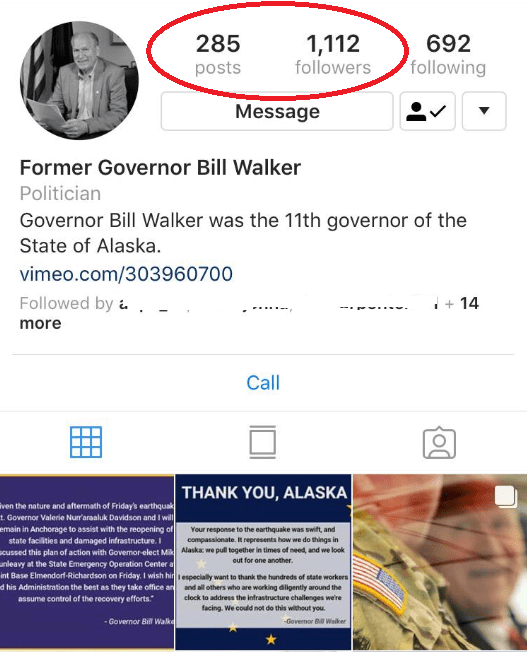 ---
While currently not on either the Dunleavy hype or hate train, I can easily rate this inaugural entrance as… a bit much. We get it – you are very tough and Alaskan and tall. No need to keep "driving" that point home.

---
Who's gonna tag POTUS? I mean, like him or not, we can all agree this amazing sketch captures President Trump's likeness alatte. I just don't know why it wasn't a pumpkin spice latte special. A missed opportunity.

---
Just a photo of 1 out of 100, Senator Lisa Murkowski, chillin' fully clothed in a hot tub at the Polar Plunge. All that's missing is Jeff Landfield in a speedo.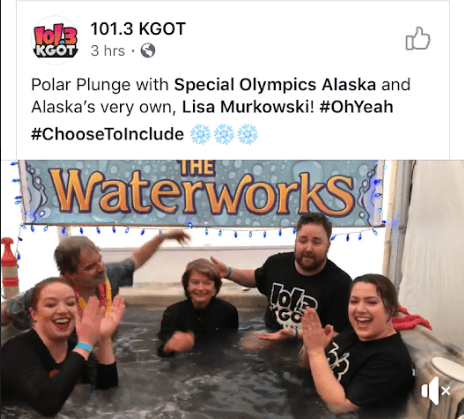 ---
Correcting a Facebook post typo from over a month ago to own the cons. You GOT 'em, Jeanne.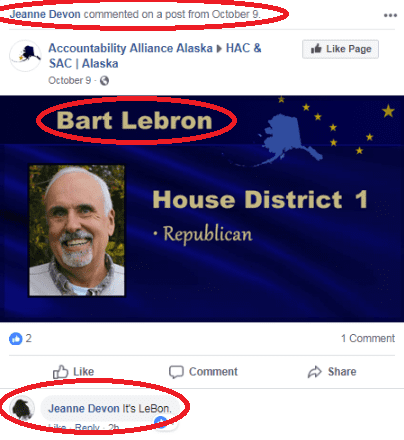 ---
Never in Stalker history have so many folks sent me the same "hot tip." Hats (or is that antlers?) off to ultimate cool dad, Representative-elect Josh Revak for this hot fire ???.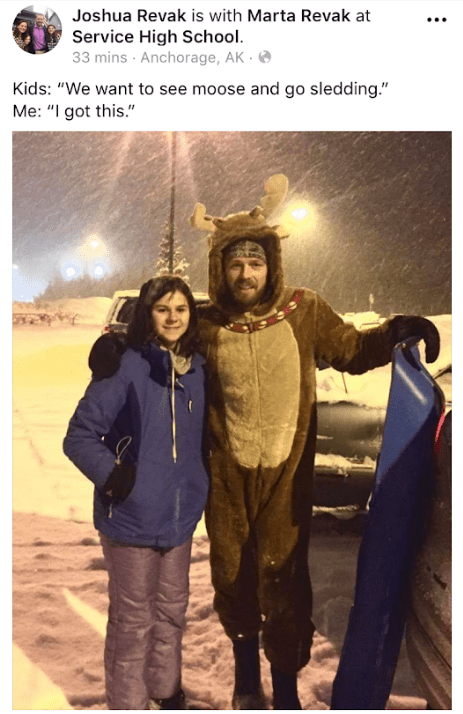 Okay Josh, we get it, you're FUNNY. Seriously tho, does any legislator have a better Christmas card? Bravo.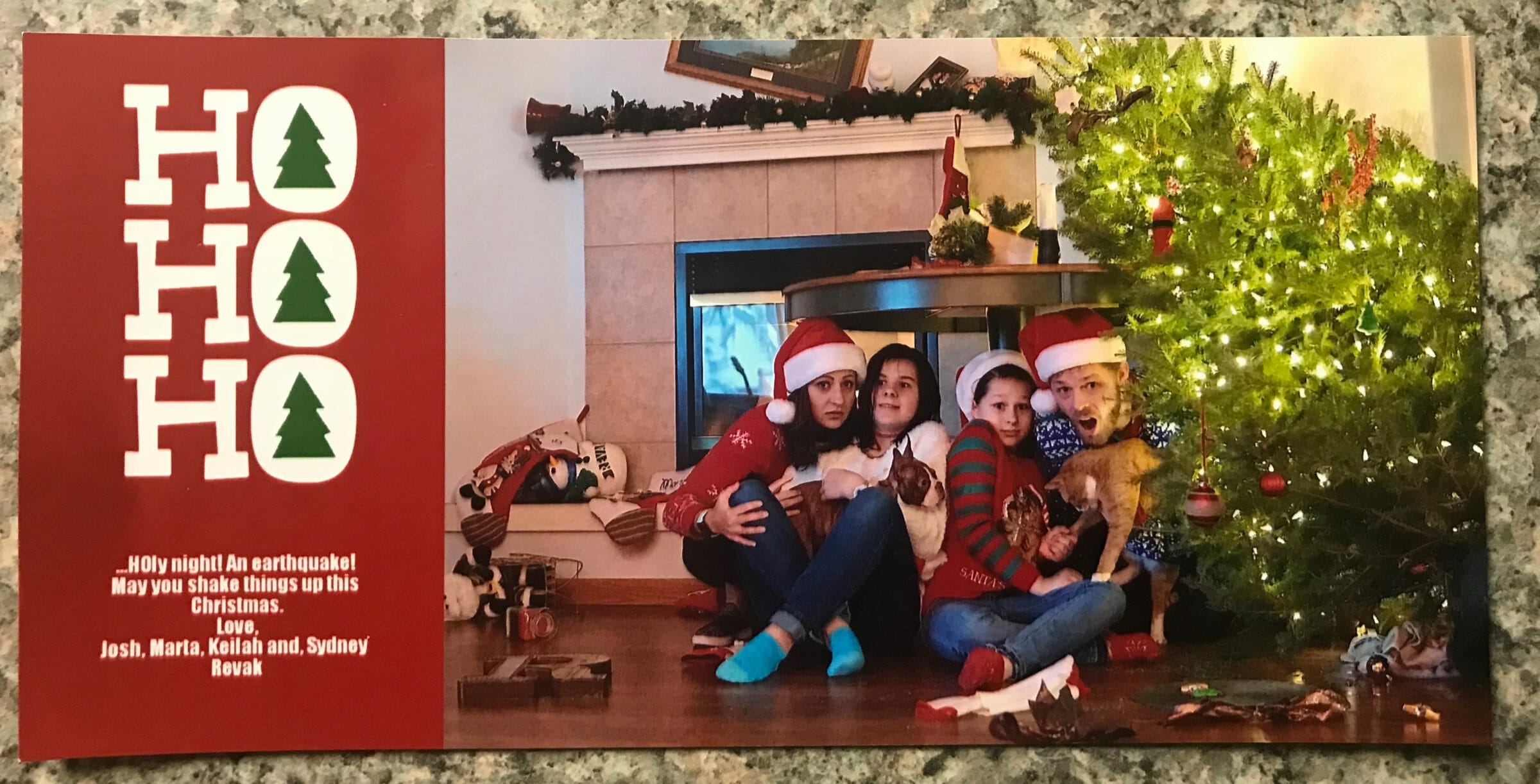 ---
A few people sent us this like it's a bad thing. Since when is learning what you don't know a bad thing? Have you read the Constitution of the State of Alaska lately? Would make a pretty good stocking stuffer.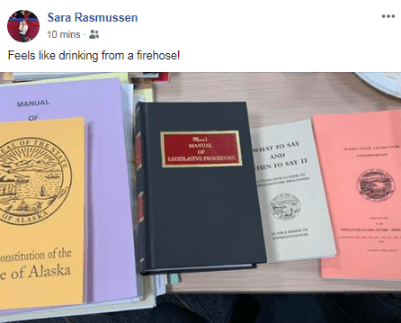 ---
And now on to the Anchorage Assembly. Lots to cover this week. Thanks, Felix! First up, according to Assemblymember Rivera, the current Anchorage Assembly is "non-partisan." Okay.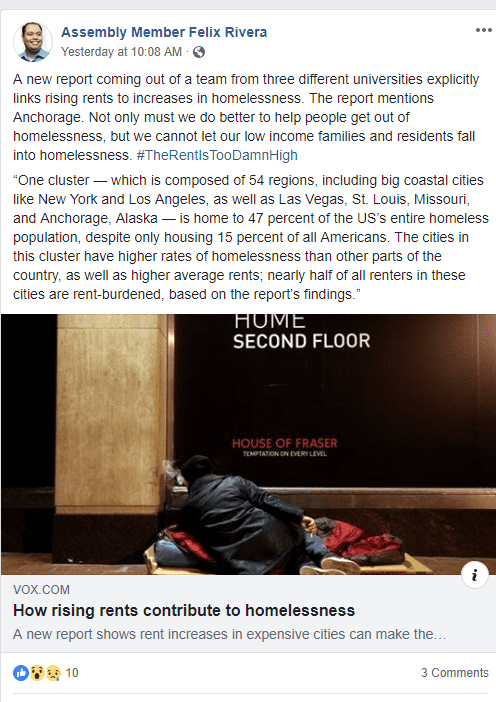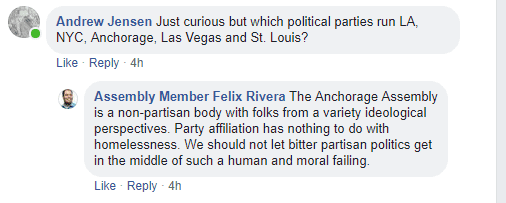 ---
Well Felix, according to Grand Poo-bah of Anchorage Liberalism, Senator Johnny Ellis, (and anyone with half a brain) the current Anchorage Assembly is quite progressive. And, if you look at those likes, Assemblyman Christopher Constant agrees. But please, Felix, keep pretending.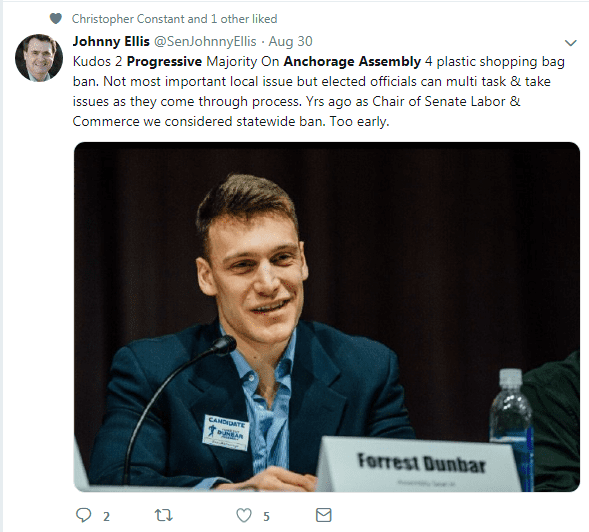 ---
Maybe Felix learned this convenient trick from Representative Les Gara.

---
But then, yesterday, it got better. Assemblymember Rivera launched a Facebook  "field experiment" on the impact of proposed alcohol taxes in Anchorage. Let me take you on this amazingly tone deaf but high BAC journey.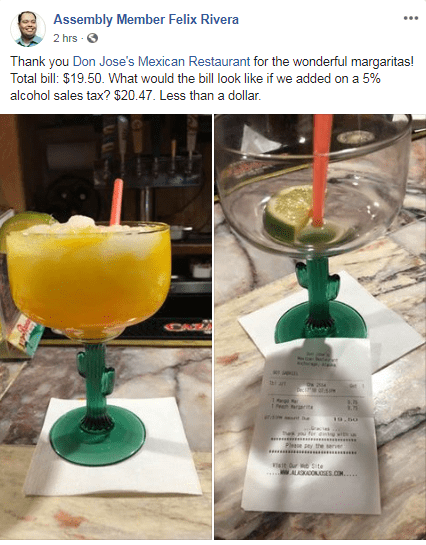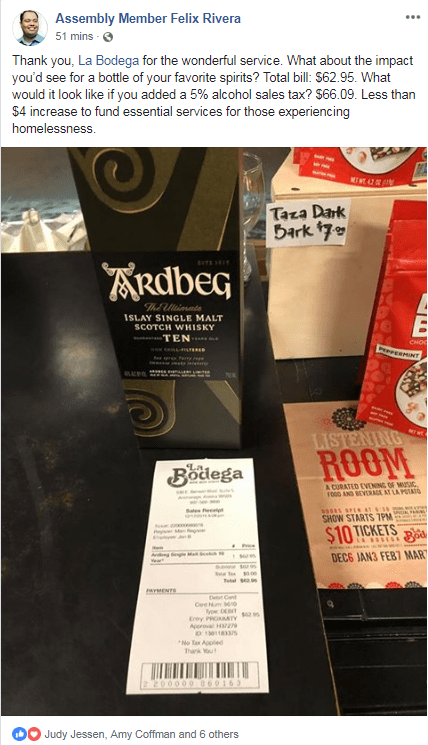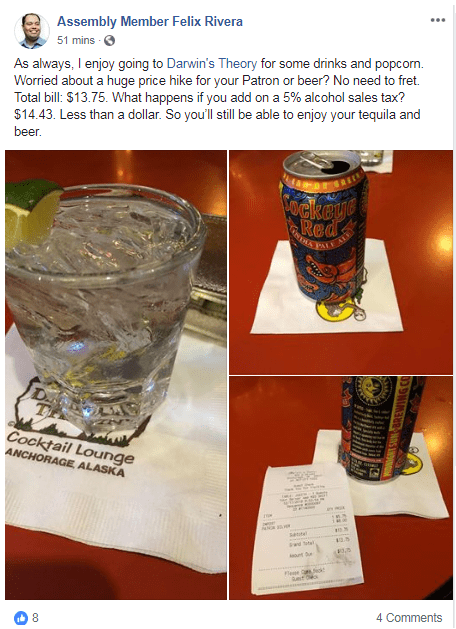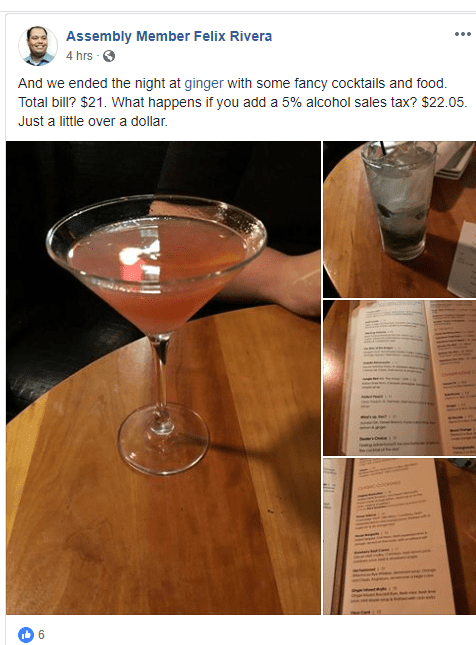 Dang Felix! You can really knock 'em back. Talk about putting the Patron in patronizing! To break it down for you, Assemblyman Felix Rivera spent over $117 on alcohol, at local businesses that DO NOT support this tax, trying to mansplain to us why a notoriously unpopular alcohol tax between 5-11% (on top of the state's alcohol tax) is good. Who the hell paid for this? Who drove?! I mean, maybe he should have gone to the two business (note: not locally owned, surprise, surprise) that support this tax instead of the dozens who oppose it. Unsurprisingly, some of the comments Felix got were ???.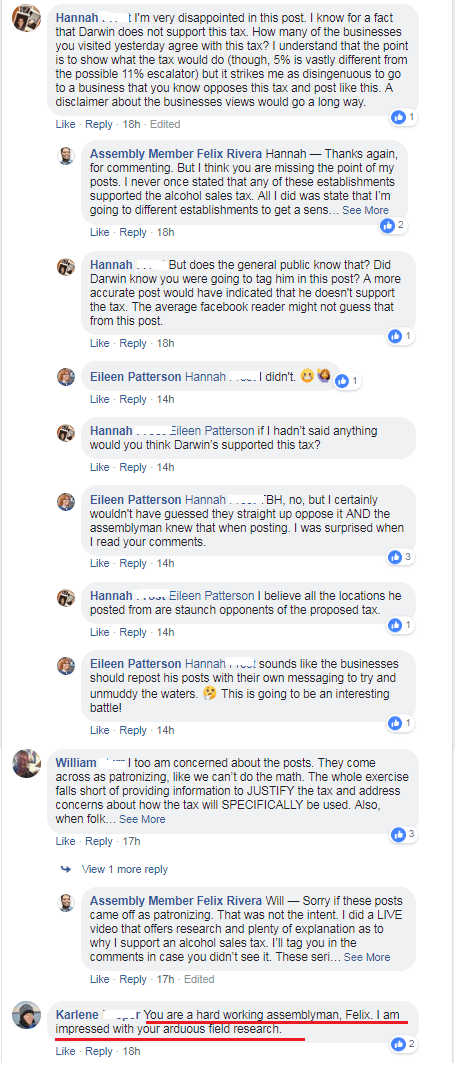 ---
Assemblymember John Weddleton, who is running for re-election, paid a cute homage to his small business, Boscos, at the Polar Plunge fundraiser for Special Olympics. That alcohol tax plug tho.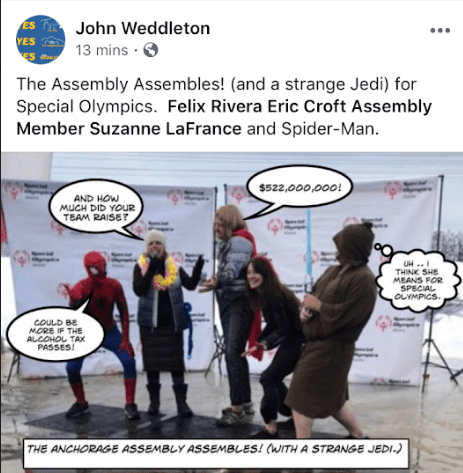 ---
Speaking of Boscos. Oh. Isn't that something.

---
Progressive or not, it's clear the Assembly is just a bunch of killjoys. Does anyone remember that epic New Year's Eve a few years back where fire works were legal for one glorious night?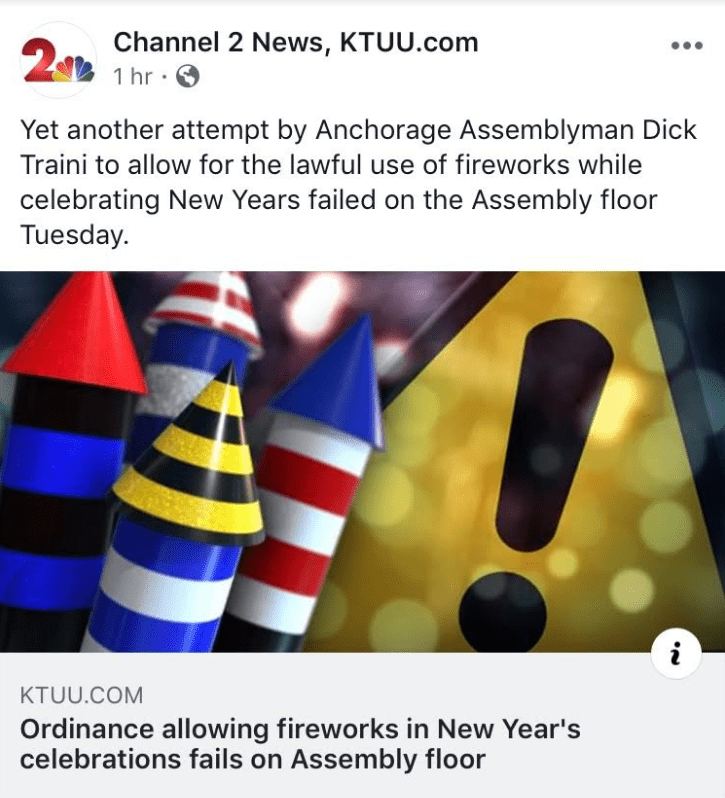 ---
A politician keeping a promise to voluntarily give up a leadership position?! ??????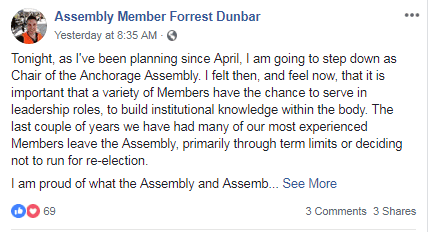 ---
Stalker Pro Tip: Don't appear before the Assembly to testify slurring your words – wasted – especially on the same night folks are debating the merits of an alcohol tax.
---
Spotted in newly appointed Legislative Director for Gov. Mike Dunleavy, Suzanne Cunningham's "Your Year" slideshow on Facebook: the one, the only: Jeff Landfield!
     
---
Spotted at Cabela's in Anchorage: a sweet tribute to President, and friend to all anglers, George H. W. Bush. Rest in peace.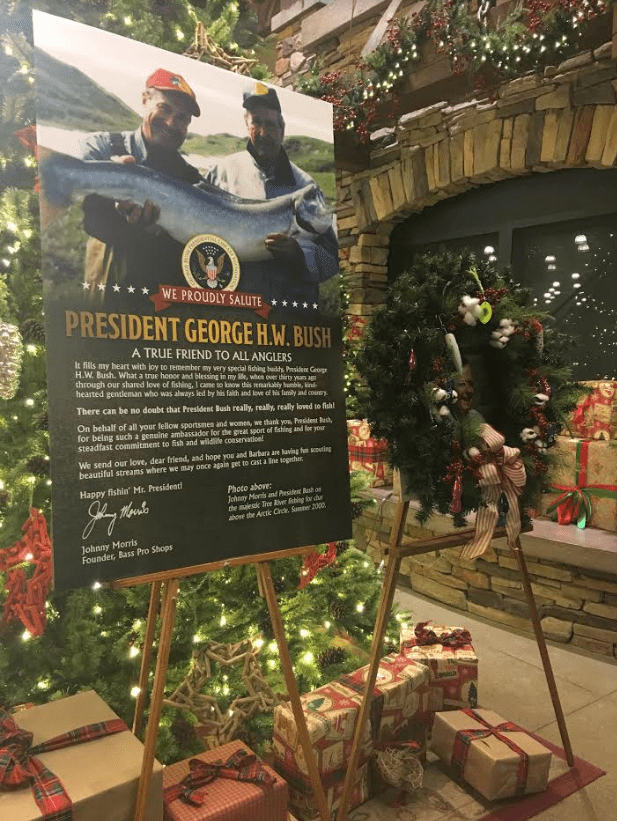 ---
Spotted at Table 6: Vince Beltrami and Michael Tavoliero having a very… animated lunch. If you don't know who Vince Beltrami is, you probably don't get much out of this column. If you don't know who Michael Tavoliero is, this post will give you a pretty basic idea.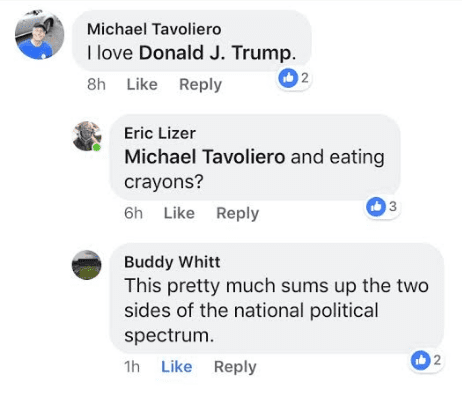 ---
Spotted on Match.com: Sharon Gibbons (who recently filed for Amy Demboski's vacancy).
---
Spotted at the San Jose airport, still grifting: Charlo Greene.
---
Spotted at the Anchorage Airport McDonalds: Lt. Governor Kevin Meyer.
---
Spotted at "Cookie Night" at the Governor's Mansion: a lot of cookies, but not a lot of people. One observer noted that there were "more cops than attendees" and people who have volunteered at the event since Parnell said it was "the lowest turnout they've ever seen and that Juneau made a statement." Yikes! Not sure if that says more about Governor Dunleavy, or the folks in Juneau tho. Just saying. ¯\_(ツ)_/¯
---
Spotted in the middle of Juneau: Former Representative and new Department of Labor Deputy Commissioner Cathy Munoz's car booted in the Sealaska parking lot. Poor Cathy didn't notice the boot and started to drive away with it on!
---
Spotted in the capital: Is this foreshadowing?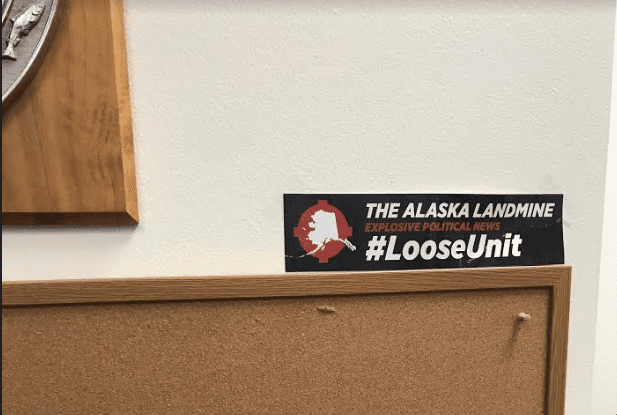 ---
Spotted as I'm writing this: Representative Les Gara, Representative-elect Zack Fields, and Downtown Anchorage Democrats meeting at Kaladi midtown. It looks like Les is trying to upload his brain to Zack's!
---
Overheard on the airwaves (paraphrased):
Fill in radio host Dan Fagan to Senator Natasha Von Imhof: "So are you opposed to restoring the full dividend as Governor Dunleavy has promised?
Senator Von Imhof: Dan. I don't think it's the best idea at this point. …. insert long explanation here…..
Fagan: I guess what I'm looking for Senator, with all due disrespect, is just a yes or no. It's a yes or no question.
Senator Von Imhof: No I don't.
Fagan: It takes courage to say that! Obviously there's going to be political backlash for that.
Senator Von Imhof: What I have to ask you Dan is that you just said it's political backlash yet you forced me to say this answer. I mean why would you put that upon me on live radio?*
Fagan: I don't mean any disrespect
Senator Von Imhof: Hmmmm… Long pause.
*Note: Senator Von Imhof called into the show. Also, Dan, it's *Von* Imhof not Vin Imhof.
---
Overheard on the airwaves:
Dan Fagan again: "I wonder how Chris Constant is going to react when this bag ban of his goes down in flames by a vote of the people?"  We don't wonder, we know. That's kinda why the Stalker exists.
---
Overheard on the airwaves:
A holiday commercial for "The Kobuk." I don't believe we've ever heard a Kobuk commercial before. And on local conservative talk radio to boot! Friendly reminder to Editor-in-Chief Jeff Landfield that he owes me one of those famous old fashioned doughnuts during this pregnancy, and he's quite literally running out of time.
---
That will do it for us this week folks. Don't forget to send your favorite social media and online goofs, gaffs, memes, dust-ups, "Overheard in Alaska," "Spotted in Alaska," or whatever else you got to akstalker@alaskalandmine.com Our DMs are always open. Remember: pics or it didn't happen!
---
The Alaska Stalker was born and raised in Alaska, and lives in South Anchorage with her husband, daughter, and baby on the way. She is not Jeff Landfield.