Welcome to this week's edition of the Alaska Stalker, a lighthearted round up of the best and worst of Alaska's social media landscape.
***
If you enjoy the Alaska Stalker, please consider supporting working moms like me by sending in hot tips, overheards, and spotted ins. You can reach me at akstalker@alaskalandmine.com. As always, thanks for reading.
***
Every once in a while a video comes along that becomes part of Alaska internet culture. Like the Sarah Palin turkey massacre video. Or SPACE BEAR. Or "Selling is Service." Each video is uniquely Alaska. Terrible yet great at the same time. While I'm not sure Conway Seavey's Winter Wonderland is quite there, the Sen. Peter Micciche cameo (complete with an aggressive red Christmas sweater and a shotgun, natch) makes it a must watch this holiday season. (Go to 1:50 to see Peter in all his glory. A star is born.)
***
I'm glad Peter had his time to shine, because Rep. Ben Carpenter is really giving him a run for his money when it comes to most photogenic legislative family.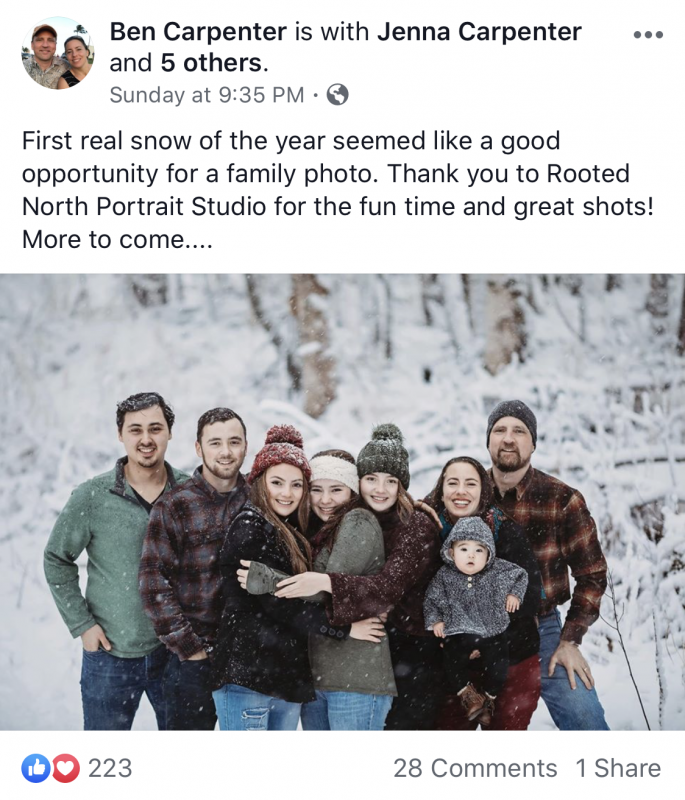 ***
If you're going Nome for the holidays, be sure to check out Rep. Neal Foster's Christmas light display.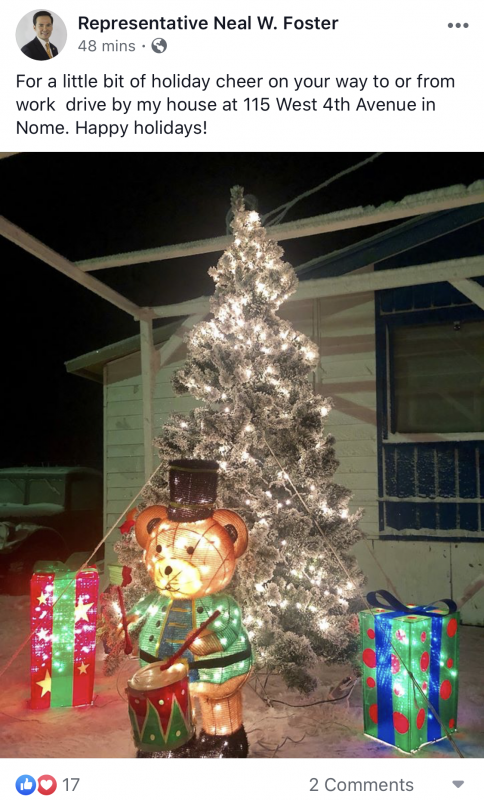 ***
For many of us, Christmas came early this year. ? (I kid, I kid.)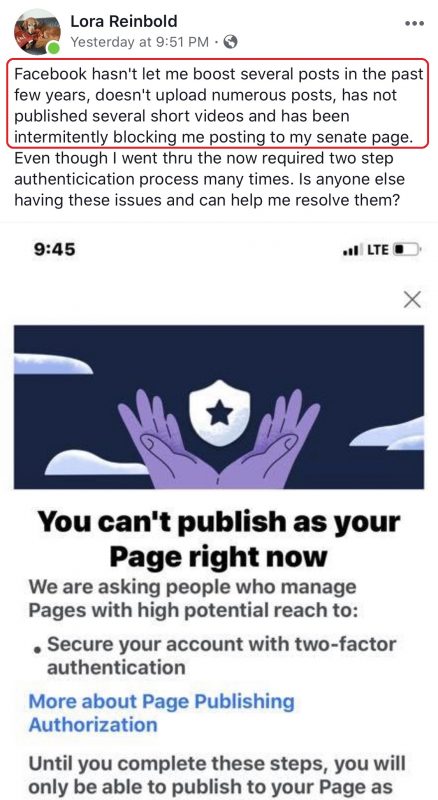 ***
Glad to see that even with the big budget announcement looming, Sen. Jesse Kiehl didn't let politics get in the way of family tradition. And holiday cookies.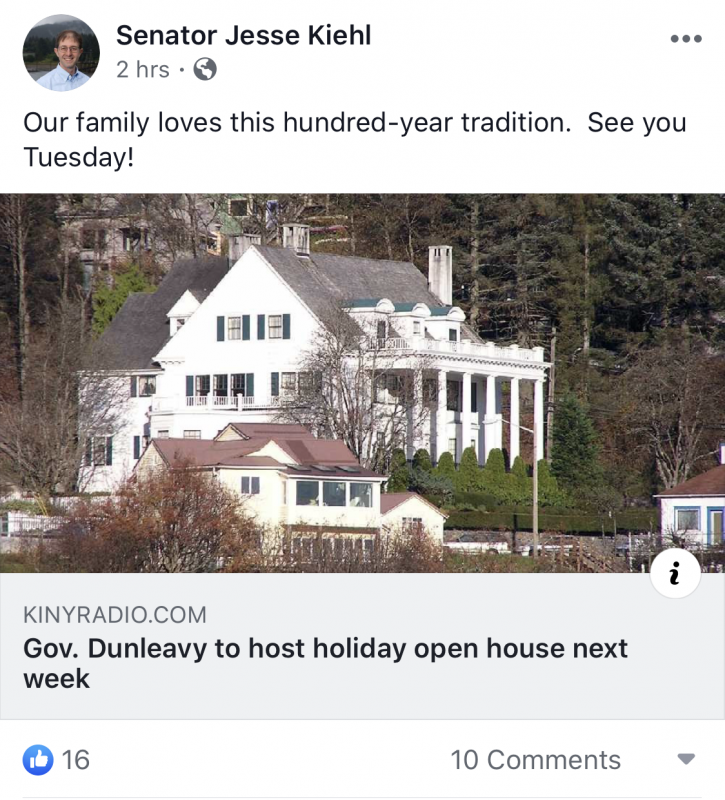 ***
I looked high and low on social media for a fun post of Gov. Dunleavy posing for photos and passing out holiday cheer at his open house. Nada. Not even an Instastory. You could say I have… questions… ? Luckily KTOO came through for me with this cheerful shot. ?❤️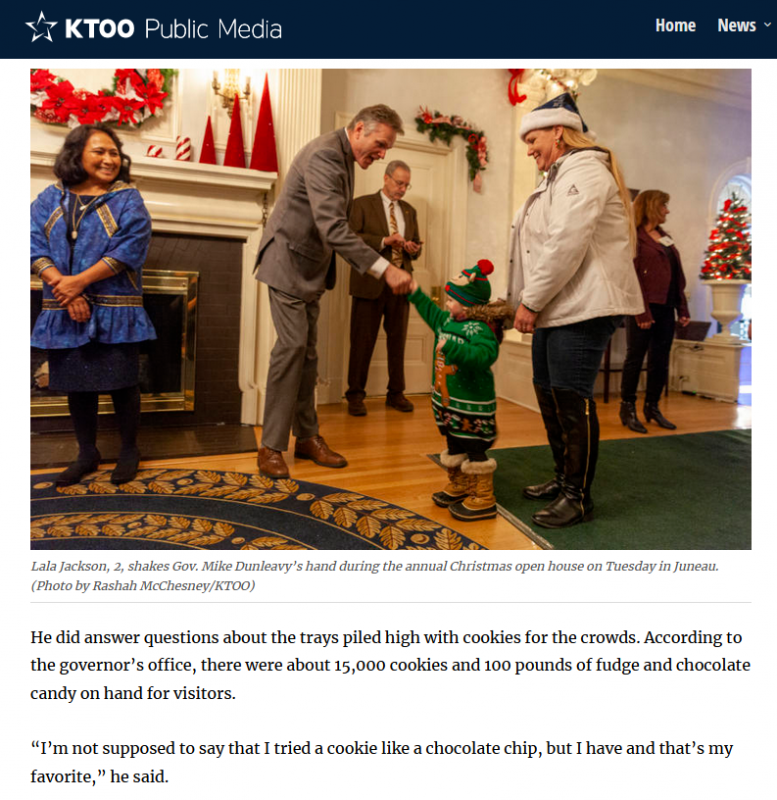 ***
For many parents, the holidays are busy with baking cookies, visiting Santa, and traditions like The Nutcracker ballet. Proud mom, Rep. Sarah Vance, has two shining stars performing in Homer's production. Bravo, girls.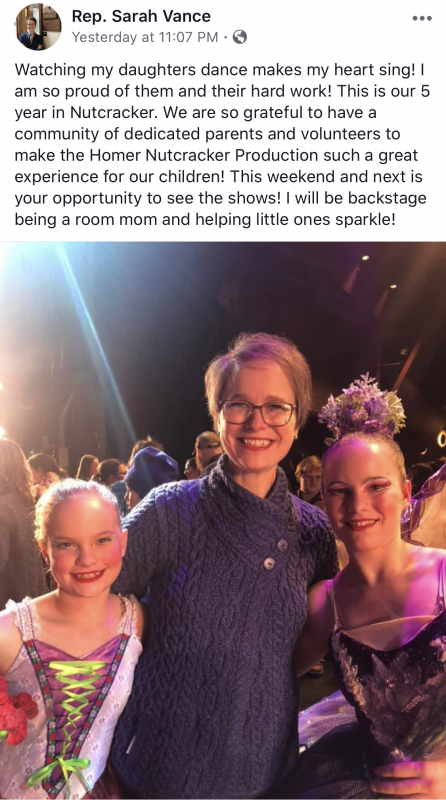 ***
Meanwhile, Rep. Sara Rasmussen's frantic cookie dough emergency post is ? relatable. Every mom I know has more plates spinning than usual this time of year. At least Carrs Jewel Lake is the best Carrs.

***
Sen. Lisa Murkowski decked the halls of her office in D.C. with an Alaska themed (of course) Christmas Tree.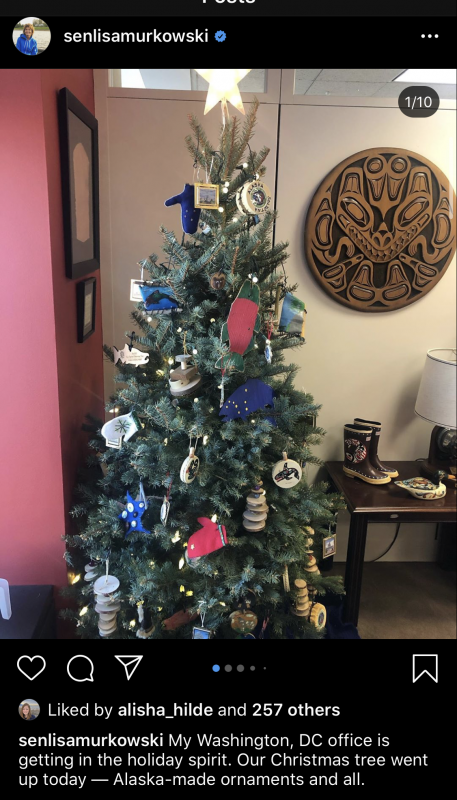 ***
I hope Attorney General Kevin Clarkson had time to admire Lisa's tree while he was in D.C. this week. Kevin did have a high level conversation with Supreme Court Justice Elena Kagan.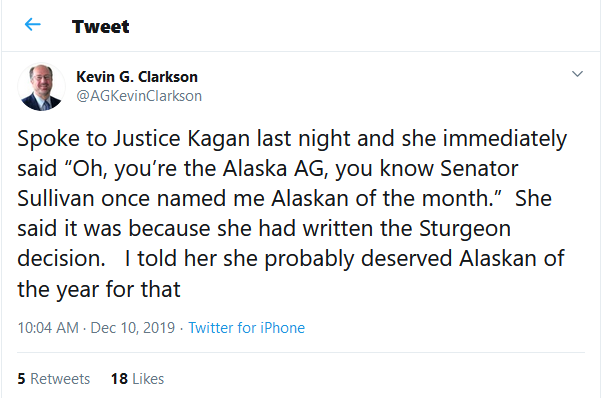 ***
Leave it to Alaska's Energy Desk reporter, Nat Herz, to have the rest of the story.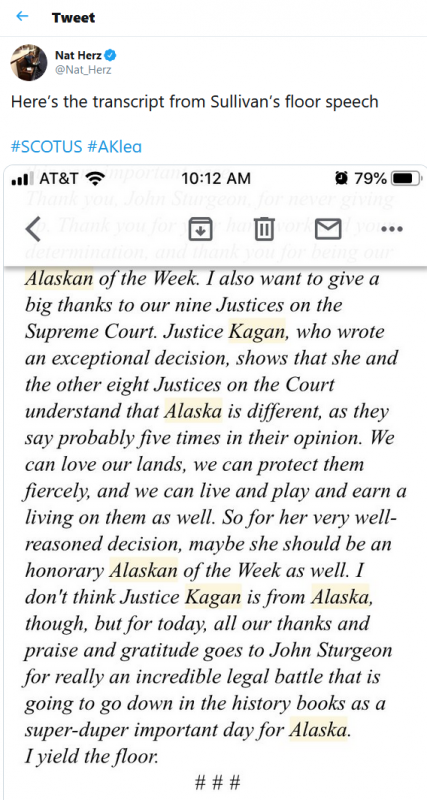 ***
The Alaska Republican Party held a Unity Gala last Friday. It was a chance for folks to come together and show respect to conservatives of all stripes. Conservatives like Rep. Chuck Kopp, Rep. Jennifer Johnston, and… Mr. Josh Revak??? ?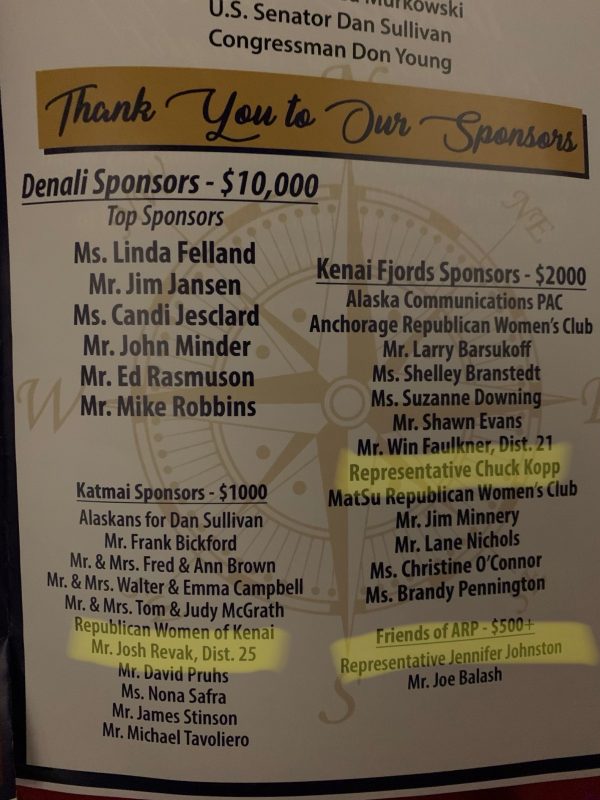 ***
Of course it wasn't all hearts, 48 stars, and rainbows. The PFD Defender crowd waved signs outside the event. They even had "Santa" with them. I think Andrew Halcro has a point here. #notthebestmessenger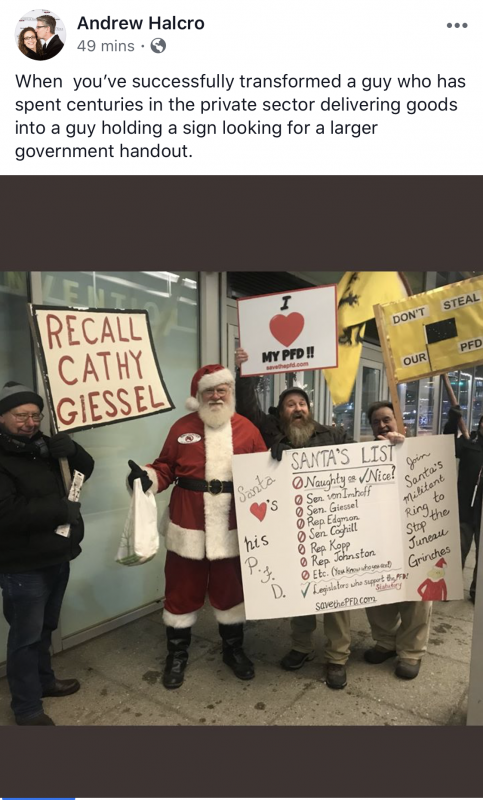 ***
Brace yourselves: cute dog posts ahead! It seems the holidays have come early to a few politicos. Chief of Staff to Sen. Shelley Hughes, Buddy Whitt, brought home the adorable "Pappy Whitt." That comment from Shelley tho. I'm glad one senator knows the rules.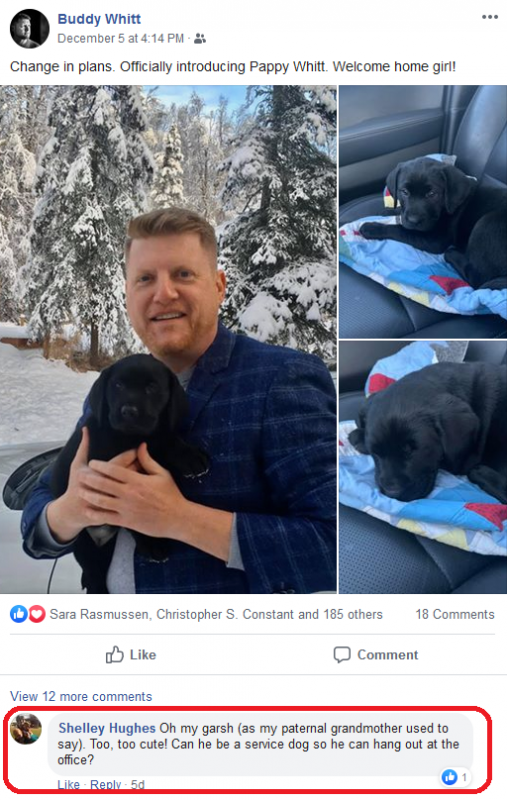 ***
Alaska Democratic Party Communications Director, Jeanne Devon, introduced this little lady, who's set to join her new family in another couple of weeks. Squeeee!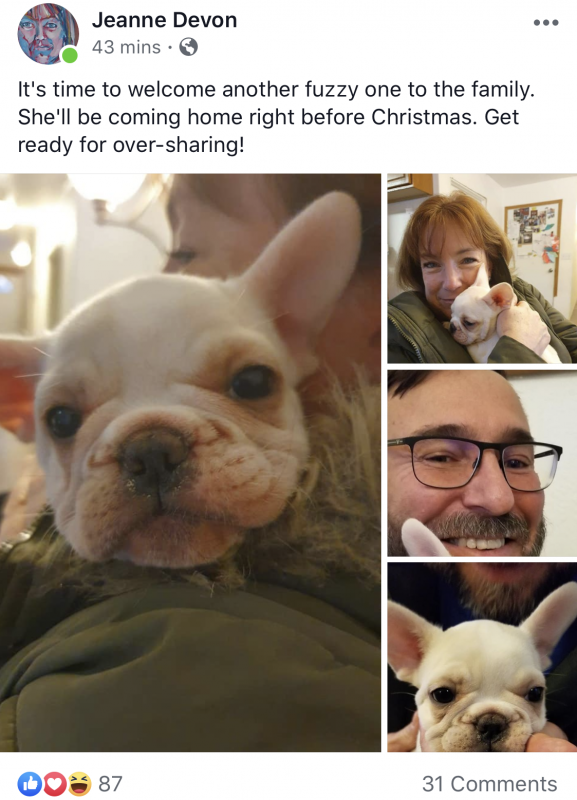 ***
Anchorage Assemblymember Meg Zaletel is the best mom ever. I cannot get over Zelda's questionnaire. So cute and smart. I hope Baxter is settling in well. ?

***
Now for a fun Alaska Stalker Holiday Gift Guide! While there are not many shopping days left, I have some suggestions for those struggling with the perfect gift.
1: Saddler's Moving Service! For those looking to ship goods from Anchorage to Juneau at a bargain price, Dan's your guy. I like the last line: "and don't forget not to remember – session is coming!" Indeed.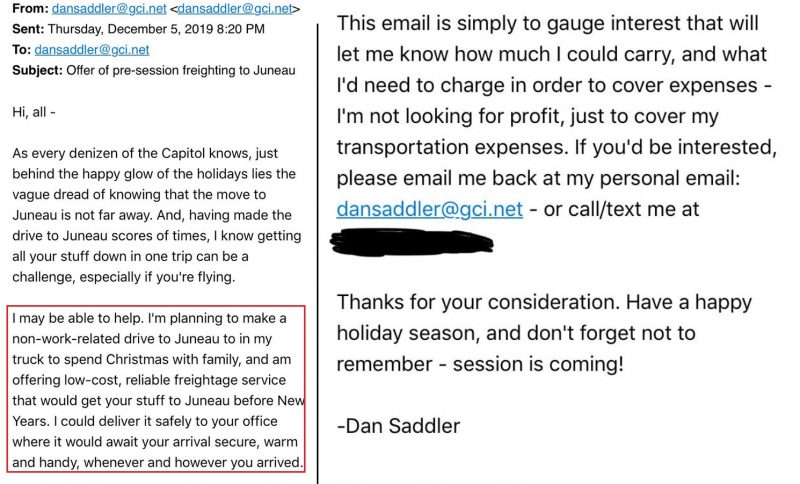 ***
2: If you're on a budget consider the Anchorage Public Library's new live streaming service: Storytime+
???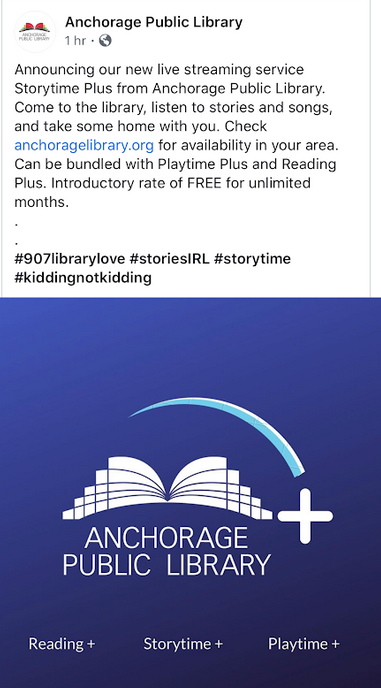 ***
3: If you live in Los Anchorage or the Valley, check out the newest must have: a parcel locker to thwart porch thieves. The Club and a locking mailbox are so 2018.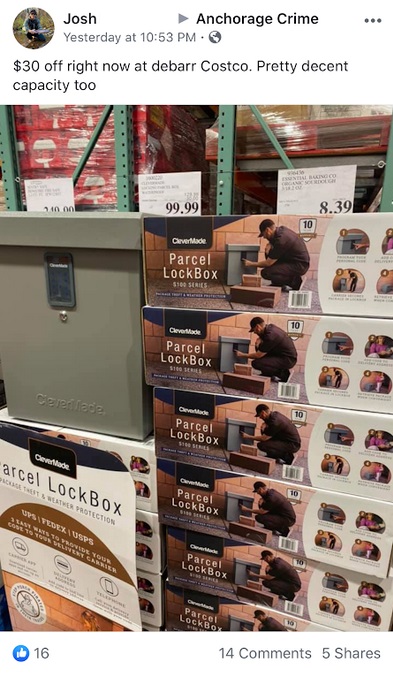 ***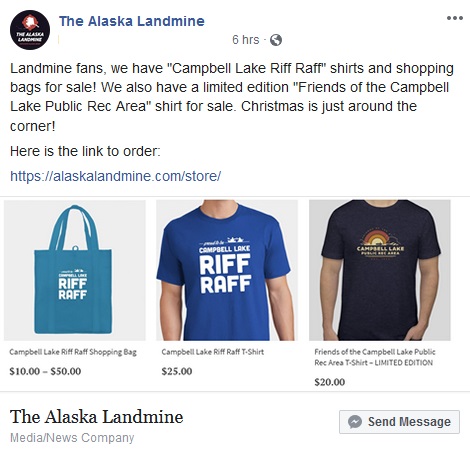 ***
Overheard in Anchorage:
House Speaker, Bryce Edgmon: "Every night of session is a full moon."
***
Overheard: "You know Deborah Call?"
"The one running against Josh Revak for Senate?"
"Yeah. She has a lot of "Bagich.""
***
Spotted in ANTARCTICA: Rep. Gabrielle LeDoux.
***
Spotted in the air: Attorney General Kevin Clarkson flying D.C. to Seattle. First Class!
***
Stalker Scoop: Chief of Staff to Rep. Ivy Spohnholz, Ted Madsen, got stuck in the elevator at the Anchorage LIO. It just kept going up and down over and over for several minutes. Poor Ted!
***
The Alaska Stalker was born and raised in Alaska, and lives in South Anchorage with her husband, daughter, and son. She is not Jeff Landfield.