Welcome to this edition of the Alaska Stalker, a lighthearted round up of the best and worst of Alaska's social media landscape.
***
If you enjoy the Alaska Stalker, please consider supporting working moms like me by sending in hot tips, overheards, and spotted ins. You can reach me at akstalker@alaskalandmine.com. As always, thanks for reading.
***
It's beginning to look a lot like Christmas on the social media pages of many of our favorite politicos. I'll let Sen. David Wilson set the toad I mean tone.

***
It appears Assembly member Forrest Dunbar is on the nice list. 🎅🏻

***
And Don Young's a bit naughty! 🙈

***
I was surprised gubernatorial candidate Bill Walker knew what Elf on the Shelf was. For someone that's always out in the middle of nowhere building things, he sure has a way of keeping up with the times. Lindsay's totally not writing these posts. 😉

***
I mean, of course Rep. Sara I'm a cool mom Rasmussen does Elf on a Shelf. Does his name really have to be Elfie though? My vote is change it to Laddie.

***
While Kelly Tshibaka's campaign is loving all the Bidenflation this holiday season, her newly minted Twitter handle is the true gift.

***
And then there's Lisa, who puts on the "I'm an Alaska gal" shtick thicker than the 850 pounds of icing it takes to make the Captain Cook Christmas Village.

***
It's a Christmas Halloween mashup on the Peninsula. Sen. Micciche missed the perfect opportunity to wish everyone a very merry Christmoose! But he's right, watching these critters never gets old.

***
So nice of the Recall Jamie Allard folks to encourage their followers to wish Jamie a "happy holidays." The sincerity is overwhelming.

***
Oh, wait. #triggered ❄️❄️❄️

***
Nothing says Christmas like the ghosts of legislators past. Someone get Tom some sunscreen for Chenault's burn! 😬

***
Moving on, if you need some motivation or a way to work off the leftover turkey and Christmas cookies, check out Sen. Mia Costello's latest workout plan. Daaaang, Mia! 💪

***
Since she won't friend me on Facebook (come on, man) I've had to go to great lengths to find interesting tidbits about "one of the most successful politicians of all times" Mr. Rep. Kelly Merrick. What in tarnation?! 🤣

***
Is it just me or does Rep. Tom McKay's fundraiser invite have a ransom note vibe to it? SSDGM, Tom!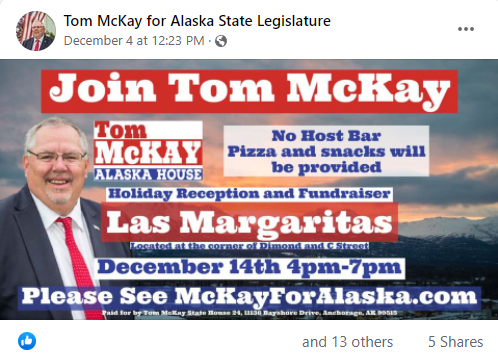 ***
There's no comparison to Sen. Shelley Hughes invite. The music, the snow, and it even jingles. ❤️ Don't forget to push play.

***
I saw this ad and laughed, so I'm glad to see Rep. Sarah Vance getting some mileage out of it.

***
I can't stop thinking about this photo that popped up on my Instagram stories without any context. Maybe it's the outfit (those pleats tho), maybe it's the way he's clutching the chicken, or maybe it's his expression as he's gazing into the distance, but I seriously can't figure out what the hell is going on. 😱

***
As I expected, I am not the first one to notice and comment on this extraordinary photo of our governor. In fact, I would have been profoundly disappointed if OHM blogger Libby Bakalar didn't tweet about it. I didn't expect Sen. Kawasaki to chime in though… 👀

***
The big news for about five minutes was Rep. Chris Kurka jumping into the race for governor. Imagine launching your campaign for governor by having someone else announce it for you, and then having a technical delay.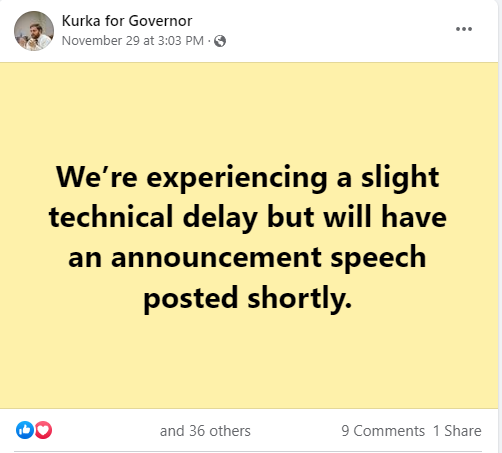 ***
And then there's his campaign logo. I'm with Jesse.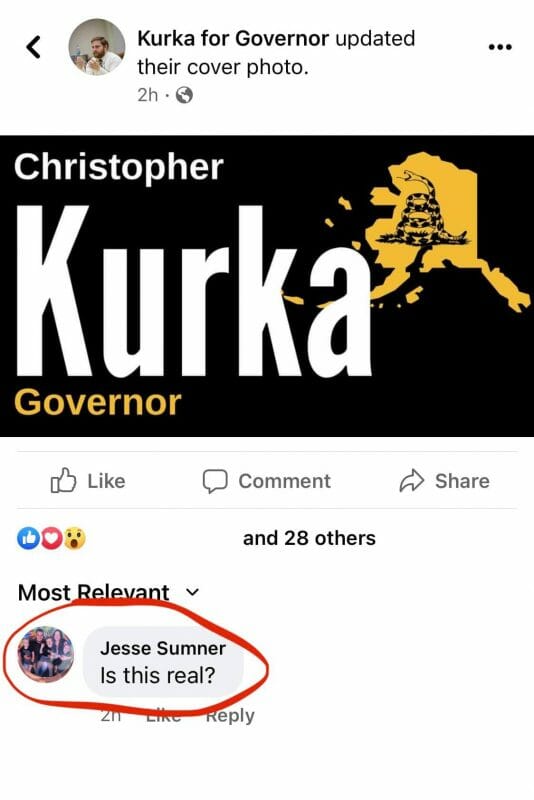 ***
THE PLOT THICKENS! Chris doesn't even own his own Gadsden flag?!!! Is his campaign a false flag? Seems to be a lot of that going around this election cycle.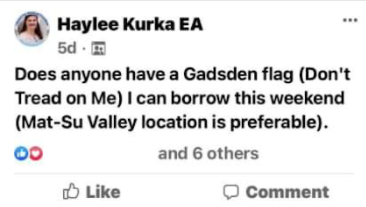 ***
I'm surprised gubernatorial candidate Les Gara hasn't made the Peninsula Clarion change out this photo of him yet. Someone get that man a ring light!
Les Gara, who is running for governor next year, spoke about his support of education, capital projects, marriage equality and the pro-choice agenda. He also said he opposed Pebble Mine. #KPBorough https://t.co/eFAgbrodKa

— The Peninsula Clarion (@PenClarion) December 2, 2021
***
I guess it's not as bad as the ADN publishing a photo that looks like you're wearing an orange prison jumpsuit right after being unceremoniously fired. 😲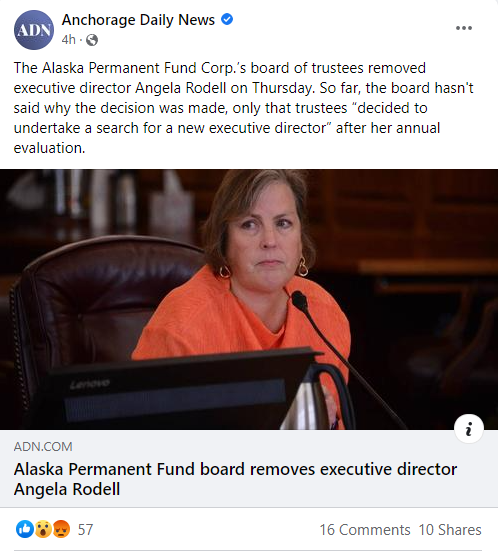 ***
Lots of old favorites are starting to file. I'm loving Lyn Franks' new look for her "third time's the charm" campaign. 💁‍♀️

***
Sorry Lyn, After hearing Cliff Groh filed for the same district, I'm going to have to go with him purely for business reasons. I mean, just LOOK at Cliff's past campaign ad. Probably in the top 10 of all time, right next to Cathy Giessel riding on a noble steed to save Alaska.

***
Speaking of third time's the charm… Why is Alyse using her ALYSE FOR ALASKA Facebook?!?! Do it, Alyse. DO IT!!!! ❤️🐳❤️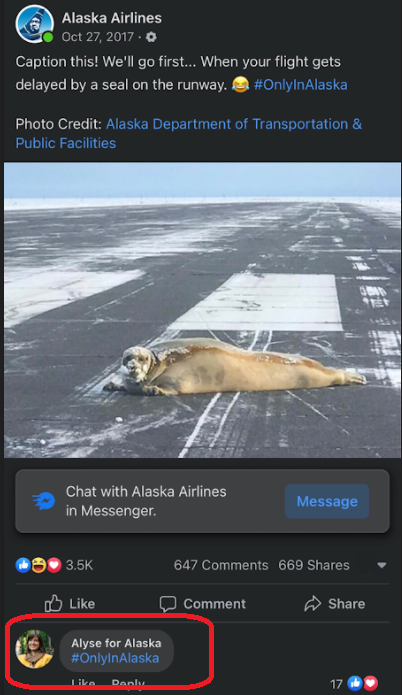 ***
Dan Saddler announces he's quitting his state job and days later it's like he's already back in the Legislature.

If you missed the Anchorage mayor's TikTok debut, the Stalker has you covered.
***
Spotted at Carrs Huffman. Wait, is this Chris Kurka's ride? 😂

***
Spotted in South Anchorage: 👀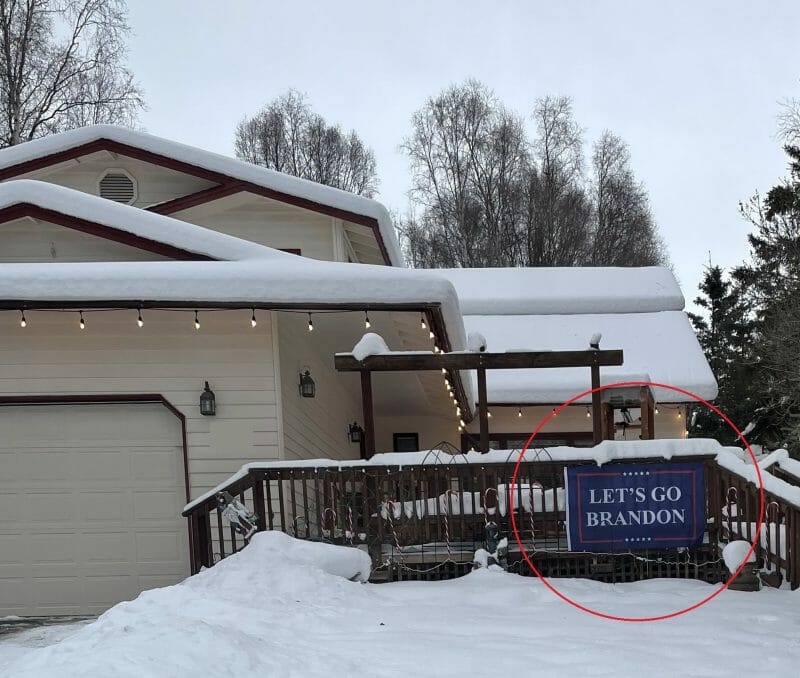 ***
Spotted in Anchorage:

***
The Alaska Stalker was born and raised in Alaska. She lives in South Anchorage with her husband and three kids five and under. She is not Jeff Landfield.