Welcome to this week's edition of the Alaska Stalker, a lighthearted roundup of the best and worst of Alaska's social media landscape and political gossip.
If you enjoy the Alaska Stalker, please consider supporting working moms like me by sending in hot tips, overheards, and spotted ins. You can reach me at akstalker@alaskalandmine.com. As always, thanks for reading.
***
She's baaack. Former Gov. Sarah Palin took to Instagram (as one does these days) to announce her defamation lawsuit against the New York Times was restored by a federal appeals court and allowed to proceed into discovery.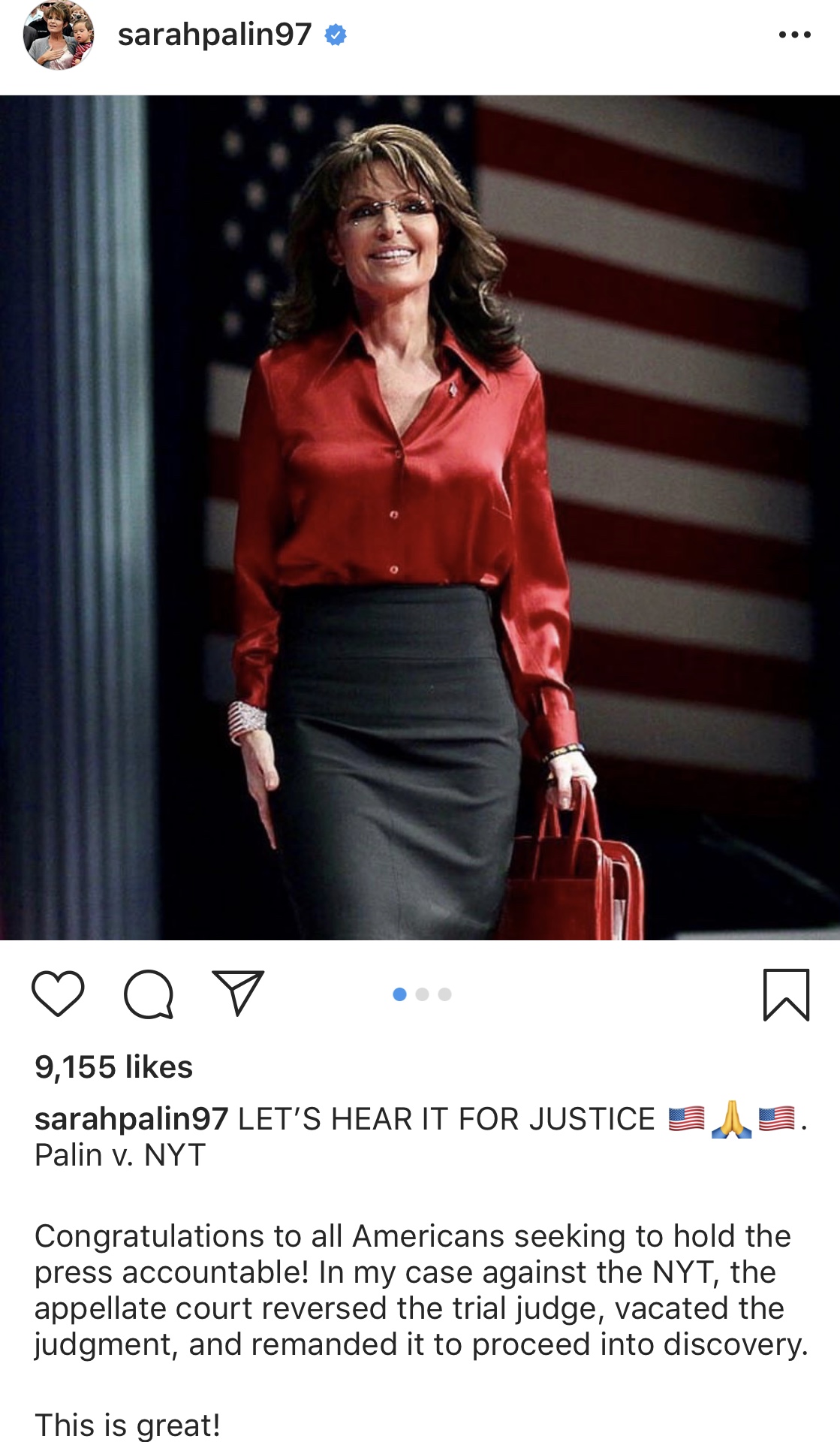 ***
With Sarah Palin back in the spotlight, and Ben Stevens being promoted to Gov. Mike Dunleavy's chief of staff, I thought it would be a good time to trot out this throw back. I wonder what happens when you go to www.valleytrash.com?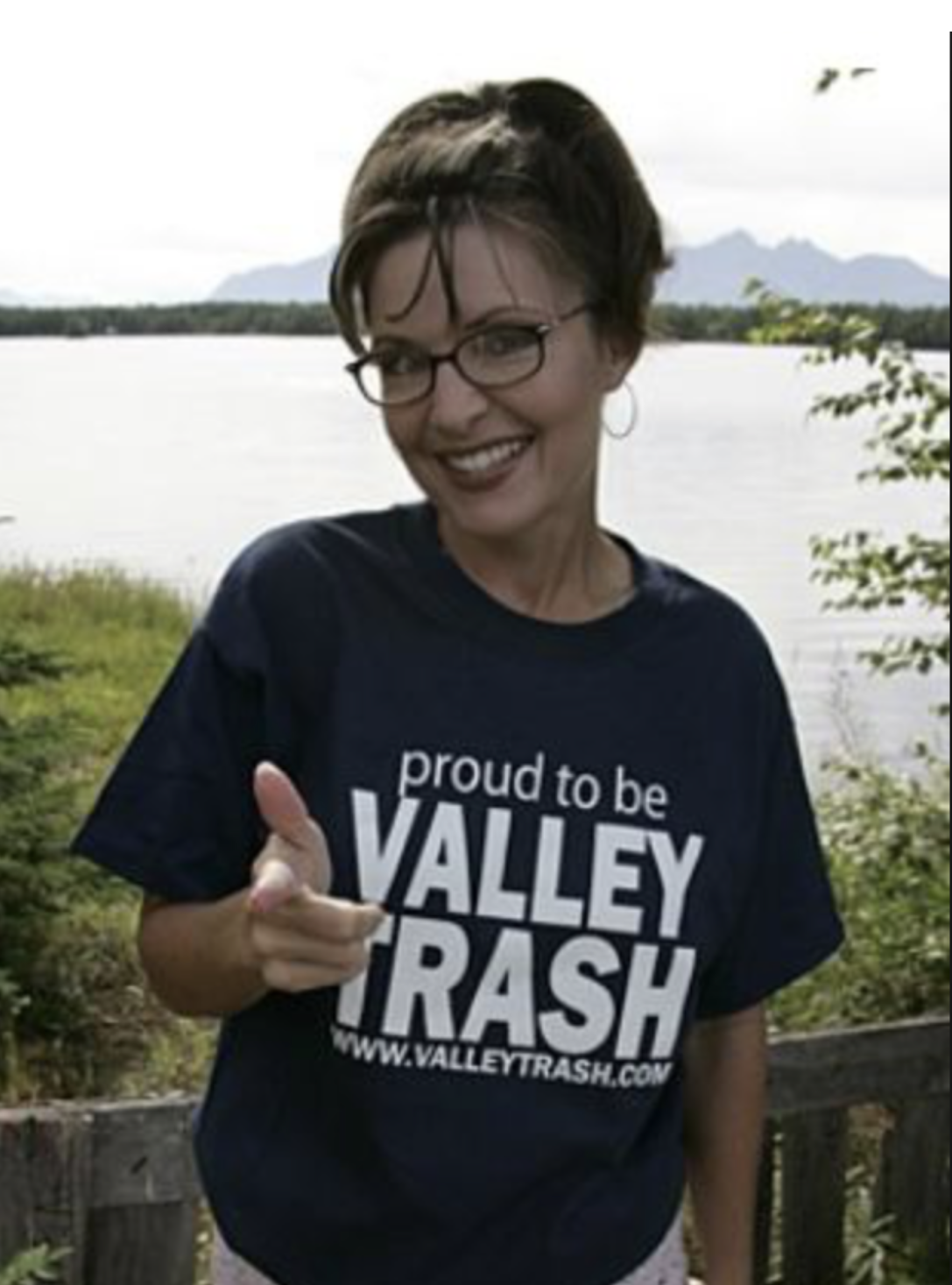 ***
OMG. You heard it here first, folks: www.valleytrash.com is currently available for the bargain price of $2,095.

***
Looks like someone needs to update their Facebook profile after receiving the boot. Shouldn't it read Tuckerman Babcock, Former Chair – Alaska Republican Party and Former Chief of Staff – Governor of Alaska?

***
A warm Stalker congratulations to Sen. Dan Sullivan and his wife Julie for celebrating 25 years of marriage. What an achievement. Take a look at this lovely tribute to Julie via Sen. Sullivan's Facebook page. And an extra special Stalker shout out to my husband as we celebrate 6 years of marriage tomorrow. When you know, you know. ?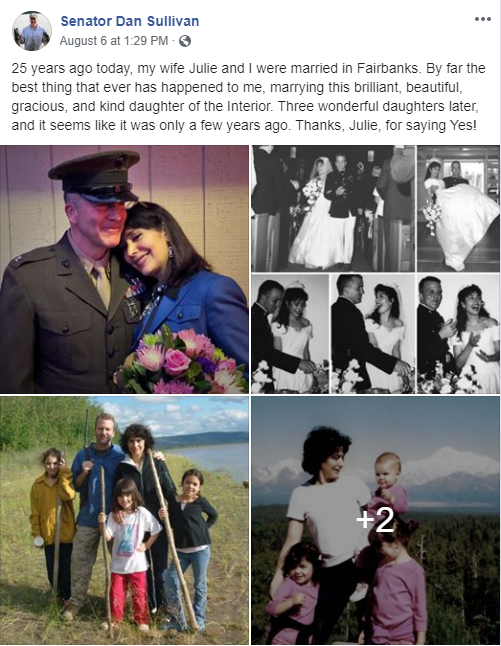 ***
And then there's this… While Sen. Dan Sullivan was celebrating his silver anniversary, his opponent, Dr. Al Gross, was sponsoring this ridiculous ad on Facebook. In case you missed it, last week's Stalker included a photo of Dr. Gross standing with the ferry workers and one of Sen. Sullivan winning a basketball game against Sen. Ted Cruz.  I'm tickled to death Dr. Gross reads the Stalker, but saying the ADN "highlighted the clear difference in priorities between Dan Sullivan and me" when you were actually mentioned in a political gossip column that's in the ADN's opinion section is loose. In fact, I formally nominate Dr. Al Gross to be the Alaska Landmine's "Loose Unit" of the week!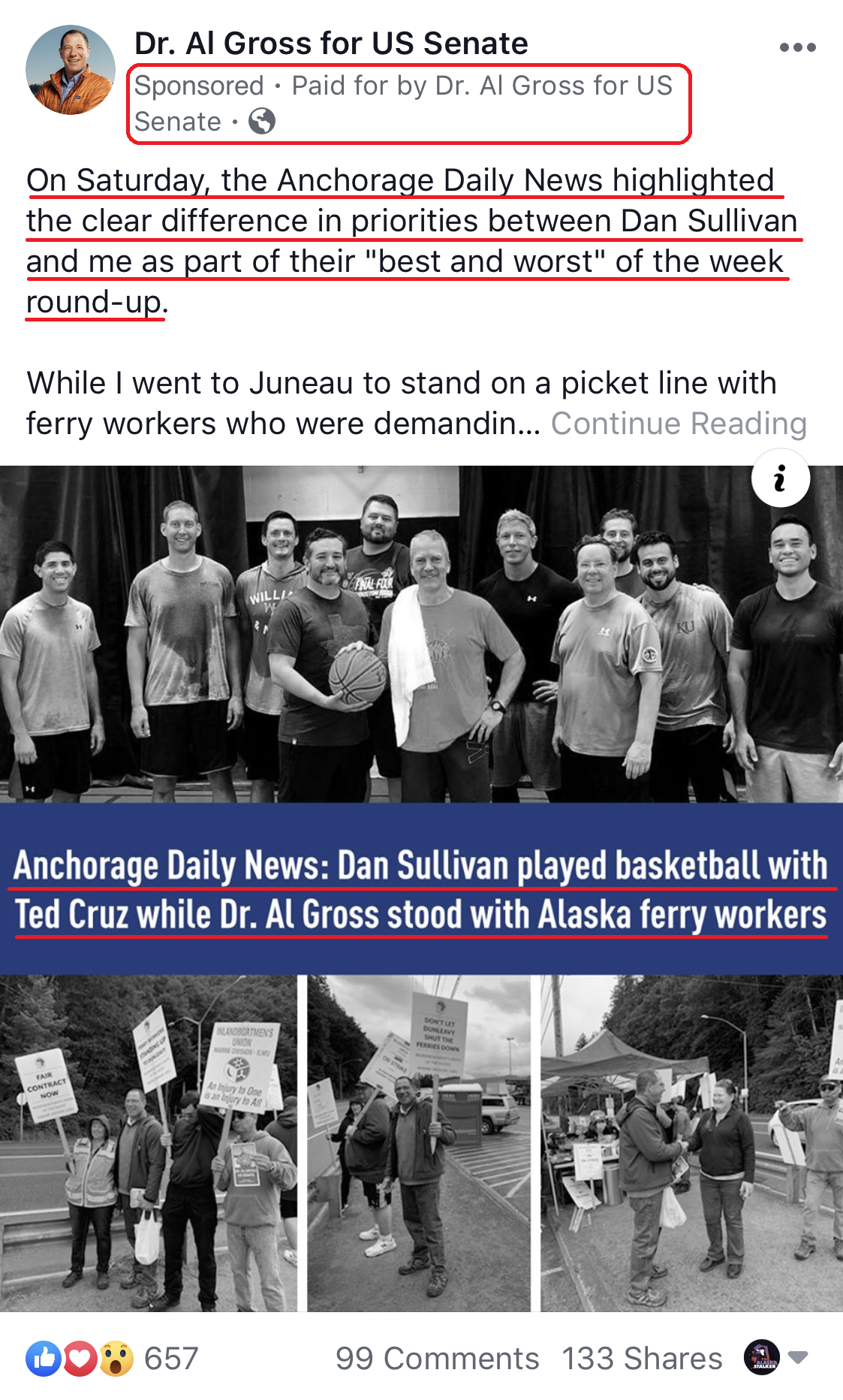 ***
Congressional candidate, Alyse Galvin, is in full campaign mode and posted this word cloud highlighting feedback from her last campaign. I was sad that "yellow blazer" and "Qiviut" weren't featured prominently. Alyse's quasi campaign uniform was one of the best things we've seen from a political newcomer. Whether she was on the debate stage, posting online, or pictured on the side of her RV, her ubiquitous yellow blazer helped people remember who she was. No comment on the absence of "handshake." ?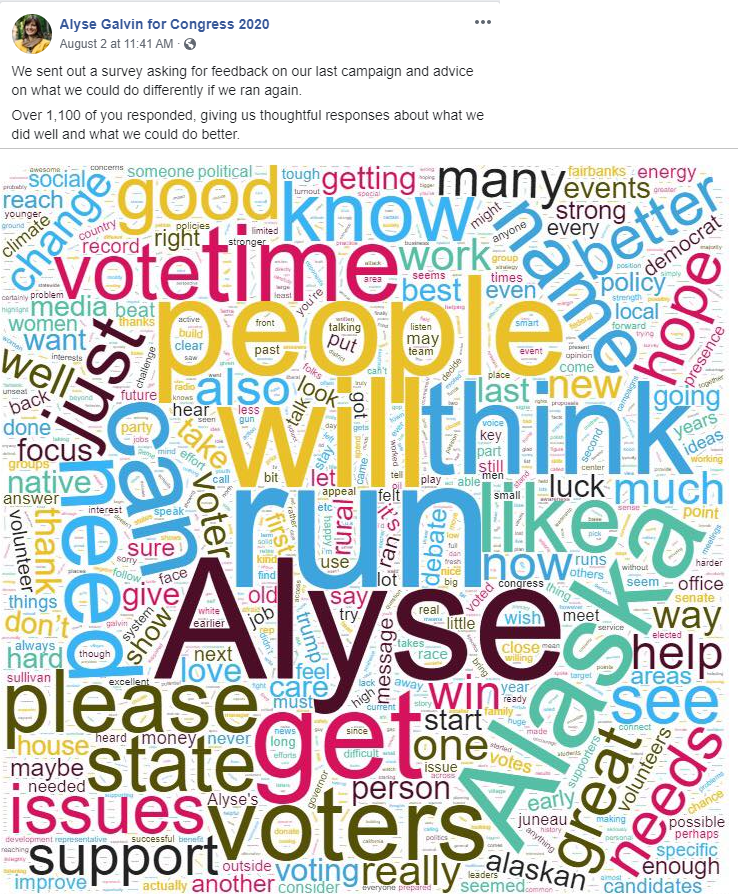 ***
While Southcentral is still experiencing a record heat wave, signs of fall are starting to creep into social media timelines across Alaska. Sen. Lisa Murkowski is home for summer break. From the look of her raspberry patch, she got here just in time.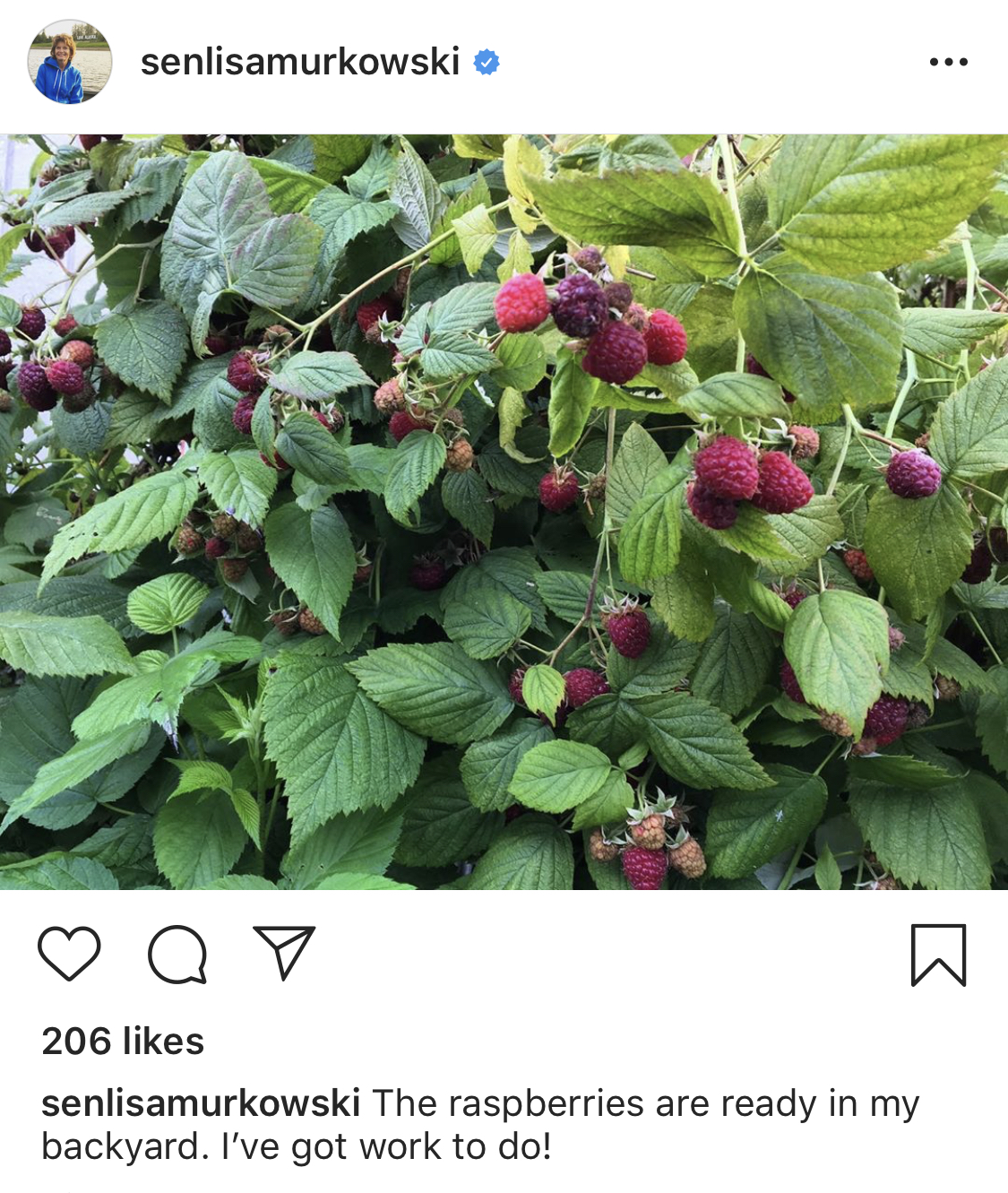 ***
Not sure if it was those record high temps, or if 13 years was the charm, but Sen. Bill Wielechowski's cherry tree yielded fruit for the first time! ? We hope Bill uses some of his bounty for a new batch of homemade mead. Bill, if you need someone to test any samples, let me know!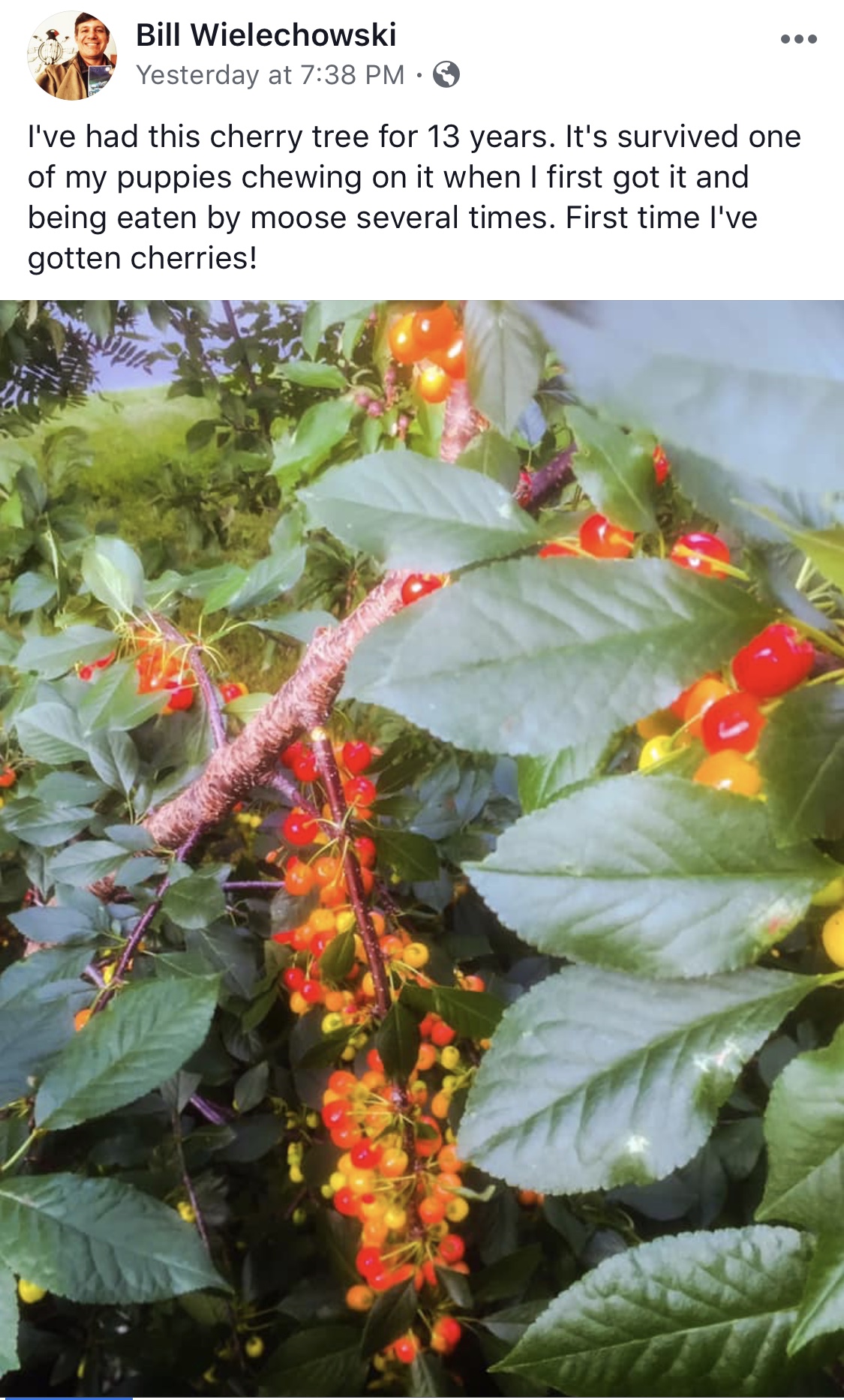 ***
Up in the Interior, Sen. Scott Kawasaki is getting an early start on canning season.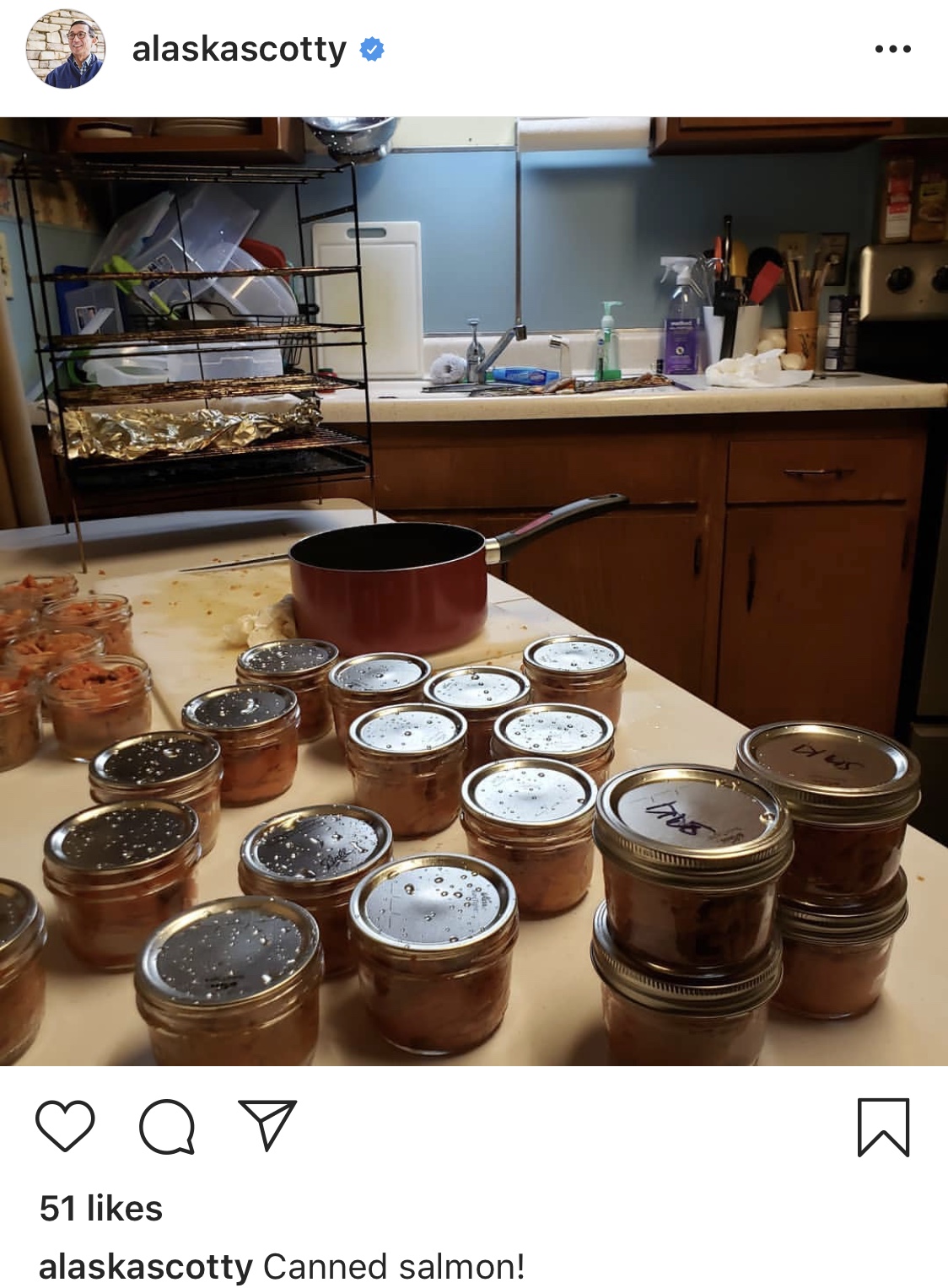 ***
And down in Southeast, Rep. Andi Story is enjoying a banner berry picking year.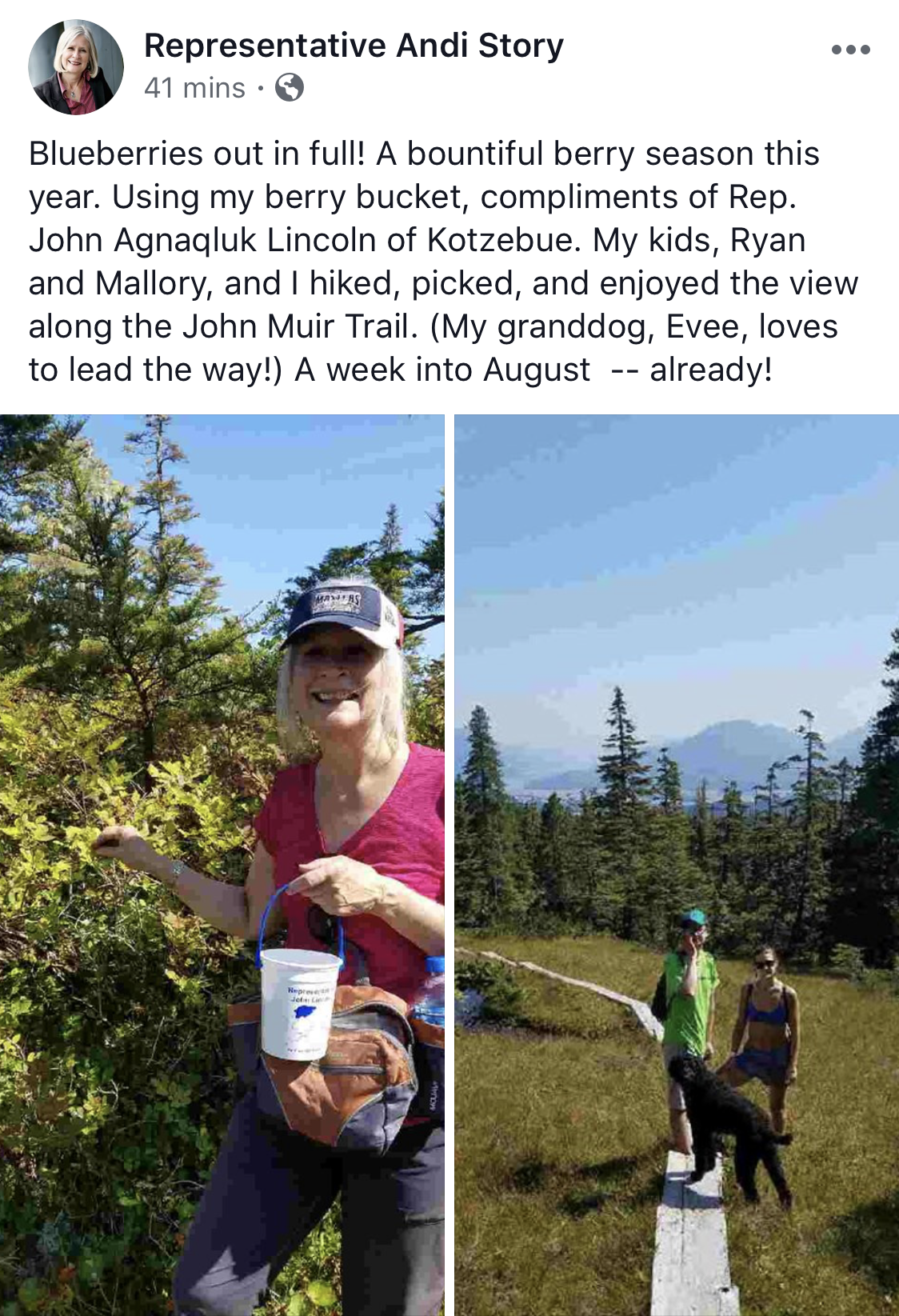 ***
Governor Dunleavy caused a minor scandal online last week when he posted this series of photos on his Facebook page. In some photos he has stitches, and in others no injury was visible. Wait, what? ?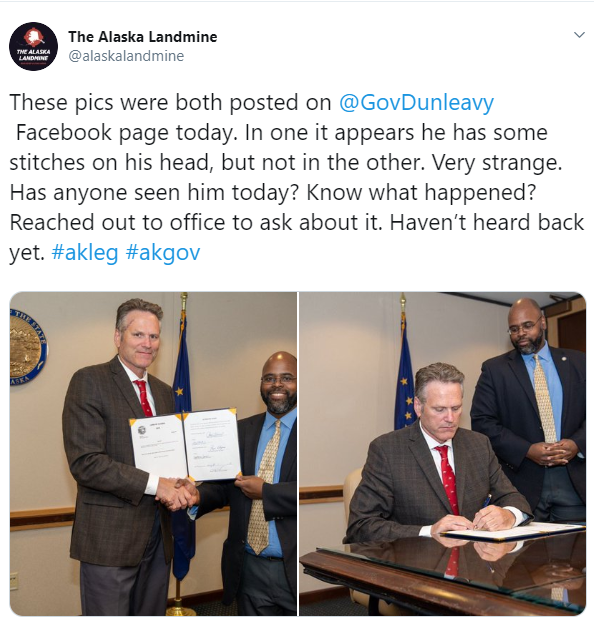 ***
Turns out Gov. Dunleavy had a skin cancer scare, and someone thought it would be a good idea to Photoshop the scar out of any photos. Problem was, they only Photoshopped half of the photos. ? Cancer is not funny, and we're glad the Governor was given a good bill of health. Whoever wrote the Governor's Photoshop mea culpa did a good job striking the right note. Stalker pro tip: next time forget the Photoshop and stick with a good filter (and full transparency) instead.

***
Over on Reddit.com/r/alaska, "AKTriGuy" had this to say about the Governor's procedure. Yikes.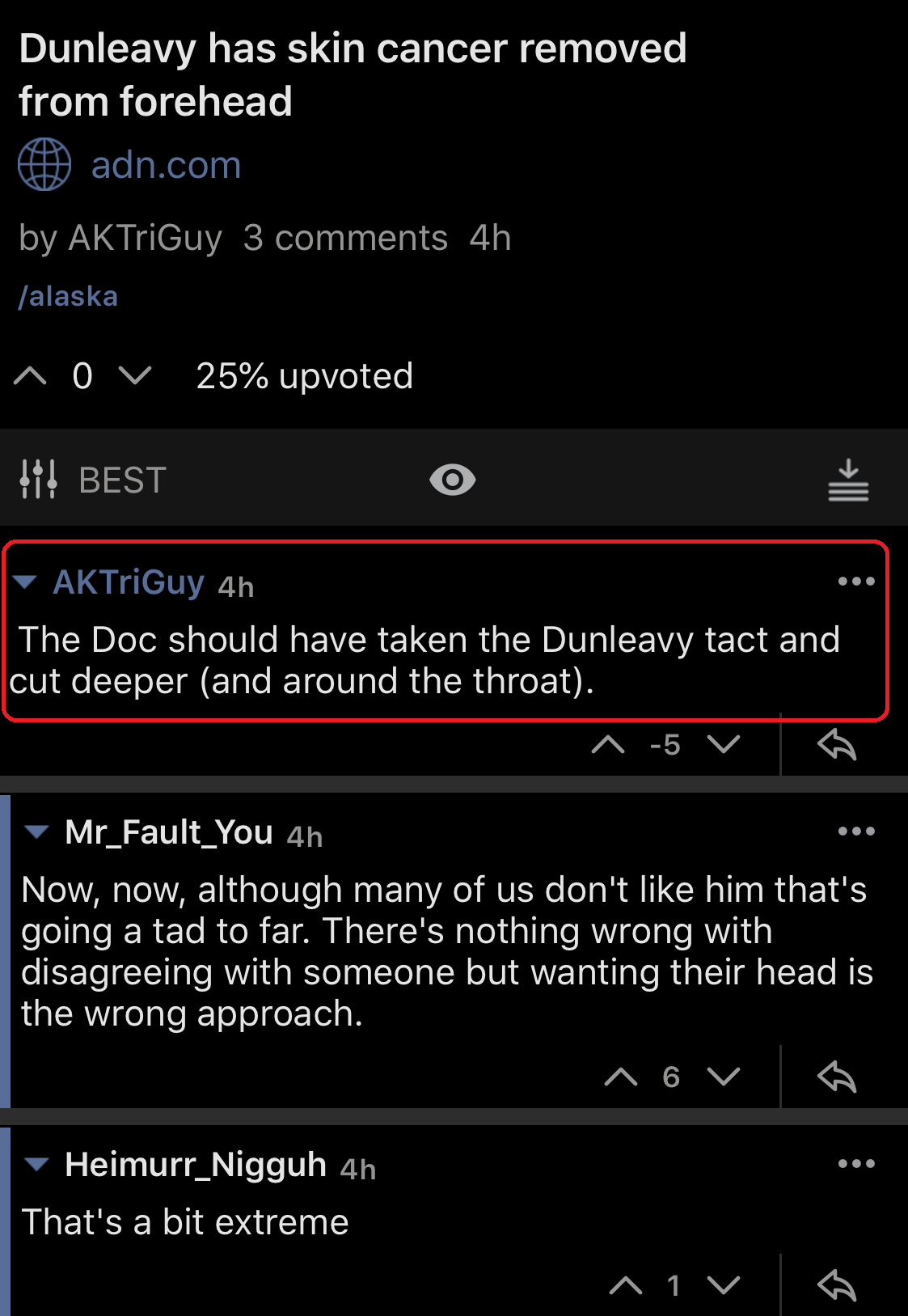 ***
Seems like an apt moment to highlight this can't miss op-ed, penned by former first lady of Alaska, Donna Walker. The Alaska Stalker may be a political column, but we strive to keep things lighthearted and fun. Thanks for the reminder, Donna.

***
The big news of the week continued to be the Recall Dunleavy campaign. Things seem to be on track for the first round of signature gathering. Vic Fischer, the last living delegate to Alaska's Constitutional Convention, has been spotted speaking at recall events and out collecting signatures. He's 95!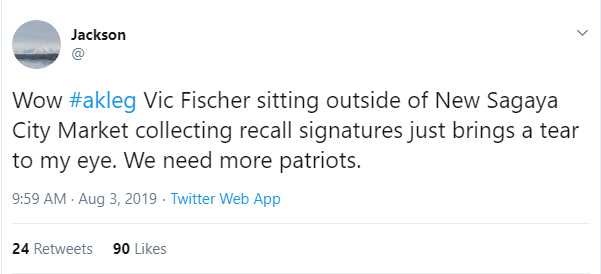 ***
Santa Claus of North Pole has officially put Gov. Dunleavy on the naughty list, and was quoted saying, "The vetoes suck." I guess all he wants for Christmas is Kevin Meyer.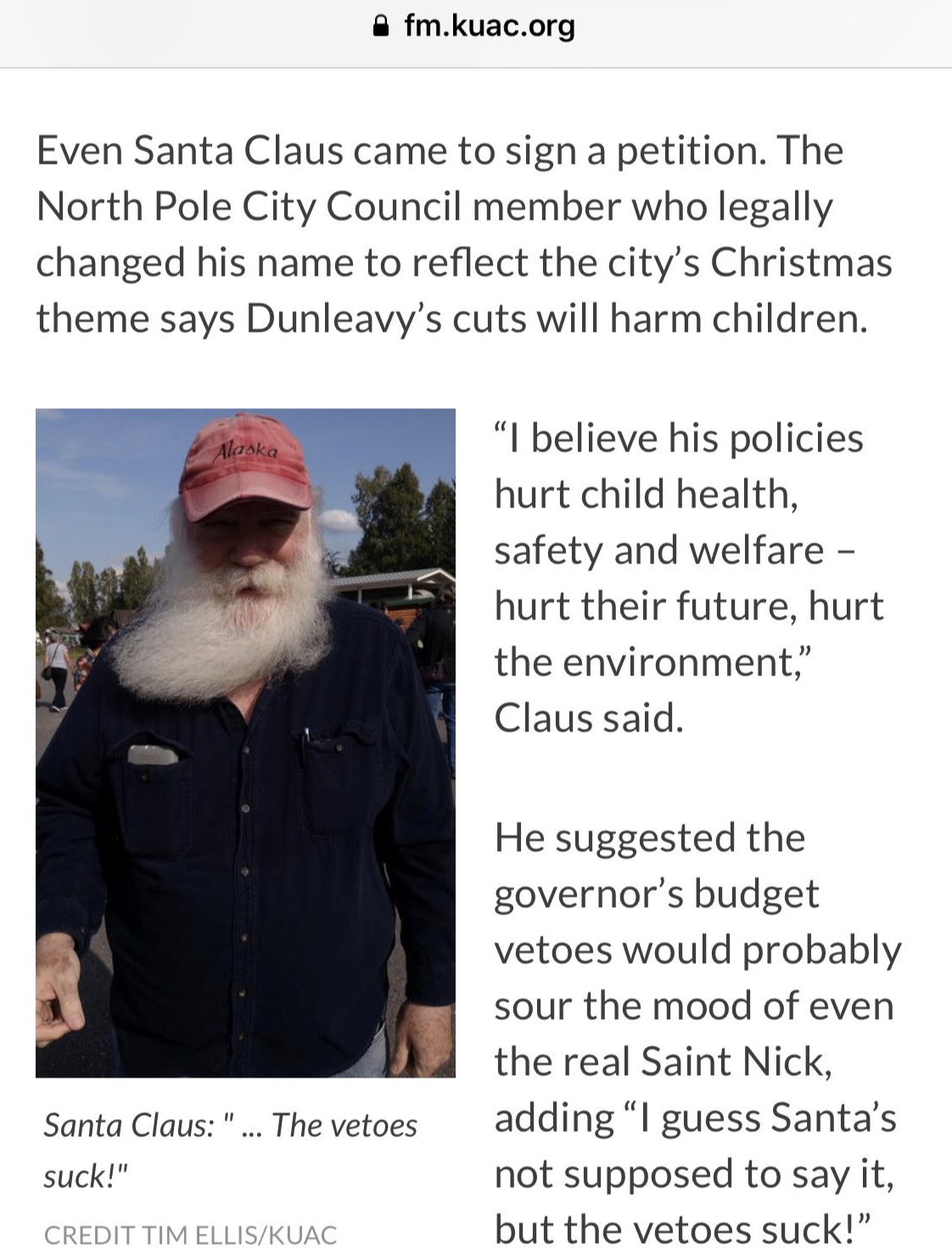 ***
We're not sure if this is a win or loss for the recall effort. Sounds like a very low energy rally.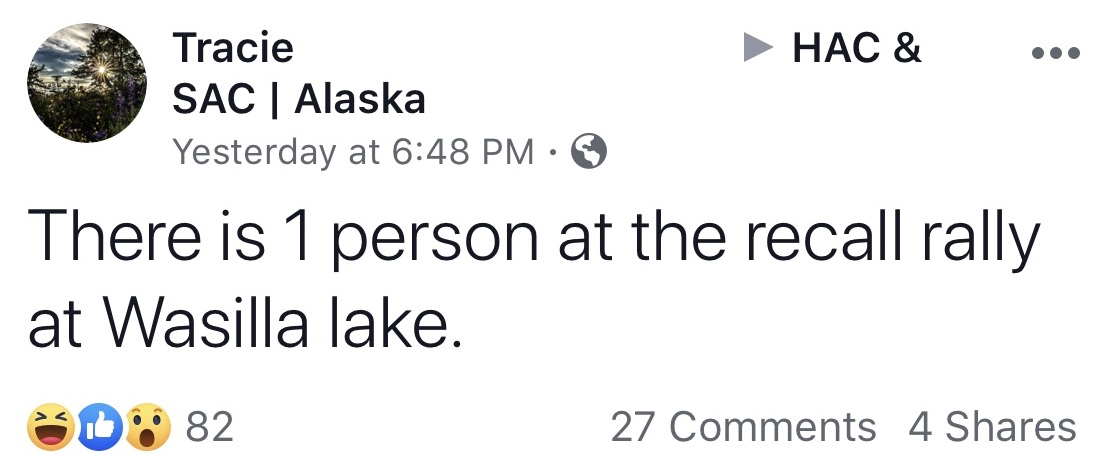 ***
Many legislators were down in Nashville, TN this week attending the National Conference of State Legislatures. Sen. Shelley Hughes participated in a high level panel on criminal justice reform with political commentator, Van Jones, and Mississippi Governor, Phil Bryant. Kudos to Sen. Scott Kawasaki for giving his colleague some internet love.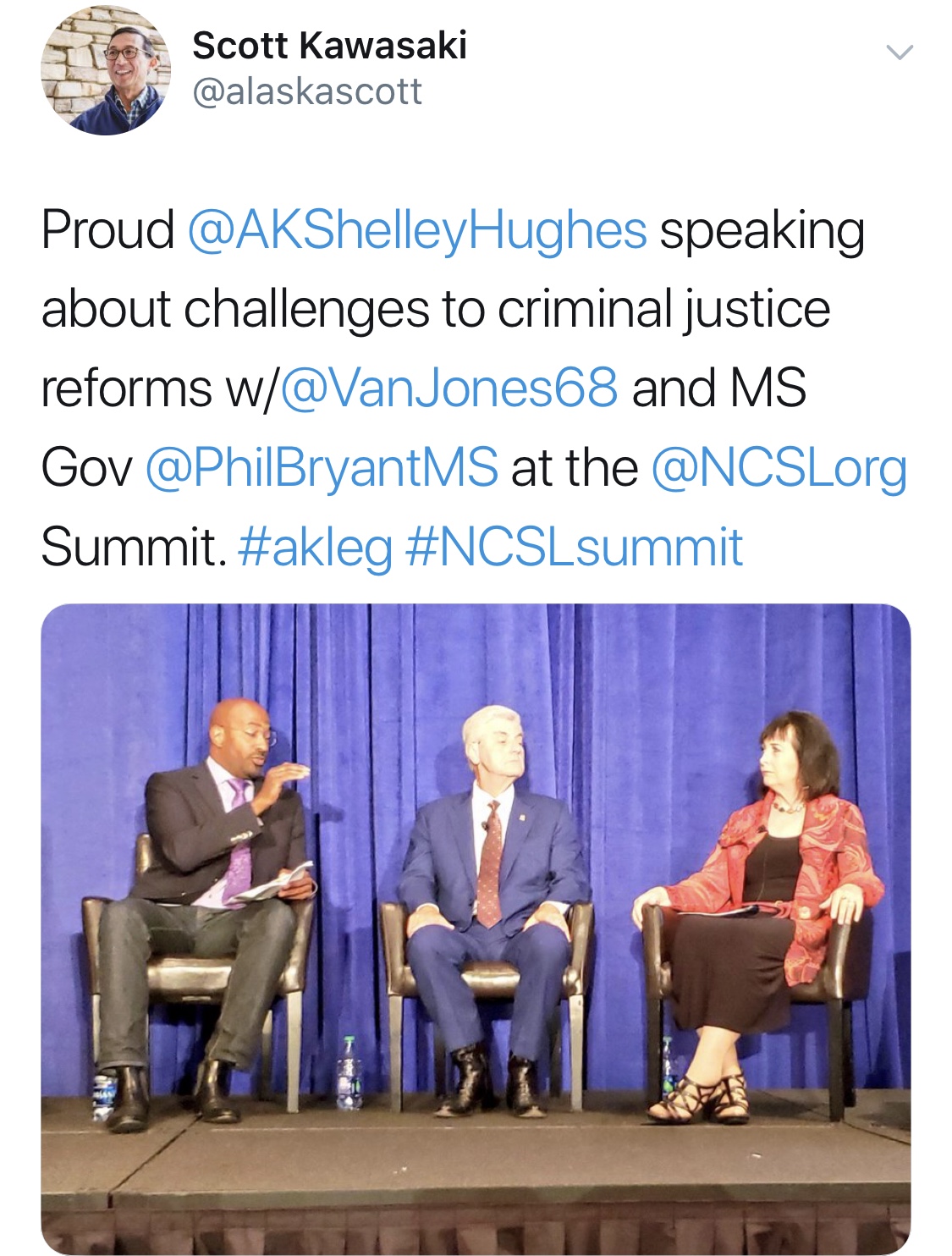 ***
I am living for Senator Elvi's "From Juneau to You" legislative updates. While they read much like any other legislator's e-newsletter, the photos set them apart. I don't think anyone can beat this. If you have a nomination, please send it my way.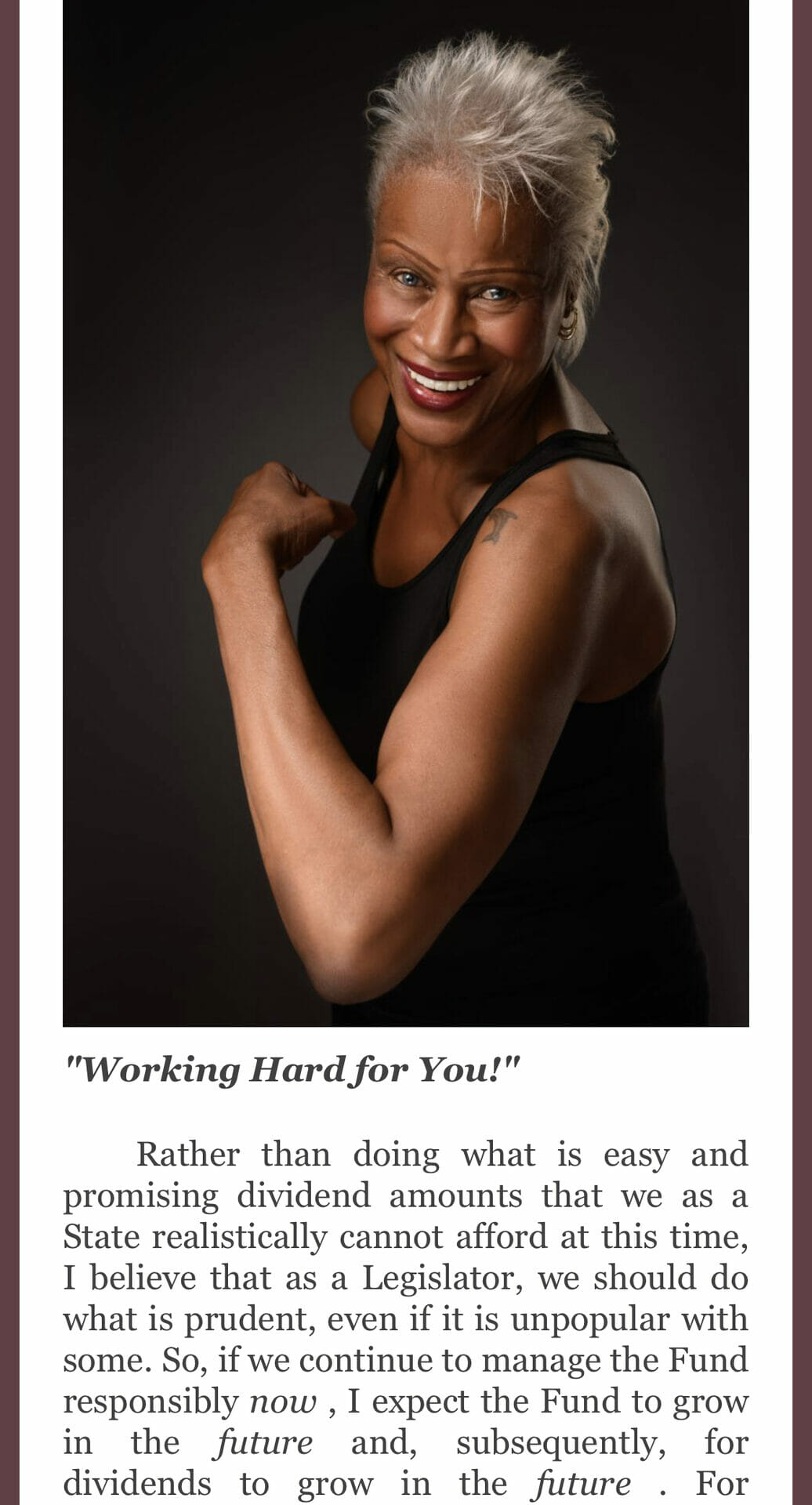 ***
Welcome to this week's edition of "guess the legislator." We blurred out the name of the league (that made it too easy) but think south of Anchorage if you want to take a stab at who this bearded lawmaker might be. Scroll down to the end to find out.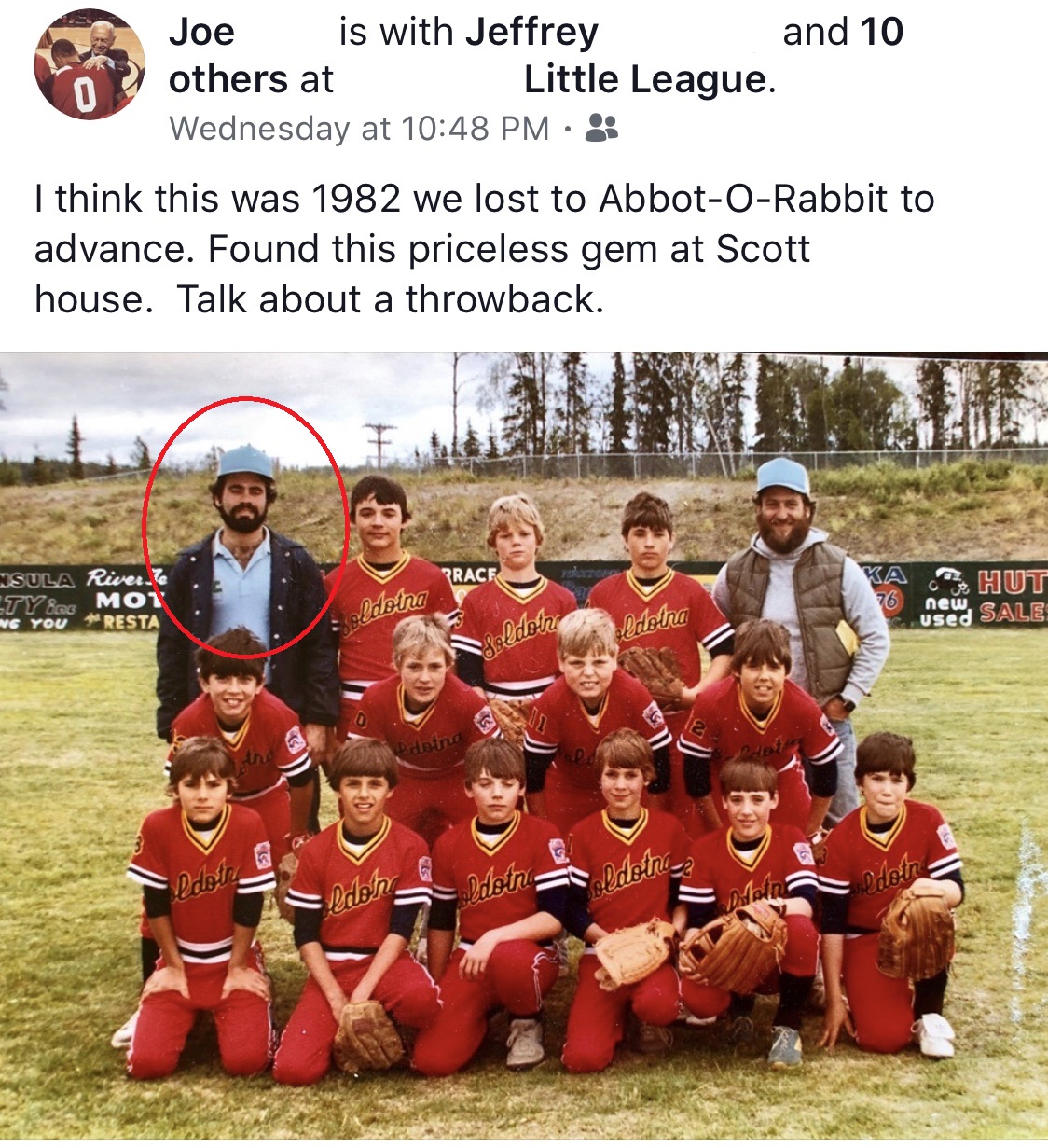 ***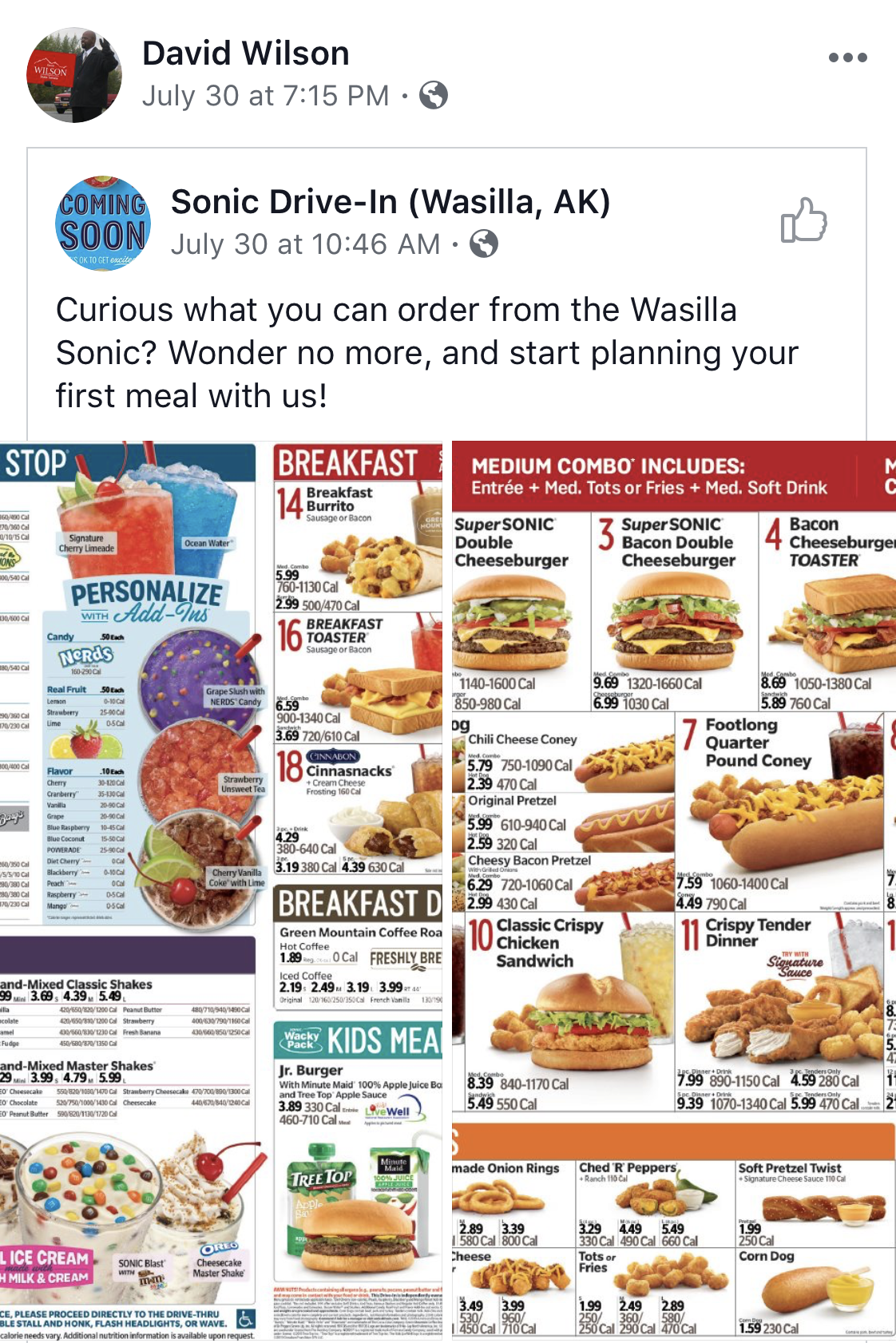 ***
I've been meaning to share Alaska singer, Marian Call's That's My House – the Taxes in Alaska Song. Luckily, Rep. Sara Hannan jogged my memory. If you like taxes, I've found your new jam. If not, then watching this might make your eyes roll out of your head. Either way, it's worth a listen.
***
On the other side of the political and artistic spectrum, Rep. Sarah Vance showed off a beautiful pair of her hand knitted socks. She might want to get going on a pair for Gov. Dunleavy, just in case he gets cold feet on his full PFD promise.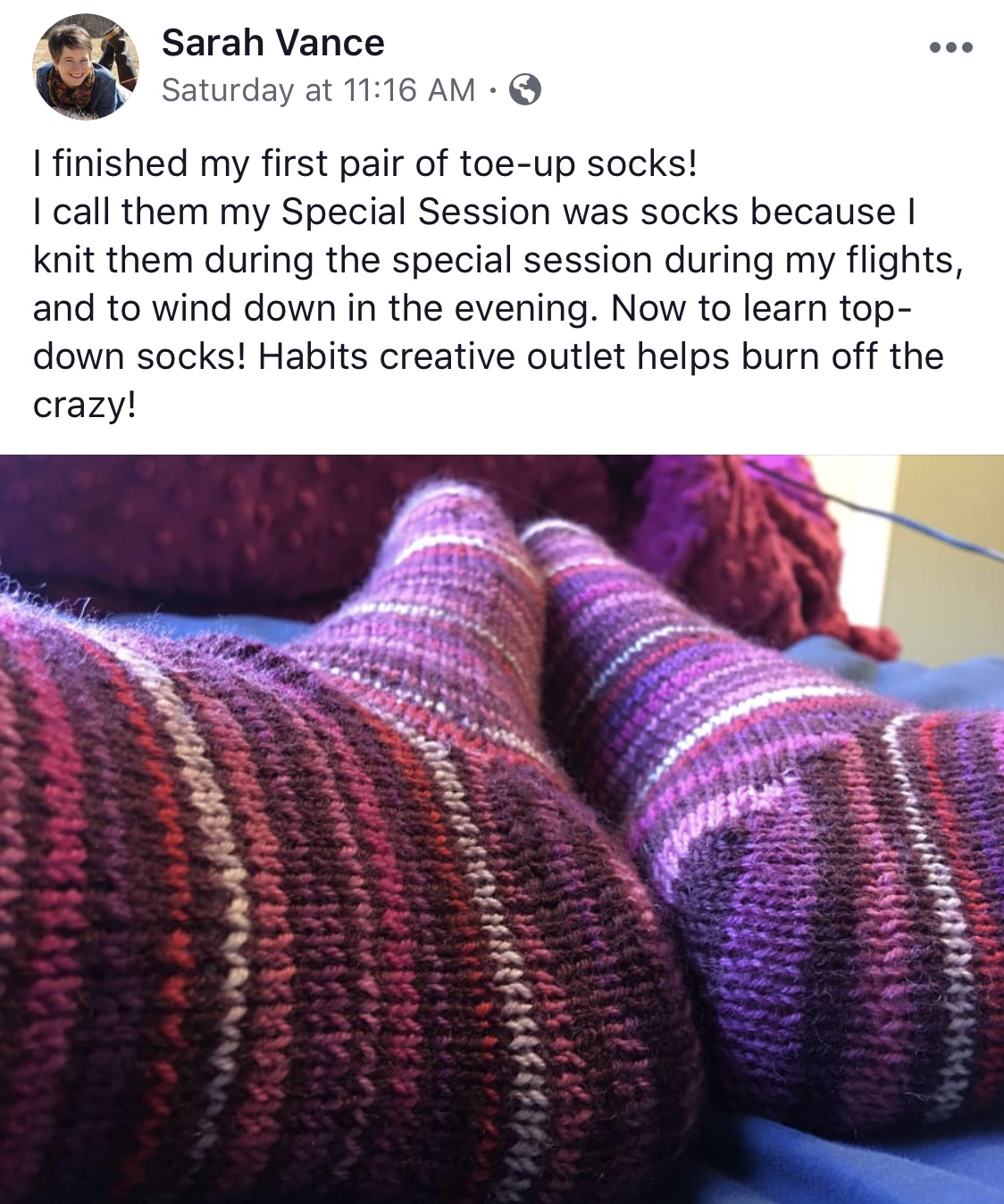 ***
Representative Zack Field's daughter, Zara, is once again stealing the show on his Facebook feed. Junior lineman Zara is pictured below at an IBEW tour of their Electrical Training Facility. Labor runs in their blood. But, unfortunately, so does the fashion sense. ??? It's okay, she can pull off the unbuttoned onesie and red pants with pink shoes look as only a toddler can.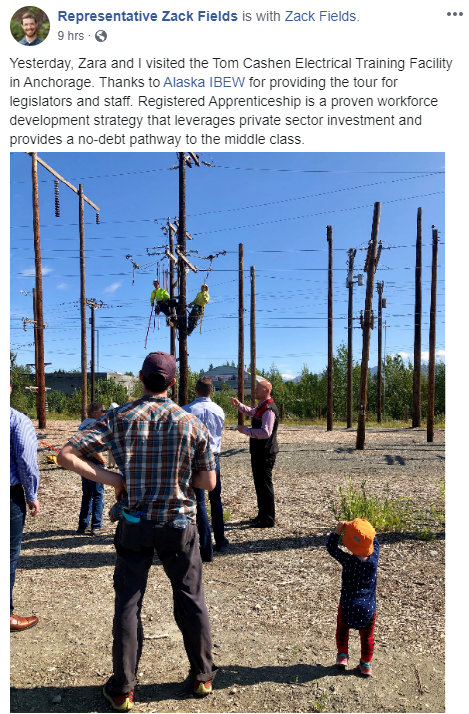 ***
They say children imitate what they see… Oh. ? Zack, for the sake of the children, step up your fashion game and please, leave the bolo ties to Don Young.

***
Rep. Harriet Drummond posted one of those amusing Facebook photo challenges. So far it's gotten over 100 comments, and dozens of participants. I thought I'd join in on the fun by posting my 11th photo below.

***
Well, this is awkward.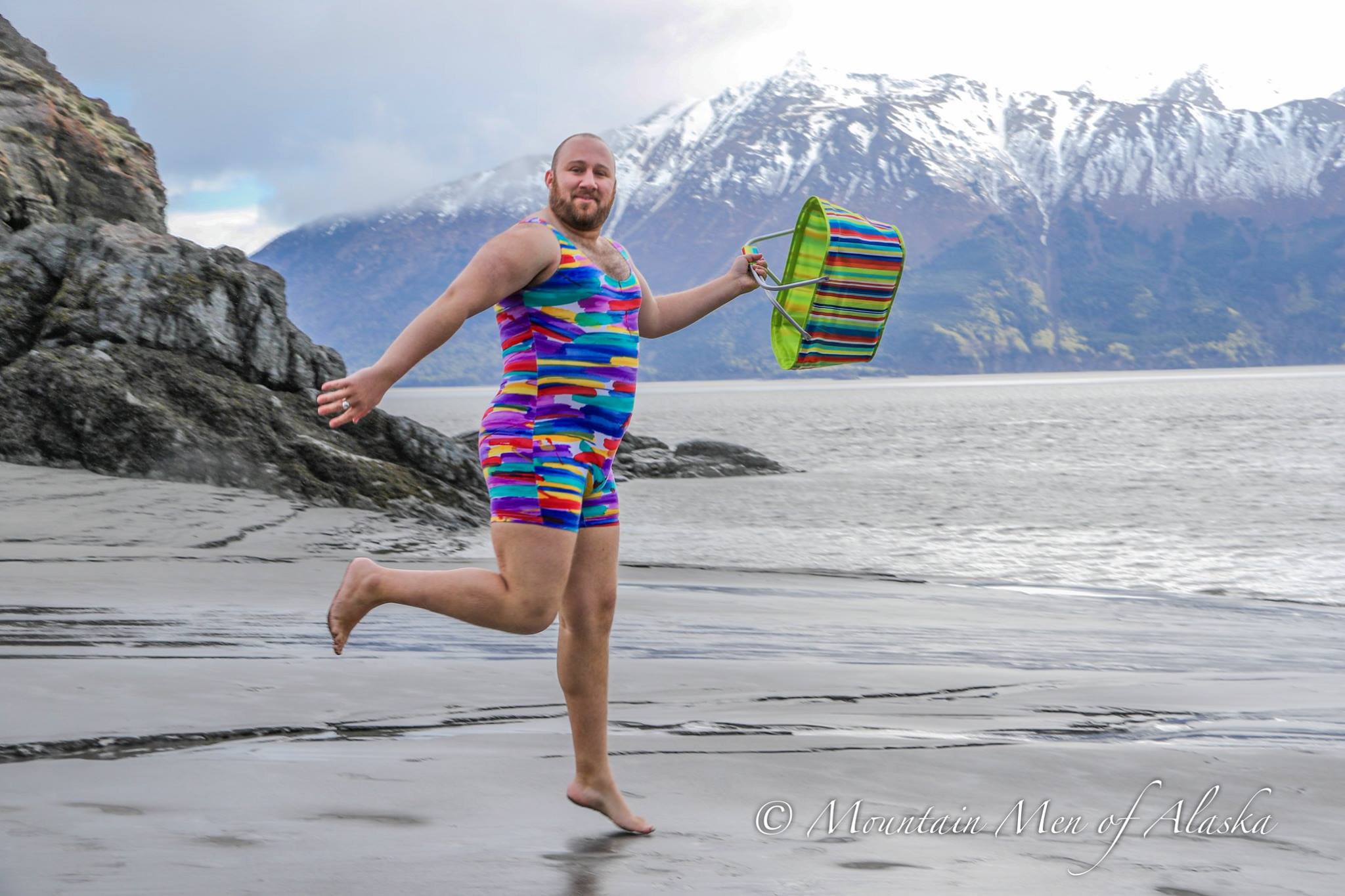 ***
Budget guru Ed King has sworn off Twitter. Cool mom and mean girl, Nona Dimond, bid him a "fond" farwell. Be best, Nona. Also, check out that like (circled at the top) from State Budget Director Donna Arudin AKA
Budget Lady ?‍?

.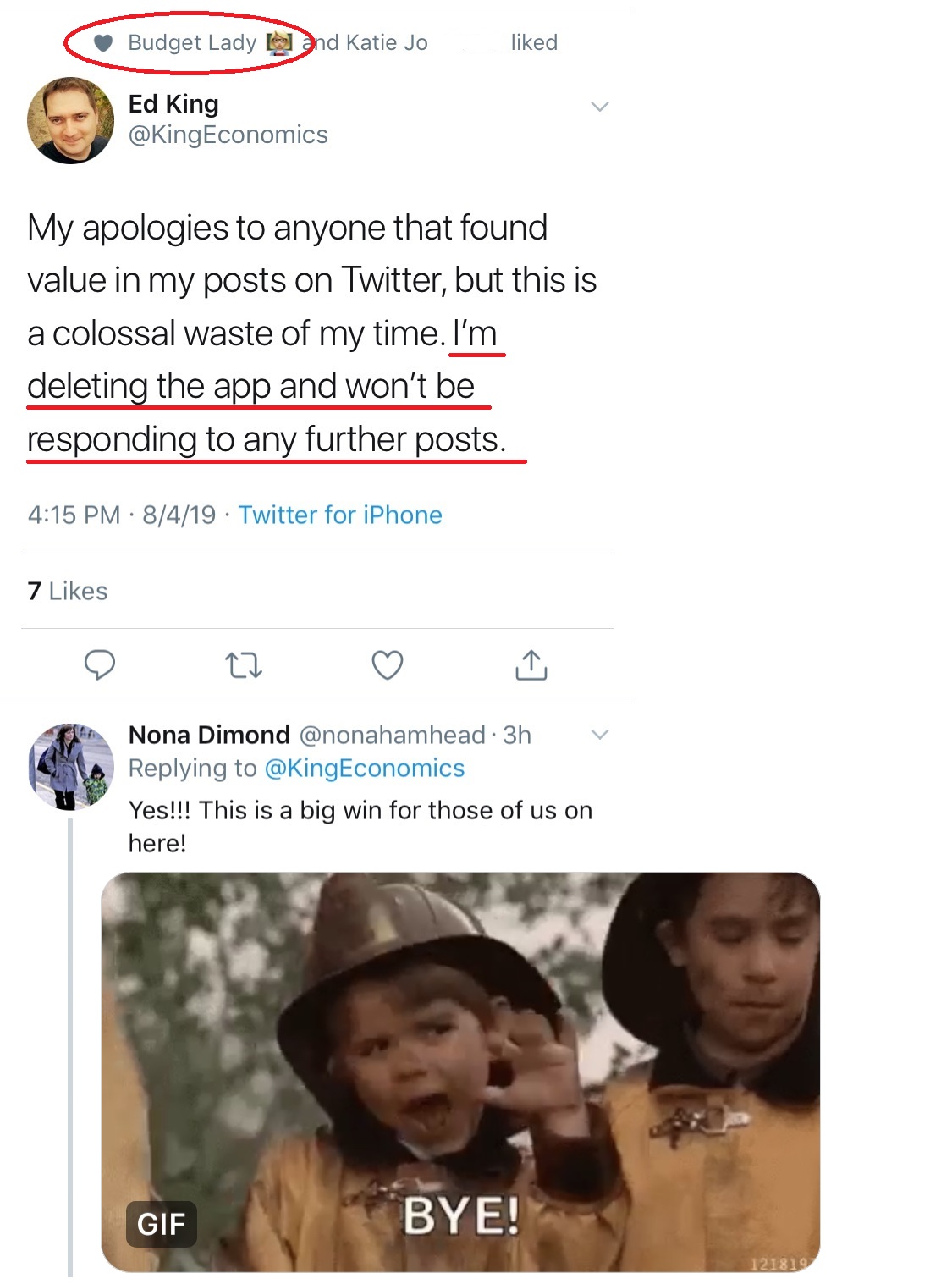 ***
We'll end with the wise words of staffer to Senator Shelley Hughes, Buddy Whitt: "I've had about all the political drama I can take. Gone fishin." Indeed. I mean, until next week. ?
Overheard in Anchorage: "Did you hear about the new number neighbor trend? Folks in Alaska do it and be like, Hi I'm your number neighbor. Do you want to sign the recall Dunleavy petition?"
***
Spotted at the South Anchorage Farmer's Market: Sen. Lisa Murkowski manning her son's pasta company booth with Rep. Jennifer Johnston and her dog.
***
Spotted at the National Conference of State Legislatures in Nashville, Tennessee: Senator Shelley Hughes, Representatives Josephson, Knopp, Stutes, Tuck, and Tuck's longtime partner, Bernadette Wilson.
***
Spotted at Tracy's Crab Shack:  famous actor Ashton Kutcher!
***
Answer to this week's guess the legislator: Senator Peter Micciche.
***
The Alaska Stalker was born and raised in Alaska, and lives in South Anchorage with her husband, daughter, and son. She is not Jeff Landfield.