Welcome to this edition of the Alaska Stalker, a lighthearted round up of the best and worst of Alaska's social media landscape.
***
If you enjoy the Alaska Stalker, please consider supporting working moms like me by sending in hot tips, overheards, and spotted ins. You can reach me at akstalker@alaskalandmine.com. As always, thanks for reading.
***
Hero to the Alaska Stalker, Assembly Member John Weddleton, has gone and done it again! In case you haven't seen the video he posted, please take a moment to watch this Anchorage School District maskless super spreader event. Just look at all those naked faces! And yes, it happened one day before Superintendent Deena Bishop announced a mask mandate for all ASD schools. Great job, everyone! 🤡😷🤡

***
Wowzers. I'm not sure Anchorage School Board Member Pat Higgins should be referring to all his maskless ASD colleagues as suicidal lemmings. At least, I think that's who he's talking about. It's so hard to keep up. 🤷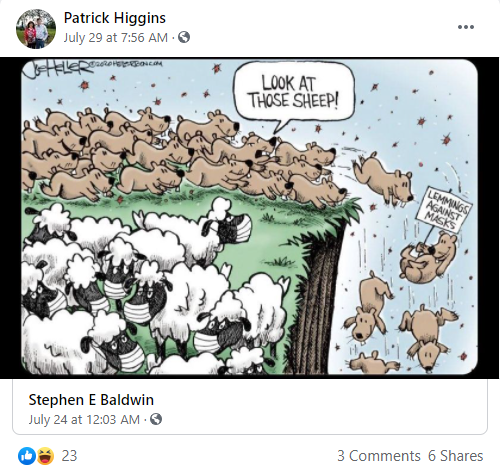 ***
I really hoped these days were behind us, but here we are. Fine. I volunteer as tribute to be Alaska's mask hall monitor. If you see Deena or Kelly Lessens around town without a mask, email akstalker@alaskalandmine.com ASAP. Same goes for Carl, Andy, Dora, Margo, Pat, and Pat's ferret. Pretty much anyone that tells folks what they should be doing, but then does something else themselves, or who is breaking the rules, is fair game. I'll go first. Take a look at Commissioner of Health and Social Services, Adam Crum, on a recent Alaska Airlines flight! 😱😱😱 He's going full Reinbold in the first photo!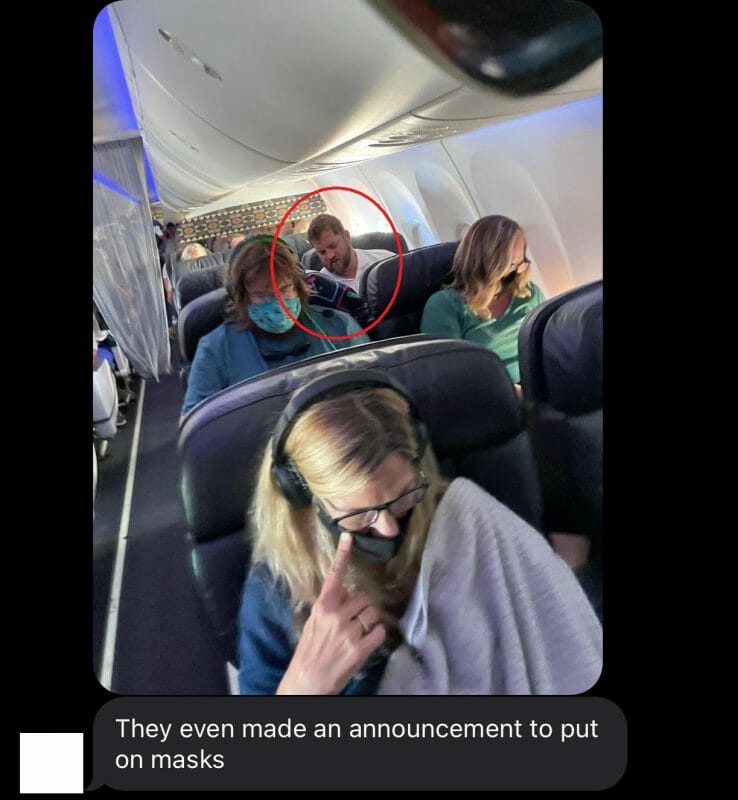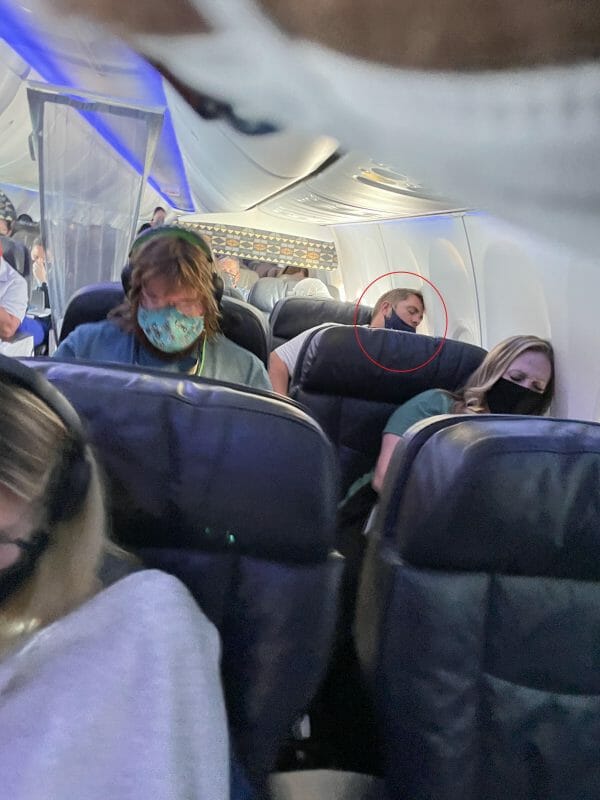 ***
Love him or hate him, at least Assembly Member Constant practices what he preaches. Not going to Foo Fighters is a real sacrifice!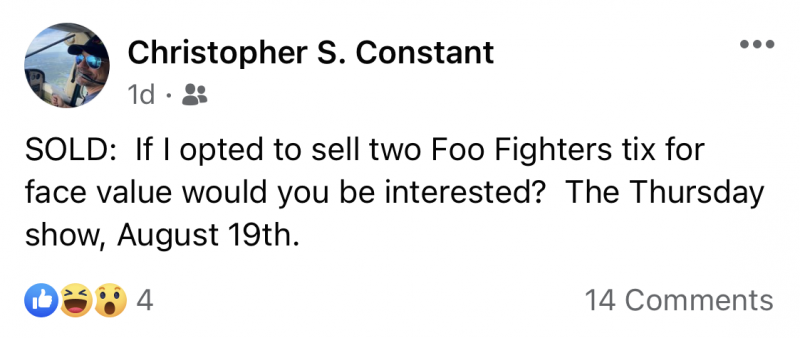 ***
Wait, what? Noooo, Kameron. That gentleman is… not Zach Galifianakis. I won't be accepting any hot tips from you.

***
Assembly Member Forrest Dunbar on the other hand – I will gladly accept any and all tips… 👀 That is some high level stalking.

***
And then there's Felix. Though nothing will ever top him getting wasted on Facebook to tout an Alcohol Tax, this is pretty good. According to Anchorage Assembly Member Felix Rivera, the reason the Municipality should provide free fares for the People Mover is because, "sometimes it can take a while to grab that change from the bottom of your bag or pockets." Such impenetrable logic! 🙄 Hey Felix, it always takes me forever to find enough change to cover that alcohol tax you pushed a couple years ago. Think you can implement a free Fireball system next? 🤣🤣🤣

***
The Legislature should do this. Except they should allow for one *above average* person to serve for reference. (I kid, I kid!) Those comments tho… 🍻

***
Yikes. I guess constituent Steve REALLY hates Sen. Holland's NASA Q&As.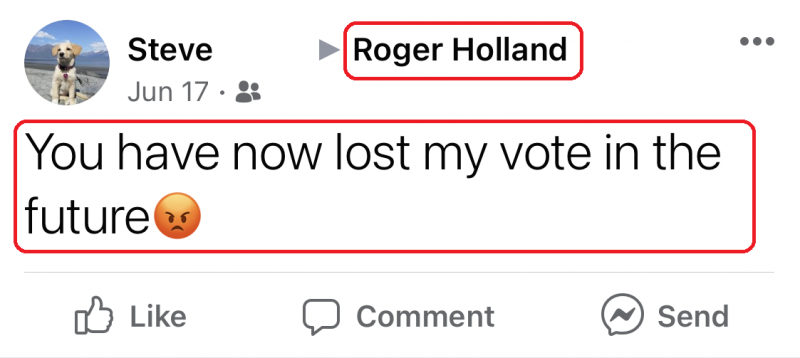 ***
Shout out to cool dad, Sen. Josh Revak, for achieving the full family vacation experience this summer, complete with an RV. Seattle to Ft. Myers Beach is an epic adventure! My parents pulled my brother and me out of ASD for a few months when we were young and we drove down the Alcan, through the PNW, Midwest, East Coast, down to Florida and on to Texas. I'll never forget all the historical sites we saw, folks we met, and experiences we had. I guess my only question for Josh is, did you make time to visit the most important historical site in all of America? You know, Dollywood! 🦋🎤🎶🌈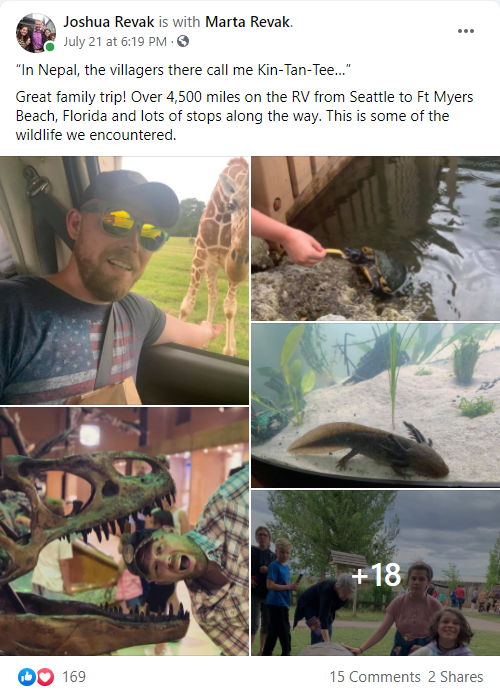 ***
Not sure what Sen. Elvi Gray-Jackson is up to, but it seems like she can't quite make up her mind. Elvi posted these two profile picture updates just minutes apart on Facebook. I think she made the right choice and ended up going with the stronger of the two updated glamour shots. However, I'll always be partial to her fireweed photo shoot.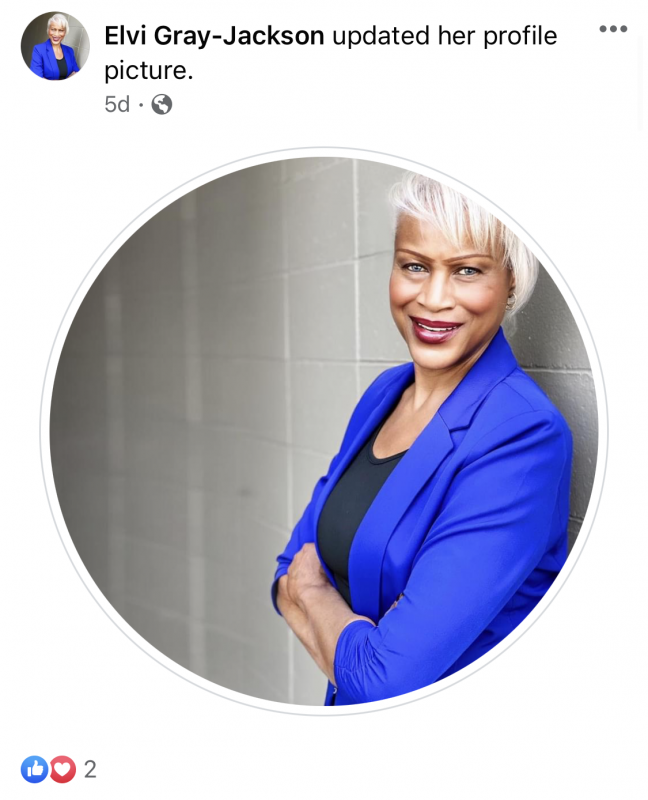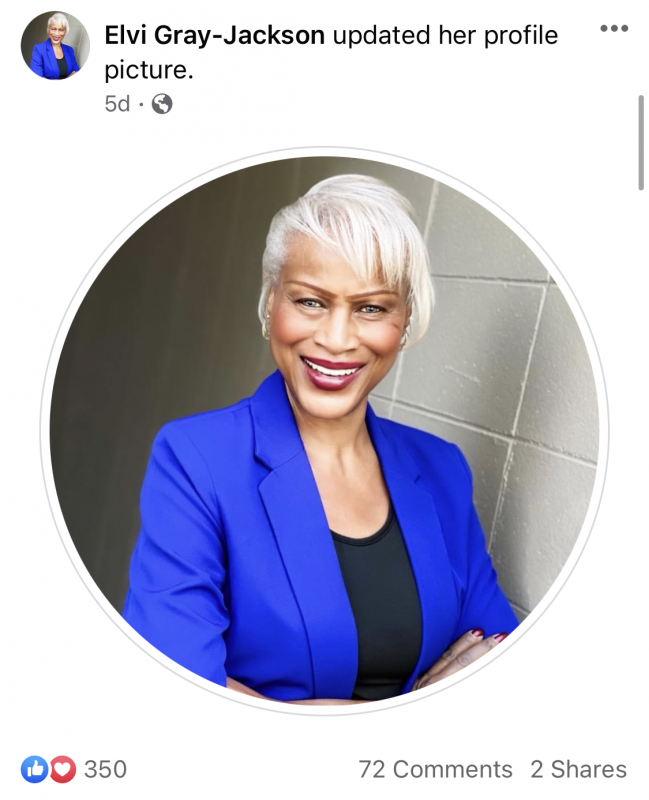 ***
Rep. Liz Snyder also decided she needed an updated power woman profile pic. How thoughtful of Alyse Galvin to loan her famous blazer to Liz. 💛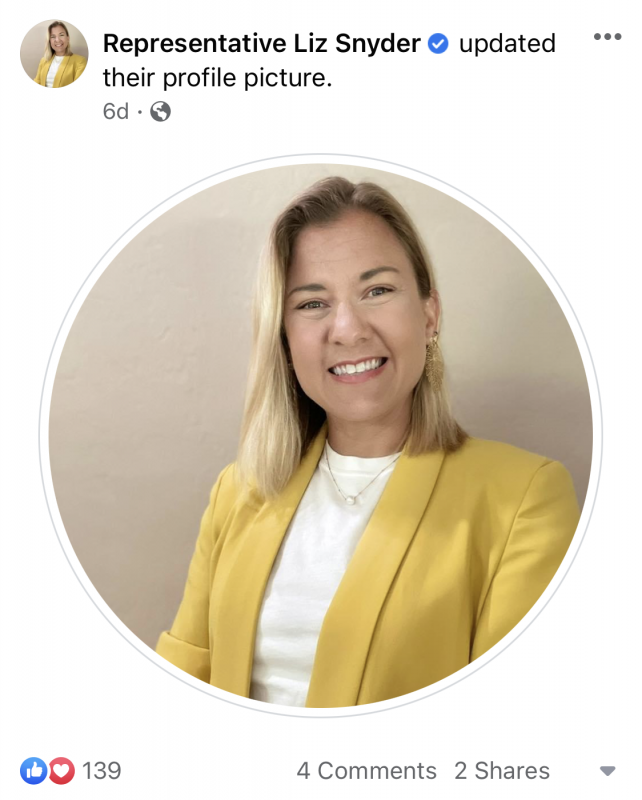 ***
Who would have thought Sen. Mia Costello would go low-key NSFW on her Instagram. Not mad, Mia!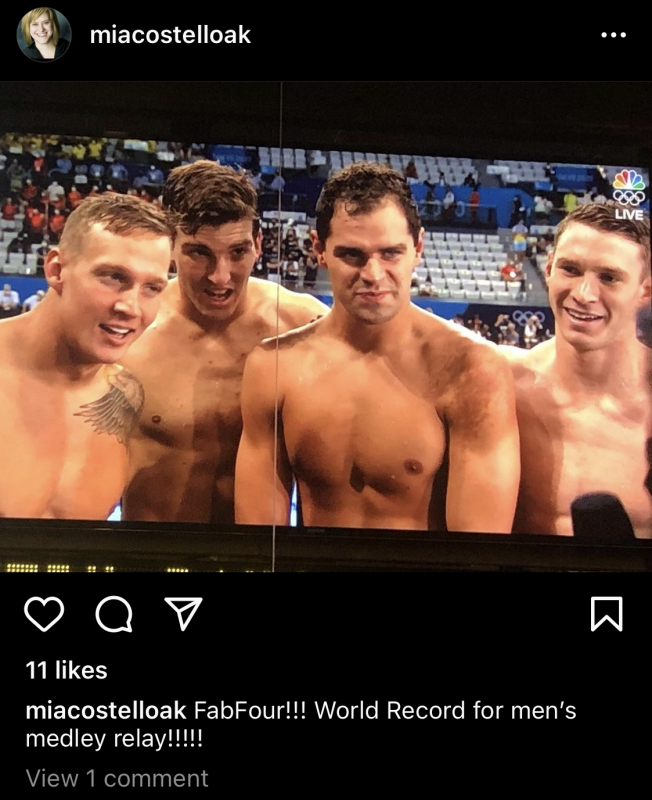 ***
Peter's pool is also NSFW. My God, Senator! 🤢🤢🤢

***
He may not be very active on Facebook, but check out Rep. Claman's Instastories! I am obsessed. Those emojis are 🔥. Let's hope he posts content like this during what is sure to be the Legislature's own full-scale disaster of a special session later this month.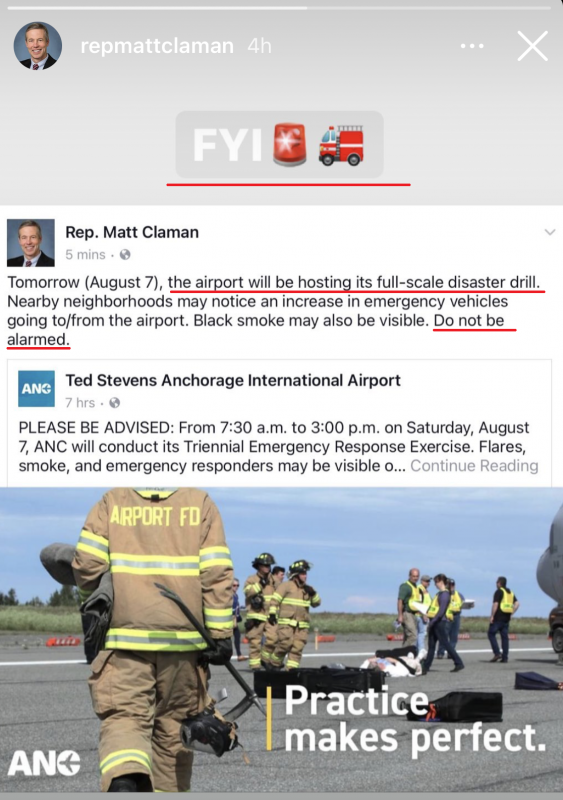 ***
Take note, Chewie. Rep. Sarah Vance knows how to act Alaskan without even trying. The well-loved Xtratufs and light wash jean jacket paired with dark jeans really cement her genuine Alaska gal aesthetic.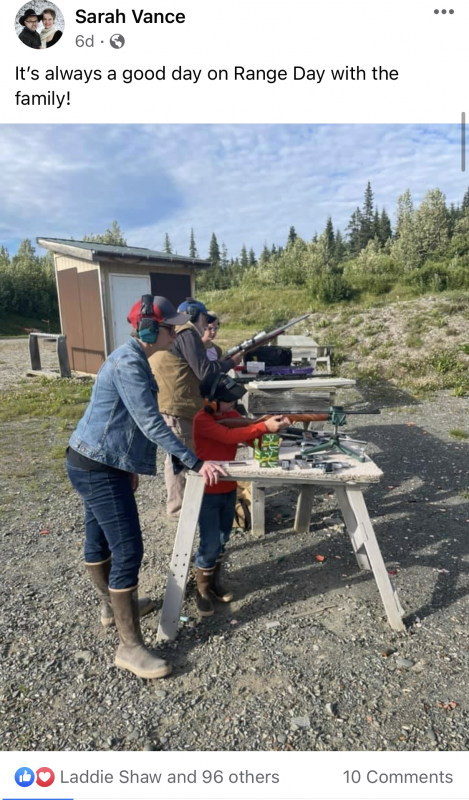 ***
Congratulations on number three, Sara! Can't wait for some high level puppy content during next session. Also, being a legislator on social media sounds terrible: you post a cute photo of your new dog and someone tells you to "serve the people." And then the Stalker posts about it.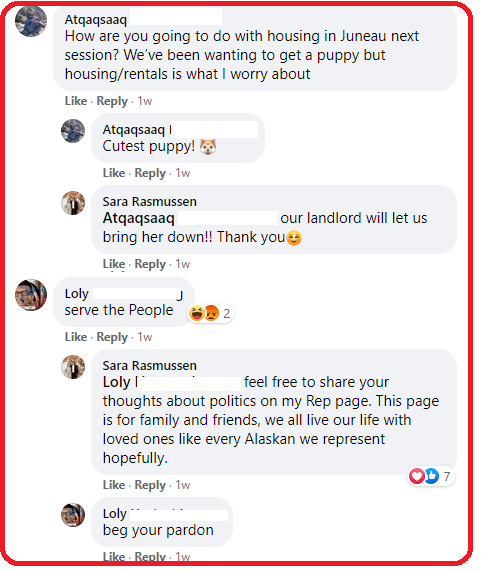 ***
I can't be the only one who took several moments to figure out which photograph was 25 years ago. Rep. Spohnholz does not age! Happy 25th anniversary, Ivy and Troy! 💕
***
Apparently Congressman Don Young doesn't age either. Just look at that "totally current" photo of him for his most recent fundraiser. 🧐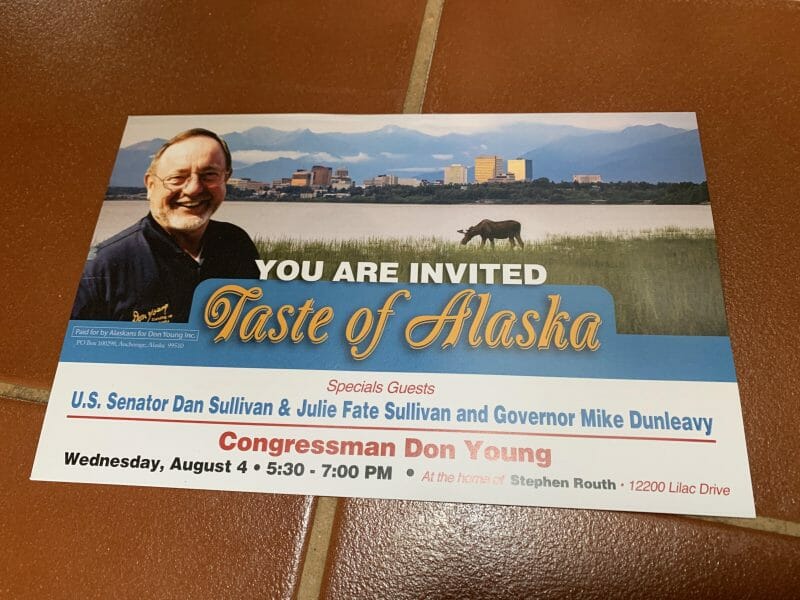 ***
Because, of course Sen. Sullivan featured Alaska Pasta Company at his lunch. I hope Lisa was able to get him the family discount!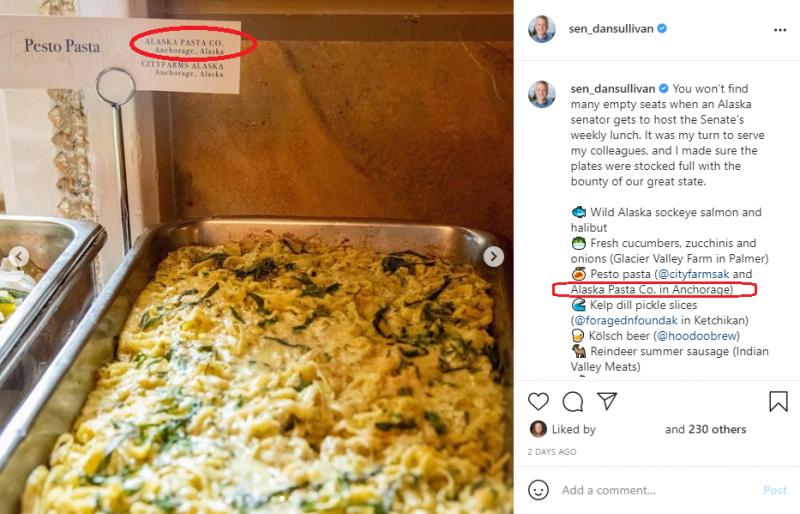 ***
The best/worst thing about former Rep. Les Gara weighing a run for governor is that I turned on my Twitter alerts knowing what was coming. O.M.G. He's a hot mess. Hot mess Les! Every tweet gets deleted and edited and then tweeted again. Can you spot all the differences?

***
He can't even insult Dave Stieren (like it's hard?) without trying more than once to "get it right." Cringe level: 1,000.

***
Spotted in downtown Anchorage: Mustachioed Matt Shuckerow, interim Bronson spokesperson, leaving the Pioneer Bar on a recent Saturday night and debating between a $6 slice of pizza from Sockeye Sundry or a $6.50 hot dog. It looked like the pizza won out over standing in line for a street dog.
***
Spotted on Sunnyside Trail (backside of Flat Top) carrying an injured hiker down with an impromptu rescue group: Bear Dr. Al Gross!!!
***
Spotted getting off an Alaska Sea Plane in Juneau: Senators Bert Stedman, Click Bishop, and Josh Revak.
***

***
Spotted in Fairbanks: Palmer Deputy Mayor Sabrena Combs scrambling with cold hard cash to avoid a silent auction crisis!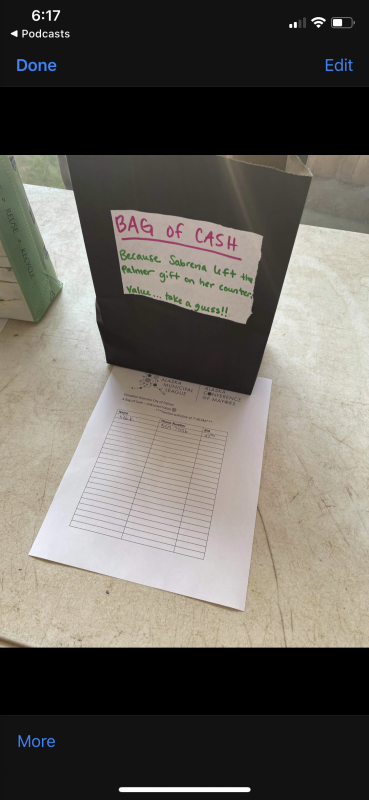 ***
Spotted on 4chan: A thread about Kelly Tshibaka running for Senate. It was worse than you can imagine. They really don't like women over there. Hit me up for screen grabs. 
***
Spotted in Fairbanks: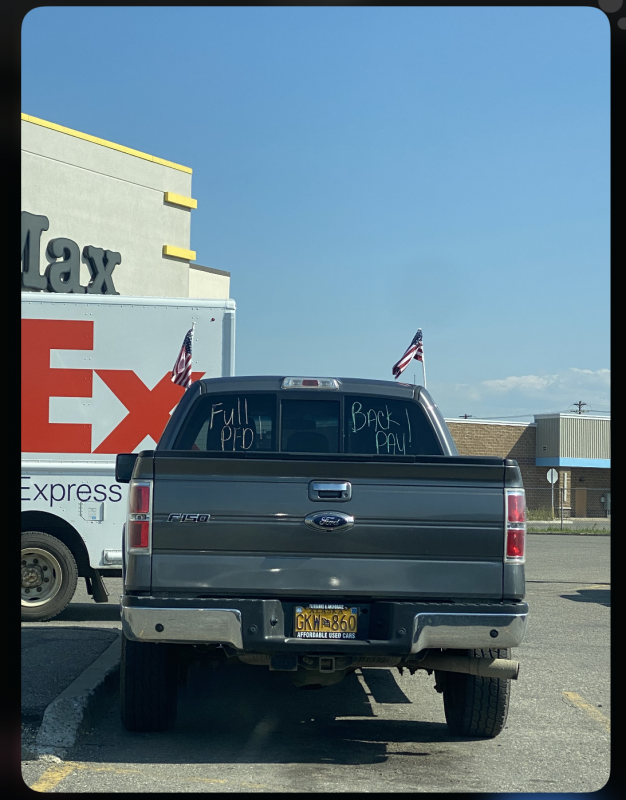 ***
Spotted in a recent "unvaxxed people only" survey from Alaska Survey Research. Our tipster graded this ad as an "F" noting, "Do it for what? Summer is over."

***
Overheard in Juneau: "It'll probably cost a lot more than $250 large to sell a constitutional socialism shit sandwich to Alaskans."
***
Overheard in Anchorage: "If Sen. Reinbold is still only flying to Juneau on Delta can we consider her the Legislature's Delta Variant?"
***
Sent via Stalker-mail: "Tshibaka should just give up fishing and stick to van life."
***
Overheard in Anchorage: Why does Mayor Bronson have so many Twitter accounts? There's like 5. And the one that says it's the "official account" isn't even used. WTF!"
***
The Alaska Stalker was born and raised in Alaska. She lives bear free in South Anchorage with her husband and three kids four and under. She is not Jeff Landfield.