Welcome to this edition of the Alaska Stalker, a lighthearted round up of the best and worst of Alaska's social media landscape.
***
If you enjoy the Alaska Stalker, please consider supporting working moms like me by sending in hot tips, screencaps, overheards, and spotted ins. You can reach me at akstalker@alaskalandmine.com. As always, thanks for reading.
***
I didn't mean to open a can of worms with the last edition's sign theme. I thought I'd seen all the signs worth seeing… Apparently not. Thank you to everyone who reached out. First, I didn't share Charlie Pierce's sign last week because I didn't think it was real until I saw one in person. It's like a five paragraph essay crammed on an 18 X 24.

***
Many folks reminded me of the Paxson knock-off signs Mike Dunleavy is sporting this election season. They can try, but they'll never recreate that Dunleavy IE creative team magic from 2018. Compared to the originals these just look sad.

***
And then there's the copy of a copy: the Walker/Drygas attack signs. These were everywhere online for a week or so, then I haven't seen them since. 🤷

***
I totally forgot about Rep. Andy Josephson's signs. Bear great!

***
Janice Park notified me about her signs herself. You can't go wrong with a fireweed logo. Thanks for reading, Janice!

***
I was going to give Fairbanks House candidate Will Stapp a 3/10 for creativity, but I can't bring myself to criticize anything featuring a dancing baby.

***
While there's a lot going on, I genuinely liked Kodiak House candidate Ben Vincent's signs. I think it's the fish.

***
Why did no one bring this masterpiece to my attention? LOVE.❤️ 🚚
❤️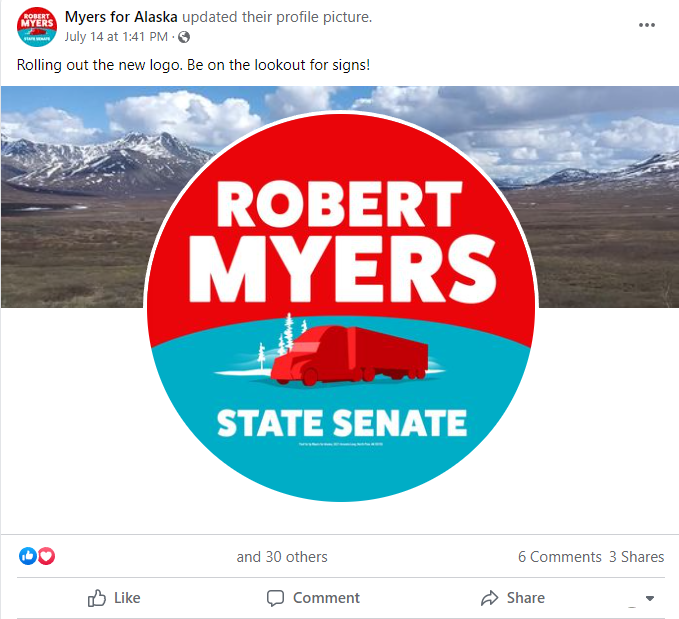 ***
In addition to signs, campaign videos are starting to drop. Fantastic work from Kelly Merrick and her team.

***
Okay, this post is almost enough for me to forgive Stanley Wright for not using "The wright man person for the job" as his campaign slogan.

***
I guess Genevieve is not familiar with the sound of freedom.
***
These are hardcore. My guess is lots of folks are going to have to cover up their new Löki tattoos before making their way into polling places on election day.
***
Can someone ask Rep. Laddie Shaw where he purchased his purse? I can't believe he found a handbag that compliments his Hawaiian shirt so nicely. I guess the real question is, does it go with short shorts, too?

***
I'll be sure to ask Janice Park to weigh in next time I see her. She has strong opinions when it comes to men's leather fashion. 😂

***
Speaking of Laddie, I didn't know he and Calvin were fishing buddies… 🙃

***
Highly recommend checking your Ted Eischeid t-shirts for dog hair before you wear them. Also, those shirts are kinda long. Might want to check for dog something else, too….
***
Not every day we are blessed with a cat/door knock special. I'd pay to see Forrest try to get a shirt on this little buddy.

***
I had to giggle when someone sent me this invite for a Rep. Zack Fields fundraiser. At first I was intrigued – Zack teaching everyone about "Mother Nature's voice" (does she also need sweatpants to cross the street?) and leading a simple renewable energy craft? Take my money! Alas, turns out Zack learned the hard way there are two sides to every template. 🤣🤣🤣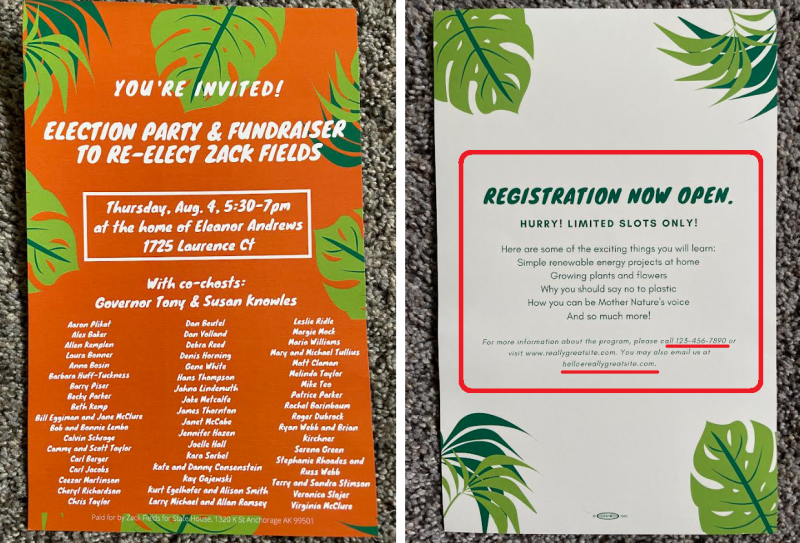 ***
I always thought everyone was too hard on the guy. I was wrong. Turns out House candidate Jay McDonald is a rabbit right winger after all. He has been assuming poor William's – excuse me Wilhelmina's – gender for months.

***
Not sure if it's any better or worse, but Senate candidate Doug Massie thinks his cat is a goose. What is wrong with these people?!

***
🧐🤔🤔🤔

***
While this is likely even less effective than sign waving, it still rocks.

***
I want to congratulate Christopher Kurka for capturing all of his supporters in just three photos. Well done!

***
Is Sen. Robb "king of the dad jokes" Myers writing Dunleavy's campaign emails now? I love a good word play, but I rolled my eyes so hard I hurt myself.

***
LEGENDARY MARY.

***
Sarah's out with a cute ad and another dig at her opponent Nick Begich.

***
She has perfected the positive campaign fake out.

***
Nick also has a new ad out. Not sure why he went with commited and not faythfull or devotted.

***
At first she's cute.

***
Then she's a little desperate. ⭐

***
🙌🙌🙌

***
I am here for the recent surge of Alaska political memes. Bravo, Jesse. Wait a minute, is that a frog??!!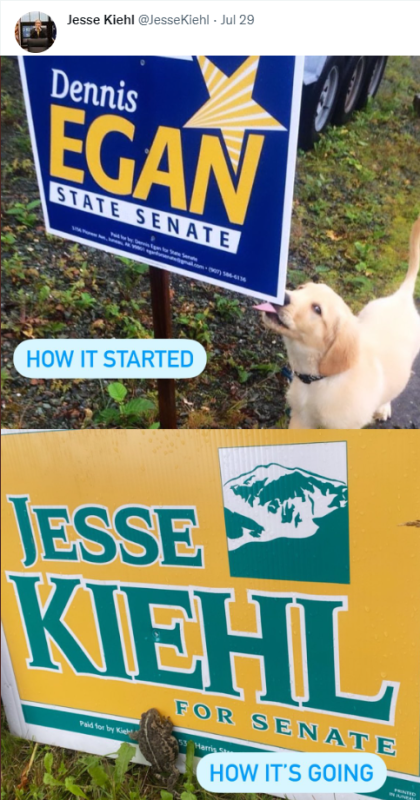 ***
Back off pollock, counting different colored M&Ms and Amanda Moser, there's a new ranked choice voting teacher in town and they are 🔥🔥🔥🔥🔥
***
Someone was holding out on the Stalker. Failed mayoral candidate turned State Senate candidate Heather Herndon posted tons of hate speech over a year ago, and it's only now making the rounds. Look at the comments. Not even Stephen "George Floyd isn't real" Duplantis is picking up what she's putting down. There are several posts like this one, although this is among the most alarming. In addition to the overall anti-Semitism she repeatedly claims Forrest Dunbar isn't an Alaskan and everyone in Cordova hates him.

***
Forrest called out some of Heather's comments in a repost from 2020 about his Grandmother Herta. One person asked what they could do. Forrest replied: "One easy solution is to not vote for Heather Herndon." I 100% agree.
By the way, Forrest — my name is spelled with two L's. It's Allison.

***
I find the subtle misogyny of California-born, lifelong Alaskan Forrest Dunbar troubling. Twice in one week he publicly misspelled the names of two youthful, vibrant, long-haired blonde women – both happily married with lots of children and zero cats. I demand another retraction!!! If you want to know what the hell I wrote that got Forrest's Carhartts in such a bunch, scroll to the end.

***
I have to admit, I turned to romance novels to numb the pain I felt after my name was egregiously misspelled. Santa? Lisa Murkowski? Diplomatic mission? I'm afraid I had to skip this one – it looked more like our local newspaper than chick-lit escapism. Shout out to my tipster who pleaded to remain anonymous because "I can't admit to anyone in my real life that I was reading descriptions of books like this one." Your secret is safe with me, sista!

***
NOT ANOTHER ONE!!! Did Forrest land a gig at the ADN?

***
🚨🚨🚨 Your weekly reminder Dustin Darden has a shot at being in the top-four of the U.S. Senate race. 🤡🤡🤡

***
Can we all come together and make a pact? Vote for Huhnkie Lee for Senate, not Dustin. Let's make the midnight sun rise.

***
Okay, I'm definitely going to need all the overheards and spotted ins for this event.

***
Spotted: I'm 100% not saying this is Sarah Palin.

***
Spotted at southside Kaladi Brother's: Anchorage Assembly member Randy Sulte leaving his constituent meet and greet over 30 minutes early, while a constituent was still there, patiently waiting to meet with him. Spoiler alert: IT WAS ME. I Facebook messaged him right away to let him know and HE LEFT ME ON READ. Come on, Randy!!!
***
Spotted low-key spying on a fundraiser for Rep. Andy Josephson and Democratic House candidates Cliff Groh and Donna Mears: Republican House candidate Marcus Sanders.
***
Spotted at an undisclosed location: An outgoing Rep. Kreiss-Tomkins, looking older with a beard, in a deep conversation with an attractive woman. 👀
***
Spotted going door-to-door at my parent's house: Rep. Laddie Shaw.
***
Spotted: My first Sherry StrizAK for Congress sign.

***
Spotted at the Salmon Jam in Fairbanks: Bill Walker and Heidi Drygas. She was wearing a nametag; he was not.
***
Sent via Stalkermail: I was about to say that Forrest Wolfe has a brilliant graphic designer. Very cool campaign sign. But then I looked at his website. A random photo of traffic on Northern Lights Blvd.? What the heck? Scroll down a bit and there's the campaign sign – and on the website it's ANIMATED! Forrest: don't bury the good stuff.
Stalker fact check: True!
***
Overheard: The ranked choice voting primary is nothing more than the largest ever statewide, state funded poll.
***
Overheard on Andrew Halcro's podcast: Former mayor Ethan Berkowitz! He's baaaaack.
***
Overheard in Anchorage: "Rep. Liz Snyder's house officially sold. Dems spent something like $750k on her race and she's moving? Wonder what the return on that investment was."
***
The Alaska Stalker was born and raised in Alaska. She lives bear free in South Anchorage with her husband and three kids five and under. She is not Jeff Landfield.
***
What got California-born Forrest Dunbar's Carhartts in a bunch back in January of 2020:
😂😂😂