Welcome to this week's edition of the Alaska Stalker, a lighthearted roundup of the best and worst of Alaska's social media landscape and political gossip.
***
If you enjoy the Alaska Stalker, please consider supporting working moms like me by sending in hot tips, overheards, and spotted ins. You can reach me at [email protected] As always, thanks for reading.
***
A warm Stalker congratulations to Sen. Lisa Murkowski and her husband, Verne, for celebrating 32 years of marriage. Anyone know what the traditional gift for 32 years is? Retirement, maybe?
***
Did anyone notice the expressions in this photo of Gov. Mike Dunleavy, his cabinet, and the EPA? The State of Alaska folks are all laughs. The EPA guy? Huuuuuge frowny face. Let me break it down:
Gov. Dunleavy 
Brune
Huber
Hladick 
Wheeler ?
***
Congressman Don Young and opponent, Alyse Galvin, set aside their differences and both shared the same AK Fire Info link on Facebook. They expressed concern for folks who have been affected by the fires, and gave thanks to the first responders. Posting at 12:32AM, Alyse seems to be burning the midnight oil on Facebook. Someone should let her know screen time before bed is a no no. I don't want her to be sluggish behind the wheel of her RV.

***
A fire in the basement of BJ's in midtown Anchorage had several of the Stalker's favorite Democrats fearing for the safety of their beloved Charlie's Bakery. Check out Sen. Elvi Gray-Jackson's comment. Classic Elvi. Luckily, Charlie's is okay, and will be operational again soon. Whewww. Of course, it wouldn't be a Rep. Harriet Anagnostis Drummond FB thread unless someone blamed Gov. Dunleavy for the fire. I'm serious.

***
We were all Rep. Geran Tarr this week – hoping, praying, and doing a rain dance for any measurable rainfall throughout our State, and cheering when it arrived.

***
In case you missed this feel good moment, here's video of when it finally started to rain during Shinedown's set at the Alaska State Fair. The concert-goers are shown cheering as it started to pour. Not something you usually see celebrated at an outdoor concert.
Best part of this concert, it started to rain while he was talking about us desperately needing rain! It was the most surreal moment I have ever witnessed. About half way into this you hear people cheering, not for what he was saying, but because it started to pour on us and was amazing! We haven't had a drop of rain since June! We were soaked by the end of the concert and its still raining an hour later! The band said "we want to make it rain", and they certainly did!

Posted by Dustin Heger on Friday, August 23, 2019
***
Lot's of legislators have attended the Alaska State Fair so far. Sen. Shelley Hughes advises everyone to expect delays due to road construction, and to use the opportunity to practice the virtue of patience. How does that go again?
"Alaska drivers are patient, they are kind. They do not swear, they do not tailgate, they do not flip off others. 

They are not self-seeking, they are not easily angered, they don't pass on the shoulder."
Yeah, right.

***
Sen. David Wilson welcomed First Lady of Alaska, Rose Dunleavy, to the Alaska GOP booth. I love the First Lady Melania Trump cameo in the background.

***
A warm Stalker Congratulations to Sen. Wilson for two honorable mentions for his homemade honey. He must "bee" very proud. ??

***
Sometimes, I think she wears it just for me. ?‍♀️?

***
Welcome to a special Stalker edition of who wore it best: on the left we have an Alaska grown sheep and on the right we have Budget Director Donna Arudin. I think it might be too close to call.

***
Sen. Lora Reinbold went hard and spent the night rocking out with Newsboys, a Christian band all the way from Queensland, Australia. As one of the leading voices against SB 91, it's no surprise Newsboys' song "Guilty" is one of Lora's favorites.

***
Dueling pro and con Dunleavy booths were set up on opposite sides of the fairground. While the Alaska State Fair has never been politics free, this seems to be the new normal as politics becomes the national pastime of choice. It's all politics, all the time.

***
The Alaska State Fair still has a long way to go before it reaches the total enlightenment of the Girdwood Forest Fair (No Dogs, No Politics, No Religious Orders) but there is a bit of good news: the Fair banned fake service dogs!

***
Though she may have screwed up the hashtag, Rep. Sara Hannan nailed the sentiment — to hydrate like a legislator one needs a mega drinking cup and drink of choice. With another special session looming, our guess is most lawmakers prefer something a little stronger than water these days. A reusable cup is optional, depending on the district.

***
Legislators, they're just like us!

***
Does anyone else think Rep. Andi Story needs to rename her constituent newsletter "The Story with Stori?" Maybe her Senator "The Real Deal with Kiehl" can talk her into it.

****
For the record, the Stalker supports legislators of all shapes and sizes. I'm glad Rep. Kelly Merrick is also practicing body acceptance. Looking good Kelly!

***

***
Ginger wasn't the only naughty canine this week. If you haven't seen this post from former Anchorage Assemblymember Amy Demboski, please do yourself a favor and read the whole thing. It's long, but it had us holding our sides from laughing by the end. Oh the horror. ?? I wonder if Ben's sleeping in the dog house with Bruce? Here's a preview.
***
Somemoose made her Instagram debut this week in this adorable photo. Olympic gold medalist, Kikkan Randall, is shown bottle feeding her namesake, Kikkian the rescued moose calf, at Alaska Moose Mamas rehabilitation center. All the fuzzy feels.
 ***
And to wrap things up, I couldn't resist posting this gem I found on Twitter. Hmmmm perhaps a conversation on Alaska's Governor is a safe topic? How about the similarities of the PFD and UBI? Maybe, instead of talking, they could listen to Marion Call's "Taxes in Alaska" song. These all seem neutral. ???

***
Stalker Scoop: A delegation of folks including Anchorage Mayor Ethan Berkowitz, and Assemblymembers Forrest Dunbar and Christopher Constant are heading to Chitose, Japan this weekend to commemorate the 50th year anniversary of Chitose being one of Anchorage's sister cities. ??
***
Happy birthday this week to Representatives Cathy Tilton, DeLena Johnson, and Tammie Wilson. Wednesday would have been Senator Chris Birch's 69th birthday.
***
Spotted at Lowes in Wasilla: Governor Mike Dunleavy taking selfies with fellow shoppers. No word on if he found any items to help fix the budget deficit.
***
Spotted at Asia Garden karaoke last weekend  (front row!): Former Mayor Rick Mystrom and his wife, Chanda.
***
Overheard in Anchorage:
"Did you hear Governor Dunleavy is doing Keto?"
"Yeah, but I think he's gone too far. I prefer a larger Dunleavy."
We report, you decide. ?
Advertisement. For information about purchasing ads, please click here.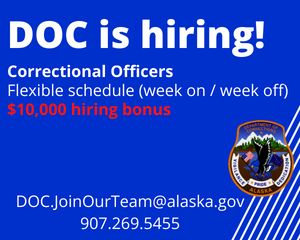 ***
Heard someone got a State contract for half a P.
What's a "P?"
A Pruitt. A Mary Ann Pruitt. A full Pruitt is $200,000. Half a Pruitt is $100,000.
***
The Alaska Stalker was born and raised in Alaska, and lives in South Anchorage with her husband, daughter, and son. She is not Jeff Landfield.