Welcome to this week's edition of The Alaska Stalker, a lighthearted round up of the best and worst of Alaska's social media landscape.
Did ya miss us last week? The high drama from the primary election has subsided, and we're thrilled to keep things fun and low key this week. No promises on how long that will last. Have you sent us a tip yet? Email us at [email protected] and, as always, thanks for reading.
---
Some light housekeeping: I used to laugh at Landmine Editor-in-Chief, Jeff Landfield, when he complained to me that people thought he was the Stalker and wrote this column. I would think the lack of F bombs and abundance of bad puns and dad jokes would have been enough of a tip-off. After my recent announcement ?, he received dozens of calls and texts from elected officials, a commissioner, and other high level politicos congratulating him on his baby! LOL.
Jeff does not have any children, is not pregnant, and is not the Stalker. I am.
---
Let's start with a feel good. Beary nice puns Governor Walker. ❤️ ?

---
Suuuure Assemblymember Forrest Dunbar. Me thinks you doth protest too much. But also, please tell us Forrest: what exactly is wrong with going to the Alaska Bush Company? We'll wait.

---
The next time I go to Snow City, remind me to bring my rubber duckie and loofah for a quick wash in the bathroom before I order a coffee. ?
 
Stand for Salmon got the coveted Pearl Jam endorsement. Why tho?

---
Speaking of Ballot Measure 1 endorsements… Actual photo of hell freezing over.

---
He may of not gotten the coveted AFL-CIO endorsement, but at least he's got his older brother, Senator Tom Begich, on his side.

---
Speaking of profile pic changes, check this out. A moosing or #metoo moment?

---
It looks like Representative Harriet Drummond spent a lot of time in the Minneapolis-St. Paul International Airport bathroom. Minneapolis. Bathroom. Airport. Politician. Wait a minute!

That bathroom looks awfully familiar. ACK!!! Be careful Harriett! ???

---
We are all Senator Berta Gardner.

---
Also, I see lots of non-Pyrex/plastic storage containers in your lid inventory there Berta. Yikes! Don't let your Assemblymember, Felix Rivera, know!

---
Speaking of plastic bag bans, something tells me Senator Pete Kelly just became a loyal Carrs shopper.

---
And then there's this. Never change Forrest J. McDonald. Never change. Now go clean your room! 😉

---
BREAKING: Representative Gabrielle LeDoux has unexpectedly joined a new caucus for the upcoming legislative session. Here she is pictured with her fellow caucus members.

We're just going to put these here: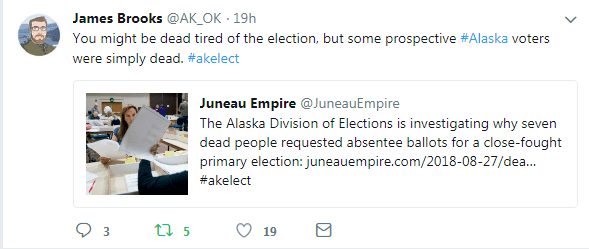 ---
Uh-oh, is Assemblymember Forrest Dunbar the next politician to be embroiled in a voter fraud scandal? Here he is admitting to asking
girls

 to vote in local elections. It is illegal for someone under 18 to vote. It is also VERY OFFENSIVE to use the word girl to describe an adult woman. Which one is it Forrest? #triggered

---

---
You know crime is getting bad when even Hobo Jim is robbed.
---
Congratulations to future Senator Lora Reinbold for winning the Kenai River Classic with the largest silver salmon.

---
And congratulations to mazer extraordinaire, Senator Bill Wielechowski, for an Alaska State Fair first place finish for his Sweet Raspberry, Cherry Firewood, Birch Sap mead, and more! We hear Senator Wilechwoski won a whopping seven awards for his mead and beer, including first and judge's choice for his cherry stout. Send the Landmine some samples already!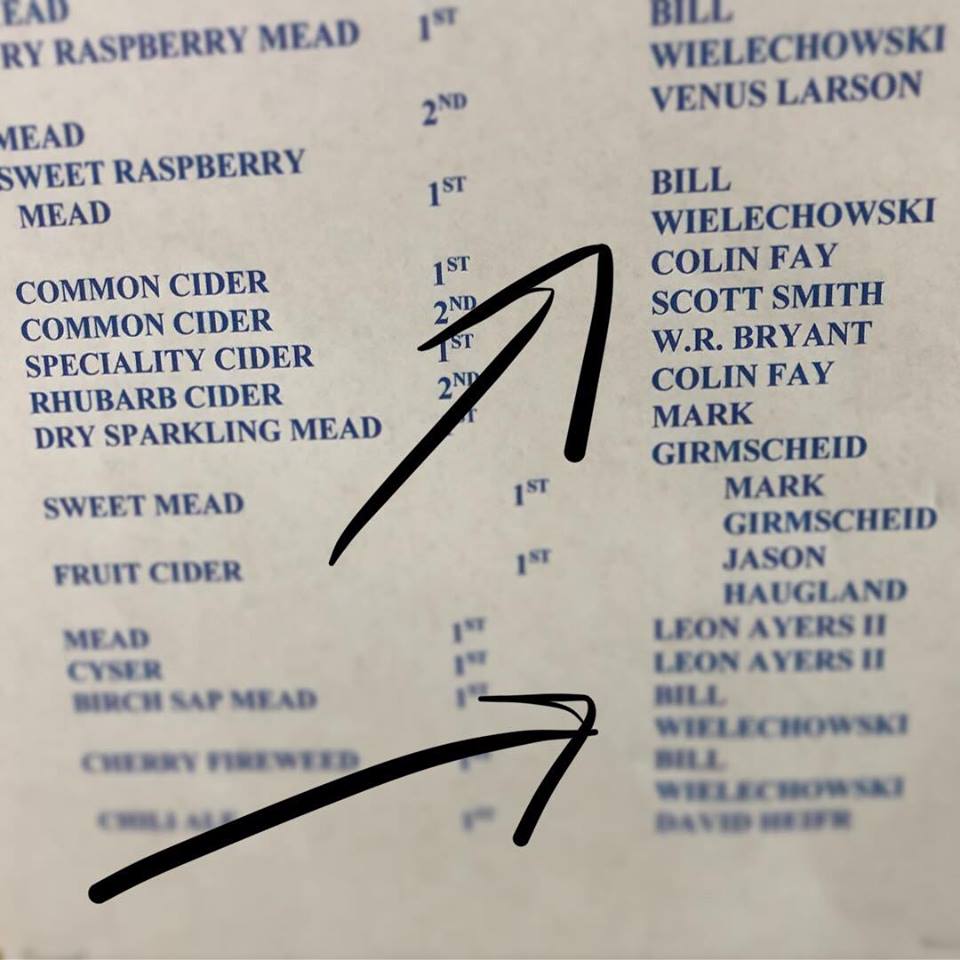 Speaking of mead, Mead Treadwell did not come in first in the race for the Republican nomination for Governor. We suggest Senator Wielechowski consider naming a future batch "The Mead Meltdown." In case you missed it, you can see the whole thing here, start at 3:15:30.
---
While she didn't win her primary, Representative Charisse Millett lost graciously to Josh Revak and has displayed a lot of class, at least online, over the past week. How about that Facebook like?
---
Kudos are also in order for former Lt. Governor Candidates Lynn Gattis, Sharon Jackson, and Stephen Wright as they come together just days after the primary to support Republican nominee for Lt. Governor, Senator Kevin Meyer and his running mate Senator Mike Dunleavy.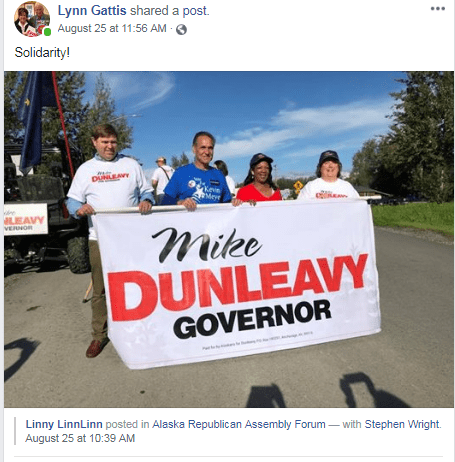 ---
Not everyone is so gracious. Hey Jamie, we hear Australia is nice this time of year.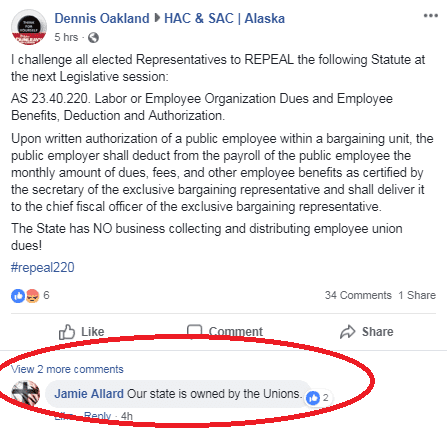 ---
Candidate for Senate, Jesse Kiehl, throws some subtle shade at Republican Gubernatorial Candidate Mike Dunleavy. For going fishing? A glancing blow if that.
---
Sometimes the comments don't let you down.

---
Looks like Congressional Candidate Alyse Galvin might be pro-resource after all! ???

---
Overheard in Anchorage:
"I didn't know who to vote for. But then my wife showed me a mailer and I saw that Dunleavy guy had the same rifle as me. So I voted for him."
---
"Groh-mentum? Talk about no-mentum!"
---
"The Chris Birch primary election was basically a poll to know for sure how many people really hate him in his district. Only 22%. Not bad."
---
Overheard at Kaladi:
Barista 1: "I like your hat!"
Hat wearer: "Thanks!"
Barista 2: "No, that's a Dunleavy hat. You don't like that hat."
Hat wearer: ¯\_(ツ)_/¯
---
Overheard at Election Central:
"Wow, John-Henry is looking like JT… he's bringing sexy back!"
---
Overheard on the airwaves:
Candidate for House, Sara Rasmussen, recounting the time Senator Bill Stolze thought she was "just chubby" and not pregnant and then TOLD HER THAT TO HER FACE once he found out she had a baby.
Did my ears deceive me or was that Gubernatorial Candidate, Senator Mark Begich, on the Dave Stieren Show yesterday? He told Dave he was "only on because he had a sore throat that *might be* contagious." SAVAGE! And then he made a pot joke?!!! 10/10 Senator.
---
Spotted at the Dena'ina:
Representative Jason Grenn and his opponent for House District 22, Sara Rasmussen, at the Anchorage Chamber of Commerce's "Make it Monday" forum,  An Update of Alaska's Economy featuring economist Neal Fried. They were the only two politicians there. What are the odds?
---
Spotted on Election night:
Here's a list of who made it to the Alaska Landmine's Election Central: Governor Bill Walker, Lt. Governor Byron Mallott, Senator Kevin Meyer, Representatives Garbielle LeDoux, Lance Pruitt, and Jason Grenn, Assemblymembers Amy Demboski, Christopher Constant, Forrest Dunbar, and Austin Quinn-Davidson, Candidates Alyse Galvin, Amber Lee, Josh Revak, Kelly Merrick, Sam Cason, Mead Treadwell, Billy Toien, Forrest McDonald, and Eileen Patterson, ADN reporter Kyle Hopkins, politicos Nick Moe, Rick Rydell, Jeanne Devon, Sam Moore, Mel Gillis, Ryan Mckee, Casey Reynolds, EC night panelists Tom Hewitt and Sabrena Combs, DJ Bald Monk, former KTVA anchor Emily Carlson, and many more!
Thank you to everyone who came out and made the event such a success. A special shout out to the ADN for partnering with us. We can't wait for the general. Note: Kelly Merrick was the only candidate that came to our event and *didn't* appear on the live stream. She was personally invited. SAD!
---
Spotted at Arctic Roadrunner:
'MERICA.

---
That will do it for us this week folks. Don't forget to send your favorite social media and online goofs, gaffs, memes, dust-ups, "Overheard in Alaska," "Spotted in Alaska," or whatever else you got to [email protected] Our DMs are always open. Remember: pics or it didn't happen!
---
The Alaska Stalker was born and raised in Alaska, and lives in South Anchorage with her husband, daughter, and baby on the way. She is not Jeff Landfield.