Welcome to this week's edition of the Alaska Stalker, a lighthearted roundup of the best and worst of Alaska's social media landscape and political gossip.
If you enjoy the Alaska Stalker, please consider supporting working moms like me by sending in hot tips, overheards, and spotted ins. You can reach me at [email protected] As always, thanks for reading.
***
On the eve of Alaska Wild Salmon Day, CNN Tweeted a scoop about the EPA reversing a preemptive veto made against the Pebble Project after the President met with the Governor on Air Force One in June. The big news was almost eclipsed by this epic photo of President Trump and Gov. Dunleavy. We're no expert, but the body language is pretty clear: Trump and Dunleavy seem to have a budding bromance.

***
While it isn't the first time Gov. Mike Dunleavy has been immortalized in a political cartoon, (that honor goes to Pat Race) this anti-Pebble piece is making the rounds on Twitter. They could have made him a little taller, don't ya think?
***
Even Cher weighed in. Clearly she doesn't ?belieeeeve in life after Pebble, after Pebble, after Pebble ?
***
It's wonderful to see Sen. Lisa Murkowski enjoying Southeast Alaska with her husband, Verne. While she can't get enough of the Tongass, I can't get enough of her shorts! Either Lisa is taking fashion tips from Rep. Zack Fields, or she borrowed these (sisterhood of the traveling pants style) from Gov. Mike Dunleavy.

***
On Tuesday, Gov. Dunleavy read family favorite, "If you give a Mouse a Cookie," to the kiddos at RurAL CAP. No word on if Mike followed up with the sequel: "If you Give the Democrats What they Want, they're Going to Recall you Anyway
." 

***
It was a busy week filled with photo ops of local politicians reading to kids. Rep. Geran Tarr spent time at thread's annual Book Party in the Park reading Eric Carle's "The Very Busy Spider."

***
And Sen. Bill Wielechowski read "The Tiny Seed" at the same event.

***
We have to hand it to Bill, this is his 12th year reading to kids at this event. It just goes to show, you can't please everyone. Check out that "angry" emoji reaction to his Facebook status.

***
Sen. Scott Kawasaki posted this truly bizarre video of a new way to move fish long distances quickly.  It looks like the fish equivalent of Dustin Darden's zipline across Cook Inlet.
***
I am loving Rep. John Lincoln's official legislator berry picking buckets. Berry clever. You could say it's my jam! John, do you have any extras?

***
Happy 75th birthday to "legenbeary" U.S. Forest Service icon, Smokey the Bear.  Shout out to Rep. Sara Hannan for sharing this photo of her fantastic collection of Smokey the Bear memorabilia. I'm pretty disappointed she only teased the "life-sized" Smokey that's at her family cabin. Sara, the people deserve to see this!

***
While I'm glad Rep. Zack Fields is buying Alaska Grown, I'm shocked and upset to see not one but two plastic bags in his basket. Unacceptable. While the Anchorage plastic bag ban doesn't begin until September 15th, I expected Zack to be more committed to saving our planet. Or maybe he just left his reusable bags in his trunk like everyone else. If someone has any tips on actually remembering to bring their reusable bags inside the store, lettuce know!

***
Nice to see Rep. Harriet Anagnostis Drummond being such a fine example to our youth when it comes to cyber bullying and treating others with respect. #BeBest, Harriet.

***
I know she's not like those other Valley legislators, but is Rep. Colleen Sullivan-Leonard a secret lefty?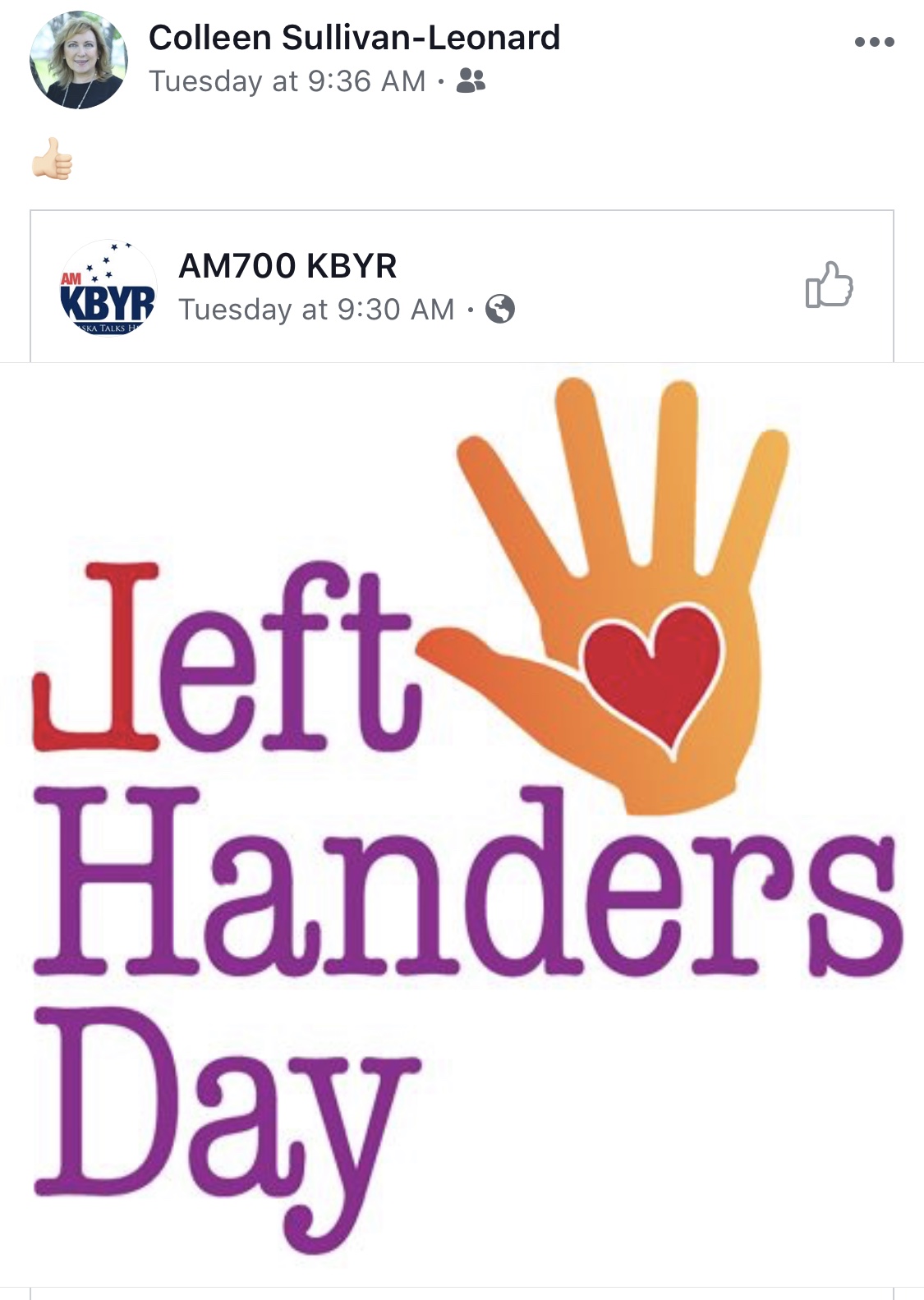 ***
It looks like Rep. Andy Josephson has found himself a true "Instagram Husband/Wife" AKA someone to who will go to the ends of the earth (or Caroline Point in Juneau) to make sure you get the perfectly staged photograph to accompany your witty caption. Does this make Andy an #akleg influencer?

***
Did you see this exchange between Sen. Mike "Dozer" Shower and Rep. Geran Terr on Facebook? It's a Dozer doozy. I'm pretty sure zero arguments have ever been won when you start out with, "I know more about this than you, so listen to me." I believe there's a term for that – starts with man, ends with splaining. Kudos to Geran for the cordial reply. But wait, there's more!

***
Mike then posted this 14 paragraph essay, also on Geran's official Rep. Facebook page, explaining his views on Red Flag laws. I think the real red flag is that Mike doesn't understand the nuance of social media. Mike, step away from the keyboard!

***
If meeting "Rocky the donkey" is anything like meeting "Star the reindeer" then Alaska Young Democrats President, Genevieve Mina, is living her best life. Great pic, Genevieve.

***
President of the Alaska AFL-CIO, Vince Beltrami, had his very own covfefe moment. I'm guessing he meant to post a variant of "tall man bad."

***
Former democrat and candidate for Senate, Forrest McDonald, got trolled hard on Facebook by his own mother. I guess it runs in the family. ?

***
If you thought Forrest had mommy issues, wait til you see what happened to KWHL's Bob Lester. His mom unfriended him on Facebook! Poor guy.

***
APD got in hot water over a recent "What not to do Wednesday" Facebook post, which seemed to mock someone with mental-health issues. After dozens of negative comments calling APD out, they took down the post claiming it was a "draft version." ? Sure.

***
? I wonder if APD helped the Alaska State Fair come up with their theme this year? Pretty sure you're not allowed to use the term "crazy" as a throw away adjective in 2019. This could get interesting…

***
Also, what is up with this year's logo? It's the stuff of nightmares. As one high level Alaska PR professional told me, "I have no idea who produced the new Alaska State Fair theme logo for this year but it's terrible. I predict they will have lots of branded t-shirts leftover after the fair."

***
While the weather in Southcentral continues to break heat records, politicos are finding fun and new ways to work on their fitness. Parole Board chair and former candidate for Lt. Governor, Edie Grunwald, is apparently an avid Kangoo Club Alaska "power jumper." Who knew? If you don't know what I'm talking about, please click here.

***
Anchorage Assemblymember Christopher Constant is logging in an impressive amount of miles on his bike. He even braved the hillside bears during a couple solo rides this week. Chris, I hope you find a biking buddy ASAP!

***
Meanwhile, the editor of my favorite Anchorage Alt Weekly, Matt Hickman, is spending his time on this little project. He's 44-years-old. ?

***
Best birthday wishes this week to Sen. John Coghill and Reps. Grier Hopkins, Mark Neumann and Lance Pruitt. ???
***
Spotted at Sea-Tac: Anchorage Mayor Ethan Berkowitz headed back to Anchorage. According to our tipster, Ethan waited to board last and was seated in Premium.
***
Spotted at Steam Dot: The one, the only, Amanda Coyne. Can I just say, she is looking GOOD. ??‍♀️
***
Spotted at the Silver Fox Inn, north of Wasilla. Between the all caps and the poor spelling, maybe they are channeling Cher.

***
Spotted at Congressman Don Young's "Taste of Alaska" fundraiser: Congressman Young and his wife, Anne (just back from safari in South Africa), Gov. Dunleavy, Sen. Lisa Murkowski, Julie Fate Sullivan, and more politicos than we can list including legislators, republicans, moderates, and even some democrats.
***
Spotted at candidate for house, Liz Snyder's fundraiser the same night: Over 100 people that couldn't get their checkbooks out fast enough.
***
Overheard at Congressman Young's fundraiser: "I need to go on the Dunleavy Diet. It doesn't look very healthy, but it seems to be effective."
***
The Alaska Stalker was born and raised in Alaska, and lives in South Anchorage with her husband, daughter, and son. She is not Jeff Landfield.