Welcome to this week's edition of the Alaska Stalker, a lighthearted round up of the best and worst of Alaska's social media landscape.
***
If you enjoy the Alaska Stalker, please consider supporting working moms like me by sending in hot tips, overheards, and spotted ins. You can reach me at akstalker@alaskalandmine.com. As always, thanks for reading.
***
Now that we're all officially hunkered down, the Stalker has returned for all your political gossip needs. I'll try my best to give you a reprieve from virus related humor (and ya'll know I don't do memes), but the Alaska Landmine is an all politics, all the time zone. Our apologies to urban beekeeper, Sen. David Wilson. My only question is, when is the Sen. Bill Wielechowski/Sen. David Wilson limited bi-partisan mead collaboration going to drop? David provides the honey, Bill whips up another award-winning recipe, and the rest is #akleg history.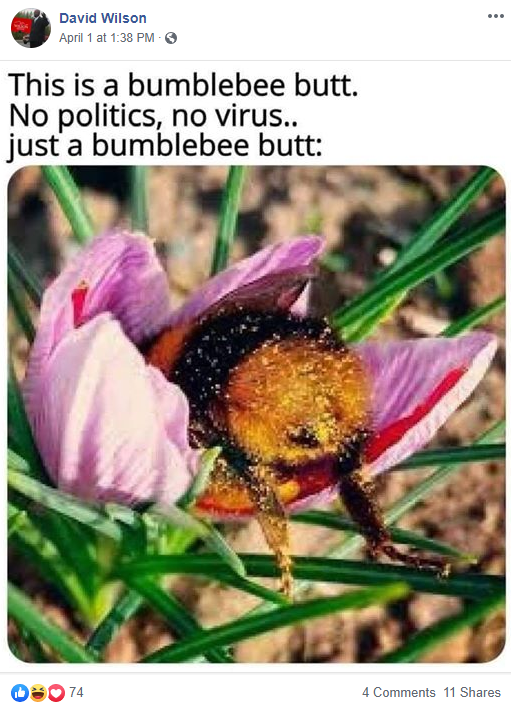 ***
Don't panic: Sen. Scott Kawasaki is still getting into one-sided Twitter battles with President Trump. Some things never change.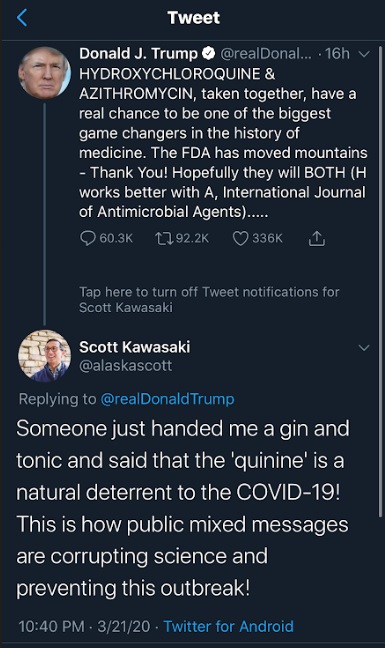 ***
Bless her.

***
Does anyone else wish a legislator would start a nightly Facebook Live kid's story time? They can't go door-to-door. Might as well find some excuse to make their way into our homes. Our top pick is either Rep. Laddie Shaw or Rep. Harriet Drummond, but only if Elstun participates, too. Please, Harriet? It's for the kids.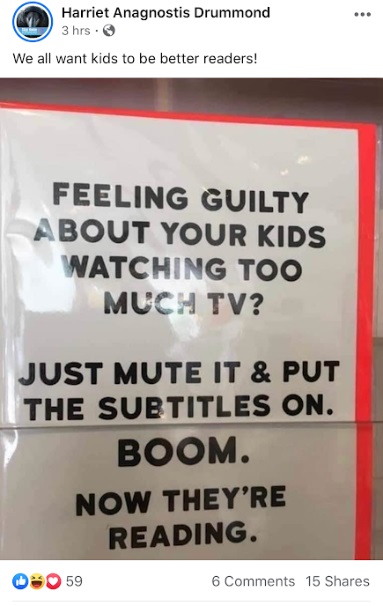 ***
On second thought, Laddie might be too risqué. Did you see this clip?! OMG! 🍑
***
I am loving #1 dad, Rep. Chris Tuck's recent photo update. So cute. While I am unsure if Smokey is subject to the same travel restrictions as humans, I hope he's back in Penelope's arms (post lysol bath) ASAP.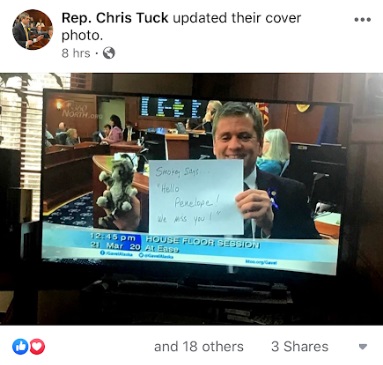 ***
Ahhhh, love in the time of quarantine. Does anyone actually believe newlyweds Rep. Grier Hopkins and Kristina are still sticking to the 14 day post travel quarantine? I mean, come on, we all remember the bath pic. 🛀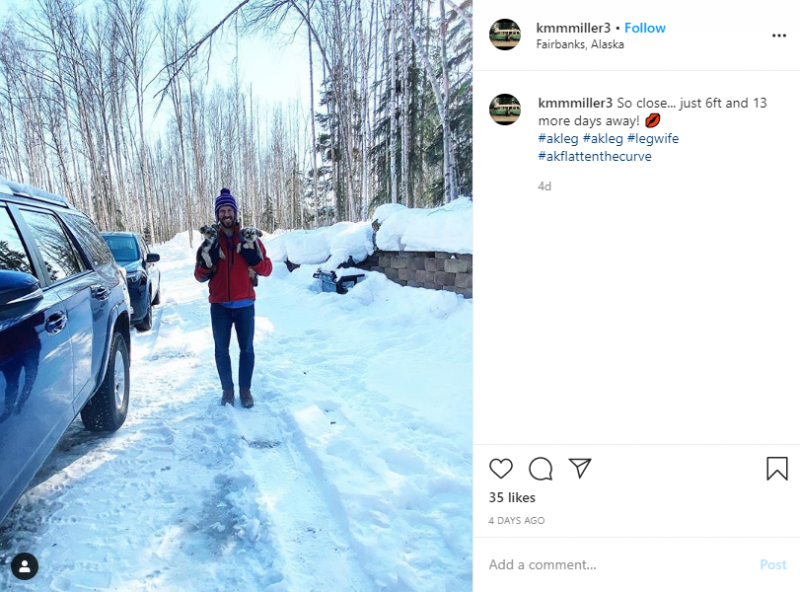 ***
Rep. Sara Rasmussen may have finished her 14 day mandatory quarantine after visiting her Grandpa Milo for his 100th birthday, but her affinity for posting cheesy Facebook quizzes is just beginning… I have a feeling number 9 is on everyone's list these days.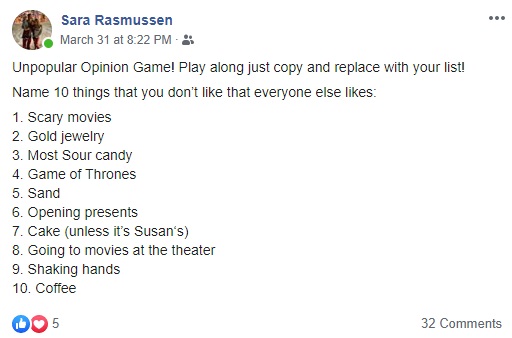 ***
Let's all take a moment to send Rep. Geran Tarr some positive vibes and well wishes. Losing a pet is so hard. Good kitty, Darla. There, there.🐾❤️🌈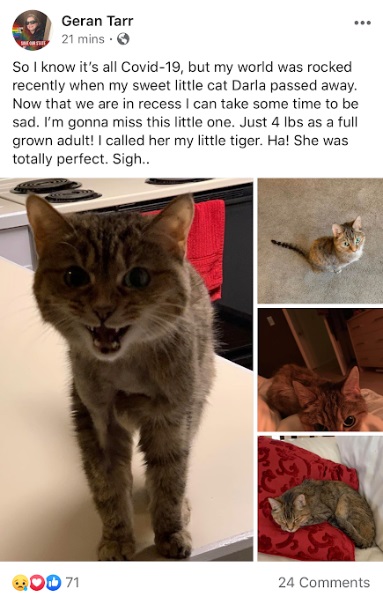 ***
Also take a moment to remember Rep. Laddie Shaw's sweet dog Scooter. Just look at his little face! Join me in sending the Shaw family positive thoughts and prayers during a tough time. 🐾❤️🌈
***
Jeff Landfield hits a social media home run. Compare the comments between posts here and here. So many hypocrites!!!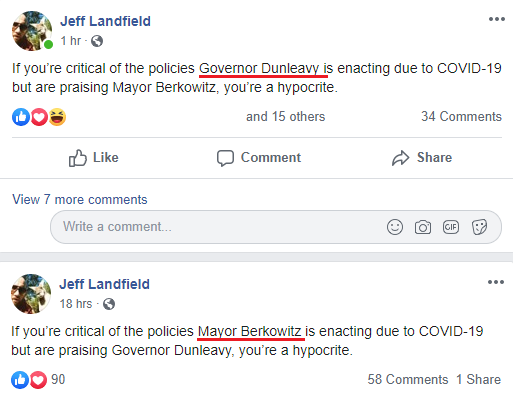 ***
Anchorage has a municipal election next week! Let's check in on our dear Anchorage Assemblymembers. Everyone is still playing their parts perfectly.
Forrest Dunbar is still making it all about him.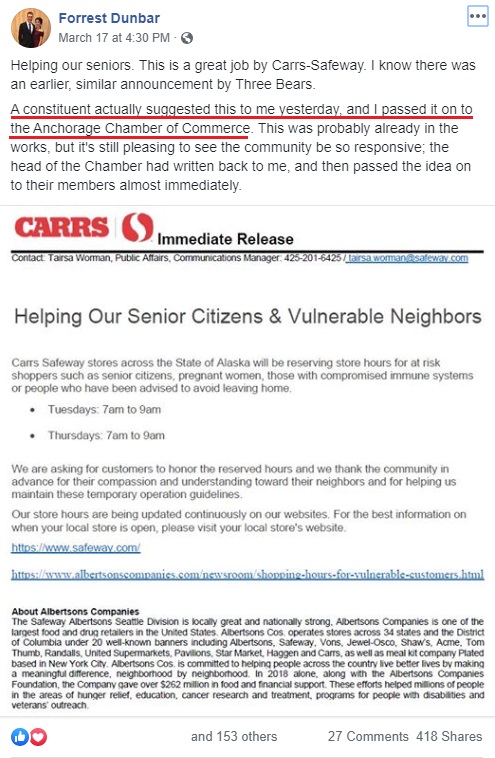 ***
Christopher Constant can't help but be a wee bit naughty online. 🙃 Special shout out to Stalker mega fan, B-Money.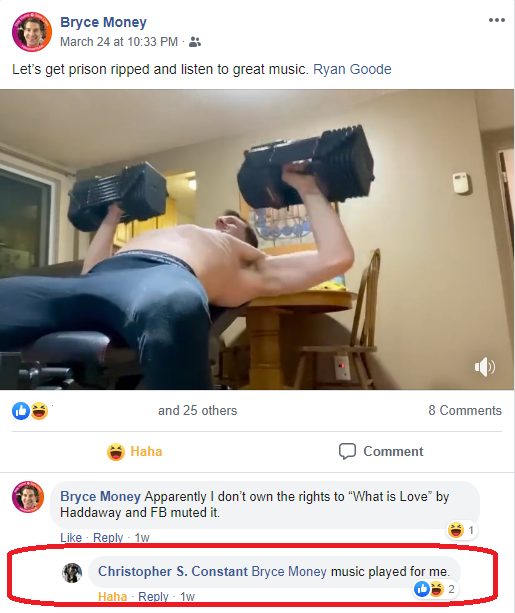 ***
Austin Quinn-Davidson is out there just living her best life.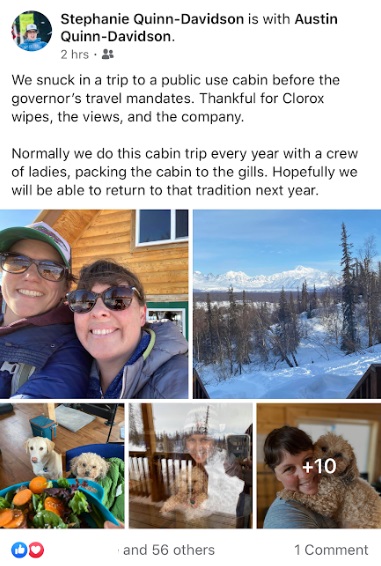 ***
John Weddleton is staying on brand, even during a pandemic, with a Spider-Man themed cloth mask. If you haven't already heard, John has become a real life super hero and donated his Assembly pay to people affected by Anchorage's "hunker down" order.

***
And Felix Rivera is still posting about booze on his official Assembly page. Is his signature cocktail called the Spicy Gato? Or is that too obvious. 🍹😼🌶️

***
With the Anchorage municipal election just days away, let's check in with some of the more well-known Assembly candidates. I have to give it to candidate Jamie Allard. This is the cleverest, most hysterical thing I've seen in politics in a long, long time. Sign waving, pandemic style. I bet it has more of an impact than actual sign waving! Brilliant. Jamie, I almost forgive you for hoarding toilet paper.
***
Alaska Stalker content fav, candidate Christine Hill, really outdid herself this time. Ohhhhh boy. What does this even mean?! Even still, I have a good feeling about Christine's chances…

***
I bet candidate Rick Castillo is hoping he smokes his competition in South Anchorage as well as he smokes his own bourbon. Wait a minute, are those beer taps coming out of his kitchen wall?!! This is the first time I've wanted to go door-to-door at a candidates house!

***
It's time for the first installment of The Masked Politico. This one is pretty easy – I'd know those eyebrows anywhere. Click here or scroll to the end to find out who's behind the mask.

***
Good thing Kevin's not in charge of Muni elections!!! 😬

***
If you want to see candidate for house, Liz Snyder, put on a shirt while doing a handstand, go to her official Facebook campaign page, find the post, and scroll to the comments. I'd link it if I could! I am in awe. Will Lance respond to this challenge?
         v
***
Spotted in: Oh, wait. Never mind… Everyone's at home!
***
Actually one tipster sent in this gem…
Spotted storming out of a recent Valdez City Council Meeting: the maybe now former Mayor of Valdez, Jeremy O'Neil. Word is after the council failed to pass a proposed Health Mandate of his, O'Neil said he was suspending his role as mayor as he didn't have the "bandwidth" to devote time to his current employer (Providence Hospital Valdez) and the citizens of Valdez as mayor. Woah. I'm just going to leave this here.
***
Not spotted: Sen. Bert Stedman. Why? He's apparently on a self-imposed two-week quarantine aboard his boat, doing a lot of fishing. LEGEND.
***
Overheard in Anchorage (pre-hunker down): "This (muni) election is going to have some surprises. Everyone's at home and so bored they might actually vote. But, since they're not going to work, no one's going to tell them who to vote for!"
***
Overheard in Anchorage: "Wow everyone seems to love Dr. Anne Zink. She's great, but do you get the feeling some of the adoration is folks overcompensating so they don't have to say anything nice about Dunleavy?"
***
Overheard on Zoom: "Is it 5:00 already? Ttyl, I gtg have dinner with Dunleavy and Dr. Zink."
Pretty much. Those dinner hour press conferences are an almost daily occurrence in our house, too.
***
The answer to this week's "Masked Politico" is former Lt. Gov. Loren Leman!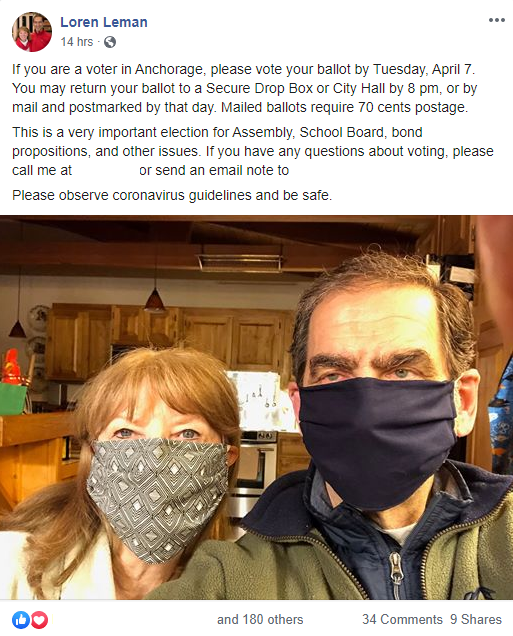 ***
The Alaska Stalker was born and raised in Alaska. She is voluntarily self-quarantined in South Anchorage with her husband, daughter, son, and baby on the way. She is not Jeff Landfield. BTW, he's fine. Thanks for asking. 🙄