Welcome to this week's edition of the Alaska Stalker, a lighthearted round up of the best and worst of Alaska's social media landscape.
***
If you enjoy the Alaska Stalker, please consider supporting working moms like me by sending in hot tips, overheards, and spotted ins. You can reach me at akstalker@alaskalandmine.com. As always, thanks for reading.
***
Well it took a few weeks, but things on the internet seem to be back to normal dumpster fire status. Thank you to everyone who has sent in screen caps and tips – I couldn't do it without you. Enjoy an extra long column this week.
***
Everyone heard – and I mean literally –  about the anti-lockdown vehicle protest in Anchorage on April 22nd. It was no surprise Sen. Lora Reinbold was a vocal (and unmasked) part of the Open Alaska movement. While it may have been all the honking, it looks like Lora's dog doesn't share her same enthusiasm for opening things back up. Is Clover being forced to protest against her will?!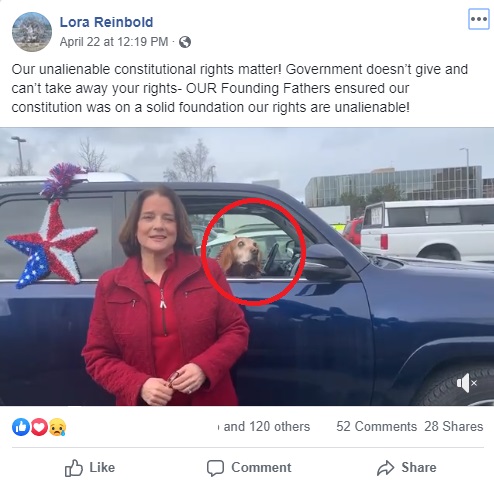 ***
I knew it – Clover is pro-hunker-down!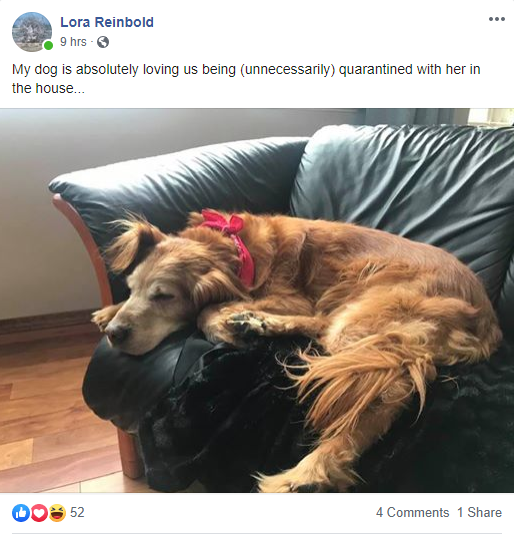 ***
OMG Peter, NO! 🙈🙈🙈 Someone needs to teach Sen. Peter Micciche how to practice safe Googling. And I thought I had it bad when Googling "children's stool" while buying a step-stool for my nephew.

***
If you're ever in need of some wholesome content, (and who isn't after Peter's faux pas) head on over to Sen. David Wilson's page. This week David is making cherry pies. Can someone give him his own show already? 🐝🥧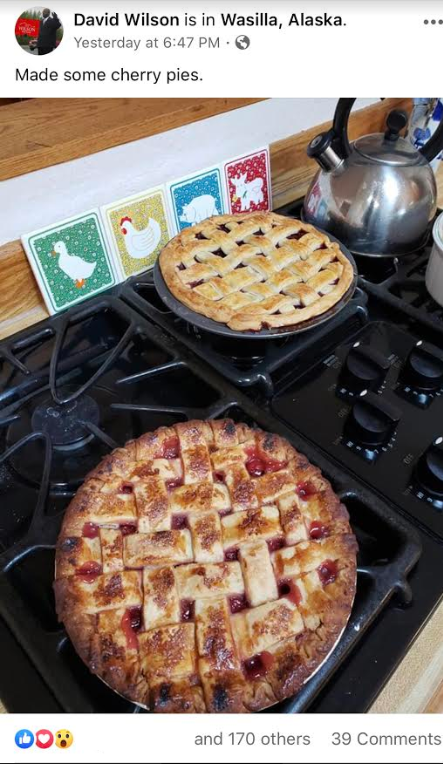 ***
She did it! Rep. Harriet Drummond posted a video of her and her husband, Elstun, participating in the 8:00 quarantine howl in Juneau. I love everything about this. But, the best part is Harriet telling Elstun to knock it off when he started panting in anticipation of the howl. 🤣🤣🤣

***
Is this a trap? Not sure it's the best time for Rep. Gabrielle LeDoux to invite families to check out the  neighborhood's new park, caution tape and all. I guess if any moms are wanting to take their kids to a playground "Idaho style" they can always tell the cops, "Gabby told me to do it." I think they may have heard that line before. 🙃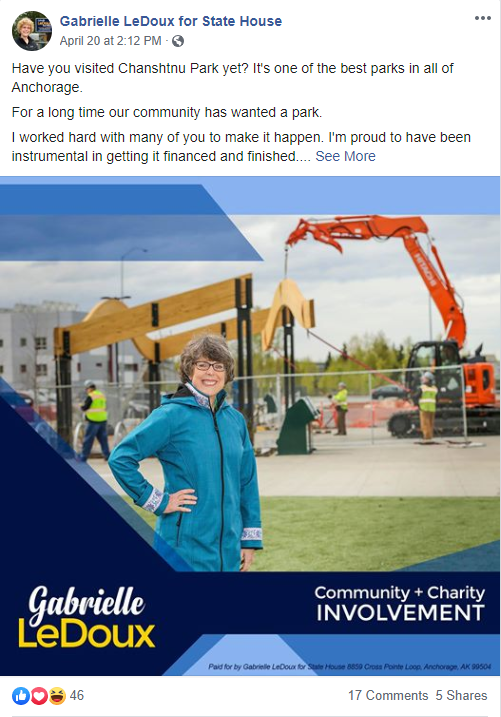 ***
Nice mask, Rep. Spohnholz! I am looking forward to seeing our legislator's personalities reflected in this newly mandated wardrobe addition. Will campaign slogan/logo masks be in or considered gauche? If you spy any masked legislators or politicos out there, don't forget to send us a pic!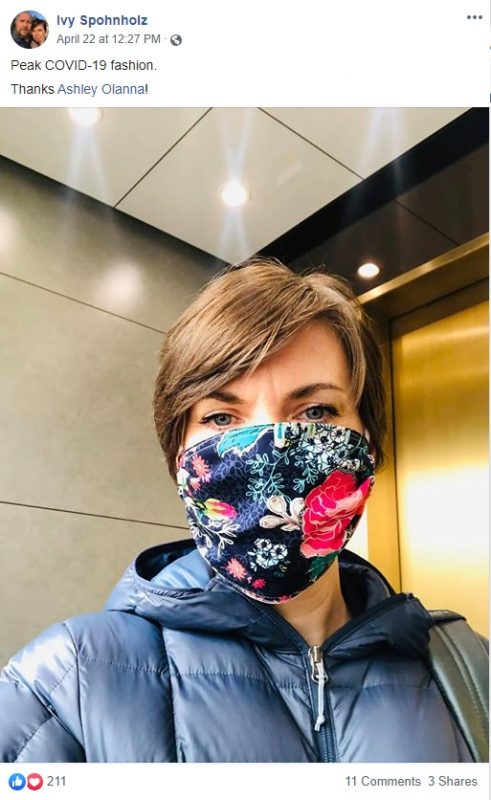 ***
Ivy's not the only one with a new look: Sen. Dan Sullivan debuted a beard in his latest Instagram post! Hey, it worked for Ted Cruz. Leave it to Dan to show off his new scruff with a beer in hand while watching the F-35s come in.
***
While I love our fashion forward politicos, it is also fun to look back on their more… questionable choices. I applaud Sen. Scott Kawasaki for admitting he was wrong, and making sweeping changes to stamp out spiky bangs once and for all. That headline tho. 😱💸📉
***
Did you hear the spicy rumor that former Rep. Lynn Gattis is running for her old seat? Well, I would take it out of the "rumor" category and put it in the "probably gonna happen" category 'cause she "liked" the Tweet. What a boss.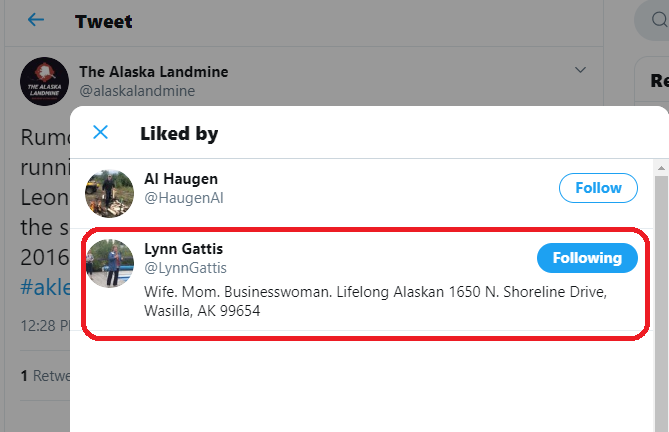 ***
Sen. Josh Revak partook in one of the oldest Alaska traditions: spring clean up. Thank you, Josh!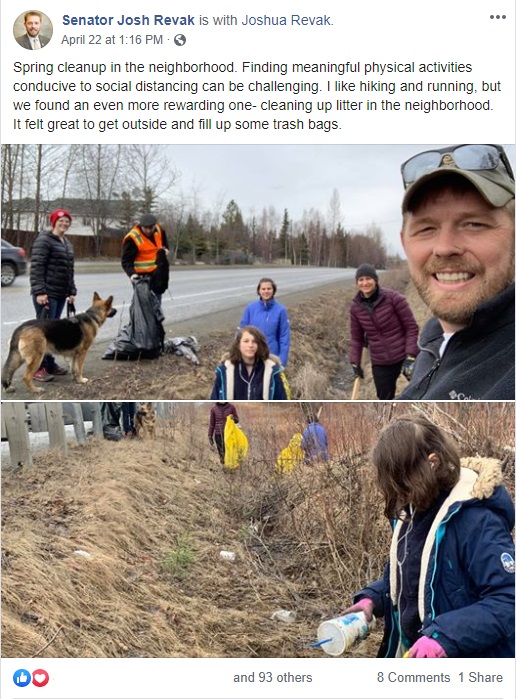 ***
Anchorage Assemblymember John Weddleton posted this photo of a camp along Chester Creek. According to fellow Assemblymember Christopher Constant, it's "worse than it has ever been." The image was shared over 500 times, and many of the comments dragged John, the Assembly, and the mayor for "letting this happen." I hope John plans on getting out there with some bags soon and posting an after picture.
***
Alaska Journal of Commerce editor, Andy Jensen, also posted pictures of the scene at Chester Creek. And then he actually did something about it. Andy spent *four days* cleaning up some of the camps behind his place. Day two alone yielded 11 39-gallon bags of trash and "a pile of shit too big or heavy for bags." Wow! This is incredible. I hope Andy makes his posts public so everyone can see just how much work he accomplished.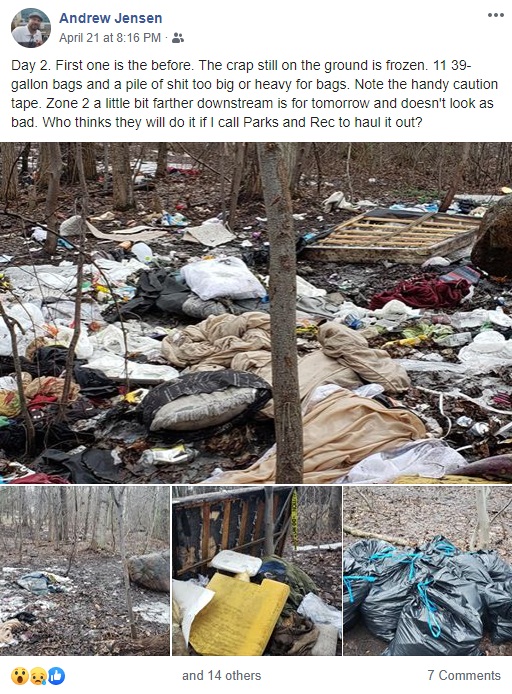 ***
While it shouldn't be like this in the first place, the next time you see Andy at Crossroads out and about, be sure to thank him. Thank you, Andy.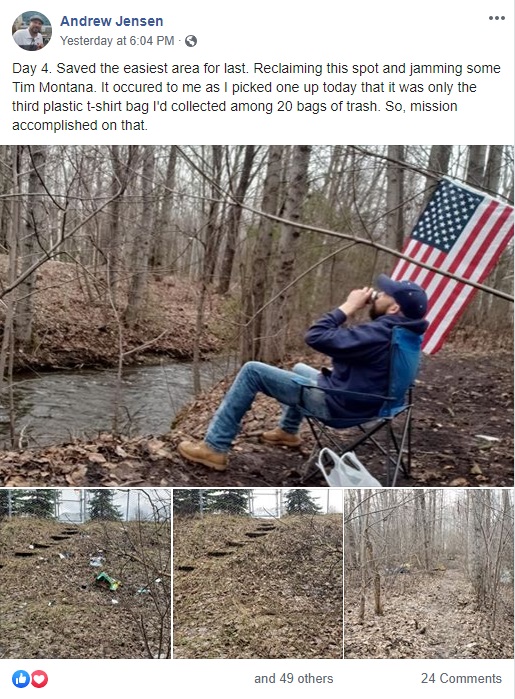 ***
In case you missed it, be sure to read this sweet tribute to retiring Assemblymember Fred Dyson, written by fellow Assemblymember Austin Quinn-Davidson. Who doesn't love unlikely alliances and friendships that extend across the aisle? Happy retirement, Fred. Hope it sticks this time!
***
Someone always has to ruin the moment. If you live in Alaska and follow politics, that person is usually Jeff Landfield. 🤦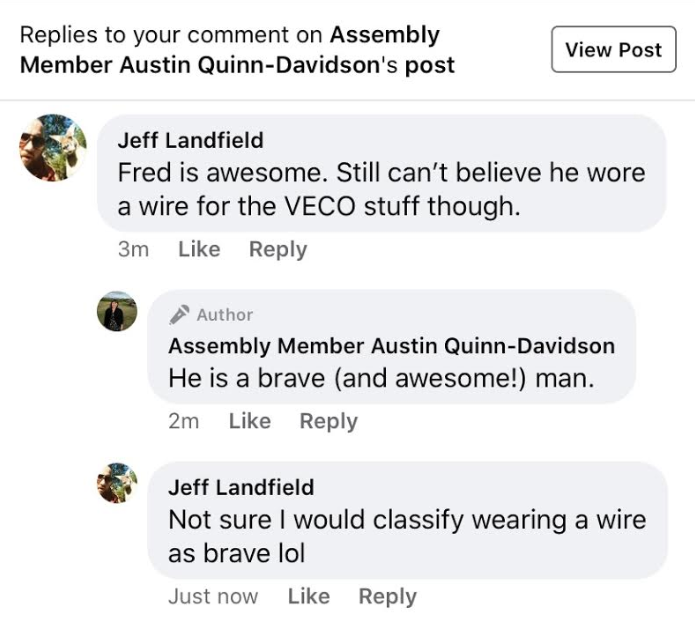 ***
Uh oh, Assemblymember (and Anchorage mayoral candidate) Forrest Dunbar's non-fundraiser fundraiser mailer included the name of a non-supporter as a co-host. Tsk, tsk. This happens to someone every election year. Besides being a little embarrassing to the candidate it's
¯\_(ツ)_/¯. Kevin corrected the record, Forrest publicly apologized multiple times, and about a dozen people sent me the same screen shot.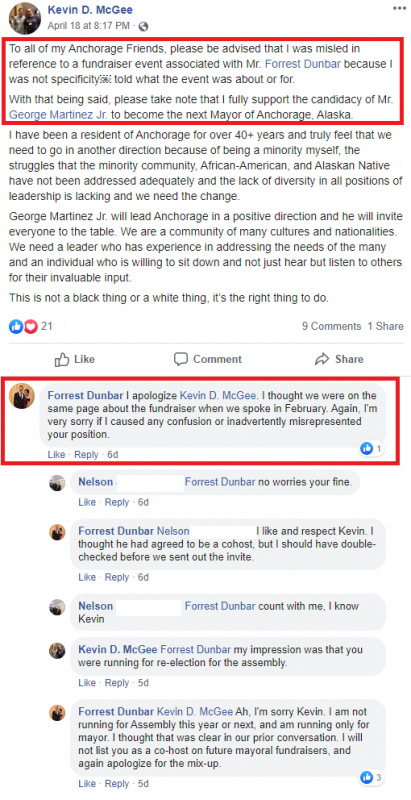 ***
Assemblymember Christopher Constant has the best fans. 😬

***
Time for a new feature: Guess the Masked Politico! This one's easy peasy. 🎣🎣🎣 Click here or scroll to the end to find out who it is.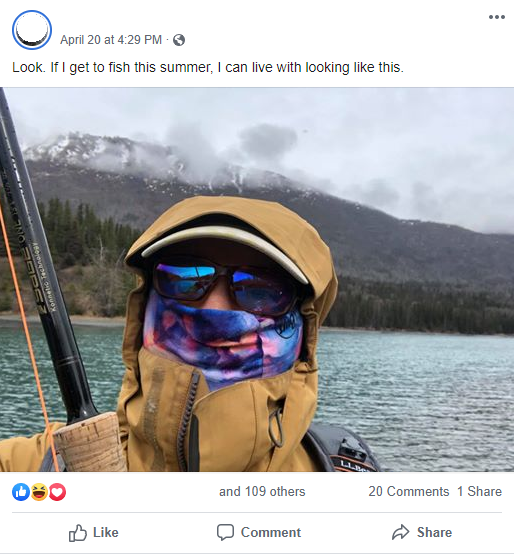 ***
I'm no bear expert 😉 but I'm pretty sure you're supposed to put your trash out the morning of trash collection day, unless it's in a locked bear proof trash can. I wonder if ADN reporter Kyle Hopkins likes $100+ fines more than sleep?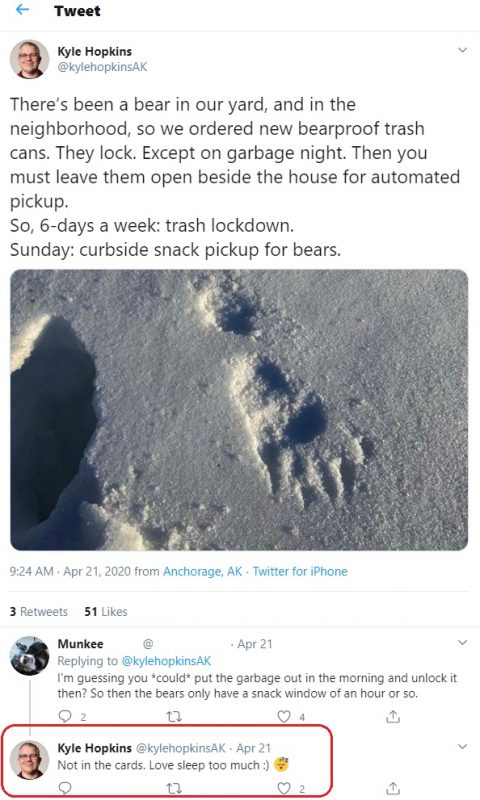 ***
Willow is literally Sen. Donny Olson's wife. OMG!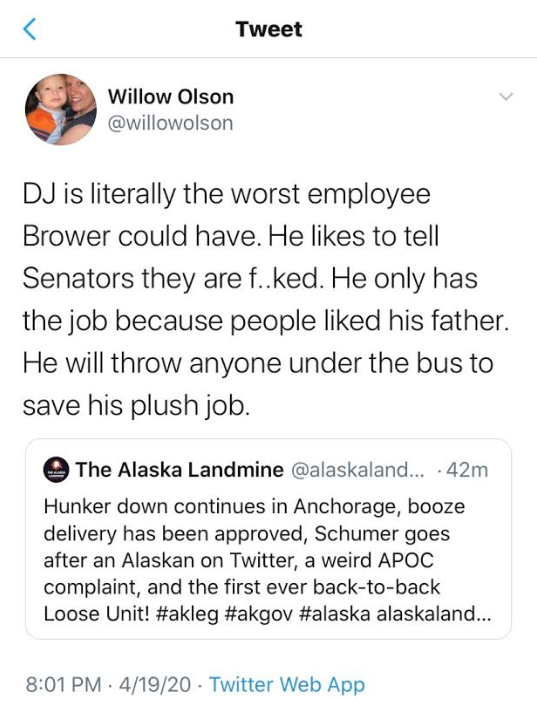 ***
Facebook's facial recognition mixed up Congressman Don Young and fiscal policy wonk Brad Keithley. I mean, Don does look pretty good for 86-years-young, but this type of mix-up can't feel good. Brad, for the record, I don't see it.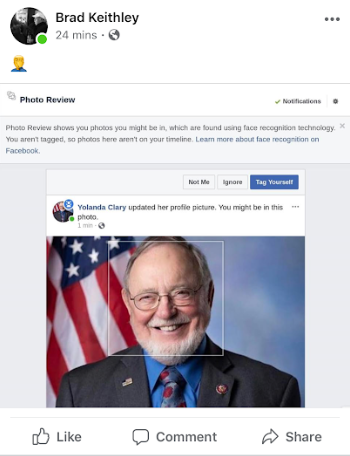 ***
Have you ever heard of a "Stephen Duplantis"? If you have, you'd know it is also a form of punishment. Yeah, this is the guy who's going to take down Sen. Natash von Imhof and her war chest. 🤣🤣🤣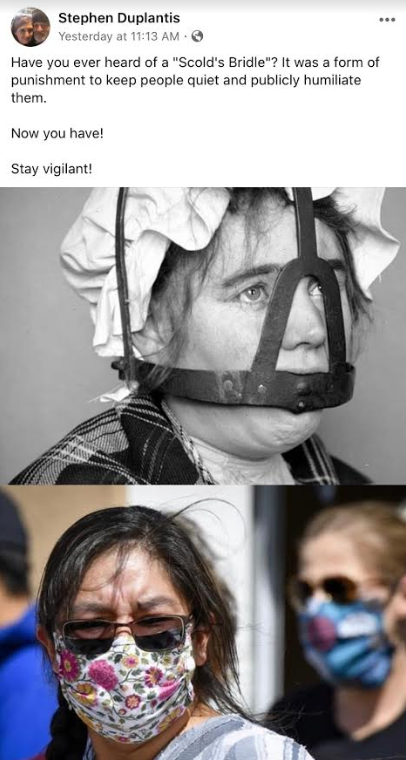 ***
If you ever wanted to see an Anchorage School Board Member in their underwear, here ya go. Thanks again for all the material, Andy. Not sure how you're going to top this for next week!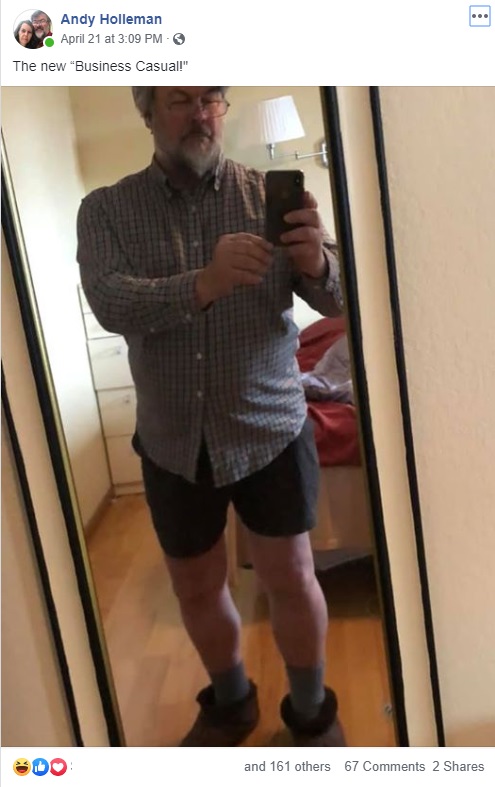 ***
In case you missed it, Anchorage's fav pastor, Rev. Matt Schultz, wrote and illustrated a children's book inspired by quarantine themes titled, "I Miss My Pack." It's quite lovely and I highly recommend it for families with younger children. You can check out the livestream reading here.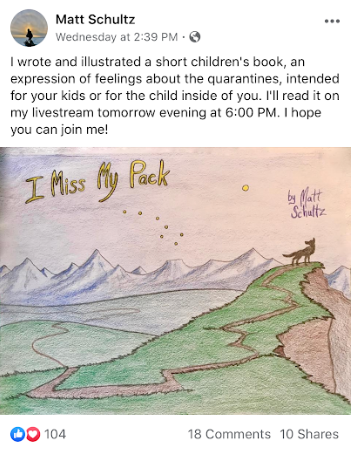 ***
Spotted running errands in Anchorage: Commissioner of Fish & Game, Doug Vincent-Lang, not following the face mask mandates.😱

***
The answer to this week's "Guess the masked politico" is former Rep. Les G

ara!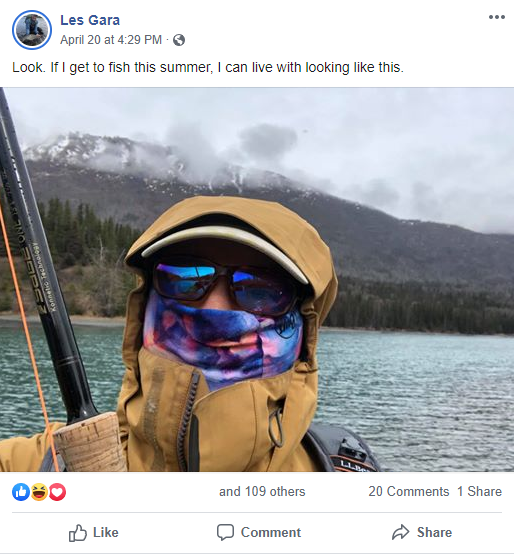 ***
The Alaska Stalker was born and raised in Alaska. She is hunkered down in South Anchorage with her husband, daughter, son, and baby on the way. She is not Jeff Landfield.