Welcome to this week's edition of the Alaska Stalker, a lighthearted round up of the best and worst of Alaska's social media landscape.
***
If you enjoy the Alaska Stalker, please consider supporting working moms like me by sending in hot tips, overheards, and spotted ins. You can reach me at [email protected] As always, thanks for reading.
***
This past Sunday was Easter, and things were a bit different. Rep. Gabrielle LeDoux played it safe and posted a pandemic/Easter crossover meme to mark the occasion.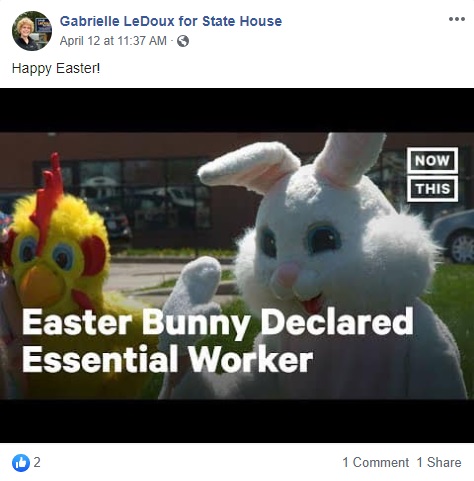 ***
Rep. Andi Story took time to stop and smell the skunk cabbage.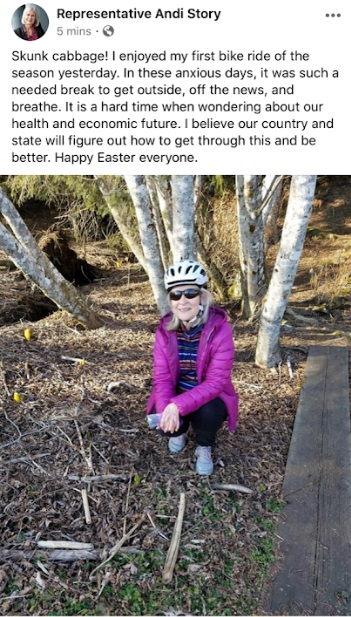 ***
Rep. Dave Talerico shared an adorable quarantine craft from his grandkids – socially distant hugs. Perfect for grandparents everywhere.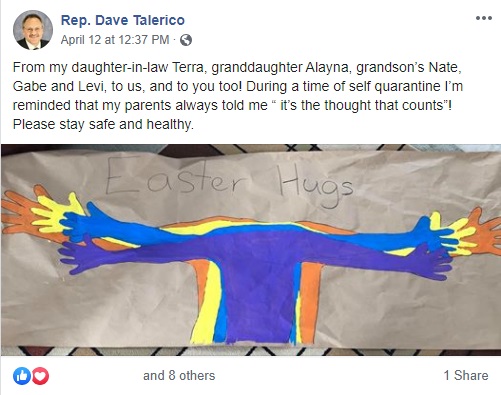 ***
Then there was this from Sen. Josh Revak. 👀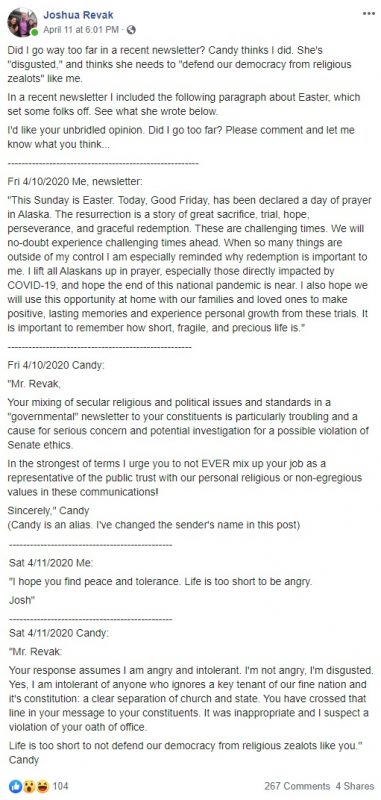 ***
Congressman Don Young dropped this extremely on brand Easter message. 🐻🐰🤷 I mean, I kind of love it.
***
***
Speaking of Don, I am equal parts amused and horrified by this ad for his re-election. Honestly, it's perfect for the Landmine. Don, call us!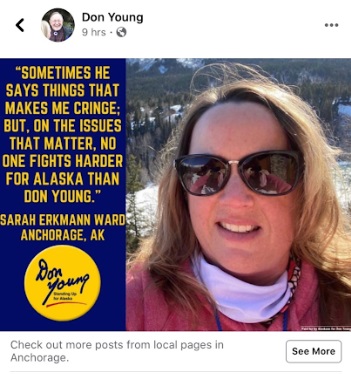 ***
Can someone please order this bumper sticker for Alyse Galvin's RV ASAP?🤣🤣🤣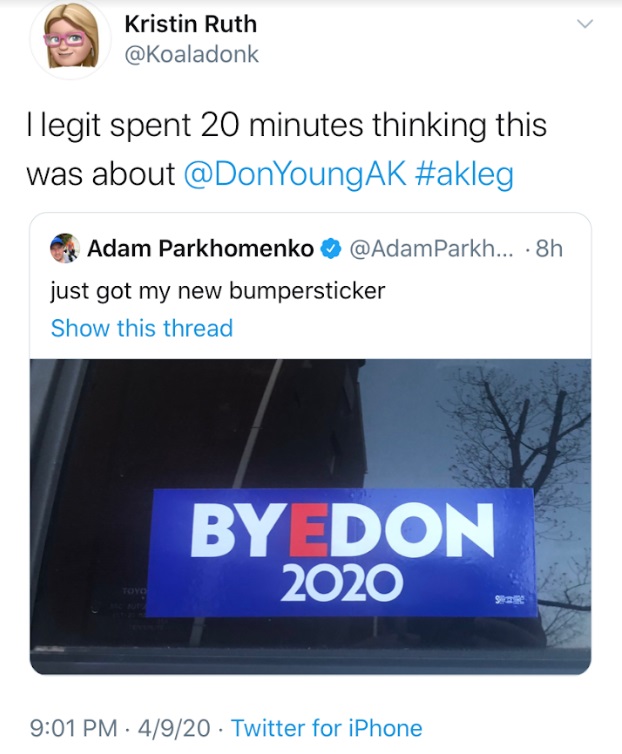 ***
I was all in for this Sen. Scott Kawasaki vs. Amory Lelake Twitter fight. Alas, it was just a misunderstanding. I'm devastated; this was the most excitement I've had in weeks.

***
Did you see the post floating around that showed Rep. Sara Rasmussen spent $1.5 million traveling to and from Juneau during the session? LOL, WHAT?! At first I assumed they had the wrong Rasmuson. Lucky for them both, it seems to be a clerical error. Sigh… Another exciting scandal taken from us far too soon.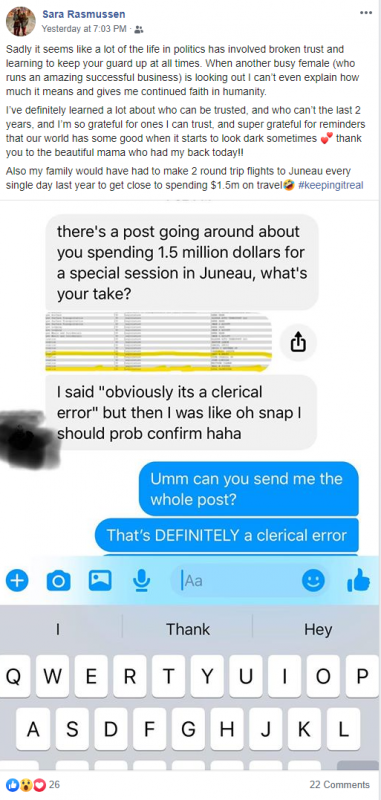 ***
Wow Sen. Wilson, I didn't know AirBee-n-Bees were still allowed to operate during the quarantine! 🐝🙃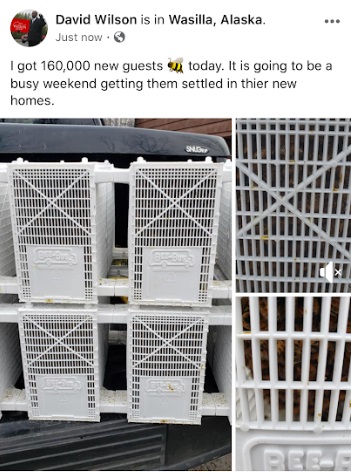 ***
Ladies and gentlemen, may I present what is quite possibly the best "Guess the Legislator" of all time. Scroll to the end to see who it is!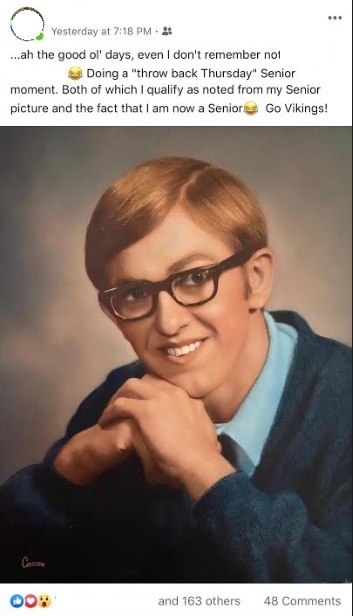 ***
I feel like Rep. Ivy Spohnholz missed an opportunity to connect with the people on this one. Instead of posting her well thought out explanation…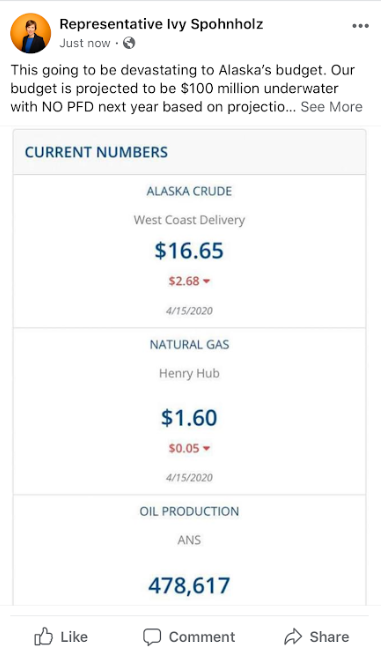 ***
She should have just borrowed this meme via the Alaska Landmine. 🤷📉😬
***
Riding out the quarantine in Juneau, Rep. Harriet Drummond and her husband Elstun seem to be enjoying their family time by going for romantic walks to the Unspeakable Acts Research Centre, and howling out their window. Harriet and Elsun are #couplegoals.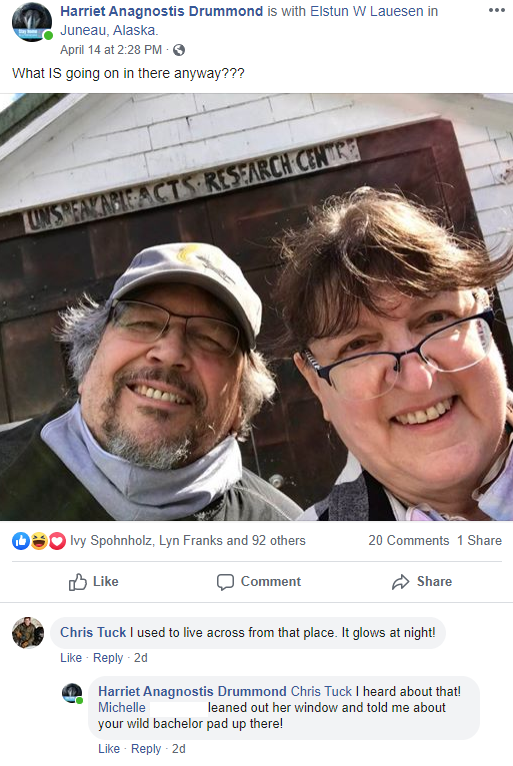 ***
Not sure if I feel the same about Libby Bakalar's relationship with her cousin. 😳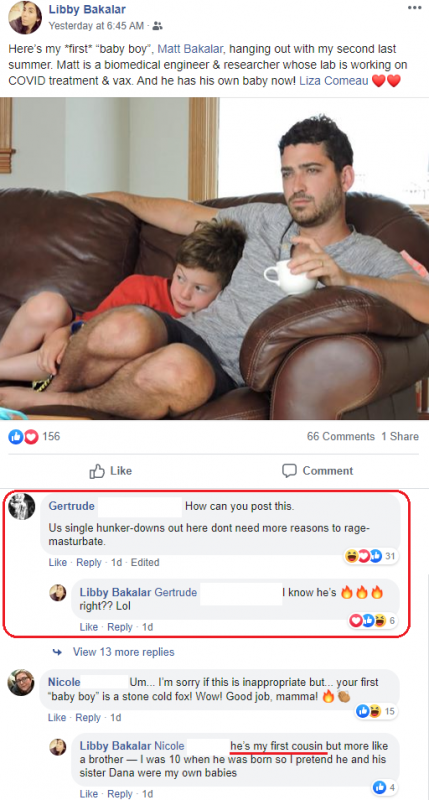 ***
Warm Stalker birthday wishes to former Gov. Bill Walker. 🎂🎈🎉 His kiddos hijacked his Facebook page for a sweet (and socially distant) b-day message.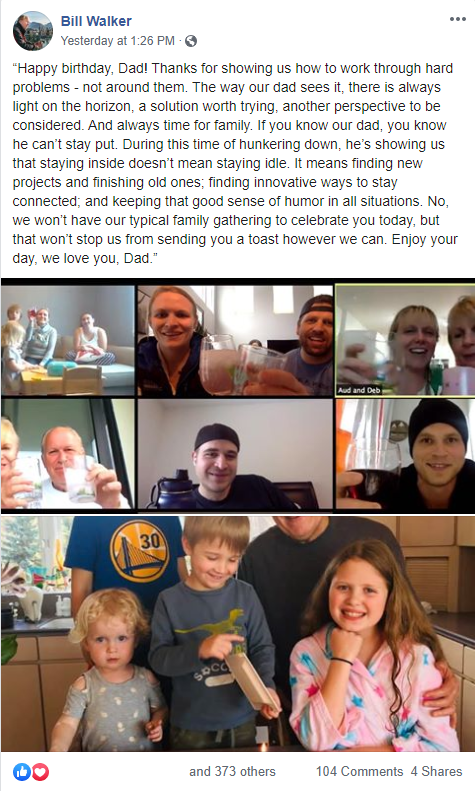 ***
Did former Gov. Sarah Palin get kicked out of a lower-48 establishment for not wearing a mask? According to her daughter Bristol's Instagram Stories, "You betcha!" 😮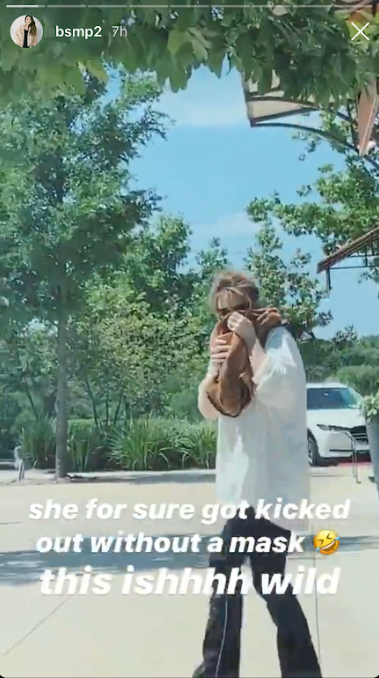 ***
Ack! Everyone take a moment to send Anchorage Assemblymember Meg Zaletel some "negative" vibes as she waits for her COVID-19 test results. Sweet ride, Meg. If you have to do a drive thru swab test, that's the way to do it. 🚗💁

***
It was bound to happen. Kudos to Anchorage Assemblymember (and mayoral candidate) Forrest Dunbar for the first non-fundraiser fundraiser mailer I've seen. The whole piece is egg-tremely well egg-cecuted.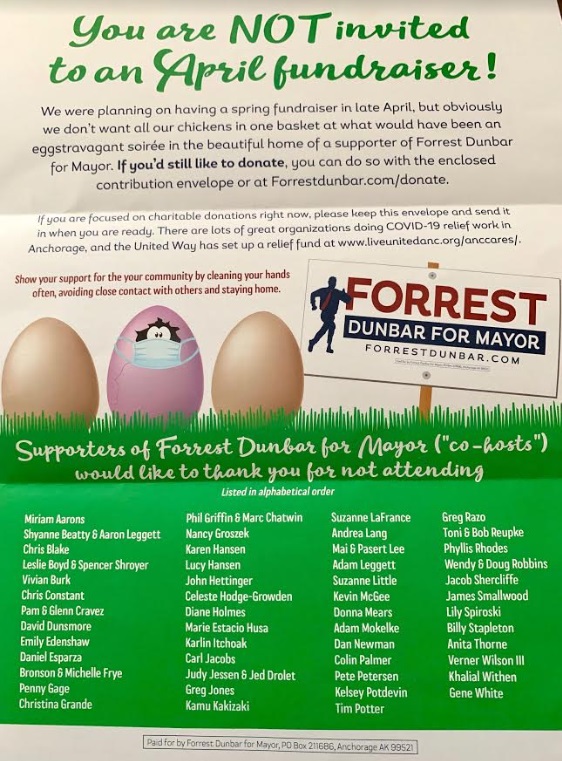 ***
Take a moment to appreciate one of the best concession posts of all time. 😂😂😂 I hear Christine is accepting chip donations during this difficult time.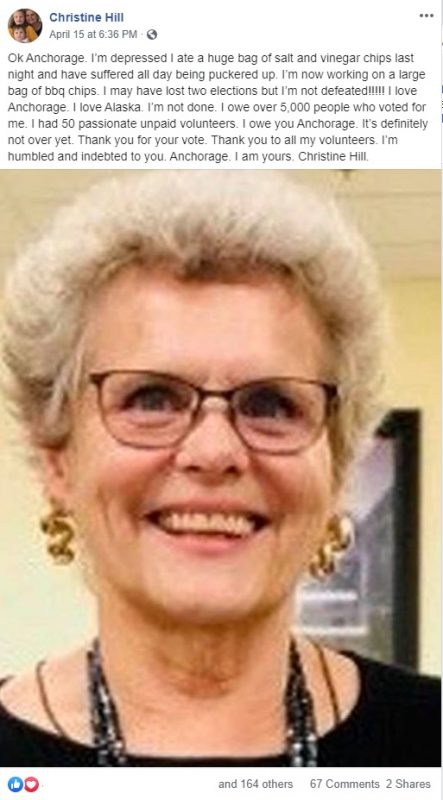 ***
Speaking of chips, who would have guessed former Rep. Mike Chenault was so domestic! YUM!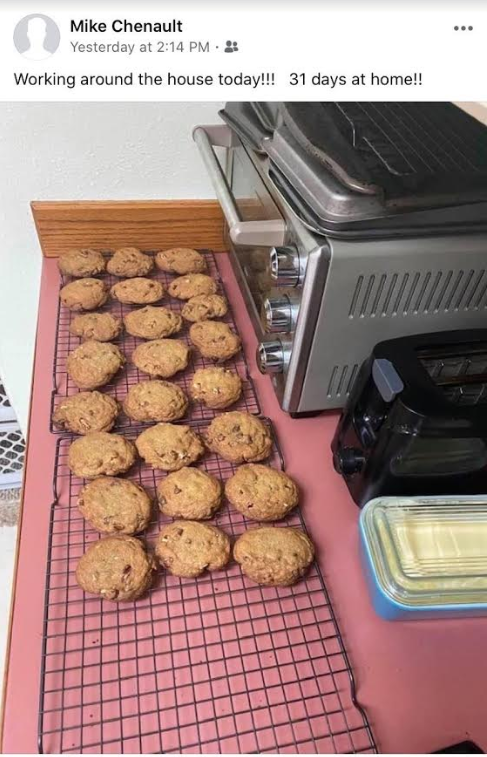 ***
🚨🚨🚨 BREAKING 🚨🚨🚨
Mayor Dan is leaving Facebook. I am devastated.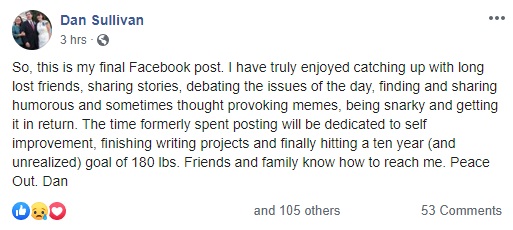 ***
Where am I going to get my fix of Boomer memes, unfiltered local political commentary, and unlimited Stalker content now? 😭😭😭 Thanks for the memories, Dan. Please come back soon.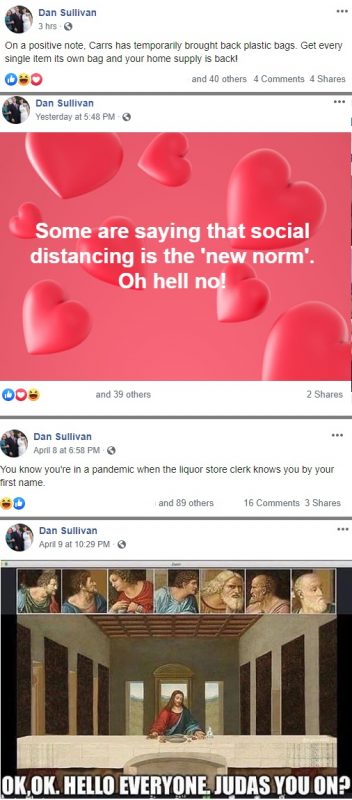 ***
Overheard in Anchorage (submitted via email): "I bet you $10 Jamie Allard wears an American Flag mask to her first Anchorage Assembly meeting."
***
The answer to the greatest "Guess the Legislator" of all time is… Rep. Laddie Shaw!!!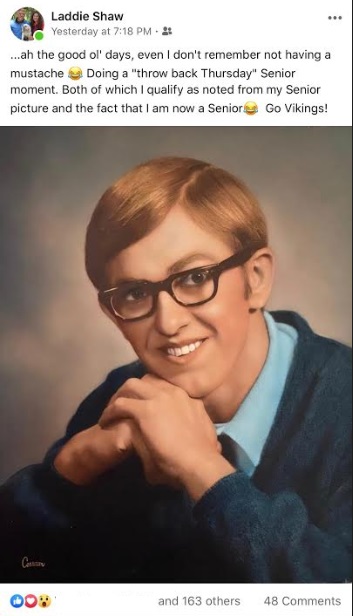 ***
The Alaska Stalker was born and raised in Alaska. She is hunkered down in South Anchorage with her husband, daughter, son, and baby on the way. She is not Jeff Landfield.