Welcome to this week's edition of the Alaska Stalker, a lighthearted round up of the best and worst of Alaska's social media landscape.
***
If you enjoy the Alaska Stalker, please consider supporting working moms like me by sending in hot tips, overheards, and spotted ins. You can reach me at akstalker@alaskalandmine.com. As always, thanks for reading.
***
It was a slow week in Stalkerland until Attorney General Kevin Clarkson dropped the mother of all tweets on Good Friday. In the wise words of Libby Bakalar, "Screen shots are like diamonds: they're forever and a girl's best friend." In case you missed it, check out the gem of all gems via Attorney General Kevin Clarkson's Twitter. This is not a joke. Yes, our Attorney General actually somehow linked to the Recall Dunleavy website instead of the Governor's Facebook page when promoting the Governor's Day of Prayer and Hope. How is this real life?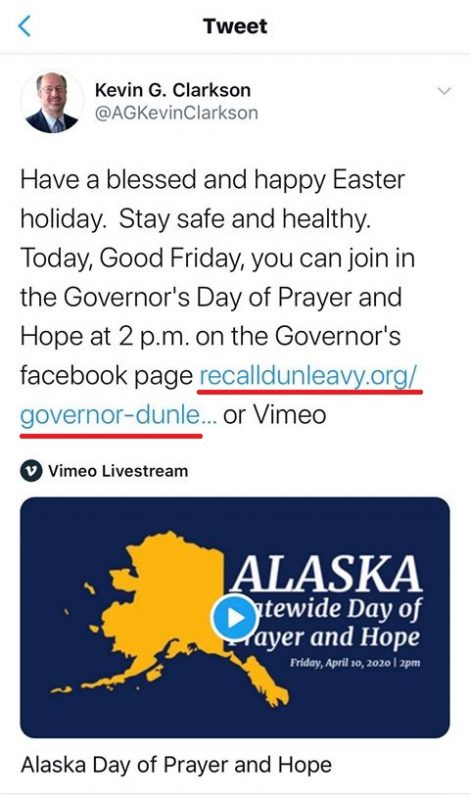 ***
As you can imagine, Alaska Twitter had a field day.
***
While Scott Kendall's prayers may have been answered, the Recall Dunleavy attorney learned the hard way that the Lord giveth and the Lord taketh away. Scott's Twitter was hacked early this morning. Coincidence? Everyone from Jim Minnery to Shannyn Moore to the Stalker herself was tagged.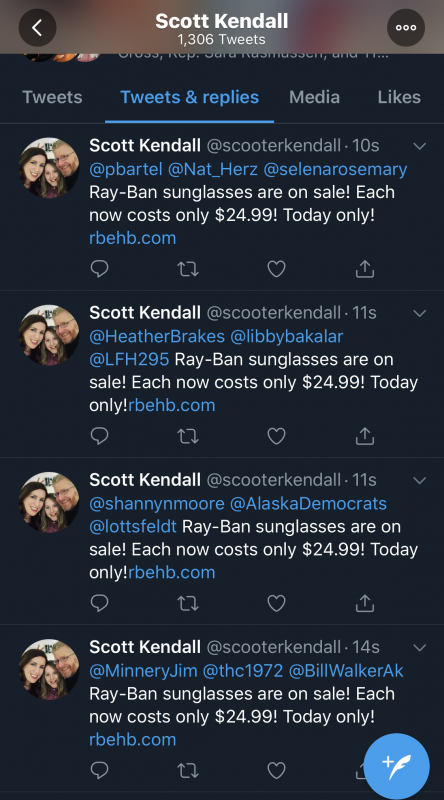 ***
Have you seen Congressman Don Young's online apology tour tribute to Dr. Anne Zink series on Facebook? It started juuuust after Don backpedaled hard on his now infamous "I call it the beer virus" statement. Is there a chip in Don's teflon?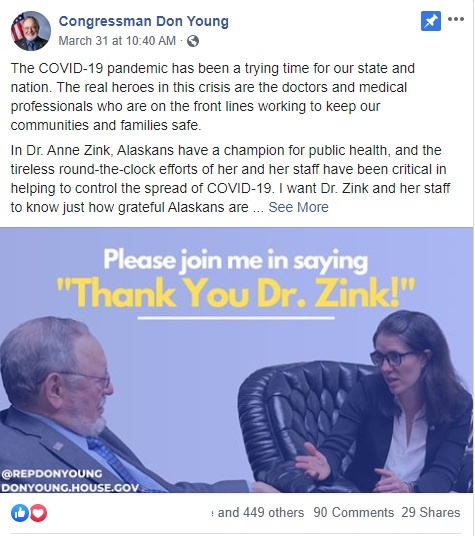 ***
President of the Alaska Young Democrats, Genevieve Mina, has officially out stalkered the stalker with her semi-creepy but also kinda funny shrine to Dr. Anne Zink. If Genevieve would like to submit her… contribution to Dr. Zink via Don Young's Facebook page, all she needs to do it click here.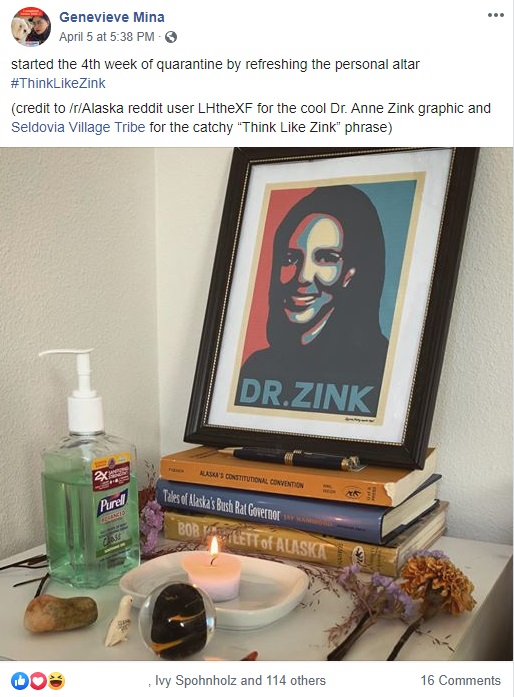 ***
Even I am not immune to the Zink Love that's going around. I mean, did you see her home office photo? 🤩 Yurt doing a great job, Dr. Zink!
***
A warm Stalker thank you to Municipal Manager Bill Falsey for his virtual tour of the "diseases" file from the Alaska collection. It's worth a deep dive. Hey Bill, tag me next time!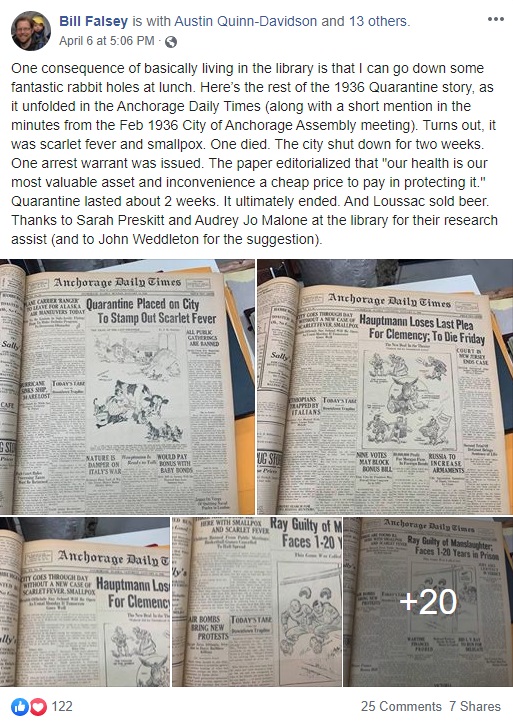 ***
Does Sen. Elvi Gray-Jackson have a home gym? I'm sure she's missing her renown high intensity workouts. While Rep. Harriet Drummond didn't take me up on my Story Time with Harriet suggestion from last week, maybe Elvi can start an Exercise with Elvi video series. I doubt many of us could keep up. I have it on good authority she can take down a PF 30 minute workout in 20 minutes flat. Until then, here's Elvi's COVID-19 constituent video update.
***
Can someone please convince Rep. Sarah Vance to crochet a life size image of a legislator to auction off for charity. I mean, I guess to save on yarn Rep. Laddie Shaw is the logical choice. 🤭🧶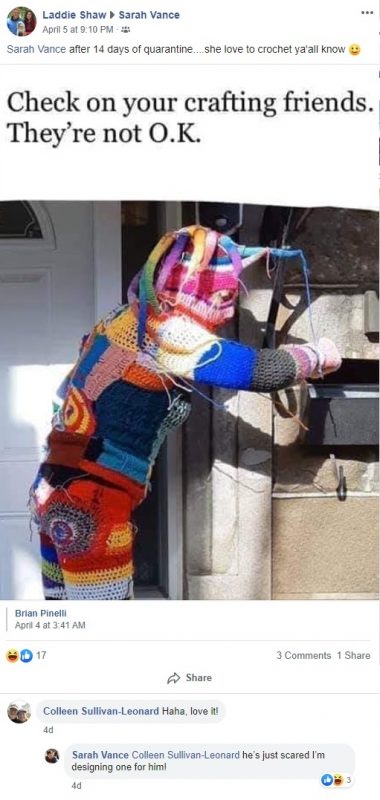 ***
Pandemic boredom has Anchorage Assemblymember Kameron Perez-Verdia resorting to posting goofy Facebook lists. If you want to find out which of Kameron's jobs is a lie, click here or scroll to the end.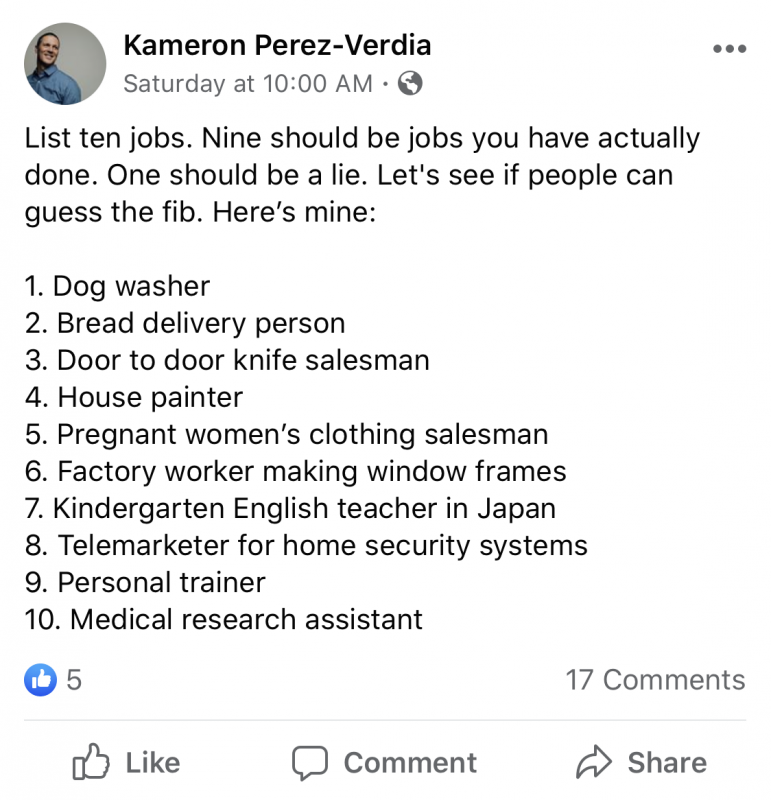 ***
In addition to the Bush Company and driving around aimlessly as a teen without a destination, add owning bandanas to the list of things Assemblymember Forrest Dunbar is just a little too good for. I do like the mask. Will go great with his Carhartt jacket.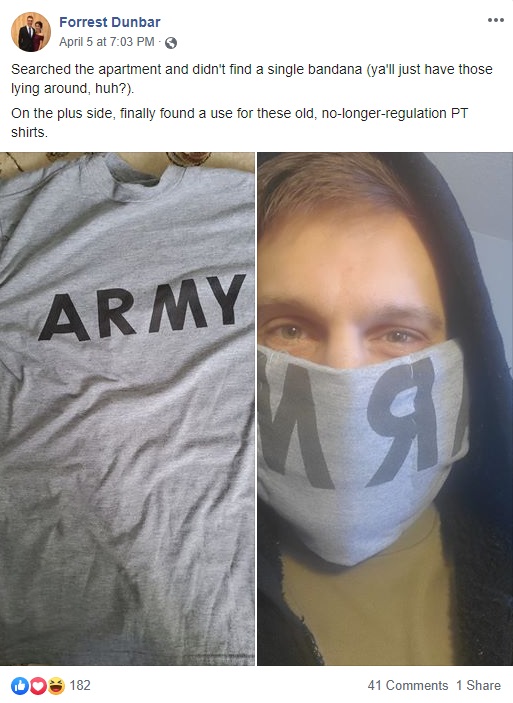 ***
Move over Julia O'Malley, there's a new gluten-free baker in town. Congratulations EOL FOL (friend of the Landmine), Assemblymember Austin Quinn-Davidson, on her big election win. Your cake is gorgeous. 🥰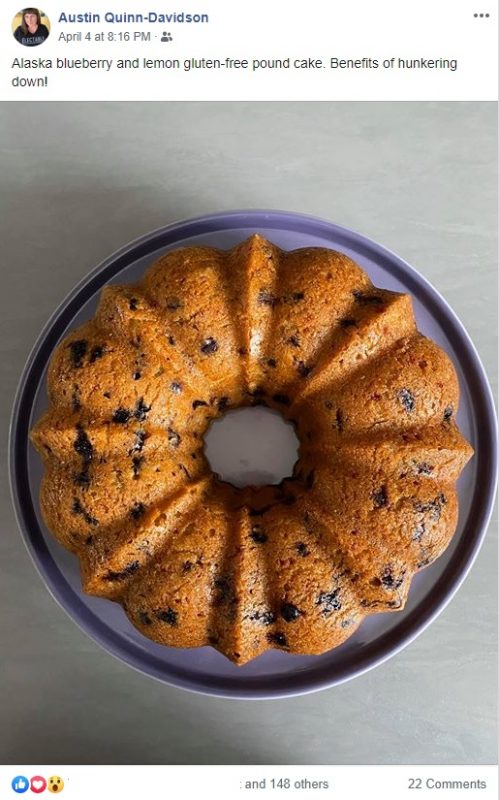 ***
Happy 100th birthday to Eagle River resident "Ski" Kowalewski! Glad Assemblymember Crystal Kennedy took the time to highlight Ski in a recent post. Cheers! 🎂🎈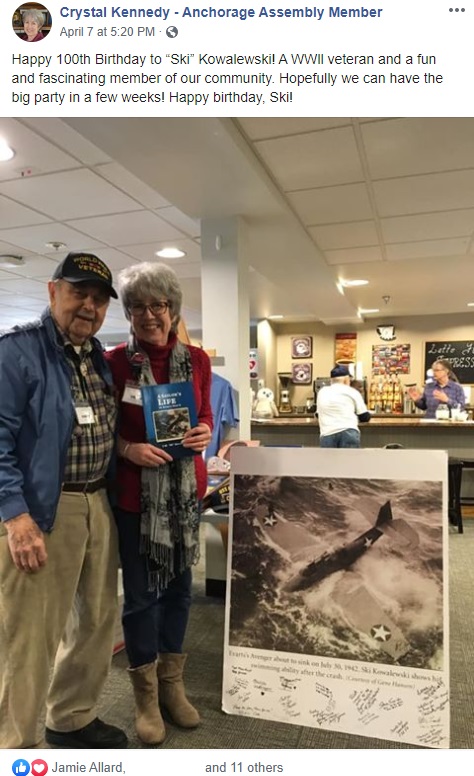 ***
Congratulations are also in order for newly elected Assemblymember Jamie Allard. If Felix, Chris, or Forrest want a preview of how the next three years are going to go, just watch this. Poor Jose!
***
The Stalker is looking forward to adding another Assemblymember to our list of weekly material. Congrats to the Yes on 12 campaign. Perhaps they should have told the on-site marijuana consumption folks about the old eating at Lucky Wishbone on the day of the election trick.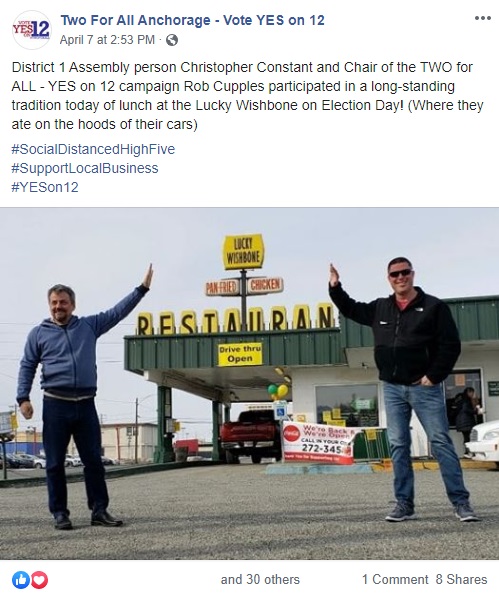 ***
And Anchorage School Board Member Andy Holleman cruised to another victory. If you're not following Andy on social media, you're missing out. He is a delight.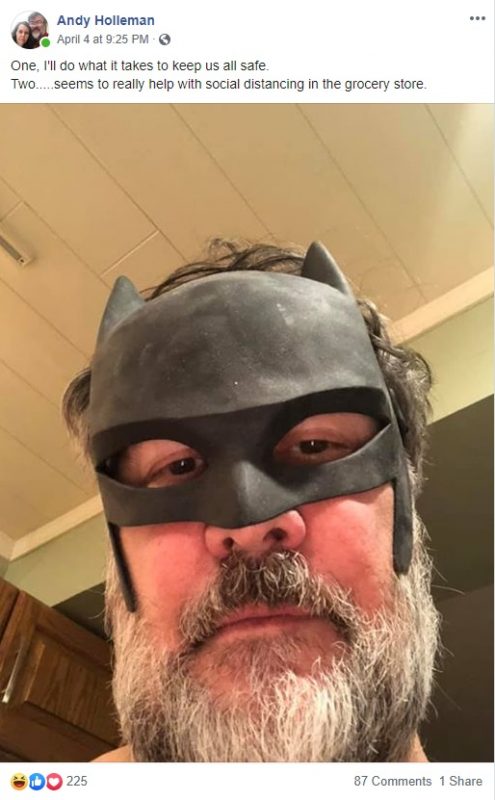 ***
While things have been fairly quiet with the legislative races, there have been a couple folks who have filed to run for soon-to-be open seats. Check out that comment about Mike Cronk of Tok. 👀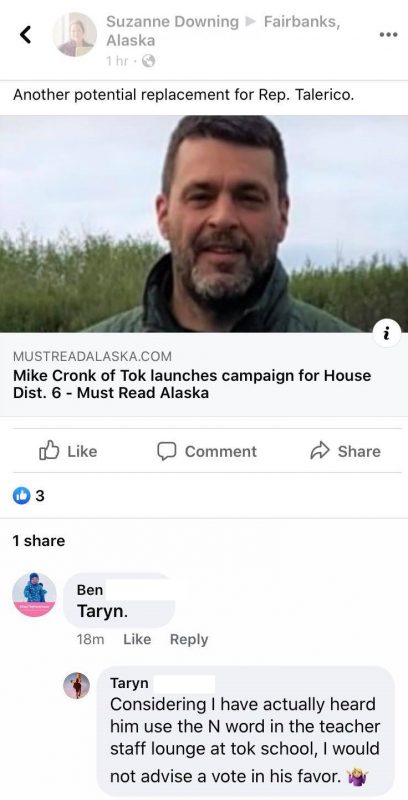 ***
Elizabeth Niiqsik Ferguson officially filed to run for Rep. John Lincoln's soon-to-be open seat. Rep. Sara Rasmussen seems to think Elizabeth is a strong candidate, and posted a low-key preemptively welcome to the legislature. Check out that comment tho. "What the Alaska Legislature really needs is more young men." LOL! Okay, Steve. As another commentor pointed out, "the only females in the legislature under 40 are Rep. Rasmussen and Rep. Vance. There are at least twice as many men under 40- Pruitt, Eastman, Fields, Hopkins, Revak just off the top of my head."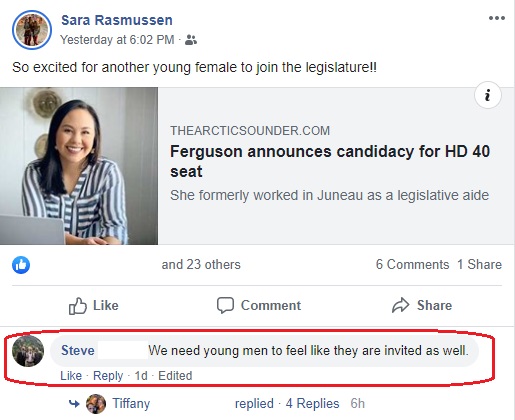 ***
Overheard on air: Jackie Purcell's cat loudly meowing during her home studio weather segment. 😻
***
Overheard on Alaska Landmine's speical Zoom Election Central: Anchorage Assemblymember Austin Quinn-Davidson calling Rep. Sara Rasmussen her "soul sister" for her recent Facebook list of 10 things she hates. Apparently, Austin also hates sand. But, she admitted to loving the Stalker!
***
Overheard via Facebook messenger during the daily state COVID-19 update: "This isn't a very heavy Dr. Zink episode. I'm disappointed."
***
Which of Kameron's jobs was a lie? #9, personal trainer.
***
The Alaska Stalker was born and raised in Alaska. She is hunkered down in South Anchorage with her husband, daughter, son, and baby on the way. She is not Jeff Landfield.