TALLINN, ESTONIA – Of the millions of refugees who have fled Ukraine due to the Russian invasion, thousands have found their way to Estonia. According to Estonian Public Broadcasting, more than 22,000 have arrived here since February 27. Estonia, a small Baltic nation, gained independence from the Soviet Union in 1991 and still has a large Russian speaking minority. Estonia joined the European Union in 2003 and NATO in 2004.
Refugees with no friends or family in Estonia to stay with are being put up in hotels at no cost to them. More than 100 refugees, almost all of them women and children, are currently staying at the Metropol Hotel in Estonia's capital, Tallinn. I have been staying here since Monday and spoke with several of them about why they left Ukraine and how they ended up in Estonia.
Olga and her 17-year-old daughter, Angelica, arrived in Estonia in early March after fleeing Kiev. They took a train from Kiev to Lviv days after the invasion started. They descried the journey to Lviv as extremely difficult due to the chaos and large number of people trying to board the train. From there, they took another train to Przemyśl, Poland where they waited for a day until finding a spot on a bus to Tallinn. Olga, like many Ukrainians, has family in Russia. Her sister lives in Crimea and her brother lives near Krasnodar. She said it's been difficult to talk to them about what's happening because they have such different views. Olga and her daughter both expressed gratitude to Estonia and Estonians for being so welcoming.
The gratitude they described was evident in the hotel lobby, where two Estonian women, Alice Järvet and Tiina Kossinova, passed out donated clothes. Alice, who runs a production company, and Tiina, who owns a clothing boutique, studied together 20 years ago. They both said they could not stand by and watch what was happening without helping. Both speak Russian, which allows them to easily communicate with Russian-speaking Ukrainian refugees.
Natalia, who came from the besieged city of Nikolev in southern Ukraine, also arrived in Tallinn in early March. Like Olga and her daughter, Natalia fled to Lviv and then took a train to Przemyśl and a bus to Tallinn. She said she worries about her friends and family remaining in Ukraine, and hopes to return as soon as the war ends.
I spoke with several refugees who told me this is the second time in eight years they have been forced to flee their home. Natasha, who came from Kiev, said she left Lugansk in 2014 with her husband and son amid the chaos that ensued after Russia-backed separatists took control of the region. Her husband and son remain in Kiev. Natasha, whose birthday was on February 24–the day the Russian invasion of Ukraine started–also says she hopes the war ends soon so she can go home. She said that after eight years of war in Lugansk, kids there are no longer scared of low flying military aircraft or bombs. She does not want that to spread to the rest of Ukraine.
Alexandra and her 14-year-old daughter, Diana, have a similar story. Their family left Donetsk in 2014 and moved to Kiev. When the invasion started, they left Kiev by car with Alexandra's mom Risa, who is 70. She said they drove to Ivano-Frankivsk, barely able to cross a bridge that had been bombed. They made it to the Romanian border, and eventually ended up in Krakow, Poland, where they slept in the train station. They took a bus to Tallinn the next day.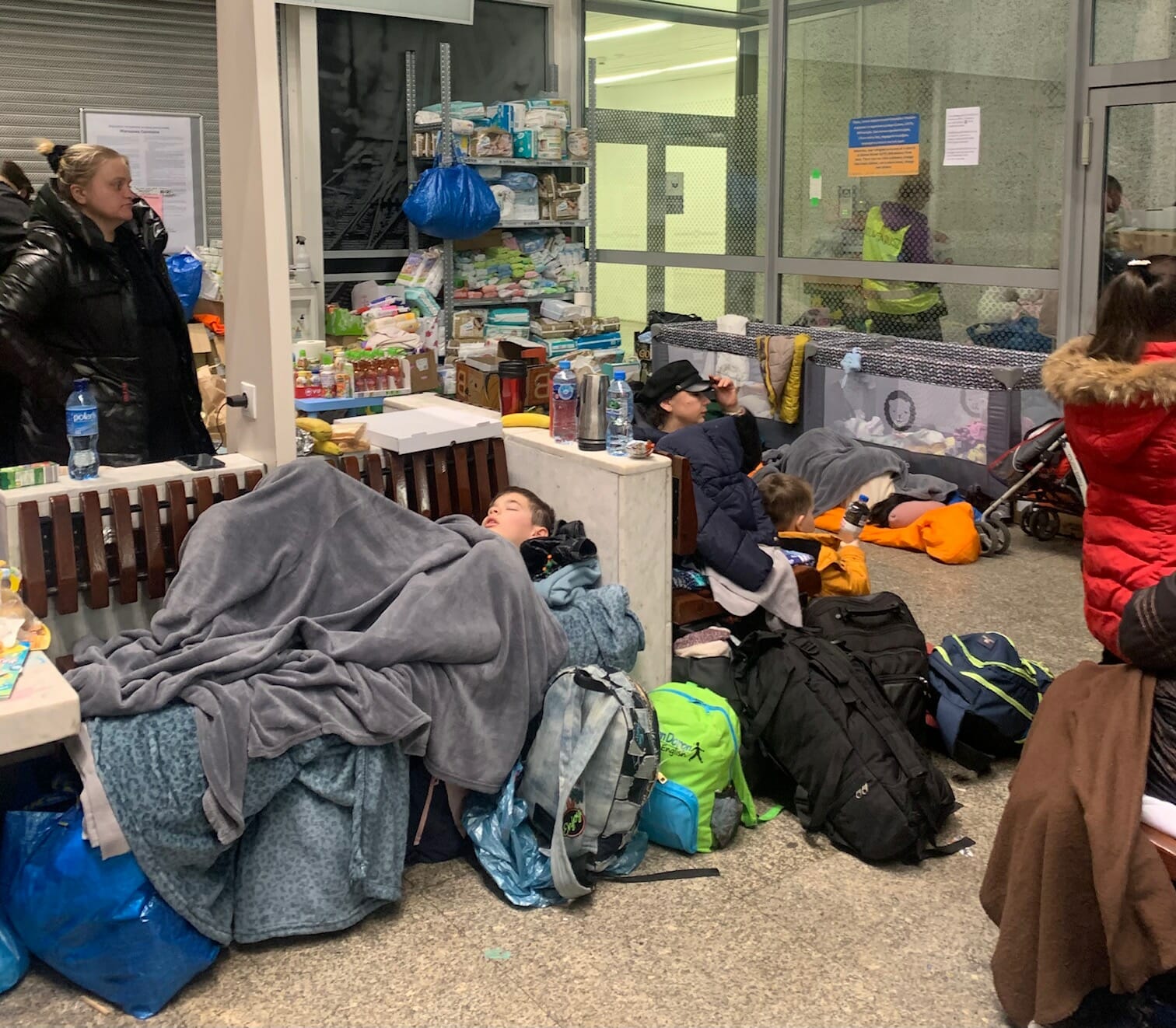 Risa, Alexandra's 70 year old mother, has a sister who lives in Saint Petersburg. She expressed sadness that she has not called once to see how they are doing. Like many of those I spoke with who have family in Russia, they said it's hard talking to them about what is going on. Risa said she never thought she would be forced to flee her home not once, but twice. "Things were getting better in Ukraine. I bought a house and started a tourist business on the Black Sea. Now it's all lost," Risa said. Alexandra fears the war will drag out for years, just as the conflict has in Donetsk and Lugansk.
Another woman I spoke with, Nadezhda, came to Tallinn from Kiev with her four-year-old son. In a harsh and clear tone she told me, "We are one people. My first language is Russian. Where are the traitors? What is happening is not a war, it is a deliberate killing of innocent people. We all want peace and for Russia to leave."
Everyone I spoke with said they want to return to Ukraine when there is peace, but acknowledged it may be some time before that happens. They all expressed gratitude to Estonia and thankfulness that they have been welcomed and given a place to stay.
The question, they all wonder, is how long they will remain here.