It's only week two of the legislatiive session in Juneau and it already feels like week 22. This week saw a flurry of activity and yet another scandal involving a legislator. Here we go.
Legislature
Did the "fiscally conservative" and anti-tax Senate Majority have a sudden change of heart? Senator Gary Stevens (R – Kodiak) was placed on the powerful, seven member, Senate Finance Committee as Mike Dunleavy's replacement. Stevens joins Senators Lyman Hoffman (D – Bethel), Donnie Olson (D – Golovin), and Click Bishop (R – Fairbanks) as being open to a some kind of state tax. That creates a pro-tax majority (4 out of 7) on the Finance Committee. Was that an oversight or a calculation?
At his first Finance Committee meeting in an official capacity this week, Stevens said to Finance Committee Co-Chair Senator Anna MacKinnon (R – Eagle River) "Thank you for inviting me to this very scary meeting." That about sums it up.
Also, the State of Alaska Legislature website still lists Mike Dunleavy as a Senate Finance Committee member. Whoever is in charge of the site must not have heard that Dunleavy resigned to focus on his gubernatorial campaign. Better start reading the Landmine every week….
The legislative bowling league began this week. Check out the team rosters and some of the creative names they came up with. Is Governor Walker not bowling this year?
Mayoral candidate Rebecca Logan was spotted at the bowling league. But, she's running for Anchorage mayor, not Juneau mayor. Maybe she's keeping her options open. Hope she had fun bowling!
The House Resources Committee had a rather bizarre meeting this week. Committee Co-Chair Geran Tarr (D – Anchorage) introduced a bill raising the minimum oil tax from 4 to 7 percent when prices are above $25 a barrel. During a presentation on the bill from Alaska Department of Revenue Tax Division Director, Ken Alper, there was some confusion about math. Alper correctly stated that the tax represents a 75% increase. Representative Justin Parish (D – Juneau) disagreed and said it was only a 3% increase. Some others on the committee seemed to agree with Parish so Alper, rather patiently, tried to give a math lesson. Representative Chris Birch (R – Anchorage), who sits next to Parish, had a look on his face I can't really describe. Somewhere between "get me the hell outta here" and "is this guy serious?" I'll help; going from 4 to 7 percent is a 75% increase.
Remember Senator David Wilson (R – Wasilla)? Who could forget him. Things seem to have quieted down for him since his bizarre December press conference in which he basically called the Alaska media "fake news" and stated that everyone who saw him act inappropriately around a female staffer were liars. The Landmine reported on the incident that occurred last June in the Capitol (Click here). A report from the Legislative Affairs Agency concluded that he did not sexually harass the staffer but did act inappropriately and put the staffer in a stressful, no win situation.
Wilson was encouraged by his colleagues not to hold the press conference but did so anyway. Word is that another investigation was conducted by the Legislative Affairs Agency as retaliation after his press conference. The legislature has a no retaliation policy on harassment claims. Someone should have informed Wilson, because the buzz is that the report states he clearly retaliated and it recommends that Wilson be censured or expelled. A records request I submitted to obtain the report was declined because, "all personnel records are confidential." I also called and emailed Senate President Pete Kelly's (R – Fairbanks) office about it. They have not responded. Heather (Kelly's chief of staff) or Pete, can one of you please call me back?
Is there a carnival going on in Juneau? Some in the Capitol are talking about taking a ride on the Tilt-A-Whirl. Anyone know where that is?
Republicans Meeting in Juneau
The Alaska Republican Party held a central committee meeting in Juneau this weekend. So far, no reports of it being nearly as crazy as the Democrats meeting last weekend. Senator Natasha von Imhof (R – Anchorage) gave a presentation on the senate's fiscal plan. She talked about using a portion of the Permanent Fund earnings, known as POMV, to fund the government. Someone in the audience asked if she had read the party platform and reminded her the party was officially against doing that. The term "know your audience" comes to mind here. At least she isn't up for re-election this year.
The Capitol City Republican Women held a candidate lunch forum on Friday (1/26/2018) for the Republicans running for governor and lieutenant governor. Later that night, they held a dinner forum for the candidates for the Alaska Republican Party state central committee. Lieutenant governor candidates present were: Lynn Gattis, Kevin Meyer, Edie Grunwald, and Stephen Wright (who's that guy?). Gary Stevens did not attend. Is that guy even still running? Candidates for governor were: Mike Dunleavy, Mike Chenault, Scott Hawkins, and Michael Sheldon (who's that guy?).
Looks like Sheldon and Wright are running as a team. Mike and Steve, how about an exclusive Landmine interview?
Mike Dunleavy had a lot of support from both groups. He seems to be the clear front-runner at this point. Interesting to note, Kevin Meyer has been in elected office since 1993, when he was first voted on to the Anchorage Assembly. When you retire from the State of Alaska, they take a blend of your top 3 earning years to determine your retirement income. Guess how much the lieutenant governor makes? Six figures! Four years as lieutenant governor and then smoooooooth sailing, hey Kevin?
At the lunch forum the emcee said the candidates would be introduced with their elected title or last elected title. When he introduced Edie Grunwald she retorted that she was a colonel and would like to be addressed as such. Damn, that reminds me of the scene in "A Few Good Men" when Colonel Jessup says, "I'd appreciate it if you would address me as colonel or sir, I believe I've earned it."
Speaking of Colonel Grunwald. I wonder if anyone is going to talk about her firing from the Alaska National Guard during the sex scandal in 2014. She was head of HR. Yikes.
One thing I forgot to mention last week. A young Native woman sent me a message two weeks ago saying that she was asked to leave an Alaska Republican Party fundraiser at The Hangar in Juneau the day before the session started. She told me she attended in order to meet some legislators and to network. Shame on the people at the door who told her to leave. Here is info on the fundraiser:
What do you think her view of the Republican Party will be for the rest of her life? She added that she later attended a fundraiser for the Democrats, and another one for the governor, and was welcomed at both.
Other Happenings
Governor Bill Walker appointed John Lincoln to the vacant District 40 seat this week. He works for NANA, is from Kotzebue, and was not one of the original three names submitted to Walker by the District 40 Democrats. There were a myriad of issues with the first three candidates, so Walker asked for additional names from the Democrats.
It seems Walker also isn't happy with the three nominees the Republicans suggested to fill the senate seat Mike Dunleavy's resignation left vacant. Walker is meeting with most of the original 11 who submitted applications for the seat with the Republicans. Walker definitely likes to keep it real and think out of the box. I am still rooting for Todd Smoldon, only because he has an awesome mullet and I think the senate really needs that.
Walker held a fundraiser last night (1/27/2018) in Anchorage at the home of Dave and Mary Ann Pease. I arrived late and had to park at the bottom of some Hillside road and then practically walk up a mountain to get to the house. And damn, that house was nice! Among the many in attendance, were politicos: Union Boss Vince Beltrami, Diane Kaplan, Assemblyman John Weddleton, Brian Murkowski, and many others. Lots of checks in the basket.
Here is a pic of me and my buddy Vince. You can see Walker's head in the background. #BaldGuys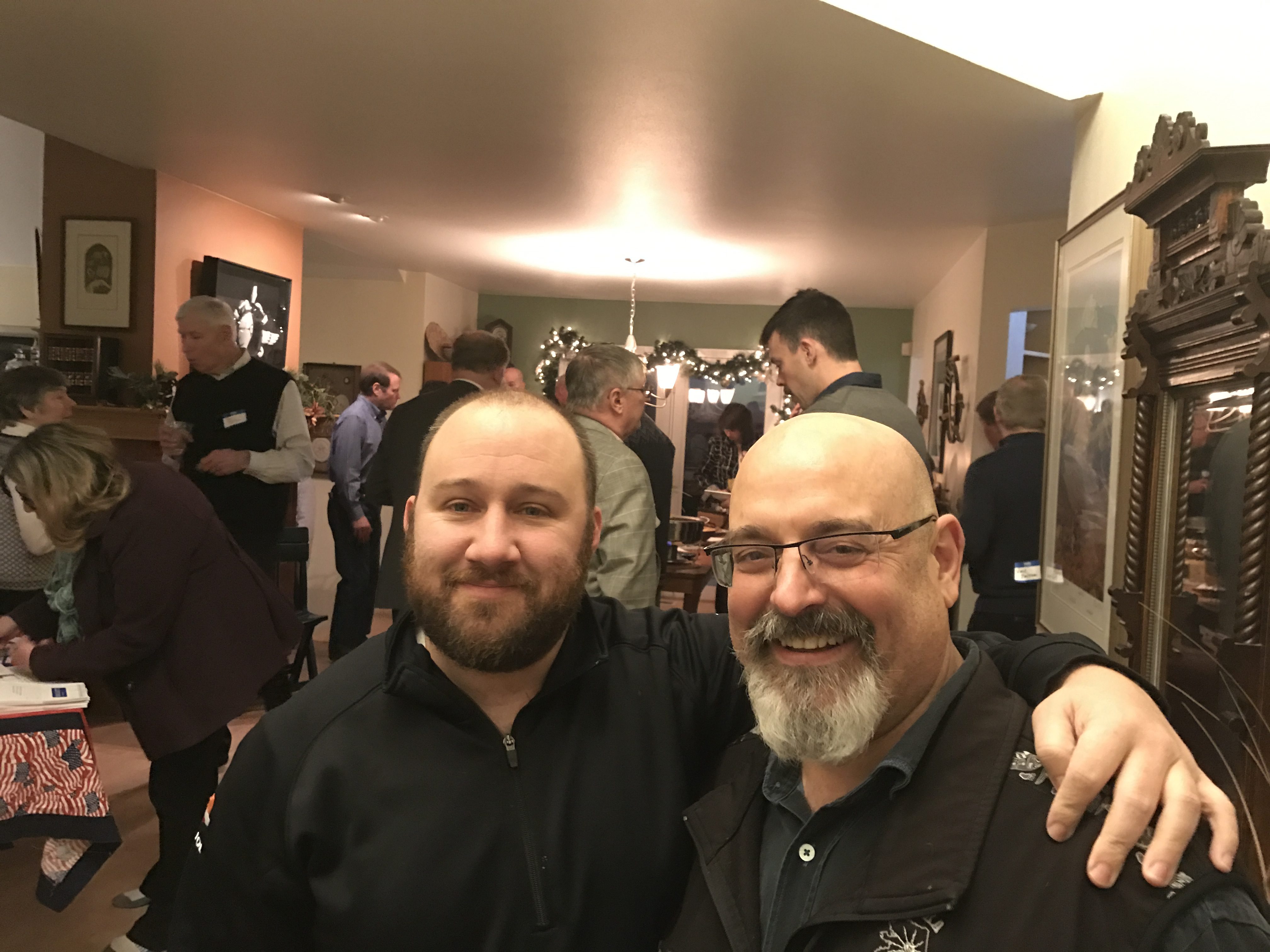 I spoke to Governor Walker briefly on my way out. He said he was glad to see me. I think he thought I was still in Australia. Maybe he was wondering how I was getting all this info and running the Landmine from the southern hemisphere? Well, now he knows I'm back. Bill, if you have any info for the Landmine, give me a call.
On the trek back to my car, I came across this on an SUV: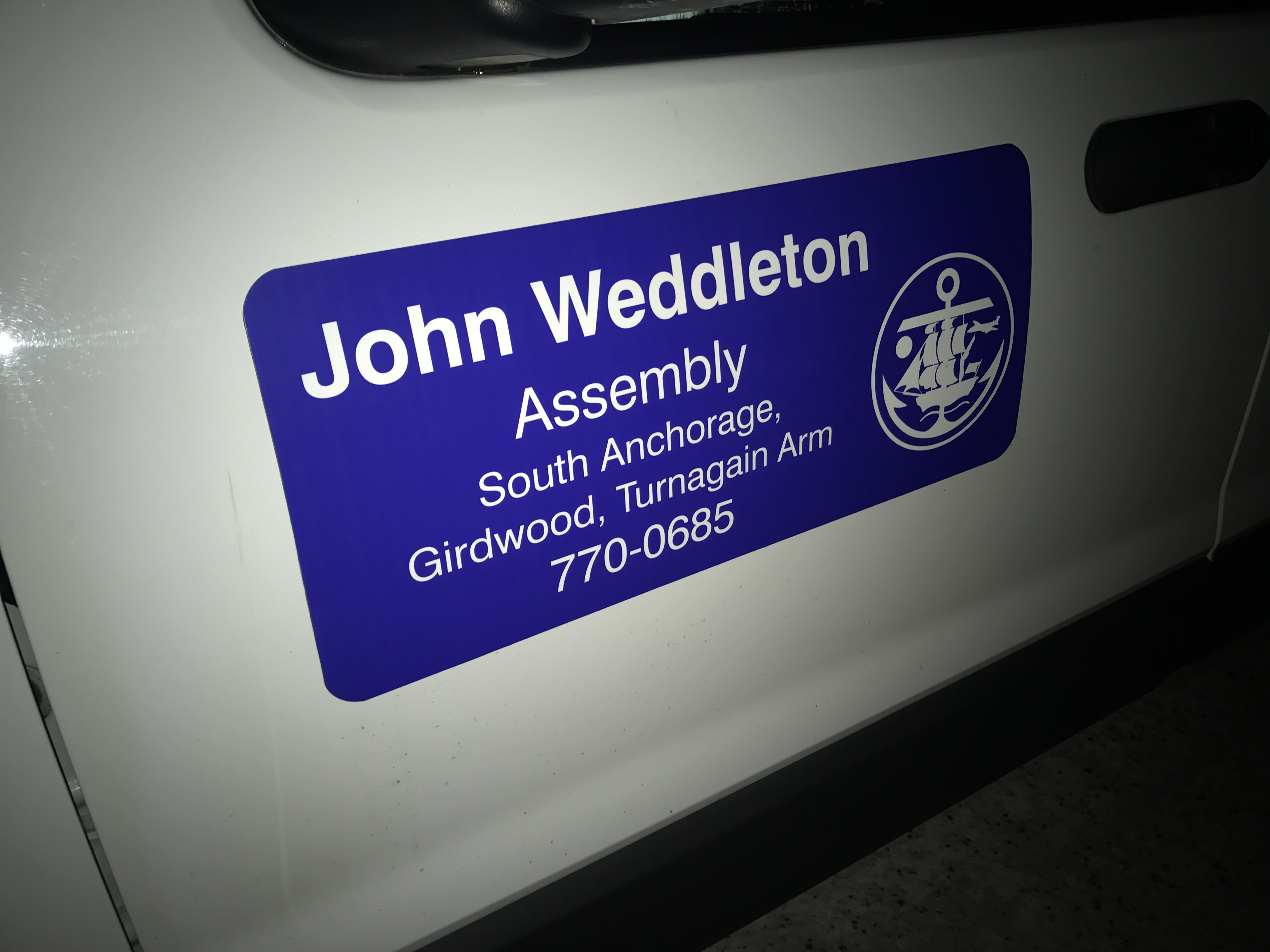 Assemblyman Weddleton ain't messing around.
Ian Laing, a political consultant who ran Alaska's Future (GCI and other businesses campaign for a fiscal solution), is now the campaign manager for Mayor Ethan Berkowitz's re-election campaign. Ian, how about a high level meeting?
Pinnacle Group, a conservative political consulting firm, has taken on Anthony Lekanof as a new client. Lekankof is running against Representative Harriet Drummond (D – Anchorage). And great news – he is finally old enough to run! Lekanof is 21, the minimum age in Alaska required to run for the house. But don't let his age fool you. I spoke with him on the phone and, if I didn't know his age, I would have thought he was much older. He is extremely articulate and seems to have a solid grasp of the issues. He actually told me, "This campaign is bigger than me." This race will be fun to watch.
Steve Wackowski and his wife Lindsay welcomed a new baby boy on 1/17/2018. Lindsay checked in at 6:30 pm, started pushing around 9 pm and had the baby at, and this is not a joke, 10:02 pm. First of all, that's awesome Lindsay! Second of all, Steve is the Senior Advisor for Alaskan Affairs to the Secretary of the Interior. His baby being born at 10:02 – if that's not an omen for Alaska I don't know what is. (For the people who don't get it, the 1002 area of ANWR is where the oil drilling would be)
There is a rumor going around the Capitol that Shea Siegert had some kind of falling out with the Walker/Mallott campaign. He was recently their interim campaign manager. I asked around and this rumor is false. Siegert took the job with the campaign but had already committed to working for Representative Jason Grenn (I – Anchorage) for the session. The campaign knew when he started that he would leave to go work for Grenn during the session. Amateur gossipers – all you have to do is ask.
This Week's Loose Unit
This week's Loose Unit is definitely Representative Zach Fansler (D – Bethel). Likely, soon to be former representative. The Juneau Empire published a story yesterday titled, "Beaten by a legislator: Juneau woman accuses lawmaker of violent attack." It's a pretty crazy story. To summarize, it sounds like Fansler got drunk and then hit a woman in his hotel room really hard.
According to the story, "After the woman, in a lengthy text message to Fansler, said she wanted nothing to do with him and explained her injuries, he apologized profusely by text and said he was sorry that he brought his "bdsm kink" out." He goes on to say, ""I will keep my distance and be respectful tonight and whenever. You're right about my drinking and the kink. I'm embarrassed and ashamed of myself."
Well I think it's safe to say he is a dom. Using BDSM as an excuse for assault – that's a new one to me. Damn, he's definitely a loose unit. What the hell is going on in Juneau? And to make things even weirder, several legislative staff had to explain what BDSM is to some of the legislators.
In all seriousness, I'm very sorry to the victim of this horrible act. I know it must have not been easy to come forward, it was very good and brave of you to do so.
If you have a nomination for This Week's Loose Unit, or if you have any political news, stories or gossip (or any old pics of politicians or public officials) please email me at jeff@alaskalandmine.com.