If you were one of the masses of Anchorage rap-rock aficionados adorned in red Yankees baseball caps, chanting "Break Stuff" as a unified front, and generally partying like it was Woodstock '99 at Limp Bizkit's Anchorage concert last Saturday, you probably saw Thera, one of the bands opening for the notorious Fred-fronted nü-metal group.
Thera, a local and self described "post-heartcore" five-member outfit, helped set the stage for an evening of mayhem – but if you've been paying any kind of attention to the Alaska music scene since the mid-2000s, the quintet has been a fixture both locally and internationally, touring with and opening for hardcore and emo acts like Dillinger Escape Plan, Killswitch Engage, and 36 Crazyfists (another Alaska staple.)
Thera carries on the tradition of emo and post-hardcore bands, pairing soaring vocal parts with grinding metalcore breakdowns, and creating an amalgamation of noises that's discordant but simultaneously beautiful. This fusion and contrast of sounds, if you're a contemplative type, brings to mind the extremes and rapidly changing landscapes and mindsets of the band's home state, Even the names of some of their albums and singles – "From the North," "Familiar Cold," "With Frozen Lungs," – reflect their Alaskan origins.
I met Mason Venhaus and Steven Cornfield, the guitarist and bassist for Thera, at the terminally hip Williwaw rooftop bar on a Friday evening the week after the Limp Bizkit show. The guys had an easygoing, casual rapport, tossing tour stories back and forth and reminiscing over the band's misadventures and successes over almost 15 years. Above it all, there was a palpable laid-back attitude between the two band members, a reminder that at the end of the day – this shit's supposed to be fun! And for Venhaus and Cornfield, it obviously is.
"We're old enough that we're like, 'Let's have fun, let's make good music,'" Cornfield said. "We haven't made a dime [outside of concert sales] in ten years."
Besides Steven and Mason, Thera consists of frontwoman vocalist Stephanie Plate, and her husband Ronnie, the group's second vocalist and guitarist. The Plates started Thera back in 2005, and in 2007, Venhaus joined the band in Oklahoma. In 2009, Cornfield, a music school graduate, was added to the roster, after what he describes as "lots of Myspace messages" to Venhaus, asking to be a part of Thera.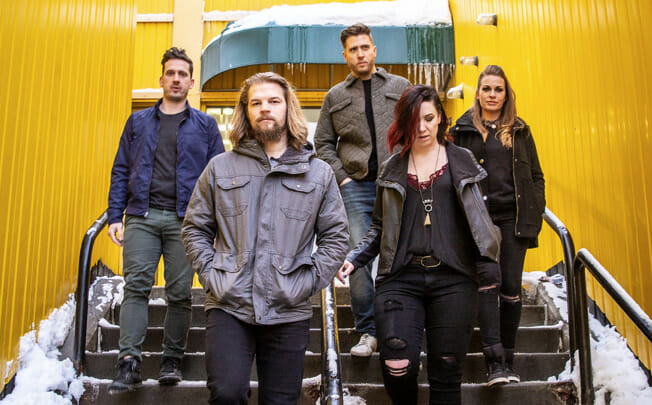 "All I wanted was to be in a band," Cornfield said. "I wasn't caring about money, I was just caring about making good music."
In 2019, the newest member, Jade Lindow, took over as the band's drummer, opening for emo giants Taking Back Sunday at the Bear Tooth theater in her first official Thera performance. Lindow, who was voted South Africa's best female drummer in 2018, is married to Brock Lindow, a KWHL DJ and the vocalist for the now-defunct metalcore outfit 36 Crazyfists.
Venhaus and Cornfield both point to church and worship music as the main factor that got them into performing and playing music – especially as an outlet that allowed them to play on stage as a part of an actual group.
Venhaus, who works as a worship director in Eagle River (and will be climbing Mount Kilimanjaro later this year), reminisced fondly about looking up guitar tabs online for pop-punk songs, and taking inspiration from post-hardcore bands like The Used, Underoath, and Thrice, and post-rock groups like Explosions in the Sky and This Will Destroy you – influences which still manifest themselves in the band's sound today.
Cornfield, in addition to his role in Thera, cohosts "Go Fix Yourself," a self-help podcast centered around interviewing local creators and innovators, and works as a filmmaker and director – but describes music as his "first love."
After a stint in Washington, a 2011 U.S. tour (which involved skipping out on their lease and living in a van for two months), and a 2013 UK tour, the band moved back to Alaska.
"The first show of our DIY tour," Venhaus laughed, "was shut down by cops in Cannon Beach, Oregon. That was a pretty epic start – it set the tone for a lot of that tour. We didn't know what we were doing."
An ill-fated show in Lubbock, Texas saw Thera mistaken for a cover band scheduled to play a four-hour set at a restaurant.
"We have, maybe an hour, hour twenty, of content," Venhaus said. "They had booked us as a cover band … we're in the wrong spot. We ended up not playing."
"Getting drunk on a double decker bus in England, traveling to another show, that you're going to play with your heroes [36 Crazyfists], who you're on the bus with, listening to 'Hey Jude,'' Cornfield said, "There's moments like that, where you're like, 'Is this real life?'"
Both Venhaus and Cornfield look back fondly on their time in the lower 48 and on tour, but acknowledge that the move wasn't working out in the long term.
"We kind of decided, this sucks, this isn't working," Venhaus said. "Let's go on tour, and move back to Alaska at the end of the tour [in 2011]."
The tour was dubbed "The Road is Our Home Tour" by the band, since the group was technically homeless besides the tour van – which broke down at one point in Weed, California, colliding Thera with legendary rock producer and recording artist Sylvia Massy (Tool, System of a Down, Smashing Pumpkins) who operated a studio there.
On the recommendation of an Alaska DJ on Twitter, the band stayed at accommodations negotiated by Massy after Cornfield messaged her on Facebook. According to Cornfield, who reached out to thank the DJ for setting Thera up with Massy, the recommendation had been more of a joke. The DJ had never met Massy before, and was, in fact, shocked that the band had actually gotten to meet the famed producer.
In 2014, after the move back to Alaska, Stephanie's pregnancy put the band on an indefinite hiatus, in an act of timing Cornfield still finds bitterly ironic.
"We had representation, we had studios, we had [Red Bull Records] emailing us," Cornfield said. "I was like, 'Guys, it's happening, it's happening,' and then literally within that week … Steph was like, 'I'm pregnant, we're gonna take a hiatus.'"
Thera's break from music was later described as the end of the band, according to Venhaus, not just a hiatus. The group closed out their career with what they thought would be a farewell concert in 2014 at the new Alaska Airlines Center – and for a while, that was it.
After a few years, however, Thera reformed and started playing shows, and has been more or less intact ever since.
"You can't walk away from it forever," Venhaus said.
Both Cornfield and Venhaus acknowledge the drawbacks of being an Alaska band – limited audience, expensive tours – but there are significant benefits to the music scene in the 49th state as well.
"You get a real close-knit fanbase," Cornfield said of the Alaskan audiences that turn out en masse for Thera sets. "People that know your music, and come to every show."
Alaska's comparatively tiny population also allows musicians and artists to make more of a name for themselves locally – being a big fish in a small pond, as it were. As Cornfield put it, "it's easy to stand out."
With that said, bands have to be economical about playing too many sets in a short period of time. Alaska's limited audience acts as both a blessing and a curse – you can amass a small amount of devoted fans, but play several concerts in a month, and people will stop showing up.
"It's easy to oversaturate the market," Venhaus explained.
Cornfield reminisced about seeing August Burns Red, a Pennsylvania metalcore band, in an all-ages Anchorage venue with fewer than 100 people in the audience – just a few weeks prior, the band had sold out the Playstation Theater in New York City. It's a kind of dynamic that exists only up here – bands tour Alaska as a novelty, and are forced, given a dearth of lower-48 level stadium venues, to play comparatively smaller, more intimate concerts.
Opening for Limp Bizkit was the culmination of an angsty teen dream for the band, who played alongside perennial Anchorage favorites Delmag before the main show.
"My one interaction with [Limp Bizkit band member] DJ Lethal," Cornfield said, "I'm going back to our green room … and Lethal says 'Hey, question… do you know how to get a kink out of your big toe?'" Cornfield's chiropractic advice ("Put all your weight on your foot!") it turns out, didn't end up working out for the ailing DJ.
Thera was offered the chance to open for Limp Bizkit after a few weeks of cryptic messaging from the event promoters, Cornfield said.
"[The promoter] calls me, and she says 'Are you free May 13th?'" Cornfield said. "It's Limp Bizkit, and I was like, 'Holy fuck.' And then I get to do the honors of calling everybody and saying … 'We're opening up for Limp Bizkit at the Alaska Airlines Center.'"
At the moment, Thera is working on a new series of seven songs, a culmination of a project that started in 2019 and was put on hold because of the COVID-19 pandemic. The album's release date is murky, but Venhaus hopes to see it done by the end of 2023. The band will be back in the studio in June, and a music video is tentatively planned.
Until then, Thera's members will be taking a break before their recording session, working on their own respective projects, and, as always, preparing for the next show.
You can find Thera at https://www.wearethera.com/ and on Facebook, Instagram, and music streaming services.