In early August, Mike Barnhill abruptly resigned as chief operating office at the Alaska Permanent Fund Corporation (APFC). Barnhill started with APCF in February. He returned to Juneau after working as the executive director for the Cincinnati Retirement System. Prior to that, he worked various roles in state government for 20 years, including as acting Revenue commissioner.
Neither APFC or Barnhill would comment on why Barnhill resigned. But there was speculation it had something to do with APFC's decision to open an Anchorage office. A records request from the Landmine for Barnhill's resignation returned an email with no explanation why he resigned.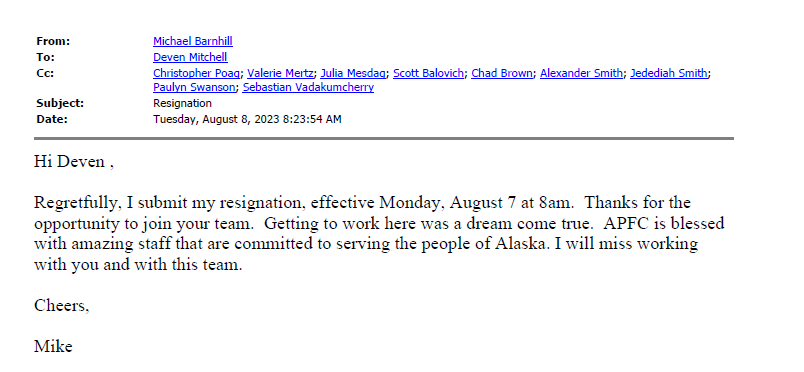 But a follow-up records request on emails between Barnhill and APFC Executive Director Deven Mitchell leading up Barnhill's resignation revealed more.
On August 5, Mitchell emailed Barnhill telling him that Ethan Schutt, chair of the Board of Trustees "made it clear that the board expects the opening of an Anchorage office to be announced this week." He then tells Barnhill to "set aside" any reservations about using space in the DEC building on Cordova Street, and instructs Barnhill to make it happen.
Mitchell says the space was offered by Jason Brune, who at the time had just resigned as Environmental Conservation commissioner. Brune has been on the Board of Trustees as one of the department head positions. Governor Mike Dunleavy (R – Alaska) appointed Brune to one of the public seats on the Board of Trustees on August 22.
Chris Poag, the APFC's general counsel, responded, offering to help. Then Mitchell responded, indicating some "context for urgency," with the remainder of the email redacted. The next evening, Barnhill responded, "I probably need to resign. I'll think about it overnight and let you know."
Mitchell responded 33 minutes later with "Why?! This isn't you," with the rest of the email redacted. Barnhill responded 27 minutes later, writing, "Hard pass."
In another email sent five minutes later, Barnhill offered to talk, but said he does not see a way to move forward, and concluded with, "I am heading down to clean out my office."
Mitchell responded seven minutes later, writing that he will call him in the morning and "let's not be too rash at this point."
The next morning Barnhill said he was able to talk whenever convenient. Mitchell responded, saying he was too but was unsure about cell reception in Lynn Canal. Then the email chain ends.
What could Mitchell have said in one sentence that prompted Barnhill to resign from a job that paid him a salary of nearly $200,000 a year, plus benefits? It's hard to know, but it was definitely not a small thing. The APFC cited the privacy clause in the Alaska Constitution as the reason for the redaction. We are in the process of appealing the redaction.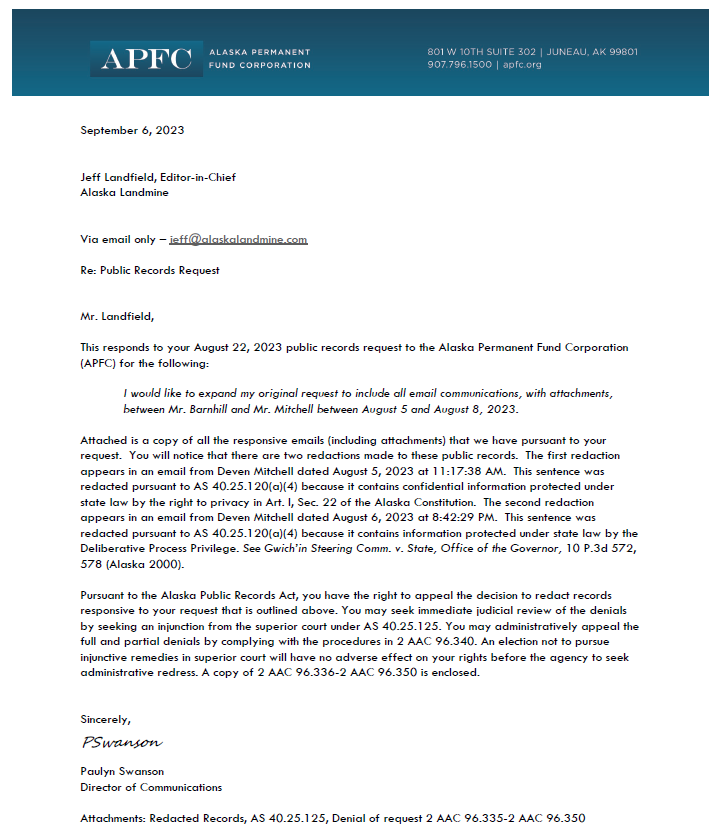 This is a developing story.