When I meet the four members of Anchorage hardcore band She, they're standing in a rough semicircle outside their practice space in Government Hill, smoking a pre-interview cigarette on a cloudy Wednesday evening. I'm greeted by guitarist Mercy Cofield Jr, lead vocalist and songwriter Andrew Sims, and the two Justins: Rodda and Costiniano, the band's drummer and bassist, respectively.
I first experienced the full sonic onslaught of She's sound at Williwaw on the final day of the Sundown Solstice Festival, a three-day concert this summer. They played a 40 minute set while I drank vodka Red Bulls and watched a guy in a Popular Front denim vest gyrating to Sims's lyrics, Cofield's riffs, Rodda's drumming, and Costiniano's bass grooves. She was fast, loud, and hard as nails – a lean, mean combo that left me wanting to fight someone.
The first iteration of She began in 2007, when Cofield and drummer Justin Ferguson invited Sims out to a band practice in Palmer as a vocalist.
"[Andrew] was really passionate about music, and had the absolute best lyrics I've ever heard," Cofield said.  "The first practice… Andrew's mic cable didn't work, so he ended up screaming over what Ferguson and I were playing, but audibly."
She's current lineup, however, didn't emerge until about two years after that first practice. Drummer Justin Rodda left Corrupture, a local metal group, shortly before the band moved to Seattle, and took Ferguson's spot in She.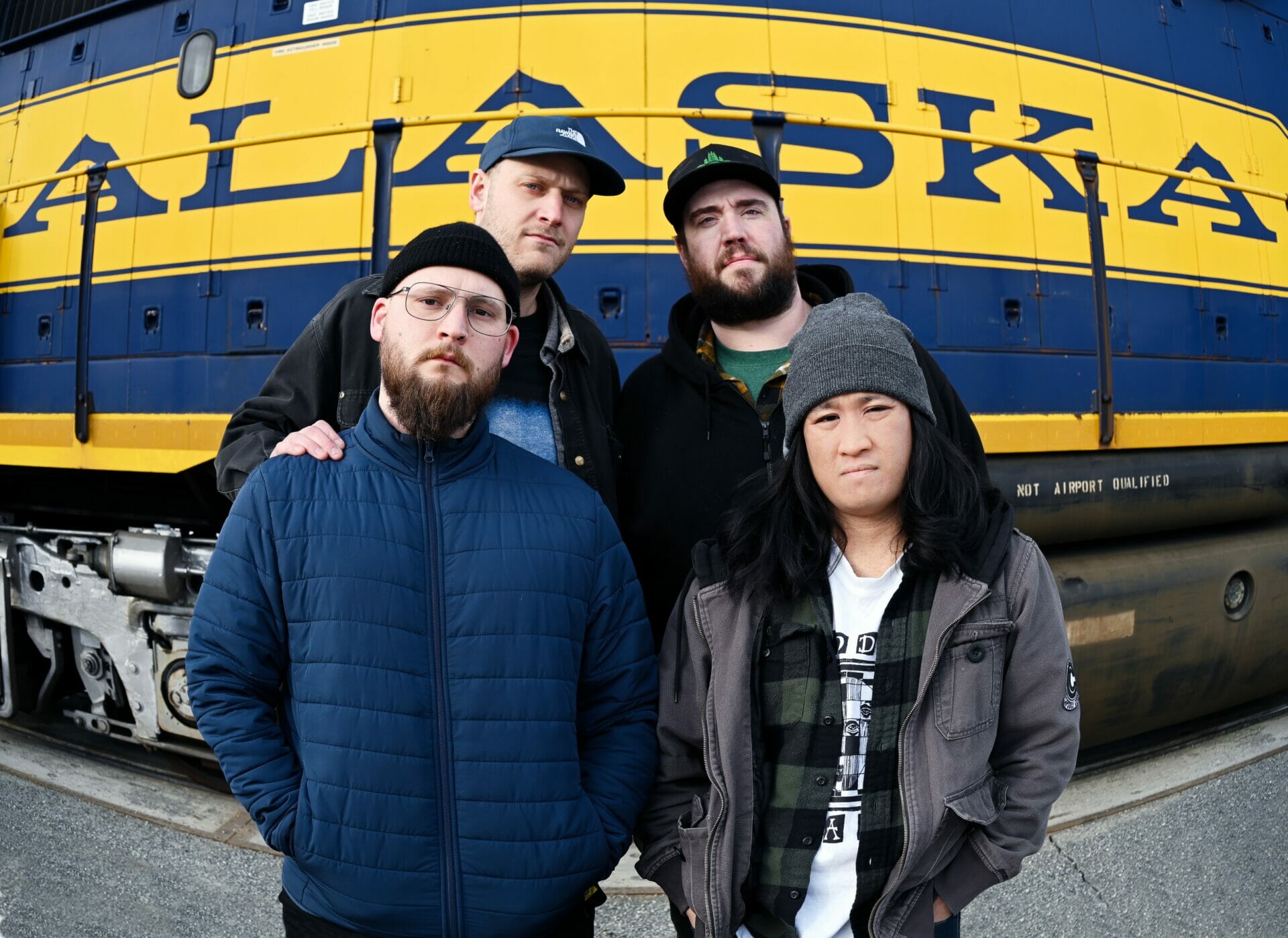 "We were friends for a long time already, but we never played music together," Cofield said. "And then Corrupture played a show with She at a house party, and we were setting up our gear, and ended up accidentally jamming. It was stupid, we just had this chemistry, and could bounce back and forth with each other."
Rodda described his transitional period from Corrupture into She as "interesting."
"The material that Corrupture was making was getting pretty out there," Rodda said. "We turned into this weird, avant-garde, tech, jazz metal band, and it was getting ridiculous. Musically, I was in a way different place. All I was listening to was fusion jazz and Napalm Death."
Rodda's technical drumming (influenced by Corrupture's "tech-death" sound) didn't, for a time, mesh with She's more brute-force hardcore style, and he left the band for a few months.
"We like to get ignorant," Sims said. "You wanna have some fuckin' mean riffs that just dig in."
Eventually, Rodda rejoined She, and the band picked up Justin Costiniano, their current bassist, out of a defunct band called Gamma Radio.
Costiniano's background in pop and RnB music made him a more interesting bassist, Cofield said. "He fit in really, really well."
Since 2011, She's lineup has been the same, and despite changing circumstances, national tours, and numerous side projects, the band members have always come back together.
When they're not playing, She's members finance their music career in different ways. Sims, who has a literature degree from UAA, works as a journeyman gas fitter. Cofield is a law office assistant for the Alaska Public Defender agency, and repairs guitars on the side. Costiniano does graphic design for Shirts Up, a local screen-printing company, and Rodda is a civil engineering designer for a Washington-based firm. Universally, however, they all agree that their jobs are mostly a means to an end – financing their music.
"I have to maintain my creative side," Sims said. "For the better part of my life, I've been a vocalist in a band."
"Our jobs are a means to keep up our creative urges," Rodda said. "They finance the outlet."
For being a hardcore band, She's influences range across the map, from Sade to Napalm Death – which speaks to the diversity of musical backgrounds each member comes from. Rodda spoke highly of jazz acts like Chick Corea; Cloud Rat, a punk band from Michigan; and underground East Coast rap groups like Cannibal Ox and Company Flow. "I like to play aggressive music more than I like to listen to it," Rodda said.
He also cites Metallica's "Master of Puppets" as an album that changed his life. "It was the most influential thing that happened to me as a player," Rodda said. "It gave me a sonic reference as to what music could be, or feel, or sound like – especially from a drummer's point of view." Metallica, he said, led him to starting Corrupture, which eventually led him to She.
Costiniano, as the bassist, finds inspiration in more underground R&B and hip hop acts, like The Internet, Steve Lacy, and Tyler, The Creator's Odd Future collective. "Playing bass in a band like this is pretty straightforward, so to make it more interesting, I find influence outside of aggressive music."
Cofield, in addition to a steady diet of hardcore music, takes a more guitar-centric view of music, and still has a soft spot for early 2000s nu-metal – specifically Limp Bizkit. "I listen to a lot of meathead shit, a lot of ignorant caveman music," Cofield said. Among his favorites, he cited Massachusetts hardcore band Converge, and classical music overall.
Sims also pointed to 1990s era Converge as an influence, and Virginia grindcore band Pig Destroyer. "I really like a lot of hip-hop, and Latin groove music," Sims said. "Jason Molina is the greatest singer-songwriter of all time… We all like Doja Cat."
While the band is a collaborative effort, the lyrical content comes exclusively from Sims. "I've always put a lot of emphasis on not having stupid shit, and having it actually mean something," Sims said. "Whether or not that's audible, or distinguishable, or something that's readily relatable. I tend to veil a lot of things… and I think I try to translate that into the presentation." His literature degree allows him to write lyrics that are subtler, and expressed in more unique ways than otherwise might be possible, according to the band.
"I'll understand what's being said, but it's being said in a way that I never could have imagined," Rodda said.
"[Sims'] lyrics have evolved to be a little bit less abstract or avant-garde," Costiniano said. "The new lyrics are more relatable."
As a band, She's always been extremely DIY. Their graphics for album covers, flyers, and merch are done in-house by Costiniano and Rodda, and the band prefers to perform in smaller venues that allow them to preserve their connection to the audience.
"It's really nice to be close to people," Cofield said. "I feel a lot less lonely, less disconnected."
In keeping with their do-it-yourself mission statement, their self-titled 2011 album was recorded over the course of a few days at Rodda's family's Big Lake cabin.
"I was moving to Seattle, and I think that was the impetus behind us deciding to make this record," Rodda said. "We were super young, and didn't really know how to do it, but I had a bunch of recording equipment… and a place we could go to and hole up."
"We recorded in the living room, and used couch cushions as baffles," Cofield said. "It was a total shitshow, we didn't know what the fuck we were doing, but we were desperately trying to capture what we had."
By all accounts, it was a memorable experience for the band, who, eleven years later, still speaks fondly of the recording experience.
"I had no fucking idea what I was doing," said Rodda, who ended up mixing the finished record. "I was literally just trying to turn knobs and play around with things to make it sound cool. In retrospect, I think there's a certain amount of charm that comes with that."
"My biggest memory of those three days is stopping at the Three Bears in Big Lake, and they have these Costco salads…," Cofield says. "For those three days, I shit so good."
By comparison, She's recent trip to Los Angeles, to record their upcoming album at famed hardcore and death metal studio The Pit, allowed the band to focus strictly on the music. Taylor Young, the studio's producer and engineer, handled the technical aspects of the album.
"Taylor did absolutely everything that a regular engineer and producer would do," Cofield said. "All we had to do was do what we do."
"He really cared a lot about what we did, and vibed with us," Costiniano added.
She's familiarity and experience playing their latest album (which is tentatively scheduled to drop in the spring of 2023) helped immensely during the recording process.
"We got together twice a week, for a very long time, putting this album together," Cofield said. "So when we went to go work with Taylor, we had everything. Our whole concept was all put together, because we'd been playing this thing over the course of a year."
"The record was already sort of lived in," Rodda said. "The songs are what they are now."
The latest album isn't done yet – Costiniano plans to design the album cover, and the layout is still in the process of being completed, but the band agrees that the finished product is going to be a tour de force.
"We wanted a release that was a conscious, cohesive effort," Rodda said.
Right now, She doesn't have any solid plans to tour yet, though they hinted that a smaller tour in support of the new album might still be on the table. However, when asked who their dream band to tour with might be, the responses were, once again, pretty diverse.
"Probably Limp Bizkit," Sims said. "Lots of weed, you know."
"Wherever the weed's at," Costiniano agreed, laughing. "Or Doja Cat. She's into spooky right now."
"I'd love to tour with God's Hate, or Drain," Cofield said, citing some current West Coast hardcore bands. "Sunami would be fun… there's so many really cool hardcore bands."
Rodda and Sims, after much thought, vouched for Assück, a Florida grindcore band, and Converge, once again, as their dream bands to tour with, sticking with the hardcore theme.
At the end of the day, She is a group of dedicated musicians, who've honed their craft over decades of playing. The assortment of musical talents – from Rodda's jazz background, to Sims' cryptic-yet-relatable lyrics, to Cofield's driving guitar riffs, to Costiniano's bass work and graphic design – all work together to create a band that shows its influences, but combines them into something greater than the sum of its parts. The members are transparent about their love and respect for music as an art form, and that respect comes across in each house show they perform and every single they release.
"When it comes down to it, I'm still that same mosh kid, getting out my anger," Cofield said. "I'm just older… and I do it through art."
You can find She on Bandcamp (https://sheak.bandcamp.com/) and on streaming services. Their next show is scheduled for November 4th, at Chilkoot Charlie's, as a benefit for a member of the Anchorage music scene who's been diagnosed with breast cancer.