The Alaska Landmine has obtained an emergency order, signed by North Slope Borough Mayor Harry Brower, that orders the seizure of all RavnAir assets located on the North Slope. The order can be seen here:
Ravn recently filed for bankruptcy, stopped all flights, and laid off all remaining staff due to loss of revenue from the COVID-19 pandemic. This ADN article goes into detail.
The order cites North Slope Borough code about the mayor's power during emergencies. The order calls for the immediate seizure "of all assets controlled by Ravn within the boundaries of the North Slope Borough. This order includes, but is not limited to buildings –  including hangars, equipment, operations manuals, parts, supplies, vehicles, airplanes." It goes on to include intangible assets such as leases and security access codes. It includes but is not limited to assets in Barrow and Deadhorse. The order was signed and made effective yesterday, April 5.
Like much of rural Alaska, the North Slope Borough relies on Ravn for passenger service, freight, and mail delivery.
Mayor Brower posted this on his official Facebook page yesterday: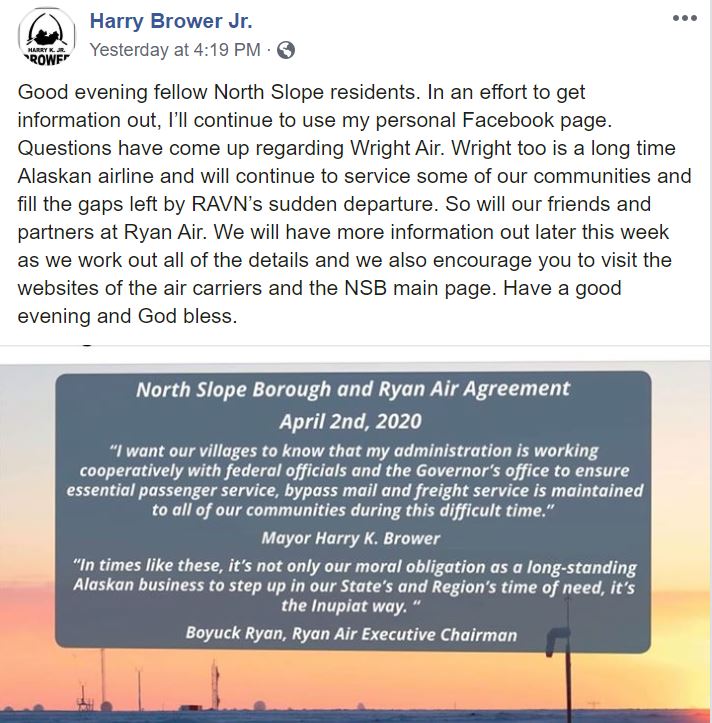 It's unclear if Brower has the legal authority to do this or if Ravn will challenge the seizure of their assets in court. It's also not clear how the North Slope Borough plans to use and operate the aircraft and other assets. I have a feeling it's about to get real loose.
Editorial note: Don't mess with Harry Brower.