In recent days, the popular conservative blog Must Read Alaska has published multiple pieces of media that attempt to cast doubt on the existence or severity of Alaska's current hospital capacity crisis. A September 22 article, authored by Must Read Alaska owner Suzanne Downing and titled "Anchorage doctor: 'There is no rationing of care," purports to be the anonymous account of a doctor who works at both Providence and Alaska Regional. A September 21 video, which Downing falsely claims was shot in the ER "waiting room," shows empty chairs in an unused area in the hospital.
Downing's quixotic media effort comes as Alaska repeatedly reaches and surpasses record highs for new COVID-19 transmission and hospitalizations, and Alaska hospitals buckle under severe strain from an influx of severely ill, largely-unvaccinated COVID-19 patients. At a September 22 press conference, Governor Mike Dunleavy (R – Alaska) activated statewide crisis standards for care, an extreme measure that recognizes the lack of capacity to properly care for all patients and authorizes hospitals to allocate resources based on predicted patient outcomes.
Downing's September 21 article claims to be the anonymous account of a doctor who works at Providence and Alaska Regional. The doctor claims that, "We are a long way from having a degree of problem where we are rationing care," and states that most of those currently hospitalized in Alaska are there because they eat or drink too much, or "drive too fast." The doctor states that crisis standards are "not a term of art" and declares that Alaska hospitals "are not in crisis."
The claims made by the anonymous doctor are inconsistent with weeks of statements by Alaska medical organizations, numerous medical professionals, and state agencies. Providence Hospital publicly announced that it would be rationing care on September 14. Governor Dunleavy activated statewide crisis standards for care on September 22. In a press availability yesterday, Providence Dr. Michael Bernstein stated that elective surgeries have been postponed. Dr. Bernstein stated that the current inability for patients to access critical care is something rarely seen outside of "a third world country."
Dr. Bernstein also pushed back on the idea that the hospital crisis is the result of vaccine mandates, which have not yet gone into effect at the hospital: "To date, the vaccine requirement has had no impact on our staffing."
On September 21, Downing posted a video to Must Read Alaska social media captioned "An Anchorage woman strolls through the emergency room waiting room at Providence and finds the place pretty empty." The video appears to show a person pushing a stroller through a waiting area full of empty chairs. Downing embedded the video in her September 22 article, preceding it with the following claim:
"A Must Read Alaska reader corroborated the doctor's story with a stroll through the emergency room welcome area of Providence hospital. The place was nearly empty, as shown in her video that she shared with Must Read Alaska."
The video was flooded with comments by Must Read Alaska readers, thanking the blog for sharing the "truth" about the COVID crisis in Alaska hospitals.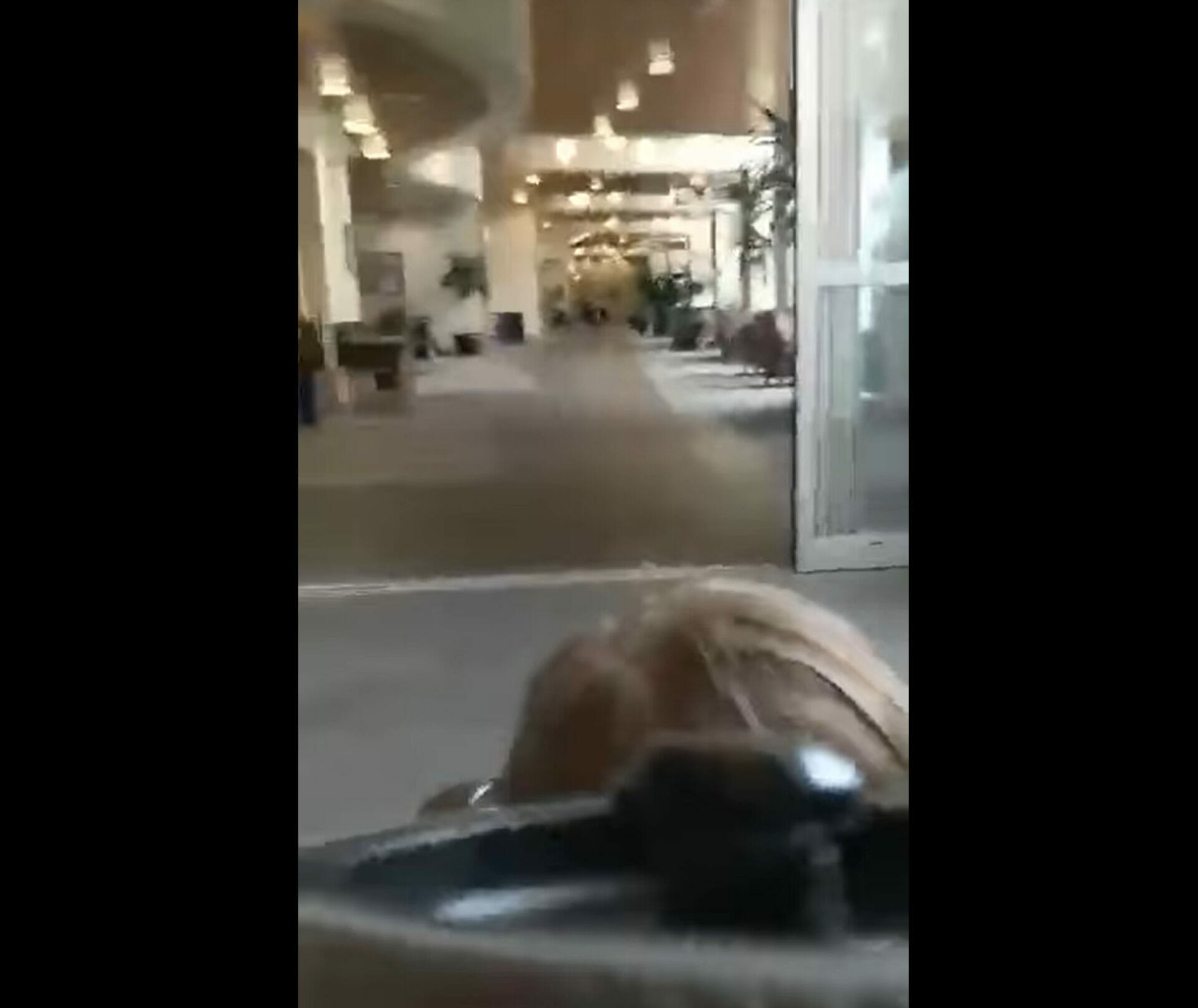 Screenshot of video posted by Suzanne Downing to Must Read Alaska allegedly showing the ER "waiting room"
But there's just one problem: the video doesn't show the ER waiting room. In fact, multiple Providence staff confirmed with the Landmine that the video shows a walkway in the main Providence lobby area, which is typically occupied by visitors. One doctor told the Landmine that visitors have not been allowed in Providence since September 6. The person filming is turned around by security before reaching the actual ER waiting area, which is not seen in the video.
To date, Downing has not issued a correction, retraction, or apology regarding her false statements about the video.
Must Read Alaska, long a reliably conservative blog, has increasingly become a hub for fabricated stories and conspiracy theories in recent months. In early July, Downing authored a series of stories falsely claiming that a woman was ejected from an Alaska Airlines flight for "wearing a mask with the word [sic] 'Trump 2020' on it." In fact, the individual had been removed from the flight for wearing a mask with profanity on it and causing disruptions on multiple flights. Last week, Downing posted photos allegedly showing Assemblymember Christopher Constant, Alaska Landmine Editor-in-Chief Jeff Landfield, and others showing "disdain" for masks. The photos were over a year old and all individuals photographed were in full compliance with existing mask mandates.
Downing has published multiple articles containing fabrications and false claims about the 2020 election, masking, vaccines, medical providers, and other topics related to the COVID-19 pandemic.