In a letter obtained by the Landmine, the Municipality of Anchorage (MOA) informed Lisa Sauder, CEO of Bean's Cafe, that their contract to run the Sullivan Arena shelter will end on September 15, 2021. Bean's Cafe, a non-profit, has been operating the Sullivan Arena mass shelter since March 2020 when it was opened as an emergency shelter due to the COVID-19 pandemic. Many of the people staying at the Brother Francis Shelter and Bean's Cafe on Third Avenue relocated to the Sullivan.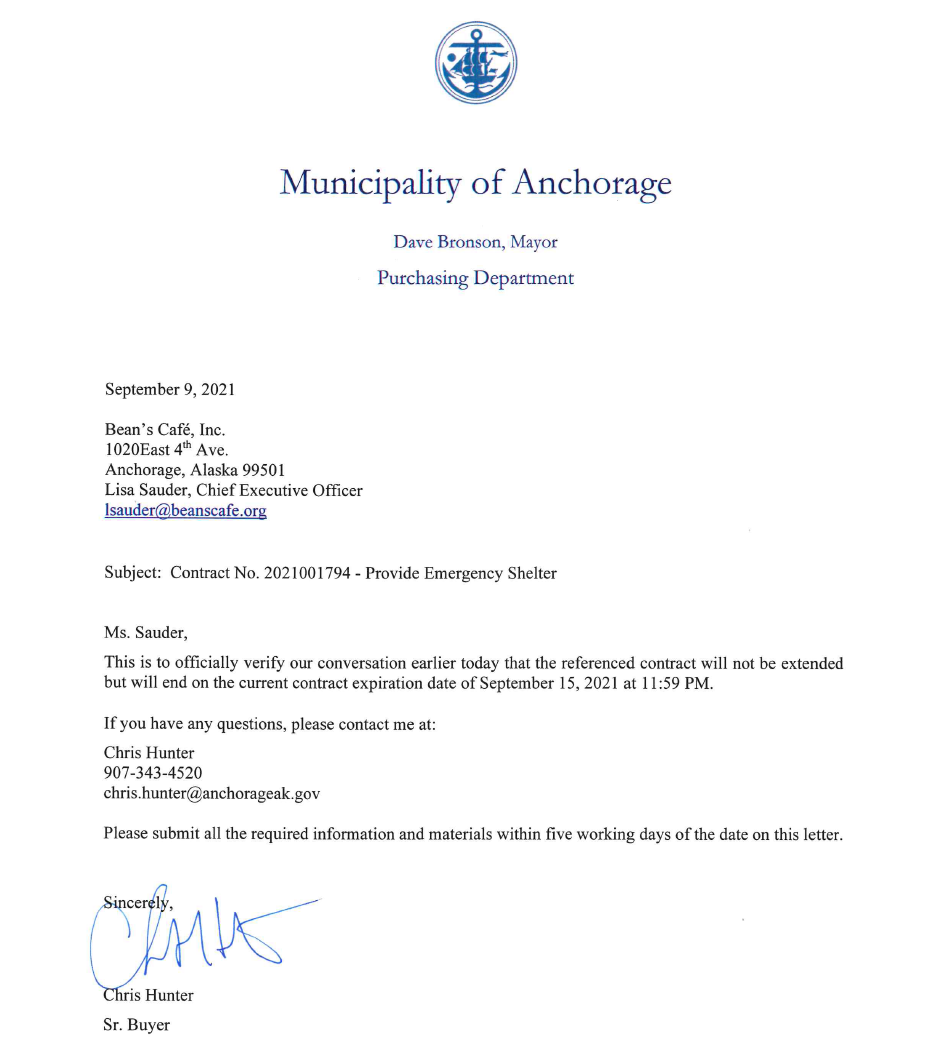 The MOA put out a request (RFP) for proposal on August 16 to "Provide Congregate Emergency Shelter Services for People Experiencing Homelessness." The RFP does not mention the Sullivan Arena shelter. Instead, it says a "specific shelter site has not been identified."

After taking office in July, Anchorage Mayor Dave Bronson proposed constructing a new mass shelter and navigation center on Tudor and Elmore. The Assembly has yet to take up the proposal. Many Assembly members favor smaller shelters spread out around the city. In late July, the Assembly approved a facilitator to assist in negotiations with the Bronson administration. A working group recently narrowed down a shelter to seven sites around the city, but no clear plan has been agreed to.
Sources inform us the winner of the RFP is 99 Plus 1, Inc. However, the MOA would not confirm, instead saying, "The winner will be announced when negotiations are done." RFP responses were due on August 30. According to State of Alaska business records, 99 Plus 1 Inc. was setup on September 14, 2020 and is owned by Theresa Pisa. The RFP states anyone submitting a proposal must have three years of experience delivering services in the listed in the scope.
Update: Here is the layoff notice sent to Bean's Cafe employees at the Sullivan Arena. The letter says 77 people are being laid off as a result of the contract loss.
This is a developing story.