In recent weeks, multiple dogs have been caught—and at least two killed—in traps placed in popular Southcentral Alaska multiuse areas. The incidents have reignited a decades-long debate about the use of public lands and Alaska's uniquely permissive trapping regulations, which allow trappers to place unmarked, baited traps at parking lots, trailheads, and on or immediately adjacent to multiuse trails on virtually all public lands in the state.
Abby
On an overcast day in January, Mary Beth Koster and several friends skied up the popular Snow River trail in Chugach National Forest near Seward with their dogs. Mary Beth told the Landmine that she was about twenty minutes from the parking lot when she heard her dog, Abby, yelp. Mary Beth and her friends rushed to the sound and found Abby's head and paw caught in a powerful "quick-kill" Conibear 330 trap that had been baited with a bird wing and placed about fifty yards from the trail.
When they reached Abby, Mary Beth said, she was still alive and wagged her tail in response to her name, but had defecated on herself and was "gurgling" as she struggled to breathe. Mary Beth had attended a trapping education course about how to free animals from traps, but despite working furiously to free Abby the group was unable to do so. Mary Beth told the Landmine, "I'm working with my whole body, my mouth is dry, I'm thinking I should be able to pick up a car with this adrenaline. But I couldn't save her."
The group carried Abby's body out with the trap still attached. After they were able to remove the trap, Mary Beth said, they gave it to the troopers and it was returned to the trapper.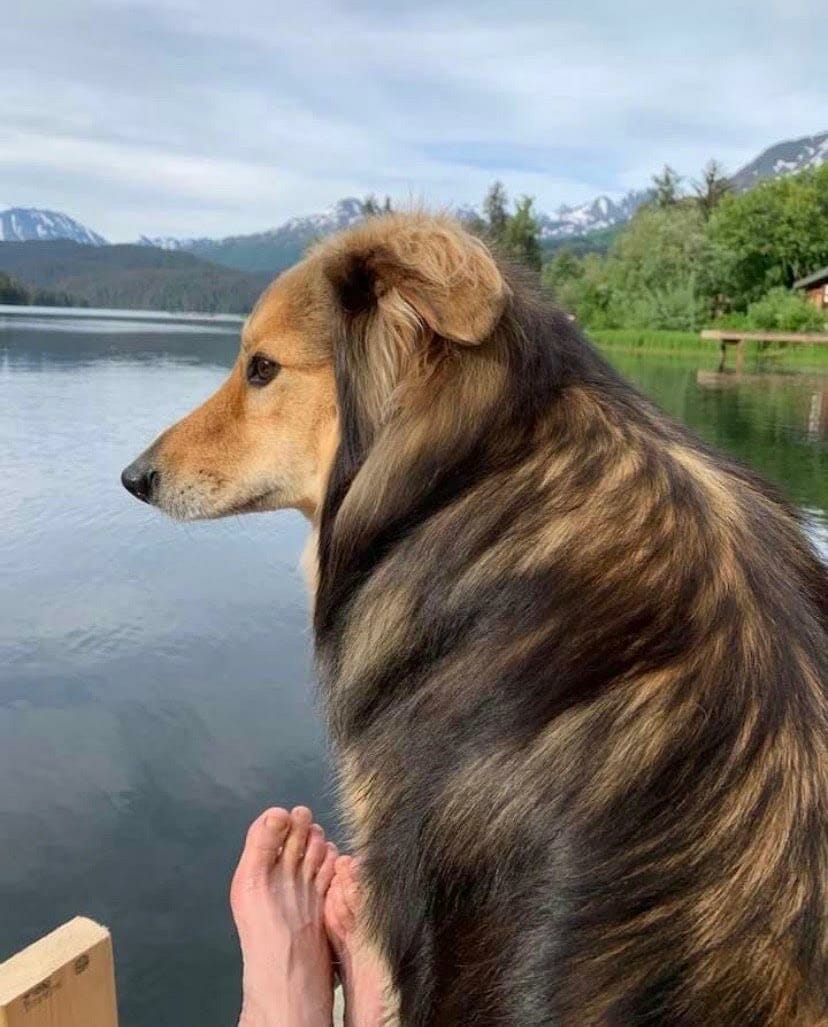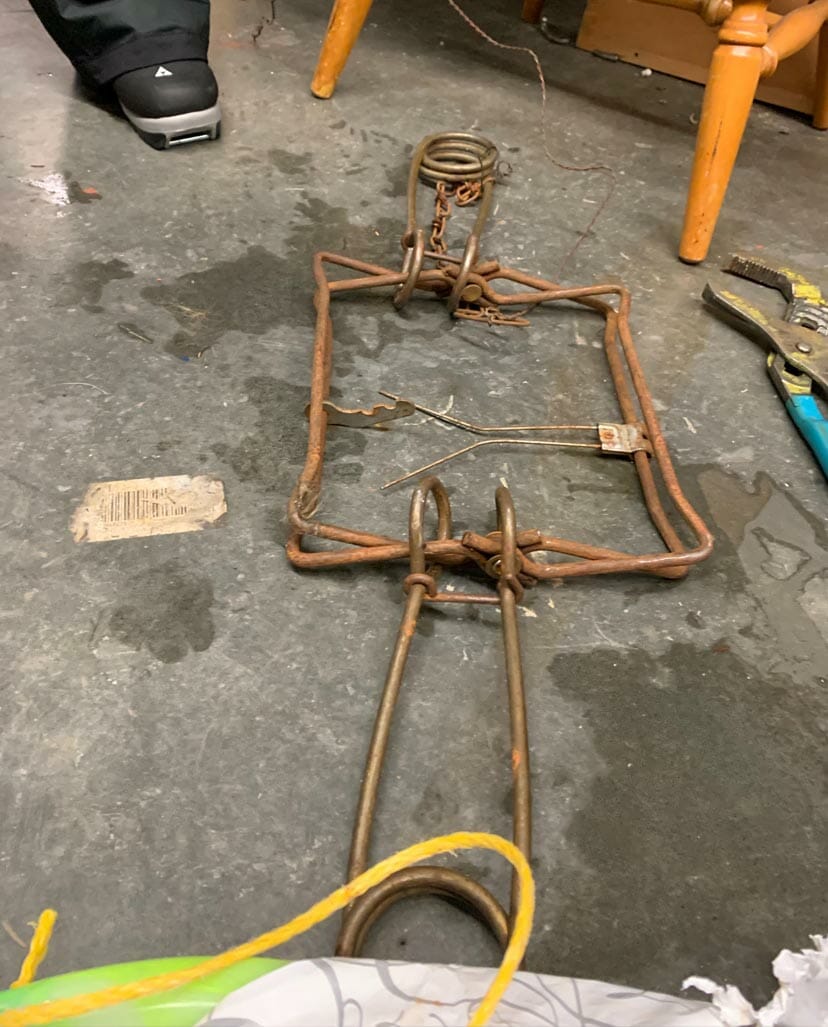 Abby the dog, and the trap in which she died. Photos courtesy Mary Beth Koster.
Sam Malone
On January 27, Philip Kincaid set out from a Palmer Hay Flats trailhead with dogs Fonzie and Sam Malone. The area is popular with people running their dogs off-leash, Philip told the Landmine, and they had been there many times before. Fonzie and Sam Malone were under voice command and wore e-Collars, which are defined as leashes by Mat-Su Borough code.
Philip said that the dogs usually stuck close, but as they walked back to the car he noticed that Sam Malone had disappeared. After a quick search, Philip found Sam Malone caught in a baited snare. The snare had tightened down on Sam Malone's snout and caused him to suffocate. "I thought he was still alive," Philip told the Landmine, "I took the snare off and was trying to wake him up, coax him."
Philip was unable to move Sam Malone's body, but returned the next day with a sled to retrieve it. Philip went to Fish and Game to report the incident, and was surprised to learn that trapping is legal in nearly all public multiuse areas in the Mat-Su. "They told me, basically, everywhere, with very few exceptions, is legal [for trapping]. I didn't know that."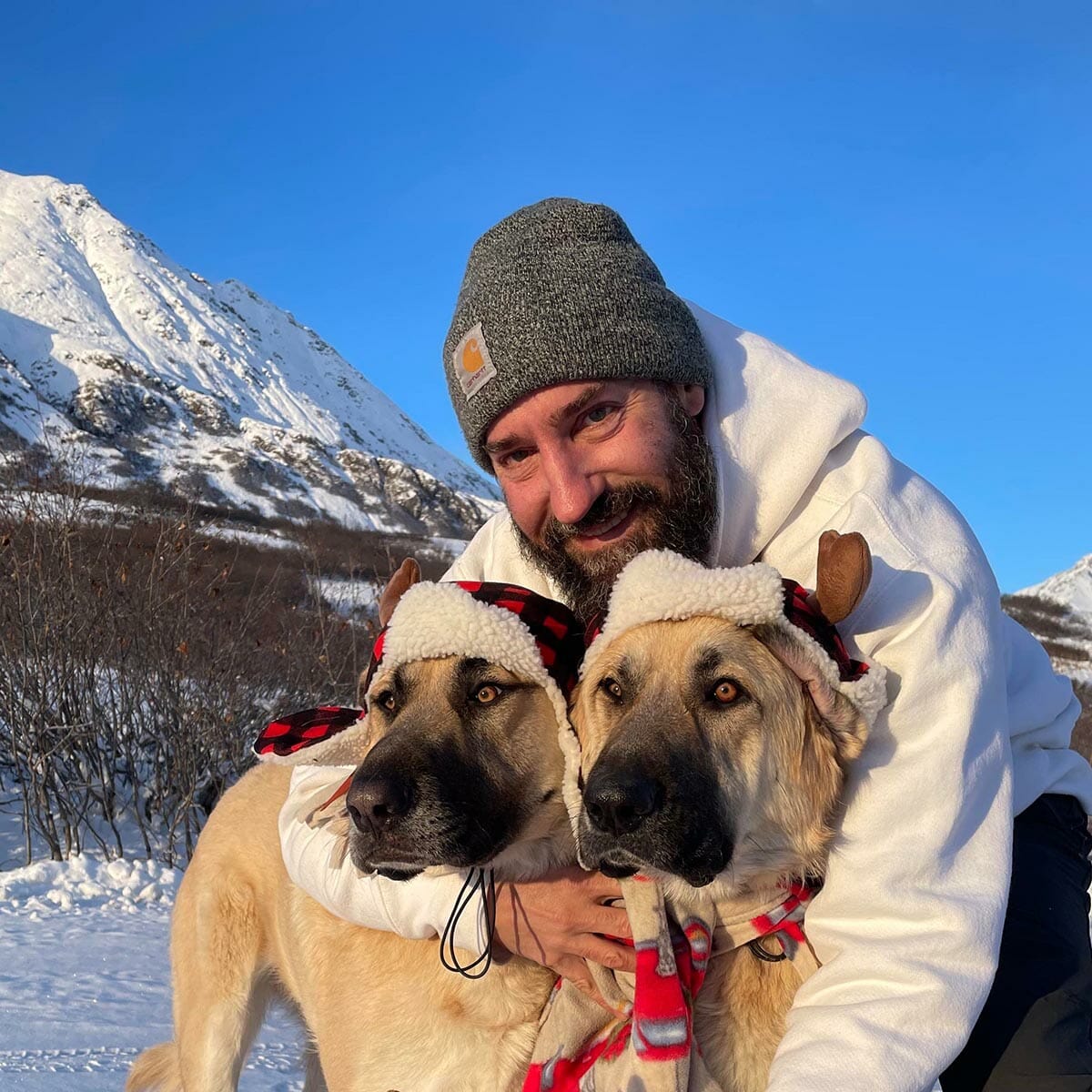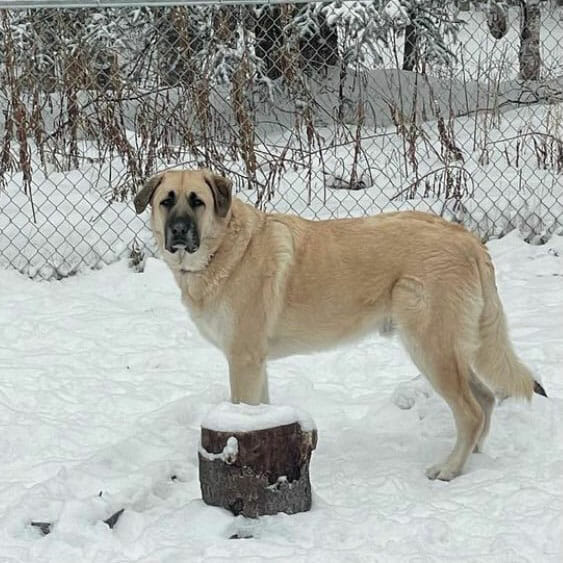 Sam Malone, Sam Malone's twin Fonzie, and owner Philip Kincaid. Photos courtesy Elizabeth Hoffman.
Two dogs trapped on Homer multiuse trails
On February 13, two dogs in separate groups were caught in traps set adjacent to Homer multiuse trails. Both dogs were able to be freed and survived. A Facebook post by Kathy Sarns Irwin reads, in part, as follows:
2 groups skied the trail at different times with dogs and one dog was trapped 12 ft from trail, and the other dog (with us) approx. 20 ft from trail with the stink scent to attract any dogs walking by. The Dogs are OK.. But the dog screams are still ringing in my head- it was AWFUL with blood and biting and stinky stuff all over us. It took 4 people in our group to get the dog's smashed foot out. One person alone could not have opened this trap (unless you knew traps but with dog freaking out it'd be tough). Some feedback I've gotten so far: "locals" know there's trapping there & its legal to trap on any multiuse trail and even in trail parking lots! but according to Troopers its "NOT ETHICAL to trap close to popular trails."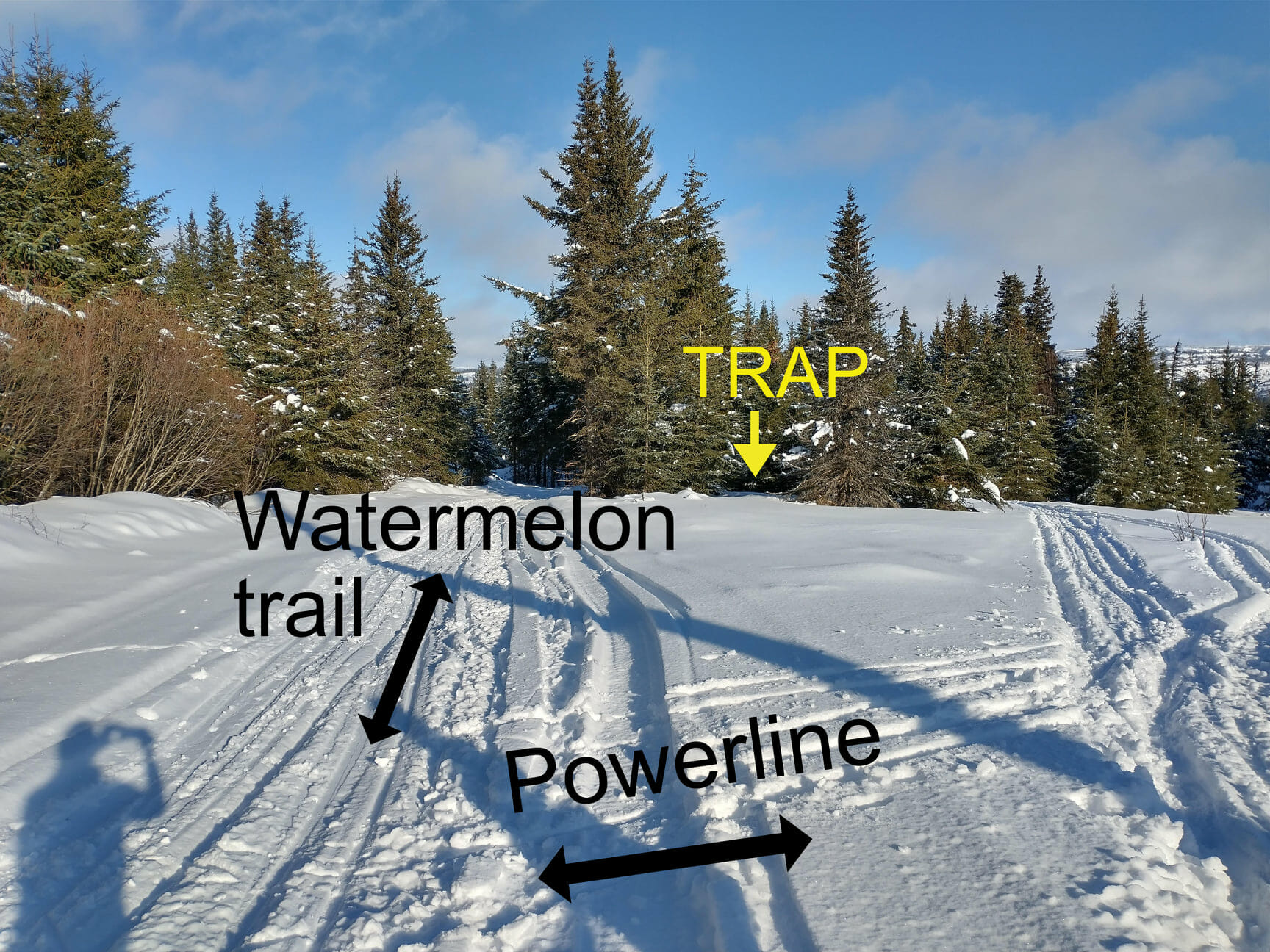 Photo posted by Kathy Sarns Irwin of trap location next to Homer trails.
"We feel your pain."
Peter Buist, a past president of the Alaska Trappers Association (ATA) who currently serves as its media contact, told the Landmine that dogs are caught or killed in traps primarily because of two factors: loose dogs, and poor trap placements. "We have long advocated for trappers not to trap around trailheads and on trails where there are other trail users," Buist said. "Not everybody listens to us. We have long advocated for people not to let their dogs run loose during the winter months when trappers are trapping. And if both of those things were to occur, most of those situations wouldn't take place."
Buist said that the ATA works hard to educate young trappers in order to avoid conflict between trappers and other trail users. The Alaska Trappers Manual, a document co-produced by the ATA and the Alaska Department of Fish and Game, advises trappers to "promote trapping methods that will reduce the possibility of catching non-target animals."
The ATA stresses voluntarily measures and education, and consistently opposes measures like mandatory trap IDs and mandatory trap setbacks from roads, parking lots, trailheads, and trails. When asked about proposed setbacks, Buist gave the example of a skier in Fairbanks whose dog was caught by a snare some distance from a trail and died. If the snare had been closer to the trail, Buist explained, the skier may have been able to recover his dog. "So [trap setbacks] can have unintended consequences," he said.
The powerful Board of Game, a seven-member state body appointed by the governor, has repeatedly rejected trapping setback proposals in communities around the state. In recent years, the Board rejected proposed trap setbacks in Cooper Landing and in Ketchikan. A spokesperson for the Board of Game criticized a 2019 law passed by the Anchorage Assembly that requires trap setbacks on developed trails within municipal jurisdiction. The ATA also opposed the law.
Buist told the Landmine that he used to check his traplines around Fairbanks with a dog team, and stressed that the ATA is not opposed to dog ownership. "As trappers, we're sympathetic of dog owners. But frankly we're tired of dealing with it. We're tired of being the bad guys and looking bad every time one of these things happen. We feel your pain. We're dog owners too. But we would hope that people would show some common sense and humane thinking and not let dogs run loose on public land where there might be traps in the wintertime."
"I had no idea what it would be like to lose a pet."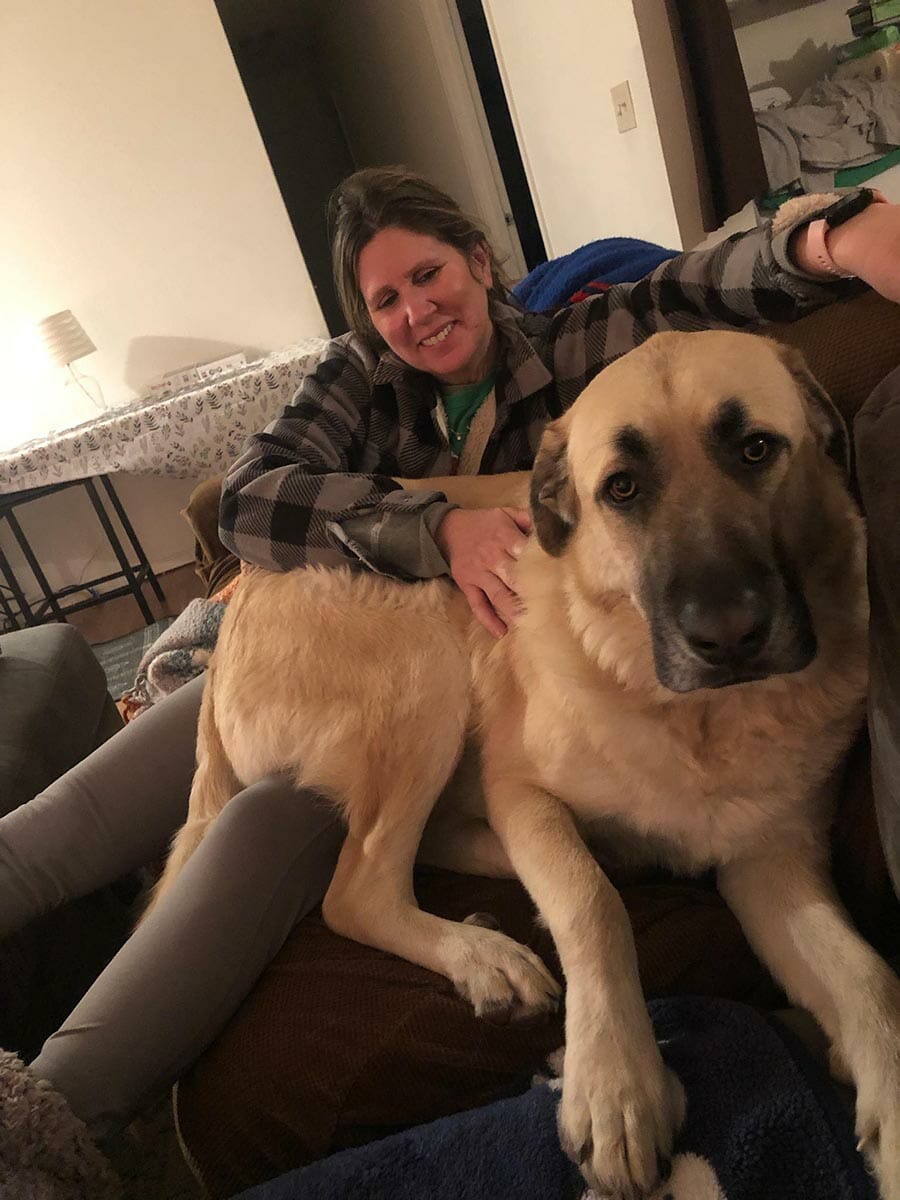 Sam Malone with Elizabeth Hoffman. Photo courtesy Elizabeth Hoffman.
Philip Kincaid told the Landmine that he understands that trapping played a role in Alaska history, but after losing Sam Malone he wonders why traps are permitted on developed multiuse areas without setbacks or signage requirements. Philip said that since the incident he's been told it's not uncommon for trappers to place traps on trails and at parking lots.
Philip rejected the claim that all dogs should be on physical leashes in order to recreate safely on public land during the winter months. "People use dogs for hunting. The idea that a dog should be on a leash all the time is ridiculous. That's for people in New York City. People out here, they shouldn't have to do that."
Philip said that Fonzie, Sam Malone's twin, had been depressed but had just started eating breakfast again. The entire family misses Sam Malone's friendly personality and good nature. "He wanted to always have his head on ya, always be around you," said Philip. "He was a good dog. He was a people person, or… a people dog."
Kathie Sarns Irwin, who helped free one of the dogs trapped in Homer, wrote the Landmine on Facebook Messenger:
Took 4 of us to pry the trap open just enough to get screaming dog out. .3% of Alaskans are trappers. (POINT 3 Not 3) That leaves 99.7% of Alaskans that don't have safe trails. Everyone must beware of hidden loaded weapons on any and all multi-use trails including the parking lots for those multi-use trails. I coach Junior Nordic and I would not take children on multi-use trails in Alaska. The traps the dogs got caught in on Sunday were so close to the trail a kid could have skied onto one. And kids are always skiing off-trail. The trapping laws seem to be from when there were less people in Alaska and no tourists and way less recreational users.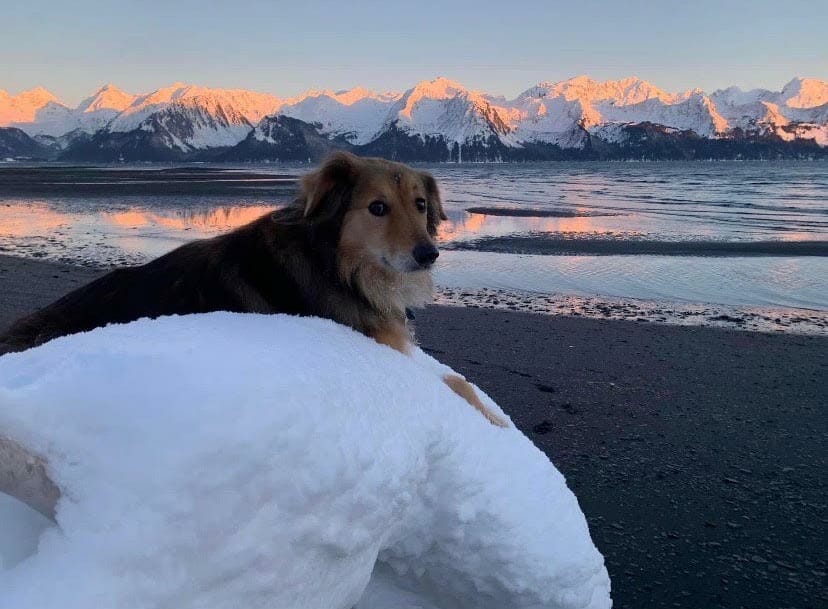 Abby in Seward. Photo courtesy Mary Beth Koster.
Mary Beth Koster told the Landmine that after she lost Abby, she commented online that she wished she had never gone to the Snow River Trail that day, and had instead visited one of the many other outdoor spots around Seward where she and her dog recreated. But then, Mary Beth said, she was told that all of those places are open to trapping too. "I [posted on Facebook] please don't let your dog loose in a trapping area," Mary Beth said, "Well now I'm learning every area is a trapping area."
After losing Abby, Mary Beth said she learned about many other dogs caught or killed by traps in the Seward area. One she said, was trapped six feet off of a public multiuse trail. Now, she said, she wishes some areas were simply closed to trapping.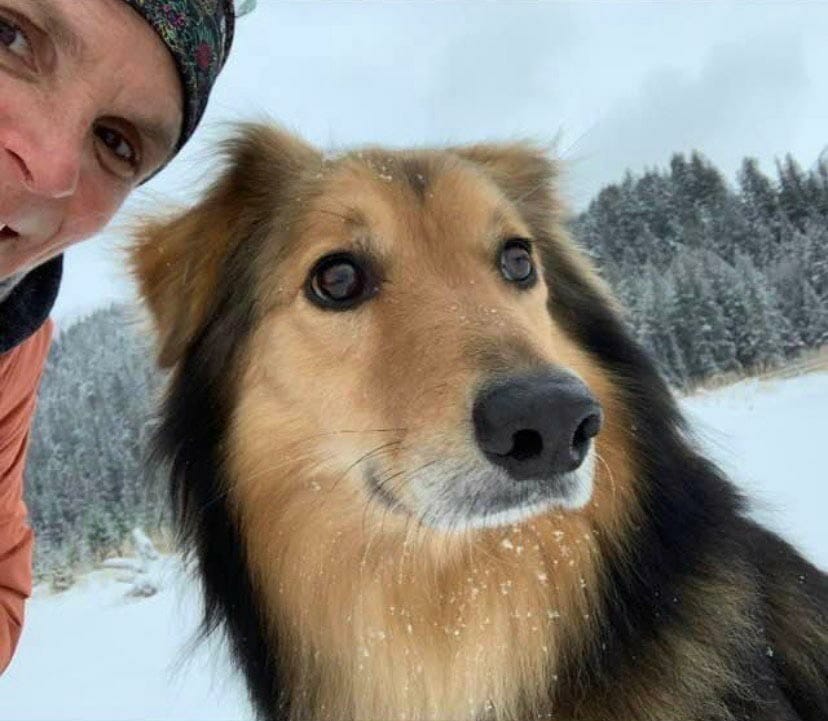 Abby and Mary Beth. Photo courtesy Mary Beth Koster.
"I had no idea what it would be like to lose a pet," Mary Beth told the Landmine, "and to lose a pet that way. It was horrific."
Mary Beth said that Abby was her first dog, and had become a beloved fixture in and around Seward. "I brought her everywhere," she said. "She was always with me. She was very loved in this community." Despite the tragedy that took Abby's life, Mary Beth said that she still cherishes the memories she had with Abby and hopes that her story inspires a change in trapping regulations. "It's so easy to hide [the joy]. But if her life can save more dogs, I want that."