It was March 7, 2020 when my almost two year old daughter and I departed from Spain to go visit my parents in the Russian Far East. The trip was supposed to happen over summer but I found out that I was pregnant and wouldn't be able to travel past June. So we packed our bags and headed east to spend time with the Russian grandparents. We arrived in Moscow the same day and spent a few days with a friend who traveled from Crimea to see us.
On March 11 I left Moscow and landed in Khabarovsk. Khabarovsk is over 8,000 kilometers from Moscow and over 12,000 km from Madrid! I then drove an additional 190 kilometers to reach my home town of Birobidzhan. It was as if we were running away from COVID-19, only we didn't know that yet.
Four days after we left Madrid it was closed down due to COVID-19. Our day care closed. Schools closed. All major businesses: bars, restaurants, theaters, gyms. Fear and panic set in. There were no people in the streets. By the end of March the same happened in Moscow and most of Russia.
My husband, Federico, stayed in Madrid. He was supposed to travel to the U.S. for a work trip but that was canceled. He initially thought that the quarantine would just be a quick thing and was not that serious. He thought he would still be allowed to go to the office. On March 16 he was "locked in" our apartment in Madrid. Like many people around the world he was now working from home. He was not allowed to leave unless he needed to buy groceries or go to the pharmacy or hospital. There were fines put in places for those who didn't have a valid reason to be outside.
Families with kids weren't allowed outside. Dog owners were lucky. People with furry friends could go out and suddenly that became a kind of golden ticket to breathe fresh air. Things started to get pretty crazy. Russia remained open until the end of March. We celebrated my daughter's second birthday with family and friends. I went outside every day. I was able to go to playgrounds, grocery stores, visit friends, and go to cafes. We were supposed to fly back home to Madrid on April 1st.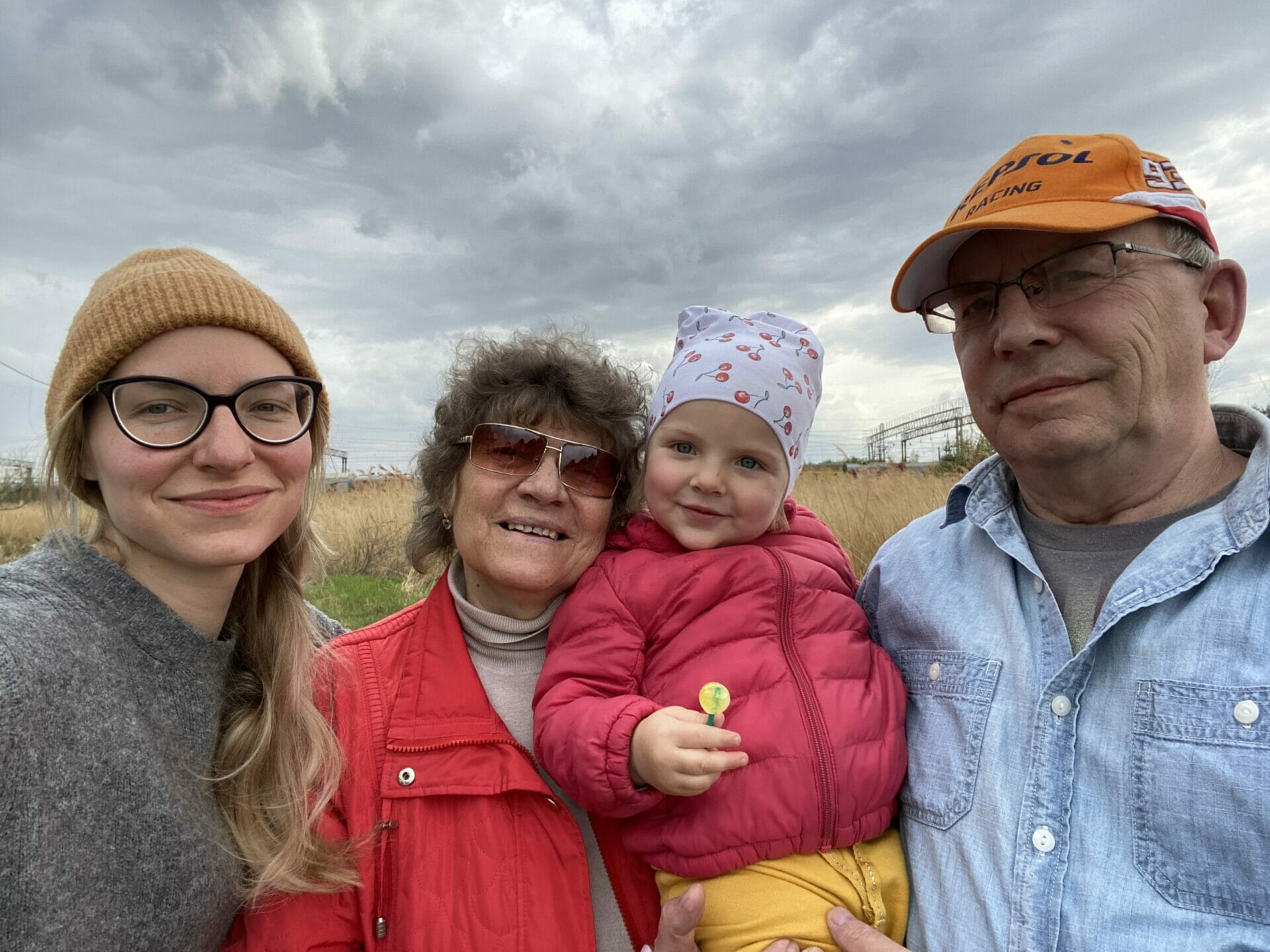 That didn't happen. This is when my nightmare started.
As the date of our departure approached my husband shared with me a communication he received from his company's Russian office in Moscow. It was about Russia possibly closing all the borders from incoming or outgoing trips. How insane! At that time I still had my ticket and no changes had been made.
On March 17 I started calling Aeroflot everyday asking for information. I kept getting different answers. One person would say that my flight was happening. Another told me to watch the news section of their website. That didn't really help since the information was vague. All it said was that most flights were suspended for most European destinations but there were still flights happening between Russia and some major European cities. Madrid was one of them. That made me feel optimistic.
Looking back, I have no idea why I didn't react to that communication letter and change my tickets to an earlier date. That would have prevented the mess that was about to ensue.
On March 27 Aeroflot informed me that my flight from Moscow to Madrid had been canceled. It was automatically rebooked for April 2. On March 31 I received a note from them informing me my flight was again canceled and could not be rebooked. There was no other information. It all happened so fast.
I called Aeroflot and spent hours waiting. I again received different answers. One person said I could fly on April 9 or 10. Another said they couldn't see international flights in their system anymore. Another said I needed to go to their office in person. So I got a car and drove to their office in Khabarovsk. The agent informed me that no international flights would be happening in April. This meant that I couldn't fly anywhere (I was even considering flying to Armenia or Thailand, for example, and from there to Spain). I was trapped in Russia. The agent changed my ticket to May 1. I then drove back to Birobidzhan.
At this point my husband and I got in contact with the Spanish and Italian embassies in Moscow. My daughter has Italian citizenship, so we tried to exercise all the options of getting out of Russia and back to Spain. The embassies informed us that there were a few flights available. Unfortunately, the flights were either sold out, the price was ridiculously high, or they would only be able to inform me one or two days before the flight, which would not leave enough time. I would need to drive to the closest airport in Khabarovsk and catch the only available morning flight to Moscow (which is 8 hours and wasn't happening every day).
We were informed by the Spanish Embassy of a flight from Moscow to Madrid that was happening on April 13. However, Spanish representatives in Moscow informed me that I needed to obtain permission from Russian officials to leave the country. They were told that Russia was not allowing Russian citizens to leave the country. According to them even those with dual citizenship (in my daughter's case) were having issues being let out of Russia. I was still trying to get in touch with Aeroflot to see if I could change my ticket from Khabarovsk to Moscow to April 12 so I would have enough time to catch a flight to Madrid. Aeroflot informed me that it was unlikely that I would be allowed to leave the country.
All of this resulted in numerous misunderstandings, endless emails and petitions and, most importantly, fear that my daughter and I wouldn't be able to return to my husband in Spain.
I need to mention that during this ordeal my daughter and I were staying with my parents. We were cared for and with family. I know that many families that have been affected by COVID-19 are in much worse situations. Millions have lost their jobs and families all over the world are in crisis. Not to mention all the lives that have been lost.
In the big picture my situation was not so bad. But for me it was very hard. I needed to be back home. I desperately needed to be with my husband. I was having panic attacks every time I imagined that I wasn't coming home for another month, two, three or more.
At that time I was already five months pregnant. This situation made me extremely nervous. Many were saying the borders would remain closed until the end of the year. I seriously believed that I was going to deliver the baby in Russia, without my husband with me. I grew increasingly isolated. It became hard to talk to my husband because I would cry as soon as I heard his voice.
I started my "political" journey with the Russian Ministry of Internal Affairs. I explained my situation and attached all the documents I could, including my Spanish gynecologist's note that I needed to go back to Spain to maintain the monitoring of my pregnancy. The Ministry responded in a few days and said I needed to contact Russian Border Services (FSB). I filed a request and called them. I was informed that I didn't need special permission to leave the country by air. This happened after April 13, so I lost the opportunity to be on the Moscow to Madrid flight.
On May 17 I received an email from Aeroflot saying that my flight from Moscow to Madrid on May 1 had been cancelled. At this point my husband started investigating other options. He was able to book a flight from Moscow to Minsk (Belarus) that left the day after I was supposed to arrive to Moscow. Even though the Moscow to Madrid leg was canceled, my Khabarovsk to Moscow leg was still good. From Minsk I would fly to Barcelona. My husband would meet us there and we would go to Madrid by train. Apparently he wasn't allowed to drive the car.
We went to Khabarovsk the night before the flight to Moscow and stayed with my aunt. Eight hours before departure I received a call from my husband saying that Moscow to Minsk flight was cancelled. We talked about this scenario. I was supposed to be ready for sudden changes. We were on the phone for hours (it was middle of the night for me). He was trying to calm me down. I told him he needed to make a decision for me. I couldn't do it anymore. All I could think about was my daughter and child on the way. He thought I should proceed with my Moscow trip and just stay there until another option became available. It was much easier to deal with all of this in Moscow. I knew that was true but I also knew COVID-19 cases were on the rise in Moscow. I was afraid we would get exposed. I tried to weigh all the options. It was hard to make the "right" decision because there really wasn't one.
My husband was able to find a bus from Moscow to Minsk. I couldn't reach the company because it was the middle of the night in Moscow and they were closed. At this point my options were fly to an unknown situation in Moscow or stay with my parents and try to figure out a way to get to Minsk. I decided to stay.
Federico was able to move my flight to May 16. It would be from Moscow to Minsk and then Minsk to Barcelona. We realized that the first one would likely get cancelled again so we needed a backup plan to get to Minsk. The travel agent confirmed that the Minsk to Barcelona flight was operating.
A few days prior there was a new communication from the Russian prime minister that as of April 29 Russian citizens who have permanent residence somewhere else would be allowed to leave Russia. Remember the FSB had told me weeks before that I had "no limitation" to leave. It was hard to know who to believe or listen to. There was conflicting information coming from the highest institutions in Russia!
I felt optimistic that I could go by land and be let into Belarus. The next day I called the bus company. I was told that it was a "50/50 chance" that they would let me go through the border, despite the new communication from the prime minister. Welcome to Russia. "You just never know. It's a risk. They might or might not care that you're pregnant or with a kid. Call me after May 11," he said. "There are supposed to be some reductions of the restrictions, we might work through your route."
Since I had lost my Khabarovsk to Moscow ticket, I had to purchase a new ticket to fly to Moscow. I got it for May 13.
We started looking at other options to get to Minsk. A ten hour bus ride with a two year old wasn't looking great. My father got involved. He was able to organize a diplomatic car for us that would take me from Moscow to Minsk. And in case I would have issues at the border, this same car would be able to drive me back to Moscow.
It was decided. I would fly to Moscow and then drive to Minsk – pregnant and with a toddler. A little background about Belarus. If you don't know much about Belarus, you aren't alone. Belarus is basically an island in Europe. They have close ties with Russia. Alexander Lukashenko has been president since its formation in 1994. He has largely ignored COVID-19 and encouraged Belarusians to drink vodka and visit the sauna to stay healthy.
I was still unsure what would happen at the border but I was feeling somewhat more confident about the whole "adventure." It's ironic how Minsk became an alternative while all European countries were under quarantine and closed. But Belarus was living in a parallel universe where everything was normal. It offered me an exit corridor. But crossing the border was still an unknown. At that time a friend of mine also got involved. She started sending me communications her husband was receiving from his country's embassy about possible upcoming flights out of Russia. This is important.
There was a flight operated by Lufthansa going from Moscow to Frankfurt on May 14. "This is it," I thought! I called them and found out that the flight was sold out. The agent told me, "We will put you on a waitlist, give you a booking number and put your phone number in our system. You will need to call us back to check if something opens up but I very much doubt it."
I called Lufthansa a few days later and after three or four times of hearing, "No, we don't have any availability," I gave up. It was now back to the car option. One minute I was confident and positive about my decision. I thought once I made it to Moscow things would start opening up. The next minute I was questioning whether I was making the right choice for my family.
Most people around were telling me to wait and stay in Russia. People kept telling me, "Have your baby here. Why is it so bad?" Some said they thought things would improve and encouraged me to get back to Spain. I couldn't be sure. All I knew was I had to make a decision.
It was May 13. I decided to go to Moscow. I was relieved that I had made a decision. We said goodbye to my parents and family. We were on the eight hour flight to Moscow. "This is it," I thought to myself. My daughter Violetta and I arrived in Moscow the same day (7 hour time difference with where I was in Far East). We checked in to a hotel right near the airport, showered, ordered some food, and tried to relax. I got in touch with the person who was supposed to drive us to Minsk. We were set to leave Moscow the next morning, May 14.
It was around 5pm that I received a call from a strange number. Lufthansa was on the line. "We have some openings for a Frankfurt flight tomorrow morning. Are you interested?" the young voice on the other line said. She also asked me my final destination. After checking she informed me that there was a Frankfurt to Madrid flight one hour after we arrive from Moscow. Wow!
I was shaking. I couldn't believe it. I asked if I could have five minutes to check with my husband. She said to just call them back. I called Federico. He said to call them back immediately and get on that flight! I couldn't believe it. Twenty minutes later I had tickets for me and my daughter for the morning to Frankfurt, and then on to Madrid. "Is this real? Is this happening?" I couldn't believe it. I called the driver and told him my new circumstances. W decided to keep the Minsk plan in place until we were 100% sure I was on that flight. After everything I had been through I was still not sure it would work out.
Our friend Matt, who was following my situation, was also on it. He was preparing me for what to do in case they started asking questions at the border if I was going by car. Now he was giving me instructions on how to handle any problems at the airport. I learned later that Matt had found a private jet service option that he offered to my husband, Federico. Federico politely rejected the $150,000 option, but he did say he was open to taking donations to make it happen.
My friend Jeff was also in a group chat with Matt and Federico. Jeff had cautioned against the "drive to Minsk" option because of all the unknowns. He thought it would have been difficult with my daughter. I later found out he had made several calls to some of his contacts to see if he could arrange some other form of a private plane, to no avail. The Lufthansa option was looking good, but I was still not sure it would work out. I played out so many scenarios of what could go wrong. My permanent residency is not enough. I can't travel because I'm "too pregnant" – something my doctor told me was a possibility.
We got to the airport in the morning. It was a different Moscow airport – an hour away from the one I was staying near. I got in line for Lufthansa flight. I was so nervous. It was finally my turn to check in. I gave the woman my Russian passport, my Spanish residence card, and Violetta's Russian & Italian passports. "How many bags are we checking in?" the woman asked after some time. "Just one and the stroller, please," I answered. I suddenly saw my luggage go away from me and on the belt. The woman then handed me our boarding passes. "Right that way for boarding. Have a nice flight." No questions asked. No extra documents requested. My eyes filled with tears right away. I couldn't breathe. The mask wasn't helping. It was unreal. I can't even describe the emotions I was feeling. I was finally going home.
The driver was with us. I think he saw how nervous I was. He invited us for a coffee and croissant. I thanked him for everything and said that driving to Minsk would have made a pretty great story…
We said goodbye and went through passport and security checks. The officer at passport control was very nice. All he asked was if we lived in Spain. Nothing else. "Alright then. Have a nice flight," he said. I wasn't sure we had actually left Russia until we landed in Frankfurt. We had made it! Frankfurt was a mess because the plane arrived late and we had little time to make our flight to Madrid.
There were so many people in Frankfurt. People were kind and let me go first. The passport control officer was very nice. He didn't ask any questions. The security check was another story. They weren't letting us pass due to social distancing even though no one was in front of us. My daughter was crying. I started to panic. Fifteen minutes before the plane was scheduled to leave and all I saw was the cold and motionless faces of the security agents.
We finally made it through. We were two hours away from seeing my husband. We were two hours away from being home. Madrid met us with a typical blue sky, untouched by any clouds. Police were checking our documents as we exited. As soon as I took out my residence card, the young man said, "Oh, you live here. Welcome back!"
I couldn't help but smile. I practically danced my way to the baggage claim. Federico was waiting outside the airport. We were finally together.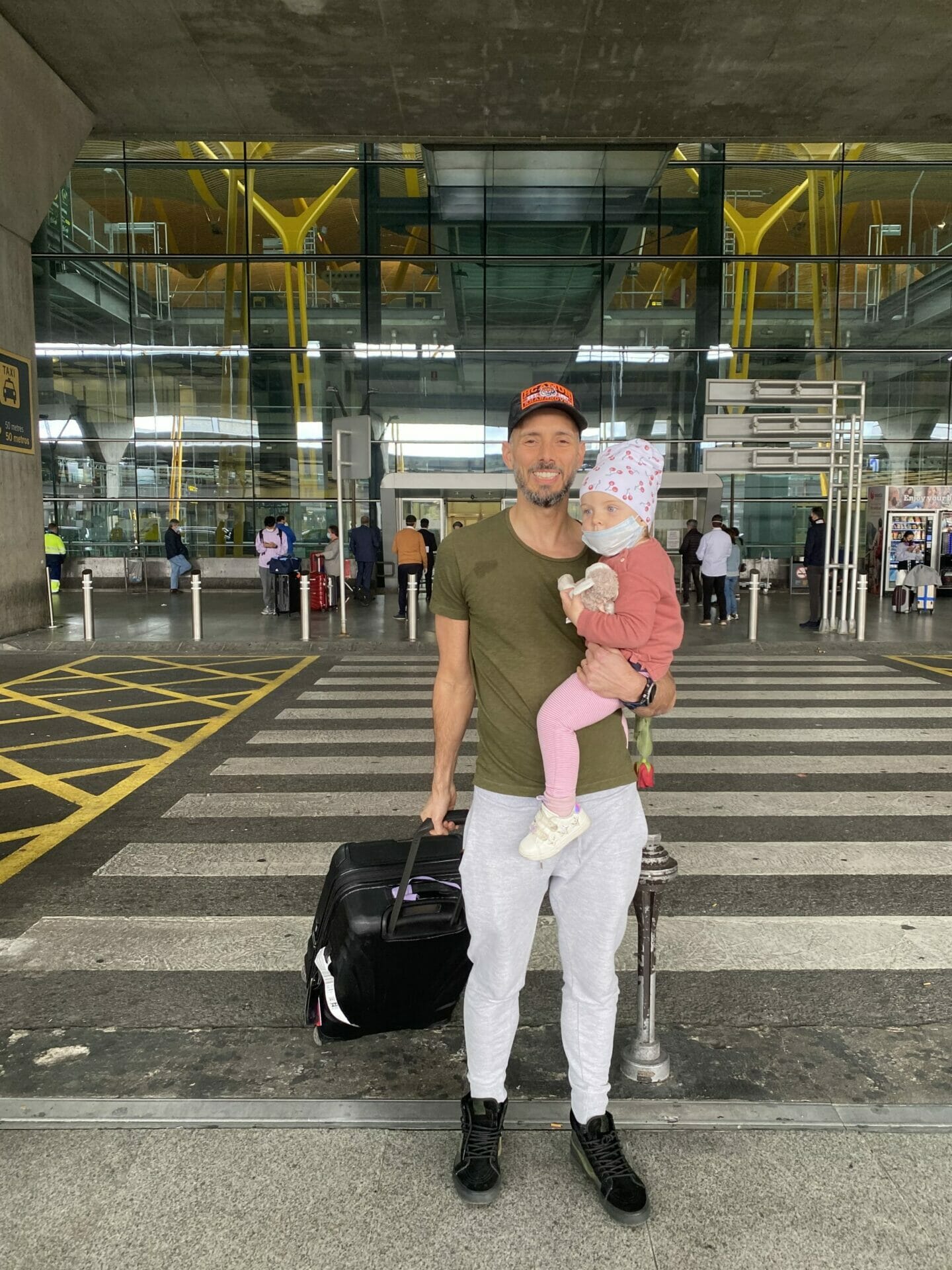 Looking back, I have a hard time believing all of this happened. That chance phone call from a Lufthansa agent was too good to be true. I had to go through so many Russian hoops. I was so scared that I wouldn't be able to get back home to my husband. My mom kept telling my dad to get in touch with someone in Moscow (he is a part of an opposition political party in my home town and frequently travels to Moscow for meetings). But the coronavirus situation was so much bigger than the "connections" that I could have used in other situations. No one could really help – the issue was global. Feeling helpless, with no exit, was very scary.
In the end, everything ended up being pretty easy. No temperature checks. No extra questions. Nothing. It was just like a regular flight – only all the people were wearing masks and gloves.
I'm so thankful to my husband. He had to go through a lot with me during those ten weeks. He supported me and kept calm for the both of us because I couldn't. He encouraged me and stayed next to me the whole time. I'm also thankful to my parents. They were very supportive. They understood the importance of my desire to get to Federico. I'm also thankful to all our friends and family who reached out during this time. They gave me positive thoughts and support and had me and Violetta in their prayers. I'm thankful to my friend Anastasia who shared that email with me so I knew about the Lufthansa flight. She said she couldn't possibly think her email would play a critical role in our "mission impossible" of leaving Russia. She later told me, "I thought you guys knew about all the flights!"
It was impossible to know what flights were happening unless someone (and usually that's an embassy) informed you. Sure, I could have booked another flight out of Moscow but chances were 99% that that flight would have been cancelled. So her email was all a key part of me getting home.
It might have been risky to go through this situation with my two year old. But with all the prayers from all our family and friends, I knew something good would come. Of course, Federico, and a part of me, is just a bit upset I didn't get the chance to have the crazy Moscow to Minsk drive in a diplomatic car experience. But everything happens as it's meant to happen. Maybe someday we can make that drive as a family. I'm happy to be home with my husband and daughter. As for my next adventure, I hope it's nothing like this one.
Irina Dudina was born and raised in the Russian Far East. She moved to Anchorage in 2008 to attend the University of Alaska Anchorage. She graduated with a Master's degree in Business Management in 2013. She met her husband Federico in Anchorage, where he was working for Eni at the time. They got married in Homer in 2016. They currently live in Madrid with their daughter and baby on the way.