In an unprecedented move, Anchorage Mayor Dave Bronson issued an executive order Saturday empowering him to dismiss sitting members of the Anchorage Assembly. Bronson's move followed a contentious effort by the liberal-majority Assembly to codify the procedure for removing an Anchorage mayor.
Bronson announced the executive order to reporters Saturday morning, accompanied by a series of handwritten posterboards listing the reasons that he may now legally remove a member of the Assembly. Reasons included "Not confirming my appointments," "Being mean to me," "Saying Amy Demboski is running the city when that is MY job and I can do it," "Woke," "Being Christopher Constant 😠," and "Calling Centennial campground Bronsonville or Camp Bronson when it is just camping in the woods like we do for fun so shut it."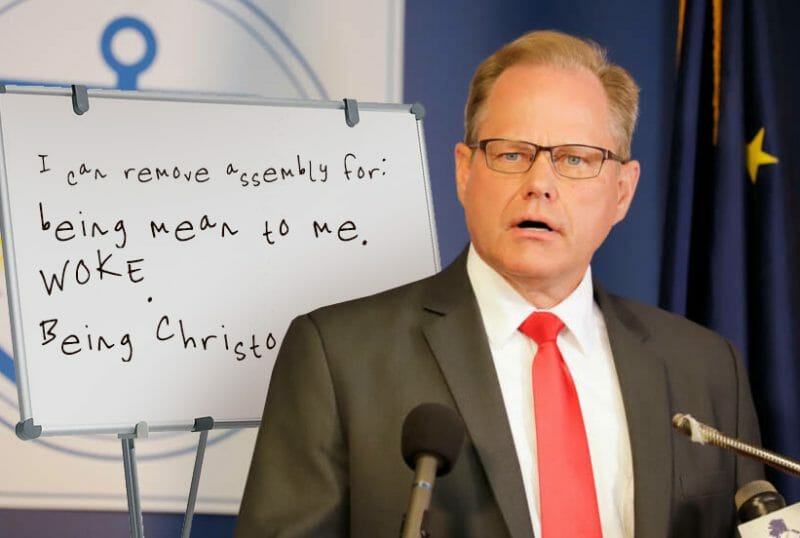 By Saturday afternoon, Bronson announced that he had used his new powers to remove every member of the Assembly except Jamie Allard. However, after an hour-long meeting between Bronson and Allard, he removed her too. "I tried to keep Jamie on," Bronson told the Landmine, "But without an enemy for her.. it was just too much for me to handle. Way too much. Let's just say I'll be flying Anchorage solo for a while."
Assembly members were caught off-guard by the move, but Assembly Vice-Chair Christopher Constant vowed to fight back. Constant announced on social media that the Assembly did not recognize Bronson's executive order, and would remove the mayor for attempting to remove the Assembly. Constant also announced a lawsuit against Bronson, who immediately countersued; Constant then declared that the Assembly would sue Bronson for countersuing and that the countersuit constituted further grounds for removal of the mayor.
Several prominent Anchorage political and business leaders expressed bewilderment and exhaustion about the chaos in municipal government. "At this point," one businessperson told the Landmine, "We're seriously looking into whether we can just appoint a cat to run Anchorage, like they used to do up in Talkeetna. Sure, not much would get done but at least we'd know what's going on."