Final update, 3:14pm
Map from the Alaska Earthquake Center, showing great disparities in the amount of shaking felt throughout Anchorage.
Update, 2:55pm
This post from Temblor, "Exotic M=7.0 earthquake strikes beneath Anchorage, Alaska," contains several diagrams and a comparison of today's event with the 1964 Good Friday earthquake.
Update, 2:47pm
A much-needed moment of levity courtesy of Aileen Cole:
Update, 2:39pm
According to APD, all three major hospitals in the Anchorage area (Providence, Alaska Regional, and the Alaska Native Medical Center) are open and operational. The Landmine has not received any reports of fatalities or major injuries caused by the earthquake.
According to ADN flights have resumed at the Anchorage International Airport, and damage at the Port of Anchorage is believed to be minimal.
Update, 2:08pm
Small aftershocks continue to reverberate through Anchorage.
USGS "Shake map":
Update, 2:02pm
More incredible security camera footage from the initial earthquake. The homeowner writes, "The sound is a 'dinner bell' hanging on the wall. Kind of eerie. Glad it wasn't worse."
The most striking photo of Vine Road yet, taken by Marc Lester:
Vine Road, south of Wasilla, was heavily damaged in by the #akearthquake. An aerial view today. pic.twitter.com/m9Qhr0rdzg

— Marc Lester (@marclesterphoto) November 30, 2018
Update, 1:39pm
According to an official report from the USGS, "there is a 4% chance of one or more aftershocks that are larger than magnitude 7.0" within the next week. Click here to read the full report.
Update, 1:34pm
Photos from the Anchorage Brown Jug warehouse:
Update, 1:27pm
Businesses throughout the Anchorage area are working to repair damage and reopen:
A collapsed carport attached to an Anchorage apartment building:
Update, 1:07pm
APD announces that both the Glenn and Seward highways have reopened , but expect delays (edit: According to DOT, the Glenn route is open via a detour through Eagle River). Municipal Light & Power announces that most customers will have utilities restored later today. Amazing work, Anchorage utility, road and public safety crews!
Earthquake Update: Glenn Hwy & Seward Hwy Reopened; Delays & detours continue; Hospitals open; Click link https://t.co/Vd72Ivh6Zr

— Anchorage Police Department (@APDInfo) November 30, 2018
Municipality of Anchorage emergency proclamation:
Update, 12:50pm
Anchorage School District schools will be closed through Tuesday, December 4.
Security camera footage of the initial earthquake at a South Anchorage home. Make sure to turn up the sound!
Update, 12:14pm
Annotated seismic data:
Update, 12pm
Videos, photos, and firsthand reports continue to roll in from Anchorage, Palmer and Wasilla, and surrounding communities.
About a mile from my house on Vine rd between KGB and Parks. #Alaskaearthquake #earthquake #alaska pic.twitter.com/5HnpXKGZUw

— David Ruffini (@SvrTroposphere) November 30, 2018
Our post earthquake Alaska libraries. #Alaskaearthquake #earthquake #anchorage @anchlibrary pic.twitter.com/MhtPpVW9PA

— Elizabeth Queen of the North(ern Youth Services) (@lizinthelibrary) November 30, 2018
Update, 11:49am
Broken water pipe at the Anchorage jail:
Update, 11:33am
Alaska Airlines has suspended operations in Anchorage due to "considerable damage" at the Ted Stevens International Airport."
Update, 11:29am
Photos from the Seward highway:

Update, 11:27am
Significant aftershocks in the Spenard/Turnagain area.
Update, 11:17am
Power is still down at thousands of homes and businesses in the Anchorage area. Click here to see Chugach Electric's outage map.
Update, 11:15am
Both shifts of the Anchorage Police Department are on duty. APD requests that 911 only be used to report major emergencies, and that people stay off of the phone once they have made sure loved ones are OK in order to keep phones operational.
Update, 10:45am
A water line at Dowling and C has burst and is there is water in the intersection.
Update, 10:39am-10:43am
Minor aftershocks continue to ripple through Anchorage.
Update, 10:38am
Reports indicate that the Seward Highway southbound is currently closed and rockslides are being cleared.
Many Anchorage stores are closed.
A video from Heather Hintz shows dramatic damage at Anchorage's Nesbett Courthouse.
This is what happened on the 6th floor of the Nesbett Courthouse during the Anchorage #earthquake. Both attorneys jumped under their desks. Evacuated the building after the shaking stopped. pic.twitter.com/dqHGPCv6XO

— Heather Hintze (@HeatherHintze) November 30, 2018
Update, 10:27am
Another aftershock has hit at 10:27am.
Anchorage streets are jammed and some are at a standstill, with traffic lights out and some roadways rendered impassable.
The Alaska Landmine has received reports of damage at the Port of Anchorage. [Update, 11:18am: "My understanding is that the Port of Anchorage hasn't suffered any significant damage. No reports of deaths or injuries as far as we are aware." – APD Chief Doll]
A photo by Nat Herz showing the stranded car on the Minnesota highway ramp: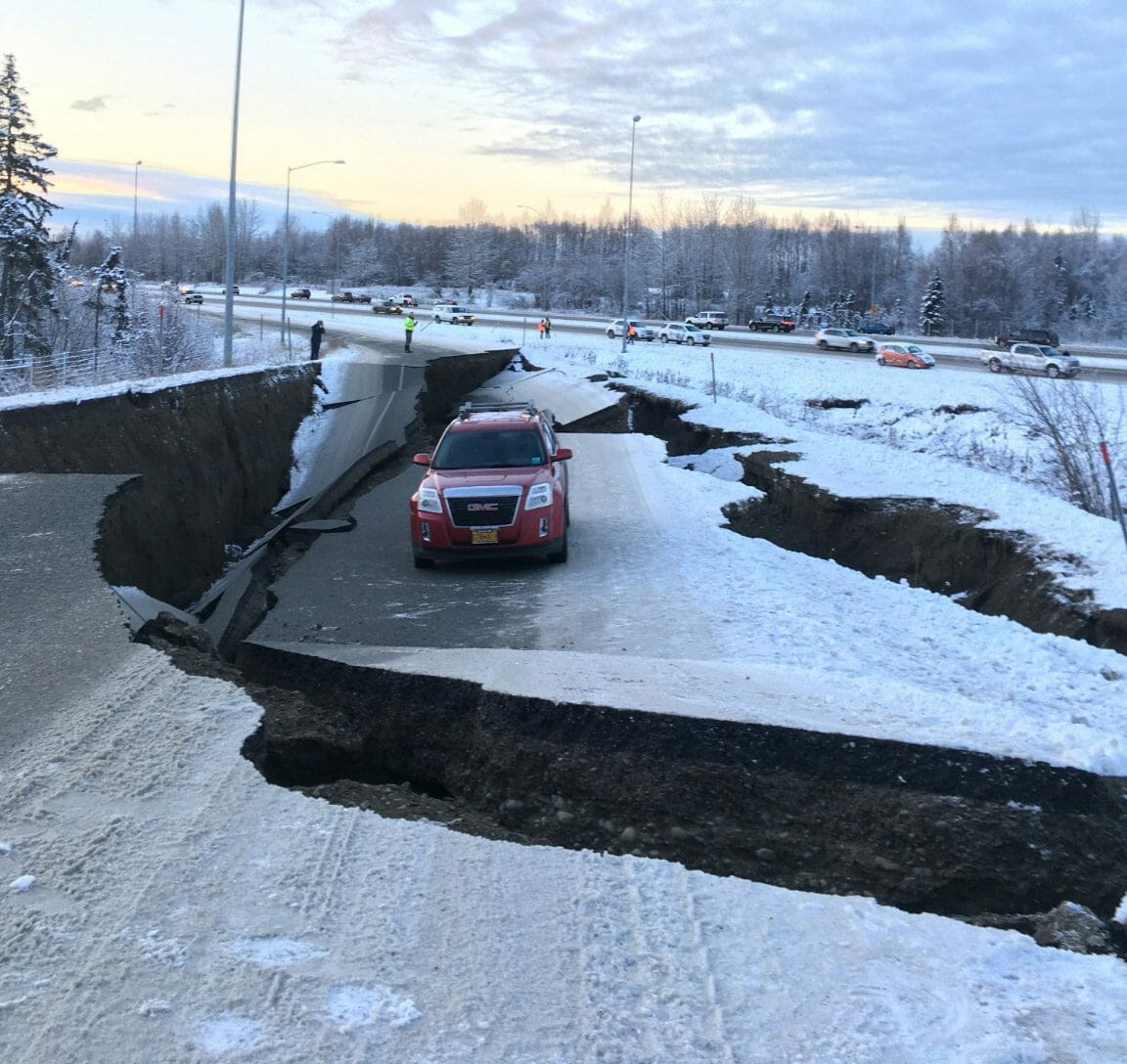 Update, 10:13am
According to KTVA, the tsunami alert issued minutes after the earthquake has been cancelled.
Update, 10:08am
Sources tell the Landmine that the Homer Spit is currently being evacuated. A stop alert is in effect at the Anchorage Airport and the Landmine has been told that all flights are currently grounded.
Photos from the Anchorage Fred Meyer posted to social media by Marta Revak:

Original story
At approximately 8:30am a massive earthquake hit Anchorage, Alaska, causing chaos, traffic jams, and evacuations across the city. A highway onramp collapsed, Begich Middle School was evacuated, and there are reports that the Glenn Highway has been closed. The earthquake was initially reported as a 6.7, and subsequently upgraded to a 7.0+. As of 8:58am, all state offices were closed.
This is a developing story, please check back soon for updates.
A widely-circulated photo shows a collapsed Minnesota onramp, with a car perched precariously on a slab of roadway.