Yesterday, in a surprising move, the Legislature announced that they would not be holding the second special session of the 31st Alaska Legislature in Wasilla – the location that Governor Dunleavy chose. They instead said they will gavel in in Juneau and hold most of the meetings in Anchorage. This Landmine article explains all of that.
A legal memo obtained by the Alaska Landmine explains the basis of the Legislature's arguments for their decision. It was sent to to House Speaker Bryce Edgmon (I – Dillingham) from the Director of Legislative Legal Services. Here is the memo:
Legal Memo on Special Session Location
The memo lists three arguments:
The Constitution is silent to the location of a special session called by the governor
The legislature must meet in the capital unless it is impossible to do so
The location of a special session is a matter that can be decided by the legislature
I recommend reading the memo. It details the history of the 1982 statute regarding the governor being able to call a special session. It also highlights the issue of separation of powers, which seems to be the main argument of their case.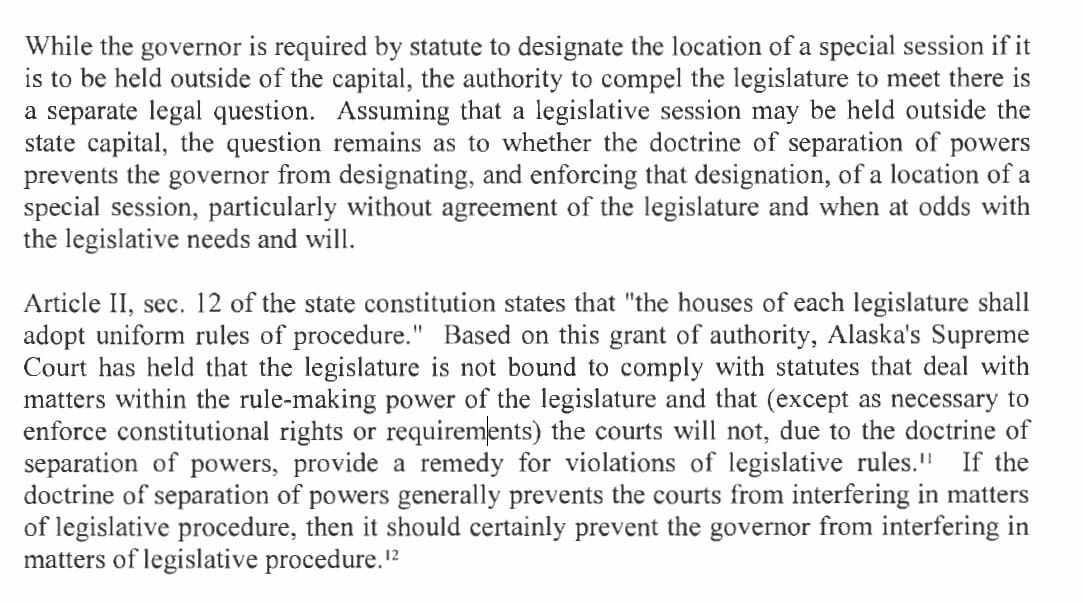 Governor Dunleavy is likely to have an opinion of his own from his attorney general on the issue. But the question remains – can the governor, and a minority of the legislature, compel the legislature to meet outside of Juneau? This is a question that has never been asked or tested in the courts. The Constitution prevents the governor from suing the legislature. So it would require a third party to bring a lawsuit for the matter to be challenged.
In the past, the legislature has held brief special sessions in Anchorage. But this is something they decided, not the governor. In 2015, former Governor Walker called a special session in Juneau. The Legislature decided to move that session to Anchorage, then gavel out. They immediately called themselves back in to Anchorage. Then Senators Kevin Meyer and Mike Dunleavy, along with the majority of other Republican senators (many of whom are still there) voted to move Walker's special session from Juneau to Anchorage.
The big difference now is that the Legislature does not have the votes to call themselves into a special session. The Constitution requires a 2/3 vote of the legislature, which is 40 votes. They are one vote shy at 39. But that didn't prevent the Legislature in 2015, that included Senators Dunleavy and Meyer, from moving Walker's special session to a location other than the one he chose, in that case Juneau. So, much like in 2015, they are adhering to Dunleavy's special session, just not in the location he chose.
The larger issue is that communication between the executive branch and the legislative branch of the government has essentially stopped. Things seem to be at a boiling point. It's anyone's guess what will happen next.