Earlier this month, Anchorage Health Department Director Joe Gerace resigned his post following a string of allegations that Gerace had fabricated much of his resume, including key information about his education and military service. Gerace, who led Anchorage's homelessness response, was subsequently accused of fantasizing about shooting homeless people.
Now, just weeks later, Gerace has announced that, in fact, he stepped down from his position at the municipality so that he could serve as Dean of Gerace University. In a press conference Wednesday morning, Gerace stated that his dual masters degrees in College Administration and Education Topics, both earned from Gerace University, made him a natural fit for the lead position at his alma mater.
"I served four tours at Harvard, two at Yale, and had two deployments to Oxford. It's go time and I'm jacked to get this thing moving!" said Gerace, who spoke to reporters while wearing collegiate robes bedecked in an assortment of medals and what appeared to be a military-style hat.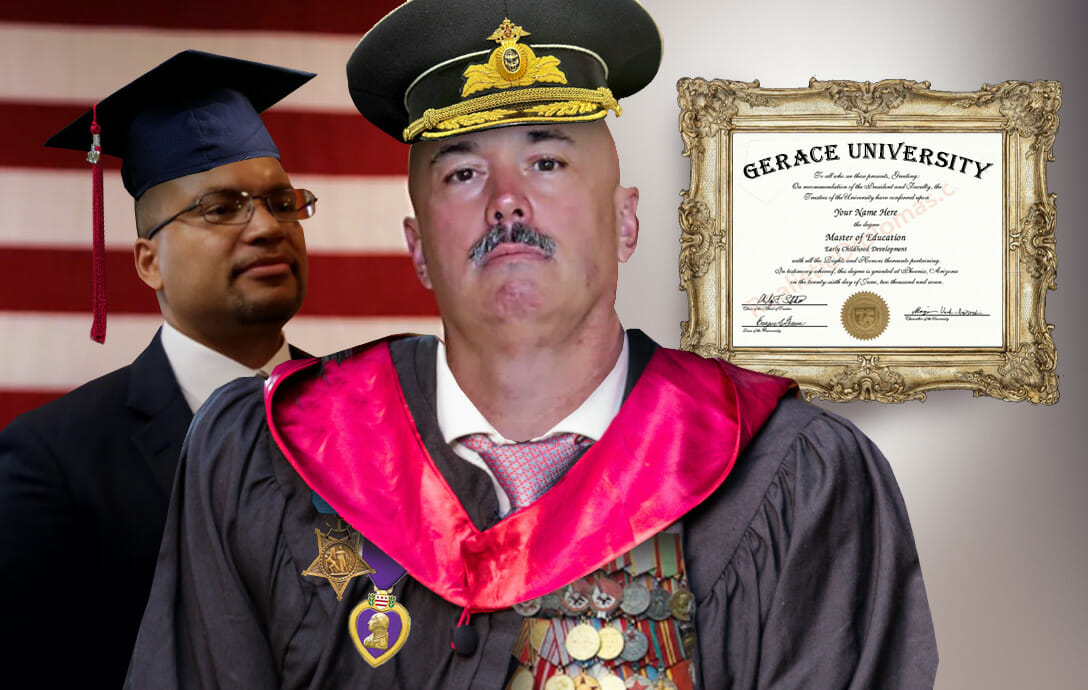 When Alaska Public Media reporter Lex Treinen pressed Gerace for details about his time at Yale, Municipality of Anchorage HR Director Niki Tshibaka jumped up and, visibly shaking, yelled at Treinen, "How dare you, Lex! How double dog dare you!"
Tshibaka then turned to Gerace, "Joe, on behalf of the Municipality of Anchorage I humbly apologize for this maniac's assault on your sterling character."
Tshibaka told reporters that he was currently enrolled in "HR 101" at Gerace University, and that the class was "really awesome. We call Joe 'Dean Joe' and we have a really good time. I'm learning a lot." Tshibaka further stated that Municipal Manager Amy Demboski was "taking some kind of audio-visual class" and that Municipal Spokesperson Corey Allen Young was leading an ethics seminar.
Later in the day, Alaska Public Media published an article noting that the Purple Heart and Congressional Medal of Honor, which Gerace appeared to have pinned to his academic robes, are not awarded for academic accomplishments.
When reached for comment by the Landmine, Gerace stated that he had "eaten some really bad pot roast" and wasn't feeling well. Gerace then moaned loudly into the phone for several minutes and the call went silent. However, the call did not end and after several minutes the Landmine could hear Gerace distantly singing along to Eric Carmen's 1976 power ballad "All by Myself."
The Alaska Landmine later determined that the address provided by Joe Gerace for Gerace University is that of a partially abandoned south Anchorage parking lot used by long-haul truckers. When the Landmine asked one trucker about Gerace, he responded "Joe? Joe's the president of a college? That's weird. Joe used to talk about driving around with a gun and shooting those 'arrogant do-nothing college professors.' He's overseeing a school now, huh? Crazy world."