In response to the recent announcement that the Cook Inlet Region, Inc (CIRI) will support the recall effort of Governor Mike Dunleavy (R – Alaska), Dunleavy ordered the Alaska National Guard to seize Fire Island, which is owned by CIRI.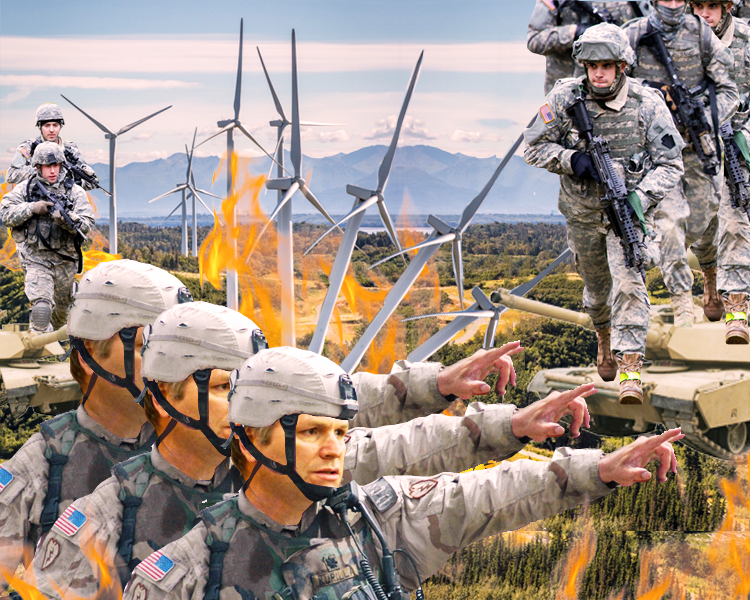 The seizure was successful, and the island was taken without a single shot fired. Dunleavy insisted on leading the charge. Initially, the Commander of the Guard voiced apprehension about letting Dunleavy lead the troops but changed his mind after realizing that there were literally no people or defenses on the island. Dunleavy stormed the island brandishing two Colt revolvers and wearing a pair of Xtratuf boots, which he repeatedly told reporters were "XXXL's."
Once the island was secured, Dunleavy ordered the toppling and burning of the eleven wind turbines located on the island. Dunleavy was overheard saying, "Alaskans will no longer have to be mocked and humiliated by these so-called 'clean energy' contraptions on Fire Island. The earth has gotten by just fine for 6,000 years on fossil fuels alone, I'm sure we can manage for another 6,000."
With the turbines in ruins, Dunleavy unfurled a gigantic banner reading "Mission Accomplished," and Guard leadership ordered the troops to evacuate the island. However, Dunleavy's Deputy Chief of Staff, Jeremy Price, and former Chief of Staff, Tuckerman Babcock, ordered some guard troops to remain on the island to carry out "Phase Two."
According to multiple sources inside the Guard, Dunleavy plans to turn Fire Island into a political re-education camp for dissidents in the Legislature. Guard members insisted on speaking on the condition of anonymity out of fear of being demoted from guards to prisoners. However, Guard members believe that they won't be "on-island" for long.
Sources also confirm that after hearing recommendations from Budget Director Donna Arduin, Dunleavy plans to outsource operations on Fire Island to the private prison company GEO Group. Arduin also offered to serve as warden of the re-education camp for a base salary of $695,000 a year plus benefits. In a statement, Arduin said, "I am so happy to be able to do all the things I love at once – in a place I don't give a shit about. Slash the budget, outsource State functions to companies I have a direct interest in, and make legislators feel physical pain."
As of this writing, a small boat with armed personnel was seen escorting Senate President Cathy Giessel (R – Anchorage), House Speaker Bryce Edgmon (I – Dillingham), and Representative Zack Fields (D – Anchorage) to Fire Island. Sources also tell the Landmine that Representative Sara Rasmussen (R – Anchorage) has volunteered to serve as a guard on the island on the condition that "someone on the island can make a decent latte."