There's been a lot of talk the last few months in the Capitol about taxes, especially oil taxes. As oil prices declined from their highs of last year, the Spring Revenue Forecast has Alaska North Slope crude forecast at $73 per barrel for the upcoming fiscal year, down almost $20 a barrel from what was forecast by the Department of Revenue in December.
A status quo budget, combined with desires for a large dividend and increasing school spending, means there's not enough money coming in to pay for everything without using savings – something the Senate has been clear they do not want to do. The House fell seven votes shy of the 30 votes needed to access the Constitutional Budget Reserve (CBR), resulting in an approximately $400 million deficit in the operating budget sent to the Senate.
And this is just for this year. With just $2.4 billion in the CBR, and uncertainty in oil prices and financial markets, Alaska's government is truly operating on the edge. A shock could have devastating consequences.
So, in what has become commonplace in Alaska when the state needs more money, several legislators are proposing to get more money from the oil industry. One of the proposals that has been brought forward is the S corp tax. S Corporations, which are pass-through entities with a limited number of shareholders, do not pay a Corporate Income Tax in Alaska. By contrast, C Corporations, which are usually larger companies with a board of directors and no limit on the number of shareholders, pay a Corporate Income Tax in Alaska.
A provision in Senate Bill 114, from Senator Bill Wielechowski (D – Anchorage), proposes to tax S corps in Alaska that are involved in the oil and gas industry. Under the bill, S corps with more than $4 million in taxable income would pay the 9.4% corporate tax that C corps pay. Since the bill was introduced, the S corp provision was rolled into Senate Bill 122 – an internet tax bill – by the Senate Finance Committee.
The main target of this tax is Hilcorp. The other main oil producers in Alaska, ConocoPhillips and ExxonMobil, are C corps. Hilcorp, which purchased BP's assets on the North Slope in 2020 for $5.6 billion, is an S corp owned by Jeff Hildebrand. When Hilcorp took over for BP when they bailed from Alaska, the state stopped collecting the C corp tax that BP previously paid. It's not clear how much Hilcorp would pay if the law changed, but estimates have been in the $100 million a year range.
That seems like an easy way for the state to get a significant amount of new tax revenue. Until you stop and think about it.
Hilcorp is an interesting company for Alaska. Unlike BP, ConocoPhillips, and Exxon, they do not have shareholders or a board of directors. Jeff Hildebrand is free to make investment decisions without the pressure of shareholders who may demand his company adopt costly and prohibitive environmental, social, and governance (ESG) policies. And Hilcorp is bullish on Alaska.
Hilcorp came to Alaska in 2012, making substantial investments in Cook Inlet at a time when Anchorage and Southcentral were prepping for natural gas shortages and brownouts. If Hilcorp had not come to Alaska, brownouts would have been likely in Southcentral. With another gas shortage possible in as early as five years, Hilcorp was the only bidder in a recent Cook Inlet gas lease sale. And they are currently exploring new technologies and renewable tidal energy projects in Cook Inlet. Hilcorp is the only company that's exploring for natural gas in Cook Inlet.
Hilcorp started their investments on the North Slope in 2015, culminating with their purchase of BP's North Slope assets in 2020. At Milne Point, Hilcorp increased oil production from about 18,400 barrels of oil per day to more than 40,000 today. This has resulted in more oil in the pipeline and more revenue to the state. According to Alaska Business, "Since entering the North Slope in 2014, Hilcorp, and fellow working interest owner BP, have invested more than $700 million at Milne Point. Hilcorp has drilled sixty wells to date at Milne Point with another twenty-nine planned for 2020."
At Prudhoe Bay, production has increased each year since Hilcorp took over. According to the Anchorage Daily News, "Hilcorp has slightly reversed declining oil production at Prudhoe Bay after becoming operator there in 2020, following its acquisition of assets from former Alaska producer BP."
Through their investment and nimble approach, Hilcorp has reversed a decades long decline in oil production in Prudhoe Bay. Ultimately this has meant more revenue to the state of Alaska in the form of production taxes and royalties.
This slide from a recent presentation to the Senate Finance Committee shows the increase in oil production at Prudhoe Bay since Hilcorp took over. The 2019 Revenue Sources Book forecast a steady decline. Instead, production increased.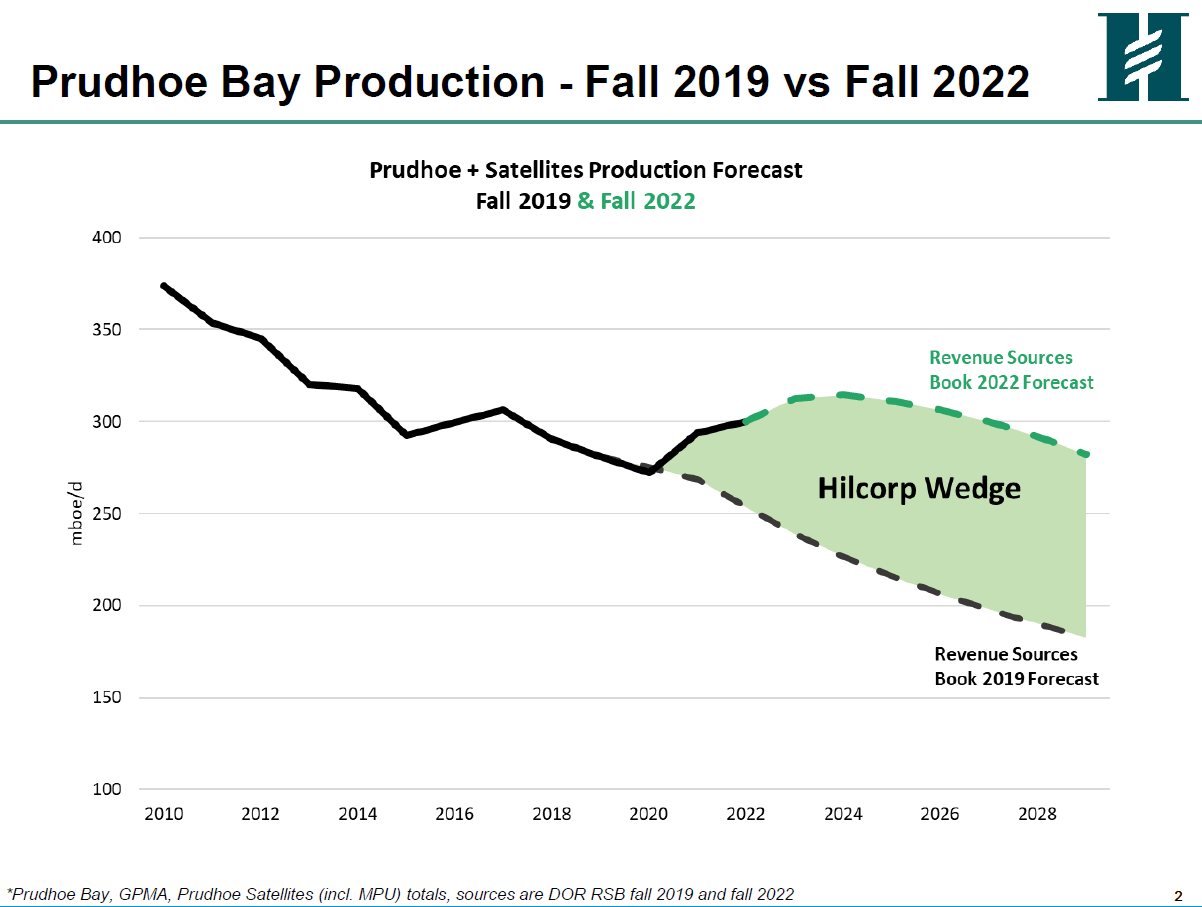 When Exxon and other large corporate sponsors left the Iditarod, Hilcorp stepped to become a principal sponsor in 2021.
"We are excited to be joining the Iditarod, a rich and important Alaskan tradition, in its 50th Anniversary," said Jeff Hildebrand, Founder and Executive Chairman of Hilcorp Energy and Harvest Midstream. "Alaska is a growing and critical part of both companies' future, and we welcome the opportunity to strengthen our commitment to Alaska with this sponsorship."
While the dispersed ownership structure of companies like Exxon can make them vulnerable to pressure from groups like PETA, Hilcorp is free to do what it wants. Rob Urbach, CEO of the Iditarod, recently wrote an op-ed about the importance of Hilcorp to the Iditarod.
Alaska is facing a stagnating economy and has been losing population for a decade. We need investment to turn things around. Medium and large sized S corps are the best companies to recruit and the fastest way to close the investment gap. They are nimble and less susceptible to NGO and reputational pressure from political activists that are not aligned with Alaska interests. Hilcorp employs over 1,500 people in Alaska.
Alaska has been plagued with fiscal challenges for decades. If you spend a day in the Capitol, you are sure to hear the term "fiscal plan" a dozen times. But few can tell you what that really means. Hilcorp is the kind of company Alaska needs right now. A cash grab will result in a short-term return but a long-term disaster.
Hilcorp has shown they are bullish on Alaska by investing billions of dollars in Cook Inlet and on the North Slope, and sponsoring one of Alaska's most cherished cultural institutions. Our elected leaders should embrace that, not try to make up for their own shortcomings with a reckless change to our tax system.