Gray Television, which recently acquired KTVA's assets from GCI, has deleted KTVA's Facebook page, Twitter account, Instagram account, as well as forwarded the KTVA website to an Alaska's News Source page. This means all of the KTVA web content for the last seven years is not accessible to the public. Their YouTube account remains active for now.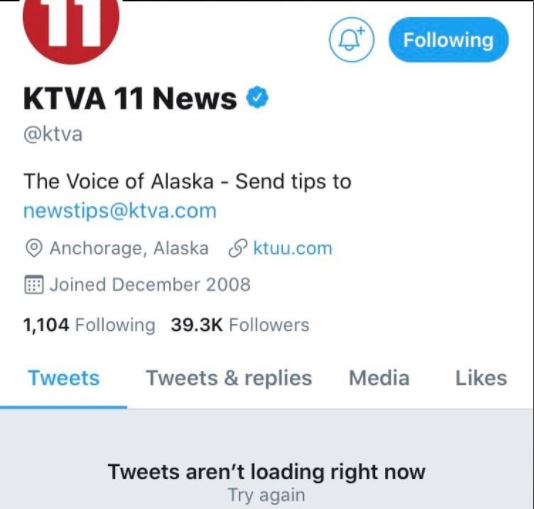 Gray Television is the parent company of KTUU. Gray recently hired several of KTVA's employees and has since spun up another news station, KYES, which is running on CBS 5. That debuted on August 31. KTUU has also rebranded their website and social media as Alaska's News Source. Some of KTVA's former reporters are now reporting for KTUU and some are now reporting for KYES.
When you go to www.ktva.com, it redirects to a page with Alaska's News Source articles.

I reached out to Jason Sear, the former Online Content Manager for KTVA about this. Here is what he had to say:
This is a trend with large media takeovers. It's kind of a "we know best" policy from a corporate office in another location. I'm also not sure what happened to the old KTVA website data. The site was forwarded and the old stories are likely still sitting on a server somewhere in internet-land. Websites aren't typically just deleted.
However, deleting the social media accounts is a real loss for the audience, the staff of KTVA, and especially for the past employees of the digital team over the last seven years. There's no way to get that data back once it's been deleted. When I started as the Online Content Manager in March of 2014, KTVA had just over 11,000 Facebook likes and about 5,000 Twitter followers. On the day the accounts were shut down, KTVA had about 148,000 Facebook likes and just over 39,000 Twitter followers. Our web traffic went from just under 200,000 pageviews a month in January 2014 to almost 1.5 million a month in 2018 when I left. We published maybe 10 stories a day in 2014 and when I left our staff was publishing almost 30 stories per day, mostly original content. I don't have any numbers from the last two years, but I would bet they continued to rise sharply. The KTVA web team was producing a lot of really good content. They should be proud of what they did, even if it feels like empty pride at this point.
To the web staff, each one of those pageviews, likes, and follows felt like a single person – like we had worked our asses off to convince someone to trust us and our reporting. Working in the web department of a news organization like KTVA is a 24/7 job. You write stories, Facebook posts, and tweets anytime from anywhere when news is happening. It's completely thankless and made even more stressful by the barrage of negative Facebook comments and emails you receive if a letter is misplaced or if a viewer simply didn't like something. Oh, and viewers should know something… I guarantee with 100% assurance that one of us read your comment, tweet, or Facebook comment. We read everything, even the racist garbage.
I don't really understand why Gray would simply delete a record of history in the buyout process. You can merge Facebook pages, keeping all the data and audiences from both. This seems like a no-brainer for them. There's no way to do this on Twitter, but why not just post a final tweet explaining that this account will no longer be updated? There's so much history in those social media accounts. Now, it's all gone. It was extremely depressing to see those get deleted; like watching years of work just flushed down the toilet. I just wish all of the past KTVA employees the absolute best. We had an amazing run. The atmosphere inside that building when I worked there was one of creativity, hard work, and genuine competition. But, as others have noted, TV viewership took a nose dive right about the time GCI launched the new KTVA. Some of us thought a buyout would happen eventually, but I don't think anyone could have predicted it would happen the way it did.