In a press release issued this afternoon, Governor Mike Dunleavy (R – Alaska) announced he has issued proclamations for two special sessions. The first will begin on May 20, the day after the constitutional session limit. The second will begin on August 2. You can see the agendas below.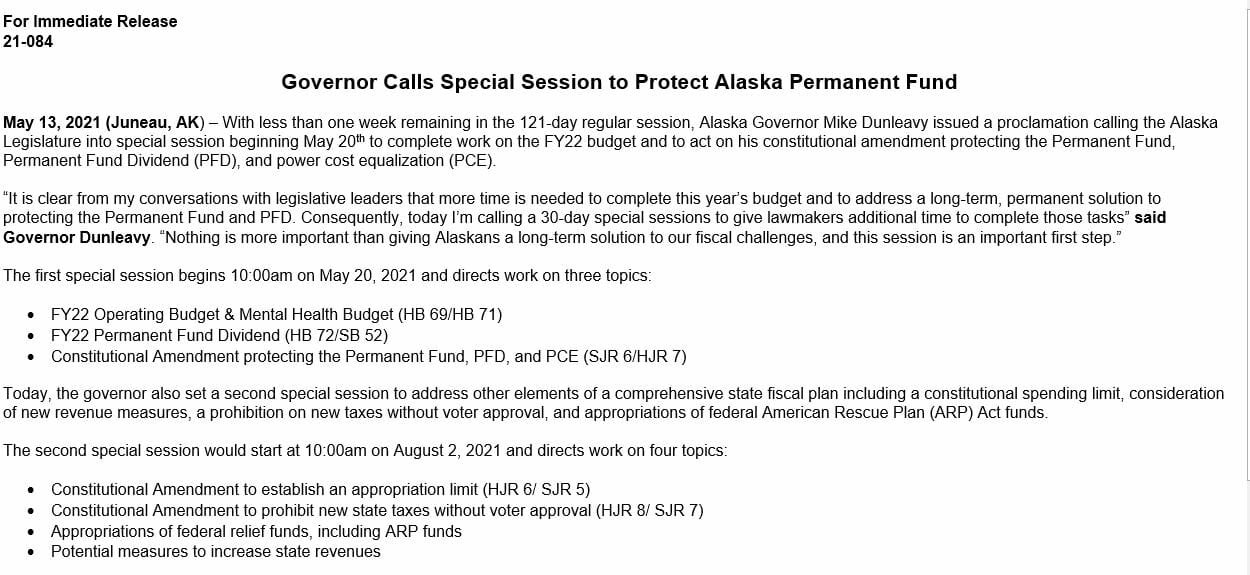 The House passed their version of the operating budget on Monday, and sent it to the Senate. The Senate Finance Committee adopted a committee substitute for the operating budget this afternoon. But with less than a week left before the constitutional session limit, it's unlikely the legislature will be able to pass a budget by then.
In a press conference yesterday, Dunleavy announced a revised plan for his constitutional amendment to solve the longstanding dividend issue. It calls for a 50/50 split of Permanent Fund earnings –  half to the state and half the the dividend (around $2,600 per person). It also aims to protect the Power Cost Equalization Fund, something that brought Senator Lyman Hoffman (D – Bethel) on board. He also calls for an immediate $3 billion transfer from the Earnings Reserve to the Constitutional Budget Reserve in order to fill the next two years of projected deficits. That would be an additional draw from the 5% Percent of Market Value (POMV) Permanent Fund draw for the state that is in statute. If adopted, it would likely require the legislature to adopt new revenues in two years to fill the projected billion dollar deficit. There is also the matter of this year's dividend, which has yet to be agreed on.
A constitutional amendment requires a 2/3 vote of each body (14 Senate, 27 House) and a vote of the people. If passed, that vote would occur next year. Obtaining 14 votes in the Senate will be difficult, but with Hoffman on board it is not impossible.