According to the State of Alaska's annual Executive Compensation and Travel Report for 2021, Governor Mike Dunleavy (R – Alaska), his Chief of Staff Randy Ruaro, Lieutenant Governor Kevin Meyer (R – Alaska), and his Chief of Staff Josh Applebee billed the state $99,213 for travel in 2021. Ruaro was the highest at just over $35,000. Meyer spent over $26,000, Applebee over $19,000, and Dunleavy just under $19,000.
Ruaro, who lives in Juneau, spent over $12,000 on transportation. This includes 12 trips to Anchorage, five to Ketchikan, three to Fairbanks, one to Haines, and one to Hoonah. He spent over $15,000 on lodging.
Meyer, who lives in Anchorage, spent almost $16,000 on transportation. This includes 15 trips to Juneau, one to Seattle to see the remains of a fallen WWII soldier returned to his family, a handful to Sitka, Ketchikan, Nome, and Kodiak, a trip to Des Moines, Iowa to attend a National Secretaries of State conference in August, a trip to Colorado Springs, CO to attend an aerospace symposium in August, and a trip to Cincinnati, OH to attend a meeting of the National Lieutenant Governors Association in December.
Applebee spent almost $9,000 on travel, almost $7,000 on meals and incidentals, and just under $2,500 on lodging.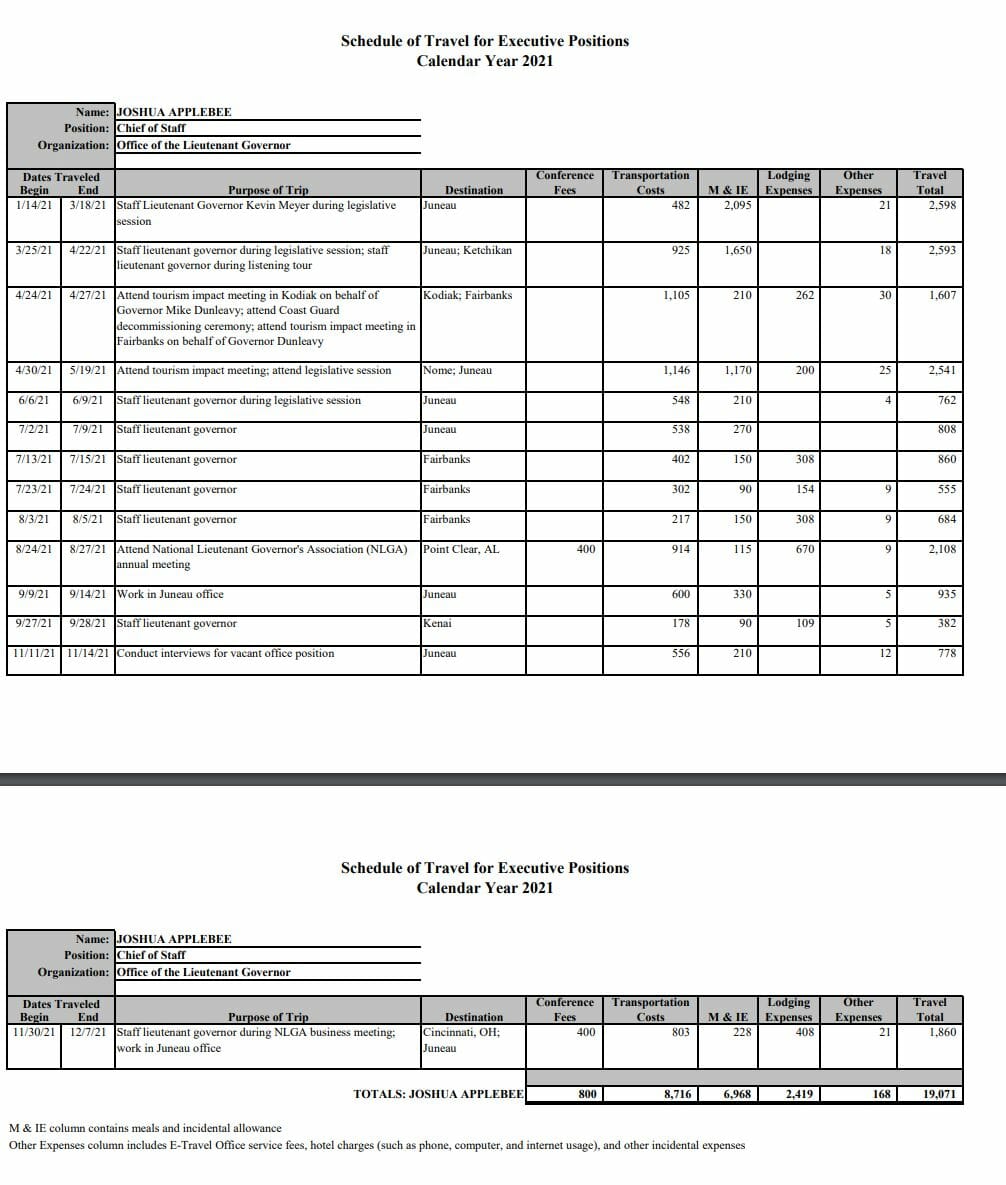 Dunleavy expenses were spent almost entirely on transportation, just under $18,000. This includes 23 trips to Anchorage and several trips to other cities and towns in Alaska.
Dunleavy spent over $24,000 on travel in 2020, when the COVID-19 pandemic was at its peak. Meyer and Applebee spent considerably less in 2020, $6,270 and $9,189 respectively. Ruaro, who did not start with Dunleavy until the end of 2020, did not bill the state for any executive travel in 2020.
You can click here to view prior year reports.